Quick-and-Easy Low-Carb Dinners
This collection of quick and easy low-carb dinners can help you get a low-carb or Keto meal on the table without much time in the kitchen! All these tasty low-carb dinners can be on the table in less than an hour, and some are as quick as 30 minutes.
PIN Quick-and-Easy Low-Carb Dinners to try some later!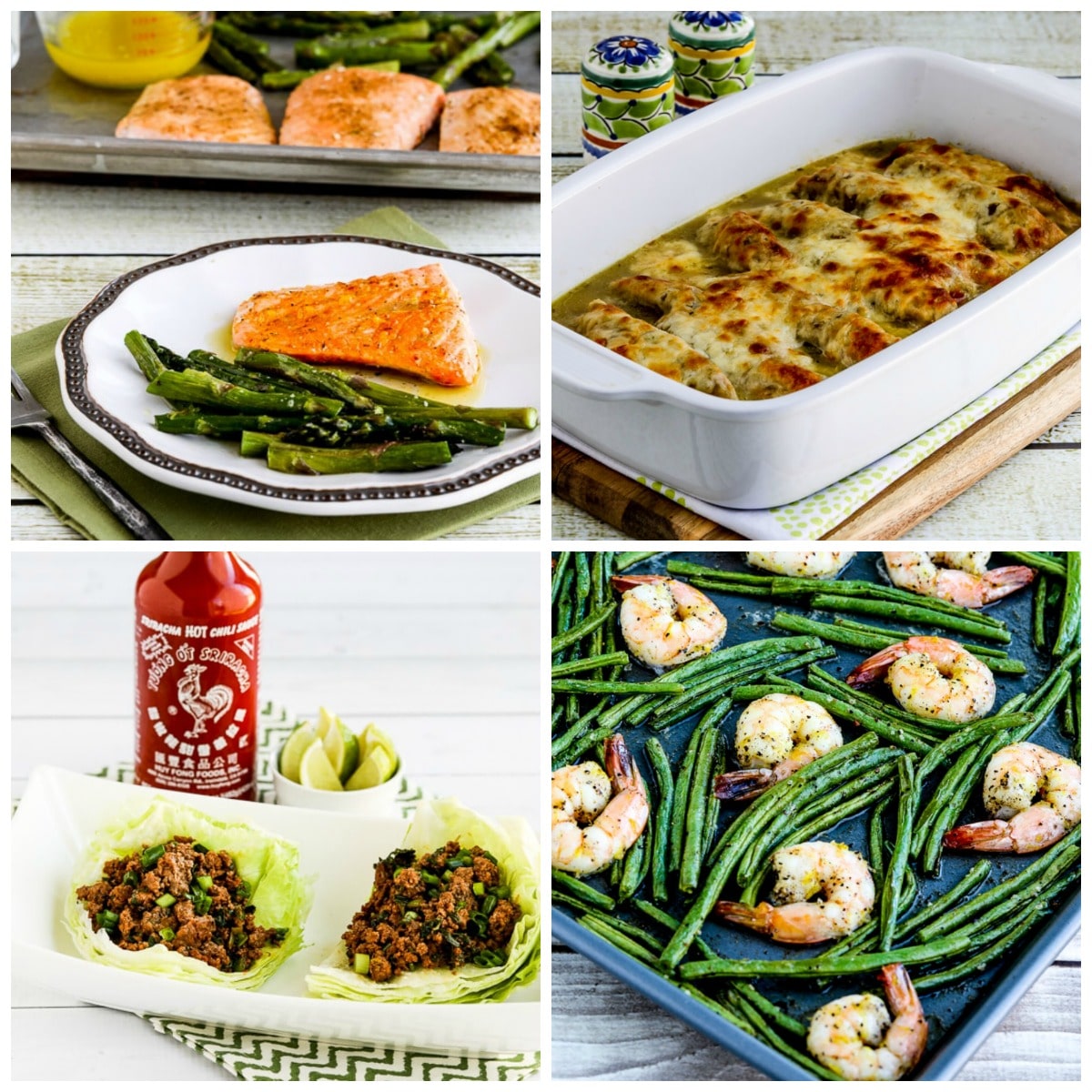 Do you sometimes struggle to get a tasty dinner on the table when you've had a long day? I think most people get stumped for dinner ideas sometimes, or just don't have much time to make a healthy dinner. That's why I think having a rotation of tasty low-carb recipes that are quick to get on the table can be a life-saver for anyone who's eating low-carb or Keto.
So I looked through my archives and picked out some of my very favorite quick and easy low-carb dinner recipes to give you a nice list of go-to dinners! This collection includes recipes that have been popular on the blog, and things that are my personal favorites as well, so you know they're going to be tasty! And sticking with any type of reduced-carb eating plan is easier when you have creative meals, so I hope some of these recipes will be just what you need to add some interest to your low-carb dinner rotation!
Just click the recipe title under any photo to go to the complete recipe on this site. And if you try or have tried one of these quick low-carb favorites, I'd love to hear your thoughts in the comments!
What do I mean by quick and easy dinners?
For this round-up I focused on easy low-carb dinners that can be made in less than an hour, and some are as quick as 30 minutes. Many of these are also one-dish meals, but you might want a side dish with some of them. And all these recipes have simple steps and easy preparation methods.
What diets are these easy low-carb dinner recipes suitable for?
The quick and easy dinners I'm featuring here are all gluten-free and low in carbs, and many are also Keto and South Beach Diet friendly as well. Use the orange tags above the recipe title on each individual recipe to see which diets I think it will be suitable for. And enjoy!
Want more low-carb and Keto dinner ideas?
You can use Recipe Round-Ups to find lots more low-carb round-ups like this one.

Sheet Pan Meals are always easy, and this Low-Carb Chicken Stir-Fry Sheet Pan Meal has been a popular on the blog. This recipe will be a hit with the whole family.
Roasted Lemon Salmon and Asparagus Sheet Pan Meal is another sheet pan dinner that's super easy and quick.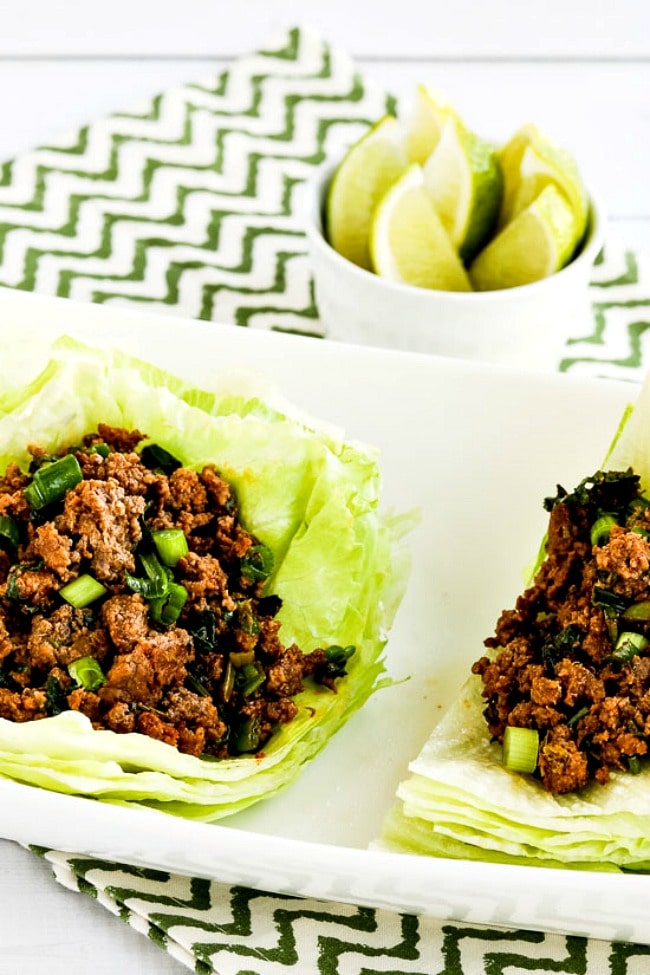 Lettuce wraps are fun for a quick low-carb meal, and for everyone who likes spicy Sriracha Sauce, these Sriracha Beef Lettuce Wraps are a quick dinner you'll make over and over. You can use a bit less Sriracha Sauce if you don't want so much heat.
Asian Lettuce Cups with Spicy Ground Turkey are another quick lettuce wrap dinner that's not quite so spicy.

Cauliflower cooks quickly in the Instant Pot which makes this Instant Pot Low-Carb Loaded Cauliflower Soup one of the fastest Instant Pot recipes on the blog. If you don't have an Instant Pot, you can also cook this on the stovetop, but that will take a little longer.
Another quick soup in the Instant Pot is Instant Pot Low-Carb Taco Soup and that can also be made on the stovetop if you prefer. This is a soup the whole family is going to like!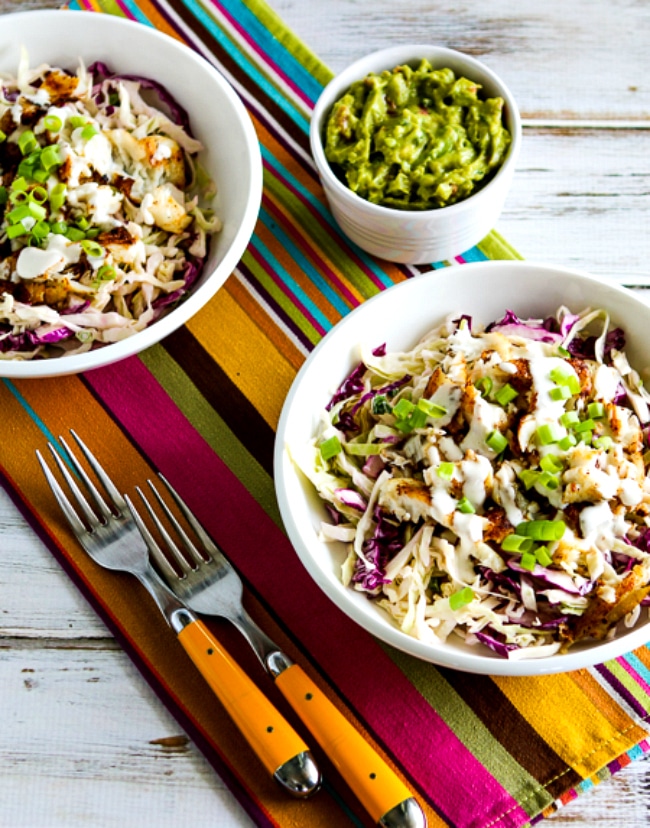 The fish cooks in minutes for these Fish Taco Cabbage Bowls, and if you use coleslaw mix for the cabbage slaw, this recipe will be even faster. My sister Sandee and her husband Clayton are big fans of this recipe!
Sriracha Beef Cabbage Bowls are another fun low-carb bowl meal that's super fast and easy to make.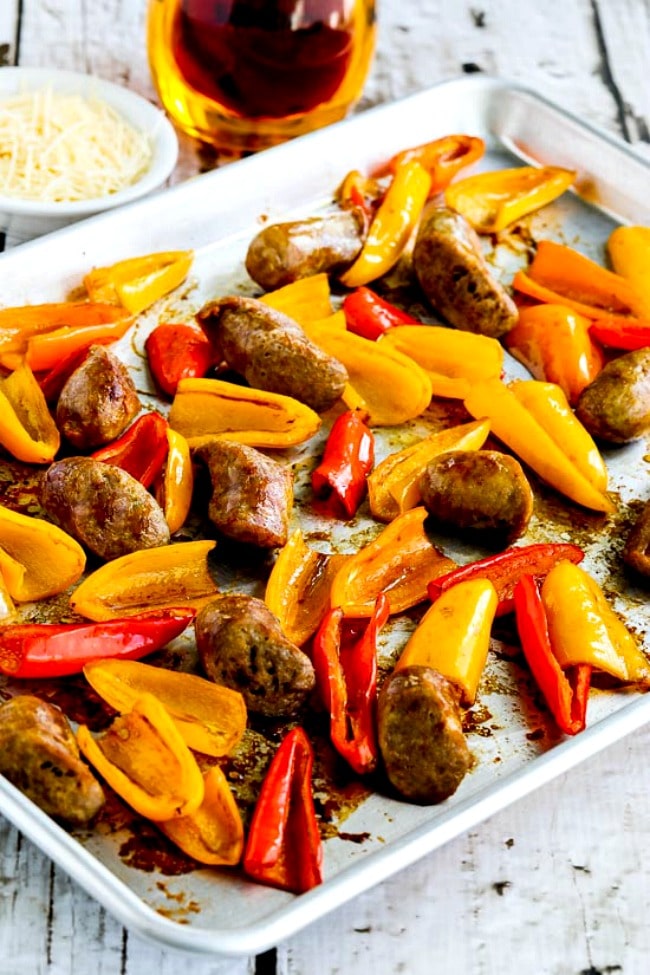 For Italian sausage fans, a sheet pan meal that's super easy and quick is this Italian Sausage and Mini Peppers Sheet Pan Meal. I like turkey Italian sausage, but if you're eating Keto use pork sausage if you prefer.
Another quick low-carb dinner with Italian sausage is Cauliflower Rice Sausage Casserole. This will be a hit with anyone who likes sausage and peppers.

One-pan meals are always a hit, and this Greek Skillet Chicken is easy, quick, and delicious. I'd love this with American Greek Salad for a side dish!
Some people might not consider Low-Carb Fried Cabbage with Bacon to be a complete meal, but personally I'd love that for a quick one-pan dinner!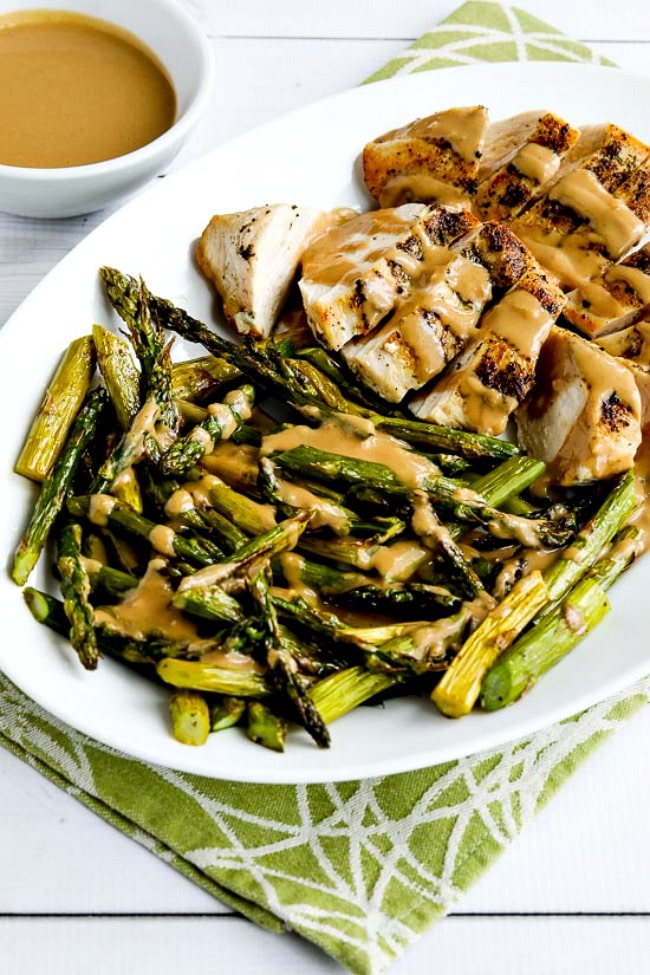 Chicken and Roasted Asparagus with Tahini Sauce is easy and amazing. If you don't have Tahini and don't want to buy it just for this recipe, just use peanut butter in the sauce instead!
If you marinate the chicken in the fridge while you're at work, Low-Carb Baked Chicken Nuggets are pretty fast to cook when you get home.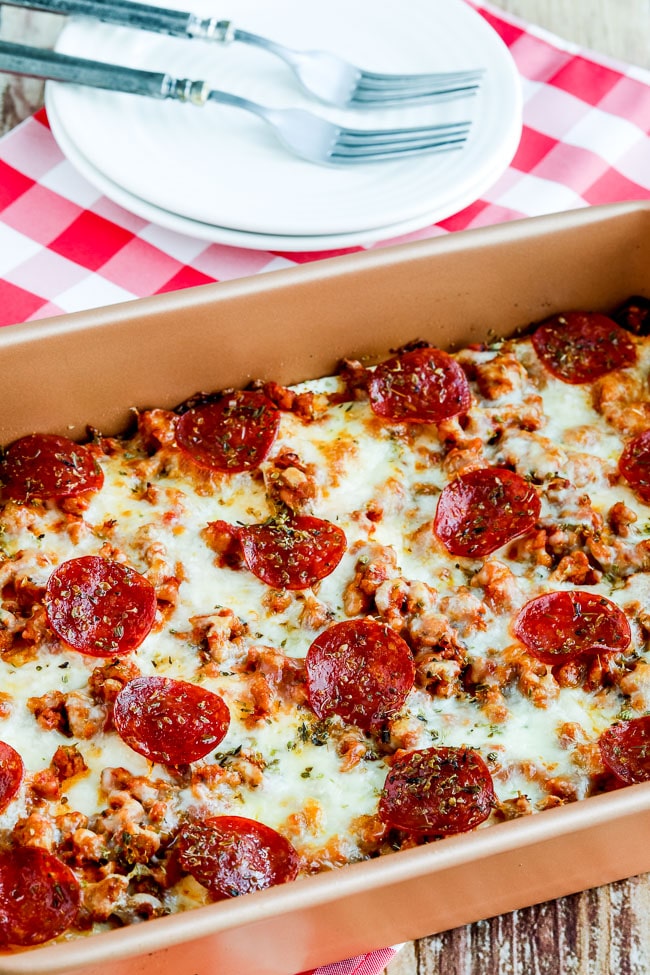 Everyone loves a quick dinner with pizza flavors, and this Sausage and Pepperoni Layered Pizza Bake has both a low-carb and a keto option, depending on which ingredients you use for the "crust" layer. And this is ready in 40 minutes!
And the ever-popular Low-Carb Deconstructed Pizza Casserole is another dinner with pizza flavors that can be on the table in less than an hour!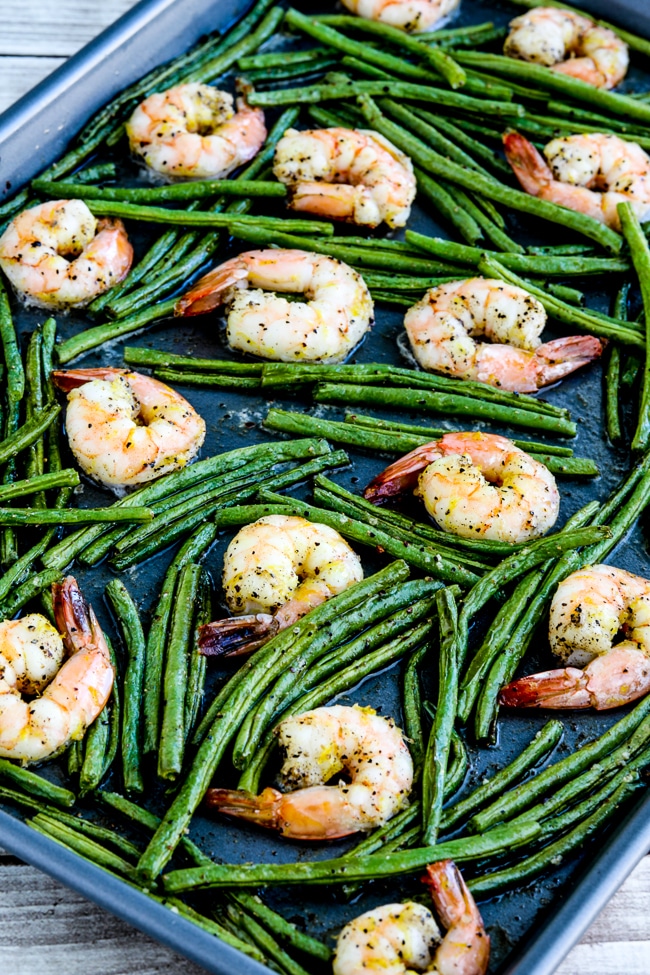 This Spicy Green Beans and Shrimp Sheet Pan Meal is a total wow, and when you want a quick dinner that's a little special, this is a perfect pick.
Or people who like roasted Brussels Sprouts will love this Low-Carb Roasted Asian Shrimp and Brussels Sprouts Sheet Pan Meal.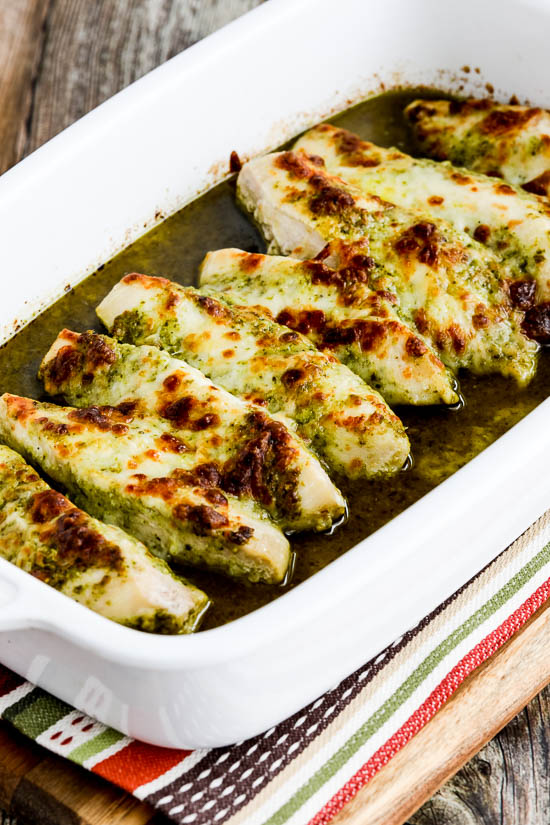 And finally, I couldn't share a collection of easy low-carb dinners without including this Easy Baked Pesto Chicken that's one of the most popular recipes ever on the blog. This is super fast to get into the oven; then make my favorite Easy Cauliflower Rice while the chicken cooks.
A new favorite is Salsa Verde Chicken Bake, which is also quick and easy and good with cauliflower rice! This actually is similar in looks to Easy Baked Pesto Chicken, but the flavors are really different.
Historical Notes for this Round-Up Post:
This collection of quick and easy low-carb dinners was first posted January 10, 2018. It was updated with some newer options on February 29, 2020.
We are a participant in the Amazon Services LLC Associates Program, an affiliate advertising program designed to provide a means for us to earn fees by linking to Amazon.com and affiliated sites. As an Amazon Associate, I earn from qualifying purchases.