Sriracha Beef Lettuce Wraps (Video)
Sriracha Beef Lettuce Wraps are one of my favorite quick low-carb dinners, and anyone who enjoys Sriracha is going to love this tasty idea.
PIN Sriracha Beef Lettuce Wraps to try them later!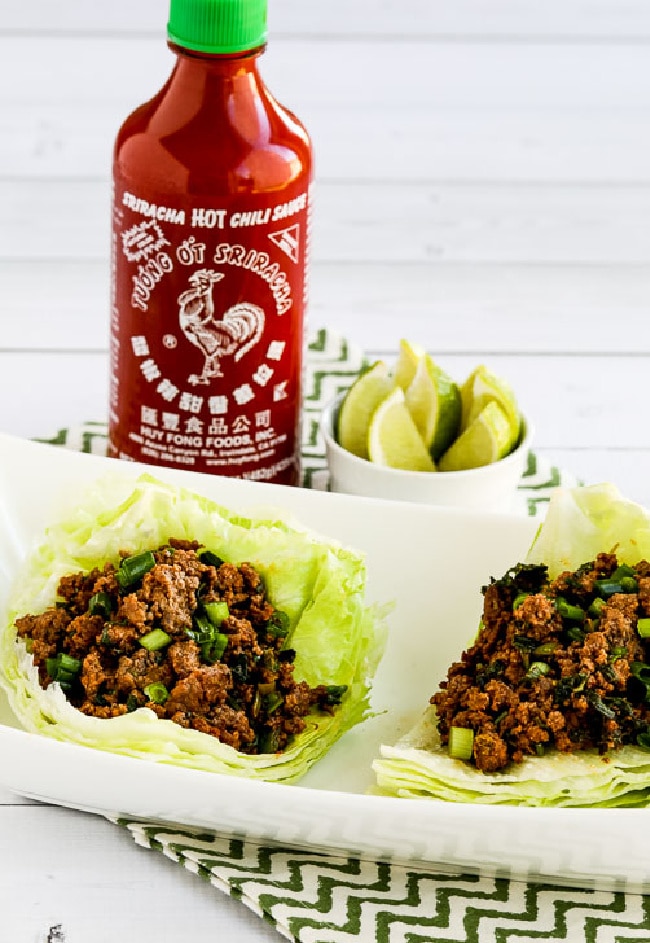 I have quite a few recipes for lettuce wraps on this blog, and they're on the menu often at my house. But despite the abundance of lettuce wrap recipes to choose from, these Sriracha Beef Lettuce Wraps are a quick low-carb dinner that I find myself making over and over.
There are so many favorite flavors here that go perfectly with the beef and Sriracha Sauce, like fish sauce, lime, green onion, and cilantro, and if you like Thai flavors at all, you're going to love this recipe as much as I do.
And one day recently when I was making these lettuce wraps again I decided to snap some new photos. If you've been reading my blog for a while but have never tried this yet, I hope the new photos will get you to try it. It can be on the table in well under 30 minutes, and Sriracha Beef Lettuce Wraps just might become your new favorite dinner!
What ingredients do you need?
cooking oil
ground beef
fish sauce
Sriracha Sauce
water
zest from lime
juice from lime
green onion
cilantro
iceberg lettuce
What is Sriracha Sauce?
Sriracha Sauce is a type of red chile sauce that's used in Thai and Vietnamese cuisine. It's made from chili peppers, vinegar, garlic, sugar, and salt, and is popular all over the world.
What gives this recipe Thai flavors?
I'm not claiming this is an authentically Thai recipe, but ingredients such as fish sauce, Sriracha Sauce, and lime juice give it the combination of spicy, sour, and salty flavors that's so common in Thai cuisine.
Can you make Sriracha Beef Lettuce Wraps without cilantro?
If you have the tastebuds that don't enjoy cilantro I recommend just doubling the amount of green onions and this will still be amazing
Want a bowl meal variation with these flavors?
A few years after I first made this recipe I came up with Sriracha Beef Cabbage Bowls, which are a fun bowl meal variation of this recipe.
Want more tasty ideas for lettuce wraps?
There's a great collection of Low-Carb Lettuce Wraps on Kalyn's Kitchen. Or check out Slow Cooker or Instant Pot Lettuce Wraps or The BEST Instant Pot Lettuce Wraps on my Slow Cooker or Pressure Cooker Site!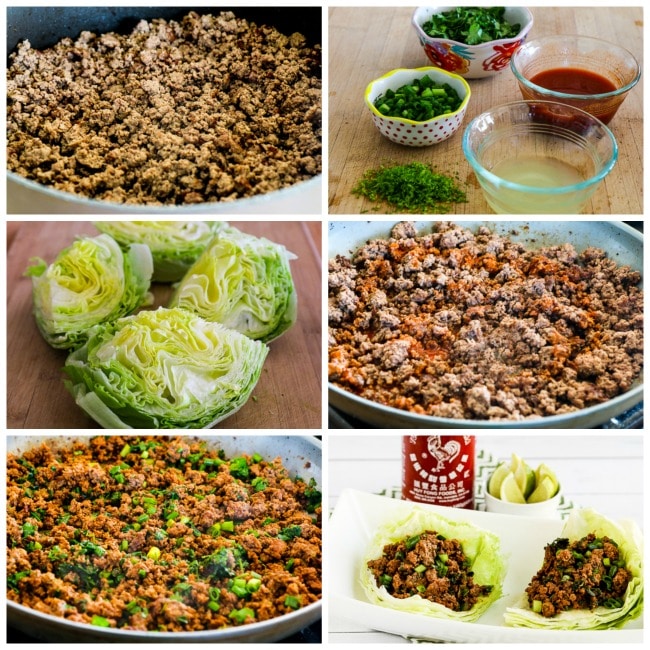 How to make Sriracha Beef Lettuce Wraps:
(Scroll down for complete printable recipe with nutritional information.)
Cook one pound of lean ground beef until it's completely done and starting to lightly brown.
While the beef cooks, mix together the fish sauce, Sriracha Sauce (affiliate link), and water. I like Red Boat Fish Sauce (affiliate link) which is gluten-free and Paleo.
Also zest one large lime and squeeze the juice, slice the green onions and chop the cilantro (or double the amount of green onions if you don't want cilantro.)
Prepare the lettuce cups in the size you prefer.
When the beef is nicely browned, stir in the Sriracha sauce mixture and cook until the water evaporates.
Turn off heat and stir in the lime zest, lime juice, green onions, and cilantro (if using).
That's it! Put it inside a lettuce wrap and devour!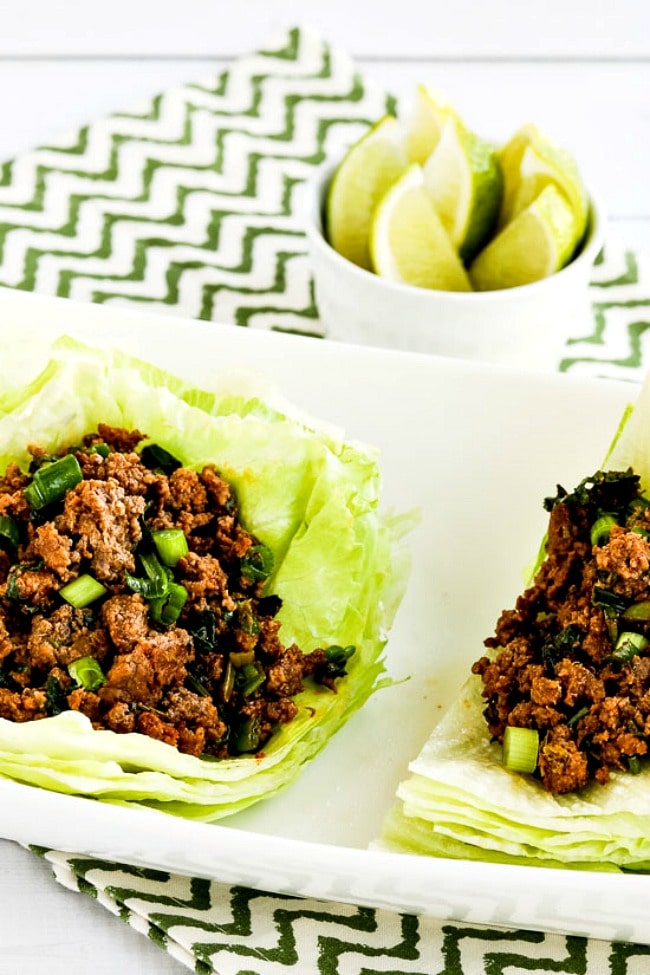 More Lettuce Wraps to Enjoy:
Lettuce Cups with Spicy Ground Turkey
Spicy Shredded Chicken Lettuce Wrap Tacos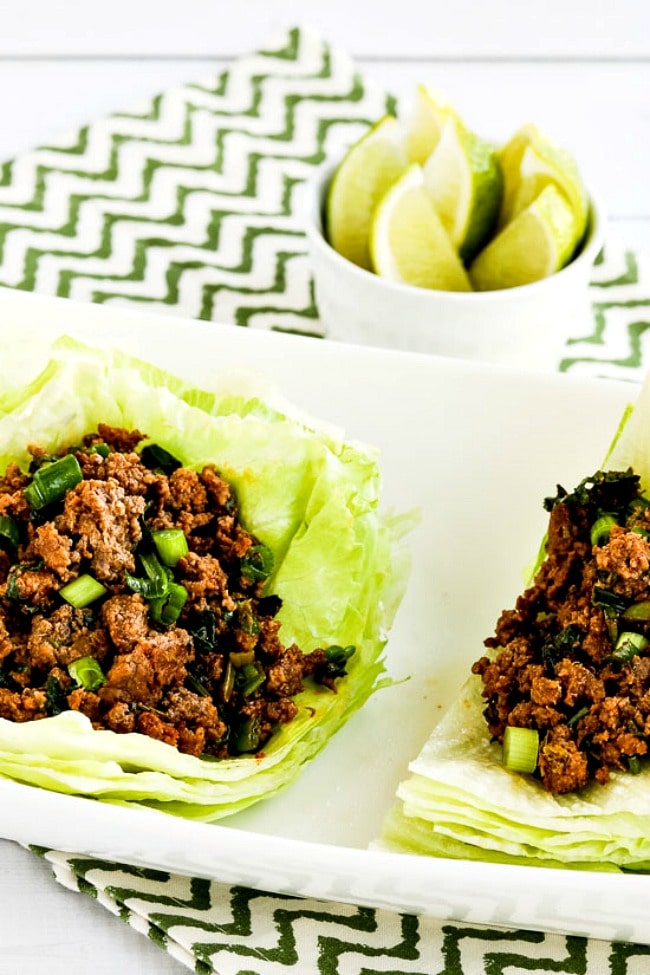 Yield: 4 servings
Sriracha Beef Lettuce Wraps
Prep Time 15 minutes
Cook Time 10 minutes
Total Time 25 minutes
Sriracha Beef Lettuce Wraps are a quick and easy for a tasty low-carb weeknight dinner.
Ingredients
2 tsp. cooking oil of your choice
1 lb. ground beef
1 T fish sauce (see notes)
1-2 T Sriracha Sauce (depending on how much heat you want)
2 T water
zest from one large lime
juice from one large lime (see notes)
1/4 cup thinly sliced green onion
1/2 cup chopped cilantro (see notes)
2 small heads iceberg lettuce, washed and cut into cups
Instructions
Heat the oil in a heavy frying pan over medium-high heat, then cook the beef until it's cooked through and starting to brown, breaking apart with a turner as it cooks.
While beef cooks, mix together the fish sauce, Sriracha Sauce (affiliate link), and water in a small bowl.
Zest the skin of the lime and squeeze the juice. (You may need two limes to get enough juice, but only use the zest from one lime.)
Thinly slice the green onions and chop the cilantro.
Most iceberg lettuce doesn't need washing, but remove the outer leaves. Cut out the core and cut the lettuce into quarters to make "cups" to hold the beef mixture.
When the beef is done, add the Sriracha Sauce mixture and let it sizzle until the water has evaporated, stirring a few times to get the flavor mixed through the meat.
Turn off the heat and stir in the lime zest, lime juice, sliced green onions, and chopped cilantro.
Serve meat mixture with iceberg lettuce leaves to fill with meat and wrap around it, to be eaten with your hands.
Notes
I use Red Boat Fish Sauce (affiliate link) for this recipe, which is gluten-free and Paleo. You want about 1 1/2 T lime juice, so use two limes if needed. If you're not a cilantro fan, use more thinly sliced green onion.This was definitely still good when the meat mixture was kept in the fridge and reheated for a very short time in the microwave, but I liked it best freshly made.
This recipe adapted from Nigella Fresh.
Nutrition Information:
Yield:
4
Serving Size:
1
Amount Per Serving:
Calories: 396
Total Fat: 22g
Saturated Fat: 8g
Unsaturated Fat: 11g
Cholesterol: 101mg
Sodium: 711mg
Carbohydrates: 8g
Fiber: 2g
Sugar: 11g
Protein: 32g
Nutrition information is automatically calculated by the Recipe Plug-In I am using. I am not a nutritionist and cannot guarantee 100% accuracy, since many variables affect those calculations.
Low-Carb Diet / Low-Glycemic Diet / South Beach Diet Suggestions:
This recipe would be great for low-carb diet plans which may prefer higher-fat ground beef. If you use ground beef with less than 10% fat, Sriracha Beef Lettuce Wraps are a great recipe for any phase of the original South Beach Diet.
Find More Recipes Like This One:
Use Lettuce Wraps to see more recipes like this one! Use the Diet Type Index to find recipes suitable for a specific eating plan. You might also like to Follow Kalyn's Kitchen on Pinterest to see all the good recipes I'm sharing there.
Historical Notes for this Recipe:
This recipe was posted in 2012 and I've made it for many dinner guests since then. It was last updated with more information in 2021.
We are a participant in the Amazon Services LLC Associates Program, an affiliate advertising program designed to provide a means for us to earn fees by linking to Amazon.com and affiliated sites. As an Amazon Associate, I earn from qualifying purchases.