Lettuce Wrap Turkey Tacos
Lettuce Wrap Turkey Tacos are a tasty low-carb dinner and we loved these taco lettuce wraps with tomato-avocado salsa. You can also serve them with purchased Pico de Gallo or Guacamole for an option that's a bit easier!
PIN the turkey taco lettuce wraps to try it later!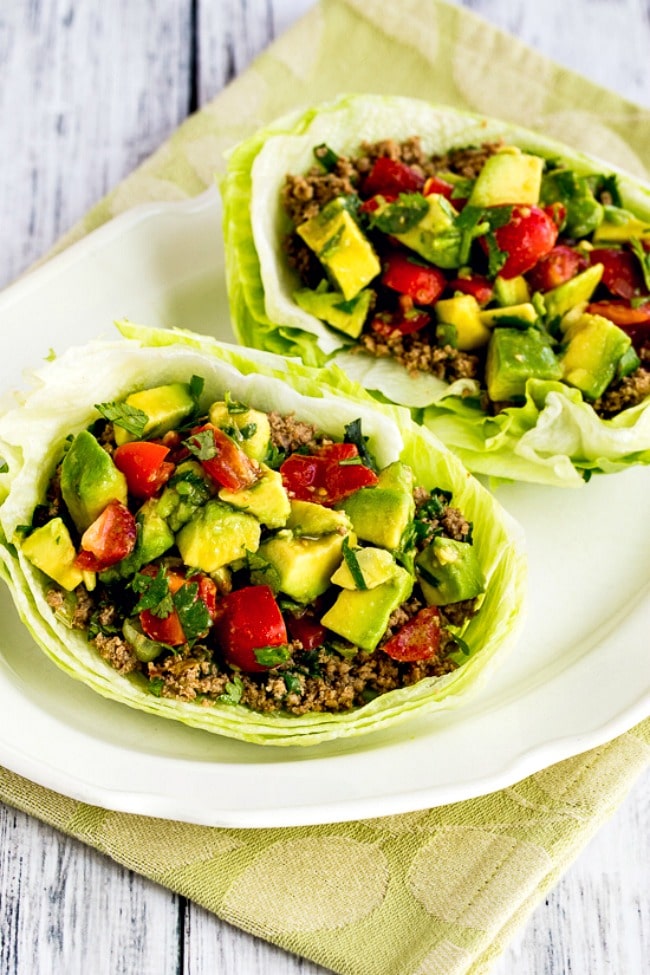 This recipe for Lettuce Wrap Turkey Tacos started on Twitter when Marisa from Food in Jars was talking about about a lettuce wrap taco that used ground turkey years ago, and when I checked the recipe, I couldn't wait to try it. Then what makes the lettuce wrap turkey taco story especially fun is that a few years later I met Marisa at SXSW, and had a great time chatting with her in person.
We're still friends on social media, and fast forward quite a few years later and I've made these lettuce wrap tacos over and over. Through the years I've switched to eating the turkey mixture with crispy iceberg lettuce, although you can certainly use any type of lettuce you prefer.
And of course I never seem to be able to make a recipe just like it's written, so I added some green onions (and a lot more cilantro) to the turkey mixture, and I used a very generous amount of tomato-avocado salsa.
What ingredients do you need for this recipe?
(This is only a list of ingredients; please scroll down for complete printable recipe. Or if you use the JUMP TO RECIPE link at the top of the page, it will take you directly to the complete recipe.)
What makes these Lettuce Wrap Turkey Tacos so delicious?
It's the seasonings with chiles, cumin, and chopped cilantro that seasons the turkey that makes these taco lettuce wraps so delicious, and believe me, these turkey tacos are a complete keeper, something you'll make over and over.
What other protein could you use for taco lettuce wraps?
I definitely think ground beef would be a delicious option here for a filling for the lettuce wraps. I've also made taco lettuce wraps with spicy shredded chicken and tofu if you like one of those options.
How long will the cooked turkey taco mixture keep in the fridge?
The recipe makes a generous amount of the turkey mixture, but you won't mind having a bit of this taco meat mixture left over to eat the next day. It will keep a day or two days pretty well in the fridge, or cut the recipe in half if you want a smaller amount. And you can definitely make these tacos with ground beef if you're not a ground turkey fan.
What if you don't have avocado for the Lettuce Wrap Turkey Tacos?
I love the tomato-avocado salsa I used here, but when I had leftover turkey and the salsa mixture was gone I enjoyed this served with Pico de Gallo from a jar, and I think the tacos would be amazing with purchased guacamole as well, so that's definitely an option if you want a version that's a bit easier!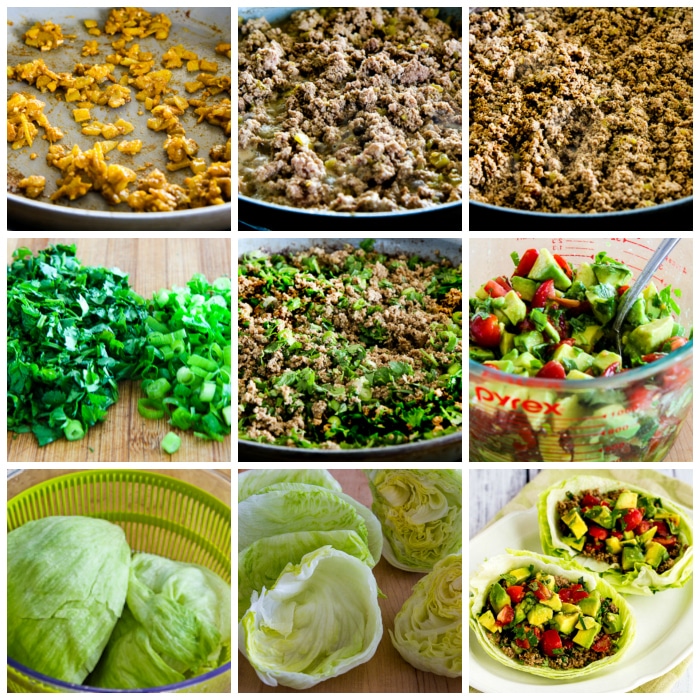 How to make Lettuce Wrap Turkey Tacos:
(This is only a summary of the steps for the recipe; please scroll down for complete printable recipe. Or if you use the JUMP TO RECIPE link at the top of the page, it will take you directly to the complete recipe.)
Heat olive oil in large frying pan and cook the chiles and spices for a few minutes.
Then add the ground turkey and cook over medium-high heat, until all the liquid evaporates and the turkey is nicely browned. (Most turkey has quite a bit of water, so be patient; this may take a few minutes.)
While the turkey cooks, chop up the cilantro and slice the green onions.
When the turkey is browned to your liking, stir in the chopped green onions and cook for a minute or so. Then turn off the heat and stir in the rest of the chopped cilantro and 2 T lime juice.
While turkey cooks, peel and dice the avocado and mix with lime juice. Chop tomatoes, and then mix avocado, tomatoes, 1/4 cup of the chopped cilantro, and olive oil to make the salsa. Season with salt to taste.
Cut the lettuce in half and cut out the core, then cut into quarters. If it needs it I would use a salad spinner (affiliate link) to crisp the lettuce (or make sure it's clean.) Just skip that step if your lettuce doesn't need washing.
I like to use Kitchen Shears (affiliate link) to make cups to fill with taco meat, but trimming the lettuce is definitely optional!
Fill the lettuce cups with the turkey mixture and top with a generous amount of tomato-avocado salsa; YUM!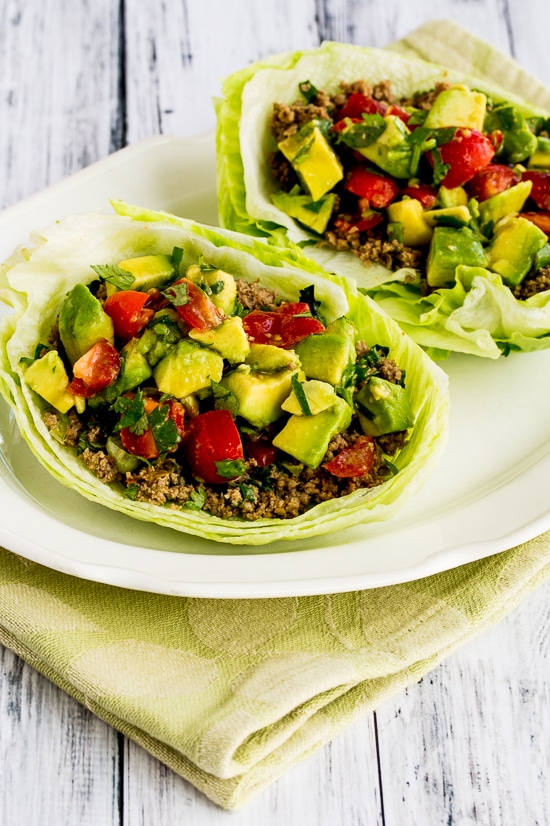 Make it a Low-Carb Meal:
These taco lettuce wraps would be delicious with Spicy Mexican Slaw, No-Mayo Vinegar Coleslaw, or Tomato Avocado Salad with Edamame if you want a side dish for a low-carb meal.
More Tasty Lettuce Wraps:
Weekend Food Prep:
This recipe has been added to a category called Weekend Food Prep where you'll find recipes you can prep or cook on the weekend and eat during the week!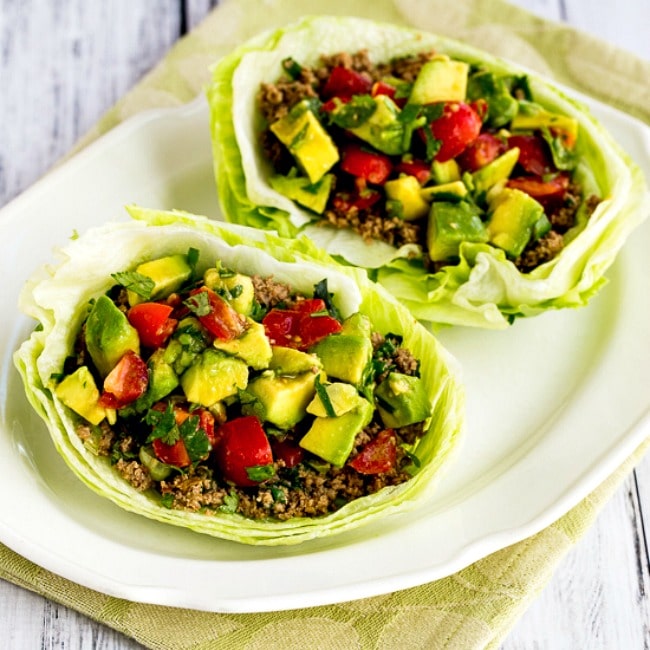 Yield: 10 tacos
Lettuce Wrap Turkey Tacos
Prep Time 8 minutes
Cook Time 8 minutes
Total Time 16 minutes
These Lettuce Wrap Turkey Tacos are a perfect Low-Carb dinner; serve with tomato-avocado salsa or toppings of your choice. And you can serve the taco lettuce wraps with purchase pico de gallo or guacamole if you want an easier version.
Ingredients
For Tacos:
2 tsp. olive oil
1 tsp. minced garlic (see notes)
1 4 oz. can diced green chiles (see notes)
1 1/2 tsp. ground cumin
1/4 tsp. ground Chipotle or Cayenne pepper
2 lbs. ground turkey
1 tsp. salt (more or less to taste)
1/2 cup thinly sliced green onions
1 cup chopped cilantro (see notes)
2 T fresh lime juice
2 heads iceberg lettuce (see notes)
For Salsa:
2 medium avocados, diced
1 cup finely chopped cherry tomatoes
1/4 cup finely chopped cilantro
2 T fresh lime juice
2 T olive oil (optional)
sea salt to taste
Instructions
Heat olive oil in heavy frying pan over medium-high heat and then add minced garlic and diced green chiles and cook about 1 minute.
Add cumin and ground chipotle or cayenne and cook about 1 minute more.
Then add turkey and salt and cook until all the water has evaporated and the turkey is starting to lightly brown, breaking apart with the back of the turner as it cooks. This can take a few minutes, but don't rush the browning step.
While turkey cooks, thinly slice green onions and set aside, then wash cilantro, spin dry or dry with paper towels, and finely chop cilantro.
Peel and dice avocado, place in glass or plastic bowl and toss with lime juice.
Stir in chopped tomato, chopped cilantro, and olive oil, season to taste with salt.
Cut off root end of lettuce and cut away the core. Discard tough outer leaves, then cut the lettuce into quarters to create "cups" to fill with taco meat. (Save the small inner pieces for another use.)
When turkey is lightly browned, add sliced green onions and cook another 1-2 minutes.
Turn off heat, then stir in 1 cup chopped cilantro and 2 T lime juice.
To assemble tacos:
Spoon 2-3 large spoonfuls of turkey mixture into each piece of lettuce.
Top meat mixture with salsa. (You can also serve the tacos with chunky salsa and/or guacamole from the store if you want an easier version.)
You could also eat this mixture inside whole wheat tortillas or pitas, or even corn tortillas if you're not watching carbs. If you're not eating all of this at once I would refrigerate the turkey, lettuce, and salsa mixture separately; then reheat the turkey in a frying pan when you're ready to eat the leftovers.
Notes
I used minced garlic from a jar, but fresh garlic would be even better. Use diced green chiles, not Jalapenos unless you want it really spicy. I used about 1 1/4 cups chopped cilantro, 1 cup in tacos and 1/4 cup in salsa. Use more or less cilantro to taste. Use any lettuce you prefer like romaine, Boston lettuce, or butter lettuce
Recipe adapted from Molly Watson's Turkey Tacos, discovered via Twitter from Marisa but that recipe is no longer online.
Nutrition Information:
Yield:
10
Serving Size:
1
Amount Per Serving:
Calories: 358
Total Fat: 26g
Saturated Fat: 6g
Unsaturated Fat: 18g
Cholesterol: 96mg
Sodium: 385mg
Carbohydrates: 10g
Fiber: 5g
Sugar: 4g
Protein: 25g
Nutrition information is automatically calculated by the Recipe Plug-In I am using. I am not a nutritionist and cannot guarantee 100% accuracy, since many variables affect those calculations.
Low-Carb Diet / Low-Glycemic Diet / South Beach Diet Suggestions:
These tacos made with lean ground turkey and served inside lettuce wraps are a perfect dish for low-carb or Keto diets. They're also great for any phase of the original South Beach Diet. The tomato-avocado salsa does add some carbs but they both have fiber so the net carbs are very low.
Find More Recipes Like This One:
Use Lettuce Wraps to find more recipes like this one. Use the Diet Type Index to find recipes suitable for a specific eating plan. You might also like to follow Kalyn's Kitchen on Pinterest, on Facebook, on Instagram, on TikTok, or on YouTube to see all the good recipes I'm sharing there.
Historical Notes for this Recipe:
The Lettuce Wrap Turkey Tacos were first posted in April 2009 after a blogging friend shared the recipe with me on Twitter; the recipe was last updated with more information in 2023.
We are a participant in the Amazon Services LLC Associates Program, an affiliate advertising program designed to provide a means for us to earn fees by linking to Amazon.com and affiliated sites. As an Amazon Associate, I earn from qualifying purchases.