25+ Low-Carb Holiday Side Dishes, Appetizers, and Salads
Here's my updated collection of 25+ Low-Carb Holiday Side Dishes, Appetizers, and Salads, and all these holiday recipes are also gluten-free! And because holidays are challenging for low-carb eaters, having delicious low-carb options always makes the holidays a little more fun!
PIN 25+ Low-Carb Holiday Side Dishes, Appetizers, and Salads!
I know how hard it is to stick with a low-carb eating plan during the holidays, and one thing that helps is to have a tasty collection of low-carb holiday recipes! So to help you with that I'm sharing this updated round-up of 25+ Low-Carb Holiday Side Dishes, Appetizers, and Salads. These are perfect for anyone who needs the lowest-carb holiday menu, whatever the reason!
Every recipe here is a favorite I've enjoyed many times, so I know you won't feel deprived with any of these on your holiday table. I'm updating this post with better photos for some of these favorites plus adding a few new options, and I hope you'll find a low-carb dish here you'll really enjoy when all that sweet holiday food is staring you in the face!
And if you're a long time reader who's enjoyed some of these favorites through the years, I'd love to hear in the comments about which ones you might be making during the holidays!
Want more ideas for holiday recipes?
You can check out Holiday Recipes to find more low-carb ideas for the holidays!
How do you get the complete recipe?
Just click any recipe title to see the complete recipe on Kalyn's Kitchen!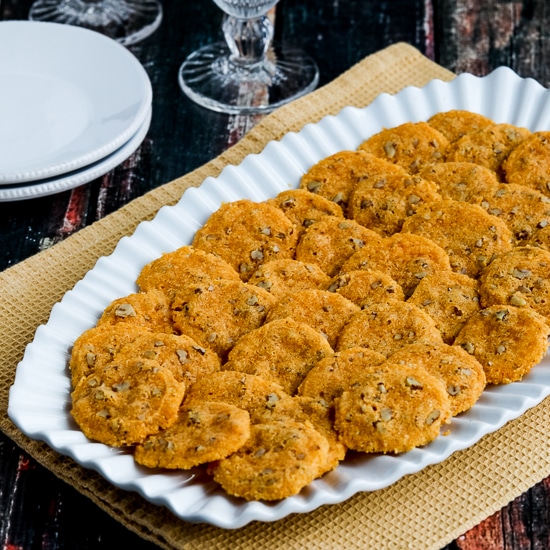 Low-Carb and Gluten-Free Cheddar Pecan Almond Crisps
Roasted Asparagus with Soy-Sesame Glaze
Easy Cucumber Guacamole Appetizer Bites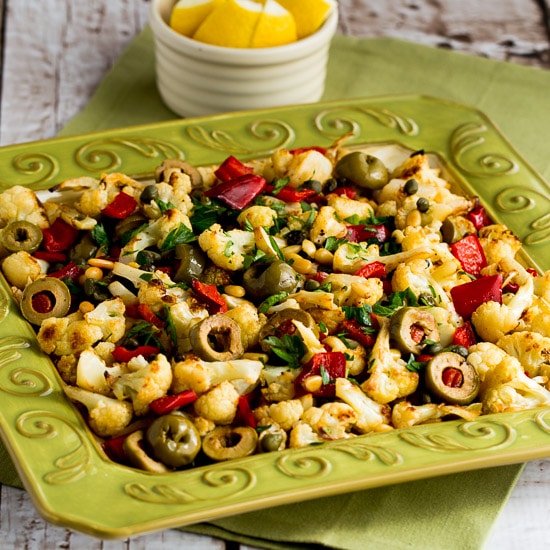 Roasted Cauliflower with Red Peppers, Green Olives, and Pine Nuts
Low-Carb Twice-Baked Cauliflower
Low-Carb Rotisserie Chicken Salad with Avocado, Pepper, Feta and Lime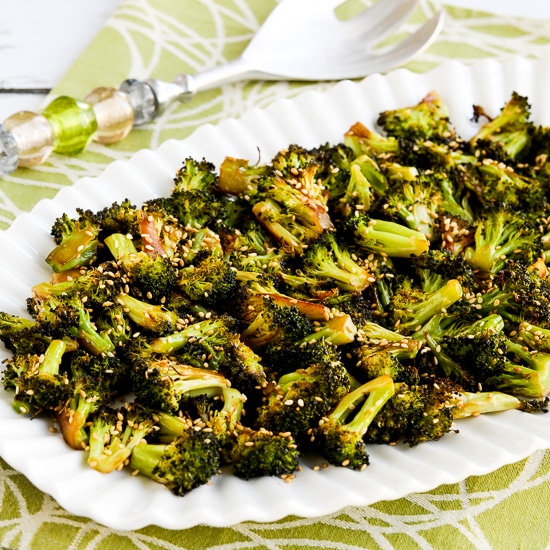 Quick Roasted Broccoli with Soy Sauce and Sesame Seeds
Low-Carb Vegetarian Chile Rellenos Bake
(Cut into small pieces and serve with toothpicks for an appetizer.)
Kalyn's Favorite Baby Arugula Salad with Lemon, Balsamic, Parmesan, and Pine Nuts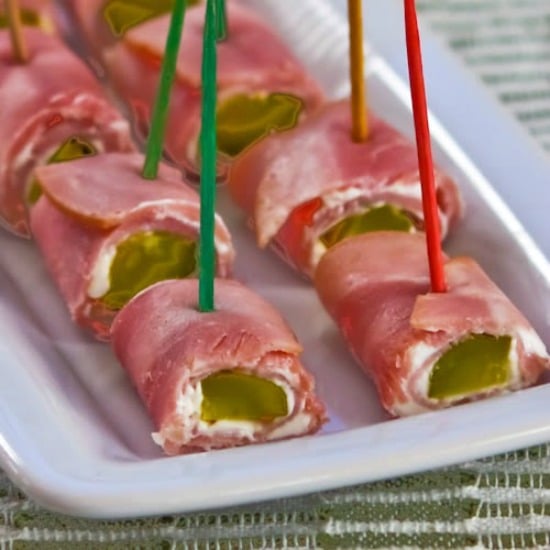 Spicy Tomato-Cucumber Salad with Peperoncini
Easy Shrimp Cocktail with Creamy Sriracha Cocktail Sauce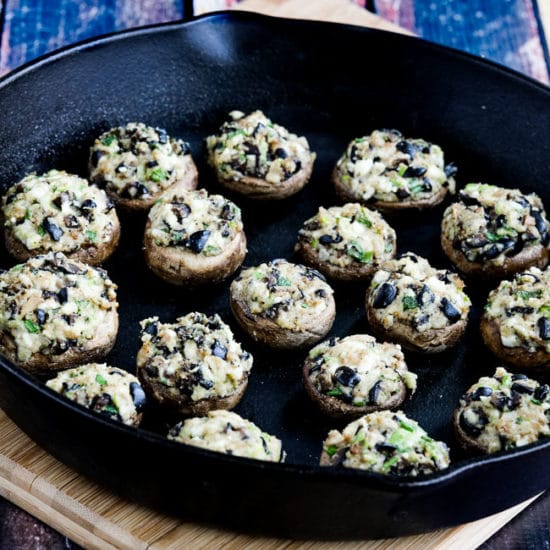 Low-Carb Stuffed Mushrooms with Olives and Feta Cheese
Cauliflower Gratin with Sharp Cheddar and Parmesan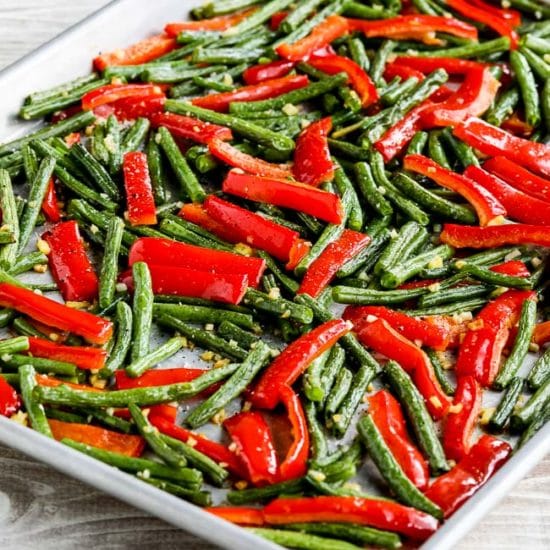 Roasted Green Beans and Red Bell Peppers
Roasted Asparagus Wrapped in Ham
Garlic-Roasted Green Beans with Shallots and Almonds
Barely-Blanched Broccoli Salad with Feta and Fried Almonds
Low-Carb Greek Peperoncini Chicken Salad
Lemony Green Beans with Lemon Juice and Lemon Zest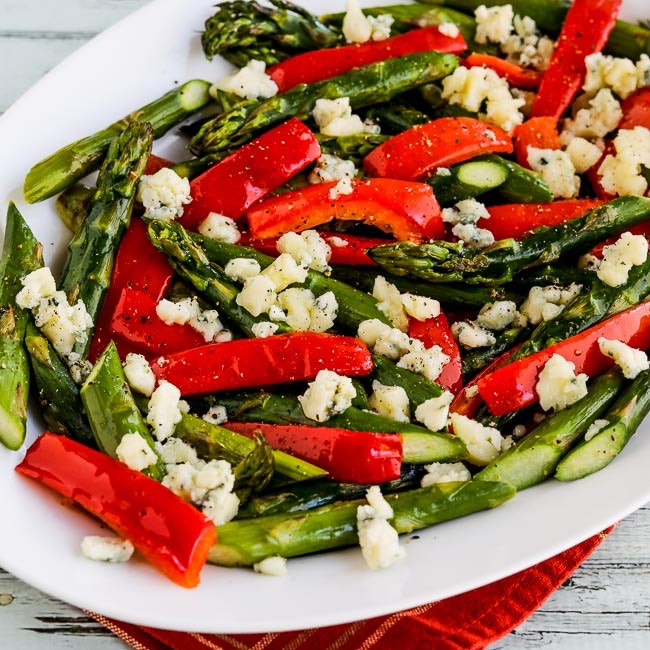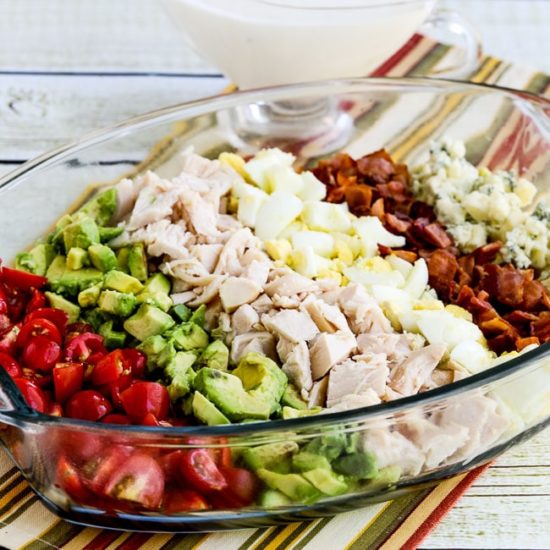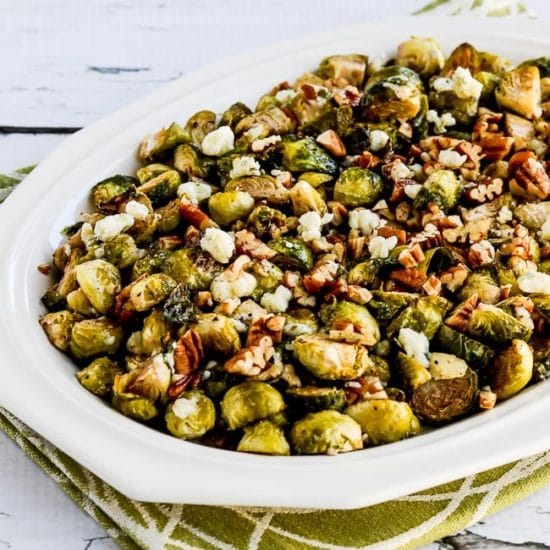 Roasted Brussels Sprouts with Pecans and Gorgonzola
More Low-Carb Holiday Recipes:
How to Cook a Turkey Breast in the CrockPot or Instant Pot ~ Kalyn's Kitchen
Low-Carb Winter Salads for Holiday Dinners ~ Kalyn's Kitchen
23 Low-Carb But Totally Satisfying Holiday Side Dishes ~ Parade magazine
We are a participant in the Amazon Services LLC Associates Program, an affiliate advertising program designed to provide a means for us to earn fees by linking to Amazon.com and affiliated sites. As an Amazon Associate, I earn from qualifying purchases.