Greek Yogurt Dip
This healthy Greek Yogurt Dip is flavored with Tahini, and this is a delicious low-carb veggie dip I'd eat any time of year! And this is good with a variety of veggies, but I especially love these flavors with tomatoes and cucumbers.
PIN the Greek Yogurt Dip recipe to try it later!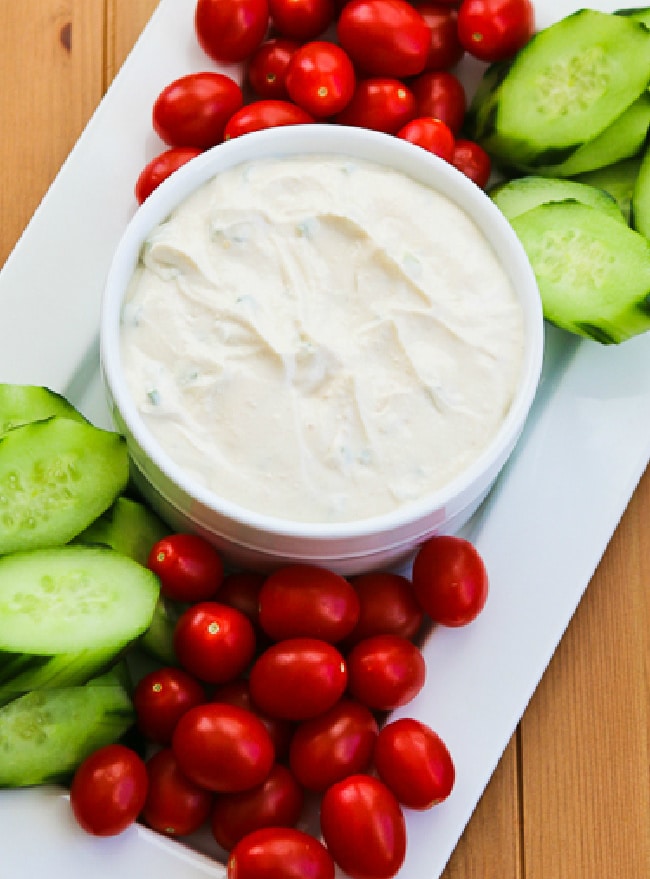 Having something healthy to nibble on among the more indulgent choices can really help when you're facing a big table of party food, and that's why this Greek Yogurt Dip is perfect to make for a party any time of year! And I love it with the tomatoes and cucumbers you see here!
It might have been the memories of a favorite salad I enjoyed once at a Chicago restaurant that reminded me how tomatoes and cucumbers are amazing with Greek yogurt and tahini, so that's how we ended choosing tomato and cucumber dippers for this easy and tasty dip. And when Jake and I tried out this combination we both loved it. Hope you enjoy this for a healthy option for party food, or just something to snack on at home!
What ingredients do you need?
(This is only a list of ingredients; please scroll down for complete printable recipe. Or if you use the JUMP TO RECIPE link at the top of the page, it will take you directly to the complete recipe.)
plain Greek Yogurt
green onion
sour cream
Tahini Sauce (affiliate link)
sesame oil (affiliate link)
Vege-Sal (affiliate link), or slightly less regular salt
What is Greek Yogurt?
Greek Yogurt is pretty mainstream now, and the main difference between regular plain yogurt and Greek Yogurt is that the Greek Yogurt is thicker and less liquidy. You can strain regular plain yogurt using the instructions below if you prefer to use that for this recipe.
What is Tahini Sauce?
Tahini (also called Tahina) is a middle eastern condiment that's made from toasted and ground sesame seeds. It's a primary ingredient in hummus and is used in many types of middle eastern dishes. I'm partial to Soom Tahini (affiliate link), but there are lots of good brands.
What vegetables are good with the Greek Yogurt Dip?
I love tomatoes and cucumbers with this Greek yogurt and tahini flavored dip. But there are lots of other vegetables that would taste good with this dip, including sugar-snap peas, red or green bell pepper strips, broccoli, cauliflower, and celery.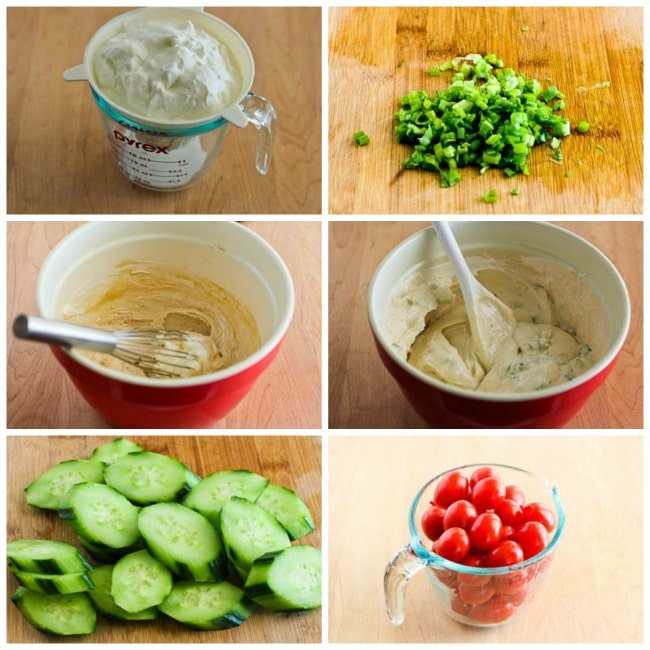 How to make the Greek Yogurt Dip:
(This is only a summary of the steps for the recipe; please scroll down for complete printable recipe. Or if you use the JUMP TO RECIPE link at the top of the page, it will take you directly to the complete recipe.)
If you have an extra-thick Greek yogurt you can probably skip the straining step, but I like to strain it for about 15 minutes to remove some liquid.
Use any type of fine-mesh strainer. You can see by the photo that even with good quality Greek yogurt some liquid will drain out.
While the yogurt strains, finely chop the green onions.
Whisk together the Tahini Sauce, sesame oil, Vege-Sal (or salt) and sour cream.
Then mix in the strained green yogurt and finely chopped green onions.
You can cut the cucumbers in sticks if you prefer, but I made thick diagonal slices. (European cucumbers are much better than regular ones during the winter.)
I buy these grape tomatoes from Costco all year long, and they were great with the dip.
Serve the Greek Yogurt Dip on a platter with the veggies arranged around it, and I promise it will disappear quickly among all those rich holiday foods!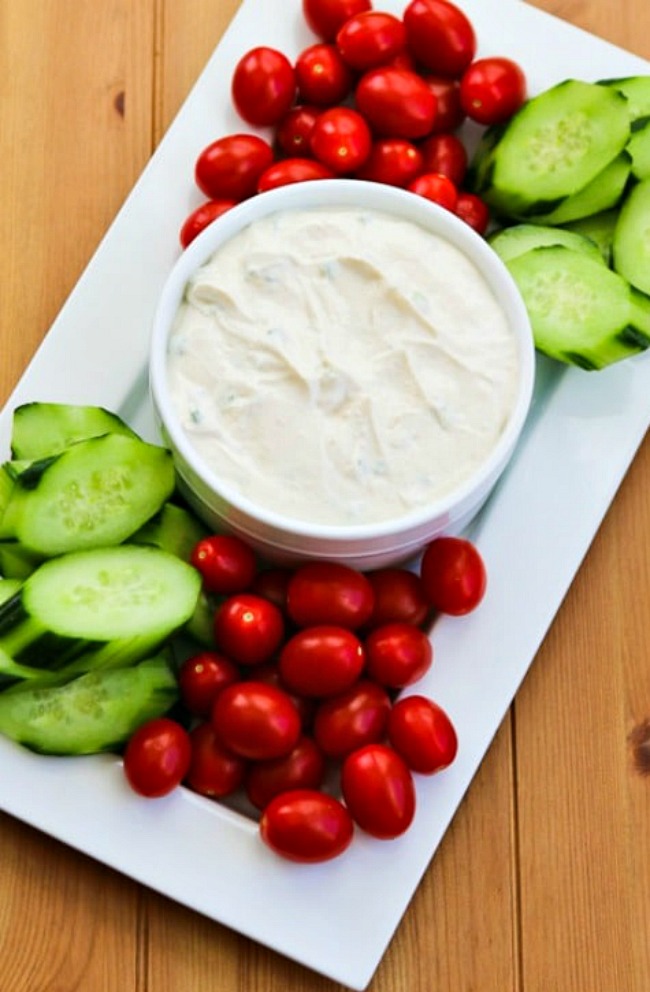 More Tasty Dips for Vegetables: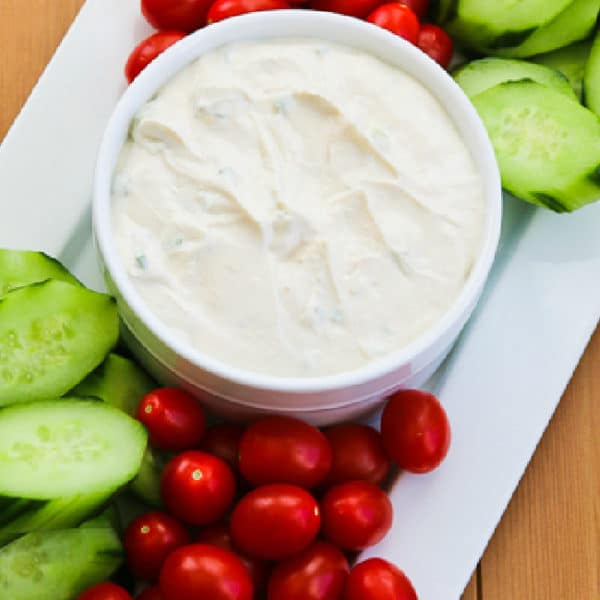 Yield: 8 servings
Greek Yogurt Dip
Prep Time 20 minutes
Total Time 20 minutes
This healthy Greek Yogurt Dip will be welcome on a holiday party or Superbowl buffet table loaded with rich foods!
Ingredients
1 1/2 cup plain Greek Yogurt
1/3 cup finely chopped green onion (mostly green parts)
1/2 cup sour cream
2 T tahini paste (at room temperature)
2 tsp. sesame oil (I used Asian Sesame Seed Oil)
1 tsp. Vege-Sal (or 1/2 tsp. salt)
Instructions
If needed, put the Greek yogurt into a fine-mesh strainer and let it drain for 15 minutes or so. Finely chop the green onion.
Whisk together the low-fat sour cream, tahini paste, sesame oil, and Vege-Sal (or salt). Mix in the strained Greek yogurt and finely chopped green onion.
The dip can be served immediately or chilled a few hours or overnight.
Serve with grape tomatoes and diagonally sliced cucumbers. Other vegetables that would taste good with this include sugar-snap peas, red or green bell pepper strips, broccoli, cauliflower, and celery.
Notes
Use reduced fat or full fat yogurt and sour cream, whichever you prefer. Nutritional information based on 1/4 cup serving size, which might be more than some people would eat. This recipe was adapted slightly from The South Beach Diet Parties and Holidays Cookbook.
Nutrition Information:
Yield:
8
Serving Size:
1
Amount Per Serving:
Calories: 87
Total Fat: 6g
Saturated Fat: 2g
Trans Fat: 0g
Unsaturated Fat: 3g
Cholesterol: 11mg
Sodium: 22mg
Carbohydrates: 3g
Fiber: 0g
Sugar: 2g
Protein: 5g
Nutrition information is automatically calculated by the Recipe Plug-In I am using. I am not a nutritionist and cannot guarantee 100% accuracy, since many variables affect those calculations.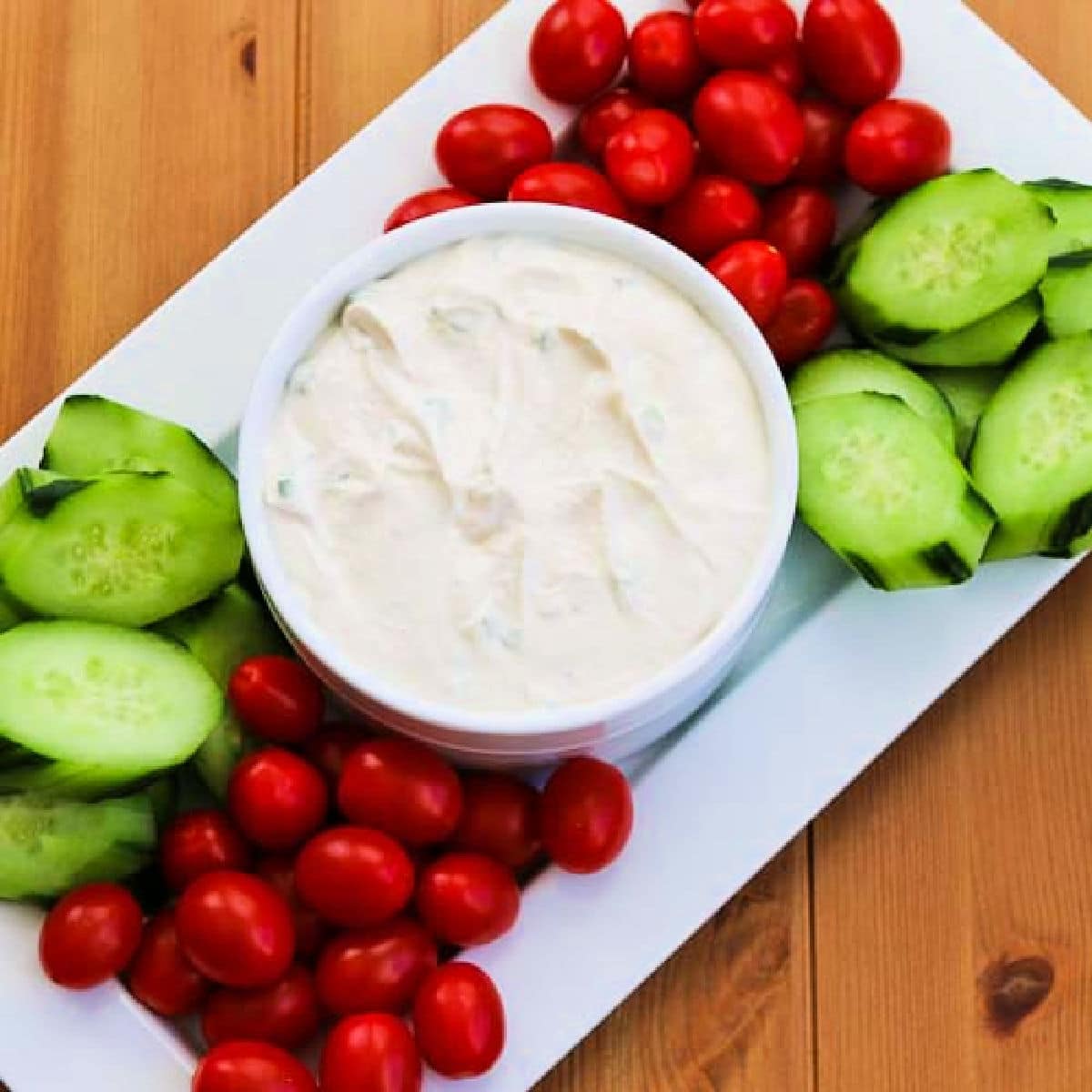 Low-Carb Diet / Low Glycemic Diet / South Beach Diet Suggestions:
This Greek Yogurt Dip is great for low-carb diets, which will probably prefer full-fat dairy. Tomatoes are higher in carbs than cucumbers, so if you're really limiting carbs you should eat mostly cucumbers (or use other low-carb veggie dippers.) As long as you stick with the low-carb vegetables and use reduced fat dairy products, Greek Yogurt Dip and the vegetable dippers would be great for any phase of the original South Beach Diet.
Find More Recipes Like This One:
Use Appetizer Recipes for more tasty recipes like this one. Use the Diet Type Index to find recipes suitable for a specific eating plan. You might also like to follow Kalyn's Kitchen on Pinterest, on Facebook, on Instagram, on TikTok, or on YouTube to see all the good recipes I'm sharing there.
Historical Notes for this Recipe:
This recipe was posted in 2013. It was last updated with more information in 2023.
We are a participant in the Amazon Services LLC Associates Program, an affiliate advertising program designed to provide a means for us to earn fees by linking to Amazon.com and affiliated sites. As an Amazon Associate, I earn from qualifying purchases.