Cheddar Pecan Almond Crisps (Video)
Cheddar Pecan Almond Crisps are amazingly delicious and they're perfect for a low-carb cheese cracker that's a bit fancier for a party! And these will be a hit with everyone!
PIN Cheddar Pecan Almond Crisps!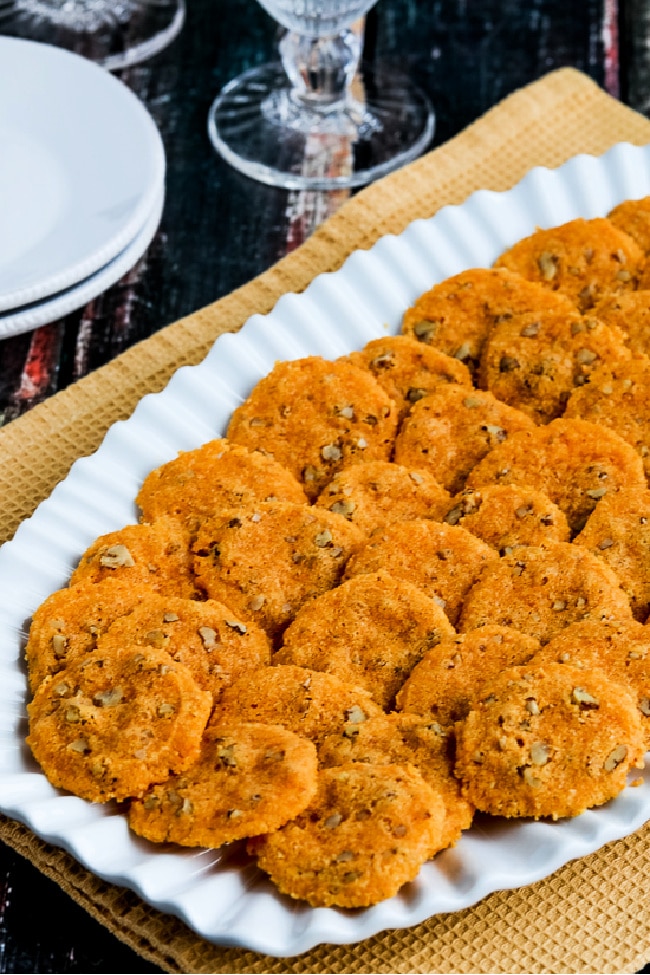 During the holidays, everywhere you look there are sweet treats tempting you. I know a lot of people join me in the effort to avoid most of those sweet holiday offerings. But you also want something special to serve guests or take to holiday parties right? And these Cheddar Pecan Almond Crisps are perfect when you need a low-carb treat for a holiday gathering, so I am reminding you about them for Friday Favorites today.
I was inspired by the success I'd had with Almond Flour Cheese Crackers and switched out the flour for almond flour in a recipe I spotted in a holiday catalog, and the low-carb version worked beautifully, although the version with almond flour spreads out a bit. But when I tested this recipe with Kara a few years ago we seriously could not stop eating them! And I promise everyone will love these for a holiday nibble, whether or not they're thinking about the carbs!
What ingredients do you need?
How to Make Cheddar Pecan Almond Crisps:
(Scroll down for complete printable recipe with nutritional information.)
The dough has to be chilled and the butter needs to start out soft, so you have to plan ahead a bit when you're making this.
Mash up the softened butter with a fork, and then mash in the finely grated sharp cheddar.
In another bowl, mix the almond flour, salt, paprika, and a pinch of cayenne pepper.
Chop the pecans, then mix together the cheese mixture, almond flour mixture, and pecans to make a stiff dough.
Divide the dough into two balls, then roll out each ball into a log that's about 1 1/2 inches thick.
Roll waxed paper around each log and chill in the fridge overnight, or at least for 4-6 hours. The dough should be firm when you're ready to cut it.
Cut the log into round pieces about 1/4 inch thick. (Cutting them into even thicknesses was the only hard part for the recipe, and they do spread out a bit as you can see from that photo.)
Bake on parchment paper sheets (affiliate link) at 350F/180C for about 13-15 minutes, or until the crisps feel firm.
Let them cool for about 30 minutes before serving; we cooled them on paper towels.
Serve at a holiday party or when you're having friends over and I promise that these will disappear pretty quickly!
More Low-Carb Party Nibbles:
Grandma Denny's Homemade Ranch Dip
Stuffed Mushrooms with Olives and Feta
Yield: about 16 servings (2 crisps per serving)
Cheddar Pecan Almond Crisps
Prep Time 5 hours 40 minutes
Cook Time 15 minutes
Total Time 5 hours 55 minutes
These Cheddar Pecan Almond Crisps are perfect when you need a low-carb nibble that's good enough to serve for a party!
Ingredients
1/4 cup softened butter (see notes)
8 oz. extra sharp cheddar cheese, finely grated
1 cup blanched almond flour
1/2 tsp. kosher salt (or maybe a bit less if you use salted butter)
generous pinch sweet Paprika (see notes)
pinch Cayenne Pepper (or other hot ground chile will work)
1/2 cup small chopped pecans
Instructions
Let the butter soften for a few hours on the counter.
Then put butter into a small bowl and mash with a fork.
Grate the sharp cheddar on the very smallest cheese grater you have.
Then add cheese to the bowl and mash together with the butter. (A pastry blender (affiliate link) would be good for this if you have one but we just used a fork.
In a separate bowl stir together the blanched almond flour, salt, sweet paprika, and cayenne.
Chop the pecans.
Add the almond flour mixture and chopped pecans to the cheese/butter mixture and mash together. (You could probably do this in a food processor with the plastic blade, but it wasn't too hard to get it mixed with a large fork.)
Divide the dough into two balls; then roll each ball into a log that's about 1 1/2 inches thick.
Roll the logs in waxed paper and chill in the fridge overnight, or at least for 4-6 hours (until the dough is very firm.)
When you're ready to cook, preheat the oven to 350F/180C and cover a baking sheet with parchment paper (affiliate link).
Cut the logs of dough into pieces that are about 1/4 inch thick and lay them out on the parchment paper, leaving some space in between for the dough to spread out.
Bake about 13-15 minutes, or until the crisps are firm and barely starting to brown.
Let cool for 20 minutes or so before serving. (We cooled them on paper towels.)
Notes
One-fourth cup butter is half of a regular stick. You might find almond flour at Costco, or get Almond Flour (affiliate link) from Amazon.com. I love Szeged Paprika (affiliate link) and used that for this recipe.
Recipe adapted from a recipe in the Penzeys catalog, Thanksgiving 2016. If you don't care about carbs and want to make the original version with flour, here's the recipe for Cheese Pecan Crisps from Lucy Bartlett, shared in the catalog.
Nutrition Information:
Yield:
16
Serving Size:
1
Amount Per Serving:
Calories: 148
Total Fat: 14g
Saturated Fat: 5g
Unsaturated Fat: 7g
Cholesterol: 22mg
Sodium: 187mg
Carbohydrates: 2g
Fiber: 1g
Sugar: 0g
Protein: 5g
Nutrition information is automatically calculated by the Recipe Plug-In I am using. I am not a nutritionist and cannot guarantee 100% accuracy, since many variables affect those calculations.
Low-Carb Diet / Low-Glycemic Diet / South Beach Diet Suggestions:
Cheddar Pecan Almond Crisps are good for low-carb diet plans, especially Keto or Low-Carb-High-Fat diets. Although these are low in carbs, they're probably best as a special treat if you're following the original South Beach Diet, due to the amount of fat, and nut flours are limited to Phase 2 or 3 for South Beach.
Find More Recipes Like This One:
Use Appetizers to find more recipes like this one. Use the Diet Type Index to find more recipes suitable for a specific eating plan. You might also like to Follow Kalyn's Kitchen on Pinterest to see all the good recipes I'm sharing there.
Historical Notes for this Recipe:
This recipe was first posted in 2016. It was updated with more information and featured for Friday Favorites in 2021.
We are a participant in the Amazon Services LLC Associates Program, an affiliate advertising program designed to provide a means for us to earn fees by linking to Amazon.com and affiliated sites. As an Amazon Associate, I earn from qualifying purchases.