Sweet and Sour Broccoli Salad (Video)
Sweet and Sour Broccoli Salad is my low-carb version of a classic salad everyone loves, and this is perfect for any kind of special occasion!
PIN the Sweet and Sour Broccoli Salad to try it later!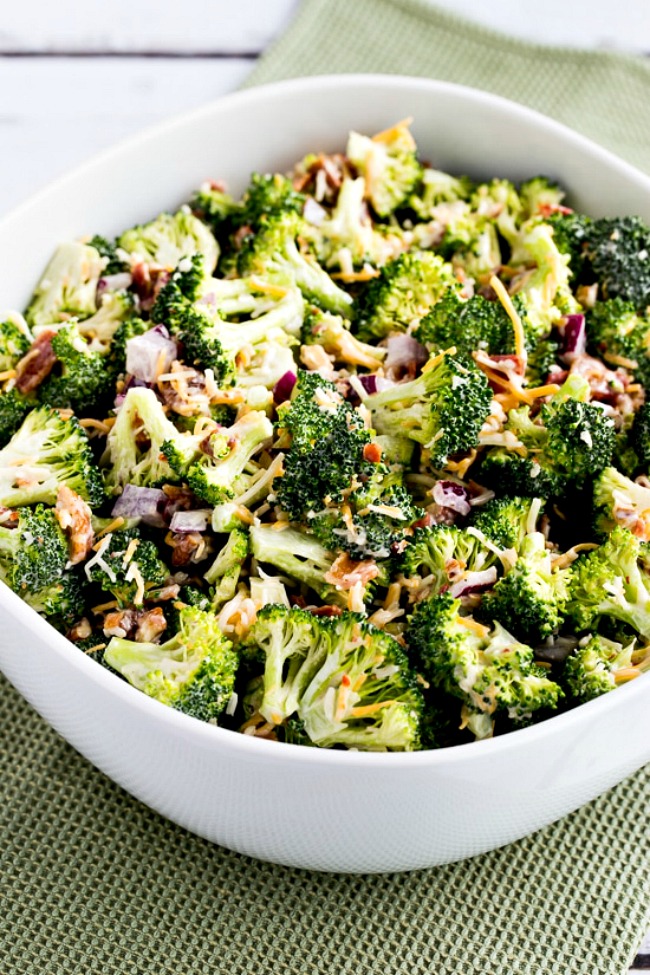 For Friday Favorites this week I want to remind you about this favorite Sweet and Sour Broccoli Salad that's perfect for any kind of party or holiday, or even just for a treat to make for the family.
I wonder sometimes why certain recipes become classics that people make over and over, and this is definitely one of those recipes everyone loves. I've been making Sweet and Sour Broccoli Salad (and improving the recipe) for more than ten years now, and I think this version is the best one yet!
Through the years I experimented with different sweeteners, used more or less bacon, switched raisins for pecans, and even tried a version where the broccoli was finely chopped (which was really good, if you prefer that variation.)
These days I make the yummy mayo-based dressing for this salad with Golden Monkfruit Sweetener (affiliate link) and I don't even miss the tiny bit of sugar I used to use. The Monkfruit gives great flavor and a dressing that's really low in carbs!
I love the ingredients you see here for this ever-popular broccoli salad, but feel free to experiment with other variations to the recipe as well. No matter how you change this up, I don't think there can ever be a bad version of this salad!
What ingredients do you need for this recipe?
What does sweet and sour mean in the recipe title?
This salad has a mayo-based dressing that has vinegar and your favorite sweetener for a delightful sweet-and-sour flavor that goes perfectly with the broccoli!
What else can you add to this broccoli salad?
This is such a classic salad recipe that I'm sure plenty of people are making it who don't care about the carbs. If that's the case for you this is also delicious with raisins added. Or use craisins if you're making it for a holiday salad!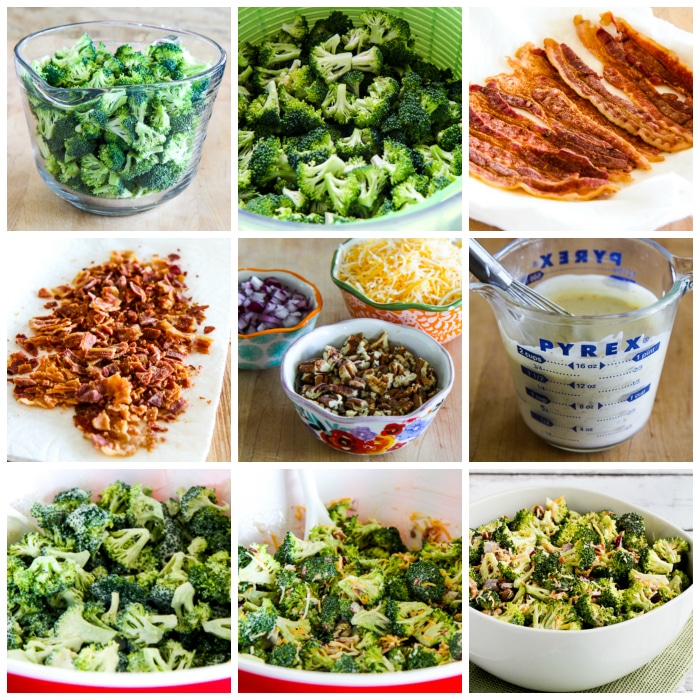 How to make Sweet and Sour Broccoli Salad:
(Scroll down for complete recipe including nutritional information.)
That's my favorite 8-Cup glass measuring cup (affiliate link) full of cut up broccoli.
If your broccoli is even the tiniest bit limp crisp it in ice water in the salad spinner and spin dry.
I use the pre-cooked bacon from Costco for this salad which I just crisp bacon in the microwave, and blot off a little of the fat, (or not, take your choice on that.
Then coarsely chop the broccoli.
Chop up red onion and pecans and measure out the cheese.
Combine mayo, vinegar, Golden Monkfruit Sweetener (affiliate link) or sweetener of your choice, Spike Seasoning (affiliate link), salt, and pepper to make the flavorful dressing.
Put broccoli in a bowl and toss with enough dressing to coat.
Then gently stir in the onion, bacon, and cheese.
Low-Carb Sweet and Sour Broccoli Salad can be chilled or served right away.
This salad will keep in the fridge for a day or two, but you might want to stir in a little more dressing to refresh the flavors.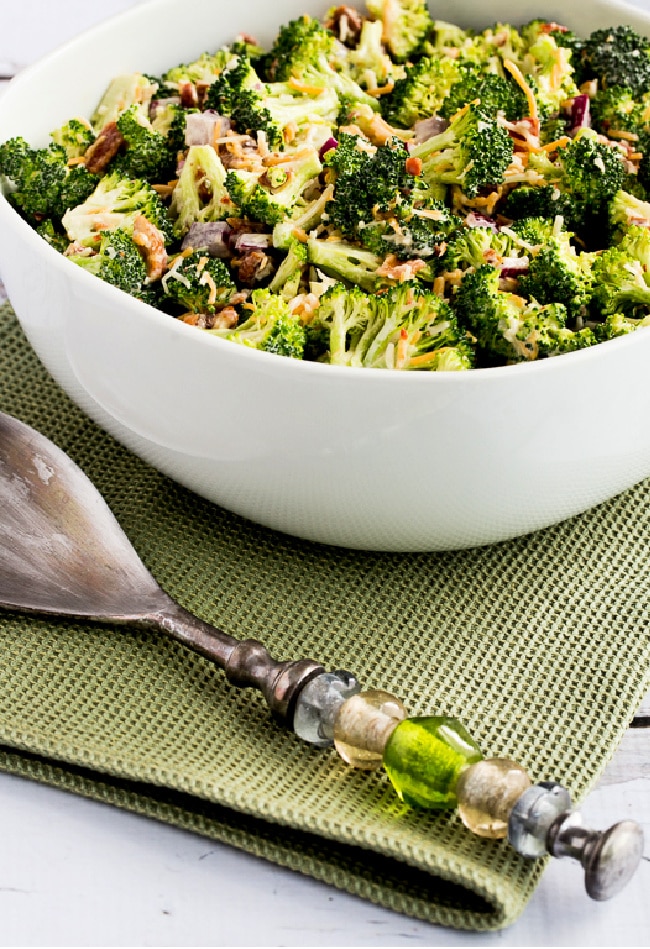 More Tasty Broccoli Salad Recipes:
Weekend Food Prep:
This recipe has been added to a new category called Weekend Food Prep to help you find recipes you can prep or cook on the weekend and eat during the week!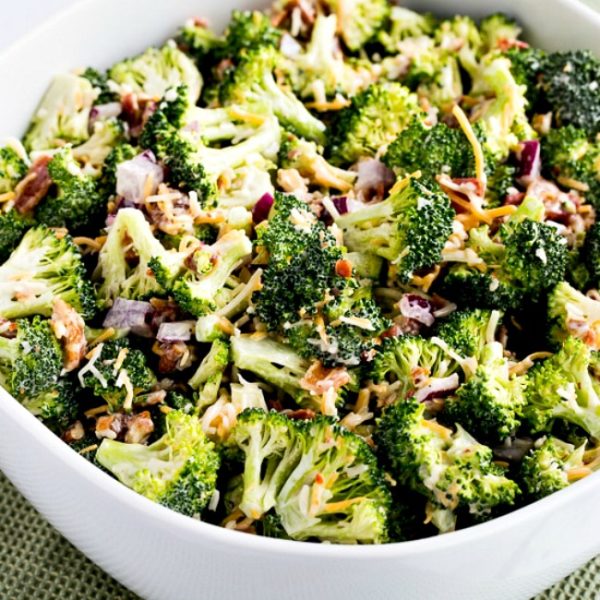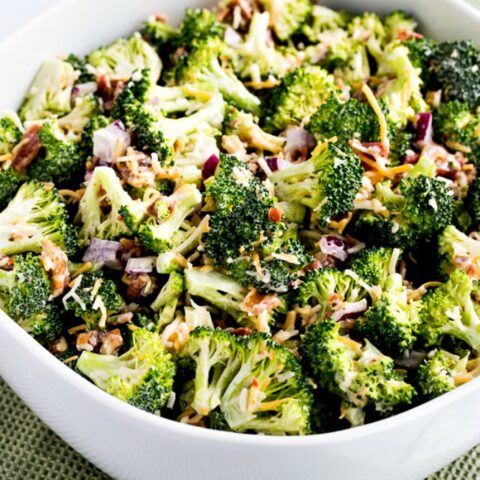 Yield: 8 servings
Sweet and Sour Broccoli Salad
Prep Time 25 minutes
Cook Time 5 minutes
Total Time 30 minutes
This favorite Sweet and Sour Broccoli is a recipe I've been making (and improving the recipe) for years!
Ingredients
Ingredients:
8 cups fresh broccoli, cut into small flowerets and stems chopped into small pieces
1/2 small red onion, cut into slices and then 1/4 inch dice (see notes)
8 slices bacon, cooked very crisp, fat blotted off, and then crumbled
3/4 cup coarsely chopped pecans
1 cup grated cheddar cheese (see notes)
Dressing Ingredients:
1 cup mayo
3 T unseasoned rice vinegar (see notes)
1/4 C Golden Monkfruit Sweetener (see notes)
2 tsp. Spike Seasoning (see notes)
salt/pepper to taste
Instructions
Chop broccoli flowerets and stems into small pieces; then wash in salad spinner and spin dry. (If the broccoli is even the tiniest bit limp, let broccoli sit in the salad spinner with cold water and ice for about 5 minutes to crisp it before you spin it dry.)
Cook the bacon until it's very crisp, then blot on both sides with paper towels to remove as much fat as possible. (I use Costco pre-cooked bacon and then crisp it in the microwave.) Crumble the bacon.
Chop onion into small pieces and coarsely chop pecans.
Combine dressing ingredients in a bowl or glass measuring cup, mixing with a wire whisk.
Put the chopped broccoli in a large salad bowl. Add desired amount of dressing and stir to coat the broccoli. (You may not want all the dressing depending on how wet you prefer your salad. Extra dressing is great on cabbage.)
Gently fold in chopped onion, pecans, and cheese. Salad can be refrigerated for a few hours before serving.
This will keep in the refrigerator for a few days, but you may want to add a tablespoon or two of extra dressing after it's been refrigerated.
Notes
You can use thinly sliced green onion for the salad if you're not a raw onion fan. I used Four Cheese Blend from Costco; I think this would be quite good without the cheese too.
I prefer mild rice vinegar for this, but you can use white wine vinegar or red wine vinegar too if that's what you have. I used to make this with a combination of sweetener and a little brown sugar, but now I use only Golden Monkfruit Sweetener for this salad. Use any zero-carb sweetener you prefer. If you don't have Spike Seasoning (affiliate link) use any all-purpose seasoning that you like.
This recipe adapted from many sources, with changes by Kalyn through the years!
Nutrition Information:
Yield:
8
Serving Size:
1
Amount Per Serving:
Calories: 427
Total Fat: 37g
Saturated Fat: 8g
Trans Fat: 0g
Unsaturated Fat: 28g
Cholesterol: 37mg
Sodium: 977mg
Carbohydrates: 15g
Fiber: 6.3g
Sugar: 3.6g
Protein: 12g
Nutrition information is automatically calculated by the Recipe Plug-In I am using. I am not a nutritionist and cannot guarantee 100% accuracy, since many variables affect those calculations.
Low-Carb Diet / Low-Glycemic Diet / South Beach Diet Suggestions:
My Sweet and Sour Broccoli Salad has mostly broccoli, which is a very low-glycemic and low-carb ingredient. I use Golden Monkfruit sweetener, which is a zero carb sweetener. If you're making this for the original South Beach Diet they would prefer turkey bacon and low-fat mayo and cheese; other low-carb diets would prefer full-fat ingredients.
Find More Recipes Like This One:
Use Salad Recipes to find more recipes like this one. Check out Low-Carb and Keto Broccoli Side Dishes for more broccoli options. Use the Recipes by Diet Type index to find more recipes suitable for a specific eating plan. You might also like to follow Kalyn's Kitchen on Pinterest, on Facebook, on Instagram, or on YouTube to see all the good recipes I'm sharing there.
Historical Notes for this Recipe:
This favorite salad with broccoli was first posted in 2007! It was last updated in 2022.
We are a participant in the Amazon Services LLC Associates Program, an affiliate advertising program designed to provide a means for us to earn fees by linking to Amazon.com and affiliated sites. As an Amazon Associate, I earn from qualifying purchases.