Low-Carb Red-and-Green Holiday Recipes
For everyone who likes to celebrate the holidays and still make healthy choices in December, Low-Carb Red-and-Green Holiday Recipes are fun! And there are 25 tasty ideas here for holiday dishes that are red and green!
PIN the Low-Carb Red-and-Green Holiday Recipes to try some later!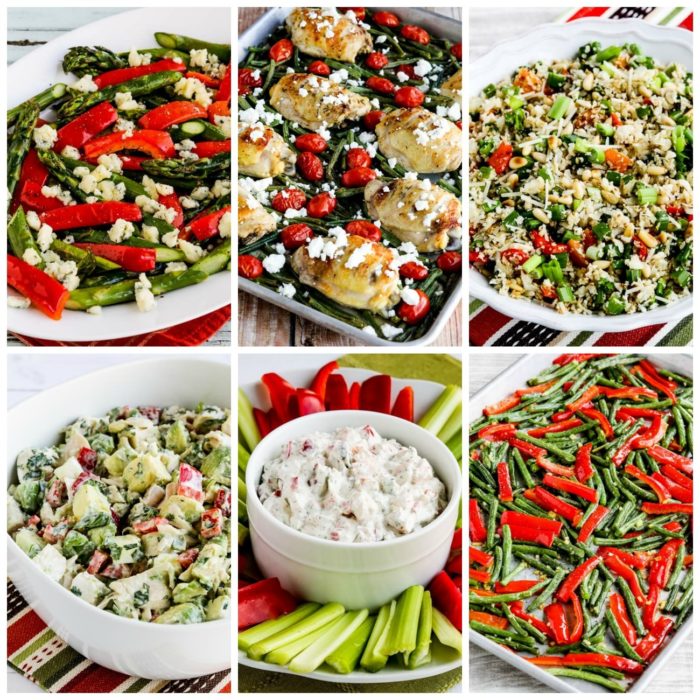 The holidays are always a challenge when you're trying to stick to a carb-conscious eating plan! Some days in December I do pretty well, and other days I definitely indulge more than any other time of year.
But having low-carb food that's extra delicious can help, and if I need food for holiday dinners or parties, I love having something that's also brightly red-and-green for a festive look.
So I'm updating this collection of Low-Carb Red-and-Green Holiday Recipes to help you get through the rest of December without gaining ten pounds! And if you have something that's red and green that you like to make for the holidays, let us know about it in the comments!
How do you get the complete recipe?
Just click any recipe title to see the complete recipe on Kalyn's Kitchen!
Want more low-carb holiday recipe ideas?
Check out Keto Side Dishes, Appetizers, and Salads for the Holidays for more tasty holiday treats that aren't high in carbs.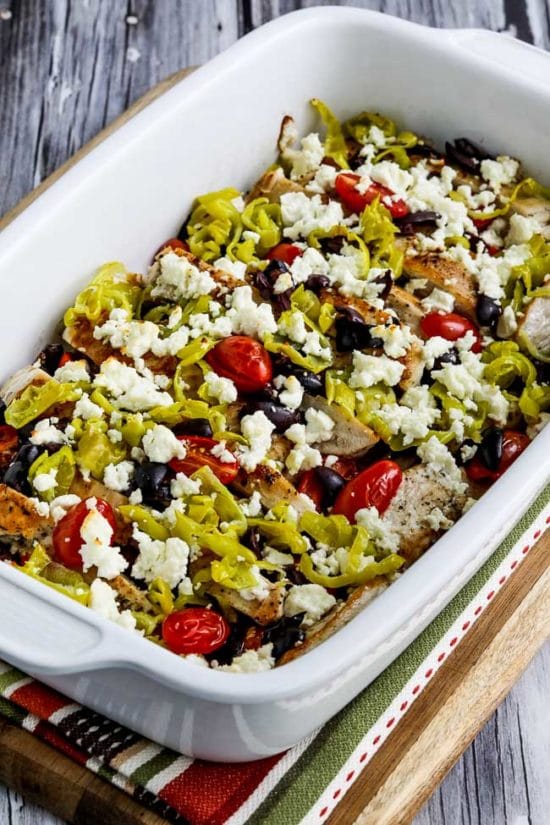 Greek Chicken Bake is a newer recipe that was a complete hit, and if you like spicy Greek Peperoncini you're going to love this one.
Roasted Green Beans and Red Peppers is an amazing side dish idea with Christmas colors!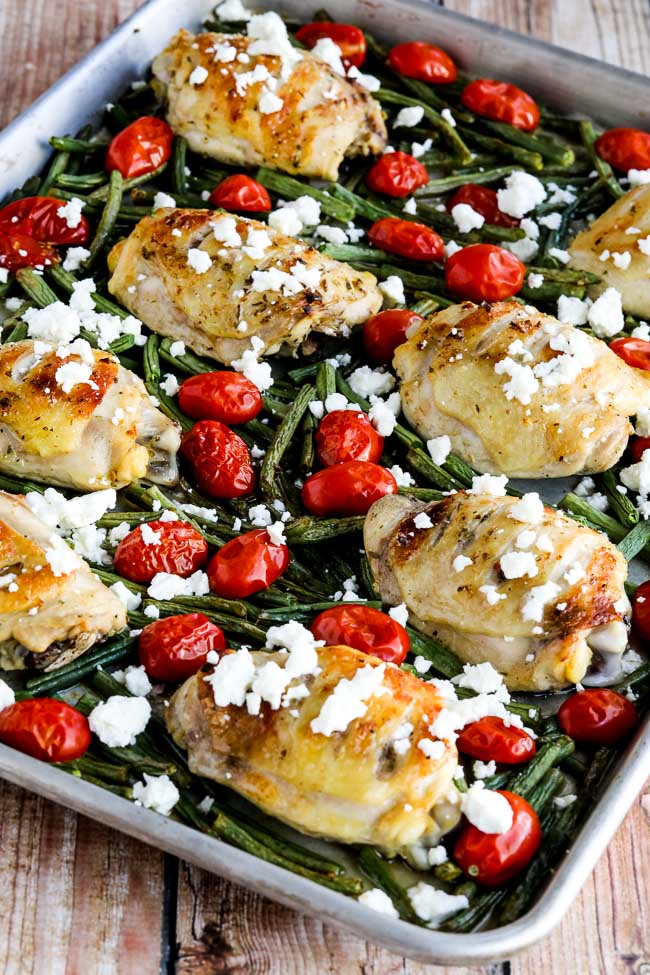 One very popular red-and-green dinner on the site is this tasty Greek Chicken, Green Beans, and Tomatoes Sheet Pan Meal. If you like Greek flavors you'll love this recipe!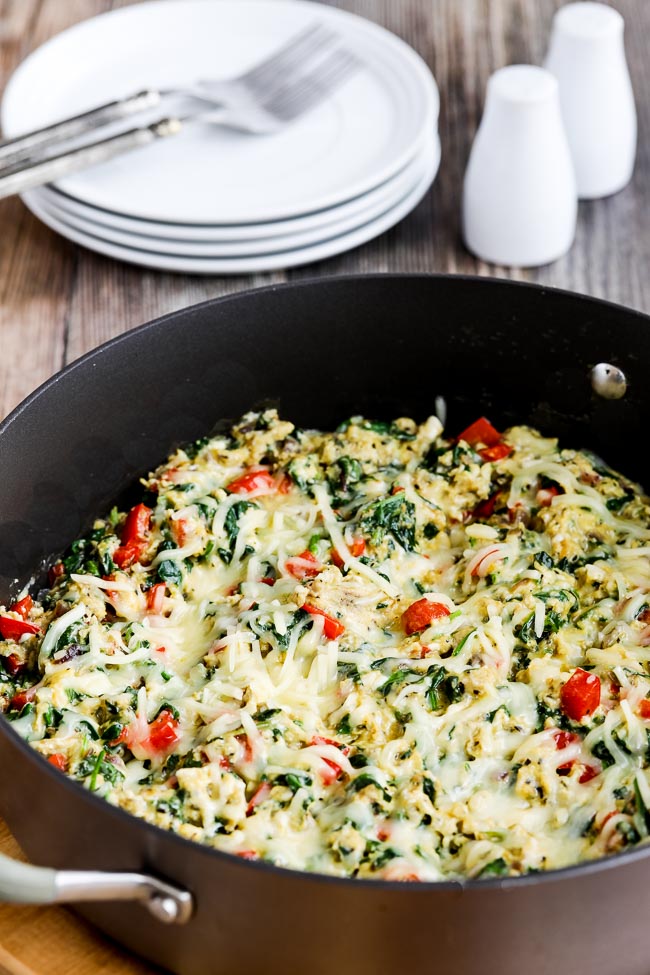 Power Greens Egg Skillet would be festive and tasty as a breakfast for holiday houseguests or just a special breakfast for the family!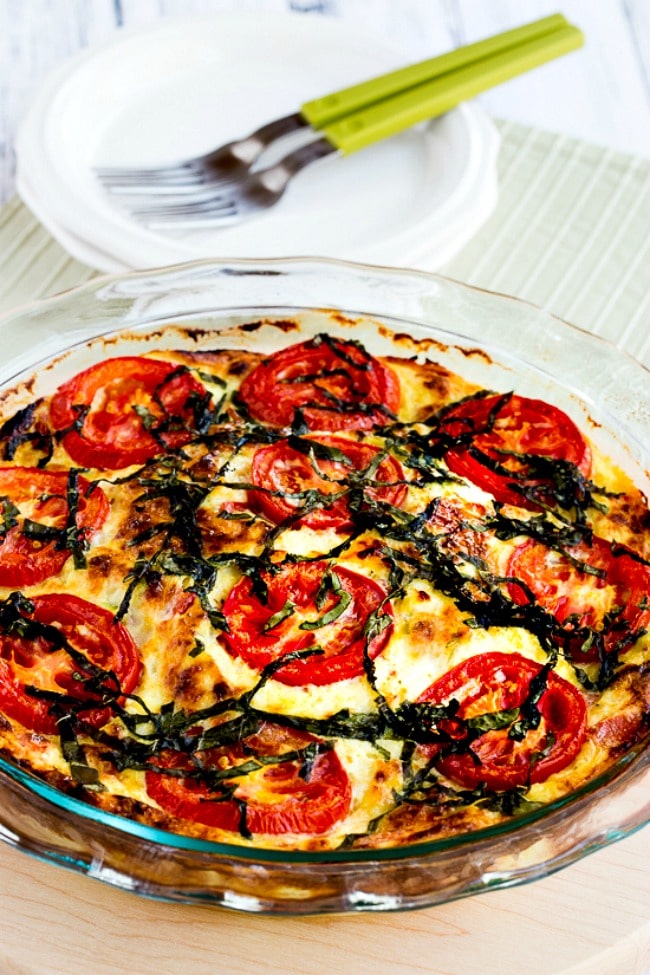 You can get good Roma tomatoes even in the winter, and it will be worth buying some basil to make this delicious Crustless Three Cheese Tomato-Basil Quiche for Christmas morning.
It might be hard to imagine cauliflower rice being a festive dish, but don't you agree that this Roasted Cauliflower Rice Medley with Pine Nuts can pull it off? For me it's definitely the PINE NUTS that make this a wow!
This Greek Skillet Chicken is such a treat, and green olive fans will swoon over this one.
This Roasted Asparagus and Peppers is something I make every Christmas and it's a perfect holiday side dish!
Another idea for the green olive fans, this Roasted Cauliflower with Red Pepper, Green Olives, and Pine Nuts is a lovely side dish for Christmas dinner!
If you want Christmas colors and EASY, don't forget about this Chicken Stir-Fry Sheet Pan Meal!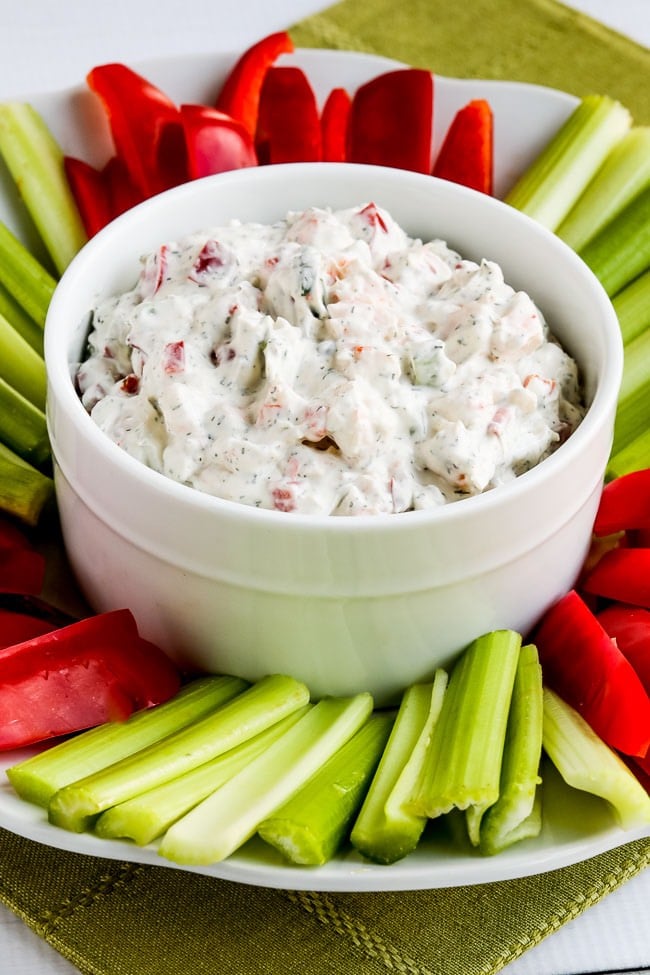 Sheila's Low-Carb Shrimp Dip is completely delicious, and chopped red peppers and green onions in the dip and red-and-green veggies to dip make this really festive!
Another option for a red-and-green holiday breakfast is this delicious Vegetable Egg Bake with Peppers, Tomatoes, and Feta!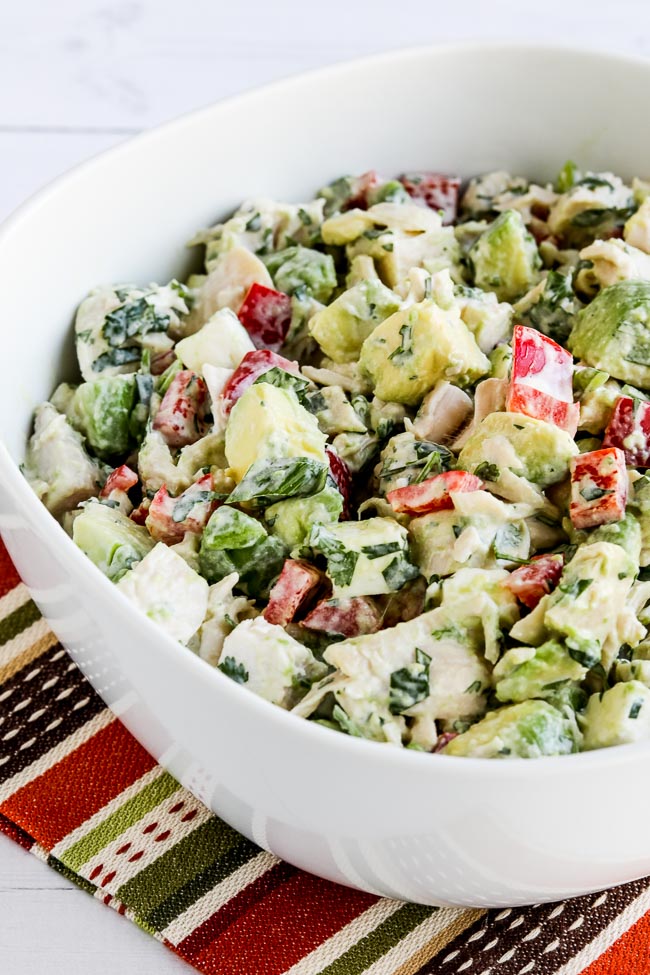 Any time you need a quick holiday dish, this Rotisserie Chicken Salad that has great flavors and Christmas colors is guaranteed to be a hit!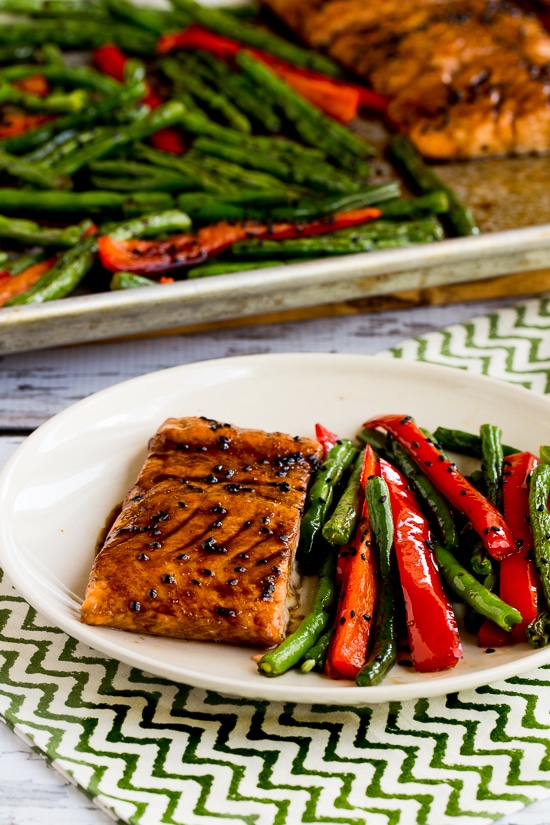 Another delicious and easy dinner with Christmas colors is this Roasted Asian Salmon and Green Beans Sheet Pan Meal!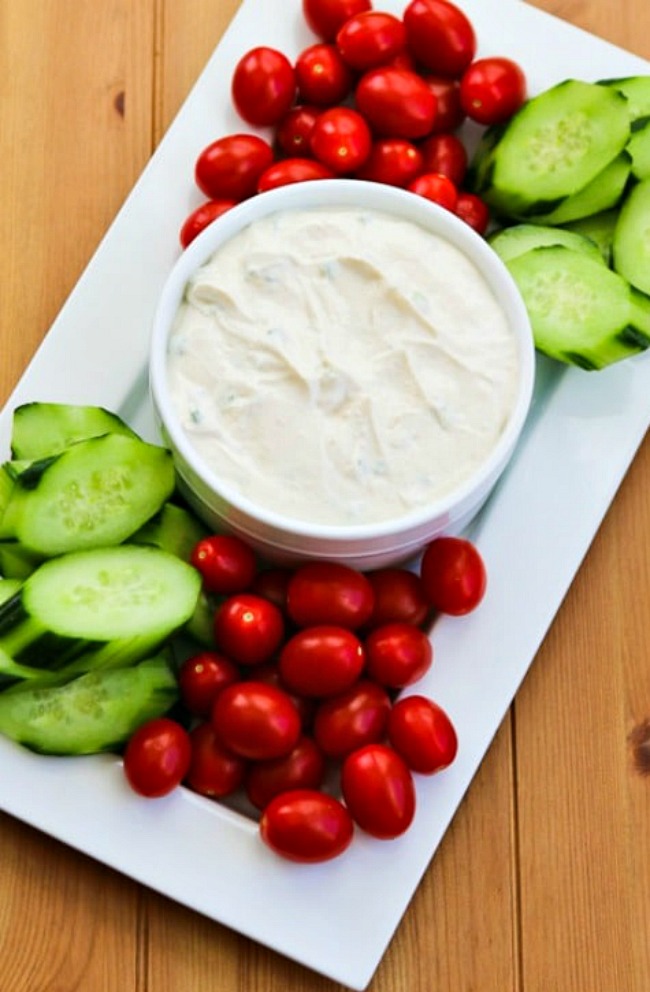 This Greek Yogurt Dip has tahini and this is festive when you serve it with red and green veggie dippers!
More Red-and-Green Low-Carb Holiday Recipes:
We are a participant in the Amazon Services LLC Associates Program, an affiliate advertising program designed to provide a means for us to earn fees by linking to Amazon.com and affiliated sites. As an Amazon Associate, I earn from qualifying purchases.