Strawberry Spinach Salad
Strawberry Spinach Salad has an amazingly delicious dressing , and this would be a perfect salad to make for a party! Use basil for the salad if you don't like dill or don't have fresh dill.
PIN the Strawberry Spinach Salad recipe to try it later!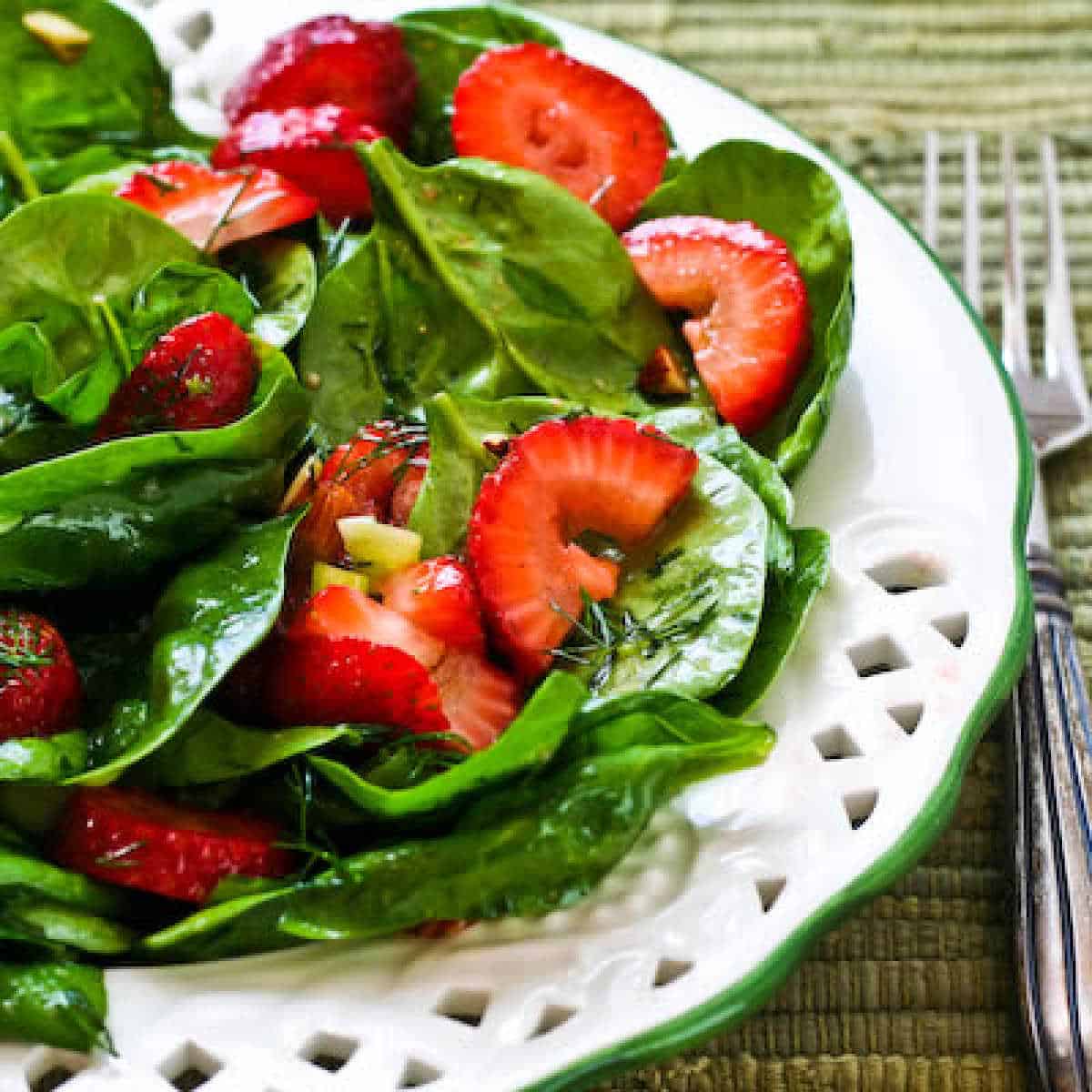 There is an interesting story about how I got this amazing recipe for Strawberry Spinach Salad! One of the fun things about blogging that I never expected is that faithful readers sometimes send me recipes to try. And it was a nice coincidence that I had just noticed my dill really needed trimming when a reader named Robin Oliver send me this recipe!
I was intrigued with the idea of dill in a salad with spinach, and I also loved the sound of the slightly-sweet dressing that had a touch of dry mustard and onion powder. Robin told me she loved the salad, and absolutely, so did I! Thanks Robin, for a recipe that's a definite keeper.
I used my favorite sweetener of course, to make this strawberry spinach salad lower in sugar. And if you don't like dill, or don't have any fresh dill in your garden I think this salad would also be delicious with sweet basil! This is a lovely salad for a special occasion; hope you enjoy!
What ingredients do you need?
baby spinach leaves
green onions
slivered almonds
sliced strawberries
fresh dill (or basil)
red wine vinegar
Golden Monkfruit Sweetener
minced garlic
salt, I used fine sea salt
black pepper (I used fresh ground pepper)
dry mustard
onion powder
extra virgin olive oil
About Fresh Dill:
Dill is a short-lived perennial herb that's used in many types of recipes. If you have dill in your garden, try to keep it trimmed during the summer so the dill doesn't go to seed. At the end of the season you can let it go to seed and re-seed the spot for dill the next year.
Can you use frozen strawberries?
I haven't tried using frozen strawberries for a salad like this Strawberry Spinach Salad. And although I think it might not be bad, truthfully I think fresh strawberries will be better for a salad like this one.
How to make Strawberry Spinach Salad:
(Scroll down for complete recipe with nutritional information.)
Combine dressing ingredients, and let them come hang out together a bit before you start prepping ingredients. (Photography fail, no photo of that!)
Use a salad spinner (affiliate link) to wash and dry enough dill to get about 3 tablespoons of chopped dill.
After the dill is washed and dried, cut the thin stems away from these thicker stem pieces, and discard the thicker pieces of stem.
Finely chop the dill, then toss with baby spinach, chopped green onions, and almonds. (The recipe called for slivered almonds, which I think would be best. However I didn't have any, so I just chopped some almonds with a big knife.)
Then whisk dressing ingredients together again to be sure they're well mixed, and toss the salad ingredients with desired amount of dressing. (You will not need all the dressing; save in refrigerator for another salad.)
Since I was adding the strawberries to the top of the salad, I also used some dressing to moisten them slightly before I spooned them over each serving of salad.
Serve immediately and wait for raves from your family or guests!
Make it a Low-Carb Meal:
This would taste great with Chicken and Quickly Roasted Asparagus with Tahini Sauce, Rosemary Mustard Grilled Chicken, Shrimp Cucumber Salad, Maple Glazed Salmon, or Chicken Souvlaki.
More Spinach Salad Recipes to Try:
Spinach Salad with Goat Cheese
Balsamic Spinach Salad with Mushrooms and Feta
Spinach Salad with Bacon and Feta
Yield: 4 servings
Strawberry Spinach Salad
Prep Time 20 minutes
Total Time 20 minutes
This Strawberry Spinach Salad has an amazingly tasty dressing and there's also added flavor from the addition of almonds and dill!
Ingredients
Ingredients:
1 lb. baby spinach leaves, washed and spun dry if needed
1/4 cup sliced green onions
1/3 cup slivered almonds (see notes)
1 cup sliced strawberries
3 T chopped fresh dill
Dressing Ingredients:
1/4 cup red wine vinegar
1/4 cup Golden Monkfruit Sweetener (see notes)
1 tsp. minced garlic
1/4 tsp. salt (I used fine sea salt)
1/4 tsp. black pepper (I used fresh ground pepper)
1/4 tsp. dry mustard powder
1/4 tsp. onion powder
1/2 cup extra virgin olive oil
Instructions
In a small bowl, whisk together the red wine vinegar, sweetener, garlic, salt, black pepper, dry mustard, and onion powder.
When those ingredients are well combined, whisk in olive oil and let dressing flavors blend while you prep other ingredients.
Wash dill and spin dry or dry with paper towels.
Trim off feathery ends, discarding thick stems. finely chop dill and set aside.
Wash strawberries, cut into slices and set aside.
Wash spinach if needed and spin dry or dry with paper towels.
Place spinach in large mixing bowl.
Thinly slice green onions and add to spinach in bowl.
Add slivered (or chopped) almonds and chopped dill and mix together.
Whisk dressing a few time to be sure it's well-mixed, then add desired amount of dressing to salad and toss. (You will not need all the dressing.)
Arrange salad on individual serving plates.
Toss sliced strawberries with 1-2 T of dressing, then arrange strawberries over salad on each plate and serve.
Notes
Robin's recipe called for 2 lbs. baby spinach. I cut it down to 1 lb. spinach, since that's the size I see most often in the store. I did not decrease the dressing ingredients, but you could cut it in half if you don't want to have extra dressing.
Almonds can be slightly toasted in a dry pan if desired; use regular chopped almonds if you don't have slivered almonds.
I'd use chopped fresh basil if you aren't a fan of dill or don't have any dill.
I would use Golden Monkfruit Sweetener (affiliate link) for this recipe, but use any sweetener you prefer.
This recipe adapted from a recipe sent to me by Robin Oliver. Robin got it from a pot-luck where she asked the host for the recipe.
Nutrition Information:
Yield:
4
Serving Size:
1
Amount Per Serving:
Calories: 338
Total Fat: 18g
Saturated Fat: 3g
Trans Fat: 0g
Unsaturated Fat: 13g
Cholesterol: 0mg
Sodium: 229mg
Carbohydrates: 12g
Fiber: 5g
Sugar: 4g
Protein: 6g
Nutrition information is automatically calculated by the Recipe Plug-In I am using. I am not a nutritionist and cannot guarantee 100% accuracy, since many variables affect those calculations.
Low-Carb Diet / Low-Glycemic Diet / South Beach Diet Suggestions:
When it's made with an approved sweetener, this Strawberry Spinach Salad would be a good option for phase 2 or 3 of the original South Beach Diet. And I was pleasantly surprised that if you calculate the net carbs (by subtracting the fiber) this is surprisingly low in carbs with the ingredients I used so it could work as a treat for low-carb or Keto diets as well.
Find More Recipes Like This One:
Use Salad Recipes to find more recipes like this one. Use the Diet Type Index to find recipes suitable for a specific eating plan. You might also like to follow Kalyn's Kitchen on Pinterest, on Facebook, on Instagram, or on YouTube to see all the good recipes I'm sharing there.
Historical Notes for this Recipe:
This recipe was first posted in 2009. It was last updated in 2022.
We are a participant in the Amazon Services LLC Associates Program, an affiliate advertising program designed to provide a means for us to earn fees by linking to Amazon.com and affiliated sites. As an Amazon Associate, I earn from qualifying purchases.