Spinach Salad with Mushrooms and Feta
Spinach Salad with Mushrooms and Feta is a delicious option when you want a low-carb meatless salad for a side dish! And this is a perfect salad to help use up those big packages of spinach from Costco!
PIN Spinach Salad with Mushrooms to try it later!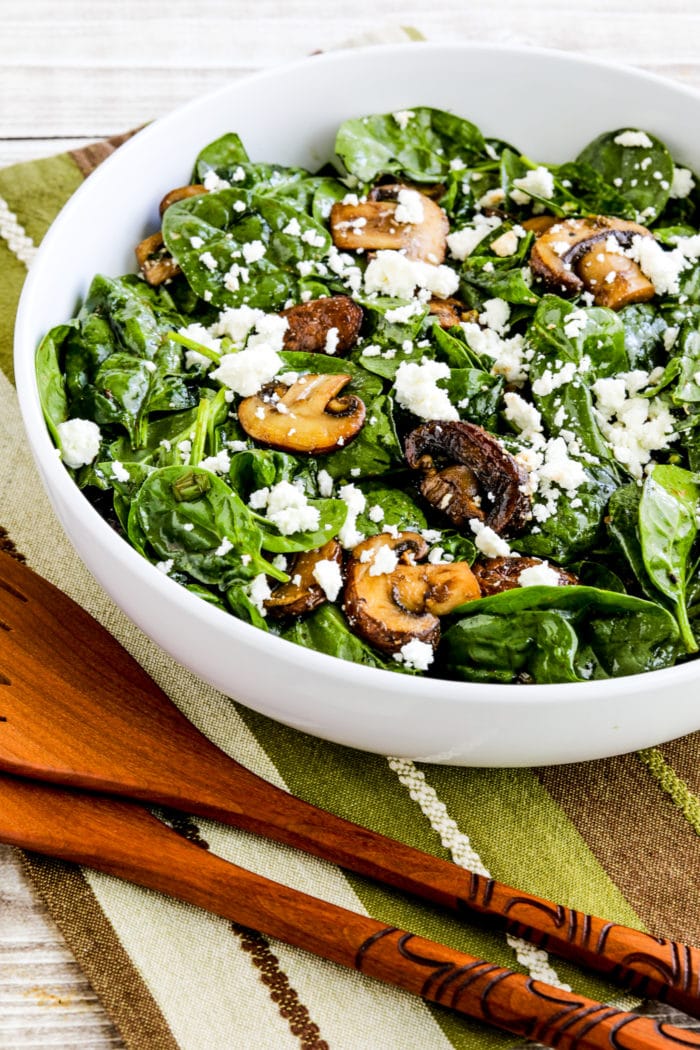 This Balsamic Spinach Salad with Mushrooms and Feta is a recipe that was inspired by Spinach Salad with Bacon and Feta. I came up with this version years ago when I was cooking dinner regularly for my dad and my stepmother Norma; she didn't eat pork, so I used nicely-browned mushrooms instead of the bacon. And for years this absolutely-delicious salad recipe was back in the archives of the blog with a photo that wouldn't entice anyone to try it!
Then I started buying those big packages of spinach from Costco and realizing how hard it is to use up that much spinach. And when I remembered this salad I loved the idea of a meatless spinach salad that was still loaded with delicious ingredients.
I promise you, this salad is going to be a hit with anyone who's a spinach salad fan, but go ahead and add a little bacon if you prefer!
What ingredients do you need for this recipe?
fresh spinach leaves
mushrooms
green onion
extra virgin olive oil
balsamic vinegar
Garlic Powder (affiliate link)
Spike Seasoning (affiliate link)
Feta Cheese
What mushrooms did I use for the spinach salad?
You can use any mushrooms you prefer for this recipe, but I'm a fan of brown Cremini mushrooms.
What if you don't want Feta Cheese in the spinach salad?
If you don't like the sound of Feta Cheese for this Balsamic Spinach Salad, use Gorgonzola, grated Swiss, or fresh Mozzarella balls for this recipe.
What else can you make with those big tubs of spinach?
If you find yourself with one of those big tubs of Costco spinach, here are more tasty options:
Tips for making Spinach Salad with Mushrooms and Feta:
(Scroll down for complete printable recipe with nutritional information.)
Measure spinach and put in salad bowl.
Whisk together dressing ingredients.
Measure Feta.
Wash and slice mushrooms and cut into thick slices.
Heat oil and cook mushrooms about 5 minutes.
Add green onions and cook 1-2 minutes.
Add dressing and let it come to a simmer.
Pour dressing over spinach and toss.
Put salad in a serving bowl and sprinkle with Feta.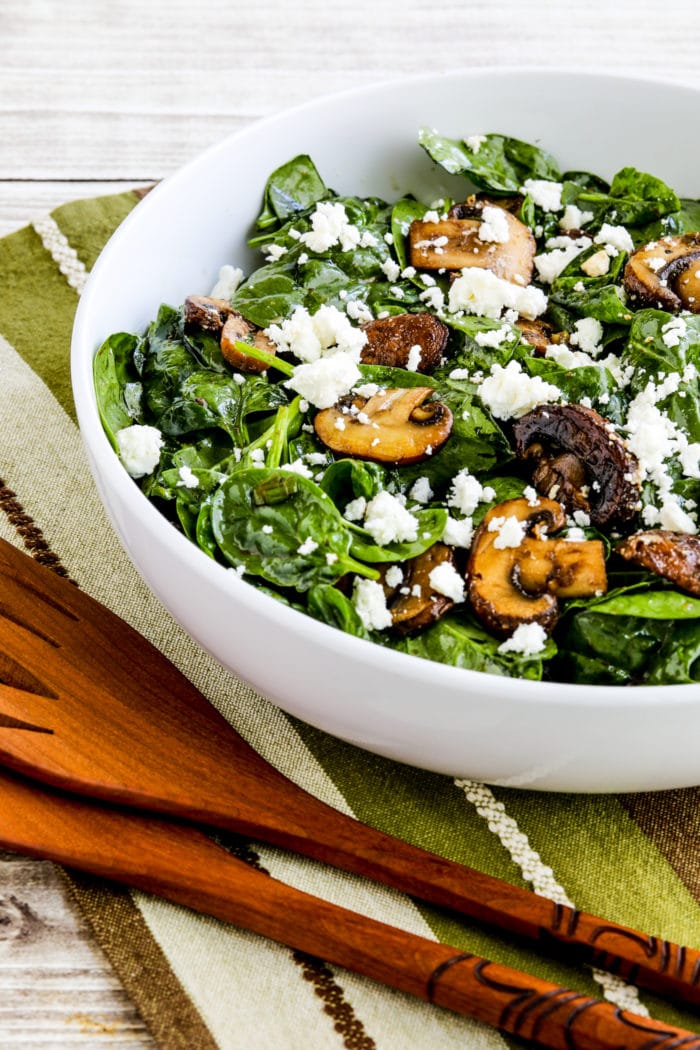 Make it a Low-Carb Meal:
To make a low-carb meal featuring this Spinach Salad with Mushrooms and Feta, serve with something like Very Greek Grilled Chicken, Grilled Shrimp Skewers, or Chicken and Veggie Kabobs with Garlic and Basil. If you want a meatless dinner, this would taste great with Swiss Chard and Goat Cheese Custard Bake or Easy Baked Tofu.
Yes, I Really Like Spinach Salad!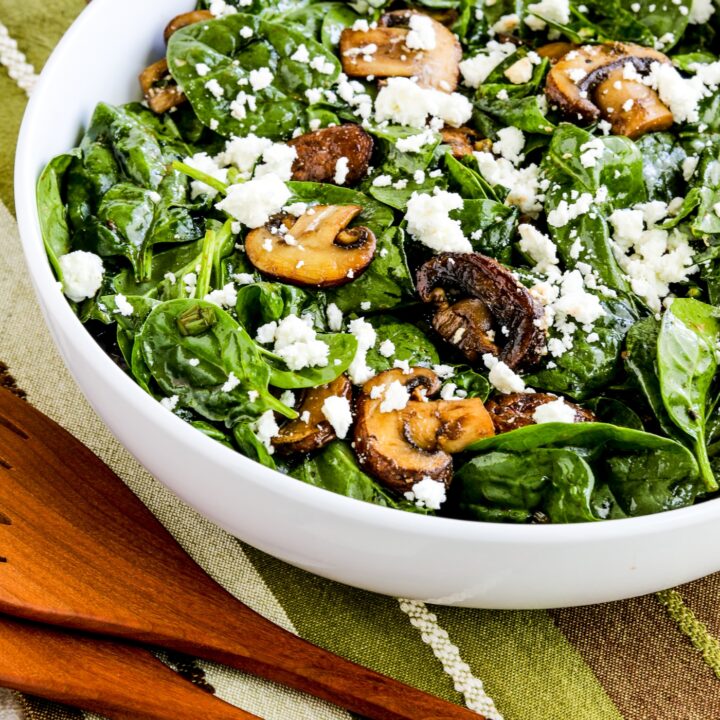 Yield: 2 servings
Spinach Salad with Mushrooms and Feta
Prep Time 20 minutes
Total Time 20 minutes
Spinach Salad with Mushrooms and Feta is a delicious option for a spinach salad that's vegetarian! And everyone who likes spinach, mushrooms, and Feta cheese is going to love this salad!
Ingredients
8 cups fresh spinach leaves, washed and dried if needed (see notes)
8 oz. mushrooms, thickly sliced
1/4 cup thinly-sliced green onion
1 T + 1/4 cup extra virgin olive oil
2 T balsamic vinegar
1/2 tsp. garlic powder
1/2 tsp. Spike Seasoning
1/3 cup crumbled Feta Cheese
Instructions
Put washed spinach into large bowl, big enough to toss salad in.
Combine olive oil, balsamic vinegar, garlic powder, and Spike Seasoning and whisk together.
Crumble Feta Cheese and measure desired amount.
Slice green onions.
Wash mushrooms, pat dry, and thickly slice.
Heat 1 T olive oil in large frying pan frying pan.
Add mushrooms and cook about 5 minutes, or until mushrooms are nicely browned and any released liquid is evaporated.
Add sliced green onions and cook 1-2 minutes, until barely starting to soften.
Add dressing mixture to the onion/mushrooms mixture and let come barely to a simmer, then pour immediately over spinach and toss.
Put salad into serving bowl, crumble feta over, and serve.
Nutrition Information:
Yield:
4
Serving Size:
1
Amount Per Serving:
Calories: 261
Total Fat: 17g
Saturated Fat: 3.8g
Trans Fat: 0g
Unsaturated Fat: 11.7g
Cholesterol: 11mg
Sodium: 355mg
Carbohydrates: 8.8g
Fiber: 2.8g
Sugar: 4g
Protein: 5g
Nutrition information is automatically calculated by the Recipe Plug-In I am using. I am not a nutritionist and cannot guarantee 100% accuracy, since many variables affect those calculations.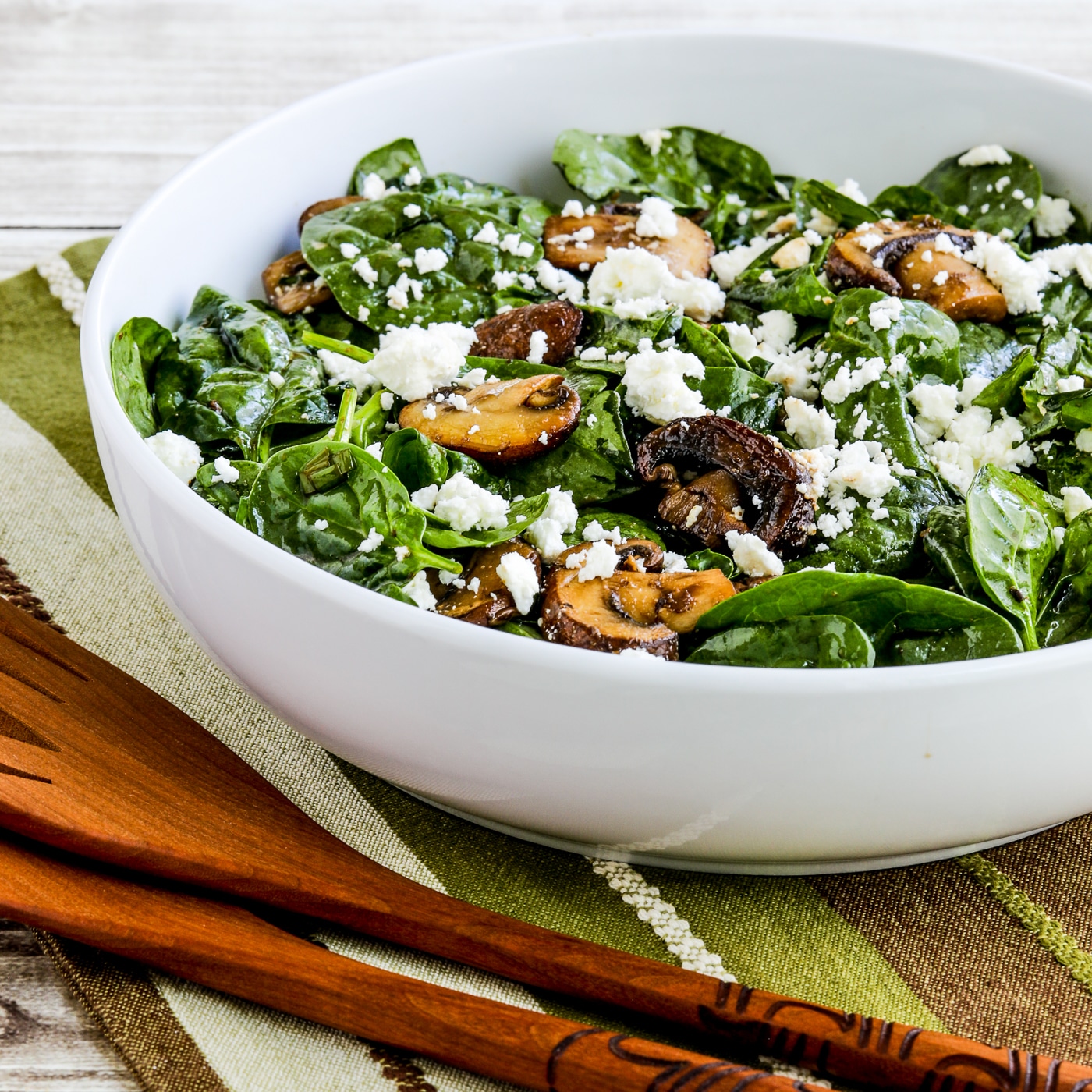 Low-Carb Diet / Low-Glycemic Diet / South Beach Diet Suggestions:
This meatless Spinach Salad with Mushrooms is a great dish for low-carb diet plans, and for any phase of the original South Beach Diet.
Find More Recipes Like This One:
Use Salad Recipes to find more salads like this one. Use the Diet Type Index to find more recipes suitable for a specific eating plan. You might also like to follow Kalyn's Kitchen on Pinterest, on Facebook, on Instagram, on TikTok, or on YouTube to see all the good recipes I'm sharing there.
Historical Notes for this Recipe:
This spinach salad recipe was first posted in 2007, when I was making it regularly for my father and mother-in-law Norma. It was updated with greatly-improved photos and better instructions in 2021, and updated again with more information in 2023.
We are a participant in the Amazon Services LLC Associates Program, an affiliate advertising program designed to provide a means for us to earn fees by linking to Amazon.com and affiliated sites. As an Amazon Associate, I earn from qualifying purchases.