Spinach Salad with Goat Cheese
Spinach Salad with Goat Cheese also has almonds and optional cranberries, and this is perfect when you want a special salad! You can skip the dried cranberries if you prefer, but they don't add many carbs.
PIN Spinach Salad with Goat Cheese to try it later!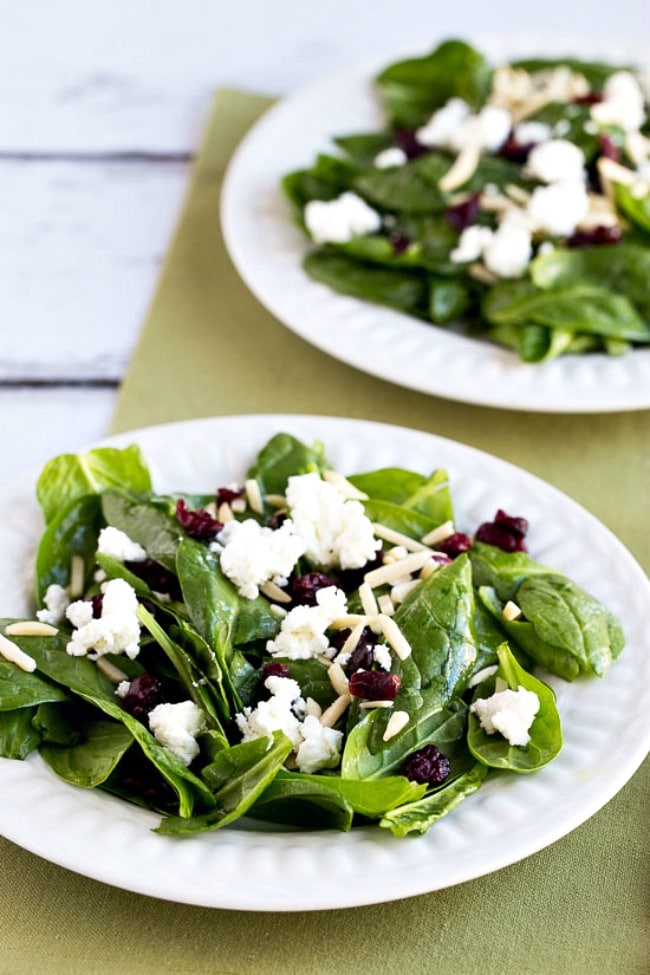 Years ago I spent a couple of hours looking through food magazines (remember those?) and then marched into the kitchen and came up with this Spinach Salad with Goat Cheese without a recipe except the one I made up in my head. The salad also had almonds and optional cranberries, yum! I've served this many times for special dinners through the years, and it's always been a hit so today I am recommending it as a Friday Favorites pick for your Thanksgiving menu!
This beautiful salad has Dried cranberries and I think that really gives the salad a holiday feel if you want to serve it for a special occasion. You can skip the dried cranberries if you want an even lower-carb salad that will still be a wow with the almonds and goat cheese, but if you check the nutritional information you'll see the the small amount of cranberries doesn't add that many carbs per serving.
What ingredients do you need for this recipe?
What is Goat Cheese?
There are many kinds of cheese made with goat's milk, but for this recipe you want the kind of soft goat cheese that comes in a log. The imported kind is Chevre (which means goat cheese in French) but the Kirkland Goat Cheese from Costco is really delicious and works perfectly well here.
What if you don't have white balsamic vinegar?
Slightly-sweet white balsamic vinegar is perfect for the dressing for this salad. But if you don't have that and don't want to buy vinegar for one recipe, use any mild white vinegar (and possibly add a bit more sweetener when you make the dressing.)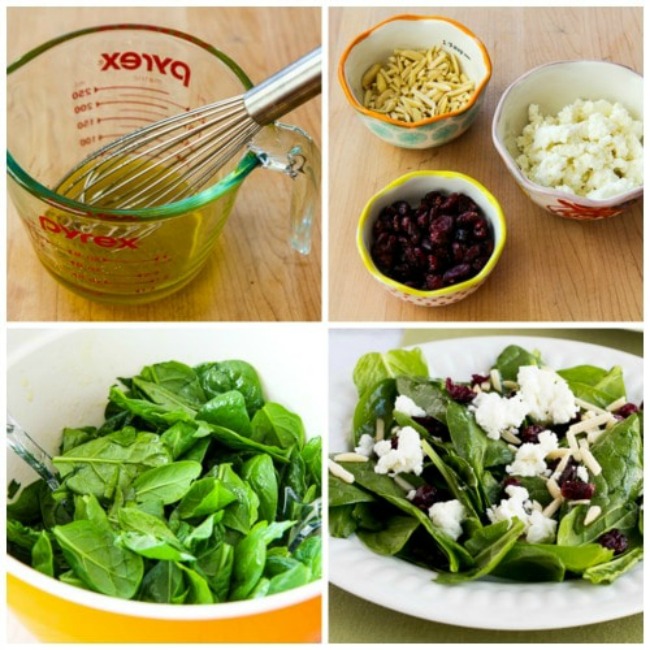 How to make Spinach Salad with Goat Cheese:
(Scroll down for complete printable recipe:)
Whisk together the white balsamic vinegar, sweetener, olive oil, and salt to make the dressing.
Measure out the salad toppings.(Thanks to Ree for the cute measuring cups that came in the mail!)
Toss the spinach with the dressing (you might not need it all) and top each salad with the almonds, goat cheese, and dried cranberries.
That's all there is to this delicious salad.
This salad will be a big hit on the Thanksgiving table or any special meal.
If some people don't like goat cheese, use Feta or Parmesan for a salad that will still be delicious.
More Spinach Salads to try:
Yield: 4 servings
Spinach Salad with Goat Cheese
Prep Time 15 minutes
Total Time 15 minutes
Spinach Salad with Goat Cheese is a delicious way to get some greens on the holiday table or serve this any time of year for a special meal!
Ingredients
5 oz. baby spinach leaves
2 T dried cranberries (see notes)
1/4 cup slivered almonds
3 oz. goat cheese (the type that comes in a log; Costco brand is good)
Dressing Ingredients:
1 T white balsamic vinegar (could use regular balsamic)
1/2 tsp. Golden Monkfruit Sweetener or other sweeter of your choice (see notes)
2 T olive oil
pinch of salt
Instructions
Wash spinach if needed and spin dry, then place in large bowl.
Whisk together balsamic vinegar, sweetener and salt, then whisk in olive oil.
Toss spinach leaves with dressing (you may not need all the dressing if you prefer your salads on the dry side).
Arrange spinach on individual serving plates and sprinkle each salad with dried cranberries, sliced almonds, and goat cheese. Serve right away.
Notes
I would use Golden Monkfruit Sweetener (affiliate link) for this salad. Use more dried cranberries if you aren't being that careful about carbs!
Recipe created by Kalyn with inspiration from holiday food magazines.
Nutrition Information:
Yield:
4
Serving Size:
1
Amount Per Serving:
Calories: 235
Total Fat: 19g
Saturated Fat: 7g
Unsaturated Fat: 11g
Cholesterol: 20mg
Sodium: 254mg
Carbohydrates: 8g
Fiber: 2g
Sugar: 5g
Protein: 10g
Nutrition information is automatically calculated by the Recipe Plug-In I am using. I am not a nutritionist and cannot guarantee 100% accuracy, since many variables affect those calculations.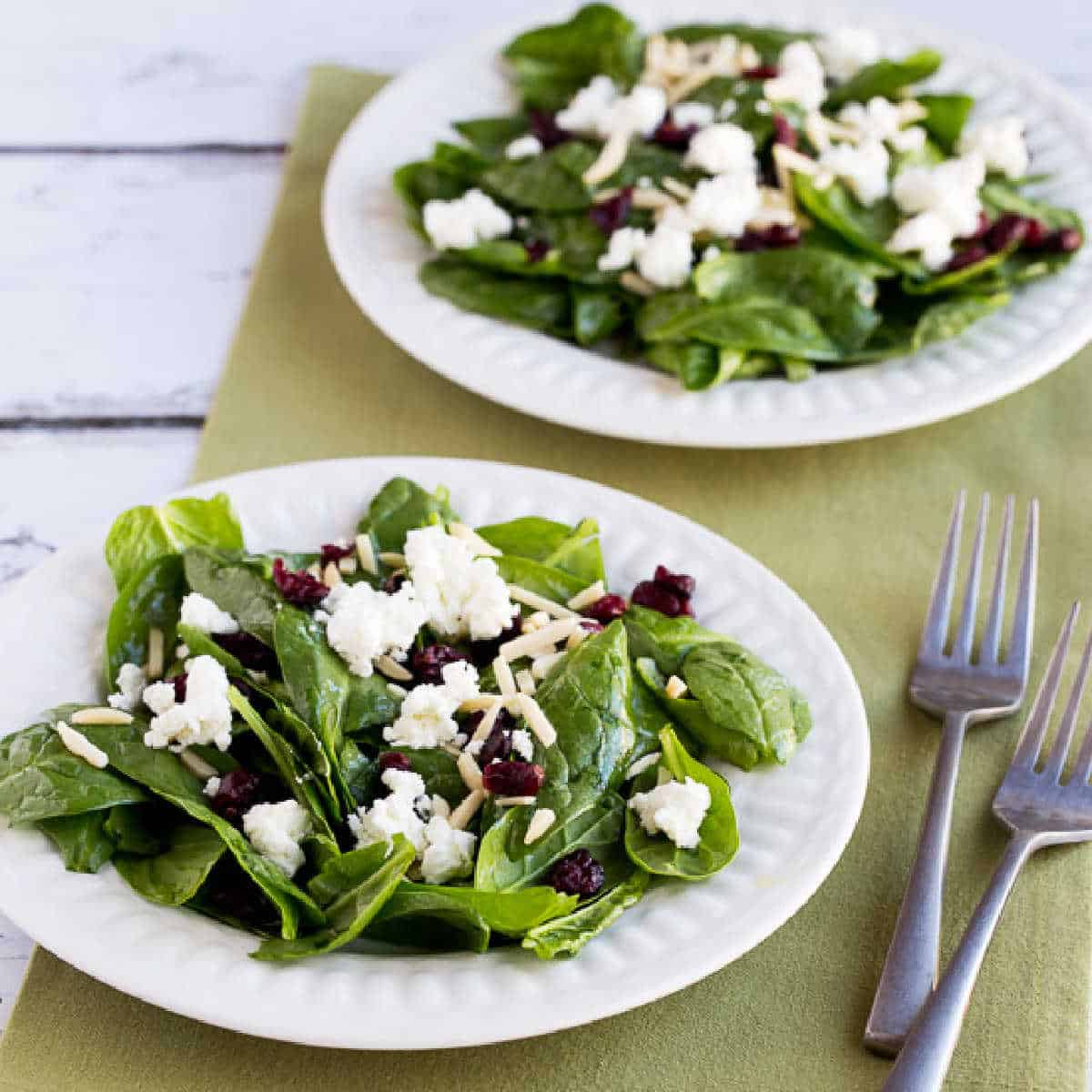 Low-Carb Diet / Low-Glycemic Diet / South Beach Diet Suggestions:
Dried cranberries are relatively high in sugar, so keep that in mind if you decide to use more than the small amount specified in this recipe. With the limited amount of cranberries and the use of Golden Monkfruit Sweetener (affiliate link), this Spinach Salad with Goat Cheese is not that high in carbs as a splurge for a special meal. If you don't want to splurge or you'd prefer to use your carbs on other foods the salad will still be delicious (and very low in carbs) without the cranberries.
Find More Recipes Like This One:
Use Salads to find more recipes like this one. Use the Diet Type Index to find recipes suitable for a specific eating plan. You might also like to follow Kalyn's Kitchen on Pinterest, on Facebook, on Instagram, on TikTok, or on YouTube to see all the good recipes I'm sharing there.
Historical Notes for This Recipe:
This Spinach Salad with Goat Cheese was first posted in 2007, yikes! Since then I've made it for many special dinners. The recipe was last updated with more information in 2022.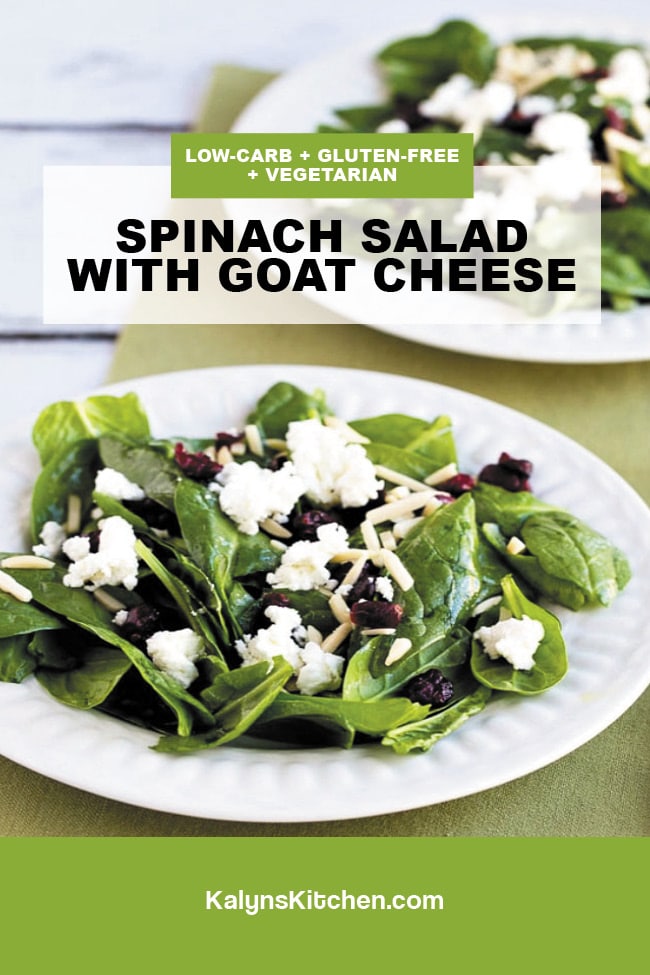 We are a participant in the Amazon Services LLC Associates Program, an affiliate advertising program designed to provide a means for us to earn fees by linking to Amazon.com and affiliated sites. As an Amazon Associate, I earn from qualifying purchases.