Roasted Shredded Brussels Sprouts
Roasted Shredded Brussels Sprouts are a wonderful winter side dish, and we added flavor with toasted almonds and Parmesan! And this easy shredded Brussels Sprouts recipe is low-carb, Keto, and gluten-free, so don't make them just for Thanksgiving.
PIN Roasted Shredded Brussels Sprouts to try them later!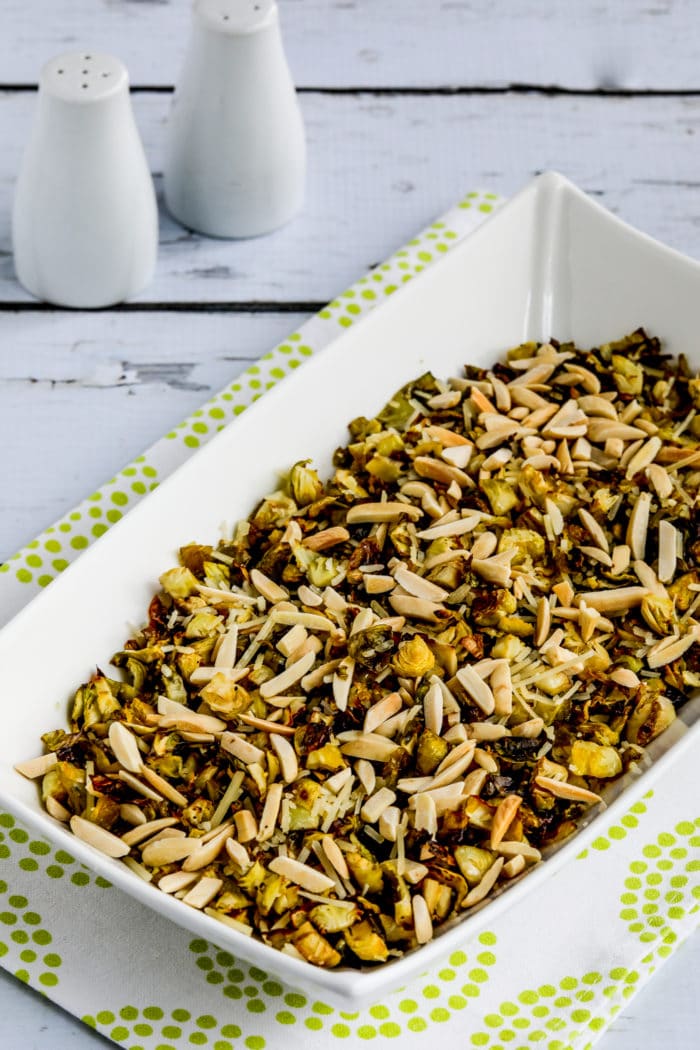 After roasted Brussels Sprouts turned me into a Brussels Sprouts fan, I started paying more attention to how people cook the little guys, and noticed Brussels Sprouts being shredded into thin strips. And since I love the leaves that fall off and get extra crispy when you're roasting Brussels Sprouts, I decided to try roasting some shredded brussels sprouts and see how they turned out.
And I'd say these Roasted Shredded Brussels Sprouts were definitely a success, since I ate the entire bowl for lunch when I first tested the recipe! And now that I've been making these for a few years I am giving this recipe a photo update and also sharing my tips for shredding the Brussels Sprouts too.
I realize that some families have very determined Brussels Sprouts haters but I hope you'll try this if people in your family have learned about the deliciousness of roasted Brussels Sprouts.
What ingredients do you need for this recipe?
(This is only a list of ingredients; please scroll down for complete printable recipe. Or if you use the JUMP TO RECIPE link at the top of the page, it will take you directly to the complete recipe.)
How I cut up the shredded Brussels Sprouts:
I used a food processor to shred apart the Brussels Sprouts when I first made these, but some always got sliced the wrong way and didn't separate. Now I've decided that cutting them by hand is best. Use these steps:
First cut off the stem end of each Brussels Sprout and take off any discolored or loose outer leaves.
Cut each one into fourths, making sure to cut down through the core.
Then line up two quarters and slice crosswise, cutting it into four or five slices.
Of course, if this is absolutely NOT HAPPENING at your house and you need to use the food processor, that's up to you!
Can the shredded Brussels Sprouts be made ahead?
You can definitely shred the Brussels Sprouts in advance and store then in a air-tight container or bag in the fridge, but they need to be roasted right before you serve them.
Another way to use shredded Brussels Sprouts:
Another recipe that's a hit with even some of the Brussels Sprouts avoiders in my family is this amazing Brussels Sprouts Salad with Bacon, Almonds, and Parmesan!
Do Brussels Sprouts smell bad when they're cooking?
When they are boiled or cooked too long it's true Brussels Sprouts can have kind of an unpleasant smell. But when they are quickly cooked by roasting or pan-frying they don't have a bad smell at all.
Want more Low-Carb Brussels Sprouts Recipes?
Check out Keto Brussels Sprouts Recipes for more tasty options. And here are my picks for 24 Thanksgiving Side Dish Recipes that are low-carb and gluten-free.
How to make Roasted Shredded Brussels Sprouts:
(This is only a summary of the steps for the recipe; please scroll down for complete printable recipe. Or if you use the JUMP TO RECIPE link at the top of the page, it will take you directly to the complete recipe.)
Preheat oven to 400F/205C.
For Thanksgiving, I'd shred the Brussels Sprouts earlier in the day so they're ready to roast when you take the turkey out. See my tips above for cutting them up with a knife (or use a food processor if that's the only way you can get this done.)
Mix together olive oil and white balsamic vinegar.
Toss the shredded sprouts with olive oil-balsamic mixture, along with a generous amount of fresh ground black pepper and a little salt.
Then spread them out on a roasting pan that you brushed with a little olive oil.
I roasted them without opening the oven for 10 minutes, and after that much time there were just a few browned edges.
I turned them and continued to roast. Hard to tell in this next photo, but after 20 minutes there was more color.
I wanted them a little darker than this so I put my Brussels Sprouts back in for 5 more minutes.
While they went a few more minutes, I toasted the slivered almonds in a dry pan. (They only take a minute or two, so don't walk away.)
After 25 minutes, I had nicely browned edges on most of the Brussels Sprouts, and even the thicker pieces were nicely tender.
I just wiped out the bowl that I tossed the raw sprouts in, put in the cooked Brussels Sprouts and tossed them with the Parmesan cheese.
Then arrange on a plate and sprinkle the toasted almonds over. Try hard not to eat the entire batch!
More Thanksgiving-Worthy Brussels Sprouts: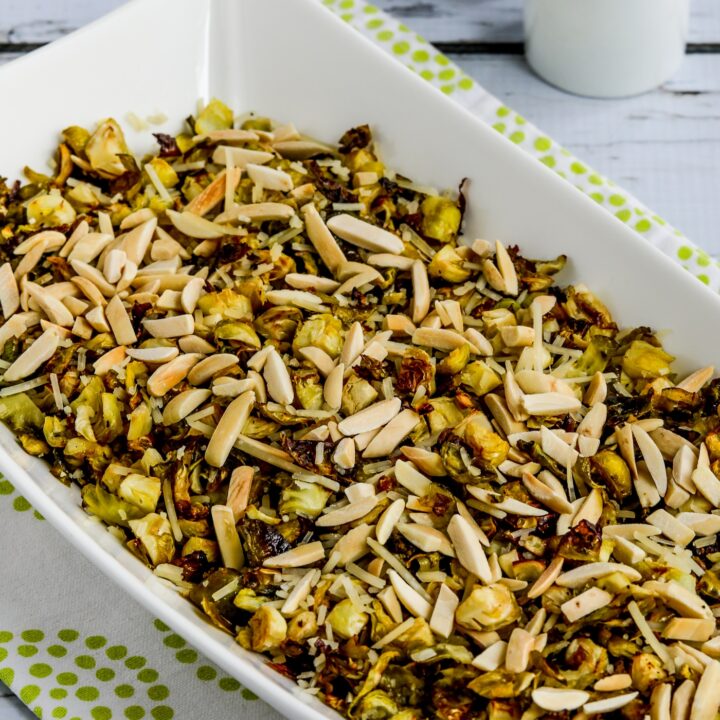 Yield: 4 servings
Roasted Shredded Brussels Sprouts
Prep Time 15 minutes
Cook Time 25 minutes
Total Time 40 minutes
Roasted Shredded Brussels Sprouts  are a wonderful winter side dish and we made them a bit more special by adding toasted almonds and Parmesan!.
Ingredients
1 lb. brussels sprouts (or a bit more)
1 1/2 T olive oil plus about 1-2 tsp. for brushing roasting pan
1 tsp. white balsamic vinegar (or more)
salt and fresh ground black pepper to taste
3 T coarsely grated Parmesan cheese
3 T toasted slivered almonds
Instructions
Preheat oven to 400F/205C.
Trim the stem end from Brussels Sprouts and remove discolored or loose outer leaves, then cut each one through the core into quarters. Line up two pieces and cut crosswise into four or five pieces. (You can also use the food processor, although it is hard to get them evenly sliced.)
Whisk together the olive oil and white balsamic vinegar, then toss the Brussels Sprouts with the oil-vinegar mixture.
Season with a generous amount of fresh ground black pepper and some salt.
Brush a roasting pan with 1 tsp. of olive oil and arrange Brussels Sprouts on the pan in a single layer (as much as possible).
Roast until the Brussels Sprouts are nicely browned on the edges and tender, about 25 minutes. I turned them about every 10 minutes.
During the last few minutes of roasting time, put almonds in a dry pan and toast 1-2 minutes, shaking the pan so they don't burn. Don't walk away because they go from nicely browned to burned in a few seconds.
Wipe out the bowl you used to toss the raw Brussels Sprouts in, and when they're cooked through and browned as much as you'd like, toss the hot sprouts with the coarsely grated Parmesan.
Arrange on serving dish, sprinkle almonds over and serve.
Notes
Normally a pound of vegetables will serve four people, but these shrink up a bit when they're roasting, so for four people I'd use slightly more than a pound if you have that many.
Recipe created by Kalyn.
Nutrition Information:
Yield:
4
Serving Size:
1
Amount Per Serving:
Calories: 82
Total Fat: 4g
Saturated Fat: 1g
Trans Fat: 0g
Unsaturated Fat: 3g
Cholesterol: 2mg
Sodium: 215mg
Carbohydrates: 10g
Fiber: 3g
Sugar: 2g
Protein: 4g
Nutrition information is automatically calculated by the Recipe Plug-In I am using. I am not a nutritionist and cannot guarantee 100% accuracy, since many variables affect those calculations.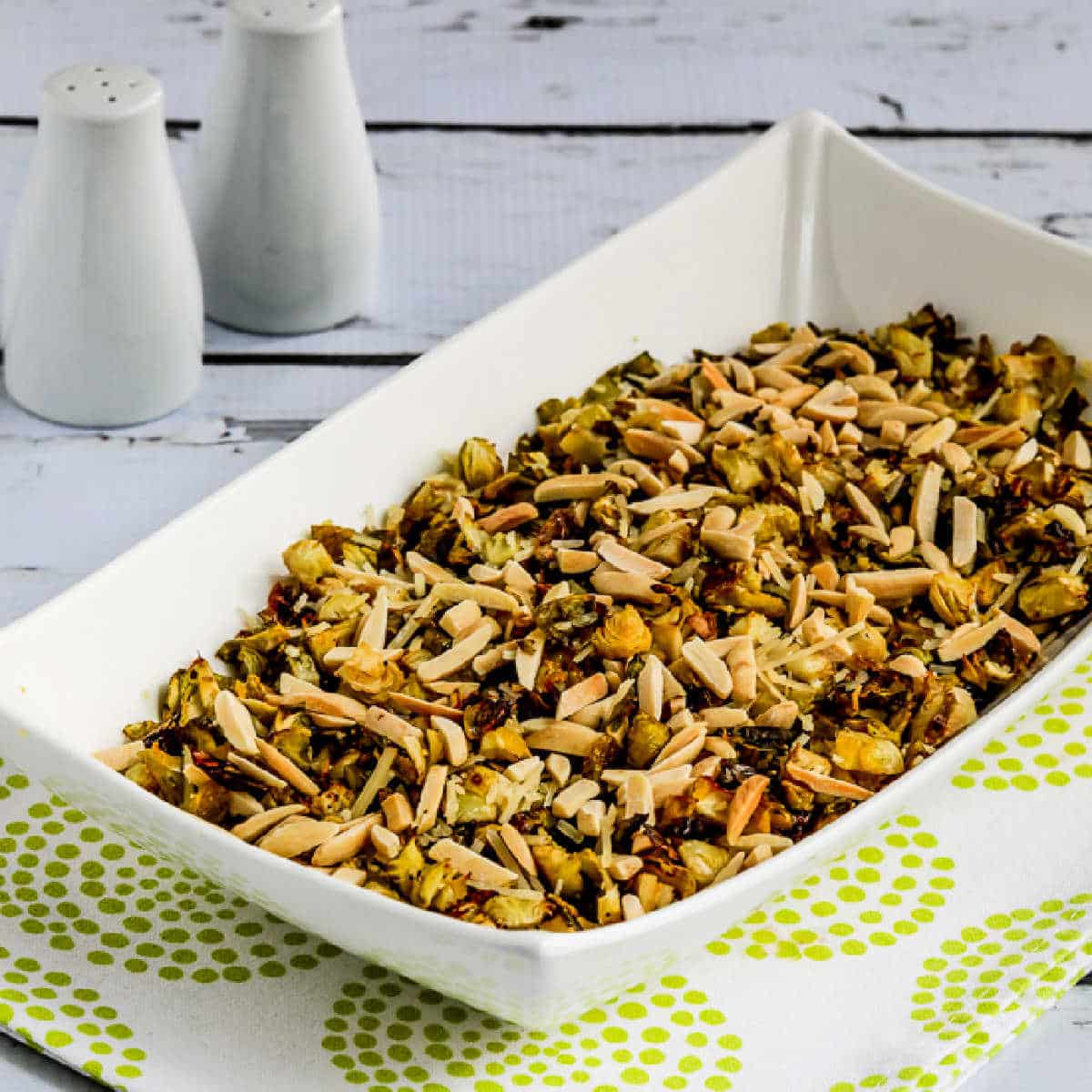 Low-Carb Diet / Low-Glycemic Diet / South Beach Diet Suggestions:
Brussels sprouts are a wonderful low-carb vegetable, and Roasted Shredded Brussels Sprouts are a great side dish for low-carb and Keto eating plans. They're also suitable for any phase of the original South Beach Diet.
Find More Recipes Like This One:
Use Brussels Sprouts to find more recipes like this one. Use the Diet Type Index to find recipes suitable for a specific eating plan. You might also like to follow Kalyn's Kitchen on Pinterest, on Facebook, on Instagram, on TikTok, or on YouTube to see all the good recipes I'm sharing there.
Historical Notes for this Recipe:
This recipe for Brussels Sprouts that were shredded apart and then roasted was posted in 2009 and I've made it many times since then! It was updated with new photos in 2021, and was last updated with more information in 2023.
We are a participant in the Amazon Services LLC Associates Program, an affiliate advertising program designed to provide a means for us to earn fees by linking to Amazon.com and affiliated sites. As an Amazon Associate, I earn from qualifying purchases.