Green Beans with Lemon, Parmesan, and Pine Nuts
Green Beans with Lemon, Parmesan, and Pine Nuts are quickly stir-fried to to turn fresh green beans into a special side dish.
PIN the recipe to try it later!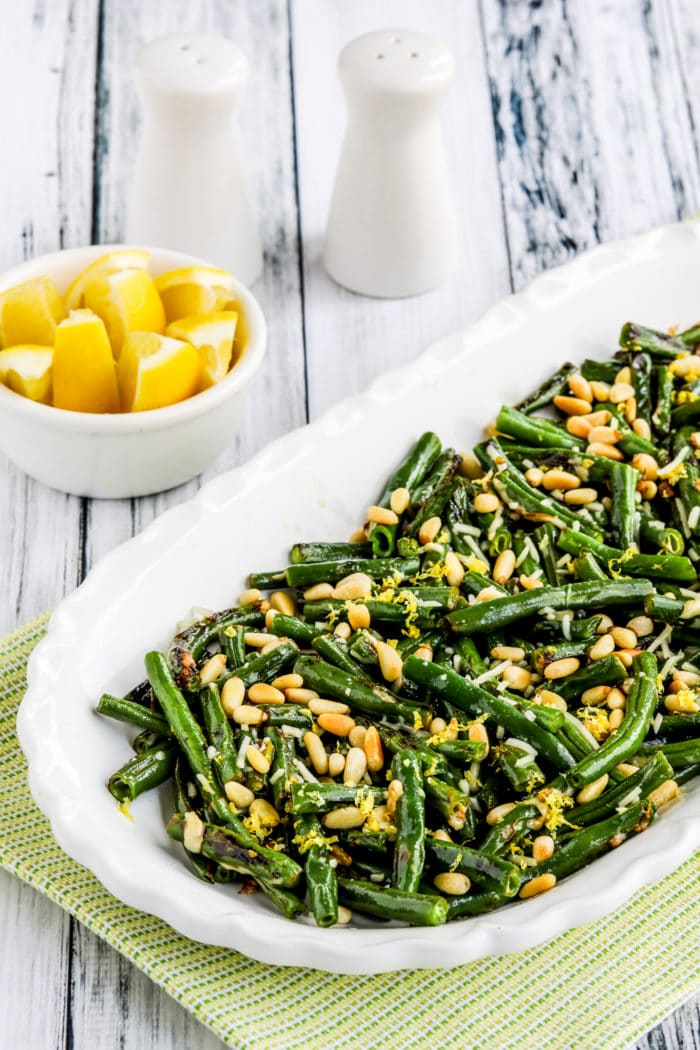 When you're writing a home cooking blog, you're not only sharing your recipes with the world, you're also documenting what you're eating. And when I first posted this recipe for Green Beans with Lemon, Parmesan, and Pine Nuts green beans weren't something I cooked that often. Then I discovered those lovely thin French green beans at Costco, which not only inspired me to make this recipe but also got me started growing my own green beans in the garden. And now have more than 20 Green Beans Recipes on the blog.
But even with all those options, this is one of the green beans recipes I use most, and I took some new photos and to recommend it for my Friday Favorites pick this week to entice you to try it. Of course, lemon, parmesan, and PINE NUTS! How can that possibly not be good? If you're a gardener and have green beans planted, before long you'll have more green beans than you ever imagined, so let me recommend this way to cook them. Look after the recipe for more delicious ideas for green beans from Kalyn's Kitchen and some of my blogging friends.
What ingredients do you need for this recipe?
fresh green beans, preferably thin French green beans
Olive Oil (affiliate link)
whole garlic cloves
lemon juice (I use my fresh-frozen lemon juice)
lemon zest
freshly grated Parmesan cheese
pine nuts
What if you don't have pine nuts?
Pine nuts can be pricey if you don't buy them at Costco, and lately Costco seems to be having a shortage. I think slivered almonds would be a great substitute in this recipe.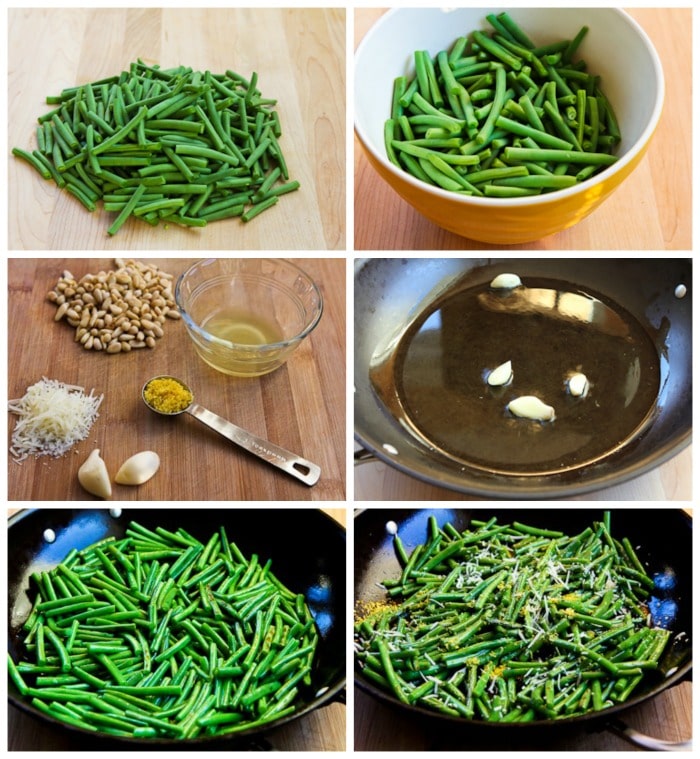 How to make this recipe:
(Scroll down for complete recipe with nutritional information.)
Trim the beans into pieces about 2 inches long (and wash if you're using garden beans.)
Put the green beans in a bowl, cover with cling wrap (or a loosely-fitting lid), and microwave for 2 minutes.
While the beans cook in the microwave, zest the lemon and squeeze the juice. Get the garlic and Parmesan ready and toast the pine nuts in a dry pan just until they're barely starting to brown.
Heat the oil in a large wok or heavy frying pan, then add the garlic and cook about 1 minute, or until fragrant; then discard the garlic. (This is called "seasoning the oil.") Don't let the garlic brown.
Add the green beans and stir-fry over high heat until they are just starting to brown, but are still slightly crisp. Taste one to see if it's as done as you'd like it; thicker garden beans will take slightly longer.
Lower heat, add the lemon juice and stir to get that flavor mixed in with the beans; then turn off heat and sprinkle the lemon zest and Parmesan over the beans.
Serve hot, sprinkled with the toasted pine nuts.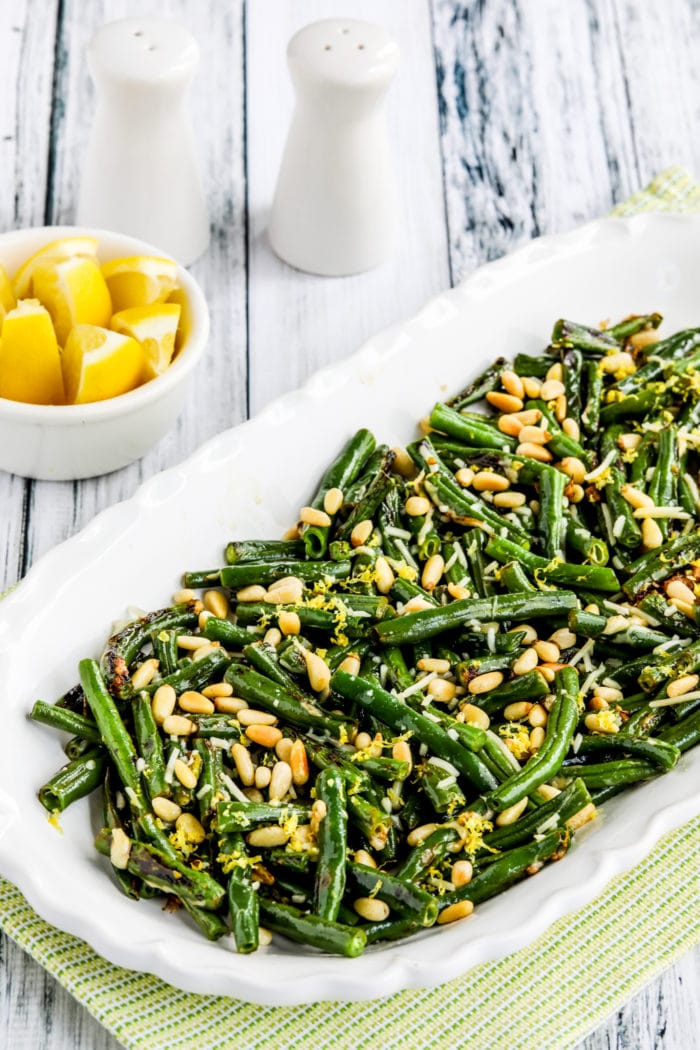 Make it a Meal:
These Green Beans with Lemon, Parmesan, and Pine Nuts would be great with something like Baked Swedish Meatballs or Beef and Sausage Meatballs with Tomato Sauce for a low-carb meal.
More Ideas for Green Beans:
Green Beans with Tahini-Lemon Sauce
Green Bean Salad with Greek Olives and Feta Cheese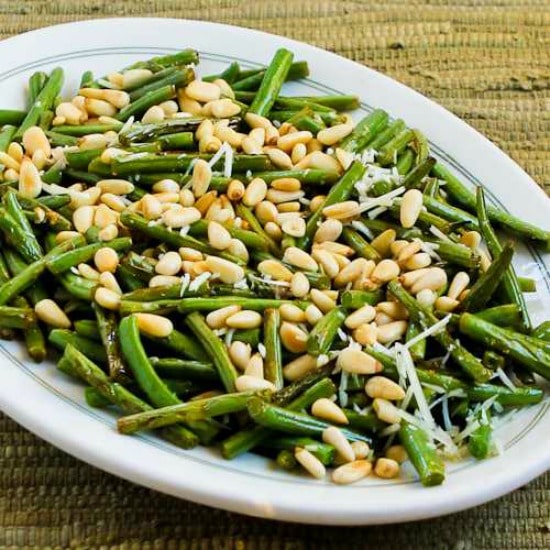 Yield: 4 servings
Green Beans with Lemon, Parmesan, and Pine Nuts
Prep Time 20 minutes
Cook Time 8 minutes
Total Time 28 minutes
This recipe for Green Beans with Lemon, Parmesan, and Pine Nuts is a delicious way to use fresh green beans from the garden.
Ingredients
1 lb. fresh green beans, preferably thin French green beans
1 1/2 T olive oil (or less, depending on your pan or wok)
2 cloves whole garlic
1 T lemon juice
1 tsp. lemon zest
1 T freshly grated Parmesan
1/4 cup pine nuts, toasted in hot pan 1-2 minutes
Instructions
Trim ends from green beans. (I do this by gathering a handful, then standing them up on the cutting board while holding loosely so the beans all line up, then trimming the end. Turn over and repeat with the other end.)
Cut beans into pieces about 2 inches long.
Put beans into glass bowl, cover with cling film or a loosely-fitting lid, and microwave on high 2 minutes.
While beans microwave, zest the lemon and squeeze the juice. (You will not need all the juice, freeze the extra to use later.)
In a dry pan, toast pine nuts over high heat 1-2 minutes, until they barely start to brown. Set aside.
Heat oil in wok or large frying pan over high heat.
Add garlic cloves and stir fry about 1 minute. (This is a Chinese cooking technique called seasoning the oil.) Be sure not to brown the garlic or it will taste bitter. Remove garlic and discard.
Add beans and stir-fry for 2-3 minutes, or until beans are barely starting to brown but are still slightly crisp. (I taste one to see if they are done. I prefer them slightly underdone.)
Lower heat, then pour lemon juice over beans, and stir beans a few times.
Turn off heat, then sprinkle lemon zest and Parmesan cheese over beans and stir again.
Remove beans to serving plate, sprinkle with toasted pine nuts, and serve immediately.
Nutrition Information:
Yield:
4
Serving Size:
1
Amount Per Serving:
Calories: 155
Total Fat: 12g
Saturated Fat: 1g
Trans Fat: 0g
Unsaturated Fat: 9g
Cholesterol: 1mg
Sodium: 31mg
Carbohydrates: 12g
Fiber: 5g
Sugar: 5g
Protein: 4g
Nutrition information is automatically calculated by the Recipe Plug-In I am using. I am not a nutritionist and cannot guarantee 100% accuracy, since many variables affect those calculations.
Low-Carb Diet / Low-Glycemic Diet / South Beach Diet Suggestions:
Green Beans with Lemon, Parmesan, and Pine Nuts would be a perfect side dish for any phase of the original South Beach Diet and they are low enough in net carbs for most any low-carb diet plan.
Find More Recipes Like This One:
Use Side Dishes to find more recipes like this one. Use the Recipes by Diet Type photo index pages to find more recipes suitable for a specific eating plan. You can also Follow Kalyn's Kitchen on Pinterest to see all the good recipes I'm sharing there.
We are a participant in the Amazon Services LLC Associates Program, an affiliate advertising program designed to provide a means for us to earn fees by linking to Amazon.com and affiliated sites. As an Amazon Associate, I earn from qualifying purchases.