Low-Carb Feta Cheese Recipes
Feta Cheese is a food I've been passionately in love with for a long time, and here are my favorite Low-Carb Feta Cheese Recipes! And even if you're not following a low-carb or keto diet, if you like Feta you'll find amazing recipes with Feta Cheese here that you'll want to make over and over!
PIN the Recipes with Feta Cheese to try some later!
Today I'm happy to be updating this amazing collection of Low-Carb Feta Cheese Recipes! And if you're a regular reader of my blog you must have noticed how much I love the creamy tangy flavor of Feta! I do have my favorite Feta Cheese, but truly I don't think I've ever had a brand of Feta that I didn't like!
In fact, Feta is a product I've loved for so long that I first made it one of my Kalyn's Kitchen Picks many years ago. And of course I've been using it in new recipes ever since then, so this post has 36 amazing recipes with Feta Cheese for you to try!
What Feta Cheese Recipes are featured Here?
My blog has a lot of salads with Feta Cheese, so for this post I'm focusing on dinners, lunches, appetizers, side dishes, or breakfast ideas using Feta Cheese. And every one of these favorite recipes is one that I've loved and made over and over. If you're also a big fan of Feta this should be enough recipes to help you to get your Feta Cheese fix on a regular basis, and I hope you enjoy trying some of the recipes!
What is Feta Cheese?
If you're not familiar with Feta, Wikipedia has a good description of this type of Greek cheese. It's an essential ingredient in Greek Salad, one of my all-time favorite salads.
Will Feta Cheese Keep in the Fridge?
I personally don't like to buy the pre-crumbled Feta, because that type doesn't keep well in the fridge. I buy blocks of Feta at Costco, where Kirkland Organic Feta is my favorite. I have a definite preference for sheep's milk Feta, but every type of block Feta Cheese I've had from Costco has been good.
My favorite method for storing Feta Cheese:
Admittedly, I might not be able to store a big block of Feta if I didn't have the FoodSaver Vacuum Sealer (affiliate link), which vacuum packs the cheese so it stays good in the fridge for months and months.
Is Feta Cheese Low in Carbs?
Most Feta Cheese has less than one carb per serving, which certainly makes me love it even more! Check your package, some brands may differ, but I'm sure every brand of Feta is going to be very low in carbs.
Dinner Recipes with Feta Cheese: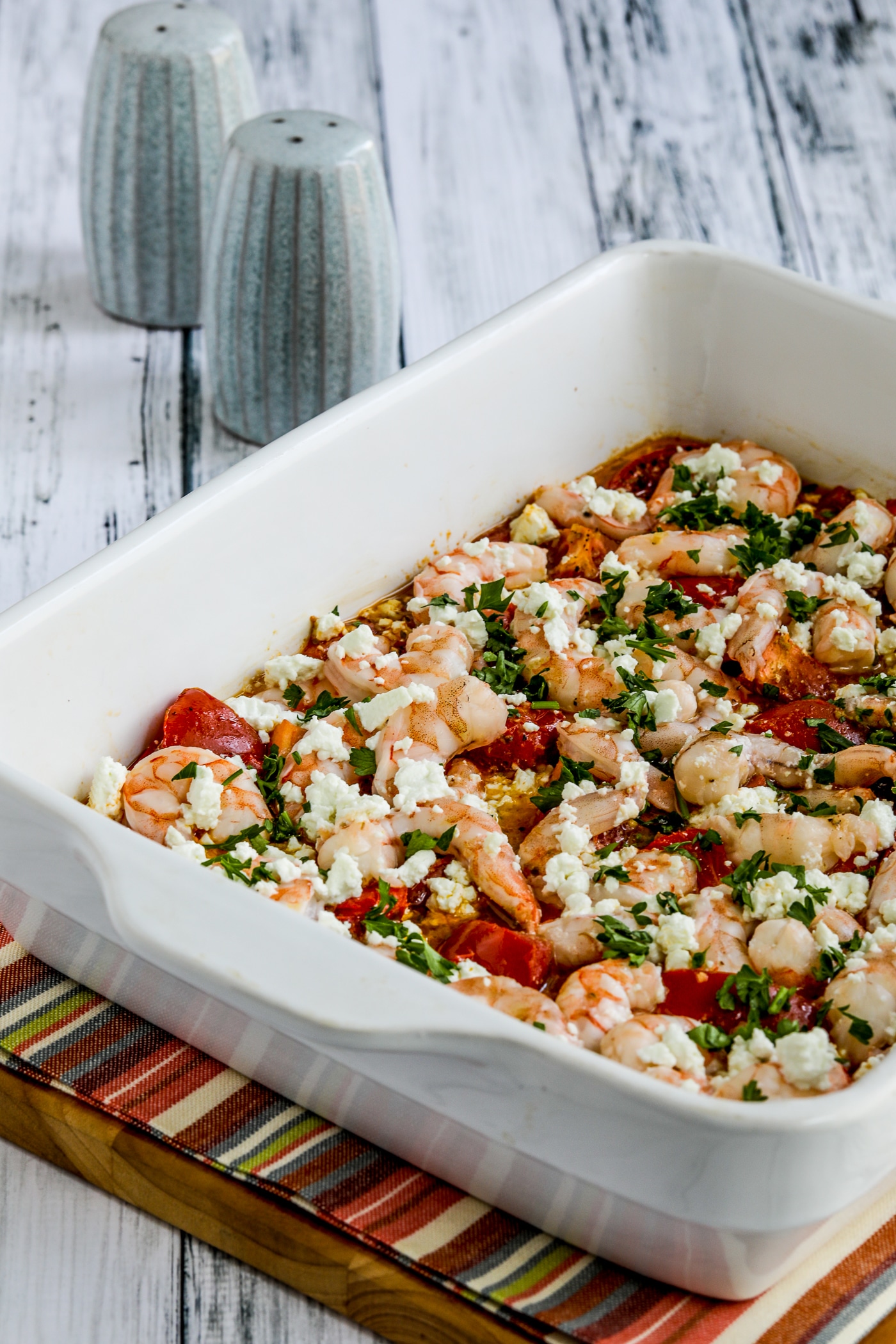 This recipe for Roasted Tomatoes and Shrimp with Feta is an absolutely amazing dinner idea any time of year and recipes like this are why I always have frozen shrimp in the freezer!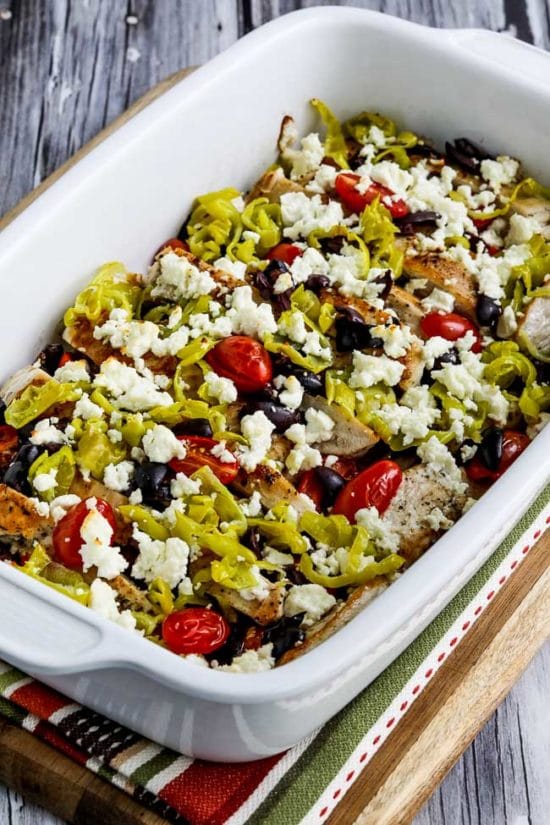 Easy Low-Carb Greek Chicken Bake is a recipe that's been HUGELY popular on the blog, and is you like spicy Greek Peperoncini you will love this for an easy dinner!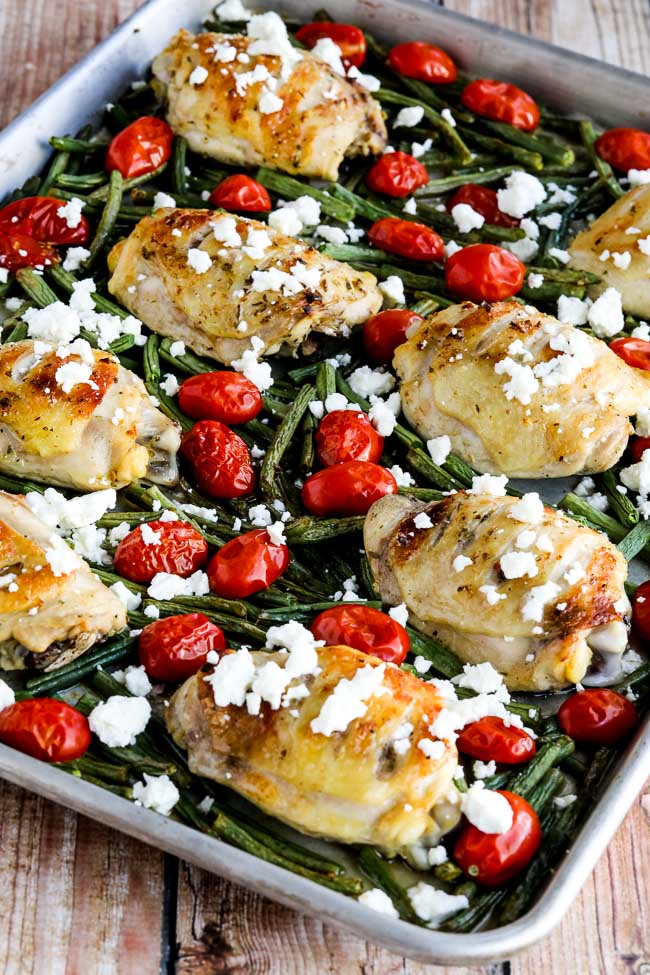 Greek Chicken, Green Beans, and Tomatoes Sheet Pan Mealis a fun red-and-green dish during the holidays, but this is also delicious any time of year! And one pan to clean up, FTW
Greek Skillet Chicken is a recipe idea that just popped into my head one day, and we loved this when we tested it!
More Feta Cheese Recipes for Dinners:
Lunches and Appetizers with Feta Cheese: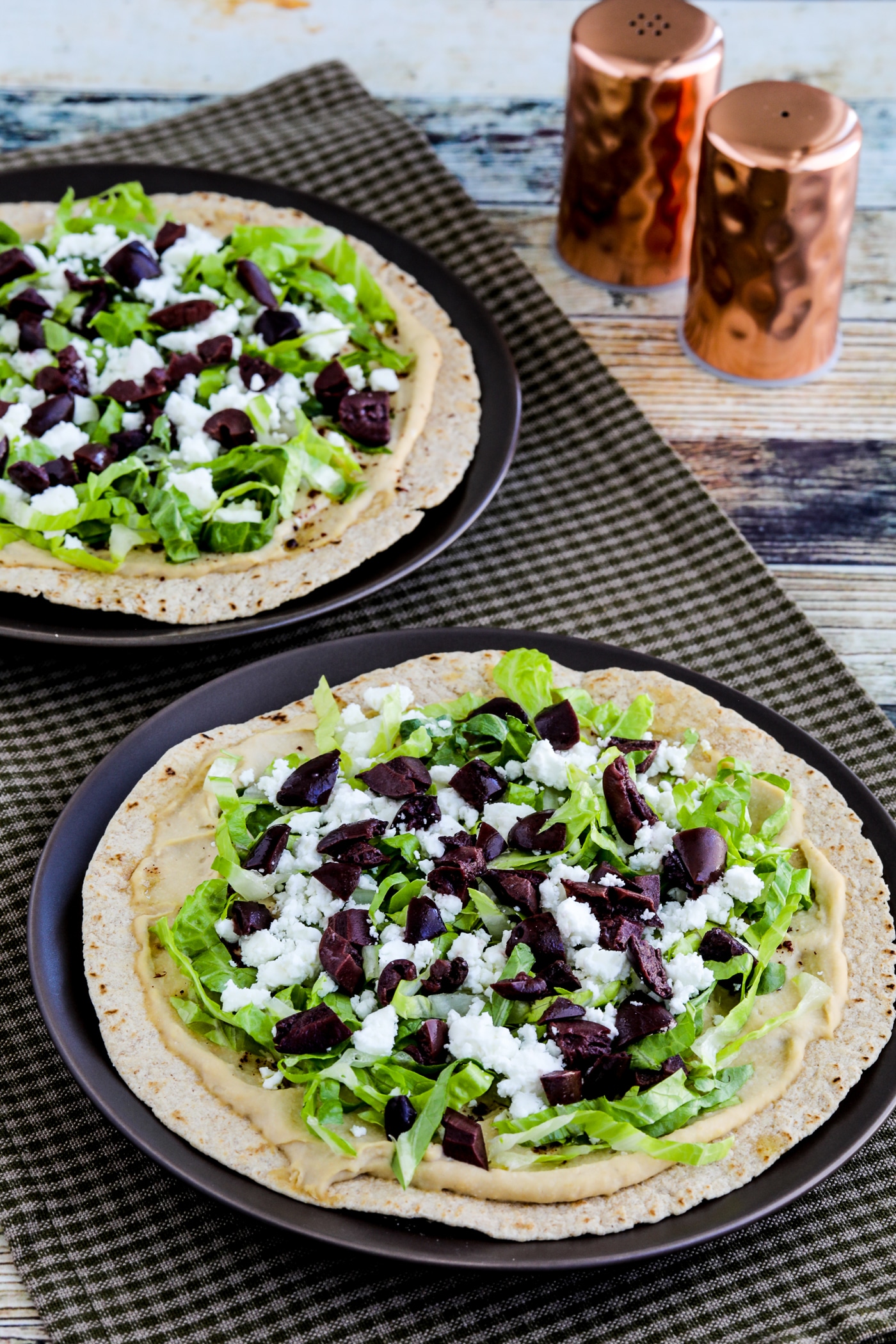 These Middle Eastern Tostadas with Hummus and Feta use low-carb tortillas, and if you use a moderate amount of hummus (or use one of the varieties of low-carb hummus linked in the post) these are low in net carbs.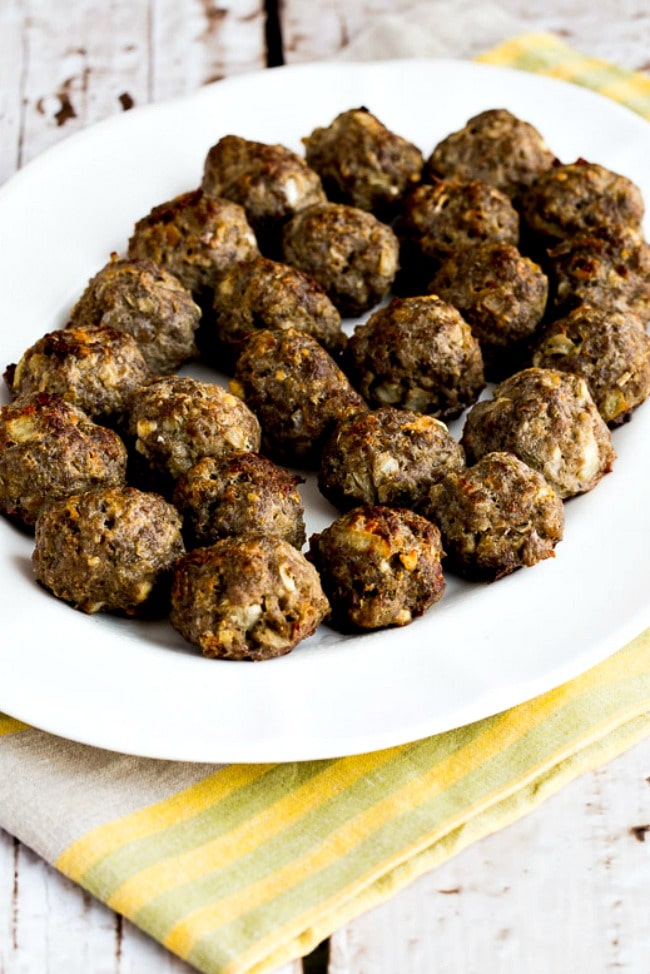 Baked Greek Meatballs with Feta is a recipe that's been one of my favorites for years and years, and this can be served as a main dish or an appetizer!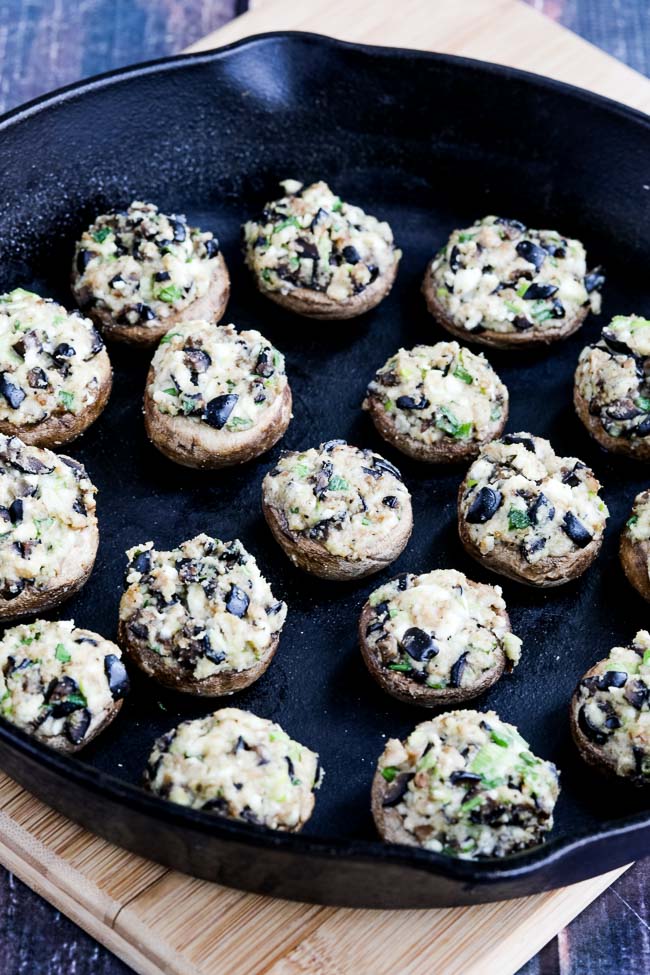 When you want an impressive appetizer (or just want a treat) these Stuffed Mushrooms with Olives and Feta are something that's always a winner!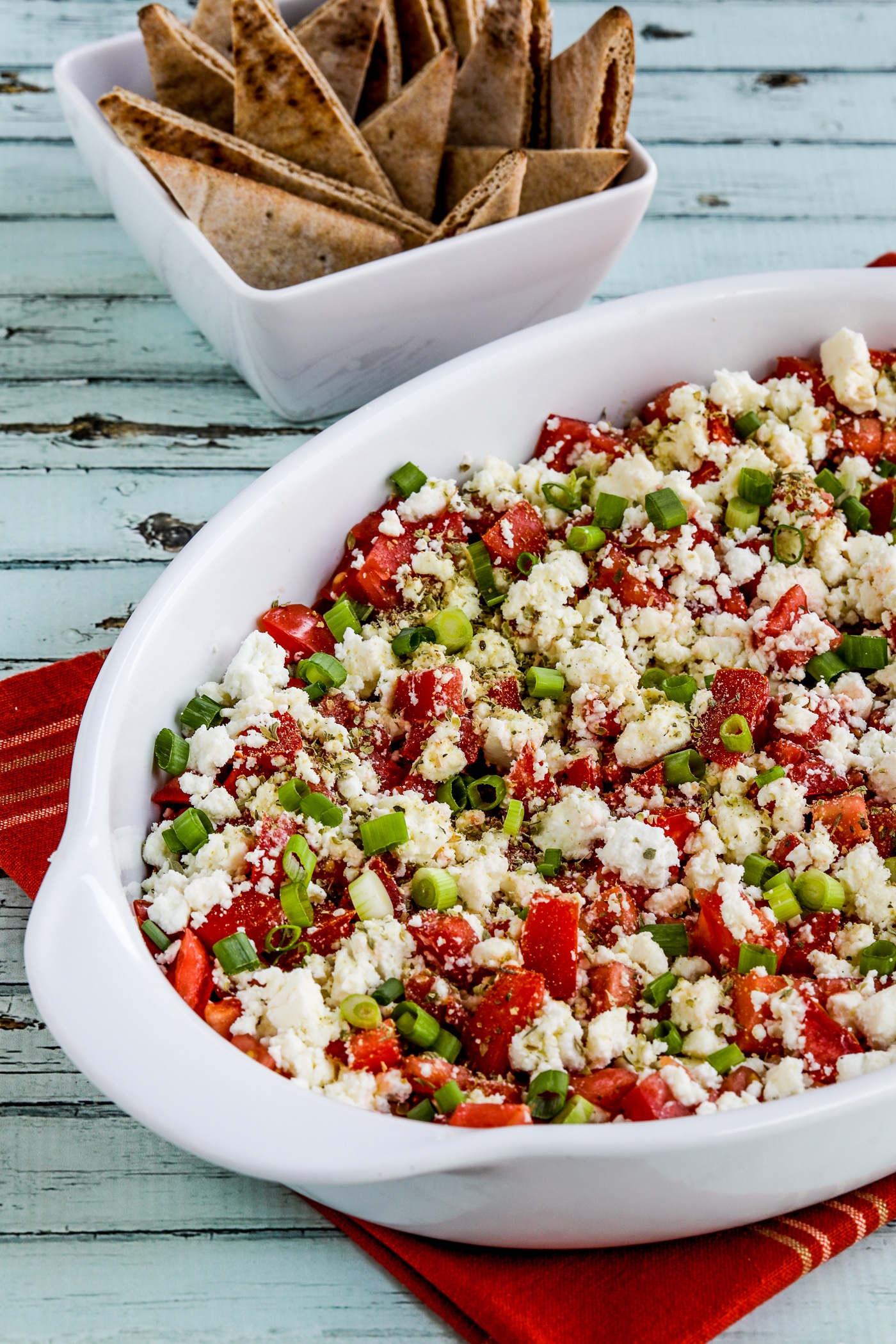 Greek Dip with Tomatoes and Feta was a hit when I took it to a party, and when we ran out of the low-carb pita bread, people just ate it with a fork!
More Feta Cheese Recipes for Lunches and Appetizers:
Side Dish Recipes with Feta Cheese: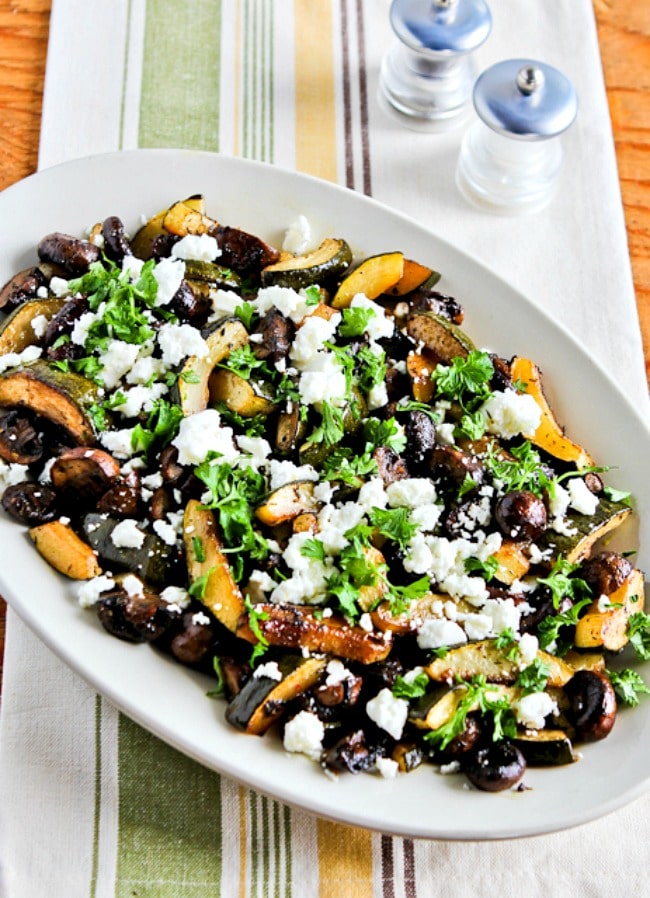 This recipe for Roasted Zucchini with Mushrooms and Feta made history in my family when my brother-in-law asked for a second serving of vegetables!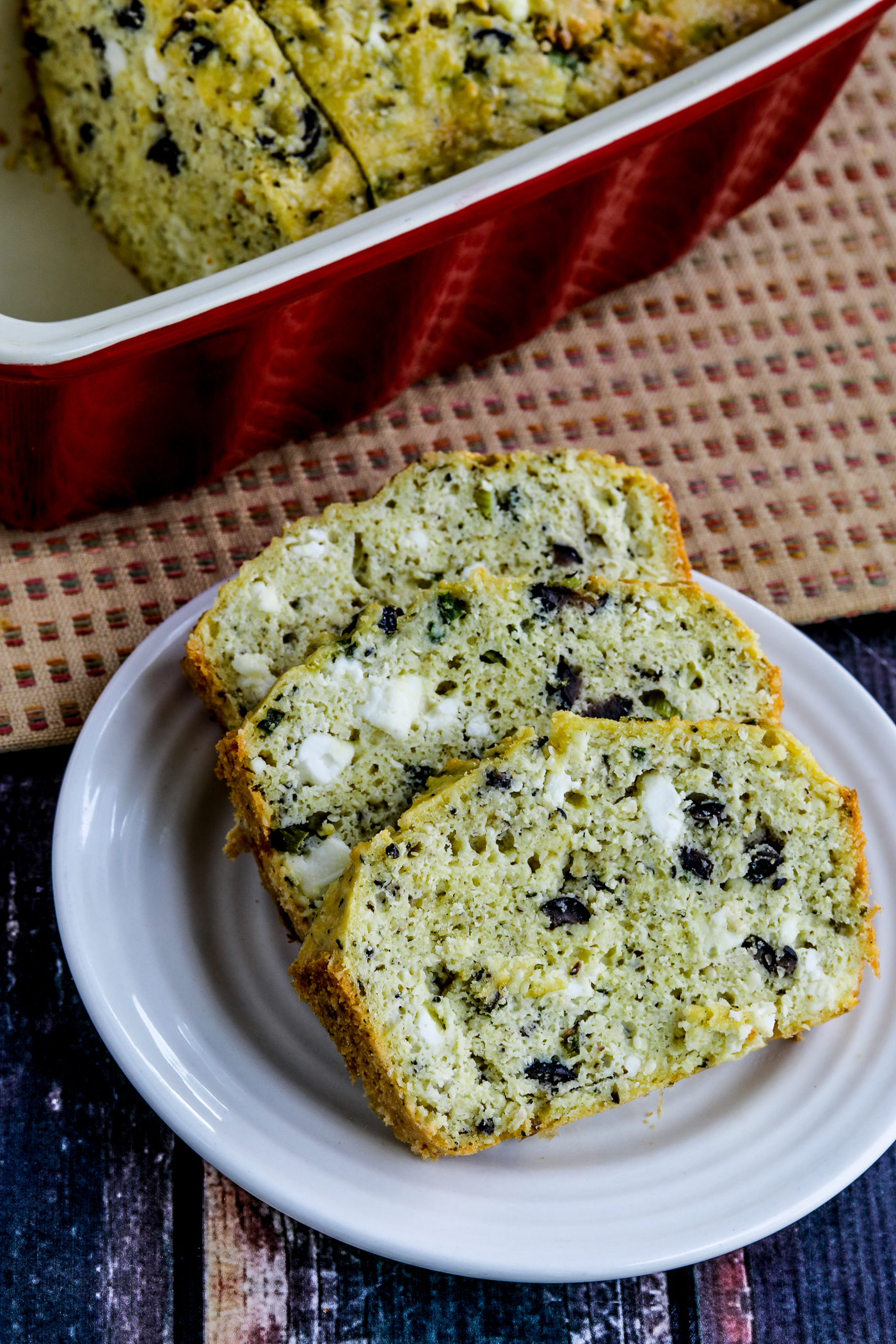 Low-carb and gluten-free Olive Bread is made with almond flour, hemp seeds, eggs, olives, and Feta Cheese, and this is great any time of day!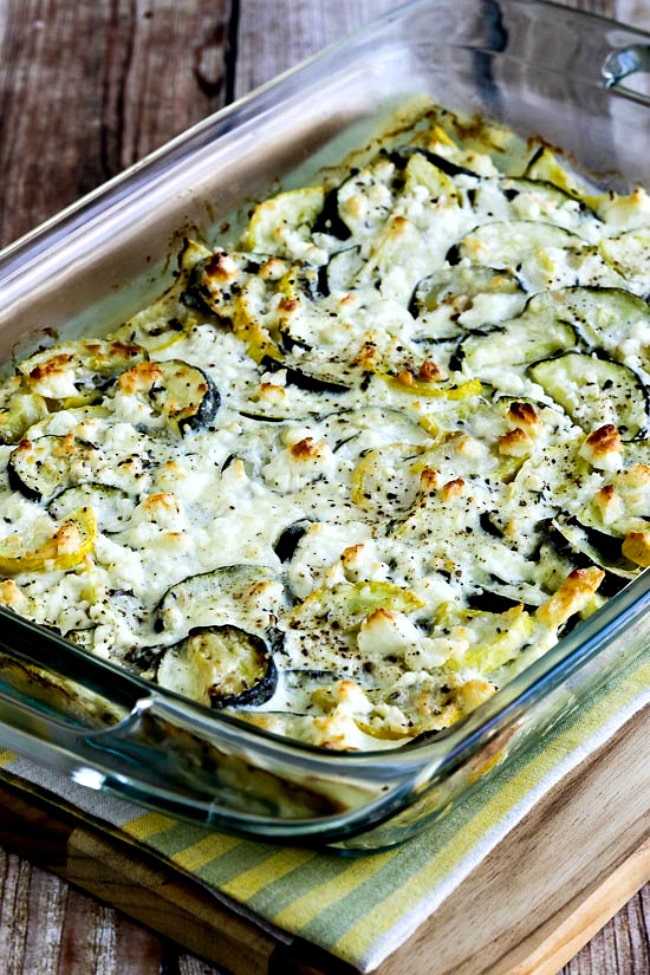 This Zucchini Bake with Feta and Thyme is a super-popular recipe I came up with when I had a big surplus of zucchini from the garden, but this recipe can easily be made with zucchini and yellow squash from the store.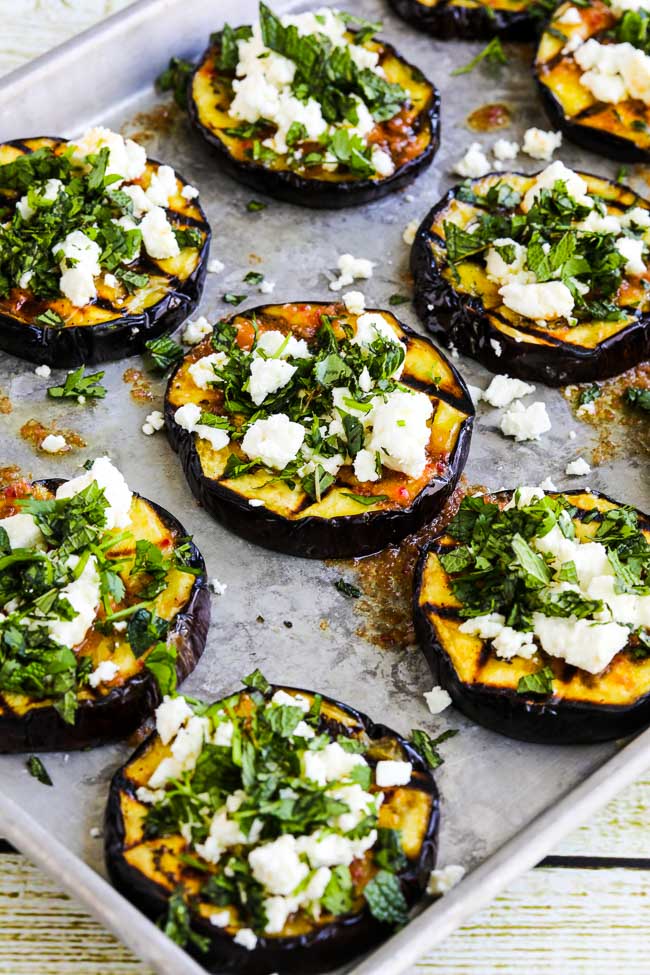 Grilled Eggplant with Feta and Herbs was one of the earliest eggplant recipes I made where I absolutely loved eggplant, and now this is a recipe I've been enjoying for many years.
More Feta Cheese Recipes for Side Dishes:
Breakfast Recipes with Feta Cheese: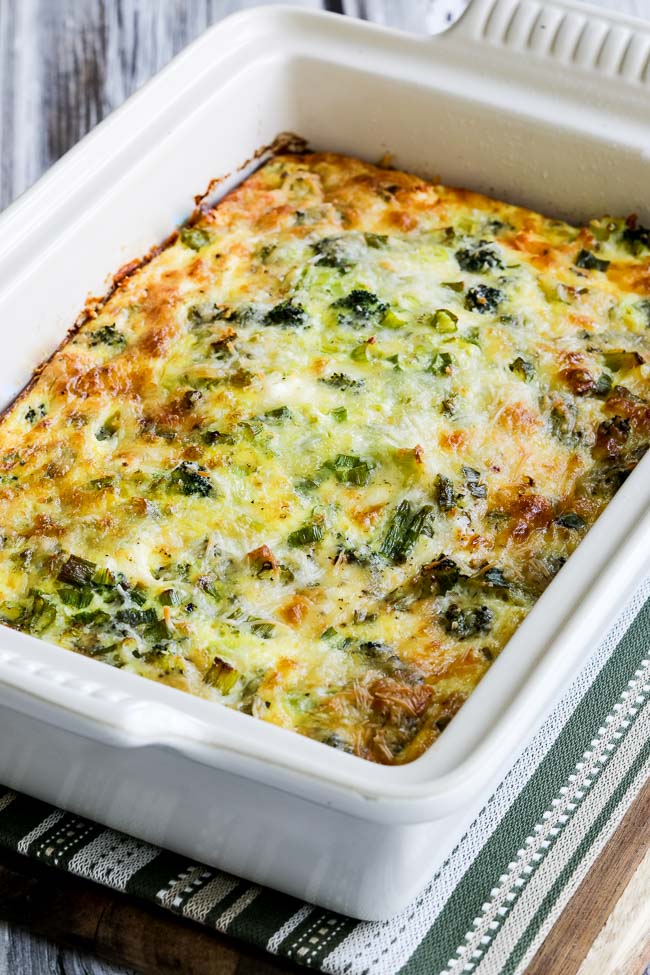 Feta adds creaminess and tangy flavor to this Broccoli and Three Cheese Keto Breakfast Casserole, and I love that this makes eight servings so there will probably be leftovers.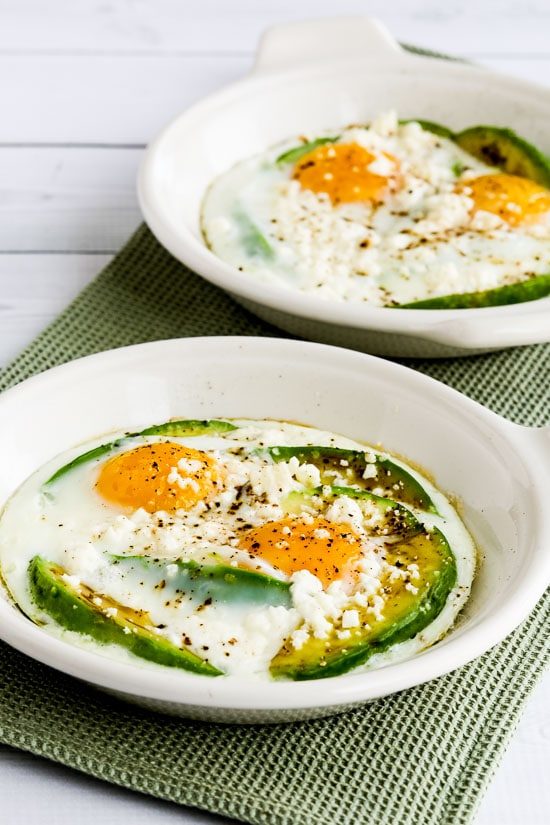 Everyone who likes eggs, avocado, and Feta is going to love these Baked Eggs with Avocado and Feta; we loved this when we tested the recipe!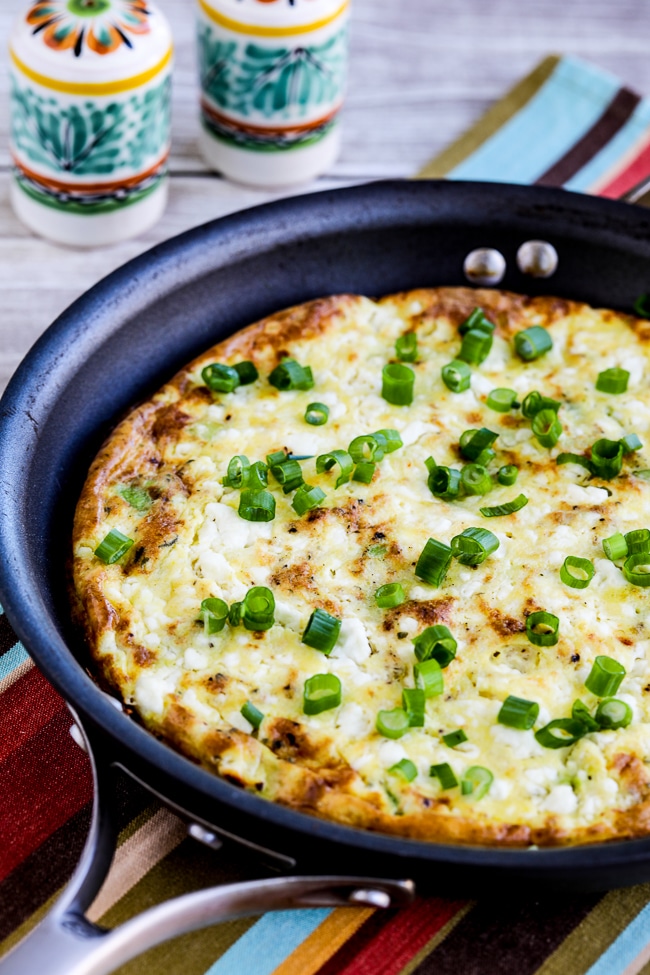 Feta Cheese and Avocado Frittata is something I'd love any time for an easy low-carb and Keto breakfast!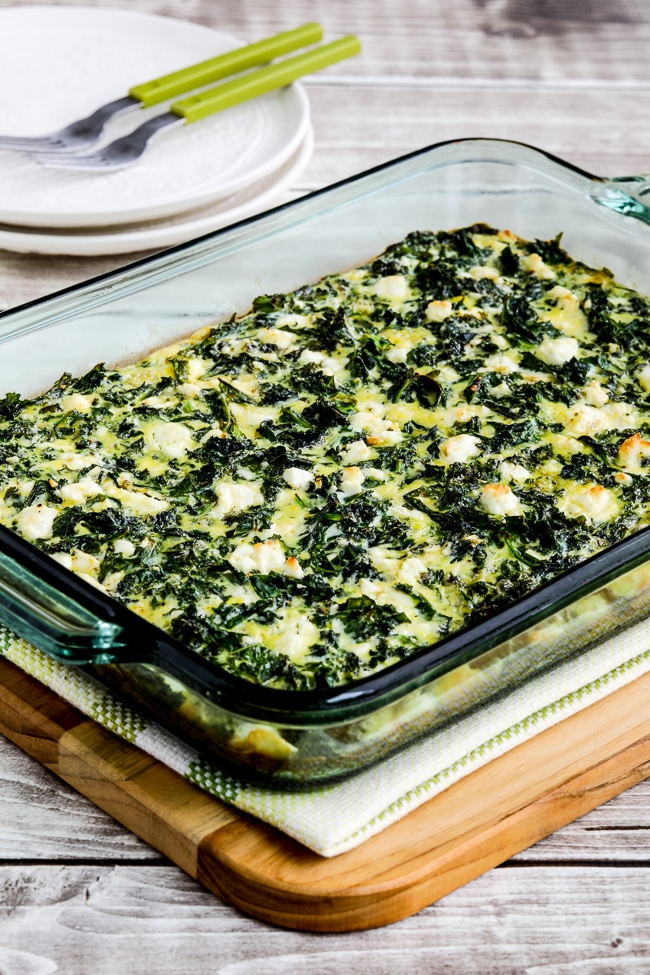 This Kale and Feta Breakfast Casserole is one of the simplest breakfast recipes ever, but the combo of kale and Feta is a winner in a tasty low-carb breakfast casserole!
More Feta Cheese Recipes for Breakfasts:
We are a participant in the Amazon Services LLC Associates Program, an affiliate advertising program designed to provide a means for us to earn fees by linking to Amazon.com and affiliated sites. As an Amazon Associate, I earn from qualifying purchases.