Baked Greek Meatballs with Feta (Video)
These Greek Meatballs with Feta look a bit messy while they're cooking, but you won't mind that once you're eating them! And these are absolutely delicious for a low-carb or Keto meal!
PIN the Greek Meatballs to try them later!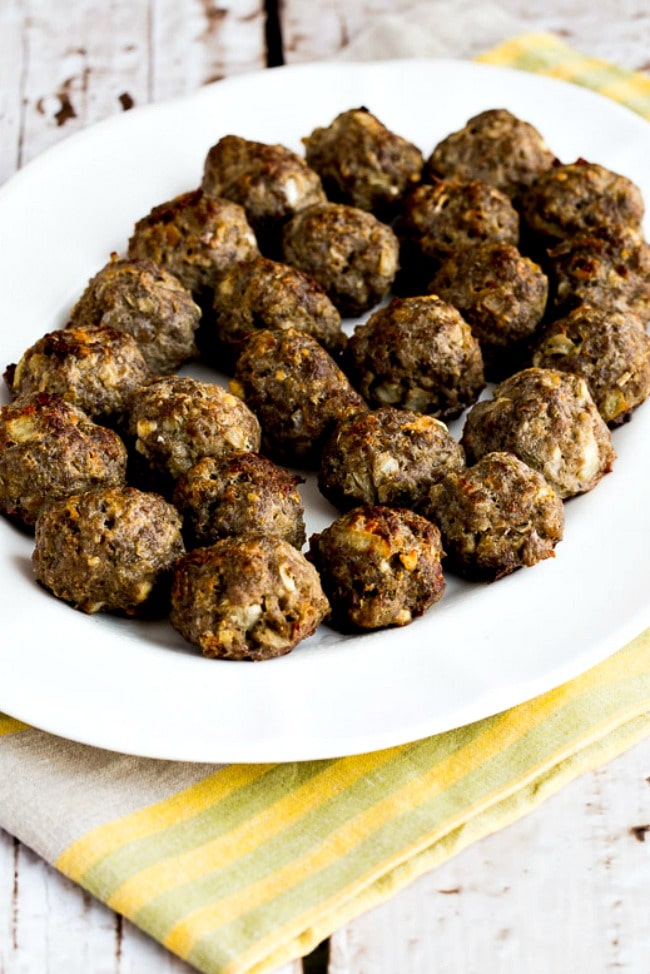 If you poke around a bit on my blog, it's pretty obvious I'm a huge fan of Greek Food. And these Baked Greek Meatballs with Feta are a favorite I've made many times through the years! I don't know if this type of meatball is authentically Greek, but it's definitely loaded with Greek flavors.
And the Greek Meatballs are an easy dish that won't make you think about being on a diet. You can serve these meatballs as a main dish, but I'm sure they'll disappear pretty quickly on a party buffet table as well.
I do want to alert you that because the meatballs are gluten-free with no bread crumbs or oatmeal, some liquid will ooze out of the meat during the cooking process. Just expect that to happen, and you can even spoon the liquid off a time or two if you'd like. And if you're patient and just keep cooking the meatballs even though the pan looks like a mess, the finished meatballs are delicious!
What ingredients do you need?
lean ground beef
onion
feta cheese
Minced Garlic (affiliate link)
egg
olive oil
red wine vinegar
Greek Oregano (affiliate link)
Greek Seasoning (affiliate link)
salt (optional, the Feta cheese is salty)
fresh ground black pepper
What gives these meatballs Greek flavors?
I love all the Greek flavors used here like Feta cheese, oregano, garlic, onion, and red wine vinegar, and those ingredients really bump up the taste of these meatballs.
Can the Greek Meatballs be frozen?
These meatballs can definitely be frozen. They will keep for a few months in the freezer in a snap-tight container and can easily be reheated in the microwave or in a pan on the stove. I would try to let them thaw before reheating if you can.
More Tasty Meatballs to Try:
Check out Beef and Sausage Meatballs with Tomato Sauce and Baked Swedish Meatballs for more tasty ideas with meatballs.
How to Make Greek Meatballs with Feta:
(Scroll down for complete recipe including nutritional information.)
Pulse chopped onion in the food processor until it's finely chopped.
Crumble the Feta with a fork and measure.
Combine the meat, onion, Feta, Minced Garlic, egg, olive oil, red wine vinegar, dried Greek Oregano, Greek Seasoning (affiliate link), salt, and pepper in a bowl and mix with your clean hands.
Use a tablespoon measuring spoon to scoop out generous balls of meat mixture and roll into balls with your hands.
Place meatballs in even rows in a glass baking dish that you're sprayed with non-stick spray.
Bake at 400F/200C, turning a few times and spooning off extra liquid from the pan if desired, until meatballs are cooked through and slightly browned, about 30-35 minutes.
Serve the Baked Greek meatballs hot.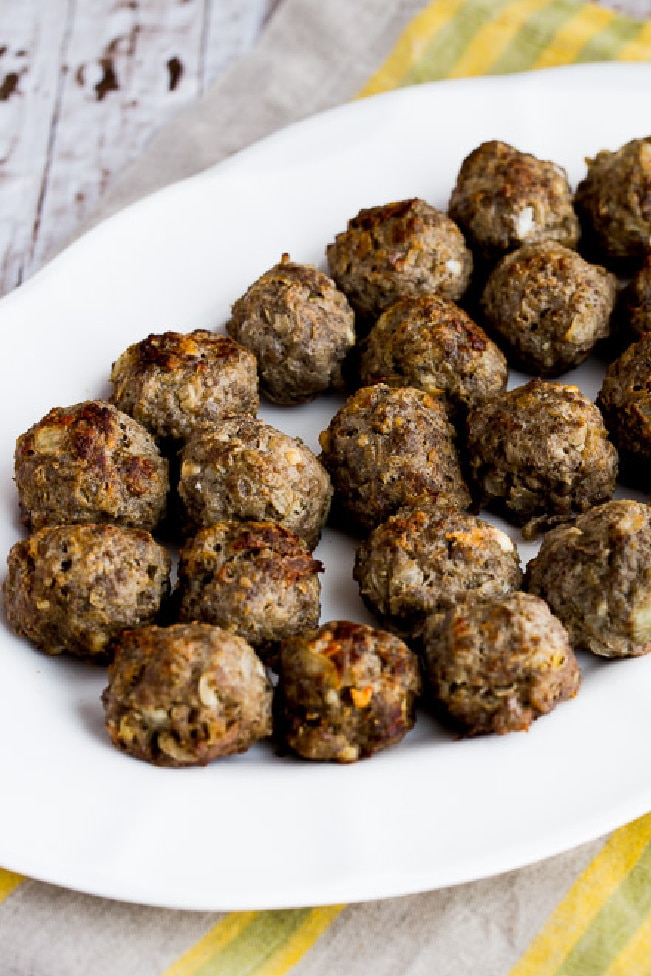 Make it a Low-Carb Meal:
The Greek Meatballs are great with Tzatziki Sauce and American Greek Salad for a low-carb meal.
Weekend Food Prep:
These meatballs reheat well, and the recipe can easily be doubled, so the recipe has been added to a new category called Weekend Food Prep where you'll find recipes you can prep or cook on the weekend and eat during the week!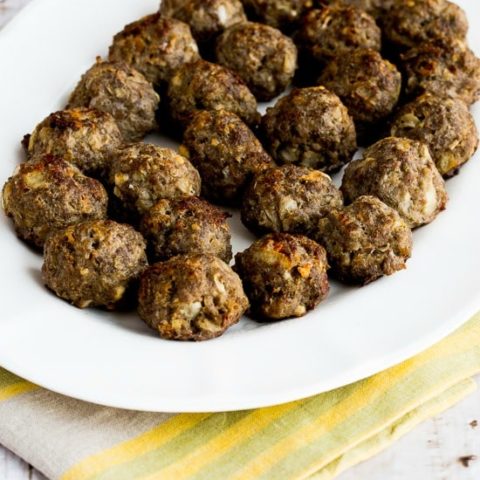 Yield: 20 small meatballs
Baked Greek Meatballs with Feta
Prep Time 15 minutes
Cook Time 40 minutes
Total Time 55 minutes
These Low-Carb Baked Greek Meatballs with Feta look a bit messy while they're cooking, but you won't mind that once you're eating them!
Ingredients
1 pound lean ground beef
1/2 small onion, chopped
1/2 cup very finely crumbled feta cheese (measure after crumbling finely with a fork)
2 tsp. minced garlic
1 large egg
1 T extra virgin olive oil
4 tsp. red wine vinegar
1 T dried Greek oregano
1 tsp. Greek seasoning (optional, but good)
1/4 tsp. salt (optional, see notes)
1/4 tsp. fresh ground black pepper
Instructions
Preheat oven to 400F/200C.
Spray a glass baking dish with olive oil or non-stick spray. (You can use a metal baking sheet, but it's harder to clean.)
Use a food processor to chop the onion very finely, then drain if it seems like there is a lot of liquid.
Crumble 1/2 cup Feta cheese with a fork, until it's finely crumbled.
Put the ground beef into a bowl and add the finely chopped onion, finely crumbled Feta, minced garlic, egg, olive oil, red wine vinegar, Greek Oregano (affiliate link), Greek Seasoning (affiliate link), salt, and pepper. Combine with your clean hands until all ingredients are well-mixed.
Use a one tablespoon measuring cup to scoop out meat; then roll it into balls with your hands and place in rows in the baking dish.
Bake 15 minutes, after which time you will see some liquid oozing out. (You can scoop some of the liquid out with a spoon if it bothers you; I usually do that.)
Turn meatballs and bake 10 more minutes. Turn again, and bake 5-10 more minutes more or until meatballs are well-browned and cooked through. (I would check one when you turn them the second time and use that to judge how much more cooking time is needed.)
Meatballs are delicious served with Tzatziki Sauce.
Nutrition Information:
Yield:
20
Serving Size:
1
Amount Per Serving:
Calories: 84
Total Fat: 5g
Saturated Fat: 2g
Unsaturated Fat: 2g
Cholesterol: 36mg
Sodium: 197mg
Carbohydrates: 1g
Fiber: 0g
Sugar: 0g
Protein: 8g
Nutrition information is automatically calculated by the Recipe Plug-In I am using. I am not a nutritionist and cannot guarantee 100% accuracy, since many variables affect those calculations.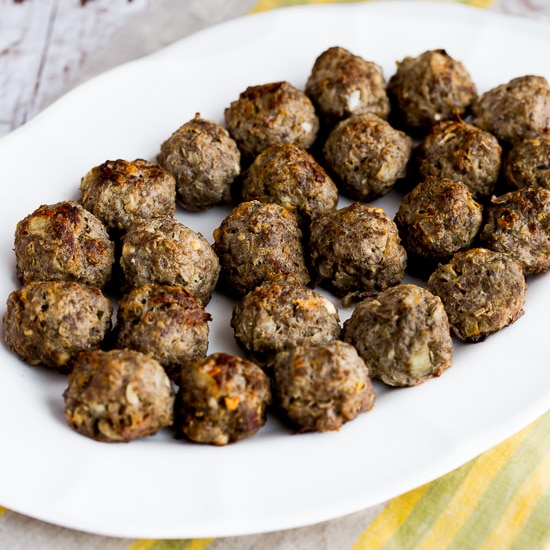 Low-Carb Diet / Low-Glycemic Diet / South Beach Diet Suggestions:
These Greek Meatballs would be approved for low-carb or Keto eating plans, or for any phase of the original South Beach Diet. (South Beach would recommend using low-fat ground beef and a moderate amount of Feta; low-carb and Keto diets would prefer a bit more fat.
Find More Recipes Like This One:
Use Oven Dinners to find more recipes like this one. Use the Diet Type Index to find recipes suitable for a specific eating plan. You might also like to follow Kalyn's Kitchen on Pinterest or on Facebook to see all the good recipes I'm sharing there.
Historical Notes for this Recipe:
These tasty Greek Meatballs were first posted in 2005, and I've made them many times since then. The recipe was last updated with more information in 2022.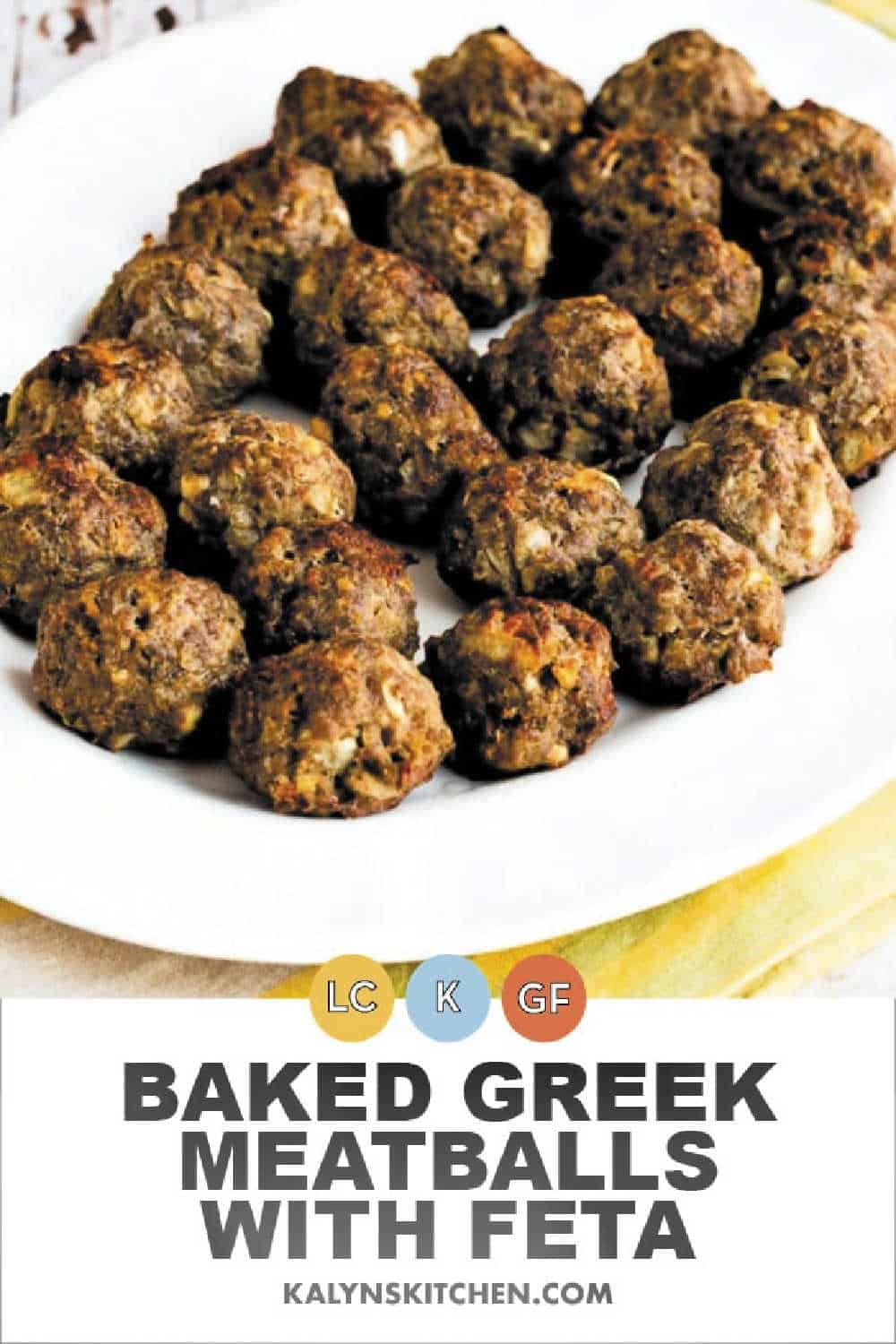 We are a participant in the Amazon Services LLC Associates Program, an affiliate advertising program designed to provide a means for us to earn fees by linking to Amazon.com and affiliated sites. As an Amazon Associate, I earn from qualifying purchases.