How to Cook Dried Beans in a Crockpot or Slow Cooker
This post will show you How to Cook Dried Beans in a CrockPot or Slow Cooker! This post compares results for cooking soaked or unsoaked beans, with everything you need to know to make perfect slow cooker beans. Dried beans are the start of so many tasty dishes, and they're so inexpensive when they're cooked from scratch in the slow cooker. Check Dried Beans for all the dried bean recipes on this site.
PIN How to Cook Dried Beans in a CrockPot to try it later!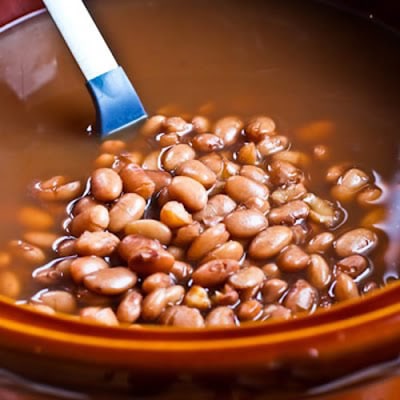 Why is learning How to Cook Dried Beans in a Crockpot Slow Cooker such a big deal? This post will tell you why I think cooking your own beans from scratch is well worth the trouble, and give you the easy process for cooking dried beans in a slow cooker!
Why Eat Dried Beans?
Dried beans are one of those foods that have everything going for them. Beans are inexpensive, and they're a good source for many vitamins and minerals, plus they're also high in fiber, high in protein, and naturally low in fat, sugar, and sodium. Many types of dried beans are listed among The World's Healthiest Foods, and beans are also listed as one of the Superfoods that we should all be eating often.
Not only are beans nutritious, they're loaded with healthy slow-burning complex carbohydrates, and are low on the glycemic index, making them a good food choice for anyone who's concerned about blood sugar, whether for weight-loss or health reasons. If you're strictly watching your carbs you may want to eat them more sparingly, but even in small amounts dried beans add a lot of flavor and nutrition to many dishes.
Why Bother with Cooking Dried Beans from Scratch?
The flavor of beans from a can is incomparable to the deliciousness of freshly-cooked dried beans! And dried beans that are cooked from scratch are so much more budget-friendly than canned beans. You can cook a batch of beans and freeze them in small containers to keep in the freezer. And cooking your own beans eliminates the cans that fill up your recycling container!
How to Cook Dried Beans in a Slow Cooker: Do You Need to Soak the Beans?
Learning how to cook dried beans in a crockpot slow-cooker is one of those wonderful ideas I discovered through food blogging. After I tried cooking beans this way, I did the experiment outlined below to see how soaking the beans would affect the cooking time. I cooked my beans on high, but if you're not going to be home you can always cook them for a longer time on low. The cooking time of dried beans will vary greatly depending on how fresh the beans are, so I can't give you the exact cooking time, but I'll give you the approximate times. (See after my recipe for ways other food bloggers use their slow cookers to cook dried beans.)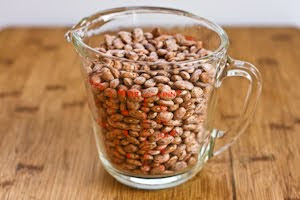 I started with 2 cups of dried pinto beans, using beans from the same package for both crockpots.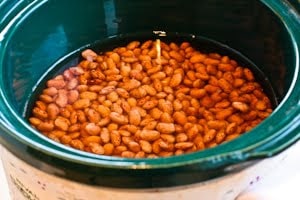 I soaked the beans in the green crockpot overnight (about 10 hours.)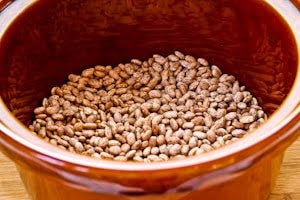 Beans in the brown crockpot were not pre-soaked.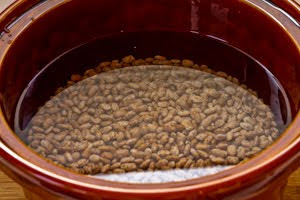 Beans in both crockpots were covered with enough water to cover by about 2 inches. I didn't add salt to the beans. (For the pre-soaked beans, drain out the original soaking water and use fresh water to cook the beans.)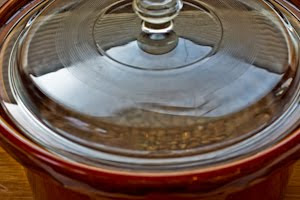 I turned both crockpots to the HIGH setting, put the lids on, and started a stop-watch to time each crockpot.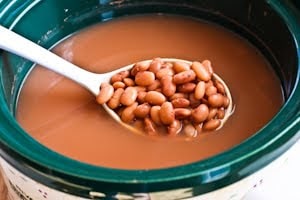 Pre-soaked beans in the green crockpot were tender and full cooked after 3-4 hours on high.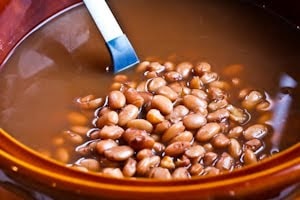 Unsoaked beans in the brown crockpot were tender and fully cooked after 5-6 hours. Honestly, I was quite surprised that pre-soaking didn't make more of a difference in the cooking time. I couldn't really tell much difference in the flavor or texture of the soaked vs. unsoaked beans. Both methods produced about 6 cups of cooked beans from 2 cups of dried beans. I froze my beans in 2 cup containers to use in recipes.
Ideas for using the Slow Cooker Beans:
Beans are one of the most versatile ingredients you can find, and they show up frequently in recipes for bean soup, bean stew, bean salads, and side dishes. Beans can be combined with chicken, turkey, beef, and eggs and there are also lots of well-known foods around the world where beans are the star ingredient, such as refried beans, hummus, Socca, and Falafel.
[recipe]
Other Food Bloggers Cook Dried Beans:
How to Cook Pinto Beans in a Pressure Cooker / Instant Pot ~ Letty's Kitchen
The BEST Slow Cooker Recipes for Black Beans ~ Slow Cooker or Pressure Cooker
The BEST Instant Pot Recipes for Black Beans ~ Slow Cooker or Pressure Cooker
Slow Cooker/Pressure Cooker Beans and Legumes Index ~ Slow Cooker or Pressure Cooker
Weekend Food Prep:
This recipe has been added to a new category called Weekend Food Prep to help you find recipes you can prep or cook on the weekend and eat during the week!
Low-Carb Diet / Low-Glycemic Diet / South Beach Diet Suggestions:
All types of dried beans are a low-glycemic food that's approved for the South Beach Diet, but portion sizes for phase one should be limited to 1/3 to 1/2 cup serving size. Dried Beans are probably too high in carbs for other low-carb diet plans.
Find More Recipes Like This One:
Use the Diet Type photo index pages to find more recipes suitable for a specific eating plan. You might also like to Follow Kalyn's Kitchen on Pinterest to see all the good recipes I'm sharing there. Click here for Slow Cooker / Pressure Cooker Recipes on my other site!
Nutritional Information?
If you want nutritional information for a recipe, I recommend entering the recipe into this nutrition analyzer, which will calculate it for you. Or if you're a member of Yummly, you can use the Yum button on my site to save the recipe and see the nutritional information there.
Have you used the a CrockPot or slow cooker to cook dried beans? If so, please share any tips or suggestions you have in the comments.
We are a participant in the Amazon Services LLC Associates Program, an affiliate advertising program designed to provide a means for us to earn fees by linking to Amazon.com and affiliated sites. As an Amazon Associate, I earn from qualifying purchases.