Easy Cheesy Baked Keto Cauliflower (Video)
Everyone who likes cauliflower and loves cheese is going to enjoy this Easy Cheesy Baked Keto Cauliflower!
PIN Easy Cheesy Baked Keto Cauliflower to try it later!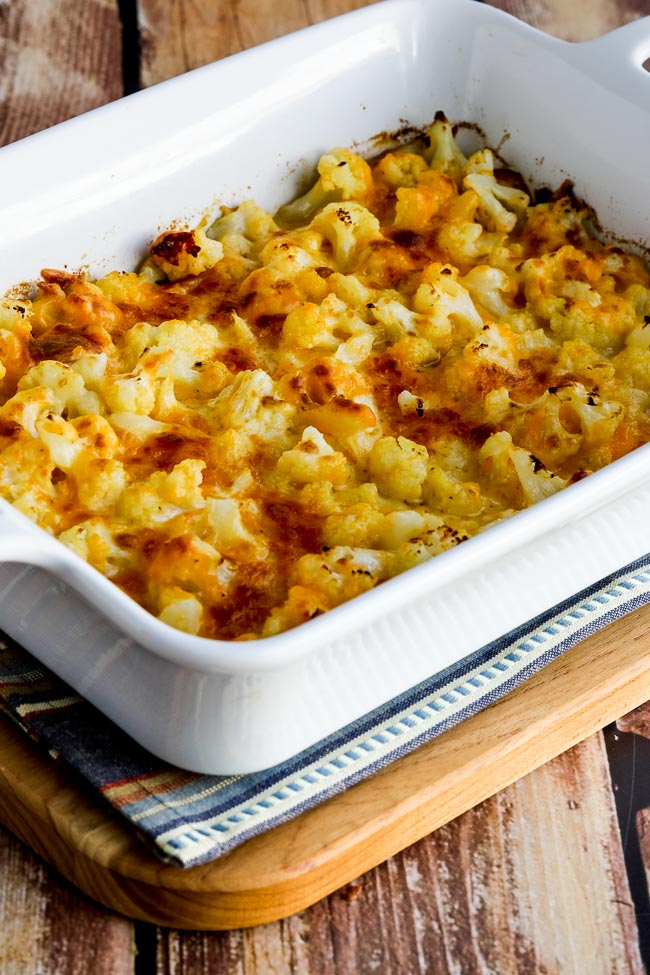 In my office I have a small bookshelf next to the desk that has 13+ years worth of notebooks with recipe notes and blogging info. And some of the recipe notebooks are from long before I ever heard of blogging. I re-discovered this recipe for Easy Cheesy Baked Keto Cauliflower in one of those notebooks and was intrigued by how easy it was, and when we tested the recipe we absolutely loved it! My old notes had no information about the source of the recipe so I can't give any credit to anyone, although we changed it a bit when we made it for the blog.
And let's be honest, I did wonder if this blog needs another easy cheesy cauliflower recipe since Twice Baked Cauliflower, Cauliflower Gratin, and Cheesy Baked Cauliflower Tots are all such popular recipes. But the absolute easiness of the recipe, combined with the way it uses common ingredients, convinced me that many of you will like it. So grab a head of cauliflower, some butter, Parmesan, sharp cheddar, and a cheese blend and give this tasty side dish a try! And if you want to call it a casserole and eat it as a main dish, I think that would make a good dinner as well!
Before I give the recipe I want to say one more thing. This recipe uses a lot of cheese! If it seems like too much cheese for you, feel free to use the amount you prefer. I can't see through the computer to tell how you adapt a recipe to your personal taste, honest. And you are under no obligation to make a recipe just because I share it here, so I hope the cheese police can refrain from criticizing! Use Side Dishes to find lots more ideas using this versatile low-carb veggie!
What ingredients do you need for this recipe?
cauliflower
Kosher Salt (affiliate link)(for water you use to boil the cauliflower)
butter
coarsely-grated Parmesan cheese
grated sharp cheddar cheese
grated three cheese blend
coarse-ground black pepper to taste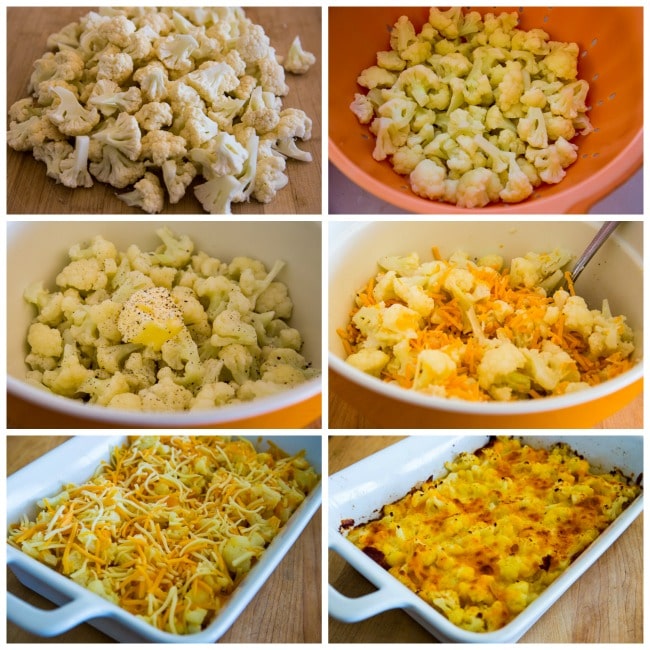 How to Make Easy Cheesy Baked Keto Cauliflower:
(Scroll down for complete printable recipe with nutritional information.)
Start by cutting up a head of cauliflower into bite-sized pieces and cooking it for exactly 5 minutes in boiling salted water.
Drain the cauliflower very well.
While you're doing this preheat the oven to 375F/190C.
Then put the well-drained cauliflower into a bowl (or back in the pan you boiled it in if you want to save dirtying another dish!)
Add the butter to the hot cauliflower and stir to coat cauliflower with the butter.
Then mix in the Parmesan and sharp cheddar.
Put cauliflower into a baking dish and top with the three-cheese blend, or any cheese that melts well.
Bake for 20-25 minutes, or until the cauliflower is cooked through and cheese is all melted and nicely browned.
Serve hot and enjoy!
This reheated especially well so if you're a big fan of cheesy cauliflower you might want to double the recipe and make it as a Weekend Food Prep recipe to enjoy several times as a side dish.
Make it a Low-Carb Meal:
This would be a great low-carb side dish for something simple like Easy Low-Carb Garlic and Lemon Shrimp or Chicken Piccata with Fried Capers.
More Low-Carb Cauliflower Recipe Love:
Instant Pot (or Stovetop) Loaded Cauliflower Soup ~ Kalyn's Kitchen
Low-Carb Cauliflower Breadsticks ~ Real Housemoms
Low-Carb Ham and Cauliflower Casserole au Gratin ~ Kalyn's Kitchen
Creamy Cauliflower Chowder ~ A Family Feast
Low-Carb Loaded Cauliflower Mock Potato Salad ~ Kalyn's Kitchen
Cauliflower Tortillas ~ Recipe Girl
The BEST Low-Carb Roasted Cauliflower Recipes ~ Kalyn's Kitchen
Weekend Food Prep:
This recipe has been added to a new category called Weekend Food Prep to help you find recipes you can prep or cook on the weekend and eat during the week!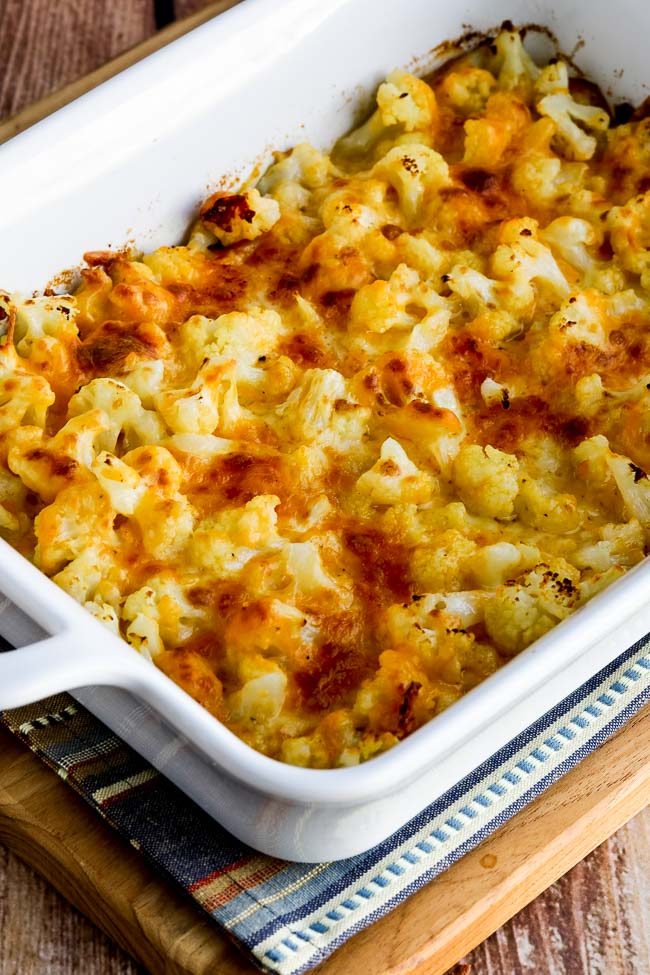 Yield: 6 servings
Easy Cheesy Baked Keto Cauliflower
Prep Time 10 minutes
Cook Time 30 minutes
Total Time 40 minutes
Easy Cheesy Baked Keto Cauliflower is a rediscovered recipe I first made before I even had a blog!
Ingredients
1 large head cauliflower, cut apart into bite-sized pieces
1 tsp. kosher salt (for water you use to boil the cauliflower)
2 T butter
1/2 cup coarsely-grated Parmesan
1 1/2 cups grated sharp cheddar (see notes)
1/2 cup grated three cheese blend
coarse-ground black pepper to taste
Instructions
Preheat oven to 375F/190C.
We used an 8.5 " X 11" baking dish for this recipe. Spray baking dish with olive oil or non-stick spray.
Bring water to boil in a pot that's large enough to hold all the cauliflower.
While the water comes to a boil, cut up the cauliflower, cutting away and discarding the core and leaves and cutting cauliflower florets into bite-sized pieces.
When the water boils, add the salt and cut-up cauliflower, turn heat down to a low boil, and cook cauliflower 5 minutes.
Drain cauliflower very well in a colander placed in the sink.
When cauliflower is well-drained, put it into a bowl (or back into the pan you used to cook in) and add the butter. Stir to melt the butter and coat the cauliflower.
Then add the coarsely-grated Parmesan, sharp cheddar, and a little black pepper if desired.
Put the mixture into the baking dish and top with the three-cheese blend.
Bake 20-25 minutes, or until the cauliflower is cooked through and the cheese is melted and lightly browned. Serve hot.
This will keep in the fridge for a few days and reheats well.
Notes
Nutrition Information:
Yield:
6
Serving Size:
1
Amount Per Serving:
Calories: 535
Total Fat: 42g
Saturated Fat: 24g
Unsaturated Fat: 13g
Cholesterol: 127mg
Sodium: 1144mg
Carbohydrates: 9g
Fiber: 3g
Sugar: 4g
Protein: 32g
Nutrition information is automatically calculated by the Recipe Plug-In I am using. I am not a nutritionist and cannot guarantee 100% accuracy, since many variables affect those calculations.
Low-Carb Diet / Low-Glycemic Diet / South Beach Diet Suggestions:
Easy Cheesy Baked Keto Cauliflower is a good side dish for any low-carb diet or Keto diet, but it's probably too high in fat for the South Beach Diet. I'm sure you could make a tasty version with less cheese if you prefer.
Find More Recipes Like This One:
Use the Diet Type Index to find recipes suitable for a specific eating plan. You can also Follow Kalyn's Kitchen on Pinterest to see all the good recipes I'm sharing there.
We are a participant in the Amazon Services LLC Associates Program, an affiliate advertising program designed to provide a means for us to earn fees by linking to Amazon.com and affiliated sites. As an Amazon Associate, I earn from qualifying purchases.