Roasted Sweet Potatoes with Feta
If you like sweet potatoes and Feta, this combination of Roasted Sweet Potatoes with Feta is a side dish idea you have to try! And if you check the net carbs you may decide this is lower in carbs than you might think!
PIN Roasted Sweet Potatoes with Feta to try them later!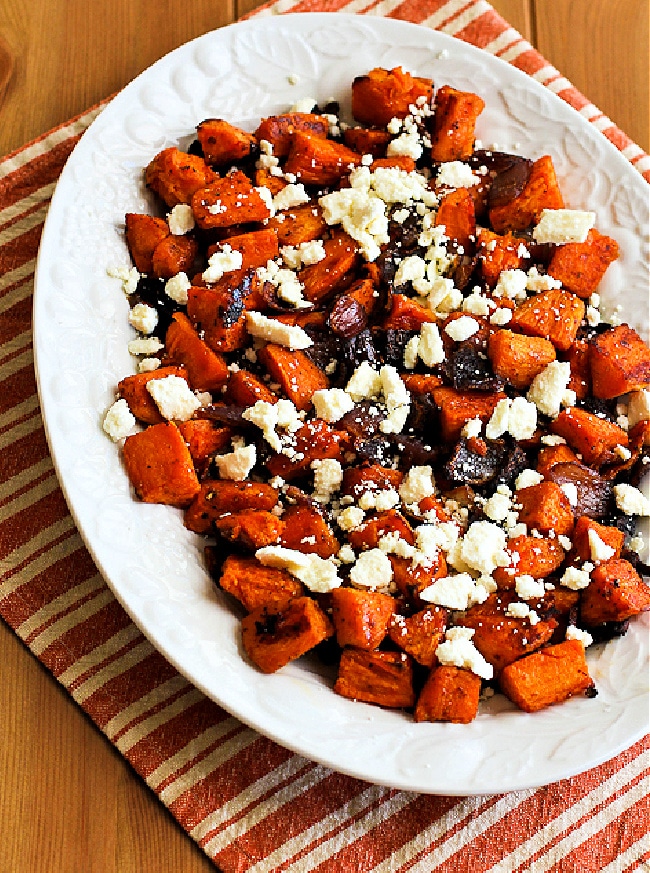 I realize these Roasted Sweet Potatoes with Feta may be a tough sell with some people who love sugary sweet potato casseroles, but I loved them and so did my nephew/cooking assistant Jake who never used to like sweet potatoes at all.
I've been trying out savory sweet potato recipes for a few years now, and somewhere along the way Jake realized he *does* like sweet potatoes when they aren't topped with brown sugar/and or mini-marshmallows.
I also think that roasting the sweet potatoes is a wonderful trick to bring out their natural sweetness, and roasting them with red onions and then combining them with something salty like Feta cheese gives that wonderful salty-sweet combination that is so appealing.
And although sweet potatoes will never be a low-carb food, adding a generous amount of creamy low-carb Feta will bring down the carbs and if you use portion control this is probably not as high in carbs as you might be thinking!
What ingredients do you need for this recipe?
sweet potatoes
onion
Olive Oil (affiliate link)
Feta cheese
Are they yams or sweet potatoes?
Even though they are often mistakenly called yams in U.S. grocery stores, the vegetables used to make this dish are orange-fleshed sweet potatoes! But your store may call them yams or sweet yams.
Want more ideas for savory sweet potatoes?
You can check out Favorite Healthy Sweet Potato Recipes if you're a fan of savory recipes using sweet potatoes! And I'm adding this to the Holiday Recipes on the blog, but I'd be happy with this for a side dish whenever it's sweet potato season.
More Sweet Potatoes with Feta:
If you like the combination of sweet potatoes and salty Feta cheese, check out Sweet Potato Appetizers with Feta or Grilled Sweet Potato Salad.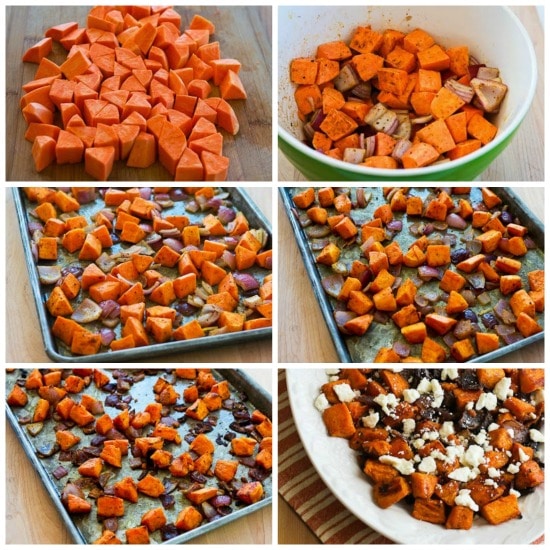 How to Make Roasted Sweet Potatoes with Feta:
(This is only a summary of the recipe steps; scroll down for complete printable recipe with nutritional information.)
Cut up two large sweet potatoes into pieces that are about 1 inch square.
Cut the red onions into pieces that are the same size (or next time I might make them slightly bigger than the sweet potatoes.)
Toss sweet potatoes and onions with 2 tablespoons of olive oil and 1 tablespoon of my seasoning for Spicy Sweet Potato Fries.
Spread the sweet potatoes and onions out on a baking sheet that you've sprayed with non-stick spray or misted with olive oil. (Blogger FAIL, I cooked these about 10 minutes before I realized I hadn't taken a photo.) If they seem crowded at all, use two baking sheets.
Flip them over a few times while they're cooking; this is how mine looked after about 25 minutes roasting time; this was the second time I turned them.
I roasted mine about 40 minutes total, but depending on your oven and how big the pieces are, you might need a few minutes more or less.
Season with salt and fresh ground black pepper, sprinkle with Feta, and serve hot.
More Tasty Roasted Sweet Potatoes: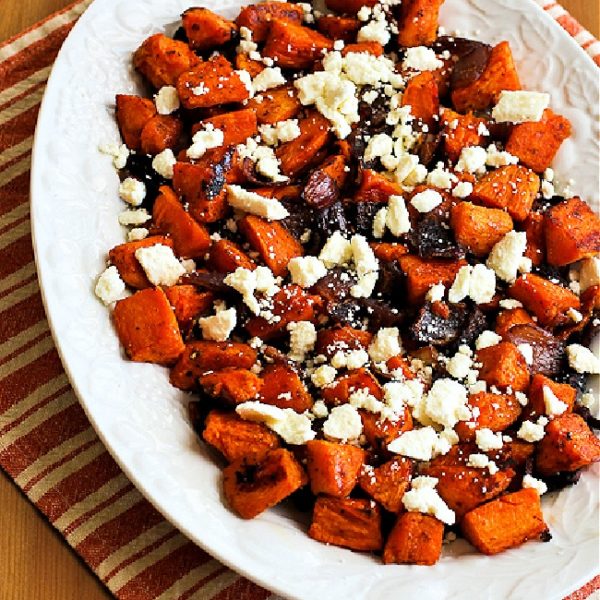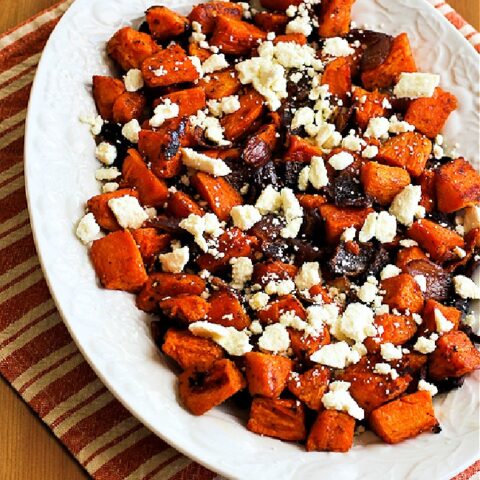 Yield: 6 servings
Roasted Sweet Potatoes with Feta
Prep Time 20 minutes
Cook Time 50 minutes
Total Time 1 hour 10 minutes
Roasted Sweet Potatoes with Feta would be a great dish for Thanksgiving, but this is a great side dish all winter long for sweet potato fans.
Ingredients
2 large orange-fleshed sweet potatoes, cut in 1 inch cubes, see notes
2 small red onions, cut into pieces just larger than 1 inch
2 T olive oil (or slightly more, enough to coat all the veggies with oil)
1 T seasoning for Spicy Sweet Potato Fries (see link for recipe below)
1/2 cup Feta cheese
Instructions
Preheat oven to 450F/230C.
Peel sweet potatoes and cut into cubes about 1 inch square.
Peel red onions and cut into pieces slightly over 1 inch square.
Put sweet potatoes and onions into a bowl and toss with 2 tablespoons olive oil (or slightly more if you need it to get all the veggies coated with olive oil.)
Sprinkle 1 tablespoon seasoning for Spicy Sweet Potato Fries over the veggie mixture and toss until all the vegetables are coated with the seasoning mix.
Spray a large baking sheet with non-stick spray or mist with olive oil.
Spread the vegetables out on the baking sheet (use two baking sheets if they're even slightly crowded.)
Roast about 15 minutes, then flip them over with a turner, roast 15 minutes more, then flip them over again.
Roast 10-20 minutes more, or until the sweet potatoes and onions are both nicely browned and sweet potatoes are soft. (They don't get very crisp, but there should be some browning on the edges.)
Total roasting time will be 40-50 minutes, depending on the size of the sweet potatoes, your pan, and the oven.
Season with salt and fresh-ground black pepper as desired, sprinkle with crumbled Feta, and serve hot!
Notes
Orange sweet potatoes are sometimes called yams or sweet yams in U.S. grocery stores.
Recipe created by Kalyn.
Nutrition Information:
Yield:
6
Serving Size:
1
Amount Per Serving:
Calories: 155
Total Fat: 9g
Saturated Fat: 3g
Trans Fat: 0g
Unsaturated Fat: 5g
Cholesterol: 11mg
Sodium: 900mg
Carbohydrates: 17g
Fiber: 3g
Sugar: 8g
Protein: 3g
Nutrition information is automatically calculated by the Recipe Plug-In I am using. I am not a nutritionist and cannot guarantee 100% accuracy, since many variables affect those calculations.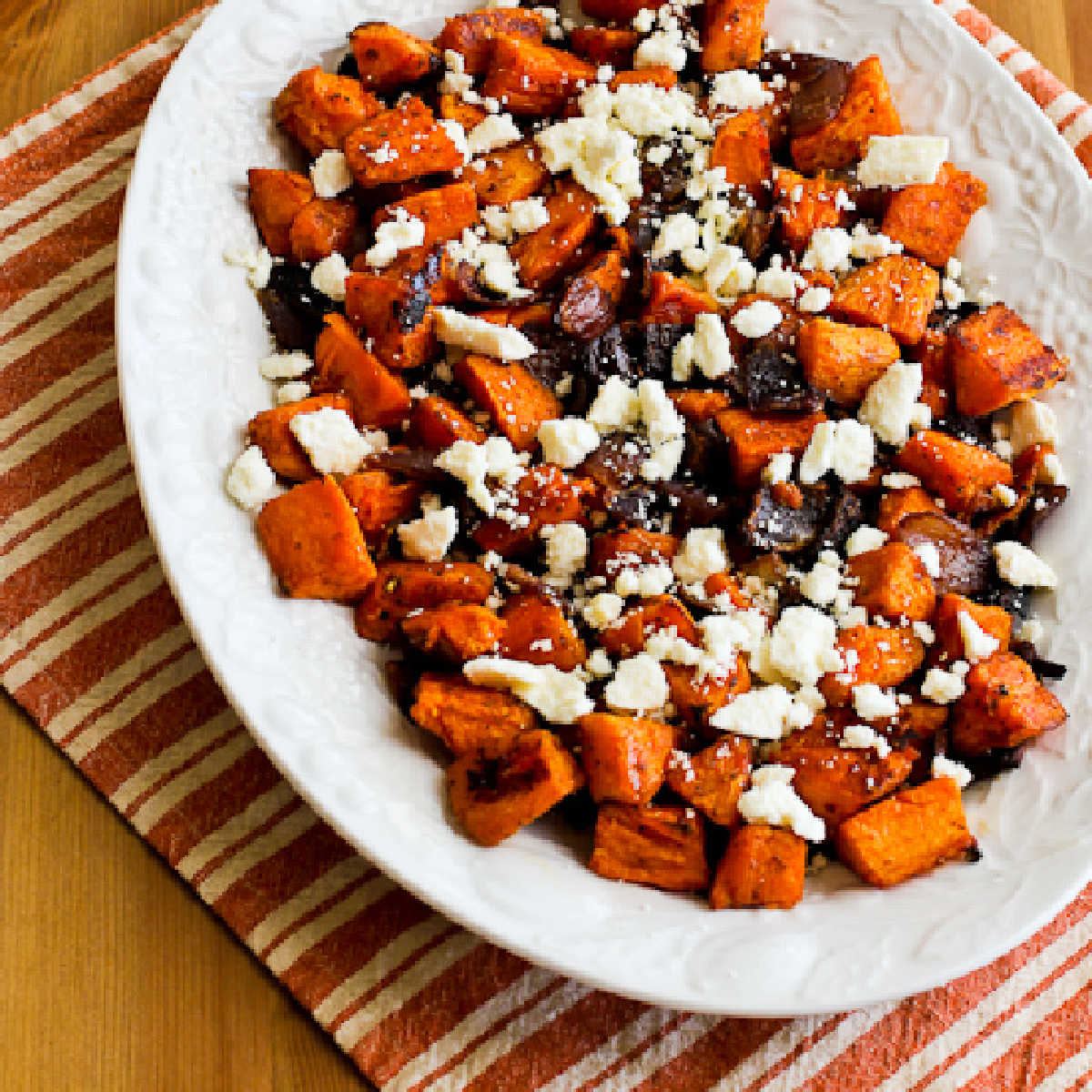 Low-Carb Diet / Low-Glycemic Diet / South Beach Diet Suggestions:
Sweet potatoes are relatively high in carbs for a low-carb diet plan, but if you check the nutritional information for net carbs you might decide a small portion of this is not so much of a splurge. Sweet potatoes are a great choice for Phase 2 or 3 of the original South Beach Diet.
Find More Recipes Like This One:
Use Sweet Potatoes to find more recipes like this one. Use the Diet Type Index to find recipes suitable for a specific eating plan. You might also like to follow Kalyn's Kitchen on Pinterest, on Facebook, on Instagram, on TikTok, or on YouTube to see all the good recipes I'm sharing there.
Historical Notes for this Recipe:
This recipe was posted in 2013. It was last updated with more information in 2022.
We are a participant in the Amazon Services LLC Associates Program, an affiliate advertising program designed to provide a means for us to earn fees by linking to Amazon.com and affiliated sites. As an Amazon Associate, I earn from qualifying purchases.