Roasted Tomatoes and Shrimp with Feta
Roasted Tomatoes and Shrimp with Feta is a wow for an easy low-carb dinner any time of year. Just use fresh Roma tomatoes when you don't have any ripe garden tomatoes!
Pin Roasted Tomatoes and Shrimp with Feta to try it later!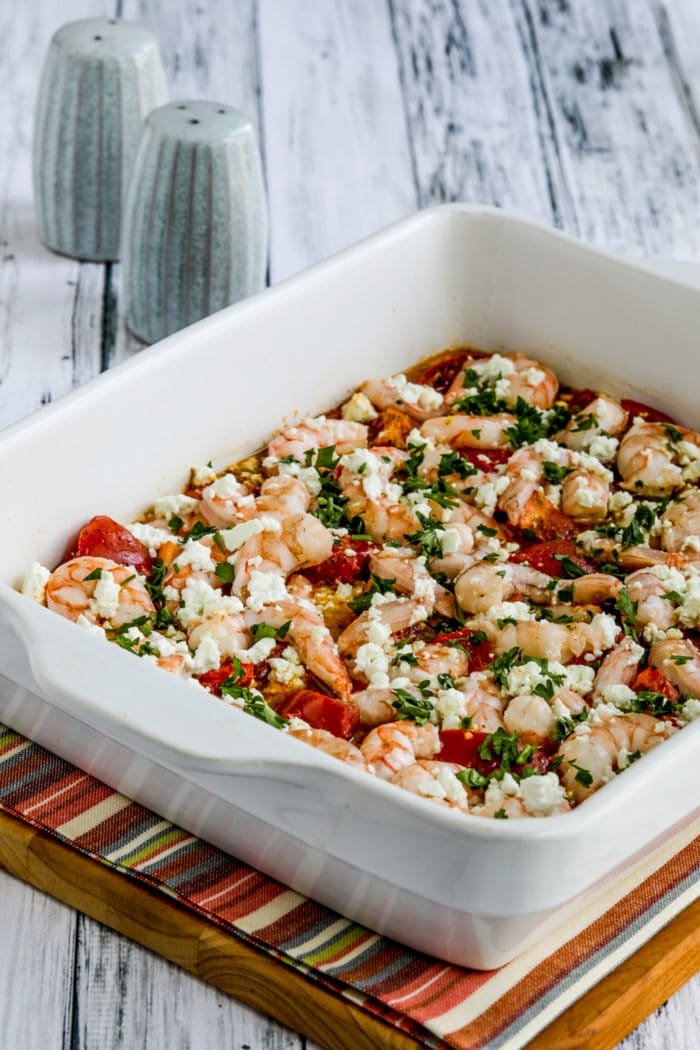 Roasted Tomatoes and Shrimp with Feta is a perfect dinner idea when you have fresh garden tomatoes. But this is delicious any time of year made with Roma tomatoes from the store, and recipes like this are why I always have frozen shrimp in the freezer! And the recipes I find myself making over and over have easy preparation methods but plenty of complex flavors, and this recipe definitely falls into that category.
I admit, it was the lovely garden tomatoes that I have in abundance right now that pushed me into making this recipe. But because roasting intensifies the flavor of the tomatoes, you can still get great results with good quality store-bought Roma tomatoes.
And when I tried out the recipe the most important change I made was to season the tomatoes with some dried oregano and ground fennel seed before roasting them. If fennel is a spice you haven't used much, I urge you to try it in this dish. And shrimp, tomatoes, and Feta Cheese; how could this possibly be bad?
What ingredients do you need for this recipe?
What type and size shrimp did I use?
I used frozen shrimp from Costco for this recipe. In the United States, frozen shrimp are sold by the number of shrimp per pound, and I used 31-40 size shrimp. If your shrimp are much larger or smaller than that, you may need to slightly adjust the time for cooking the shrimp.
Tips for success with Roasted Tomatoes and Shrimp with Feta:
Cut tomatoes in same-size pieces so they roast evenly. Feta cheese is salty, so you might want to wait to salt the dish after you taste it. Shrimp gets rubbery if it's overcooked, so the most important tip is not to overcook the shrimp! Take one piece of shrimp out of the dish and try it when you think they're starting to get done.
More Easy Recipes for Shrimp:
Spicy Green Beans and Shrimp Sheet Pan Meal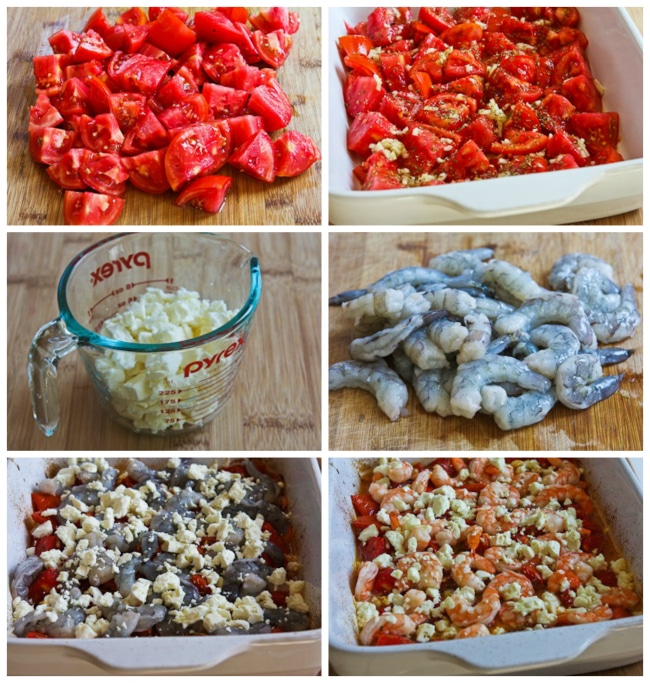 How to Make Roasted Tomatoes and Shrimp with Feta:
(Scroll down for complete recipe with nutritional information.)
Chop up 6 fresh tomatoes, preferably fresh garden tomatoes. I used Celebrity tomatoes, a hybrid that grows well in Utah.
Put the chopped tomatoes in a heavy rectangular casserole dish, drizzle with olive oil, and sprinkle with minced garlic, dried oregano, ground fennel, and black pepper.
Roast tomatoes about 30 minutes. (They will smell heavenly!)
While the tomatoes roast, crumble enough feta to make 3/4 cup.
Drain thawed frozen shrimp. The shrimp came de-veined but we pulled the tails off and cleaned up the ones that needed it.
After tomatoes have roasted 30 minutes, put the shrimp on top of the tomatoes, add lemon juice, and sprinkle with Feta cheese.
Roast 8-10 minutes more, or just until the shrimp turn pink and are barely firm. Don't overcook.
Serve hot, sprinkled with fresh parsley if desired.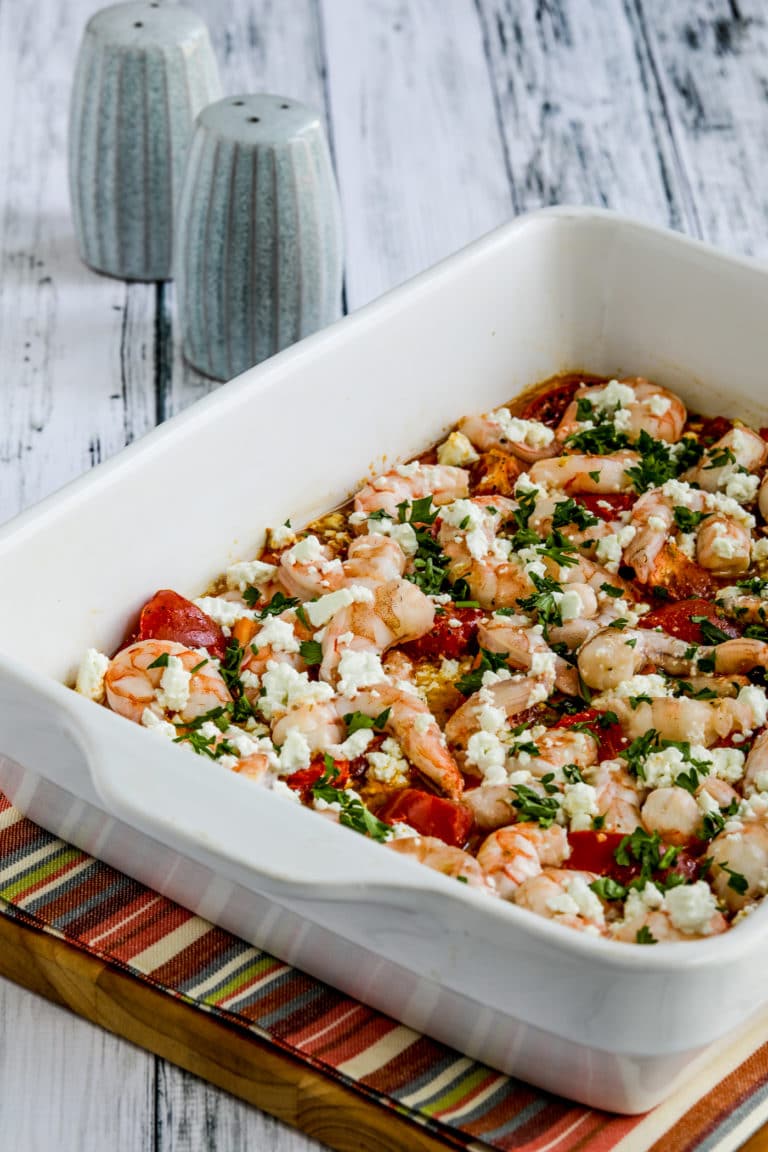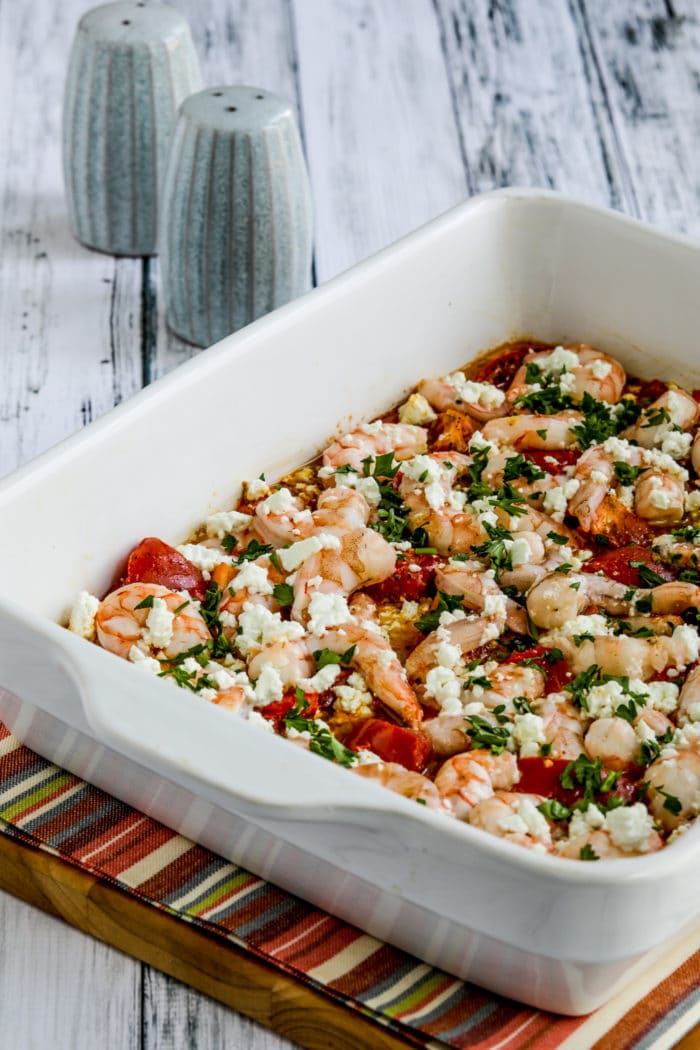 Make it a Low-Carb Meal:
For a low-carb meal this Roasted Tomatoes and Shrimp with Feta would be great served with Pureed Cauliflower with Garlic, Parmesan, and Goat Cheese, Cauliflower Rice with Basil, Parmesan, and Pine Nuts, Pan-Fried Broccoli with Pine Nuts and Parmesan, or Garlic-Roasted Green Beans.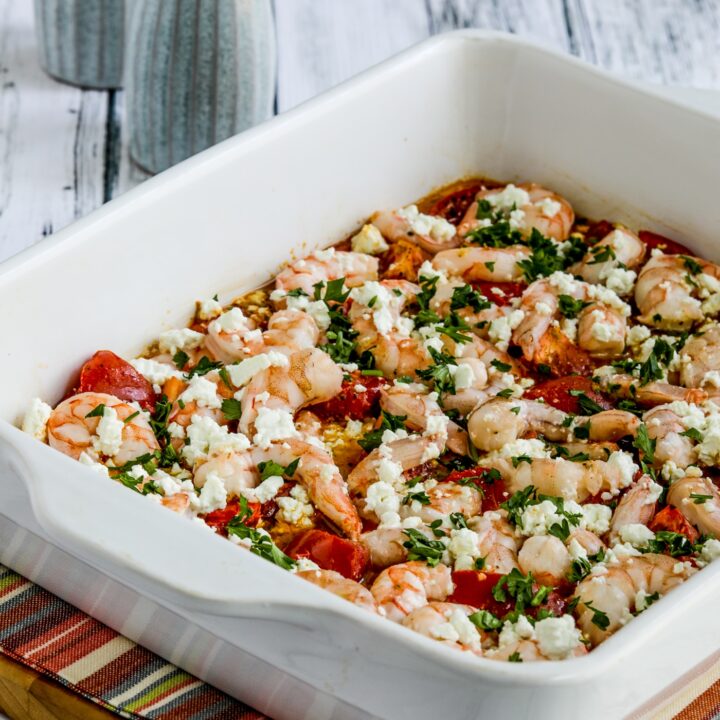 Yield: 4 servings
Roasted Tomatoes and Shrimp with Feta
Prep Time 10 minutes
Cook Time 40 minutes
Total Time 50 minutes
Make this Easy Roasted Tomatoes and Shrimp while you can still get fresh garden tomatoes!
Ingredients
6 medium-sized fresh red tomatoes, cut into pieces
3 T olive oil
2 T minced garlic 
1 tsp. dried oregano (see notes)
1 tsp. ground fennel seed (more or less to taste)
fresh ground black pepper to taste
1 pound raw shrimp, peeled, deveined, and tails pulled off (see notes)
2 T fresh-squeeze lemon juice (more or less to taste)
3/4 cup crumbled Feta cheese 
2 T chopped fresh parsley for garnish (optional)
Instructions
Thaw shrimp overnight in the refrigerator if frozen.
Preheat oven to 350F/180C and spray a casserole dish with non-stick spray.
Dice tomatoes into pieces about an inch square and put them in the bottom of a heavy casserole dish, large enough to fit the tomatoes in one layer.
Drizzle olive oil over the tomatoes, then sprinkle with minced garlic, dried oregano, ground fennel seed, and fresh ground black pepper.
Put tomatoes in the oven and roast for 30 minutes.
While tomatoes are cooking, crumble the Feta cheese, squeeze lemon juice, and clean shrimp as needed. (I used frozen shrimp which came already peeled and deveined, but we did pull the tails off and clean a few of them a little better.) Chop parsley if using.
When tomatoes have cooked 30 minutes, arrange the shrimp over the tomatoes, sprinkle over the lemon juice and feta, and put the dish back in the oven to cook the shrimp for 8-10 minutes. Watch them carefully so the shrimp doesn't overcook. They're done as soon as the shrimp turn pink and are barely firm. (Take one out of the dish and test when you think they're starting to get done.
Sprinkle the dish with chopped fresh parsley if using. I ate this plain, but it would be delicious served over cauliflower rice or cauliflower puree. If you don't care about the carbs it would be great with angel hair pasta, or just with some whole wheat bread to mop up the delicious juice.
Notes
Greek Oregano (affiliate link) is best for this, but any dried Oregano will work as long as it's not labeled Mexican Oregano.
I used 31-40 size shrimp; adjust the cooking time if your shrimp is larger or smaller than that.
Recipe adapted from Roasted Tomatoes with Shrimp and Feta from Real Simple.
Nutrition Information:
Yield:
4
Serving Size:
1
Amount Per Serving:
Calories: 290
Total Fat: 18g
Saturated Fat: 6g
Trans Fat: 0g
Unsaturated Fat: 11g
Cholesterol: 168mg
Sodium: 913mg
Carbohydrates: 12g
Fiber: 3g
Sugar: 6g
Protein: 22g
Nutrition information is automatically calculated by the Recipe Plug-In I am using. I am not a nutritionist and cannot guarantee 100% accuracy, since many variables affect those calculations.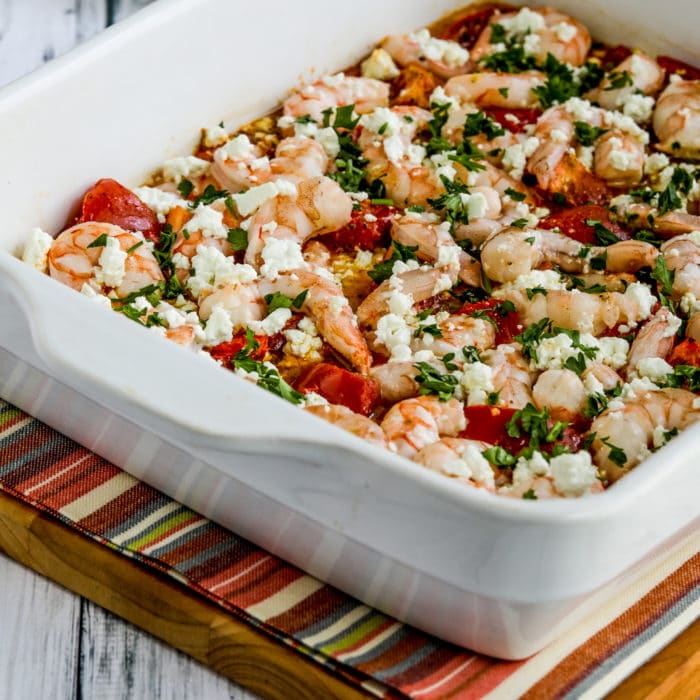 Low-Carb Diet / Low-Glycemmic Diet / South Beach Diet Suggestions:
Easy Roasted Tomatoes and Shrimp with Feta is a great dish for any low-carb eating plan and this will also work for any phase of the original South Beach Diet.
Find More Recipes Like This One:
Use Seafood Recipes or Oven Dinners for more ideas like this one.Use the Diet Type Index to find more recipes suitable for a specific eating plan. You might also like to follow Kalyn's Kitchen on Pinterest, on Facebook, on Instagram, on TikTok, or on YouTube to see all the good recipes I'm sharing there.
Historical Notes for this Recipe:
This recipe was first posted in 2011. It was updated with new photos and more information in 2021 and updated again with more information in 2022.
We are a participant in the Amazon Services LLC Associates Program, an affiliate advertising program designed to provide a means for us to earn fees by linking to Amazon.com and affiliated sites. As an Amazon Associate, I earn from qualifying purchases.