Kalyn's Kitchen Picks: Jenni-O Italian Turkey Sausage
This post spotlights my favorite recipes with Italian Sausage, plus why I'm recommending Jenni-O Italian Turkey Sausage.
PIN Favorite Recipes with Italian Sausage to try some later!
Today I'm talking about why Jenni-O Italian Turkey Sausage is one of my long time picks, and sharing some favorite recipes with Italian Sausage. This sausage is something I grab from the freezer when I need a quick dinner, and I've made so many tasty recipes using it. I'm a fan of both the Jenni-O Hot Italian Turkey Sausage and the Jenni-O Sweet Italian Turkey Sausage, and both varieties have ZERO CARBS, which is one reason I love them!
But if you're not cooking for kids, the slightly spicy Hot Italian sausage is the one I like best. And it's only fitting that I make Jenni-O Italian Turkey Sausage one of my Kalyn's Kitchen Picks, since I use it so often and have so many recipes that include it.
Want strictly low-carb recipes with Italian Sausage?
Included here are just a few of my favorite recipes with Italian Turkey Sausage. There are lots of recipes here that are low in carb, but some that have more carbs. If you prefer, just check out Low-Carb and Keto Italian Sausage Recipes for even more low-carb options!
Why I love Jenni-O Turkey Italian Sausage
It's mostly the spicy flavor that makes me love this Jenni-O Italian Turkey Sausage! But it doesn't hurt that it has zero carbs, and when it goes on sale like this I used to grab four or five packages to stash in the freezer to pull out later and make one of these recipes. But lately I am having a hard time finding this product at the stores near me, so I've been grabbing the rolls of Italian sausage instead.
Can you make these recipes with pork Italian sausage?
You can definitely make any of my Italian Sausage recipes using pork Italian sausage if you prefer. Just be aware that there will be more fat. That won't matter in some recipes, but in things like soup or stew you might want to skim some fat off the top.
Low-Carb and Keto Recipes Using Italian Turkey Sausage: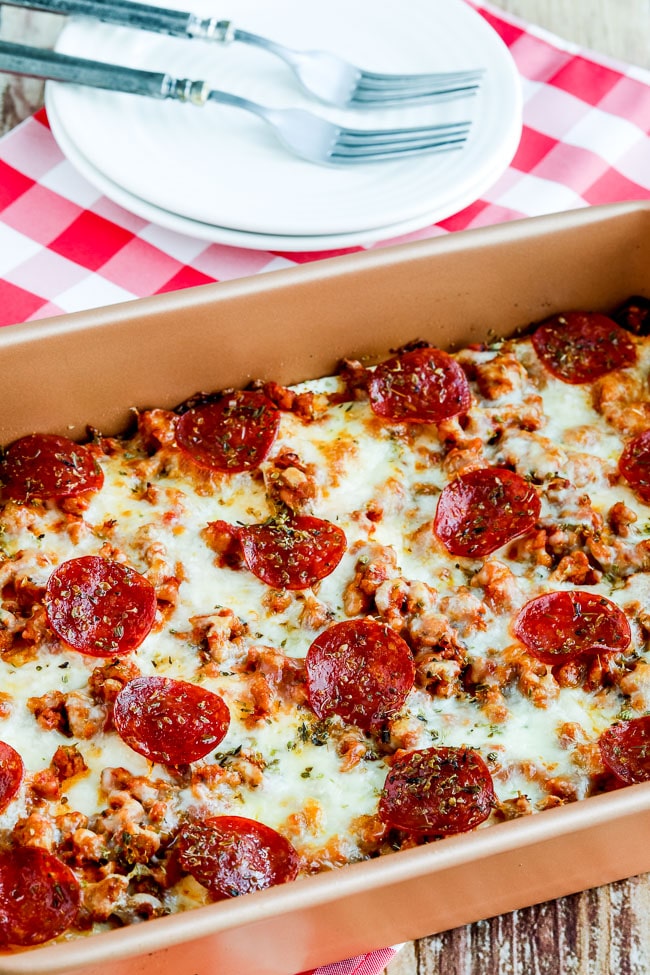 This Sausage and Pepperoni Layered Pizza Bake has a low-carb and a Keto version, depending on what you use as the base, and this will help with those cravings for pizza, I promise!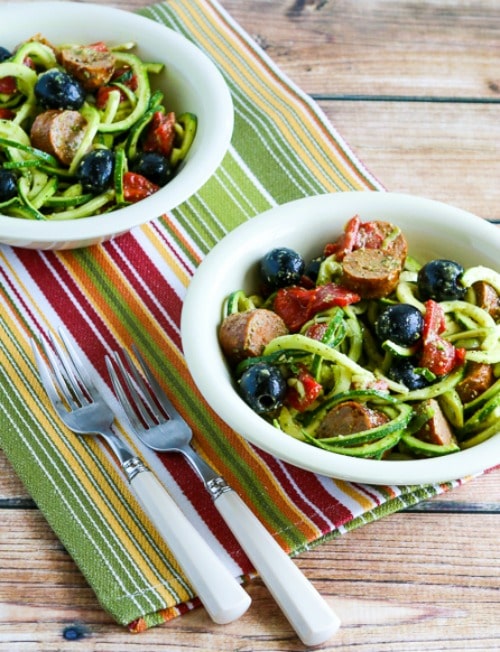 Italian Sausage adds to much flavor to this Zucchini Noodle Mock Pasta Salad!

This Mock Lasagna Spaghetti Squash Casserole is a dish where the flavor of the sausage really shines!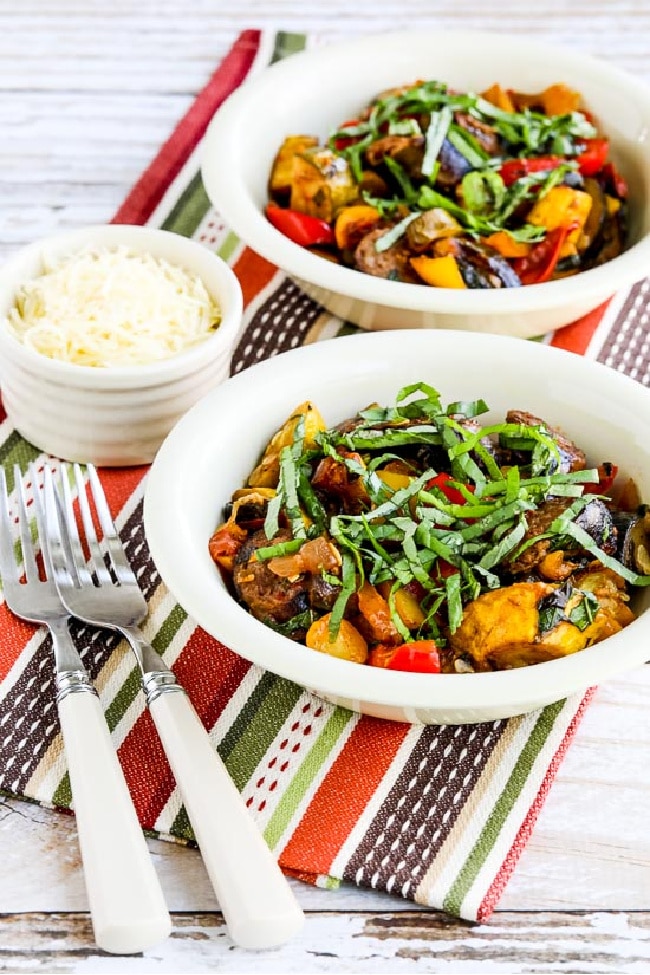 Ratatouille Stew with Italian Sausage is a perfect recipe to make with summer produce, but this is tasty any time of year.

Instant Pot Sausage Soup with Pesto is another soup that has a lot of sausage and peppers and not that many beans, and you can replace the beans with cauliflower rice if you want a lower-carb version.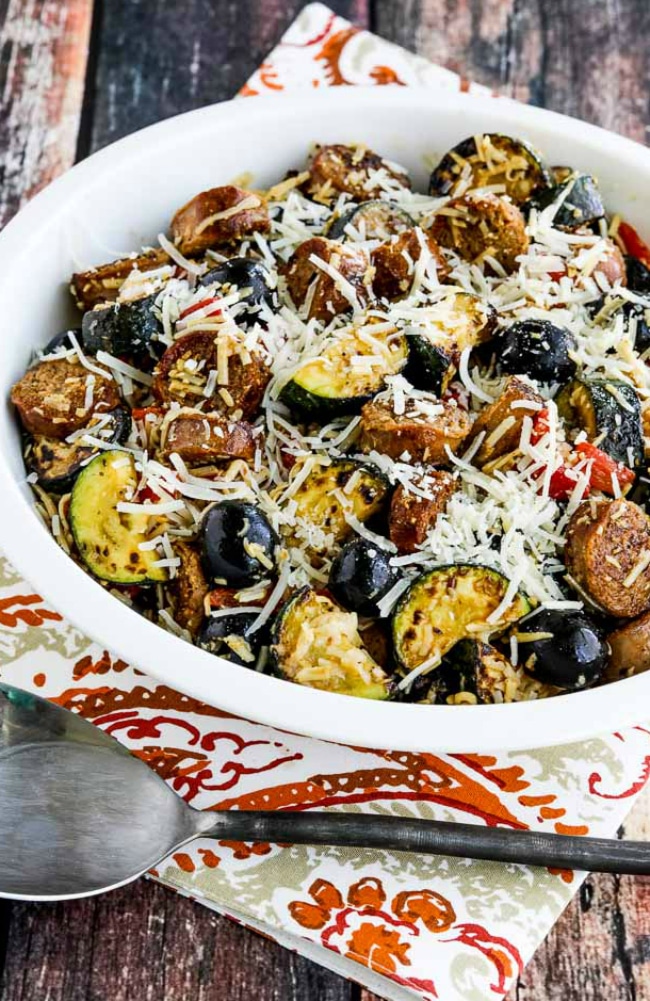 When you're craving pasta salad but don't want the pasta, make this No-Pasta Salad with Zucchini and Italian Sausage!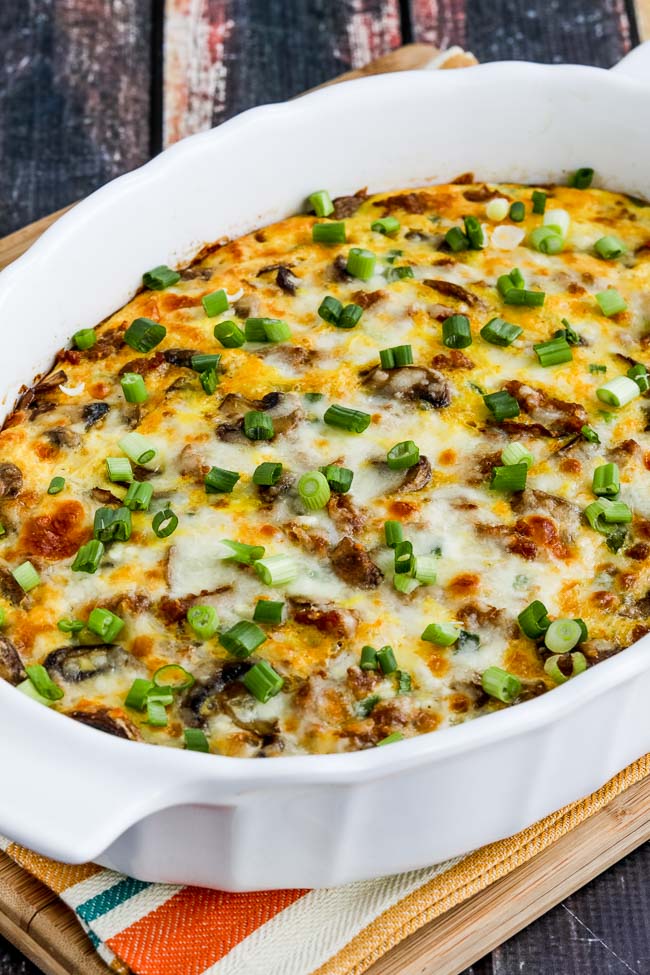 This Breakfast Casserole with Italian Sausage also has mushrooms and cheese, and this was so delicious it made me wonder why it had taken me so long to try Italian sausage in a dish like this.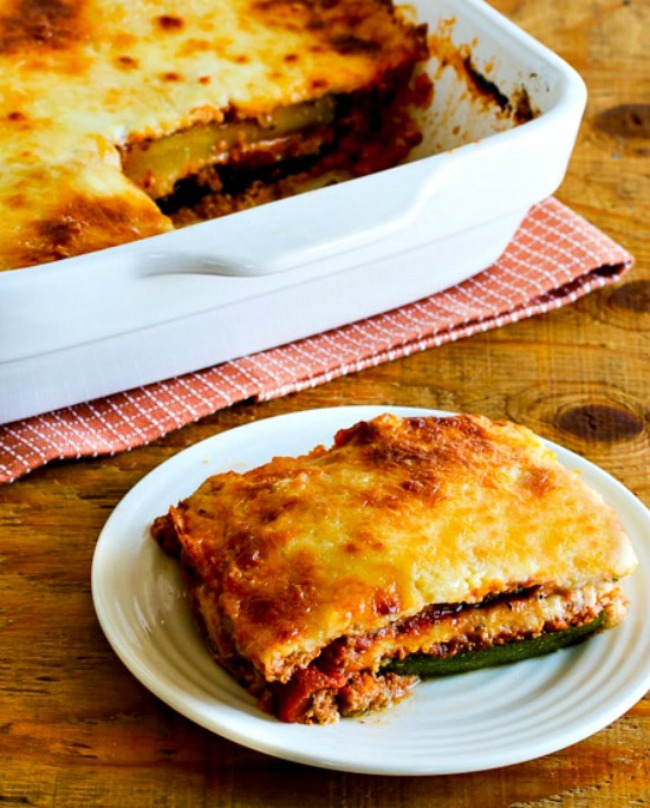 In the fall when you get those giant zucchinis, I love this Grilled Zucchini Lasagna that uses big slices of zucchini instead of pasta. And Italian Sausage makes this so flavorful!

Instant Pot Pasta Sauce has sausage, tomatoes, and herbs and this is so tasty, plus quick and easy to make.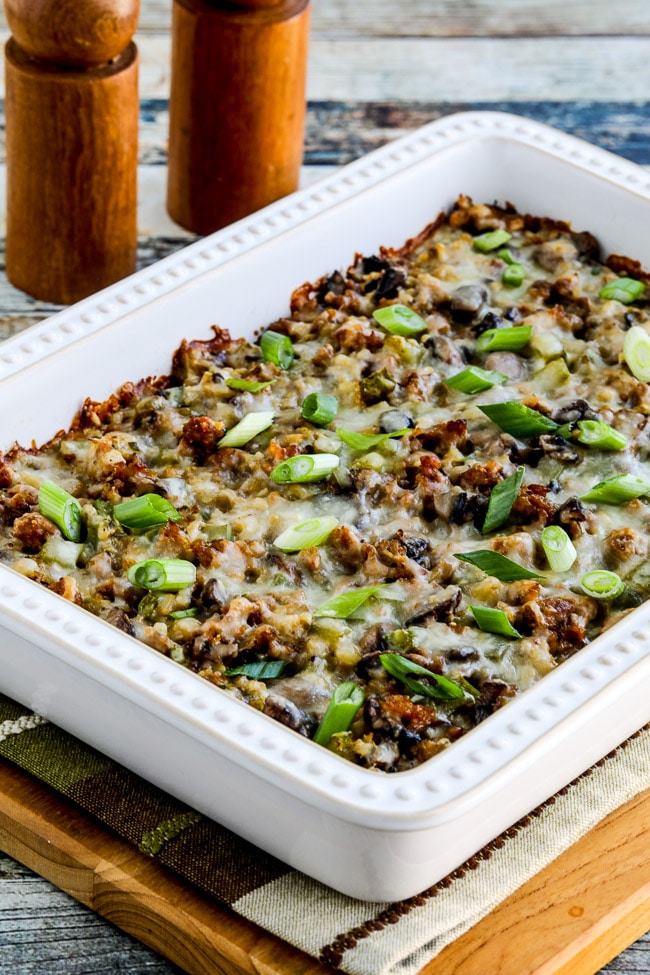 And this Cauliflower Rice Sausage Casserole is a delicious low-carb version of a favorite casserole from the early days of my blog.
More Low-Carb Recipes with Italian Sausage:
Spaghetti Casserole (with Palmini Pasta)
Palmini Pasta with Sausage and Kale
Instant Pot Sausage and Kale Soup
Low-Carb Spicy Cauliflower Dirty Rice
Italian Sausage Recipes with more Carbs:
Spaghetti with Italian Sausage and Arugula
Stuffed Green Peppers with Brown Rice, Italian Sausage, and Parmesan
Brown Rice Casserole with Sausage and Peppers
Slow Cooker Cannellini Bean Stew with Sausage and Kale
About Kalyn's Kitchen Picks:
I purchased the the Jenni-O Italian Turkey Sausage used in these recipes myself and this company has no idea that I'm writing about their product. All items featured as Kalyn's Kitchen Picks are things I will happily buy over and over, and because I want readers to know that my opinions are completely unbiased, I don't accept review products from the many companies who offer to send them to me.
We are a participant in the Amazon Services LLC Associates Program, an affiliate advertising program designed to provide a means for us to earn fees by linking to Amazon.com and affiliated sites. As an Amazon Associate, I earn from qualifying purchases.