Sugar-Free Layered Pumpkin Cheesecake (Video)
Sugar-Free Layered Pumpkin Cheesecake is so creamy and delicious that you'd never guess this is low in carbs.
PIN Sugar-Free Layered Pumpkin Cheesecake to try it later!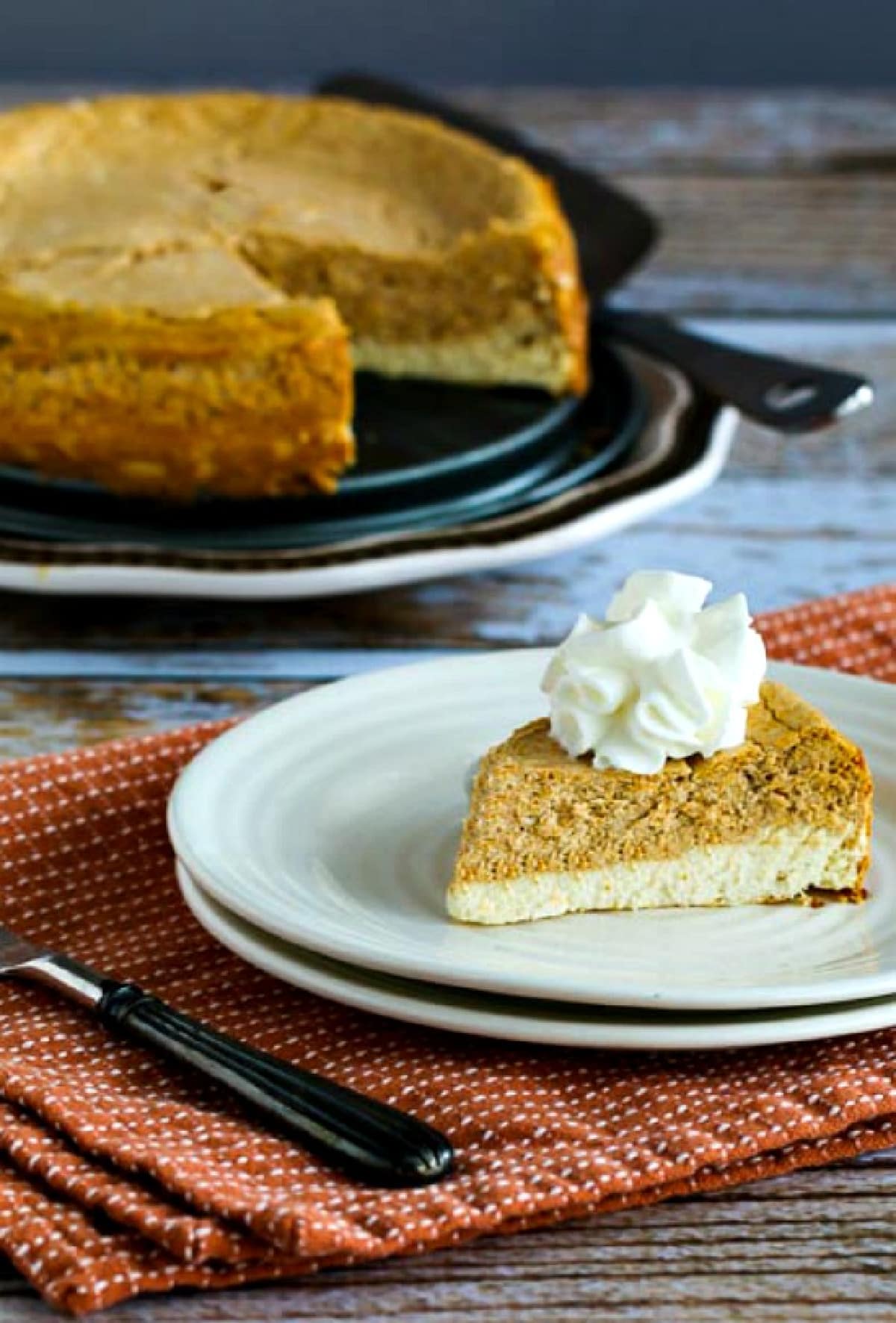 If I had to pick one recipe that symbolizes Thanksgiving, for me it would be this Sugar-Free Layered Pumpkin Cheesecake. For years I called this Low-Sugar Pumpkin Cheesecake and made it with sweetener combined with a very small amount of brown sugar, but now that I've discovered Golden Monkfruit Sweetener (affiliate link) I'd definitely use that and skip the brown sugar! Either way you make it, this layered pumpkin cheesecake is a perfect Thanksgiving dessert for anyone who's watching their sugar intake.
I like to make the cheesecake in a Springform Pan (affiliate link) and I made it in two different-sized pans, so choose which version you'd like and the size of pan for this tasty Thanksgiving favorite! And for anyone who is still narrowing down the menu options for the big day, I am reminding you about this tasty layered cheesecake for this week's Friday Favorites post!
What ingredients do you need for this recipe?
Can you make the Layered Pumpkin Cheesecake with Greek Yogurt?
I haven't ever made this with all Greek Yogurt, but I did make it with partly Greek Yogurt when I first tried the recipe.
What if you don't have a Springform Pan?
The biggest advantage to using a Springform pan is that it's so easy to remove the finished cheesecake. But if you don't have a Springform Pan and don't want to buy one (and don't care if the finished cheese cake looks quite as perfect when it's removed from the pan) you can make this in a cake pan.
Want more ideas with pumpkin?
Check out My Favorite Pumpkin Recipes if you're a fan who never gets too much pumpkin!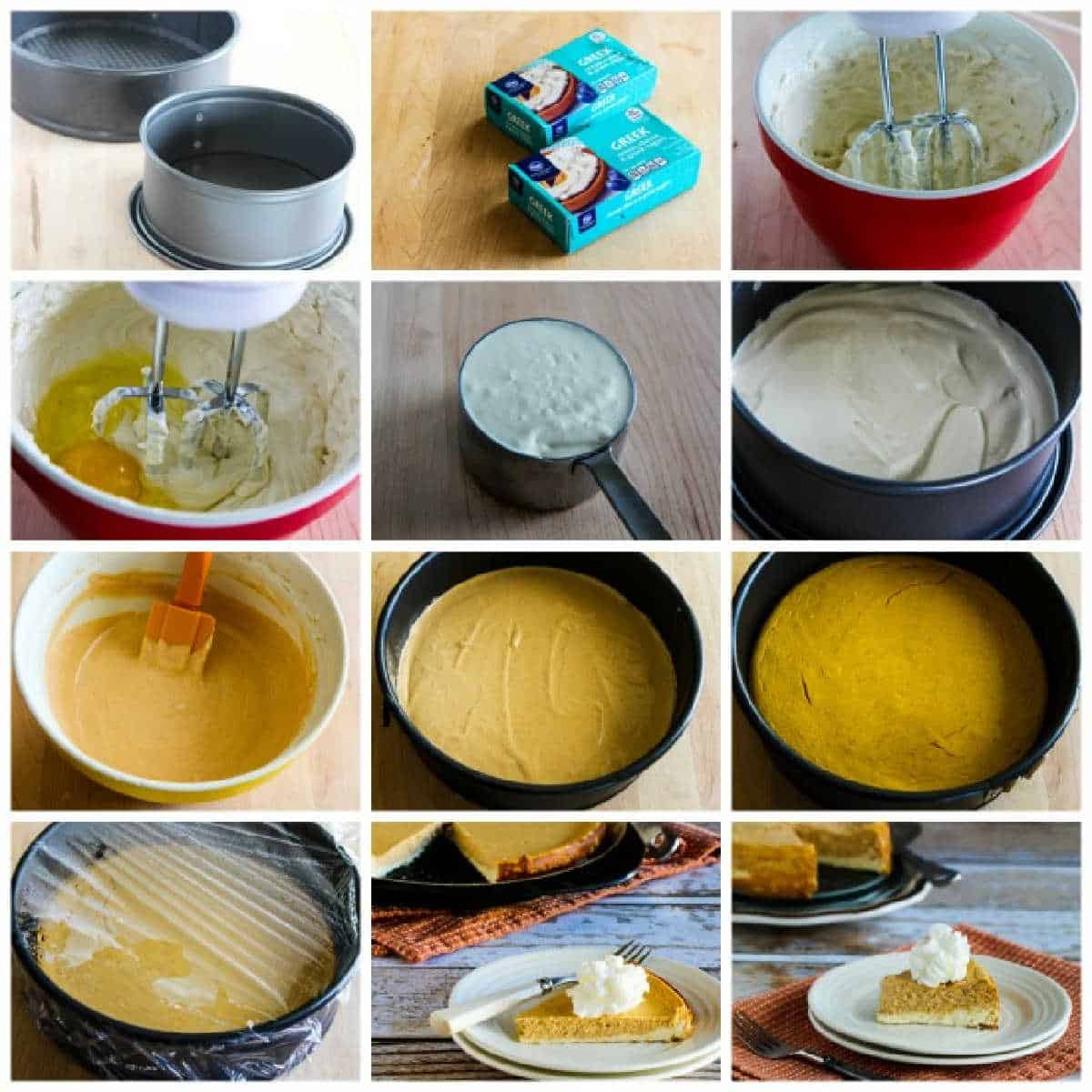 How to Make Sugar-Free Layered Pumpkin Cheesecake:
(Scroll down for complete recipe with nutritional information.)
I tested the recipe with both a 9-inch Springform Pan (affiliate link) and a 7-inch Springform Pan, (affiliate link) and both worked fine (although I prefer the thicker cheesecake with the smaller pan.)
I used a Greek yogurt and cream cheese combination when I first made this, but now I'd probably just use cream cheese. Use any cream cheese product you prefer.
Beat the cream cheese with the vanilla and the sweetener(s) you're using.
Then add the eggs one at a time and beat until combined.
Measure one cup vanilla cheesecake mixture and spread it in the bottom of the Springform Pan of your choice.
Then mix the canned pumpkin and spices into the remaining batter and spread the pumpkin cheesecake layer over the vanilla layer
Bake the cheesecake in a preheated 325F/170C oven for 35-45 minutes. (It will be a shorter time for the thinner cheesecake, but I cooked it the whole 45 minutes for the thicker one.)
Cheesecake is done when the center seems set.
Let cool, then chill for several hours or overnight.
The last two photos above show my two versions. First is the with the thinner cheesecake made in a 9 inch Springform Pan and the last photo is the thicker one made in the 7-inch Springform Pan.
Needless to say, both versions tasted great, and this is definitely one of my favorite Thanksgiving treats!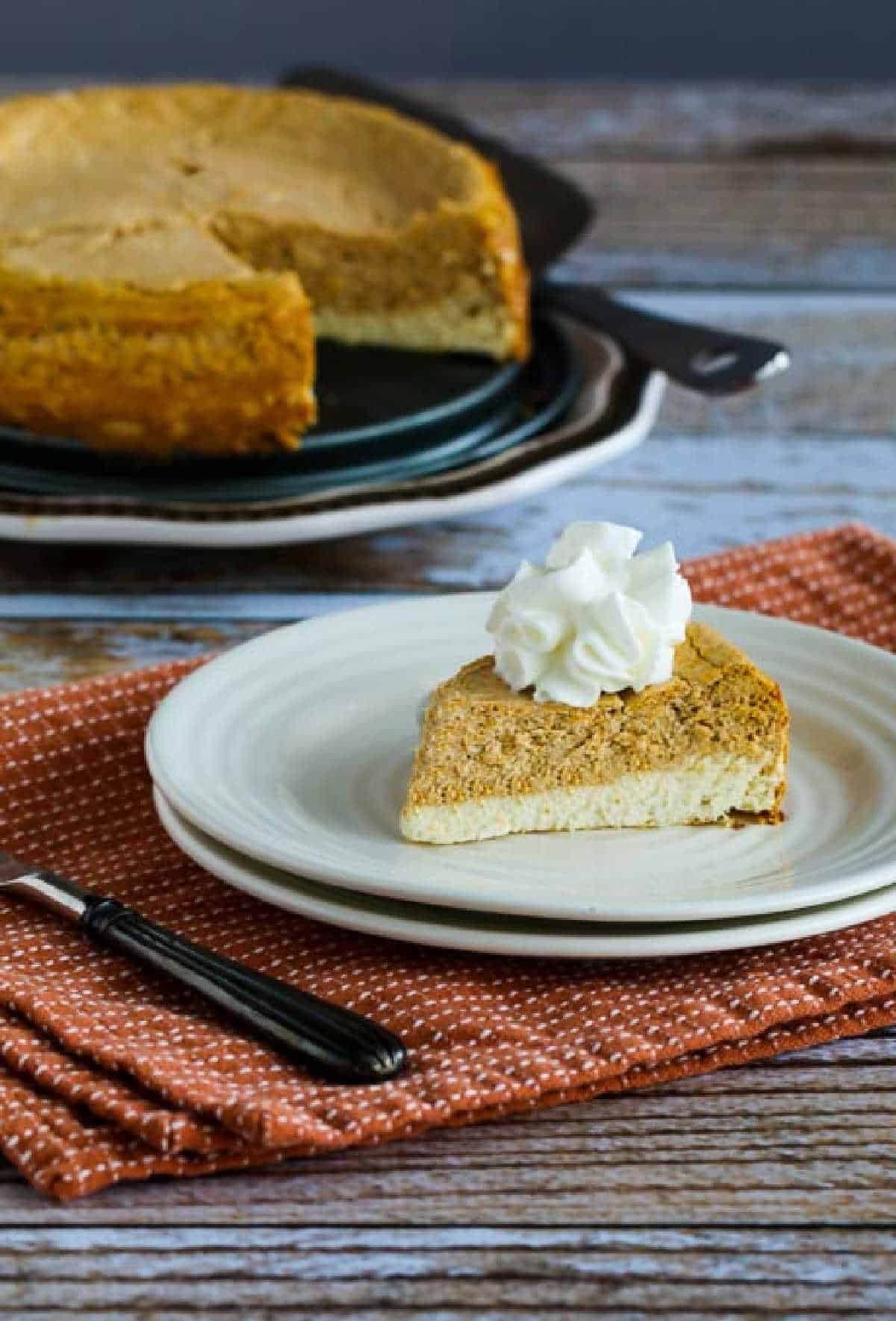 More Pumpkin Cheesecake or Pumpkin Desserts with Less Sugar:
Sugar-Free Pumpkin Cheesecake Pie
Low-Sugar Pumpkin Apple Crumble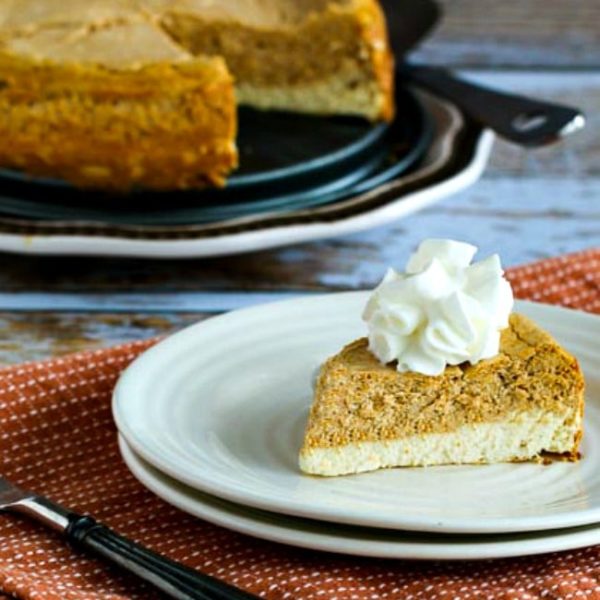 Yield: 8 servings
Sugar-Free Layered Pumpkin Cheesecake
Prep Time 20 minutes
Cook Time 45 minutes
Total Time 1 hour 5 minutes
Make Sugar-Free Layered Pumpkin Cheesecake with all sweetener or use a a tiny bit of brown sugar if you prefer for a layered pumpkin cheesecake that's still very low in sugar!
Ingredients
2 packages (8 oz. each) cream cheese
1/2 cup Golden Monkfruit Sweetener (see notes)
2 tsp. Vanilla extract
2 eggs
1/2 cup canned pumpkin puree (not pumpkin pie filling)
1/2 tsp. ground cinnamon
1/2 tsp. apple  or pumpkin pie spice
Optional: whipped cream for serving
Instructions
I like this best made in a Springform Pan (affilate link). Use a 9-inch Springform Pan for a thinner cheesecake or a 7-inch Springform Pan for a thicker one.
Preheat oven to 325F/170C.
In large bowl combine softened cream cheese, sweetener(s) of your choice, and vanilla. Beat with electric mixer until smooth.
Beat in eggs, one at a time.
Remove one cup of batter and spread into bottom of Springform Pan.
Add pumpkin, cinnamon, and pumpkin or apple pie spice to remaining batter and stir until blended.
Carefully spread pumpkin layer over first layer in the crust.
Bake in preheated oven 35-45 minutes, or until center is barely set. (Use shorter baking time for a thinner cheesecake, but if you make the thicker one it will probably need the whole 45 minutes.)
Allow the cheesecake to cool; then chill several hours or overnight.
Cut into eight pieces and serve with whipped cream if desired.
This will keep for a few days in the fridge, but you probably won't have any leftovers.
Notes
I love Golden Monkfruit Sweetener (affiliate link) for baking and now that I've discovered that I'd just use 1/2 cup of that for a sugar-free version of this recipe. But you can also use 1/4 cup sweetener and 1/4 cup brown sugar for a low-sugar version.
Nutritional information is calculated for the sugar-free cheesecake.
This recipe originally from AllRecipes with adaptations by Kalyn.
Nutrition Information:
Yield:
8
Serving Size:
1
Amount Per Serving:
Calories: 231
Total Fat: 21g
Saturated Fat: 12g
Unsaturated Fat: 6.6g
Cholesterol: 104mg
Sodium: 197mg
Carbohydrates: 6.3g
Fiber: .6g
Sugar: 4.1g
Protein: 5.2g
Nutrition information is automatically calculated by the Recipe Plug-In I am using. I am not a nutritionist and cannot guarantee 100% accuracy, since many variables affect those calculations.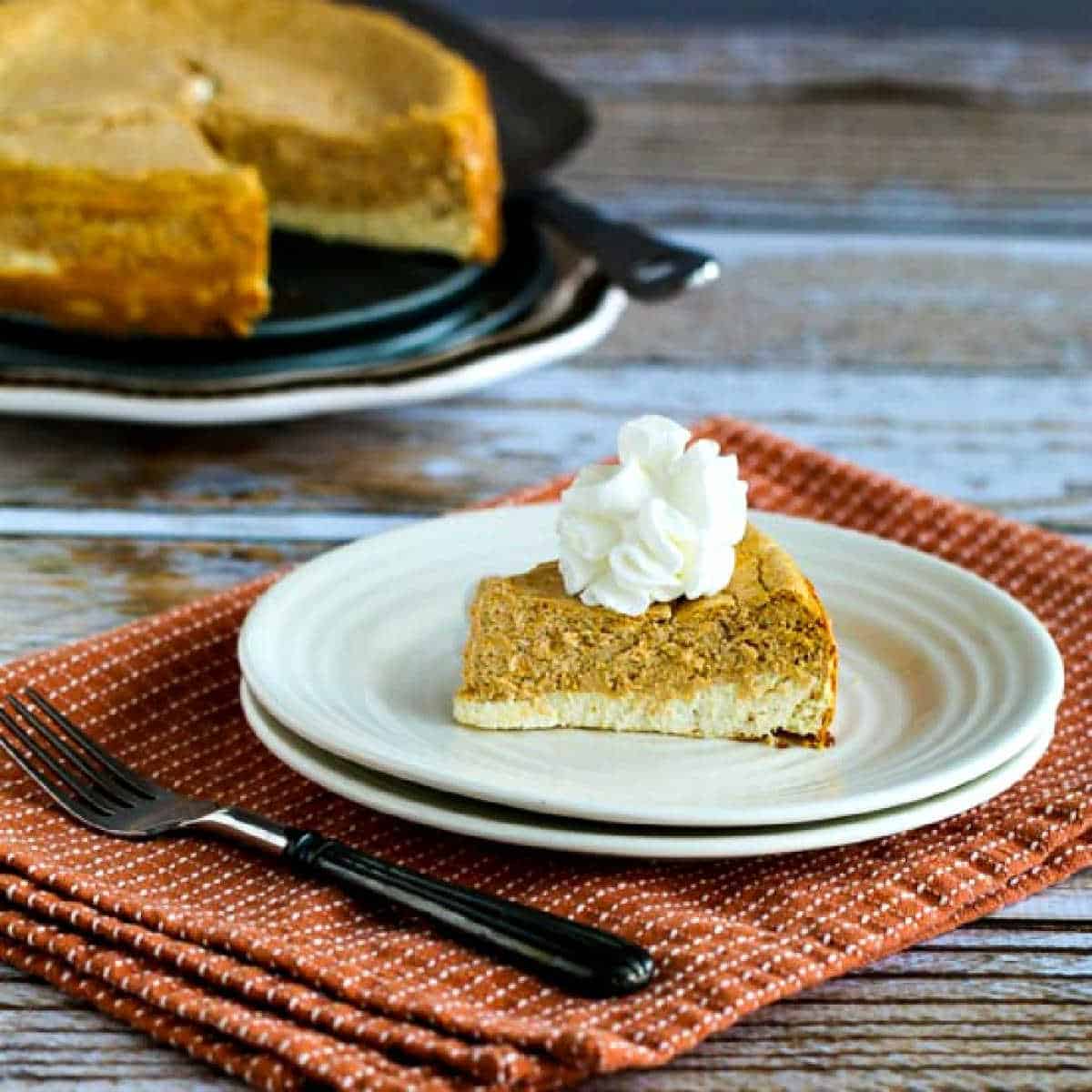 Low-Carb Diet / Low-Glycemic Diet / South Beach Diet Suggestions:
Pumpkin has some carbs, but this Sugar-Free Layered Pumpkin Cheesecake made with Golden Monkfruit sweetener calculates to 6.3 carb and .6 grams of fiber. That's based on 8 servings, which would be a small serving for some people so adjust accordingly. If you used sweetener and low-fat cream cheese this would be phase 2 or 3 for the original South Beach Diet.
Find More Recipes Like This One:
Use Dessert Recipes for more ideas like this one. Use the Diet Type Index to find more recipes suitable for a specific eating plan. You might also like to follow Kalyn's Kitchen on Pinterest, on Facebook, on Instagram, on TikTok, or on YouTube to see all the good recipes I'm sharing there.
Historical Notes for this Recipe:
A variation of this recipe was first posted in 2006. It has been a work-in-progress since then and I have updated the recipe quite a few times when I found better sweeteners or finally got smart enough to make it in a springform pan. The recipe was last updated with more information in 2022.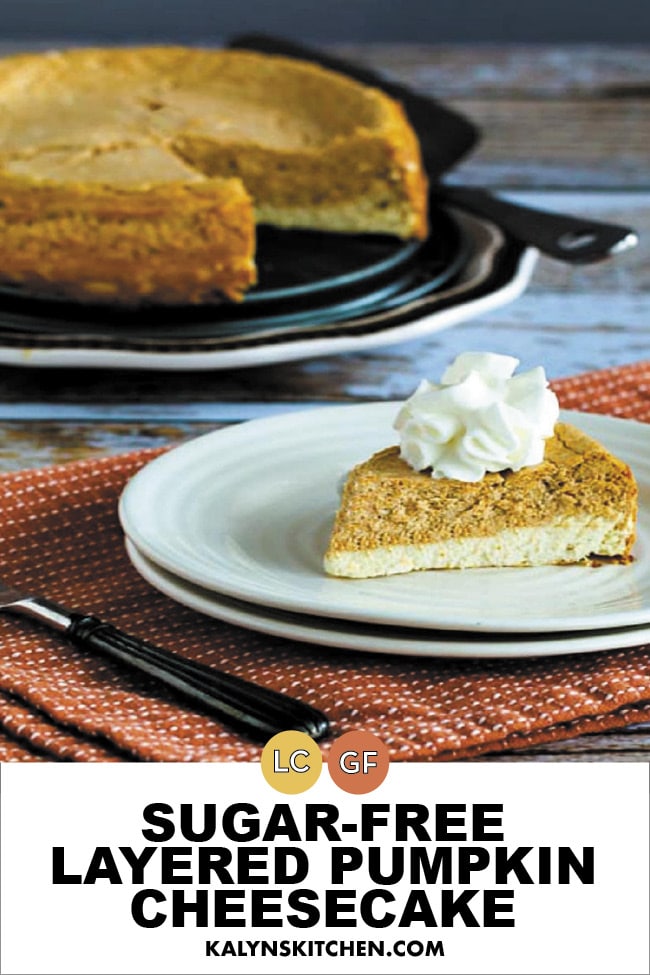 We are a participant in the Amazon Services LLC Associates Program, an affiliate advertising program designed to provide a means for us to earn fees by linking to Amazon.com and affiliated sites. As an Amazon Associate, I earn from qualifying purchases.