Low-Carb and Keto Italian Sausage Recipes
I'm a big Italian Sausage fan, and this round-up of Low-Carb and Keto Italian Sausage Recipes has my favorites dinners with Italian Sausage!
PIN Low-Carb and Keto Italian Sausage Recipes to try some later!
Who loves Italian Sausage? Of course I am wildly raising my hand, which you probably would predict if you've spent much time hanging around this blog. I'm a huge fan of both turkey and pork Italian Sausage, and this this round-up has my favorite Low-Carb and Keto Italian Sausage Recipes. And there are 20 amazing dinners with Italian Sausage featured here for you to try.
This round-up has Italian Sausage classics like low-carb lasagna or stuffed peppers, but there also some very creative uses of Italian Sausage that I think you might enjoy if you're a fellow Italian Sausage fan! And one of these recipes is the number one most popular recipe on the blog, which I think shows that there are plenty of people who love Italian Sausage just as much as I do!
How do you get the complete recipe?
Just click any recipe title to see the full recipe on Kalyn's Kitchen.
Want more low-carb and Keto recipe round-ups?
You can use Recipe Round-Ups to find more recipe collections like this one or use Sausage Recipes to see all the recipes using sausage on this site.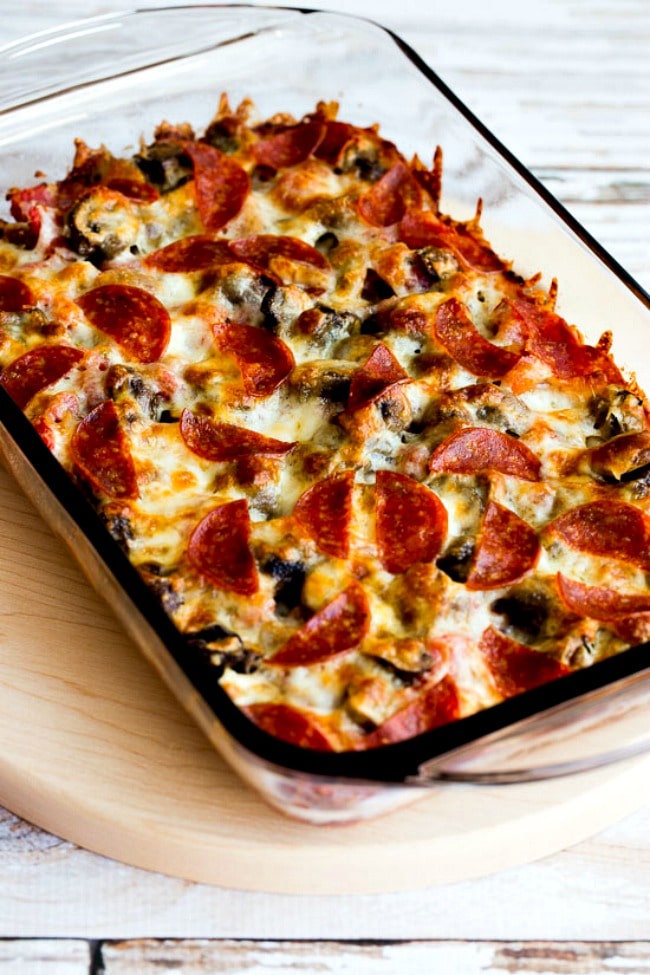 This low-carb Deconstructed Pizza Casserole shows up regularly as the #1 trending recipe on Kalyn's Kitchen, and this can help when you're craving pizza!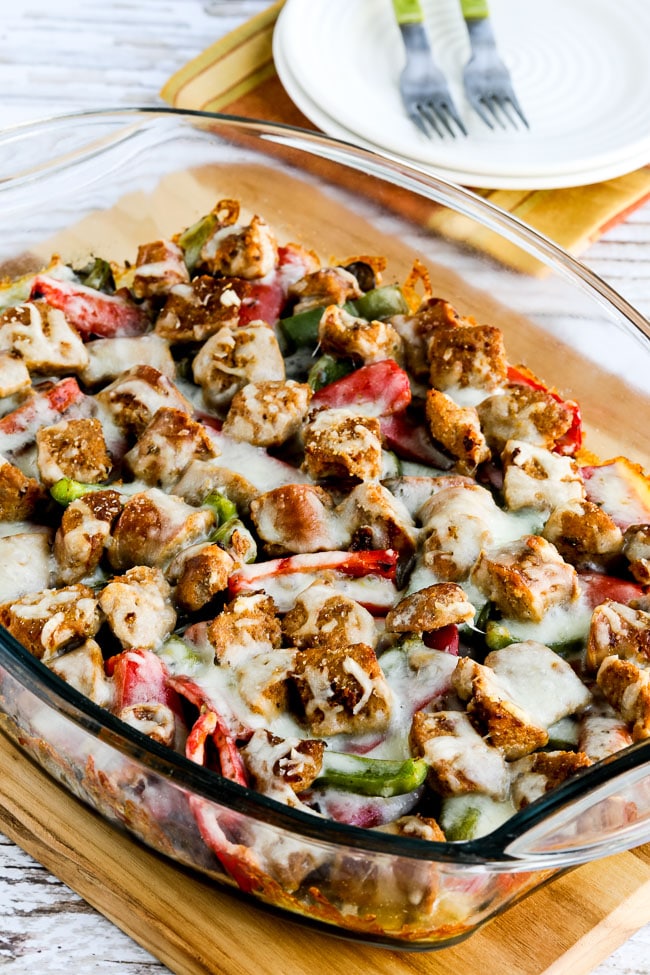 Sausage, Peppers, and Mushrooms Low-Carb Cheesy Bake is an ultra easy dinner idea that's been really popular on the blog!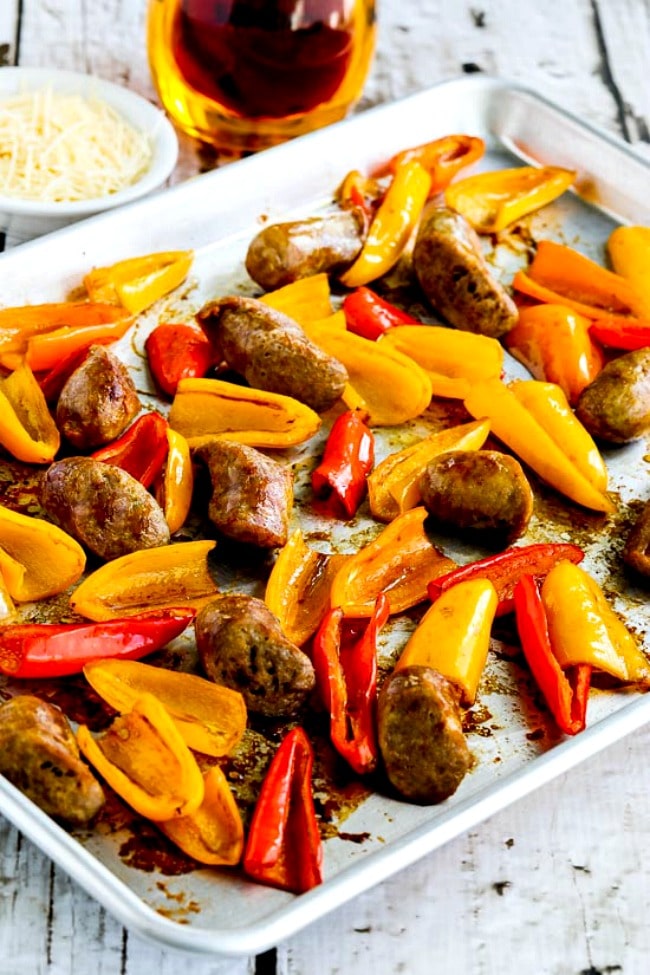 Who doesn't love an easy sheet pan meal, and we loved this Italian Sausage and Mini-Peppers Sheet Pan Meal.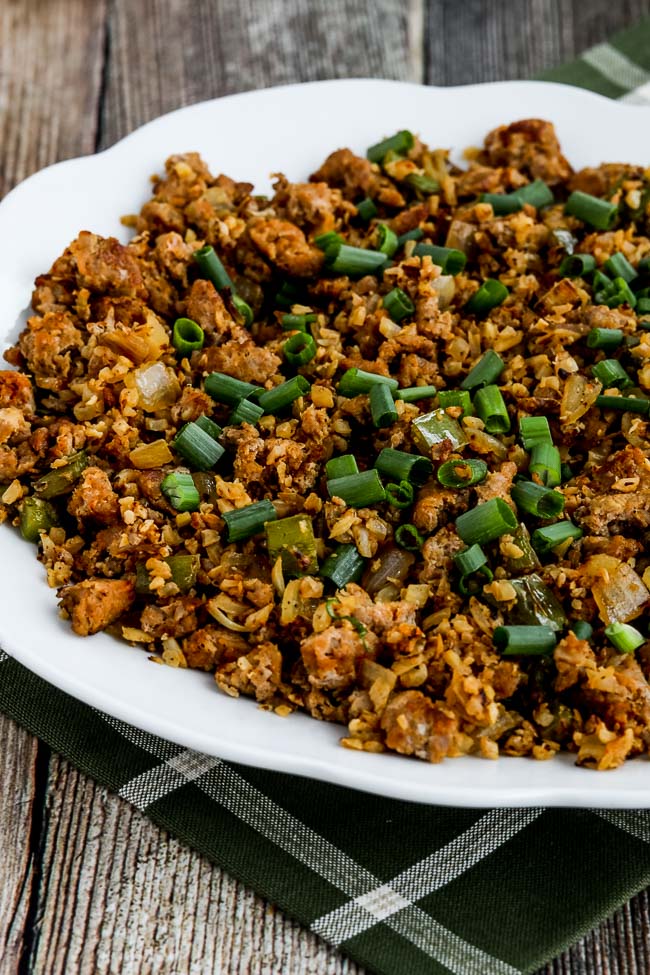 I was surprised by the popularity of this Low-Carb Spicy Cauliflower Dirty Rice, and this is not only tasty but it's also quick and easy to make.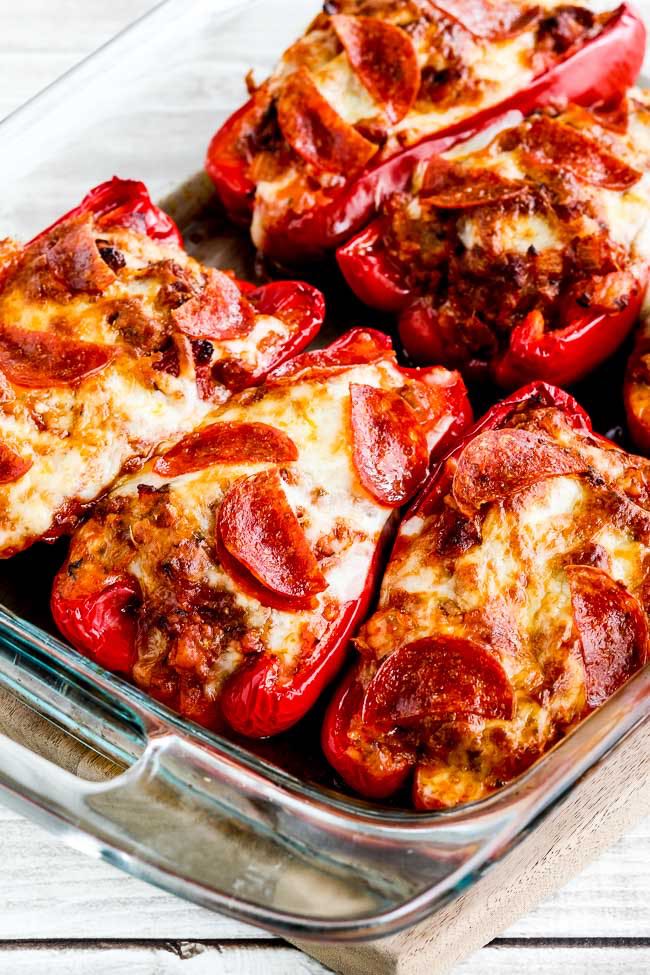 Sausage and Pepperoni Pizza-Stuffed Peppers are another WOW recipe that took off like crazy on the blog. Have you tried this one yet?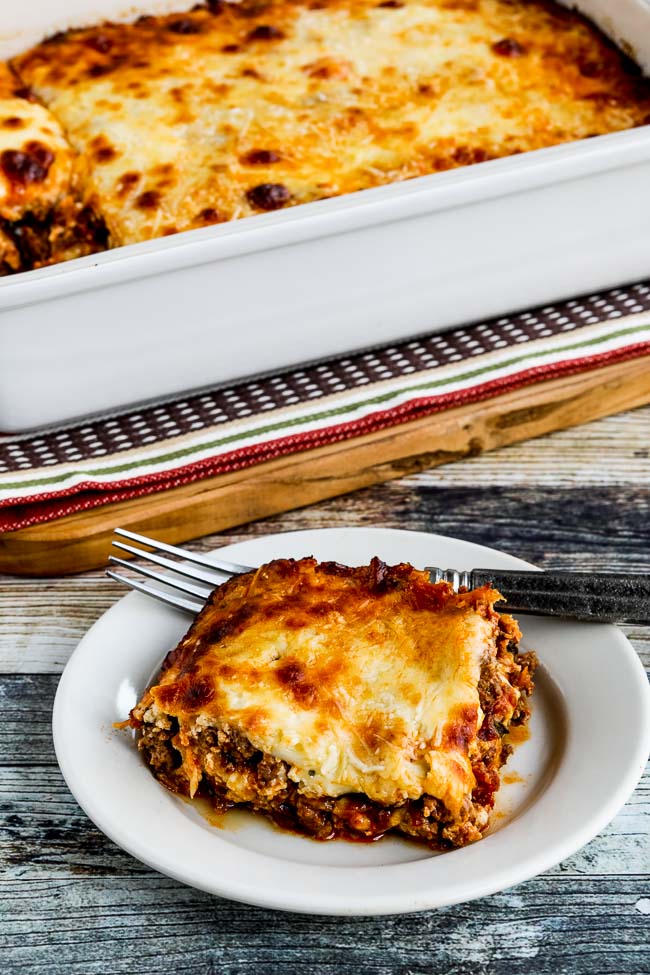 No-Noodle Lasagna with Sausage and Basil was inspired by a couple of grocery store finds, and this turned out to be a total winner!

Italian Sausage for breakfast? Why not with this Italian Sausage and Sweet Mini-Peppers Breakfast Bake!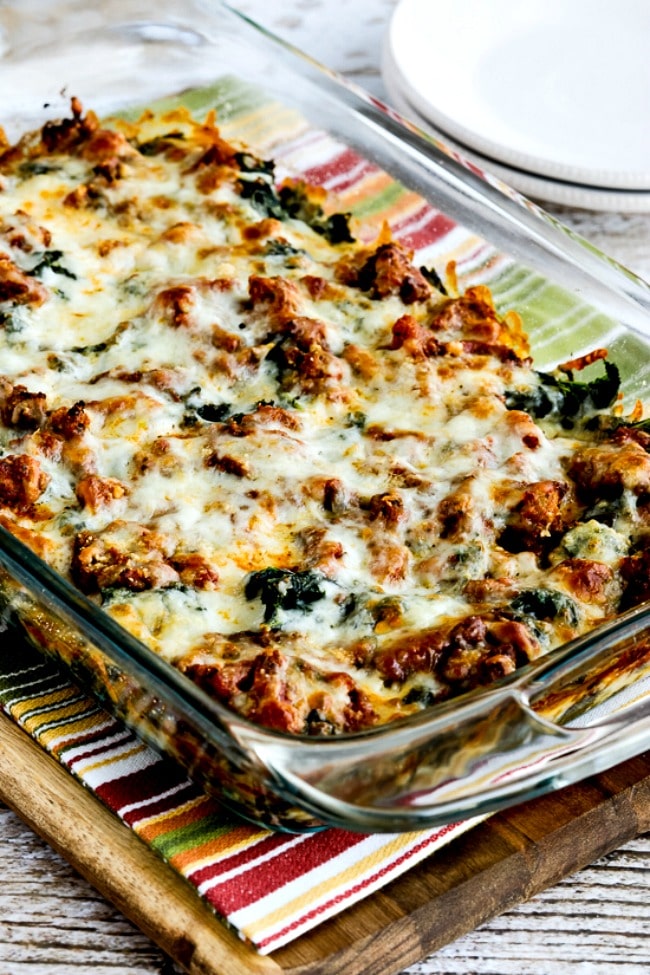 Be open-minded about this Low-Carb Sausage and Kale Mock Lasagna Casserole, because I promise that this is absolutely delicious!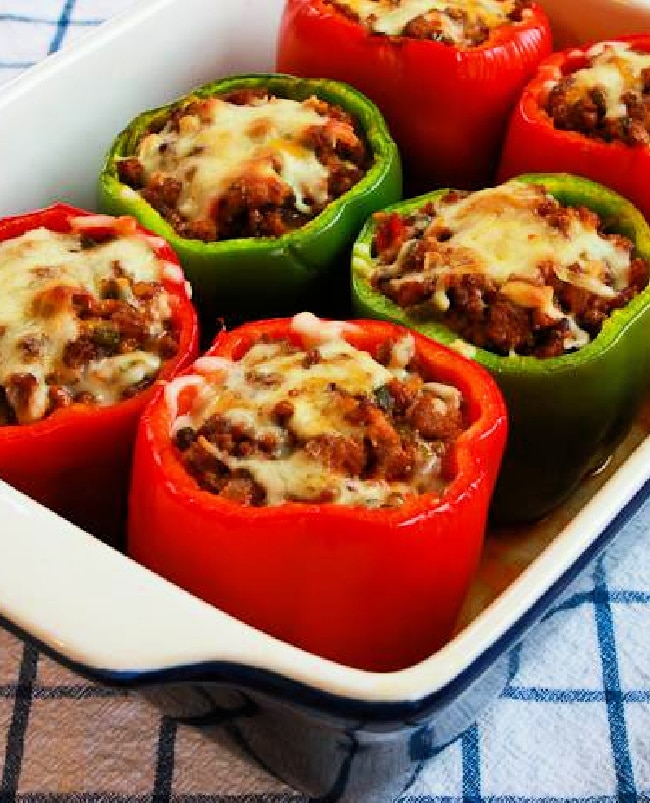 These Stuffed Peppers with Italian Sausage and Ground Beef are a favorite I've made over and over!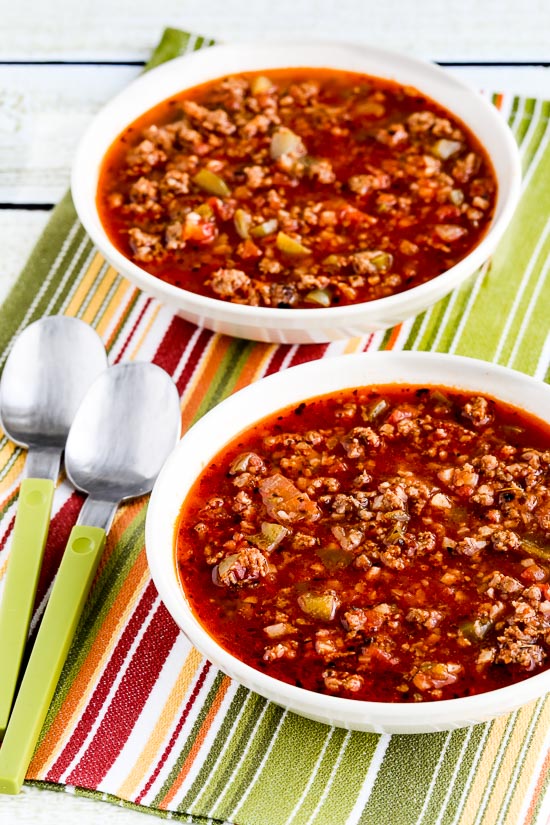 And finally, I love, love, love this Low-Carb Stuffed Pepper Soup! This soup is so good that no one will miss the rice!
More Keto Dinners with Italian Sausage:
Pasta with Sausage and Kale (with Palmini low-carb pasta)
Beef and Sausage Meatballs with Tomato Sauce
Sausage and Pepperoni Layered Pizza Bake
Spaghetti Casserole (with Palmini low-carb pasta)
Pasta with Sausage and Mushrooms (with Palmini low-carb pasta)
Cauliflower Rice Sausage Casserole
Meat, Tomato, and Mozzarella Stuffed Zucchini Cups
Instant Pot Sausage and Kale Soup
Zucchini Noodles with Cherry Tomato Pasta Sauce
We are a participant in the Amazon Services LLC Associates Program, an affiliate advertising program designed to provide a means for us to earn fees by linking to Amazon.com and affiliated sites. As an Amazon Associate, I earn from qualifying purchases.