Meat, Tomato, and Mozzarella Stuffed Zucchini Cups
Meat, Tomato, and Mozzarella Stuffed Zucchini Cups use giant zucchini slices hollowed out to make cups and filled with a meat mixture! And this recipe doesn't have any rice and I used low-sugar pasta sauce to keep it low in carbs; enjoy!
PIN the Stuffed Zucchini Cups to try them later!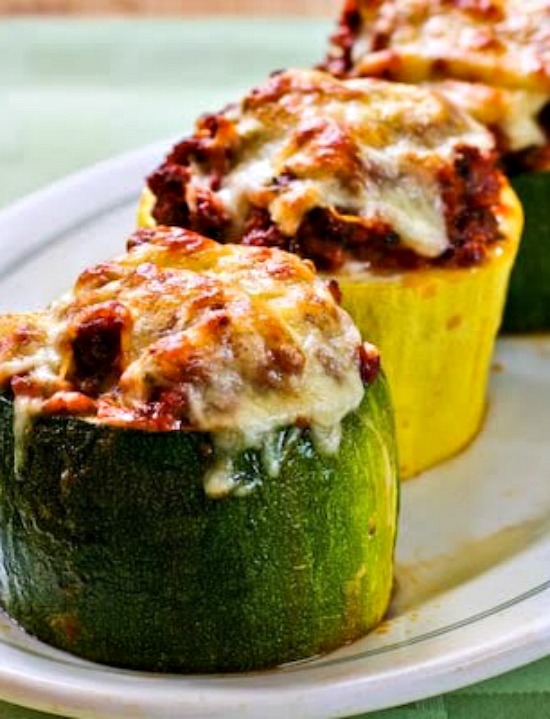 It's monster zucchini season, that time of year when people who have gardens are likely to go out and discover a giant zucchini has suddenly sprung up overnight. I want to remind you of these favorite Meat, Tomato, and Mozzarella Stuffed Zucchini Cups that I've made so many times when I had giant zucchinis that I needed to use. Despite the rather messy plating job in these photos, I love everything about this way of making stuffed zucchini from giant zucchini slices.
Don't you think hollowing out a zucchini cup and filling it with meat and cheese sounds like a delicious way to use late-summer zucchini? I'm definitely a fan of round 8-ball squash for Stuffed Zucchini, but those can be hard to find, and these stuffed zucchini cups give a similar result. And this recipe for stuffed zucchini doesn't have any rice or other grains, so it's perfect for low-carb eaters, FTW!
What ingredients do you need for this recipe?
large zucchini or yellow squash
olive oil
onion
green pepper
Minced Garlic (affiliate link)
ground beef
ground turkey, turkey Italian sausage, or pork Italian sausage
Rao's Pasta Sauce (affiliate link), or any tomato-basil pasta sauce with low sugar
mozzarella or other mild white cheese
What are Zucchini Cups?
This recipe uses "zucchini cups" created from slices of overly-large zucchini that have the center hollowed out to make a cup! I think this is such a great idea when you don't want to make zucchini bread and the zucchini you have on hand are too large for your usual favorite zucchini recipes.
What else can you make with extra-large zucchini?
I have a collection of Low-Carb and Keto Recipes to make with Oversize Zucchini on this site for more good ideas to use when your zucchini get out of control!
How to make Stuffed Zucchini Cups:
(Scroll down for complete recipe with nutritional information.)
Start by cooking onion, green pepper, and Minced Garlic (affiliate link) for a few minutes in a bit of olive oil.
Then remove the veggies, add a bit more olive oil, and cook the meat until it's browned. Stir the green pepper, onion, and garlic back into the meat once it's done.
Mix in about 2 cups of flavorful tomato sauce and let it simmer until all the liquid has cooked off. Rao's Pasta Sauce (affiliate link) is the lowest-carb commercial sauce. Once the liquid has cooked off, turn off the heat.
Cut a large zucchini into slices about 2 inches thick. Be careful to make flat sides when you cut. This zucchini was not quite three inches across at the widest part.
I decided I didn't have quite enough zucchini for the amount of sauce, so I also used a yellow squash that had gotten a bit too large. I used a melon baller to hollow out the squash, which worked perfectly. Be careful not to make the bottom too thin, or the liquid will run out!
By now the meat has cooled slightly, so mix in about 1 1/2 cups of Mozzarella or other mild cheese. (Use low-fat or full-fat mozzarella, your choice.)
I like the zucchini to still have a tiny bit of crispness, so I stuffed the zucchini raw. Pack it in, heaping it up a bit over the top. Bake zucchini like this for 20 minutes at 350F/175C.
After the zucchini cups have baked for 20 minutes, use the remaining 1/2 cup of cheese to sprinkle over the top of each, and bake about 25 minutes more. (You'll get some on the baking sheet, so be sure you've sprayed it with non-stick spray!)
Serve hot. This makes quite a bit but extras can be stored in the fridge and reheated during the week!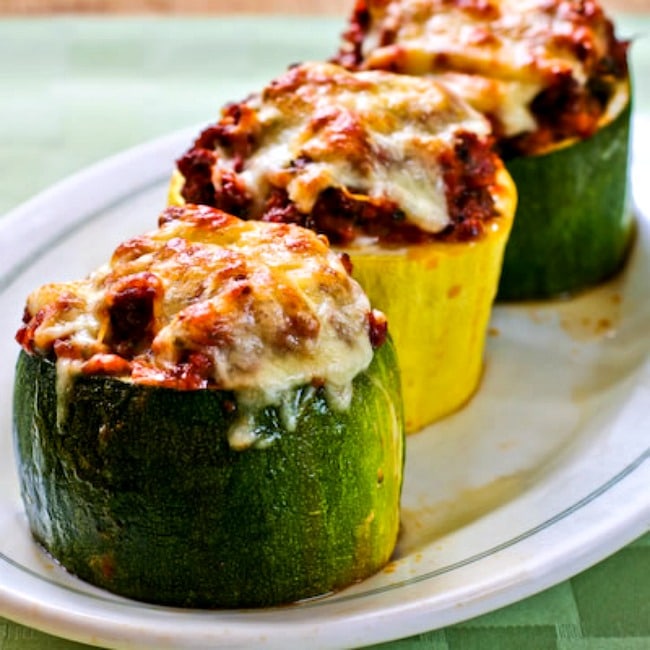 More Zucchini Recipes You Might Like:
Low-Carb and Keto Grilled Zucchini Recipes ~ Kalyn's Kitchen
Slow Cooker Zucchini Recipes ~ Slow Cooker or Pressure Cooker
50 Amazing Zucchini Recipes ~ Kalyn's Kitchen
Instant Pot Zucchini Recipes ~ Slow Cooker or Pressure Cooker
Top Ten Most Popular Low-Carb Zucchini Recipes ~ Kalyn's Kitchen
Weekend Food Prep:
This recipe has been added to a category called Weekend Food Prep to help you find recipes you can prep or cook on the weekend and eat during the week!
Yield: 8 servings
Meat, Tomato, and Mozzarella Stuffed Zucchini Cups
Prep Time 15 minutes
Cook Time 50 minutes
Total Time 1 hour 5 minutes
This recipe uses giant zucchini slices hollowed out to make cups filled with a meat, tomato, and mozzarella mixture.
Ingredients
2 large zucchini or yellow squash, about 12 inches long
2 tsp. + 2 tsp. olive oil (or more, depending on your pan)
1/2 cup finely chopped onion
1 green pepper, finely chopped
2 T finely minced fresh garlic
1 lb. ground beef
12 oz. ground turkey, turkey Italian sausage, or pork Italian sausage (see notes)
1-2 tsp. Spike seasoning (optional but recommended)
2 C flavorful tomato-basil pasta sauce (with low sugar)
2 cups mozzarella or other mild white cheese (see notes)
Instructions
Preheat oven to 350F/175C.
Chop onion and green pepper.
Heat 2 tsp. olive oil in a non-stick pan, then saute onion and pepper for 3-4 minutes, until just starting to soften.
Add minced garlic and saute about 1 minute more, being careful not to brown the garlic.
Remove the onion, pepper, and garlic mixture to a bowl.
Add 2 tsp. more olive oil to the pan.
Crumble in the ground beef and ground turkey (or ground sausage), season with Spike Seasoning (affiliate link) and cook over medium heat until the meat is well browned.
Tilt pan to see if there is any extra fat, and remove with a spoon if there desired, then stir cooked vegetables and garlic back into the meat.
Add tomato sauce and simmer until the mixture has thickened and liquid has cooked off, about 10 minutes, then turn off heat.
While meat cools, cut zucchini into 2 inch thick slices, discarding ends.
Use a sharp spoon or melon baller to hollow out a cup in each zucchini slice, leaving just over 1/4 inch of zucchini flesh. Be careful not to get too close to the skin or the cups will leak liquid when they cook.
Spray baking sheet with nonstick spray and stand up zucchini cups, open end up.
Stir 1 1/2 cups grated cheese into the cooled meat mixture (it doesn't need to be completely cool), then spoon the meat-cheese mixture into zucchini cups, pressing down with the spoon and mounding it up a little over the top of the zucchini.
Bake zucchini cups for 20 minutes, then remove from oven and use remaining cheese to top each one with a generous pinch of cheese.
Put back in oven and bake 10-15 minutes more, until zucchini is slightly soft when pierced with a fork and cheese is melted and lightly browned.
Serve hot.
Notes
Use any combination of ground meat you'd like, but use low-fat ground meat for the South Beach Diet and full-fat for low-carb or Keto. I would use Rao's Pasta Sauce (affiliate link) for this recipe. I used a blend of six cheeses called Italian blend.
This recipe created by Kalyn when she found some giant zucchini in her garden!
Nutrition Information:
Yield:
8
Serving Size:
1
Amount Per Serving:
Calories: 393
Total Fat: 24g
Saturated Fat: 8.8g
Unsaturated Fat: 11.7g
Cholesterol: 113mg
Sodium: 990mg
Carbohydrates: 9.5g
Fiber: 2g
Sugar: 5.2g
Protein: 33g
Nutrition information is automatically calculated by the Recipe Plug-In I am using. I am not a nutritionist and cannot guarantee 100% accuracy, since many variables affect those calculations.
Low-Carb Diet / Low-Glycemic Diet / South Beach Diet Suggestions:
When they're made with low-fat ground beef, low-fat ground turkey Italian Sausage, low-fat cheese, and low-sugar pasta sauce, these Stuffed Zucchini Cups are a great dish for any phase of the original South Beach Diet. You could also eat this for any low-carb eating plan, which would recommend higher-fat meat or cheese. Be sure to use a pasta sauce that's low in sugar if you are trying to limit carbs.
Find More Recipes Like This One:
Use Zucchini Recipes or Oven Dinners to find more recipes like this one.Use the Diet Type Index to find more recipes suitable for a specific eating plan. You might also like to follow Kalyn's Kitchen on Pinterest, on Facebook, on Instagram, or on YouTube to see all the good recipes I'm sharing there.
Historical Notes for this Recipe:
This recipe was first posted in 2009, and it became a hit on my site during zucchini season! The recipe was updated in 2018 and again in 2021 with more information.
We are a participant in the Amazon Services LLC Associates Program, an affiliate advertising program designed to provide a means for us to earn fees by linking to Amazon.com and affiliated sites. As an Amazon Associate, I earn from qualifying purchases.