Low-Carb Recipes for Leftover Turkey
Here are my best Low-Carb Recipes for Leftover Turkey for anyone who wants get back on track after Thanksgiving! And of course chicken recipes can also be made with leftover turkey, and these recipes can all be made with leftover chicken as well.
PIN Low-Carb Recipes for Leftover Turkey to try some later!
It's Thanksgiving week in the U.S. and I hope all my readers who celebrate are planning a lovely holiday meal and some quality family time. Today I'm sharing this updated collection of Low-Carb Recipes for Leftover Turkey so you'll have plenty of ideas when you have that leftover turkey staring you in the face!
If you're lucky enough to have leftover turkey I hope you'll enjoy at least one of these leftover turkey recipes, especially if you indulged on carbs for Thanksgiving dinner, you know what I mean? Be sure to scroll past the photos to see all the tasty low-carb ideas for using that leftover turkey!
Leftover turkey or leftover chicken?
I've included ideas for leftover turkey and leftover chicken in this round-up because of course anything you make with leftover chicken is also great made with leftover turkey, and vice-versa. If you're still indulging a bit for the holiday, there's also a collection of delicious Healthy Recipes for Leftover Turkey or Chicken on the blog, but those recipes are a bit higher in carbs.
Ideas for Turkey Stock and Turkey Soup!
If you feel like using your turkey carcass to make homemade turkey stock and then making turkey soup, check out my Low-Carb and Keto Turkey Soup Recipes!
This Low-Carb Turkey Casserole has mushrooms, Mozzarella, and cauliflower rice! It's been wildly popular on the blog and this tasty casserole is also gluten-free. Go to this recipe and watch the video to see how tasty it really is!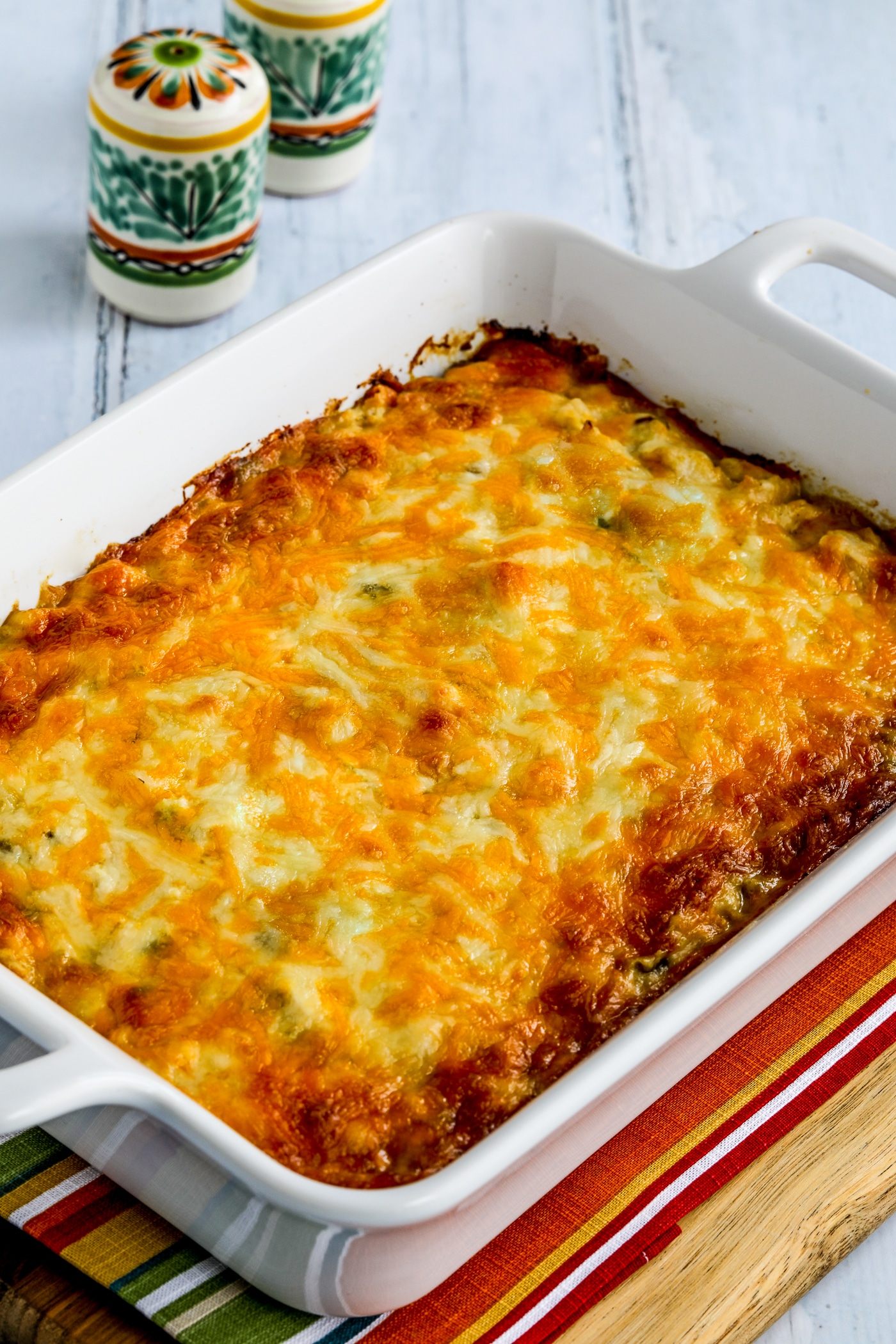 This Layered Mexican Casserole with Chicken and Cauliflower Rice has been a huge hit, and this is perfect to make with leftover turkey!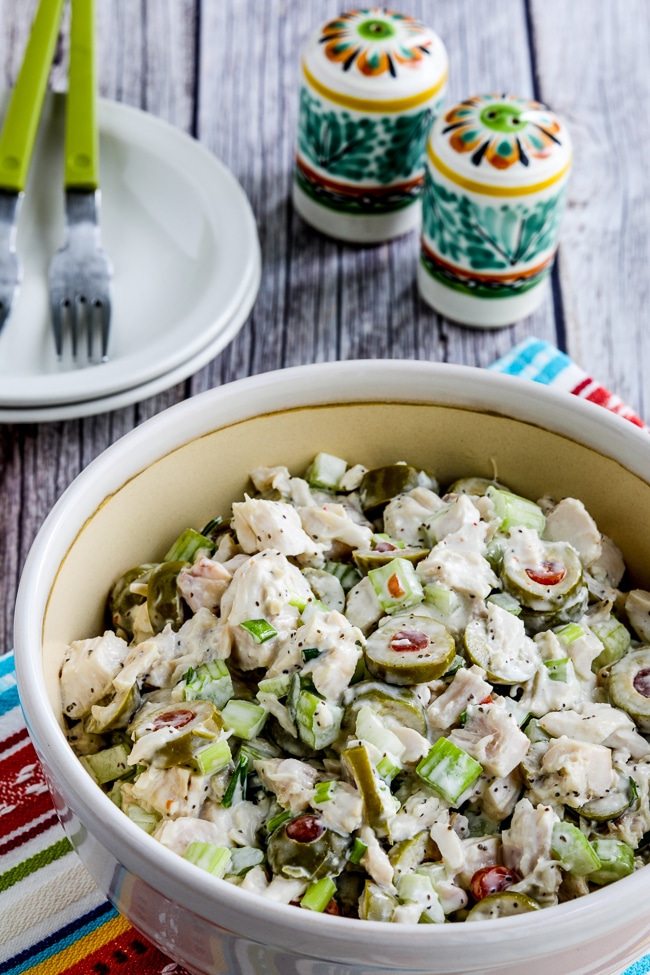 Chicken Salad with Green Olives is a totally WOW salad that you can make with leftover chicken or turkey, and green olive fans will love this salad!
This oh-so-delicious Chicken Alfredo Mock Lasagna Casserole is a newer recipe on the blog that can be made with leftover turkey or chicken, and if you like Alfredo Sauce you're going to love this recipe.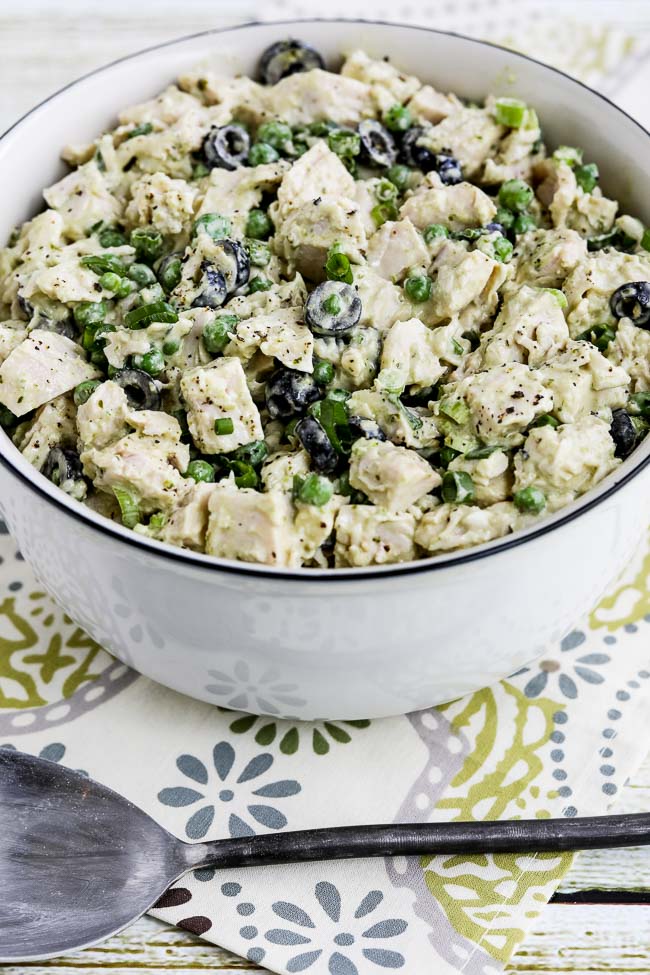 This Chicken Pesto Salad would also be delicious made with leftover turkey, and this salad is so tasty!
Another casserole option that would work perfectly with leftover turkey is Chicken Broccoli Curry Casserole with Cauliflower Rice.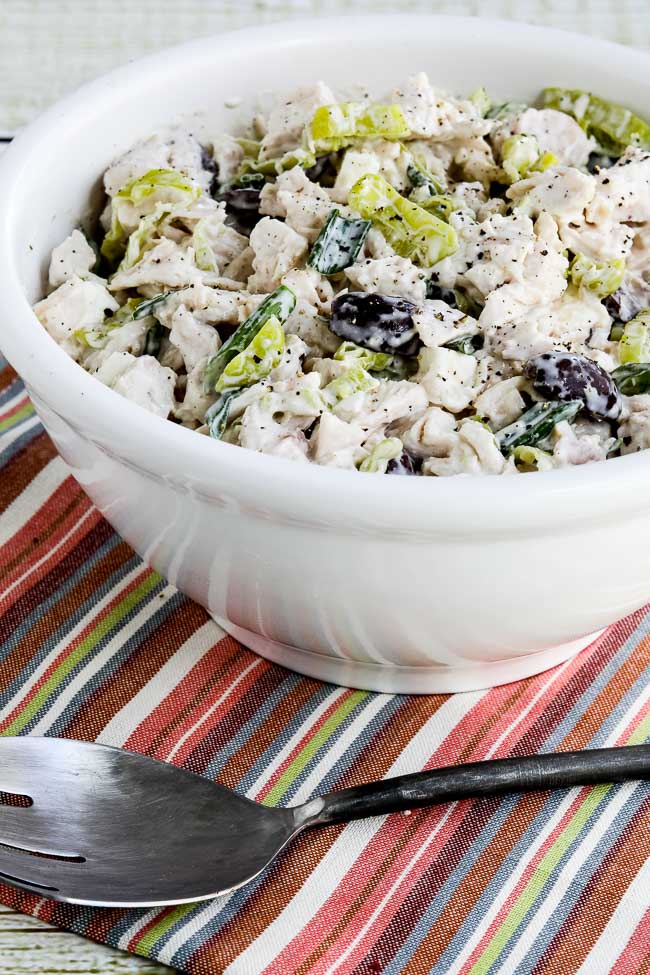 Another great lunch idea for leftover turkey would be to swap out the chicken for turkey in this Greek Peperoncini Chicken Salad. I'd never get tired of this for lunch!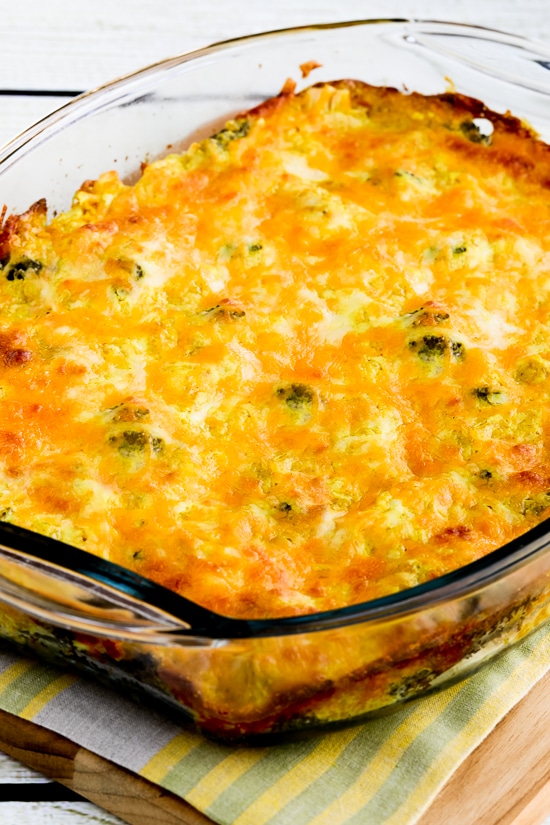 Cheesy Chicken Broccoli Curry Casserole is another popular chicken recipe that can be easily made with turkey, and if you like the sound of cheesy and curry, you'll love this dish.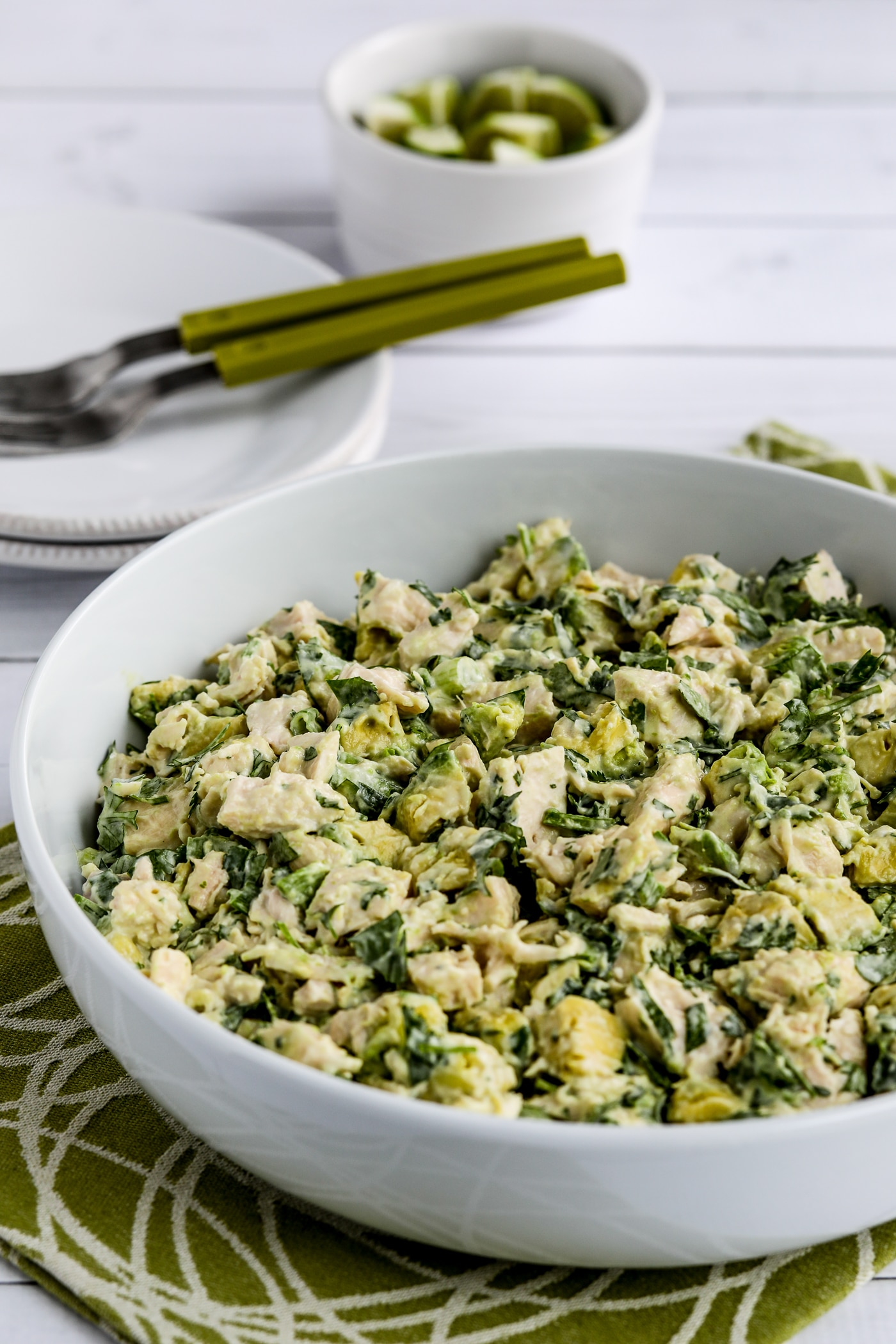 Chicken and Avocado Salad with Lime and Cilantro is a salad that's been hugely popular on the blog, and this would be just as delicious made with turkey.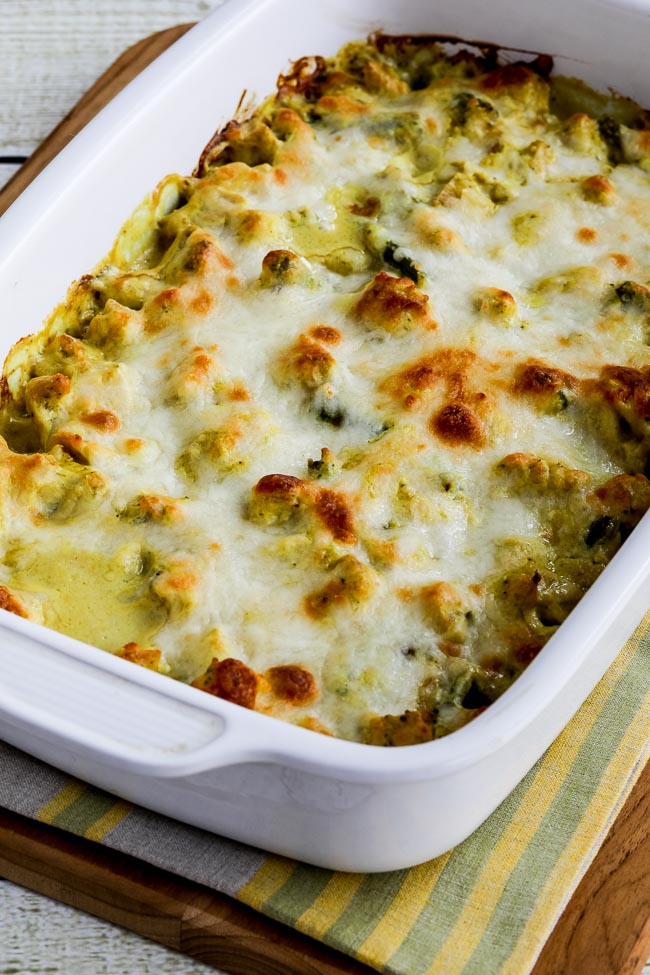 Chicken and Asparagus Bake with Creamy Curry Sauce is another amazing idea for a recipe that could use leftover turkey combined with asparagus, and if you like asparagus and curry you will swoon over this recipe!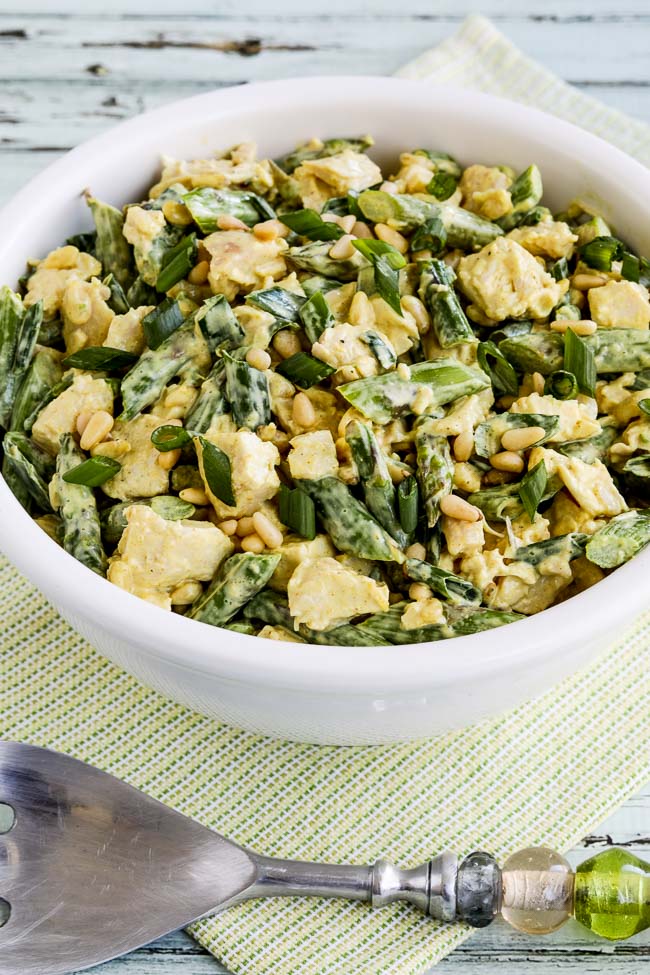 And this amazing Curried Chicken Salad with Asparagus and Pine Nuts is another tasty idea for asparagus fans!
More Low-Carb Ideas for Turkey or Chicken!
Vietnamese Chicken Salad with Cabbage
Chicken Salad with Indian Spices
Baby Arugula Salad with Chicken, Mozzarella, and Tomatoes
West African Chicken Stew
Chicken Broccoli Salad
Chopped Chicken Salad with Cafe Rio Salad Dressing
Southwest Chicken Salad
What's your favorite way to use leftover turkey or chicken? Tell us about it in the comments!
We are a participant in the Amazon Services LLC Associates Program, an affiliate advertising program designed to provide a means for us to earn fees by linking to Amazon.com and affiliated sites. As an Amazon Associate, I earn from qualifying purchases.