Low-Carb and Keto Instant Pot Soups
It's soup weather, and here are more than 30 amazing Low-Carb and Keto Instant Pot Soups from Kalyn's Kitchen and around the web! I hope you'll find some favorite soups that will become part of your dinner rotation.
PIN Low-Carb and Keto Instant Pot Soups to try some later!
The weather is cooling down, so today I'm reminding you about this huge collection of Low-Carb and Keto Instant Pot Soups for an easy dinner idea. This post has good ideas for anyone likes the Instant Pot and wants quick Instant Pot dinners with limited carbs.
Of course there are a lot of tasty low-carb soup recipes here from Kalyn's Kitchen. But I did include some soups that I thought looked extra good from my low-carb blogger friends, so be sure to scroll down past the photos to see all the tasty soup options.
And after that you'll find a whole collection of other round-ups where you can find even more tasty Instant Pot Soup Recipes! I hope you get a chance to try quite a few of these great soups while the weather is cold!
What kinds of soups will you find here?
You'll find soups here with sausage, ham, chicken, and beef. And there are soups with kale, cauliflower, tomatillos, green beans, tomatoes, zucchini, mushrooms, peppers, and more!
How do you get the complete recipe?
Just click any recipe title to see the complete recipe on the original blog. All photographs are copyrighted to the blog that posted the recipe.
What Instant Pot Do I Use?
I use a 6 Quart Instant Pot (affiliate link) for all my Instant Pot Recipes and soup is one of my favorite things to make in the Instant Pot. And if you don't have an Instant Pot (yet!) that might be something to ask Santa for this year!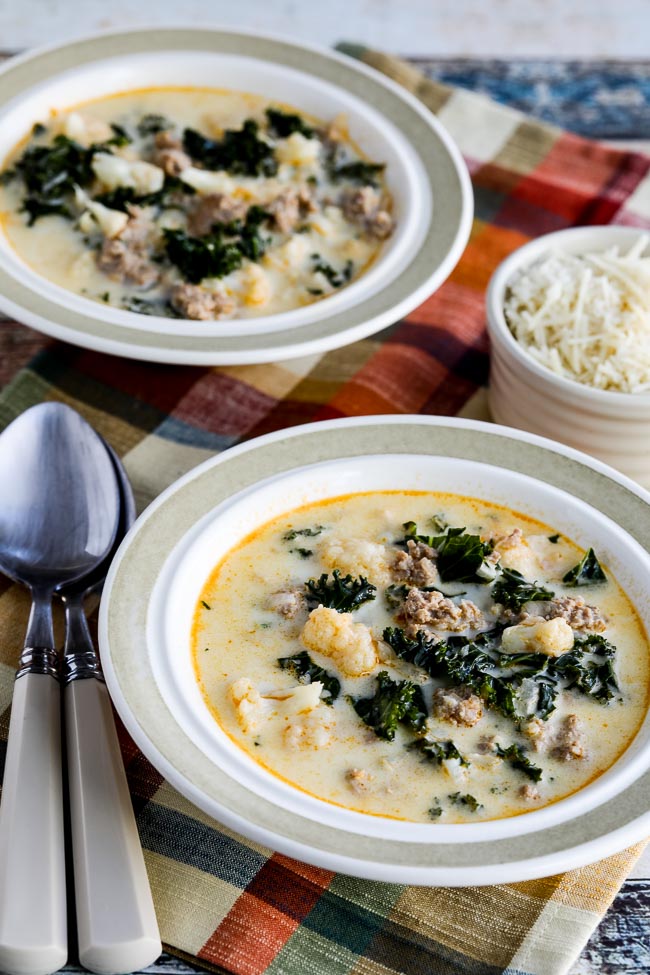 Instant Pot Zuppa Toscana Soup is one of the most popular low-carb Instant Pot recipes on the blog, and this soup is really a wow!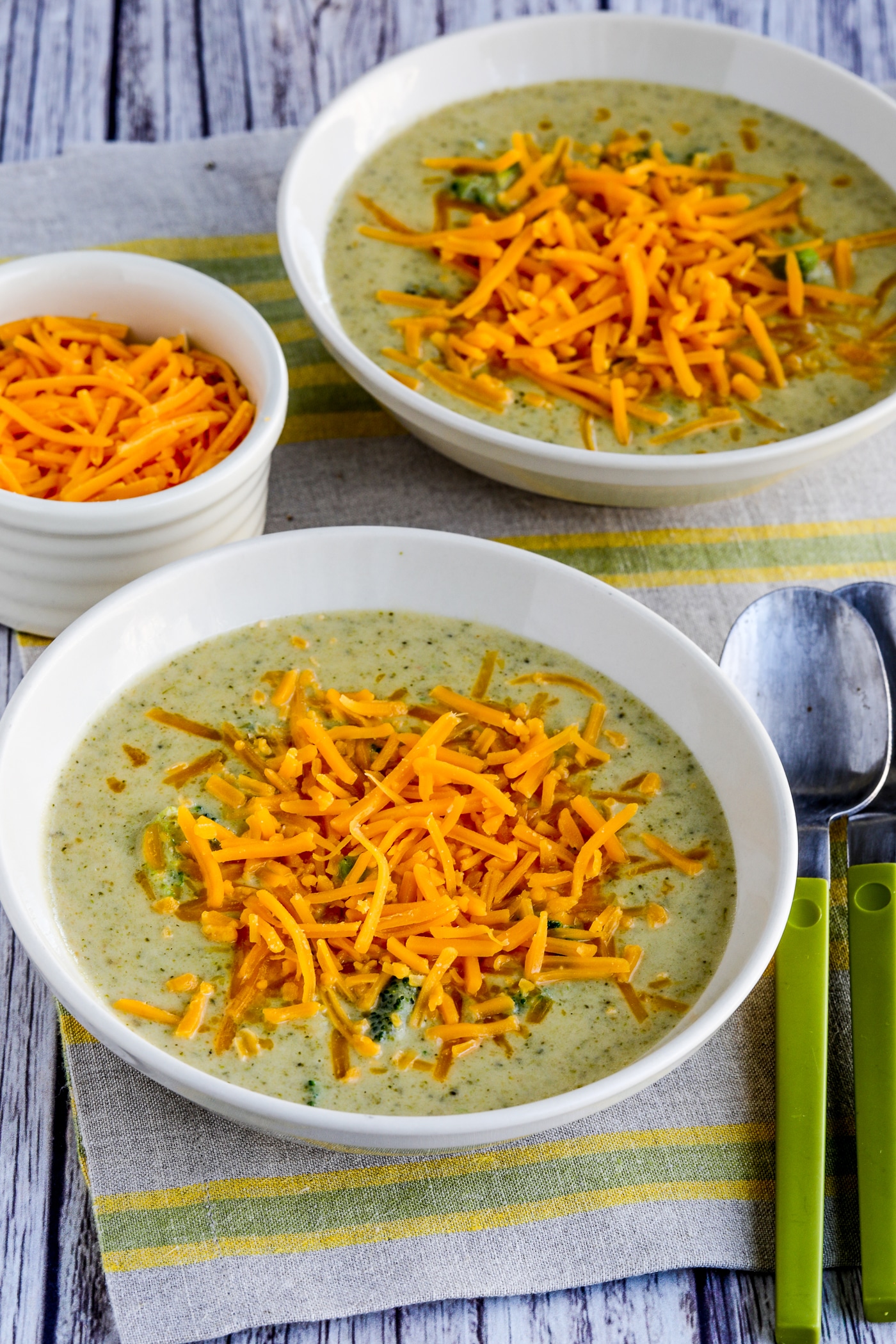 Cheesy Broccoli and Cauliflower Soup is a low-carb soup that's loaded with flavor, and for the new Instant Pot version we switched to using frozen cauliflower rice, which made the soup so quick and easy to make!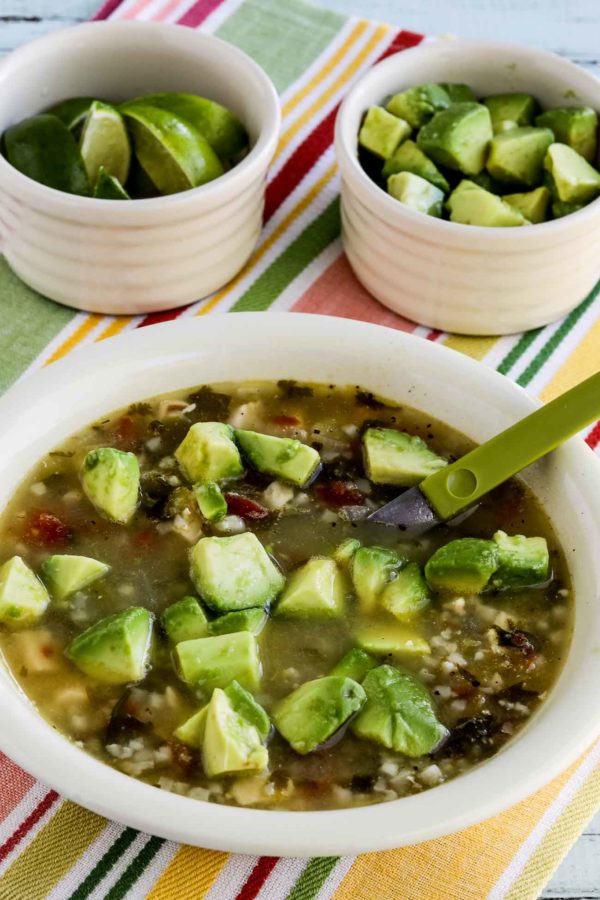 Tomatillos are super low in carbs, and this Instant Pot Low-Carb Chicken Tomatillo Soup is so delicious with diced avocado added at the table!
Instant Pot Pumpkin Soup is so delicious and this has soup has sausage, onion, green pepper, pumpkin, cauliflower rice, cream, and just the right spices. And it's amazingly low in carbs for a soup with pumpkin!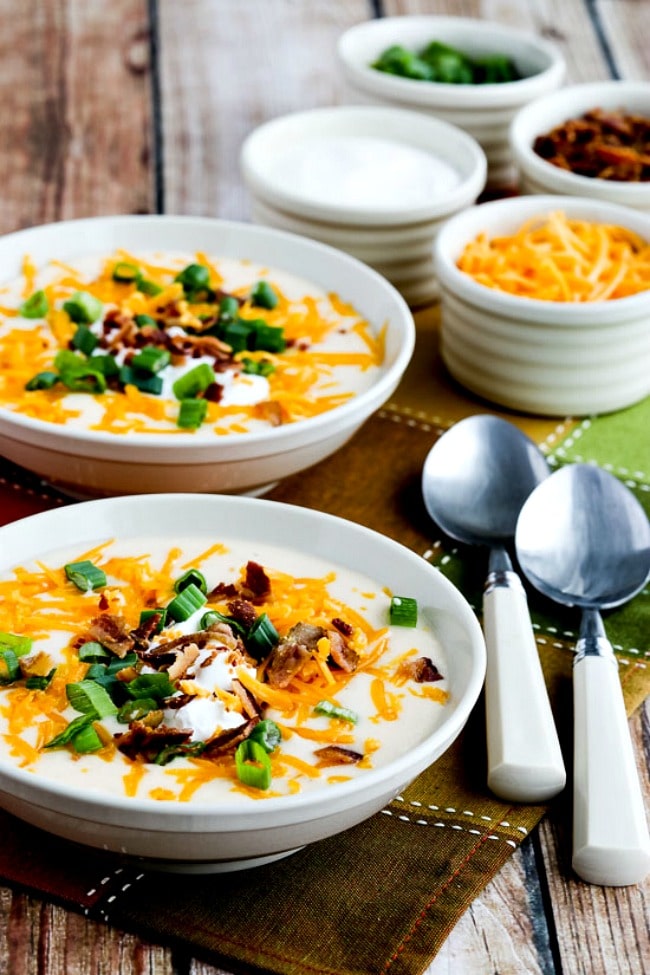 This Instant Pot Low-Carb Loaded Cauliflower Soup is one of my favorites out of the low-carb Instant Pot Soups I've shared on Kalyn's Kitchen.
Instant Pot Cauliflower Mushroom Soup is a savory low-carb soup that's extra good with freshly-grated Parmesan added at the table.
You'll love how the cabbage gets sweet and tender in this Instant Pot Low-Carb Ham and Cabbage Soup from Kalyn's Kitchen!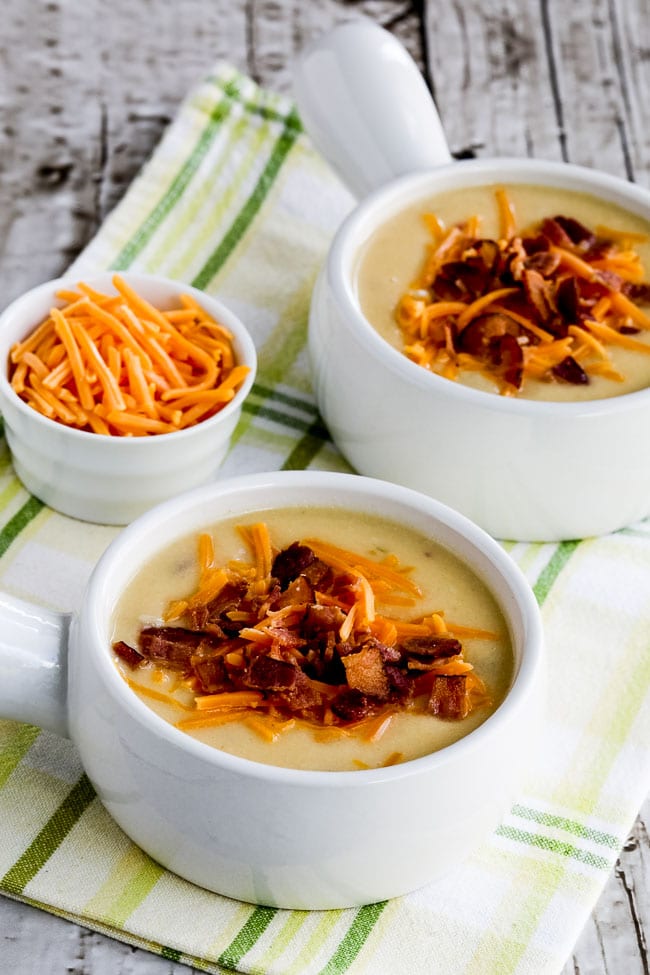 Low-Carb Cheesy Cauliflower Soup with Bacon and Green Chiles from Kalyn's Kitchen is a fun soup with lots of flavor from the cheese, bacon, and green chiles!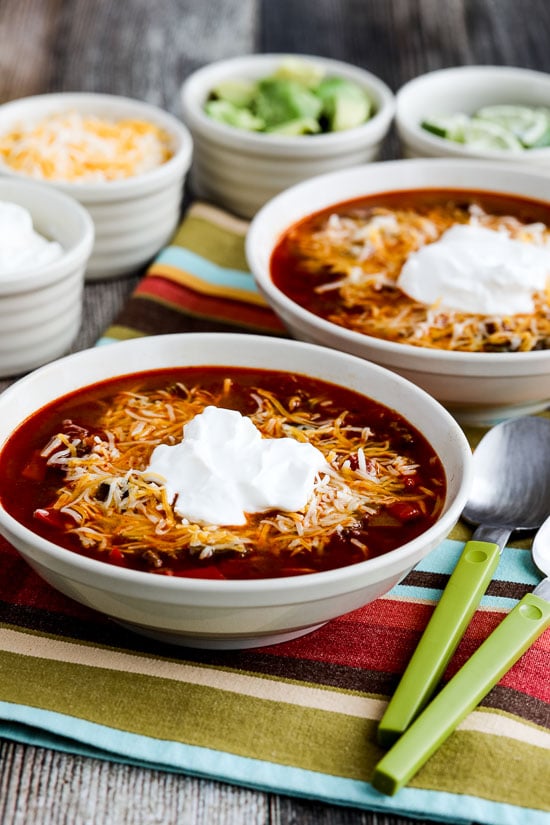 The whole family will love this Instant Pot Low-Carb Taco Soup from Kalyn's Kitchen. (Let the kids have some corn chips crumbled into their soup if you want!)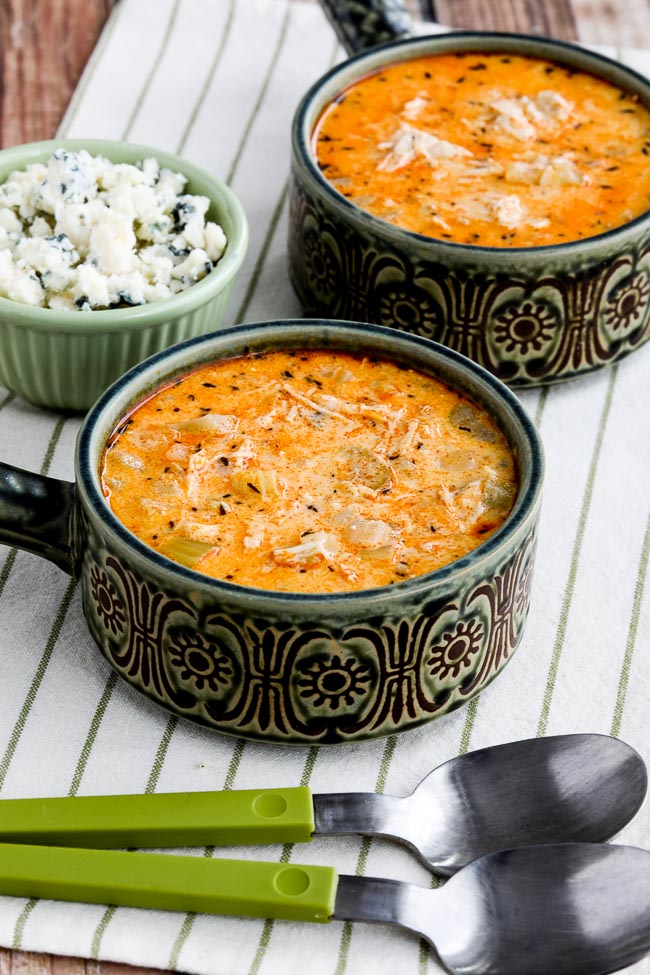 Instant Pot Buffalo Chicken Soup from Kalyn's Kitchen is for people who really like Frank's Red Hot Sauce and Blue Cheese!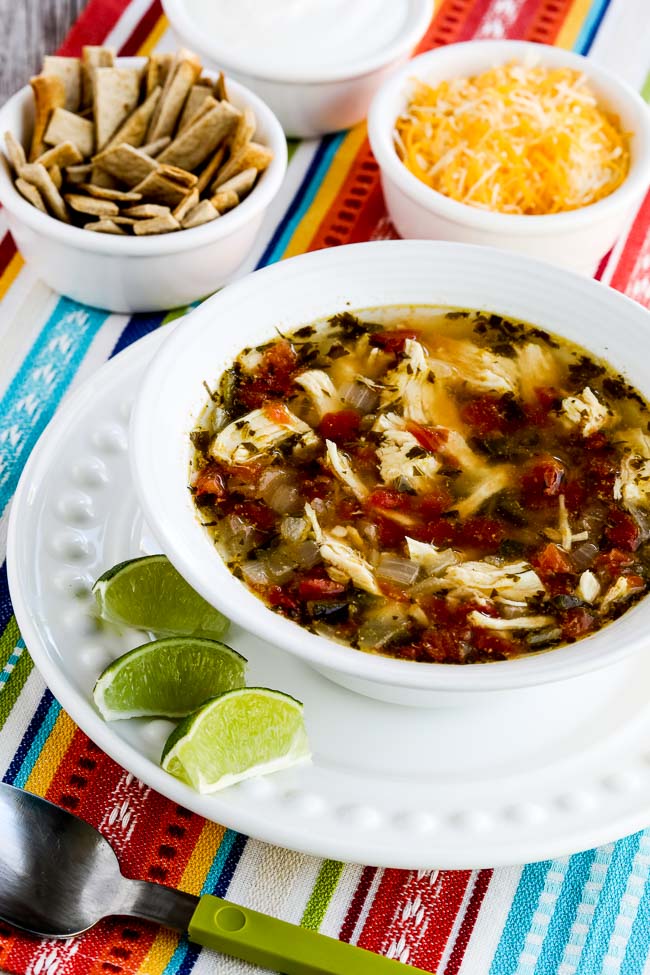 We used low-carb tortillas and the Air Fryer to make tortilla strips for this Instant Pot Low-Carb Chicken Tortilla Soup from Kalyn's Kitchen, but this is also tasty without the tortillas if you prefer.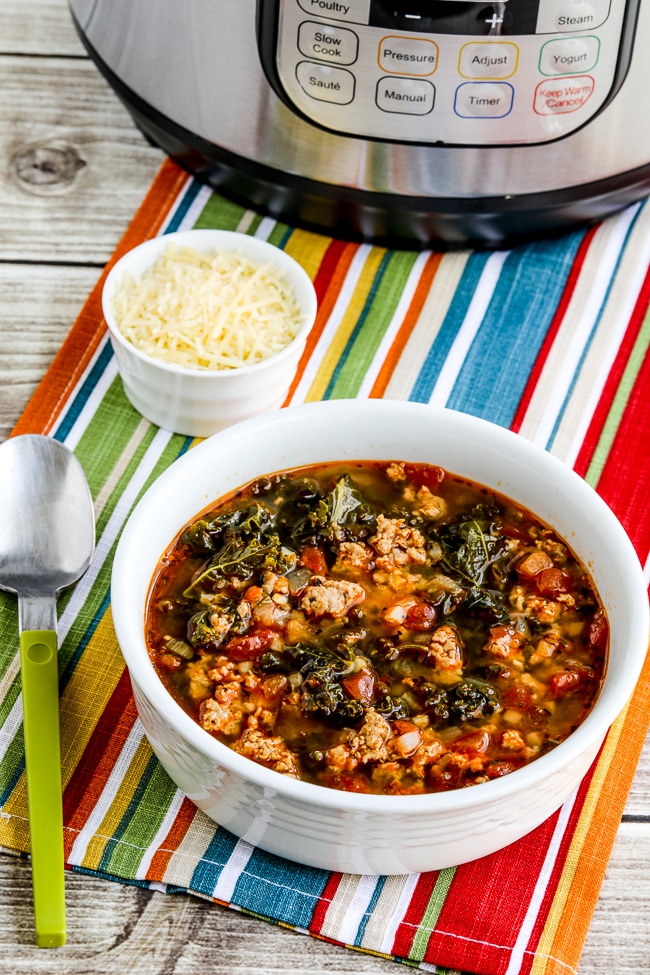 And finally, this Instant Pot Sausage and Kale Soup from Kalyn's Kitchen is a pretty new soup on the blog! This was inspired by a couple of favorite soups from the past but we replaced the beans with cauliflower rice to make it a low-carb soup; enjoy!
More Low-Carb and Keto Instant Pot Soups:
More Low-Carb Soup Round-Ups:
We are a participant in the Amazon Services LLC Associates Program, an affiliate advertising program designed to provide a means for us to earn fees by linking to Amazon.com and affiliated sites. As an Amazon Associate, I earn from qualifying purchases.