Low-Carb and Keto Turkey Soup Recipes
I love making turkey stock and then turkey soup when Thanksgiving is over, and here are my favorite Low-Carb and Keto Turkey Soup Recipes. And of course you can use leftover turkey in any soup recipe that uses cooked chicken (and vice-versa) so there are some tasty chicken soup recipes here too!
PIN Low-Carb and Keto Turkey Soup Recipes!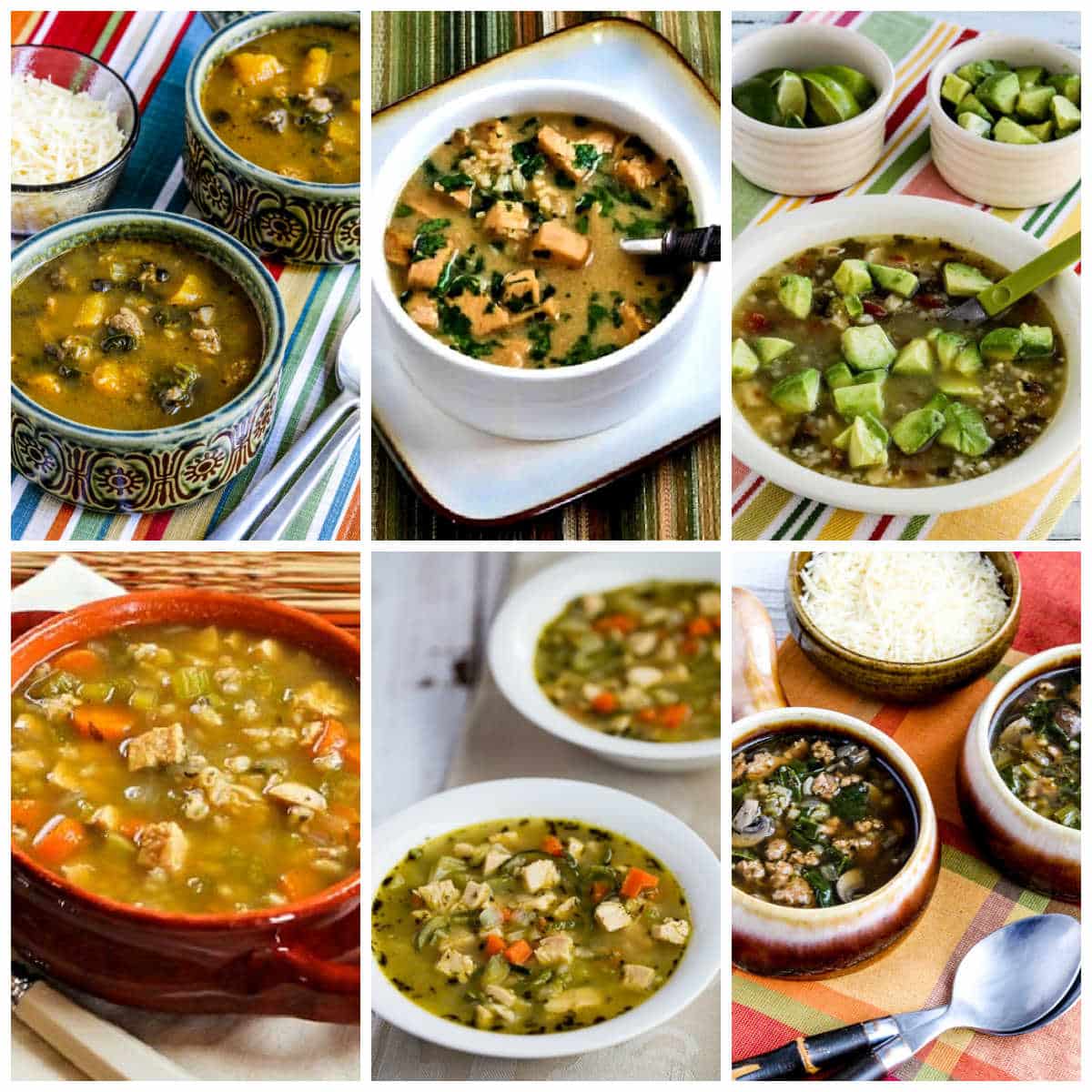 One of my favorite Thanksgiving traditions is simmering the turkey carcass with veggies and some Penzey's Turkey Soup Base to make homemade turkey stock, and then turning that stock into delicious turkey soup!
Your house will smell amazing while the turkey stock simmers, and low-carb turkey soup is perfect to make after Thanksgiving, so I'm reminding you of these turkey soup options just in case you have leftover turkey this year. I hope you'll turn some of that turkey into delicious turkey soup, or try some of these tasty soup recipes with chicken if you don't have any turkey.
Turkey Soup or Chicken Soup?
And any soup recipe made with diced chicken or ground turkey can also be made with leftover turkey, so I'm including some of those in this collection of favorite soups. For the recipes that use cooked chicken, just switch that out for leftover turkey (and use homemade Turkey Stock if you have some) For the soups with ground turkey, check the recipe to see how to substitute.
More ideas for using leftover turkey: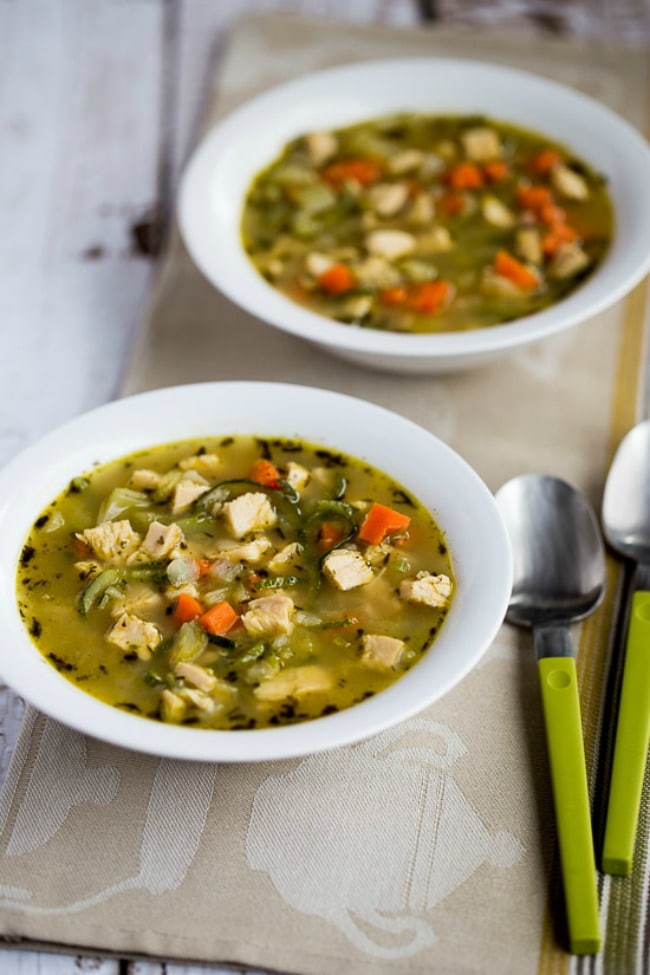 The soup I've been making and loving the last few Thanksgivings is this amazing Low-Carb Turkey Soup with Zucchini Noodles! Trust me when I say you'll be amazed at how delicious this soup is!
Ground Turkey Soup with Mushrooms and Spinach is a long-time favorite soup on the blog that was updated to be made with cauliflower rice. There are instructions in the recipe for making this with leftover turkey.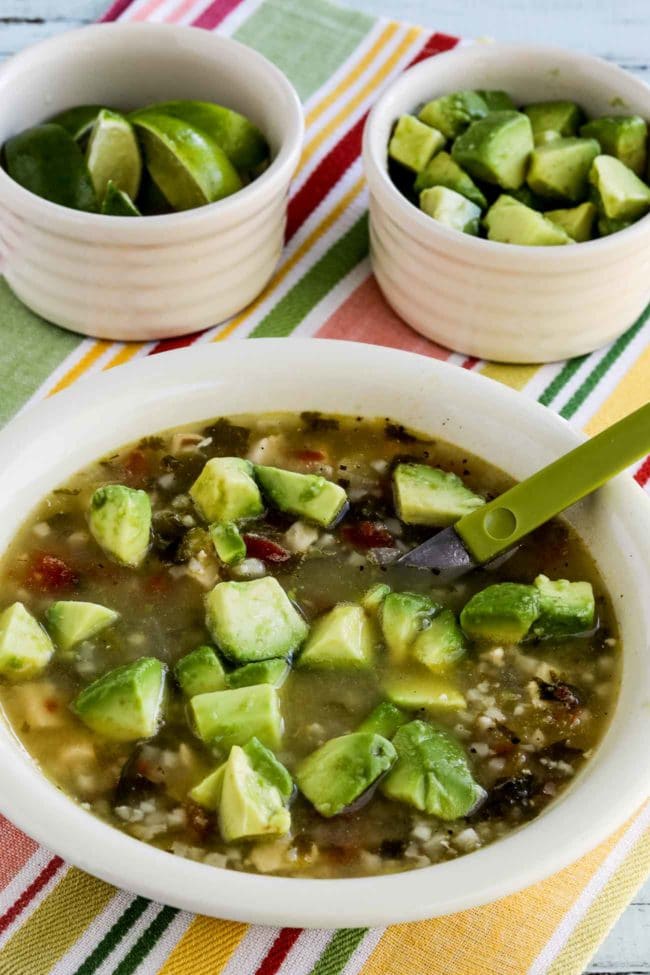 Instant Pot Low-Carb Chicken Tomatillo Soup is a really delicious soup made with chicken; just substitute diced turkey for the chicken to make this for an after-Thanksgiving soup.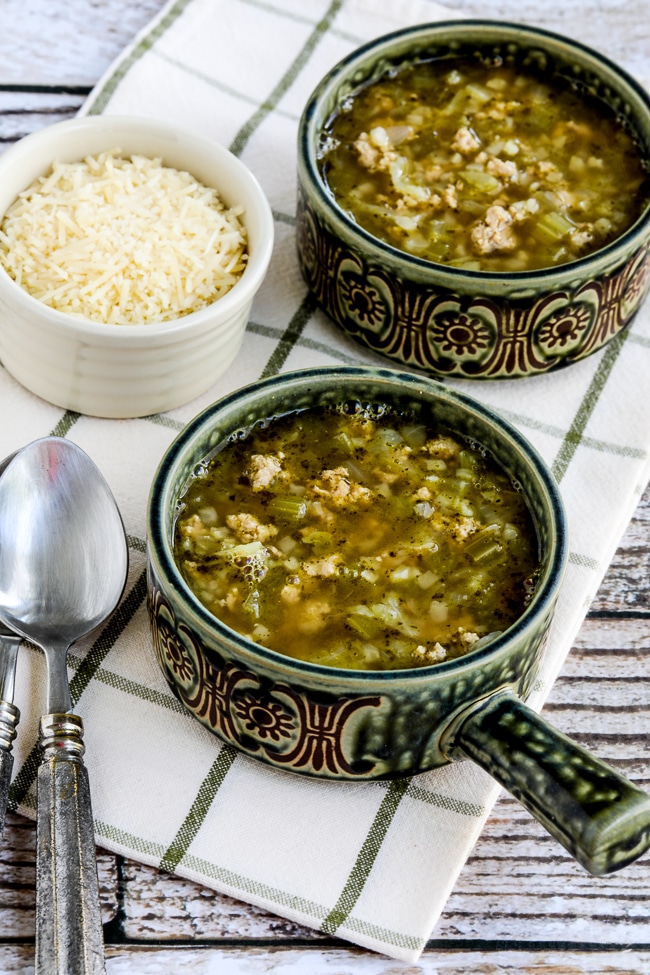 This Instant Pot Turkey Rice Soup with Cabbage is a low-carb ground turkey soup with cauliflower rice that has traditional turkey-soup flavors; see notes in the recipe for how to make this with leftover turkey!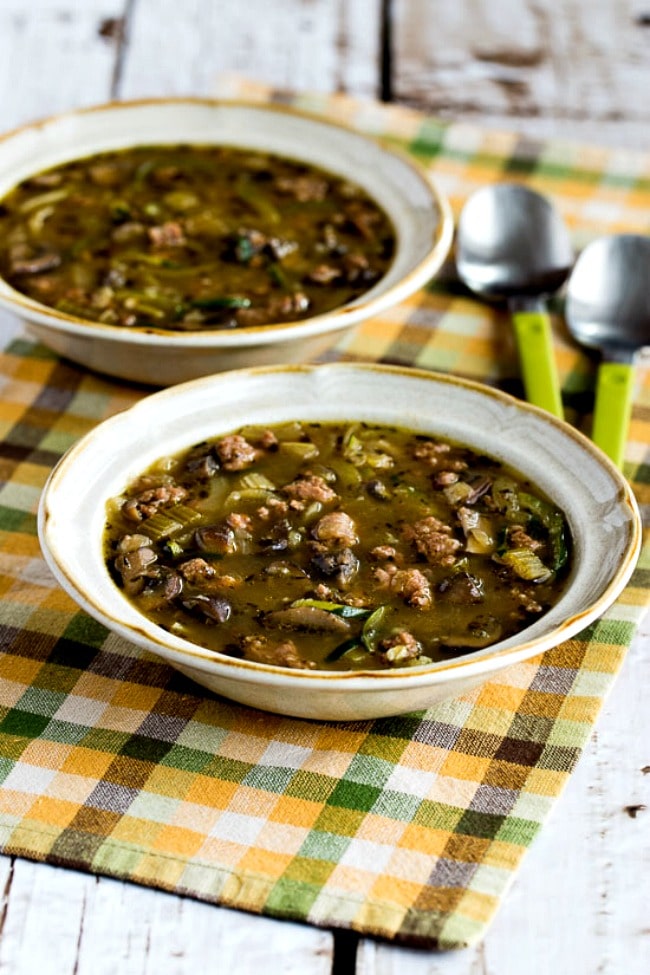 Turkey Mushroom Soup with Zucchini Noodles is another tasty idea for a turkey soup made with zucchini noodles. This recipe uses ground turkey, but see notes in the recipe if you'd like to substitute leftover turkey.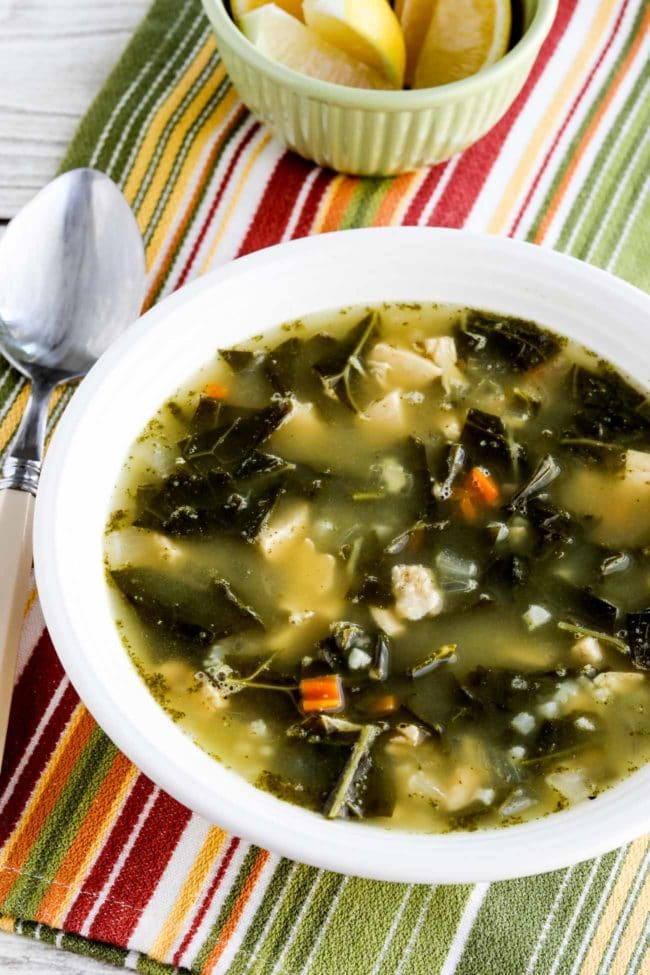 Chicken Soup with Collards and Lemon is a tasty soup made with diced chicken, so just substitute leftover turkey for the chicken and you're good to go on this one. And if you haven't tried collard greens in soup, they are so tasty!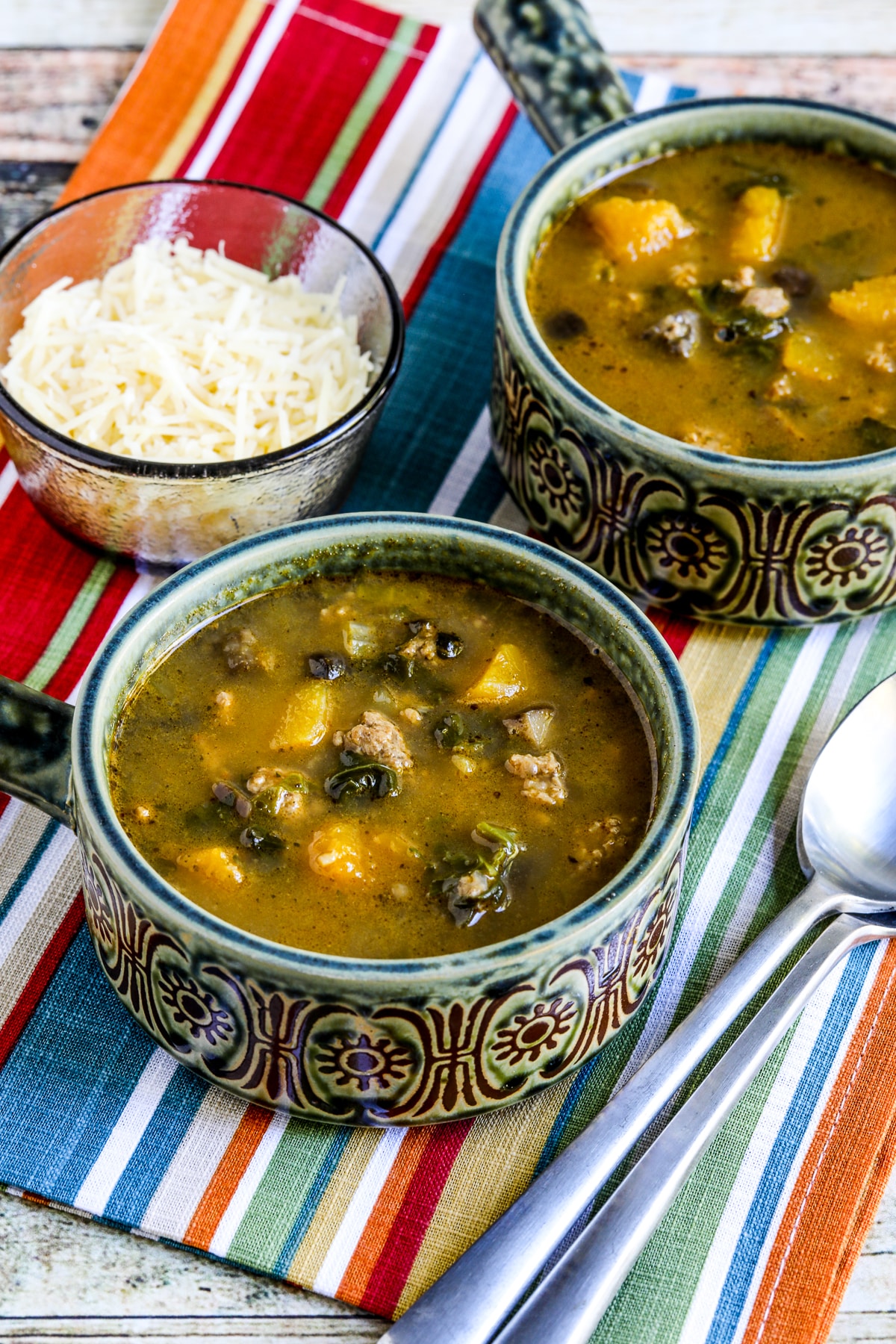 I updated this recipe for Turkey Soup with Kale, Mushrooms, and Butternut Squash to be lower in carbs, although it's probably too high in carbs for Keto unless you use a bit less butternut squash. But this soup is so delicious. See tips for making it would leftover turkey.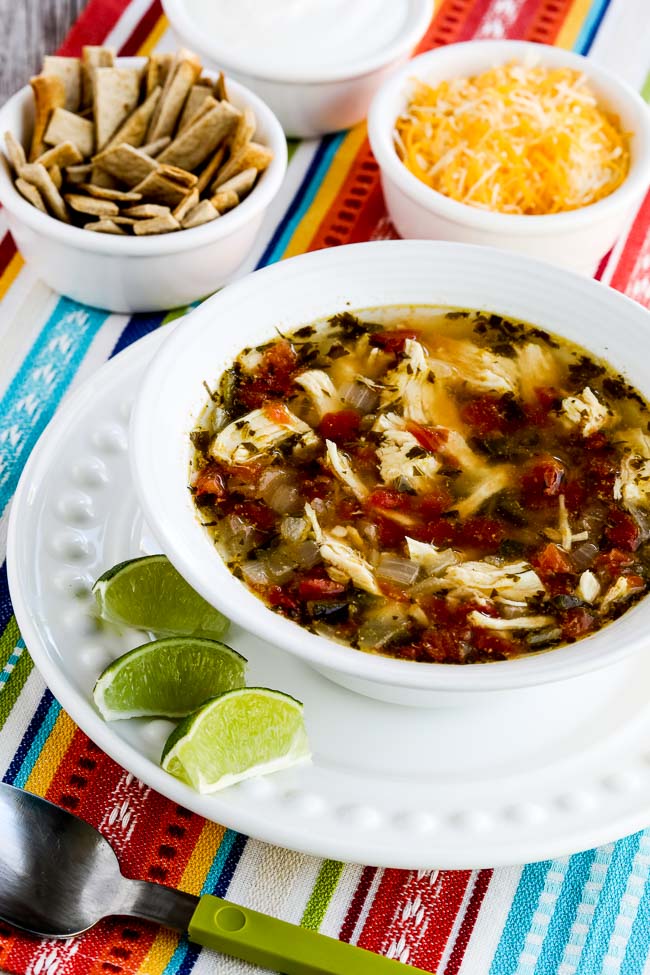 This Instant Pot Chicken Tortilla Soup has a lot of fans. This is a soup that starts with raw chicken that's cooked in the Instant Pot and shredded apart. But see the notes in the post about how to substitute leftover turkey in this tasty soup. We made tortilla strips with low-carb tortillas, but they're totally optional.
You may look at this recipe for Chicken Barley Soup and wonder how this can be a low-carb turkey soup recipe! But you can easy switch the chicken for leftover turkey, and there isn't much barley so this soup is surprisingly low in net carbs. Or there's an option for making the soup with frozen cauliflower rice if you want even fewer carbs!
Slow Cooker Turkey Soup with Spinach and Lemon has been one of my all-time favorite turkey soups to make with leftover turkey, and I also like using the slow cooker to get those great turkey soup smells filling up my house. The original recipe used whole wheat orzo, but there are instructions for replacing that with cauliflower rice to make a low-carb soup.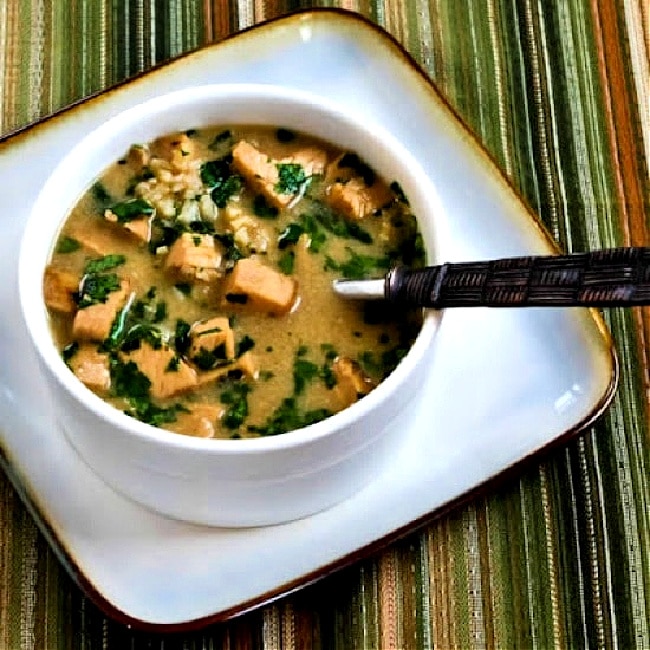 Coconut-Lime Turkey and Rice Soup is a really old recipe, but it's also one of the most unique turkey soups I've ever made and absolutely delicious! The recipe has info about how to switch out the brown rice for cauliflower rice to make this a low-carb soup!
We are a participant in the Amazon Services LLC Associates Program, an affiliate advertising program designed to provide a means for us to earn fees by linking to Amazon.com and affiliated sites. As an Amazon Associate, I earn from qualifying purchases.