25 Amazing Low-Carb Soup Recipes
It's starting to be soup weather, so today I'm sharing this collection of 25 Amazing Low-Carb Soup Recipes from Kalyn's Kitchen! These are the favorite soups I make over and over.
PIN the Low-Carb Soup Recipes to try some later!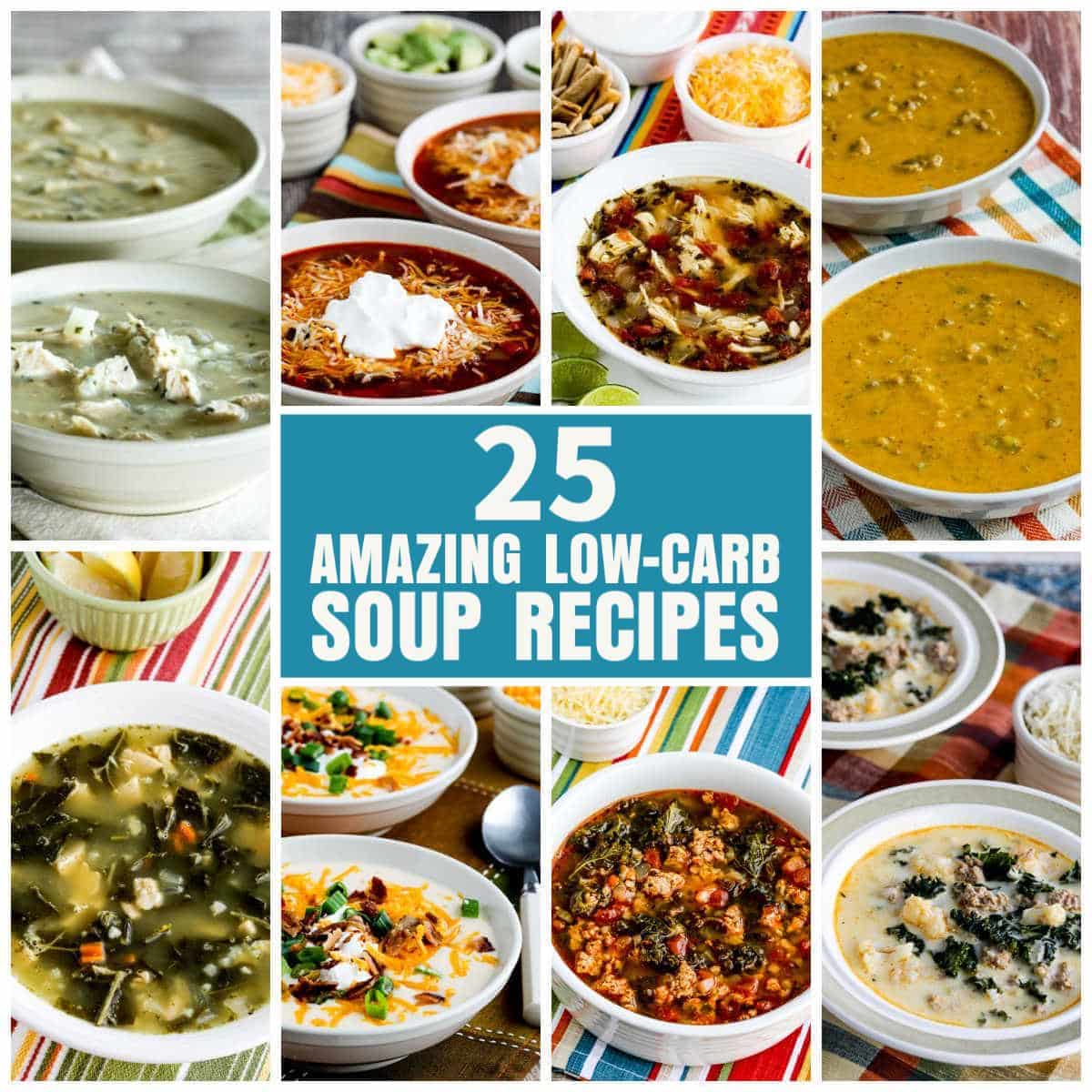 I do love making soup, and there've been a lot of good low-carb soup recipes posted on this site through the years! But this collection of 25 Amazing Low-Carb Soup Recipes has my very favorite soups. These are the soup recipes I make at least once every winter, including some soups I make over and over again all winter long.
And of course some of my current favorites are Instant Pot Soup Recipes, but there are still some very good options here for soup to make on the stove or in the slow cooker, as well as soups with instructions for more than one method.
I hope this collection of tasty soups will inspire you to make some soup soon, and don't you agree that soup is the perfect thing to make for Weekend Food Prep! I love starting out the week with a tasty soup in the fridge to reheat when I need a quick dinner!
Want even more Low-Carb Soup Recipes?
Instant Pot Zuppa Toscana Soup is a low-carb version of this classic soup that's been wildly popular on the blog, and this tasty soup has stovetop direction as well (after my friends asked for them!)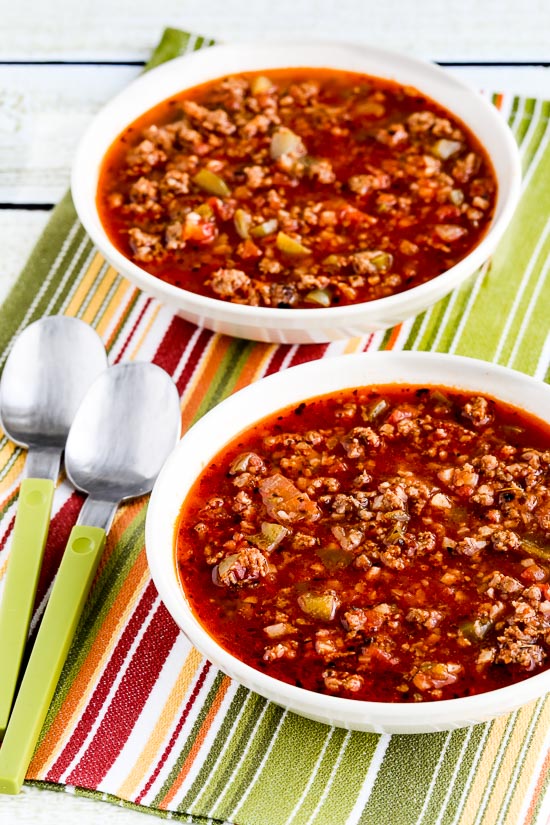 Low-Carb Stuffed Pepper Soup is a low-carb version of the Stuffed Pepper Soup that's been so popular on the blog, and this easy stovetop soup recipe uses frozen cauliflower rice to make it even easier!
We used my favorite low-carb tortillas in the air fryer to make the tortilla strips for this Instant Pot Chicken Tortilla Soup, but this soup is also tasty without them, and we loved this one when we tested the recipe!
I don't think there's any doubt that this Instant Pot Loaded Cauliflower Soup is the most popular soup recipe on the blog. So many people have tried this and loved it, even people who aren't big fans of cauliflower!
I'm known for my love of Hungarian Paprika, and I love the flavors in this delicious stovetop Goulash Soup, and I'd definitely eat mine with plenty of sour cream! (There's also a slightly different recipe for Instant Pot Goulash Soup if you prefer that method.)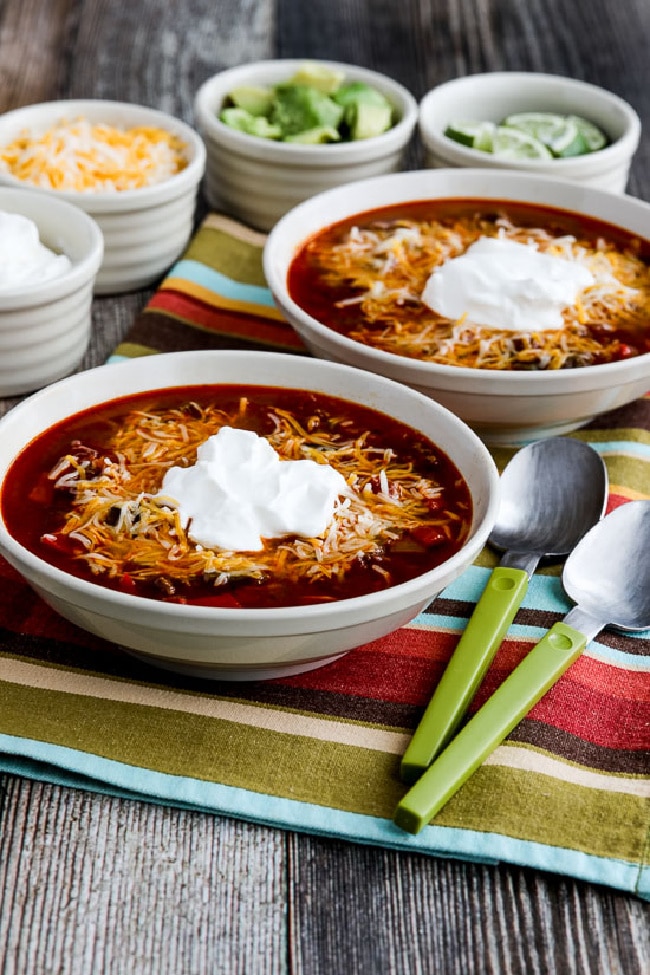 This recipe for Instant Pot Taco Soup definitely has a lot of fans, and this is a low-carb soup recipe the whole family is probably going to love.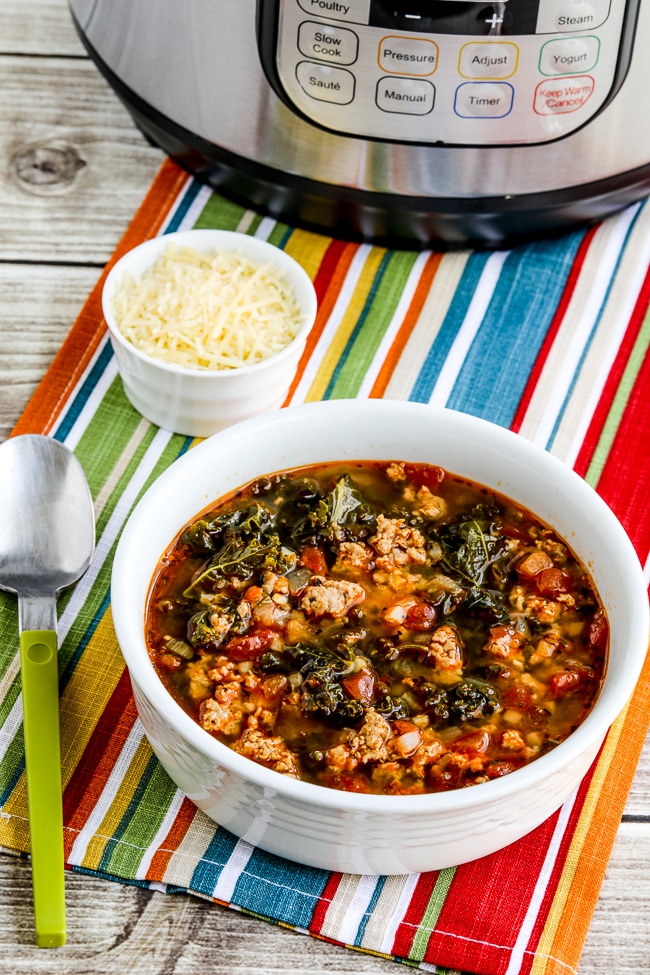 I'm crazy about this Instant Pot Sausage and Kale Soup that was inspired by some earlier soup recipes, and this soup uses cauliflower rice to keep it low in carbs! Of course I'd eat mine with plenty of Parmesan cheese!
You might be surprised to see a pumpkin soup recipe in a list of low-carb soups, but my Instant Pot Pumpkin Soup has sausage, onion, green pepper, pumpkin, cauliflower rice, cream, and just the right spices, and this soup has definitely been a huge hit on the site!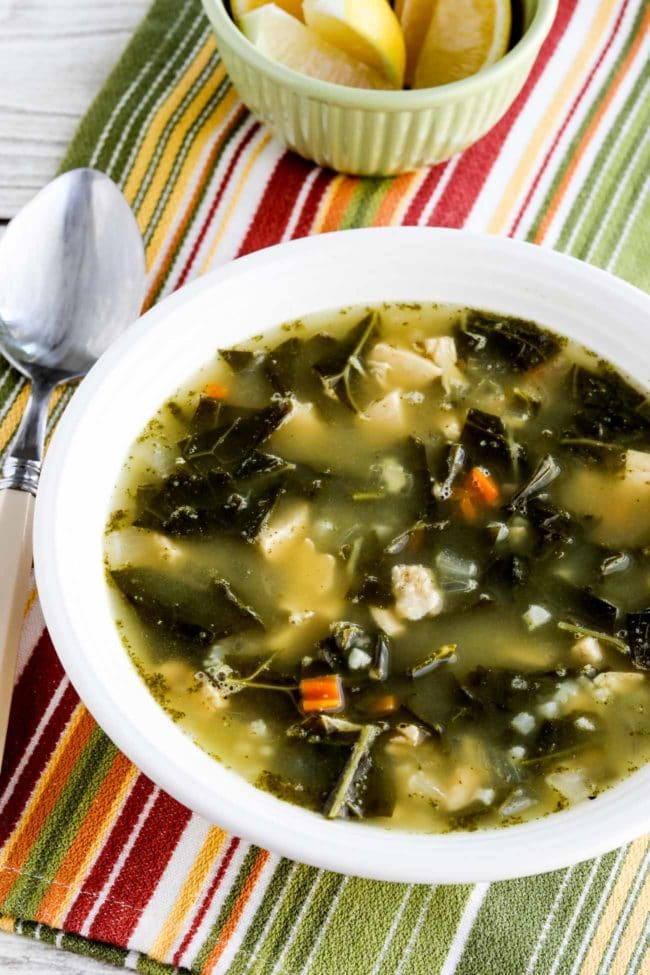 People who love lemon and greens (like me!) are going to love this low-carb Chicken Soup with Collards and Lemon and this tasty lemony soup can also be made with leftover turkey when you're lucky enough to get some!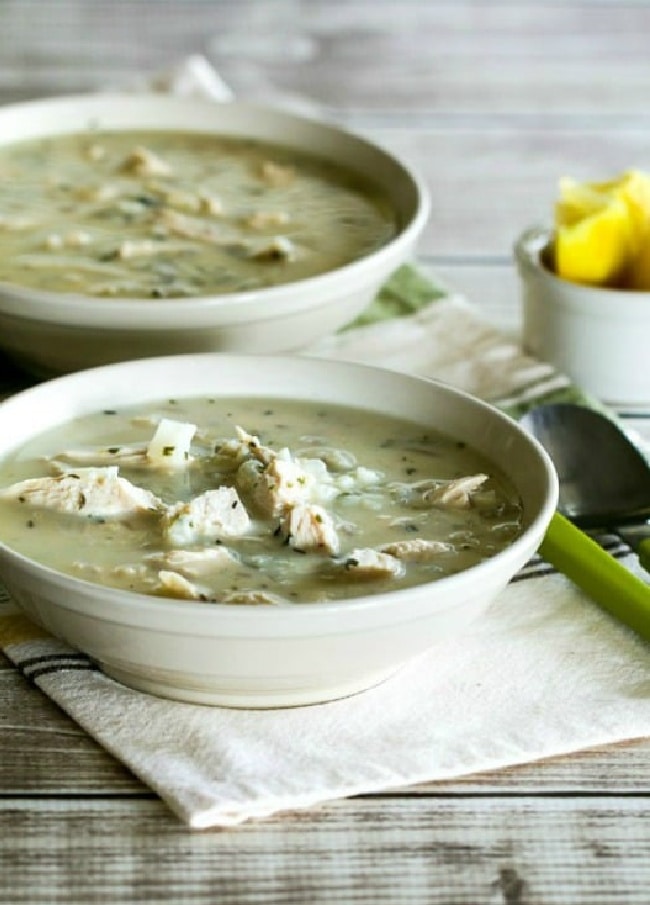 I'm a long time fan of Greek Egg Lemon Soup and and you can use rice or cauliflower rice for my version that's called Greek Lemon Soup Two Ways! This soup is definitely always a winner!
Fifteen More Low-Carb Soup Recipes:
We are a participant in the Amazon Services LLC Associates Program, an affiliate advertising program designed to provide a means for us to earn fees by linking to Amazon.com and affiliated sites. As an Amazon Associate, I earn from qualifying purchases.