The Top Ten Low-Carb Soup Recipes on Kalyn's Kitchen
It's soup weather again, so today I'm updating this collection of The Top Ten Low-Carb Soup Recipes on Kalyn's Kitchen!
PIN my Top Ten Low-Carb Soup Recipes so you can find it later!
In Utah we've already had a few days of soup weather this year. I do love making soup, and there've been a lot of good low-carb soup recipes posted since I first shared this collection of my Top Ten Low-Carb Soup Recipes! So today I'm updating this post to reflect my current favorite soups; check after the photos for links to all the soups that were originally included.
There are also a few more honorable mention soups and some other soup collections linked after the photos, because you know how I can't ever narrow it down! Of course, a lot of my current favorites are Instant Pot Soup Recipes, but there are still some very good options here for soup to make on the stove, as well as several soups with instructions for both ways.
I hope this collection of tasty soups will inspire you to make some soup over the weekend, and don't you agree that soup is perfect to make for Weekend Food Prep! Use Recipe Round-Ups to find more recipe collections like this one.
Instant Pot Zuppa Toscana Soup is a low-carb version of this classic soup that's been wildly popular on the blog, and this tasty soup has stovetop direction as well (after my friends asked for them!)
Instant Pot Soup with Ground Beef, Green Beans, and Tomatoes was a big hit on the blog, and there are stovetop directions if you don't have a pressure cooker.
I don't think there's any doubt that this Instant Pot Low-Carb Loaded Cauliflower Soup is the most popular soup recipe on the blog. So many people have tried this and loved it, even people who aren't big fans of cauliflower!
Last year I discovered how great zucchini noodles are in soup, and we loved this Low-Carb Turkey Soup with Zucchini Noodles. You can also make it with chicken.
I love Greek Egg Lemon Soup so much I decided to come up with a low-carb version and this Greek Egg Lemon Chicken Soup with Cauliflower Rice is a winner!
We used my favorite low-carb tortillas in the air fryer to make the tortilla strips for this Instant Pot Chicken Tortilla Soup, but this soup is also tasty without them, and we loved this one when we tested the recipe!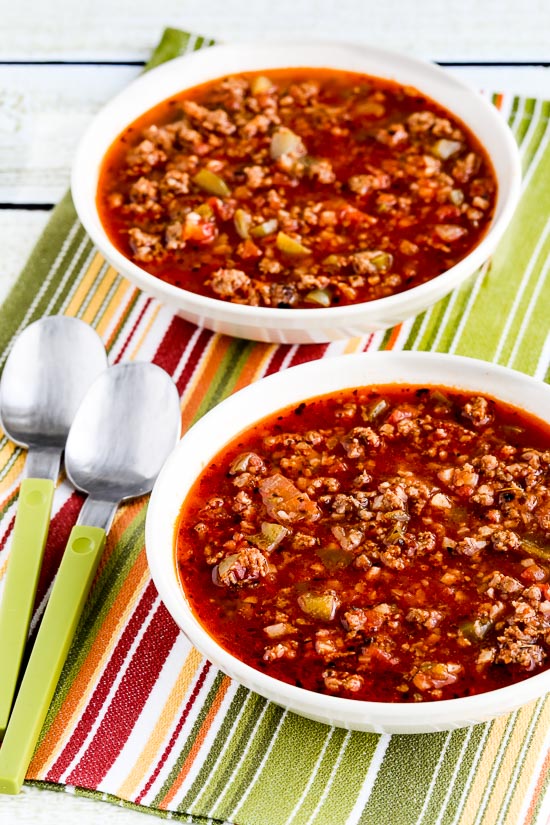 Low-Carb Stuffed Pepper Soup is a low-carb version of the Stuffed Pepper Soup that's been so popular on the blog, and this easy stovetop soup recipe uses frozen cauliflower rice to make it even easier!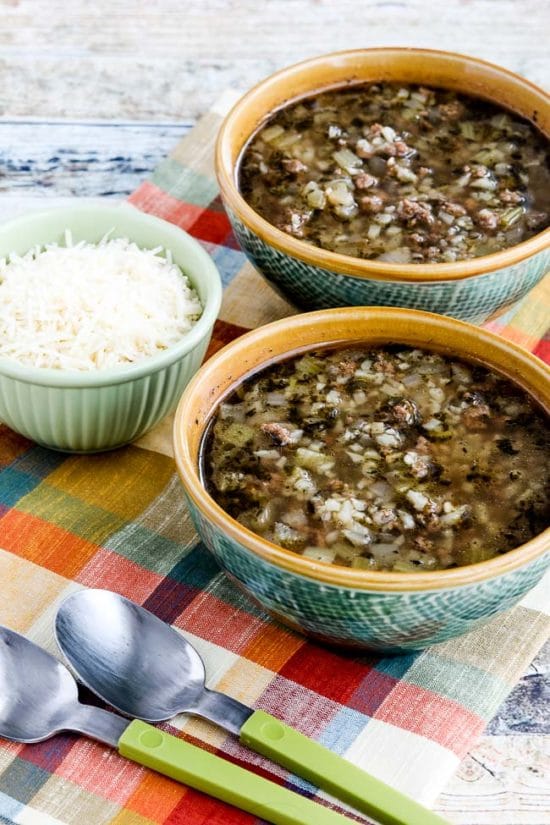 Instant Pot Low-Carb Ground Beef Cauliflower Soup was also inspired by an earlier soup recipe, but this version with cauliflower rice instead of barley is so tasty for a low-carb soup! And most people usually have ground beef in the freezer, so remember this when you need an idea for using it. (There's also a link to that earlier recipe if you want to make this one on the stove.)
I'm not always a ground turkey fan, but using mushroom soup base to make mushroom stock added loads of flavor to this Turkey, Mushroom, and Zucchini Noodle Soup.
And finally, this Instant Pot Low-Carb Goulash Soup has those Hungarian flavors I love so much, and it's definitely a favorite.
Ten More Tasty Low-Carb Soups:
Ground Beef and Sauerkraut Soup
Italian Sausage Soup with Tomatoes and Zucchini Noodles
Zucchini and Yellow Squash Soup
Instant Pot Cauliflower Soup with Mushrooms
Instant Pot Taco Soup
Cheesy Broccoli and Cauliflower Soup
Slow Cooker Ground Beef Soup with Cabbage
Instant Pot Sausage and Kale Soup
Slow Cooker Cabbage Soup with Sausage
Leftover Corned Beef Soup
More Low-Carb Soup Collections:
Ten Tasty Low-Carb Soups with Ground Beef
10 Deliciously Healthy Low-Carb Soups with Cauliflower
The BEST Low-Carb Instant Pot Soup Recipes
More Low-Carb Instant Pot Soup Recipes:
If you love making soup in the Instant Pot, check out 50 Amazing Low-Carb Instant Pot Soup Recipes on my mother site, Slow Cooker or Pressure Cooker!
We are a participant in the Amazon Services LLC Associates Program, an affiliate advertising program designed to provide a means for us to earn fees by linking to Amazon.com and affiliated sites. As an Amazon Associate, I earn from qualifying purchases.