Goulash Soup
Goulash Soup has ground beef, roasted red peppers, cabbage and plenty of paprika, and this soup is delicious and low in carbs!
PIN Goulash Soup to try it later!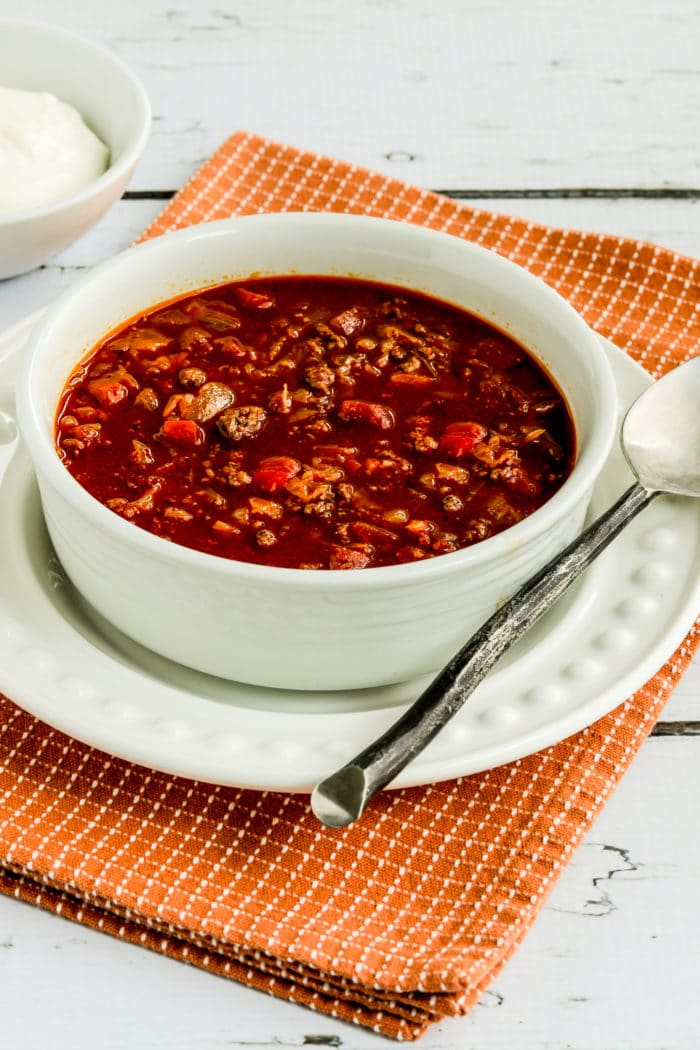 This Goulash Soup that has ground beef, roasted red peppers, and cabbage with two kinds of paprika is a favorite soup recipe I've been making for many years. I love Hungarian flavors, and if you use Hungarian paprika this recipe is reminiscent of Hungarian Gulyas but without potatoes and other higher-carb veggies.
And I'm of the opinion that lots of paprika is essential in a soup like this! And of course I love cabbage, so the added cabbage in this soup is just a plus for me! If you're not such a cabbage fan, Instant Pot Goulash Soup has similar flavors without the cabbage, and that one also uses lots of paprika!
What ingredients do you need for this recipe?
How to save time when making Goulash Soup:
When we made this soup recently to improve the photos, I hit upon the idea of using package coleslaw mix instead of cabbage. That made the work of chopping up the cabbage a bit faster!
What kind of Paprika did I use?
I used both sharp and sweet paprika in the soup and I prefer Szeged Paprika (affiliate link), but any Hungarian paprika will be good. You can probably get by with only sweet paprika, especially if you're making it for kids; maybe add a pinch of cayenne pepper if you only use sweet paprika.
Want more soups with Cabbage?
Check out Low-Carb and Keto Soups with Cabbage for more tasty soups like this one!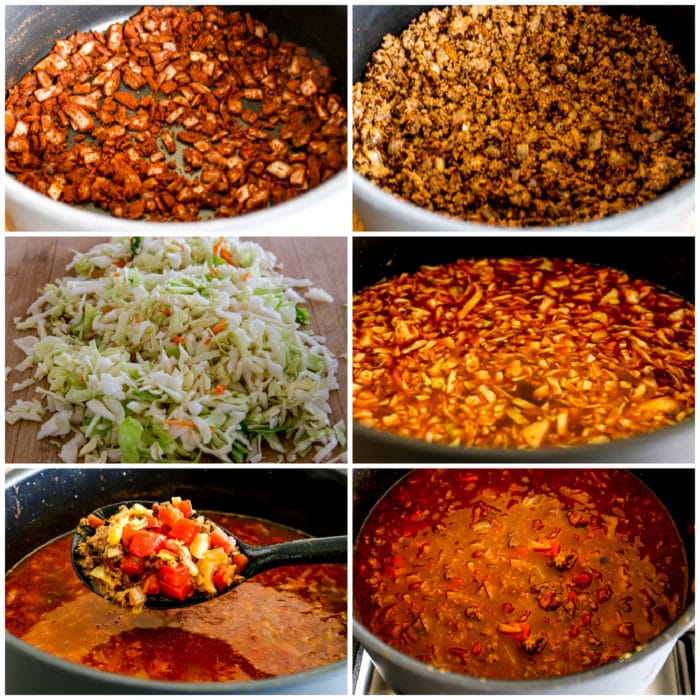 How to make Goulash Soup:
(Scroll down for complete printable including nutritional information.)
Chop the onion. Heat olive oil in the soup pot and cook onions for about 2 minutes or until they are starting to brown, then add Minced Garlic (affiliate link) and cook about 2 minutes more.
If you're using the optional caraway seed, grind it a bit with a mortar and pestle or crush with a heavy mallet or knife. Add the paprika and caraway seed to the browned onions and garlic and cook a minute or two more.
Add ground beef to soup pot and cook until it's nicely browned.
Add beef stock or broth to the soup pot, then add tomatoes, cabbage or cole slaw mix, and water to the soup pot and start to simmer.
Let the soup simmer 30-40 minutes.
Then drain the Roasted Red Peppers (affiliate link) and chop into pieces, then add to the soup.
Taste for seasoning, and add more paprika if needed.
Let soup simmer another 30-40 minutes.
Serve hot, preferably with sour cream added at the table.
This soup freezes especially well, and I'd love to pull a container of it out of the freezer on a cold night!
More Recipes with Roasted Red Peppers:
Weekend Food Prep:
This recipe has been added to a category called Weekend Food Prep to help you find recipes you can prep or cook on the weekend and eat during the week!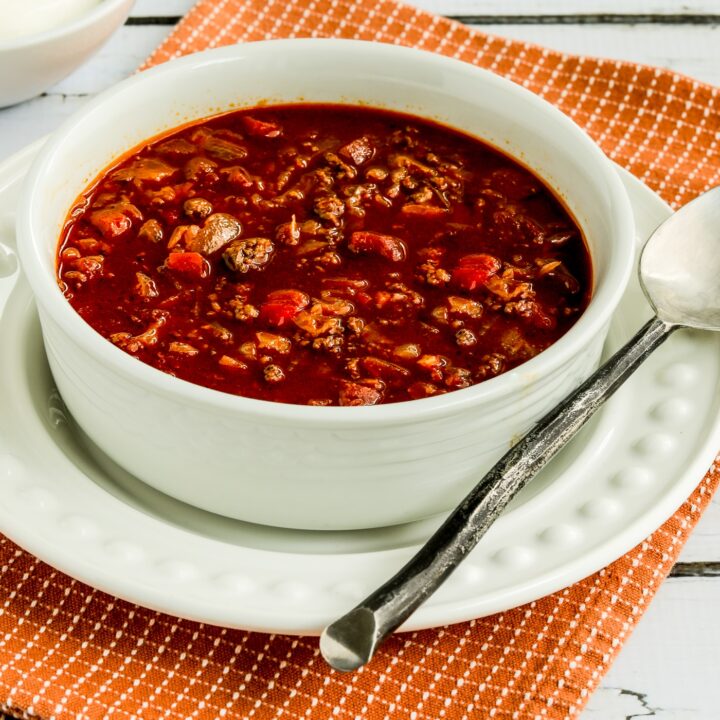 Yield: 8 servings
Goulash Soup
Prep Time 20 minutes
Cook Time 1 hour 20 minutes
Total Time 1 hour 40 minutes
This low-carb Goulash Soup has ground beef, roasted red peppers, cabbage, and two kinds of Hungarian Paprika, and this soup is really delicious and low in carbs!
Ingredients
1 small onion, diced
1 T finely minced garlic
1 T olive oil
2 T sweet Hungarian Paprika
1 T hot Hungarian Paprika (or less, to taste)
1/2 tsp. crushed caraway seed (optional)
6 cups homemade beef stock (see notes)
2 T beef flavor base, preferably Better than Bouillon
2 14.5 oz. cans diced tomatoes (see notes)
3 cups finely diced cabbage (see notes)
1 1/2 lbs. lean ground beef 
1 12 oz. jar roasted red peppers, diced into 1 inch pieces
sour cream for serving; optional but highly recommended
Instructions
Heat large soup pot, add oil, and cook chopped onions about 2 minutes, until barely starting to color.
Add garlic and saute 2 minutes more, then add paprika (and caraway if using) and saute 1 minute more.
Add ground beef to pot and cook until beef is nicely browned.
Add beef stock and beef flavor base to soup pot. Add canned tomatoes, cabbage and 2 cups water to soup pot and start to simmer.
Let the soup simmer on very low heat for 30-40 minutes.
Taste for seasoning and add more paprika if desired. I personally think you can never have too much paprika in a soup like this.
Then add diced red peppers and simmer about 30-40 minutes more. Serve hot, garnished with sour cream if desired.
This freezes very well.
Notes
I'm a fan of Szeged Paprika (affiliate link) but any Hungarian paprika will be good in a soup like this.
If you don't have homemade beef stock just use 5 cans of beef broth, 14 oz. each and a bit of water.
Recipe created by Kalyn.
Nutrition Information:
Yield:
8
Serving Size:
1
Amount Per Serving:
Calories: 217
Total Fat: 10g
Saturated Fat: 3g
Unsaturated Fat: 6g
Cholesterol: 50mg
Sodium: 360mg
Carbohydrates: 12g
Fiber: 3g
Sugar: 6g
Protein: 20g
Nutrition information is automatically calculated by the Recipe Plug-In I am using. I am not a nutritionist and cannot guarantee 100% accuracy, since many variables affect those calculations.
Low-Carb Diet / Low-Glycemic Diet / South Beach Diet Suggestions:
This flavorful Goulash Soup is good for low-carb diets. If it's made with lean ground beef and served with low fat sour cream, this is a great soup for any phase of the original South Beach Diet.
Find More Recipes Like This One:
Use Soup Recipes to find more recipes like this one. Use the Diet Type Index to find recipes suitable for a specific eating plan. You might also like to follow Kalyn's Kitchen on Pinterest, on Facebook, on Instagram, on TikTok, or on YouTube to see all the good recipes I'm sharing there.
Historical Notes for this Recipe:
This recipe was posted in 2006! I have made it many times for my annual soup party on New Year's Day. It was updated with better photos and more information in 2021 and updated again with more information in 2022.
We are a participant in the Amazon Services LLC Associates Program, an affiliate advertising program designed to provide a means for us to earn fees by linking to Amazon.com and affiliated sites. As an Amazon Associate, I earn from qualifying purchases.