Low-Carb and Keto Recipes with Sriracha
This spicy round-up of Low-Carb and Keto Recipes with Sriracha is for all the carb-conscious eaters who love Sriracha Rooster Sauce! I hope you find something tasty and spicy to make!
PIN Low-Carb and Keto Recipes with Sriracha!
I still remember the first time I saw a bottle of Sriracha Sauce on the table at Cafe Trang, a now-closed Vietnamese restaurant in Salt Lake. My friends called it "Rooster Sauce" and warned me how hot it was. But now I love Sriracha Sauce (affiliate link) when I'm wanting to add spicy flavor, especially for Asian foods, and this post has my favorite Low-Carb and Keto Recipes with Sriracha.
Sriracha has one carb per teaspoon, but it's so spicy that when you use it in a recipe you're only using a tiny amount, so this is an ingredient that has built-in carb control! If you're a Sriracha fan like I am, I'd love to hear in the comments about your favorite way to use it!
My Number One Way to Use Sriracha:
Even though I have this whole collection of recipes with Sriracha, my favorite way to use it is in this tasty and easy-to-make Sriracha Dipping Sauce! Check out that post for the easy recipe and 15 ways to use this addictive dipping sauce!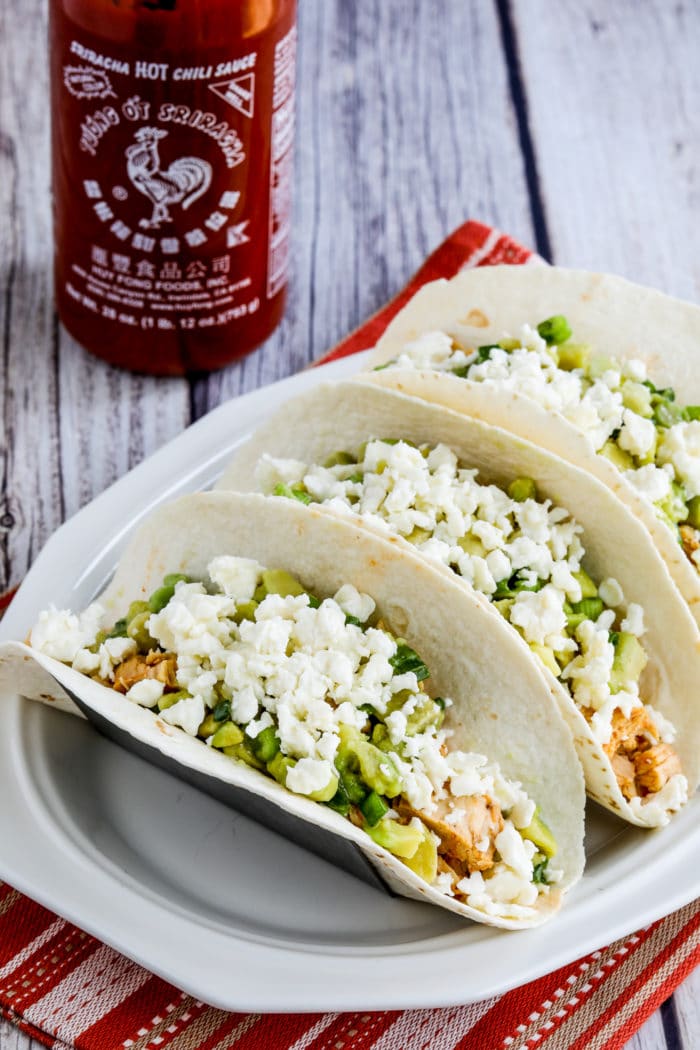 Instant Pot Sriracha Chicken Tacos are the newest recipe using Sriracha on the blog, and these slightly-spicy tacos are delicious with the avocado salsa and creamy Queso Fresco! (12 carbs, 4 grams fiber; eat the Sriracha chicken in lettuce wraps if you want fewer carbs)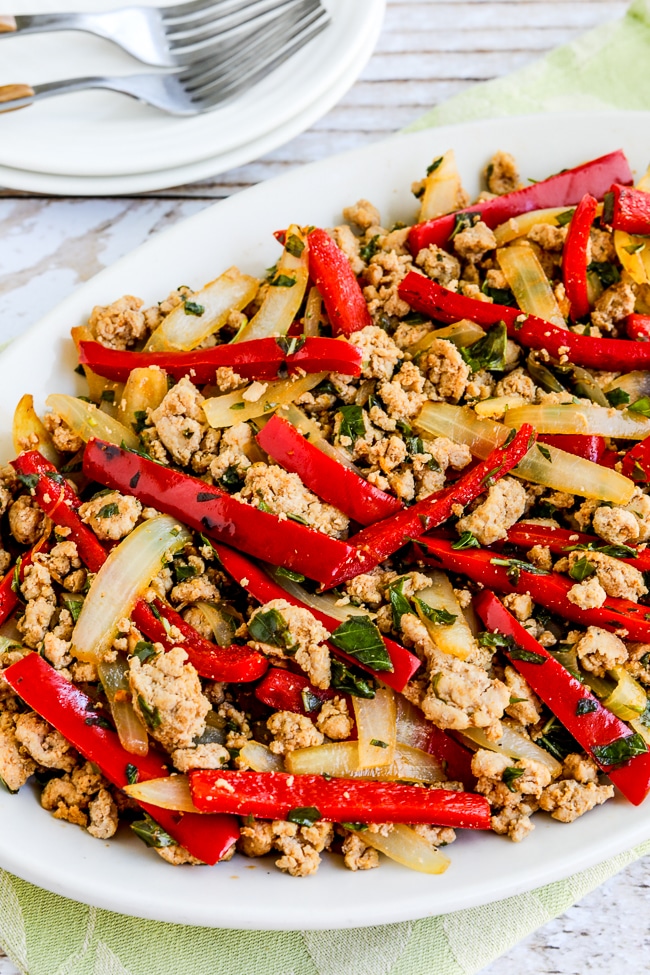 You can use more or less Sriracha to taste in this Thai-Inspired Ground Turkey Stir Fry but I love the spicy flavor notes the Sriracha adds to this! (7 carbs, 1 gram fiber)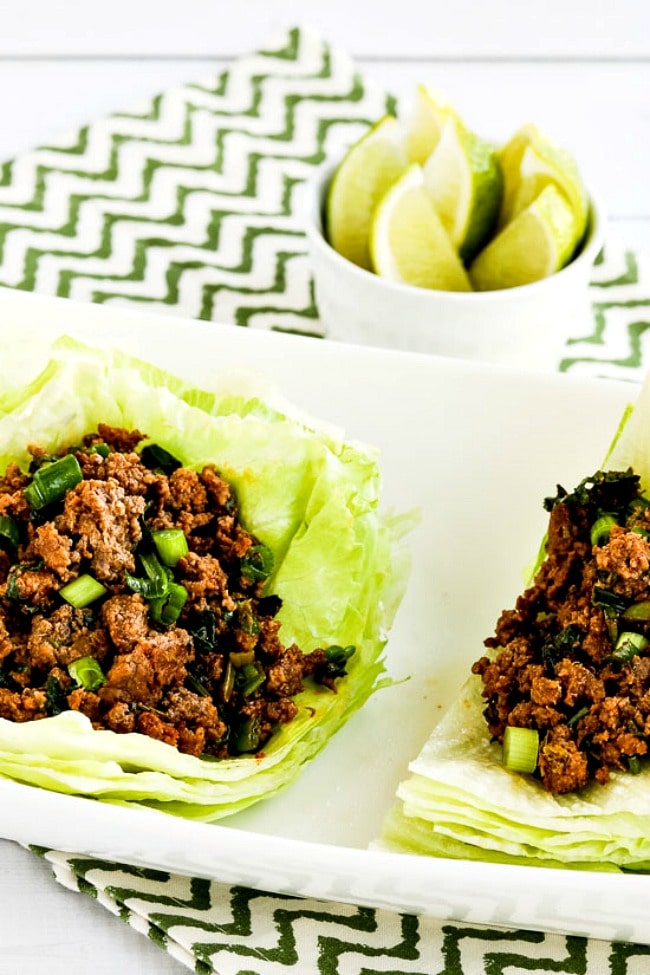 It's easy to tell that I love lettuce wraps, but these Low-Carb Sriracha Beef Lettuce Wraps are a spicy lettuce wrap I make over and over! (8 carbs, 2 grams fiber)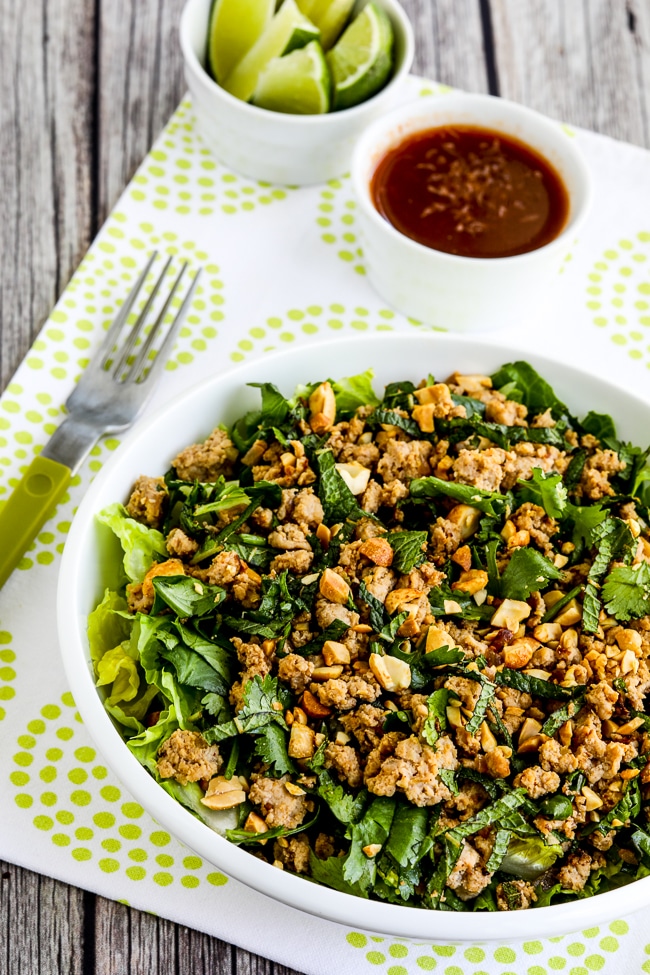 Thai-Inspired Turkey Larb Salad is a dish I love to order in a Thai restaurant. My version is a bit less spicy than the restaurant version, but you can add more Sriracha if you'd like! (12 carbs, 4.3 grams fiber)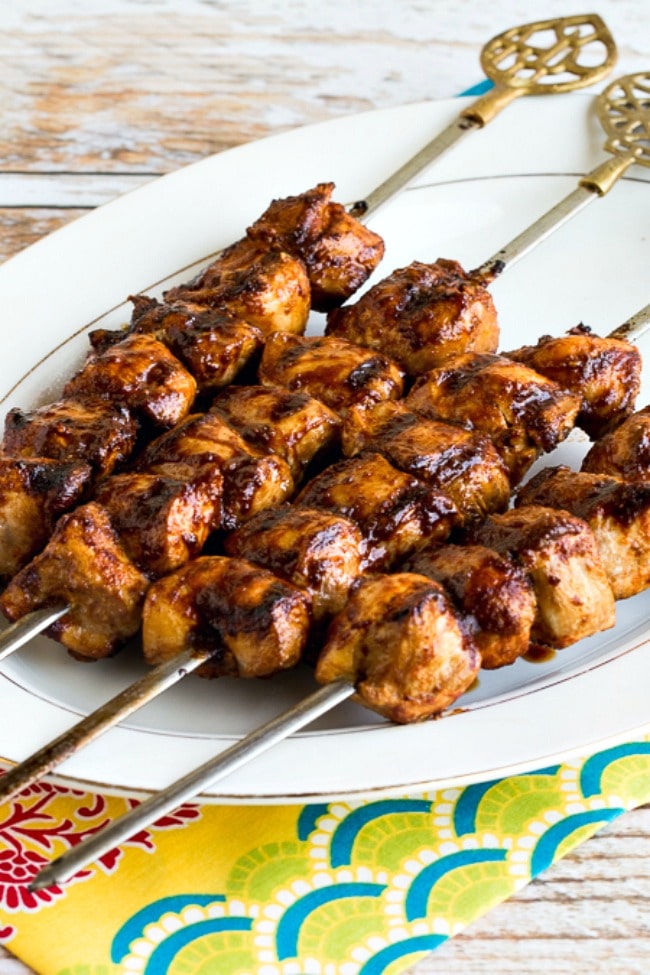 If you're ready to fire up the grill, these Sriracha-Glazed Grilled Chicken Kabobs will be a hit with anyone who likes Sriracha. You can adjust the amount of heat to your preference. (7 carbs, 1 gram fiber)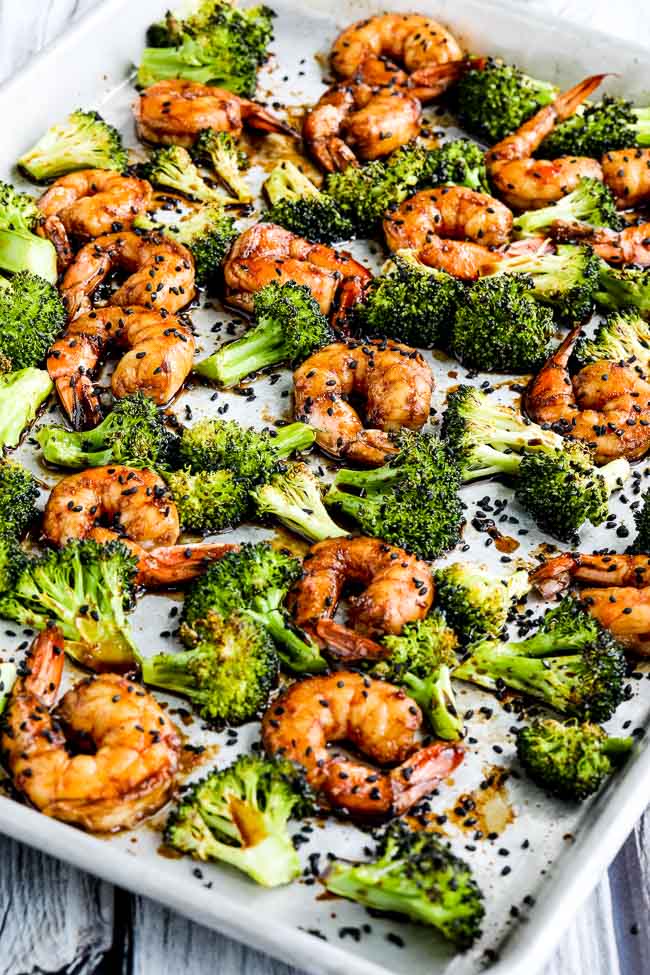 One of the most popular recipes on the blog using Sriracha is this delicious Sriracha-Spiced Shrimp and Broccoli Sheet Pan Meal, and I've made this many times since I posted the recipe. (10.5 carbs, 5 grams fiber)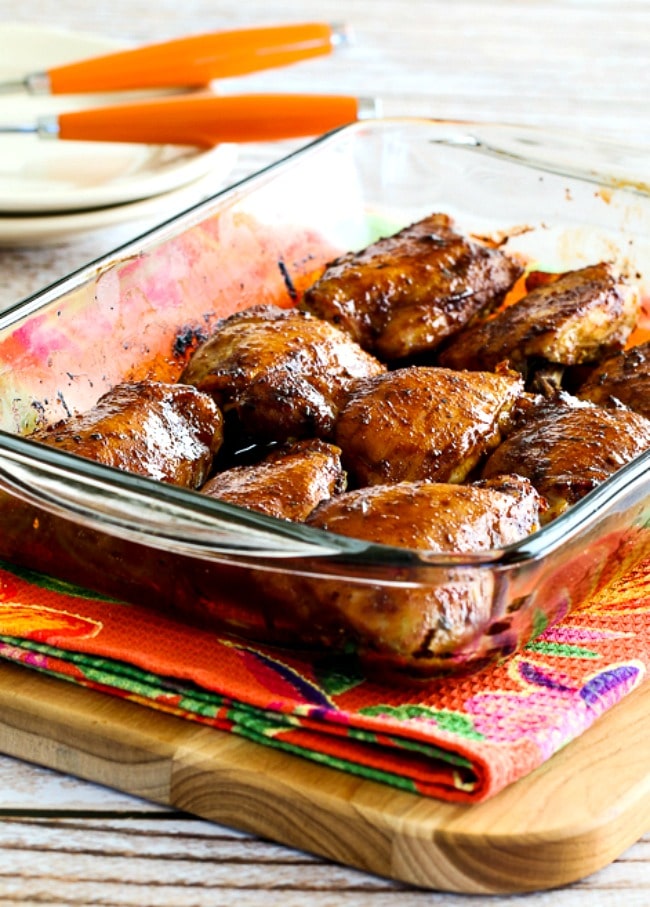 It took Kara and I a few tries to come up with this recipe for Sweet and Spicy Baked Sriracha Chicken, but the end result was a winner. And please don't be scared by the word sweet; you can use any sweetener you'd like in this recipe. (3 carbs, 0 grams fiber)
I made two of my favorite recipes when my friend Jeanne came to lunch, and when she suggested combining them, that's how this Sriracha Beef Cabbage Bowl was born! (14 carbs, 4 grams fiber)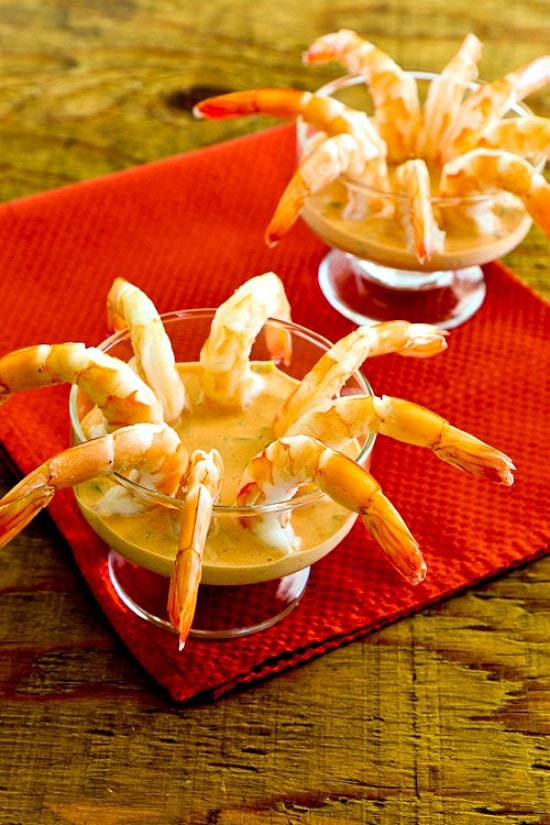 Another variation on the shrimp with Sriracha combination I think is so great is this Shrimp Cocktail with Sriracha Cocktail Sauce. I love this any time of year and it's a great appetizer for a special meal! (4 carbs, 0 grams fiber)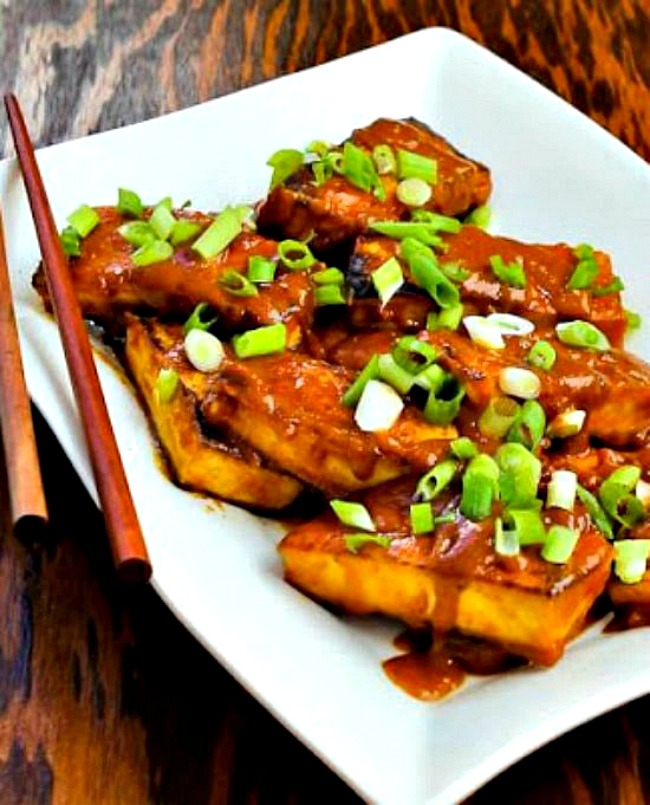 Peanut Butter Tofu with Sriracha is a meatless dish that's been super popular on the blog, and if you think you don't like Sriracha, this method of frying the tofu might change your mind! (6 carbs, 2 grams fiber)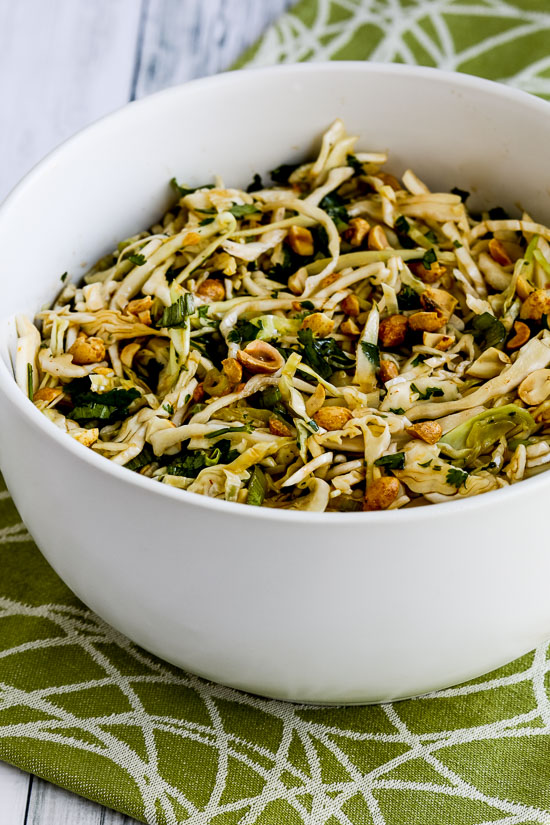 I'm a nut for cabbage salads, and I love the spicy flavor Sriracha adds to this Spicy Cilantro Peanut Slaw. You can sub the cilantro for thinly-sliced green onion if you're not a cilantro fan and this will still be delicious! (5 carbs, 2 grams fiber)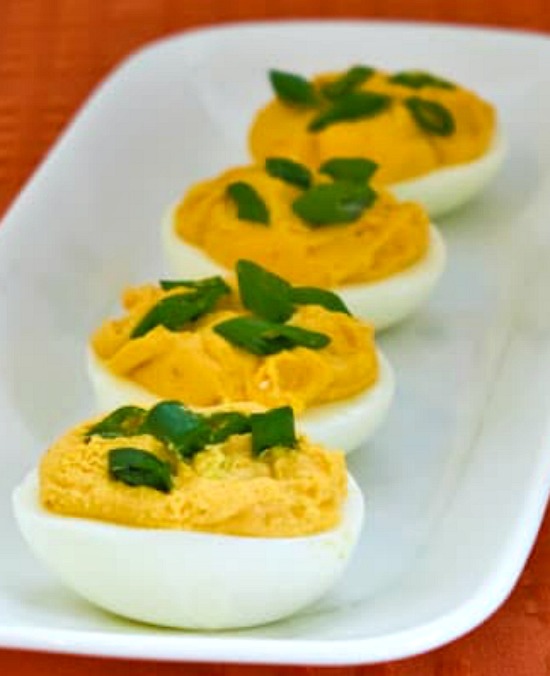 And finally, I had to include these Sriracha Deviled Eggs that's something that true Sriracha fans are going to swoon over! (1.3 carbs, 0 grams fiber)
More Ways to Enjoy That Sriracha Flavor:
Vegan Red Cabbage Bowl with Tofu and Peanut Sauce
Julienned Zucchini Vegan Bowl with Peanut-Sriracha Sauce
Roasted Cabbage with Lime and Sriracha
Asian Cabbage Salad with Sriracha and Sesame
Oven-Fried Green Tomatoes with Sriracha-Ranch Dipping Sauce
Sriracha-Spiced Stir-Fried Eggplant with Tofu
Grilled Salmon with Maple-Lime-Sriracha Glaze
Still Hungry?
You can use Recipe Round-Ups to find more low-carb round-ups like this one!
We are a participant in the Amazon Services LLC Associates Program, an affiliate advertising program designed to provide a means for us to earn fees by linking to Amazon.com and affiliated sites. As an Amazon Associate, I earn from qualifying purchases.