Vietnamese Chicken Salad with Cabbage
Vietnamese Chicken Salad with Cabbage is perfect to make with leftover chicken, and I love the Asian flavors in this slightly-spicy salad!
PIN Vietnamese Chicken Salad with Cabbage to try it later!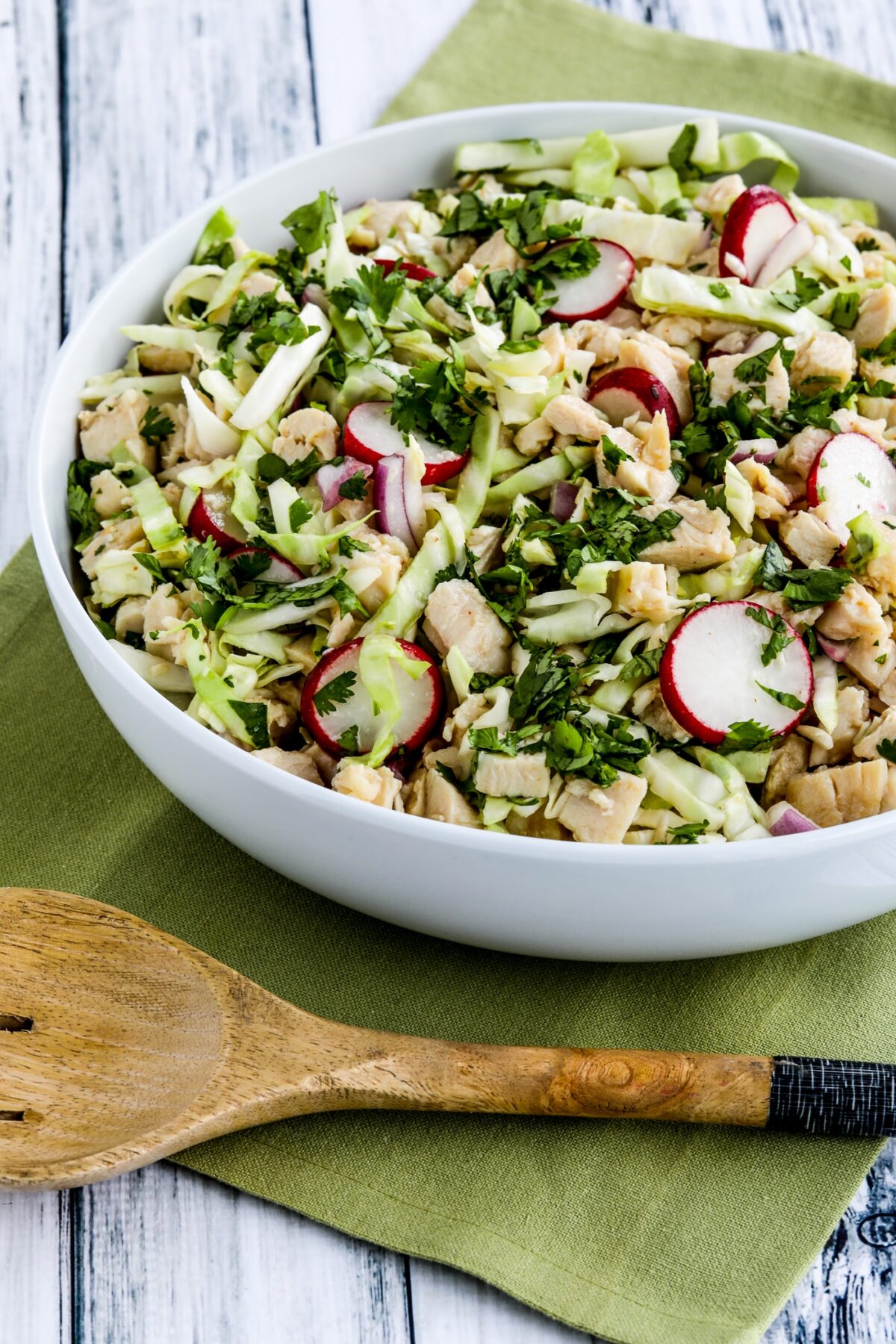 Many years ago one of my blogging friends posted a recipe that's no longer online that she called Vietnamese Cole Slaw, and the minute I saw the recipe, I knew I'd be making some version of it. Glenna had a Vietnamese co-worker at that time who told her that in Vietnam the dressing for this type of salad would never contain oil, and that caught my interest.
And when I turned that recipe into this Vietnamese Chicken Salad with Cabbage I fell in love with the light but highly flavored dressing that includes so many great Asian flavors like fish sauce, rice vinegar, lime juice, garlic, sweetener, and Sriracha Sauce. Having good quality fish sauce makes a big difference here, and don't be put off by the smell, fish sauce tastes amazing in small amounts.
And since I have a hard time walking by those rotisserie chickens at Costco without having one jump into my cart, I'm always looking for salads ideas to use the leftover chicken. With the light dressing, chicken, radishes, and crunchy cabbage, I think this salad is perfect for summer.
What ingredients do you need?
What kind of fish sauce did I use?
I'm a huge fan of Red Boat Fish Sauce, which has zero carbs and is gluten-free, and Red Boat contains only fresh caught wild black anchovies and sea salt. But if you don't find that premium fish sauce where you shop, you can't go wrong with Three Crabs Fish Sauce, which I learned about from Lydia's post on fish sauce. Read that if you've never cooked with fish sauce before.
What if you don't like raw onion?
You can definitely use green onion in this salad to replace the red onion if you prefer. But one technique that tames down the onion a bit is to add the sliced onion to the chicken when it's marinating, so you might want to try that if you're not a big raw onion fan.
Why is this salad good for Weekend Food Prep?
This is a great salad idea for Weekend Food Prep! One thing I'm trying to do at my house is have salad fixings in the fridge so I'm ready for lunch, and everything about this salad (except maybe the chopped cilantro) could be prepped ahead and then tossed together when you're ready to eat. This easy salad with Vietnamese flavors is really a keeper; hope everyone will like it!
Want more Cabbage Salad Ideas?
If you're a big cabbage fan, check out Low-Carb and Keto Cabbage Salads to see lots more of my favorite salads with cabbage.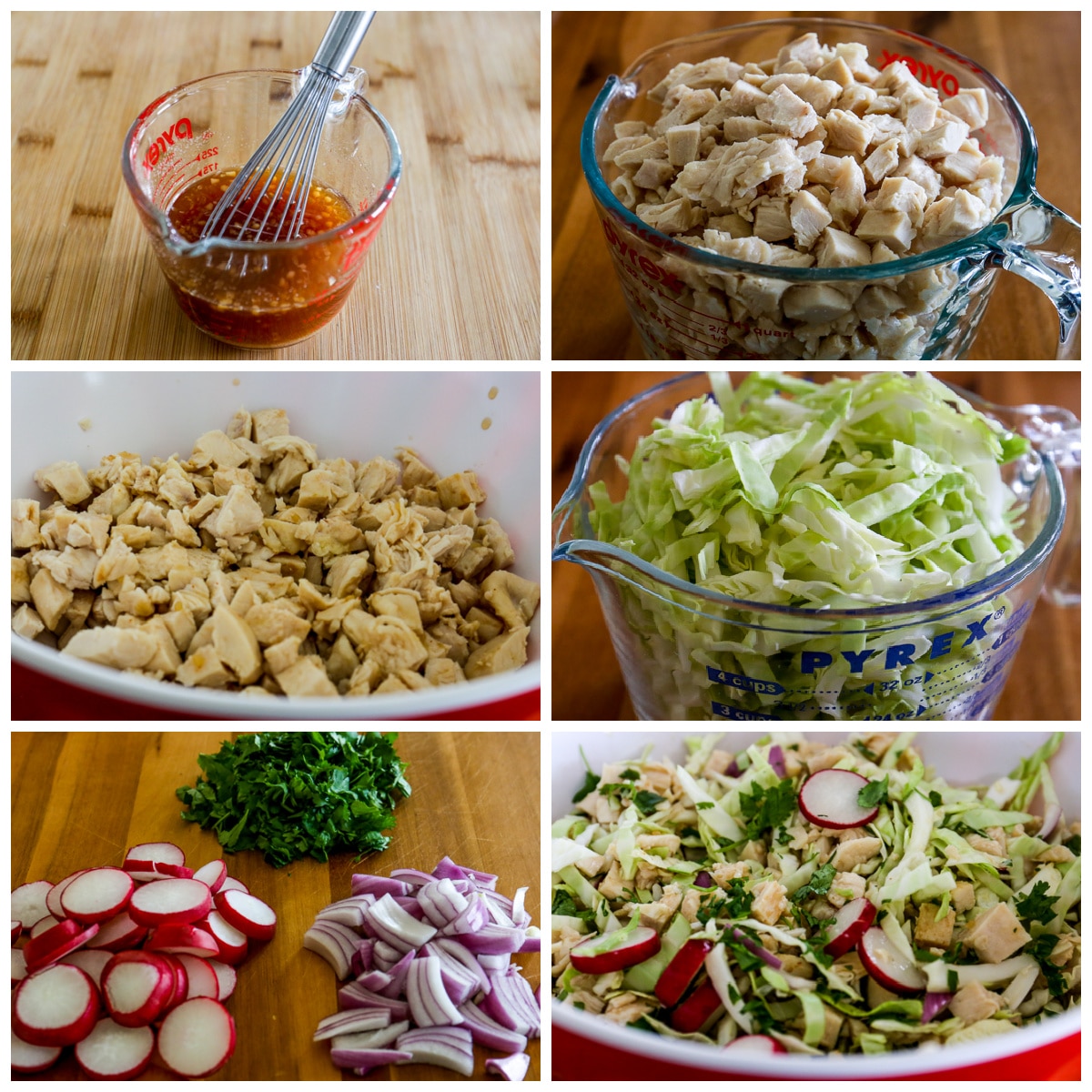 How to Make Vietnamese Chicken Salad with Cabbage:
(Scroll down for complete printable recipe, including nutritional information.)
Whisk together the Sriracha Sauce, garlic, Monkfruit Sweetener or sweetener of your choice, unseasoned rice vinegar, fresh-squeezed lime juice, fish sauce, and salt and pepper to taste to make the dressing.
Dice up about 5 cups of cooked chicken; I use rotisserie chicken breast from Costco for the chicken, but you can poach some chicken breasts too.
The chicken gets marinated in about half the dressing, which infuses the chicken with flavor. (You can also add the onions to this if you want to tame down the onion flavor a bit.)
Chop up enough cabbage to make about 5 cups chopped cabbage.
Finely chop cilantro, slice the radishes into half-moon slices, and cut red onion into slivers.
Toss the salad together with the desired amount of dressing and devour!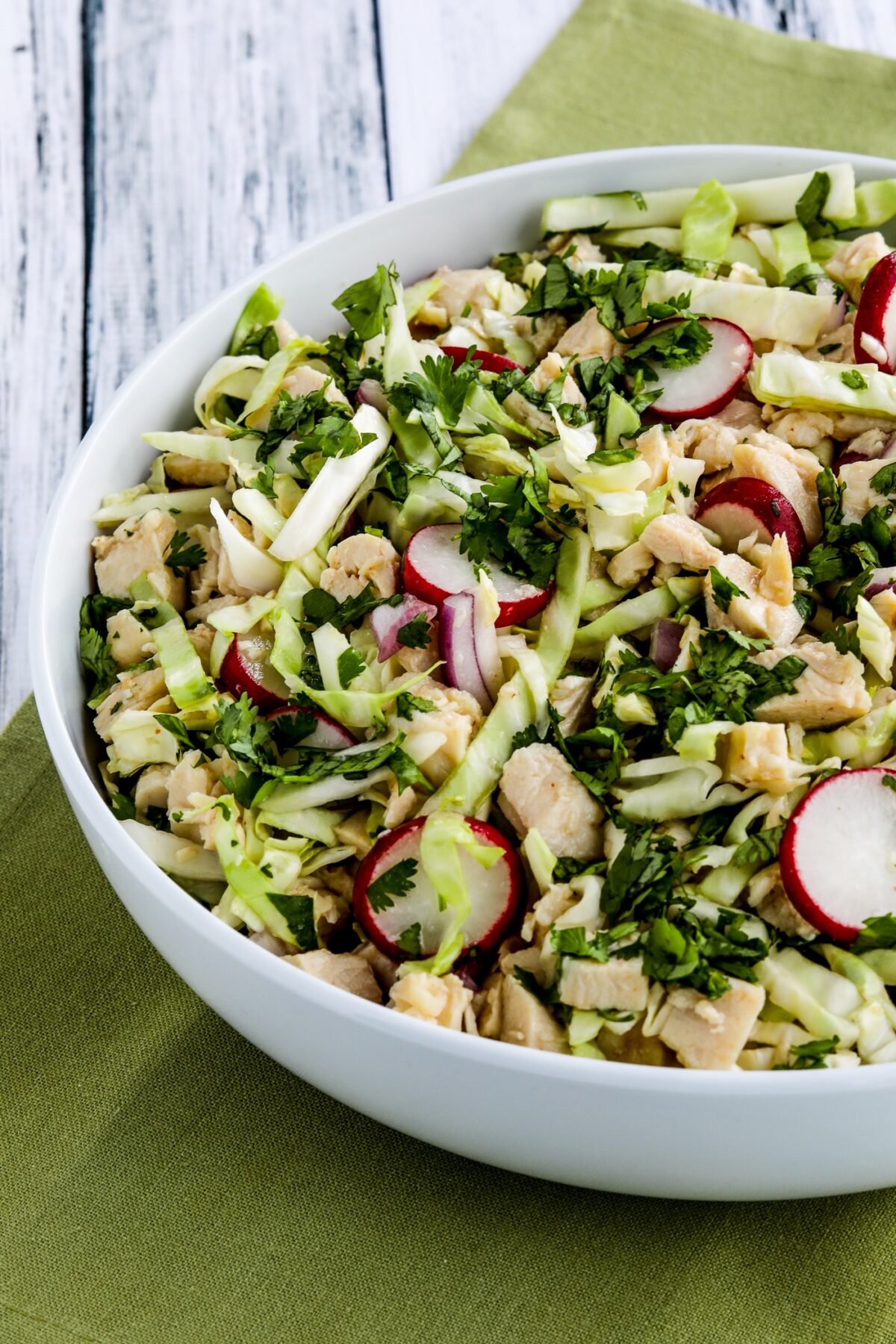 Make it a Low-Carb Meal:
I'd probably eat this as a main-dish salad, especially if I was having it for lunch. But if you wanted to make it a more substantial meal you could also serve with something like Sugar Snap Pea Salad, Cucumber Salad with Balsamic Dressing, Thai Cucumber Salad, Grilled Spicy Eggplant, or Laurel's Jicama Salad.
More Asian Cabbage Salads to Keep You Cool:
Crunchy Low-Carb Chopped Salad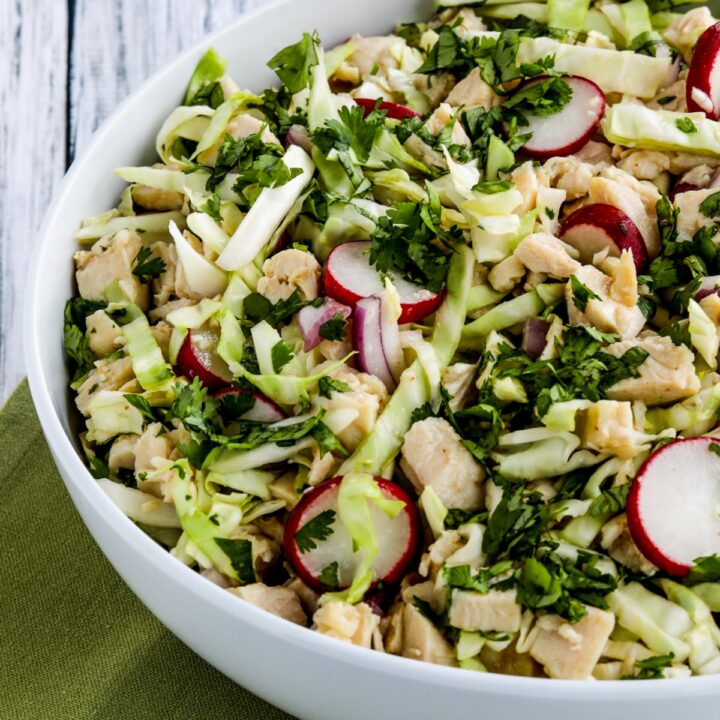 Yield: 6 servings
Vietnamese Chicken Salad with Cabbage
Prep Time 25 minutes
Total Time 25 minutes
Vietnamese Chicken Salad with Cabbage is perfect to use up leftover chicken, and the dressing has no oil! This tasty salad is loaded with the vibrant flavors that make Asian food so fun!
Ingredients
Dressing Ingredients:
1 tsp. Sriracha Sauce (or more, to taste)
1/2 tsp. minced garlic
3 T Monkfruit sweetener, or sweetener of your choice
3 T unseasoned rice vinegar (not sweetened)
3 T fresh lime juice (see notes)
3 T fish sauce (see notes)
salt and fresh ground black pepper to taste
Salad Ingredients:
5 cups diced cooked chicken
1/2 small red onion, sliced into slivers
5 cups chopped green cabbage
1 cup sliced radishes
1/2 chopped cilantro
Instructions
Whisk together the Sriracha Sauce, garlic, Monkfruit Sweetener or other sweetener, unseasoned rice vinegar, fresh lime juice, and fish sauce to make the dressing. (Fish sauce can vary in strength, and if you're not used to it I recommend starting with less and adding it until the dressing tastes good to you.
Taste dressing to see if you want a bit more Sriracha Sauce. Season dressing with salt and fresh ground black pepper to taste.
Dice the chicken to make 5 cups chopped bite-sized chicken pieces. Then put diced chicken plastic bowl and mix with about half the dressing. (You can also add the red onions to marinate with the chicken if you want to tame them down a bit.)
Let marinate 15 minutes or longer while you chop the cabbage and cilantro and slice the radishes.
When ready to serve, add the cabbage, radishes, and cilantro to the chicken/dressing mixture and toss, adding more dressing until the salad is as moist as you'd like it. (You may not need to use all the dressing.)
Serve immediately.
This dressing will keep in the fridge for at least a week. If you won't eat this much salad at one time, chop all ingredients except cilantro, mix the dressing, and keep in the fridge. When you're ready to eat, marinate chicken a few minutes while you chop cilantro, them combine and eat!
Nutrition Information:
Yield:
6
Serving Size:
1
Amount Per Serving:
Calories: 293
Total Fat: 15g
Saturated Fat: 4g
Trans Fat: 0g
Unsaturated Fat: 9g
Cholesterol: 106mg
Sodium: 925mg
Carbohydrates: 10g
Fiber: 3g
Sugar: 5g
Protein: 29g
Nutrition information is automatically calculated by the Recipe Plug-In I am using. I am not a nutritionist and cannot guarantee 100% accuracy, since many variables affect those calculations.
Low-Carb Diet / Low-Glycemic Diet / South Beach Diet Suggestions:
Made with an approved sweetener, this salad would be perfect for low-carb or Keto diets or for any phase of the original South Beach Diet.
Find More Recipes Like This One:
Use Salad Recipes to find more recipes like this one. Use the Diet Type Index to find recipes suitable for a specific eating plan. You might also like to follow Kalyn's Kitchen on Pinterest, on Facebook, on Instagram, or on YouTube to see all the good recipes I'm sharing there.
Historical Notes for this Recipe:
My first variation of this salad was posted in 2007, when my friend Glenna posted Vietnamese Cole Slaw (a recipe that's no longer online.) Through the years I made this regularly and changed the recipe slightly several times, but I always kept the oil-free Vietnamese dressing. The recipe was last updated with new photos and more information in 2022.
We are a participant in the Amazon Services LLC Associates Program, an affiliate advertising program designed to provide a means for us to earn fees by linking to Amazon.com and affiliated sites. As an Amazon Associate, I earn from qualifying purchases.