Asian Chopped Salad
I love the sweet and sour soy-mayo dressing and all the crunchy ingredients in this Asian Chopped Salad, but especially the broccoli stems! The salad also has has sugar snap peas, radishes, red cabbage, and almonds; just use more of those if you don't have any broccoli stems!
PIN the Asian Chopped Salad recipe to try it later!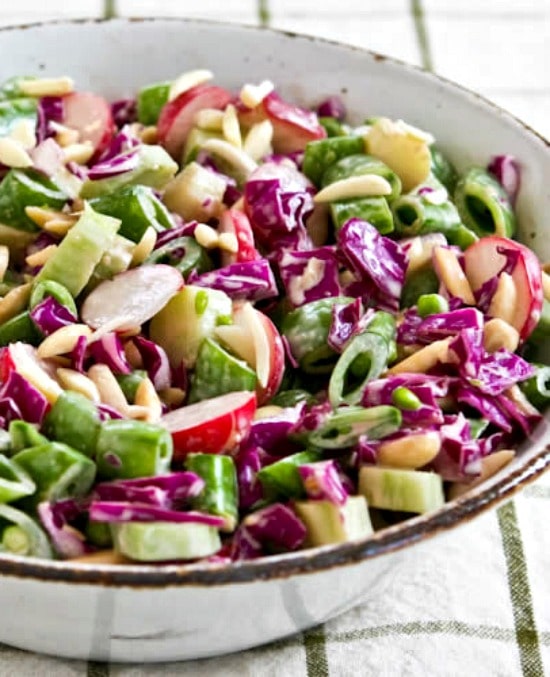 I love all the crunchy ingredients in this Asian Chopped Salad, but it's the broccoli stems and the creamy Asian dressing that really make the salad a wow for me! I always nibble on the broccoli when I'm cutting it up, and I try to save broccoli stems so I can use them in a recipe (like Spicy Stir-Fried Broccoli Stems, another recipe inspired by my broccoli stem love!)
And personally I like broccoli stems almost more than I like broccoli, but this salad is all about the crunchy ingredients combined with the tasty Asian dressing, so if you don't have broccoli stems, don't let that stop you from making it with more of the other ingredients used here.
And let's talk about that dressing. When I made Napa Cabbage Asian Slaw I fell in love with the creamy and slightly spicy soy sauce and mayo dressing. There's no doubt that it was the love of that dressing, plus some broccoli stems in the fridge that inspired this Asian Chopped Salad!
And wow, was this salad ever a keeper for me! Next time you have broccoli stems I hope you'll think of this salad instead of just throwing them in the trash.
What ingredients do you need for this recipe?
What gives this chopped salad Asian flavors?
This salad is loaded with asian flavor from sugar snap peas, soy sauce, garlic, ginger, sesame oil, and Sriracha sauce. And the combination of the creamy Asian dressing and the crunchy vegetables makes this salad a real treat!
What if you don't have broccoli stems?
No worries if you don't have any broccoli stems! Jut use a bit more sugar snap peas, radishes, and red cabbage and the salad will still be crunchy and delicious.
More Salads with Broccoli:
For more tasty salads with broccoli, check out Broccoli Salad with Feta and Almonds, Sweet and Sour Broccoli Salad, Easy Broccoli Radish Salad, Broccoli and Cauliflower Salad with Feta, or Chicken Broccoli Salad.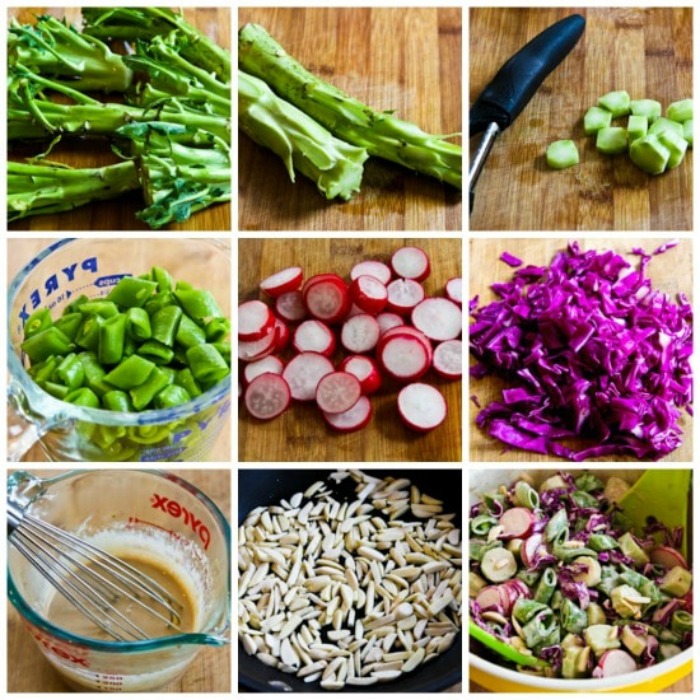 How to make this Asian Chopped Salad:
(Scroll down for complete recipe with nutritional information.)
I had saved the stems from a couple of bunches of broccoli when I made this, but you can use less if you don't cook broccoli that often.
I first trim the stems a bit with a knife. Then I use a sharp vegetable peeler to peel the stems more smoothly.
For this salad I sliced them into rounds. (I had about 1 cup of broccoli stems, but don't worry if you don't have that much; just use more of something else.)
I also used 2 cups of sugar snap peas, ends trimmed and cut into diagonal slices.
I used a bunch of radishes, which made about 2/3 cup sliced radishes.
Chop up about 1/4 small red cabbage to make 1 cup chopped cabbage. (Sorry, bad photo for that!)
Stir together the other dressing ingredients and then whisk in the mayo.
Toasting the slivered almonds in a dry pan for a couple of minutes adds a lot of flavor.
Toss together the broccoli stems, sugar snap peas, radishes, and red cabbage. Add dressing and toss until salad ingredients are well-coated with dressing. (You may not want all the dressing, but I did use it all.)
Add toasted almonds and toss again. Serve right away.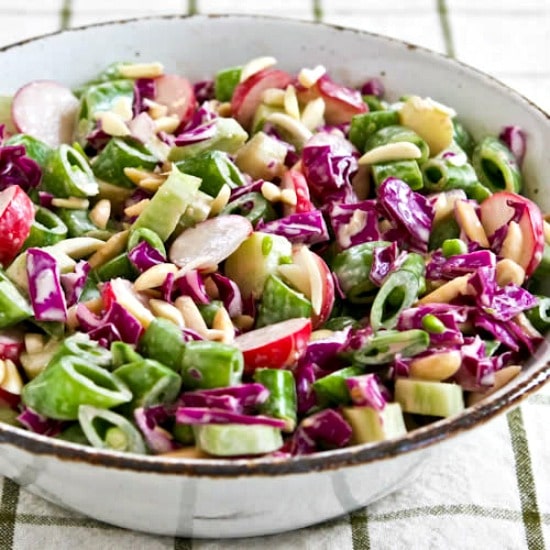 Make it a Low-Carb Meal:
Low-Carb Asian Chopped Salad would be a great side dish for Air Fryer Marinated Chicken Breasts, Baked Greek Meatballs with Feta, Herb Marinated Air Fryer Chicken Thighs, or Grilled Pork Chops!
More Tasty Chopped Salad Recipes:
Crunchy Low-Carb Chopped Salad
Peperoncini Chopped Salad with Romaine, Peppers, and Feta
Chopped Chicken Salad with Cafe Rio Dressing
Yield: 6 servings
Asian Chopped Salad
Prep Time 30 minutes
Total Time 30 minutes
Asian Chopped Salad is so good with broccoli stems, but if you don't have those just use more also has sugar snap peas, radishes, and red cabbage; this low-carb salad is a delicious way to use up small amounts of crunchy veggies!
Ingredients
Ingredients
1 cup peeled and sliced broccoli stems
2 cups diagonally sliced sugar snap peas
1 bunch radishes, trimmed and sliced
1 cup chopped red cabbage
1/3 cup slivered almonds, toasted
Dressing Ingredients
1 T white wine vinegar
1 T Golden Monkfruit Sweetener
1 tsp. soy sauce (see notes)
1/2 tsp. crushed garlic puree
1/4 tsp. Asian sesame oil
1/4 tsp. ground ginger puree
1/4 tsp. (or more) Sriracha sauce (see notes)
1/3 cup mayo (see notes)
Instructions
Trim broccoli stems with a knife, then use a vegetable peeler to peel them smoothly and slice into rounds.
Trim ends of sugar snap peas, then slice into diagonal slices about 3/4 inch thick.
Trim radishes and slice into thin slices.
Chop red cabbage.
Toss broccoli stems, sugar snap peas, radishes, and red cabbage together in a medium-sized bowl.
In a small bowl or glass measuring cup, mix together the white wine vinegar, Golden Monkfruit Sweetener (affiliate link) or sweetener of your choice, soy sauce or Gluten-Free Soy Sauce (affiliate link), garlic puree, sesame oil, ground ginger, and sriracha sauce (affiliate link).
Whisk in mayo.
Put almonds in a dry pan and toast over high heat for 1-2 minutes, just until the nuts are starting to get fragrant.
Add dressing to salad ingredients and toss until all the vegetables are well-coated with dressing. (You may not need all the dressing if you like your salads to be on the dry side.)
Add toasted almonds and toss again.
Serve right away. I didn't have any of this left so I don't know how well it keeps in the fridge, but I'd guess it would last for at least a day.
Nutrition Information:
Yield:
6
Serving Size:
1
Amount Per Serving:
Calories: 159
Total Fat: 12g
Saturated Fat: 2g
Trans Fat: 0g
Unsaturated Fat: 10g
Cholesterol: 5mg
Sodium: 170mg
Carbohydrates: 9g
Fiber: 4g
Sugar: 4g
Protein: 4g
Nutrition information is automatically calculated by the Recipe Plug-In I am using. I am not a nutritionist and cannot guarantee 100% accuracy, since many variables affect those calculations.
Low-Carb Diet Low-Glycemic Diet, South Beach Diet Suggestions:
This Asian Chopped Salad is great for low-carb diet plans, including any phase of the original South Beach Diet. It's probably best to use light mayo if you're making this for South Beach, but other low-carb eating plans would prefer full-fat mayo.
Find More Recipes Like This One:
Use Salad Recipes to find more low-carb salads like this one. Use the Diet Type Index to find recipes suitable for a specific eating plan. You might also like to follow Kalyn's Kitchen on Pinterest, on Facebook, on Instagram, or on YouTube to see all the good recipes I'm sharing there.
We are a participant in the Amazon Services LLC Associates Program, an affiliate advertising program designed to provide a means for us to earn fees by linking to Amazon.com and affiliated sites. As an Amazon Associate, I earn from qualifying purchases.