Spicy Cilantro-Peanut Slaw (Video)
Spicy Cilantro-Peanut Slaw is a recipe I make over and over and this spicy coleslaw is for everyone who loves cilantro and peanuts. Of course you can adjust the amount of Sriracha Sauce to make it scorching hot or just slightly spicy, depending on what you prefer!
PIN this spicy coleslaw recipe to try it later!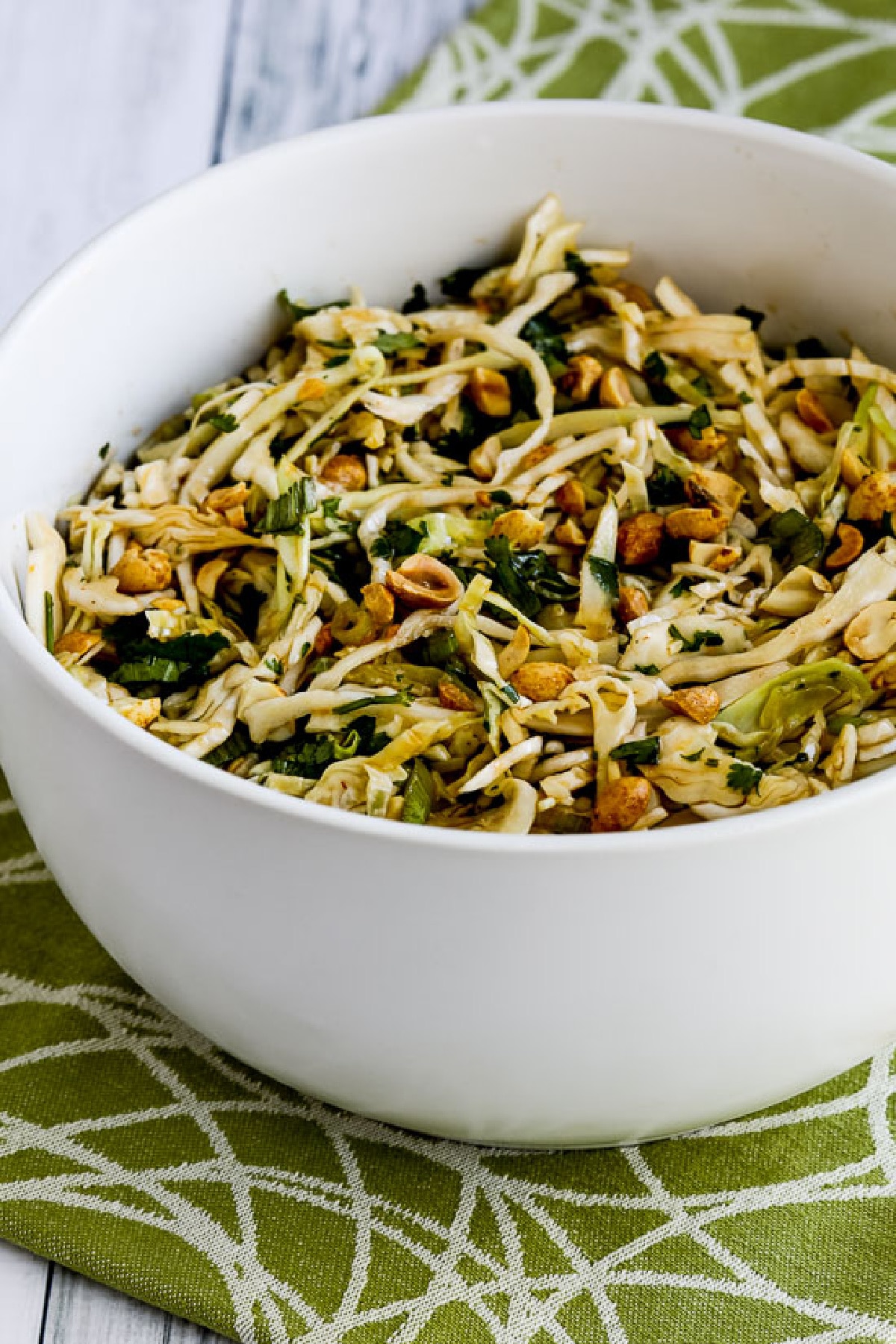 Are you a fan of spicy coleslaw? I love cabbage, and one of my favorite ways to use it is in coleslaw recipes with a bit of spicy flavor like this Spicy Cilantro Peanut Slaw. And I'm so happy that cabbage happens to be a diet-friendly ingredient, as well as being a nutritious cruciferous vegetable, because I'm such a huge fan of cabbage salads in general that I could eat a salad with cabbage almost every day.
I first made this favorite cabbage slaw years ago, and now I'm excited to have new photos to show off how delicious it is! And hopefully the improved photos might entice you to try this one if you're a fan of cabbage salads.
What ingredients do you need for this recipe?
(This is only a list of ingredients; please scroll down for complete printable recipe. Or if you use the JUMP TO RECIPE link at the top of the page, it will take you directly to the complete recipe.)
What can you use instead of cilantro in the spicy coleslaw recipe?
I absolutely understand that some people have the anti-cilantro gene and just can't stand the stuff! So if you want to make this tasty slaw without cilantro, just use a little extra sliced green onion instead.
What if you can't eat peanuts?
For anyone who can't have peanuts or just doesn't have them on hand, my second choice for this recipe would be slivered almonds. I think Pistachios and cashew would also be great. And if you can't have nuts, this recipe will still be delicious without them!
Will this spicy coleslaw keep in the fridge?
This salad will lose its crunch after it sits in the fridge, so if this makes more than you'll eat at one time I would cut the cabbage, mix in the chopped green onions and cilantro, and then only add dressing and peanuts to the amount you'll be eating. Keep the cabbage mixture and the extra dressing refrigerated to combine another time.
Want more spicy coleslaw recipes to try?
Some of the other coleslaw recipes I love that have some spicy flavor include Spicy Mexican Slaw with Lime and Cilantro, Vietnamese Chicken Salad with Cabbage, Spicy Lime Coleslaw, Puerto Rican Spicy Cabbage Salad, and Asian Cabbage Salad.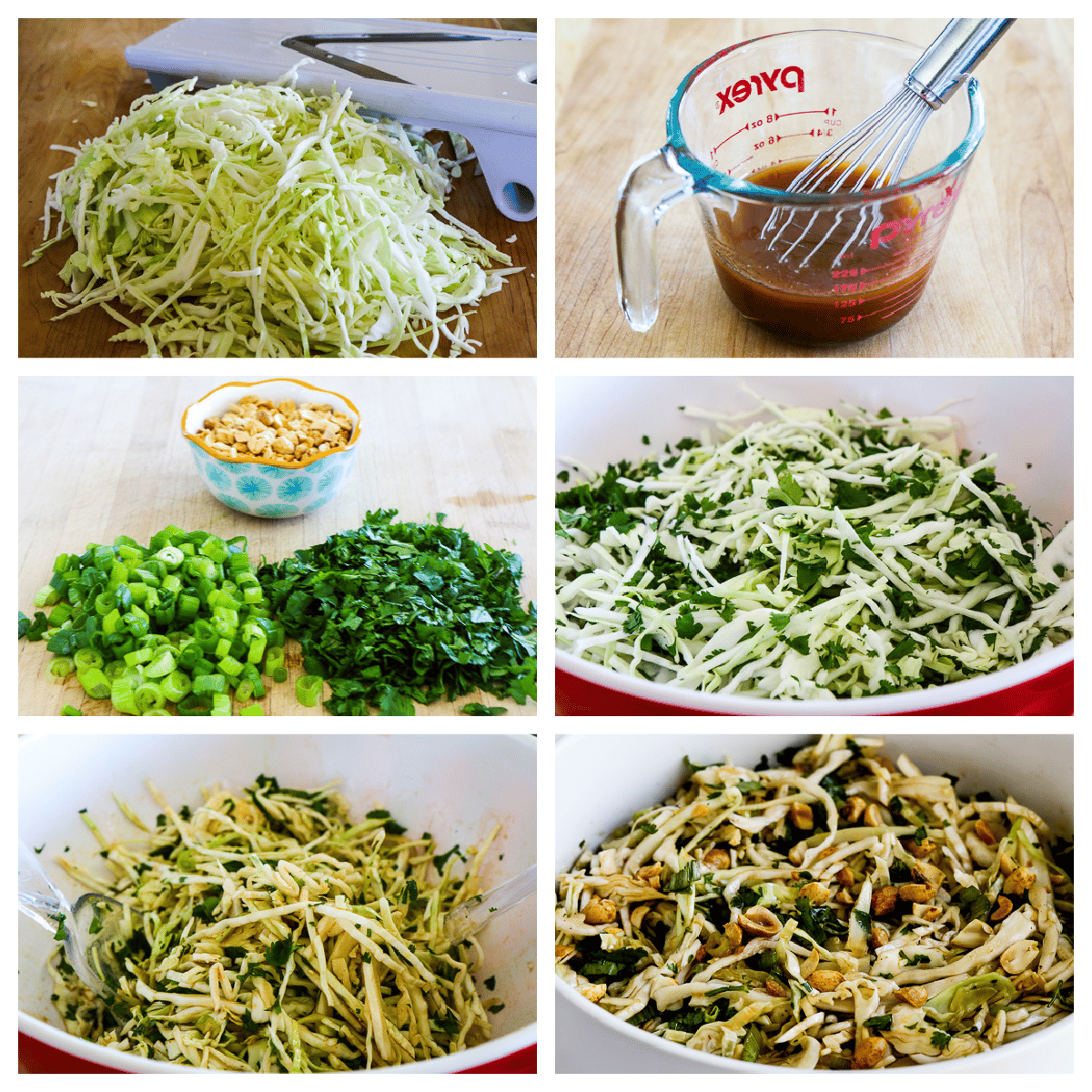 How to make Spicy Cilantro-Peanut Slaw:
(This is only a summary of the steps for the recipe; please scroll down for complete printable recipe. Or if you use the JUMP TO RECIPE link at the top of the page, it will take you directly to the complete recipe.)
I used a Mandoline Slicer (affiliate link) to slice the cabbage nice and thin; put sliced cabbage into a large bowl.
Whisk together the rice vinegar, sweetener, sesame oil (affiliate link), soy sauce, Sriracha Sauce (affiliate link), and peanut oil to make the dressing.
Chop peanuts or other nuts, slice green onions, and chop cilantro (if using.)
Stir the green onions and cilantro into the cabbage so it's well combined, then stir in the desired amount of dressing until the salad is as wet as you'd like it.
Add chopped peanuts and stir to combine, saving a few peanuts to garnish the top if desired. Serve right away.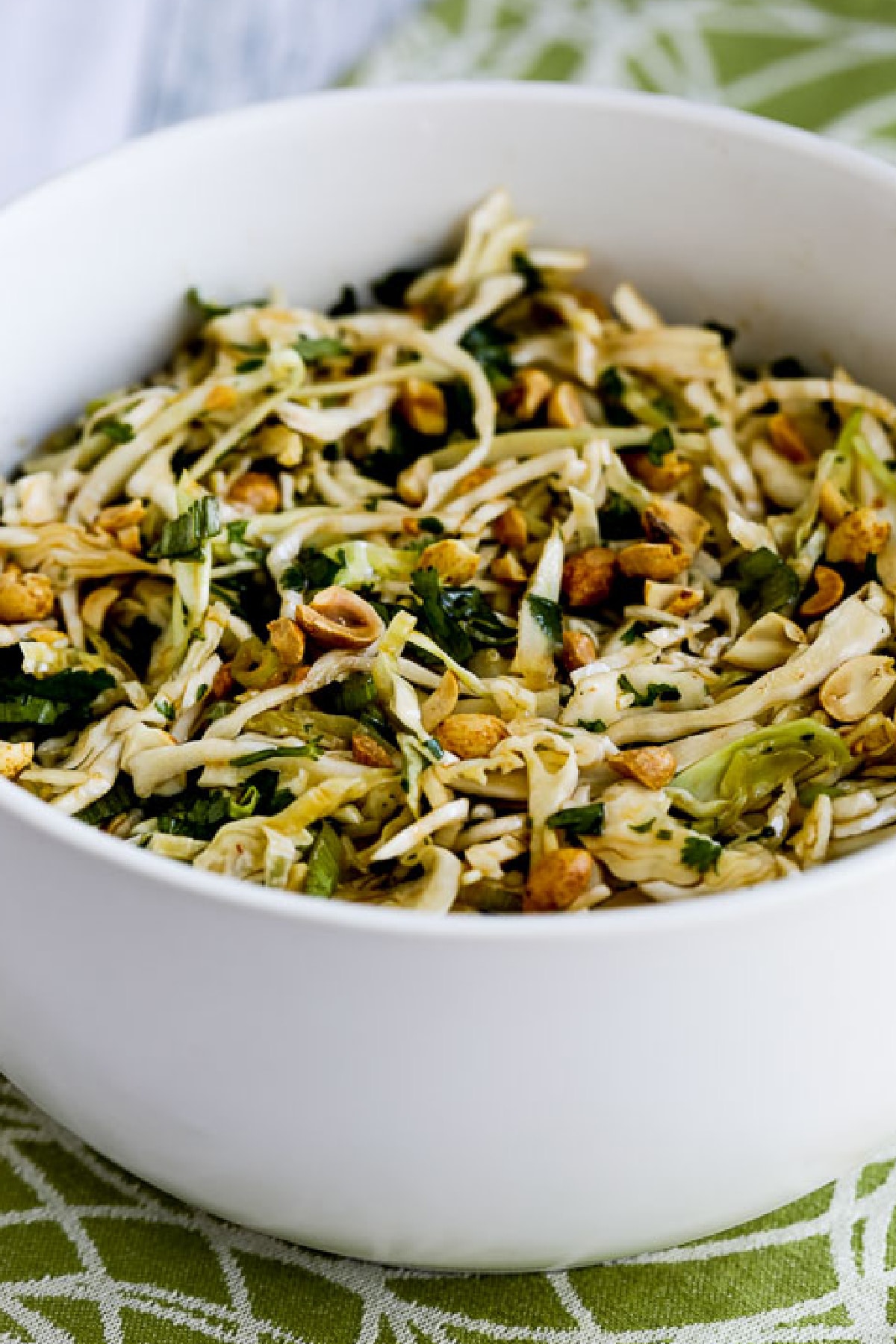 More Great Salad Recipes with Cabbage:
Weekend Food Prep:
This recipe has been added to a new category called Weekend Food Prep where you'll find recipes you can prep or cook on the weekend and eat during the week!
Yield: 6 servings
Spicy Cilantro-Peanut Slaw
Prep Time 25 minutes
Total Time 25 minutes
This Low-Carb Spicy Cilantro-Peanut Slaw is a salad I love and make often.
Ingredients
Salad Ingredients
1/2 large head green cabbage, finely chopped
1/2 cup peanuts, chopped
1/2 cup thinly sliced green onions
1 bunch cilantro, chopped (see notes)
salt and fresh ground black pepper to taste
Dressing Ingredients
2 T rice vinegar (not seasoned)
1 T sweetener of your choice (see notes)
2 tsp. sesame oil
2 tsp. soy sauce
2 tsp. Sriracha sauce (see notes)
1/4 cup vegetable or peanut oil
Instructions
Cut cabbage head in half and save half for another salad.
Remove core from the half you're using, then cut cabbage into very thin slices (less than 1/4 inch.
Turn cutting board the other direction and cut again to chop into very small pieces.
Thinly slice green onions, chop cilantro, and chop peanuts.
In a bowl or glass measuring cup, mix together rice vinegar, sweetener of your choice, sesame oil (affiliate link), soy sauce, and Sriracha Sauce (affiliate link) sauce if using.
Use a whisk to mix in oil until dressing is well-combined.
In large plastic or glass bowl, gently combine chopped cabbage, sliced green onions, and chopped cilantro.
Add dressing a little at a time, until salad seems as wet as you'd like it. (You may not need all the dressing.)
Add chopped peanuts, and stir a few times until peanuts are mixed in.
Taste salad for seasoning, and add salt and freshly ground black pepper as desired.
Serve immediately.
Notes
I used Monkfruit Sweetener (affiliate link) for this recipe. If you like cilantro I would use at least 1/2 cup chopped cilantro, or more for the recipe. Use a bit more thinly sliced green onion if you're not a cilantro fan. Use more or less Sriracha Sauce (affiliate link) to taste, or this can be left out for a less spicy version.
Recipe adapted from Crunchy Peanut Slaw found at The Kitchn.
Nutrition Information:
Yield:
6
Serving Size:
1
Amount Per Serving:
Calories: 119
Total Fat: 10g
Saturated Fat: 2g
Unsaturated Fat: 7g
Cholesterol: 0mg
Sodium: 297mg
Carbohydrates: 5g
Fiber: 2g
Sugar: 2g
Protein: 4g
Nutrition information is automatically calculated by the Recipe Plug-In I am using. I am not a nutritionist and cannot guarantee 100% accuracy, since many variables affect those calculations.
Low-Carb Diet / Low-Glycemic Diet / South Beach Diet Suggestions:
As long as you use an approved sweetener, this spicy coleslaw recipe should be a great choice for any low-carb, Keto, or low-glycemic diet plan, including the original South Beach Diet.
Find More Recipes Like This One:
Use Salad Recipes to find more recipes like this one. Use the Diet Type Index to find recipes suitable for a specific eating plan. You might also like to follow Kalyn's Kitchen on Pinterest, on Facebook, on Instagram, on TikTok, or on YouTube to see all the good recipes I'm sharing there.
Historical Notes for this Recipe:
This Spicy Cilantro-Peanut Slaw recipe was first posted in 2009, and I've been making it ever since that time. It was last updated with more information in 2023.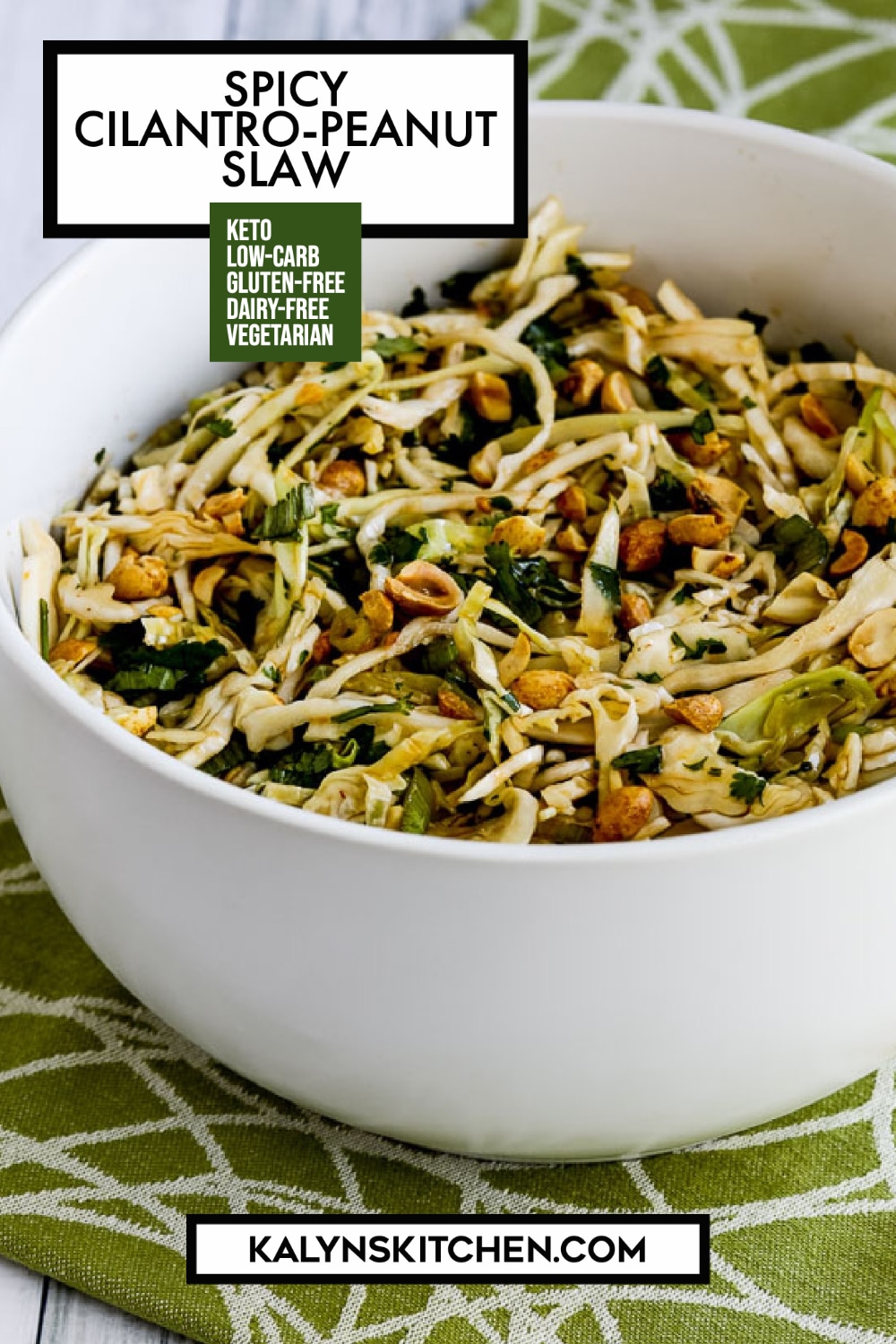 We are a participant in the Amazon Services LLC Associates Program, an affiliate advertising program designed to provide a means for us to earn fees by linking to Amazon.com and affiliated sites. As an Amazon Associate, I earn from qualifying purchases.