Sugar Snap Pea Salad
This crunchy Sugar Snap Pea Salad also has radishes, edamame, and a slightly-spicy Asian dressing and this tasty vegan salad is low in carbs.
PIN the Sugar Snap Pea Salad to try it later!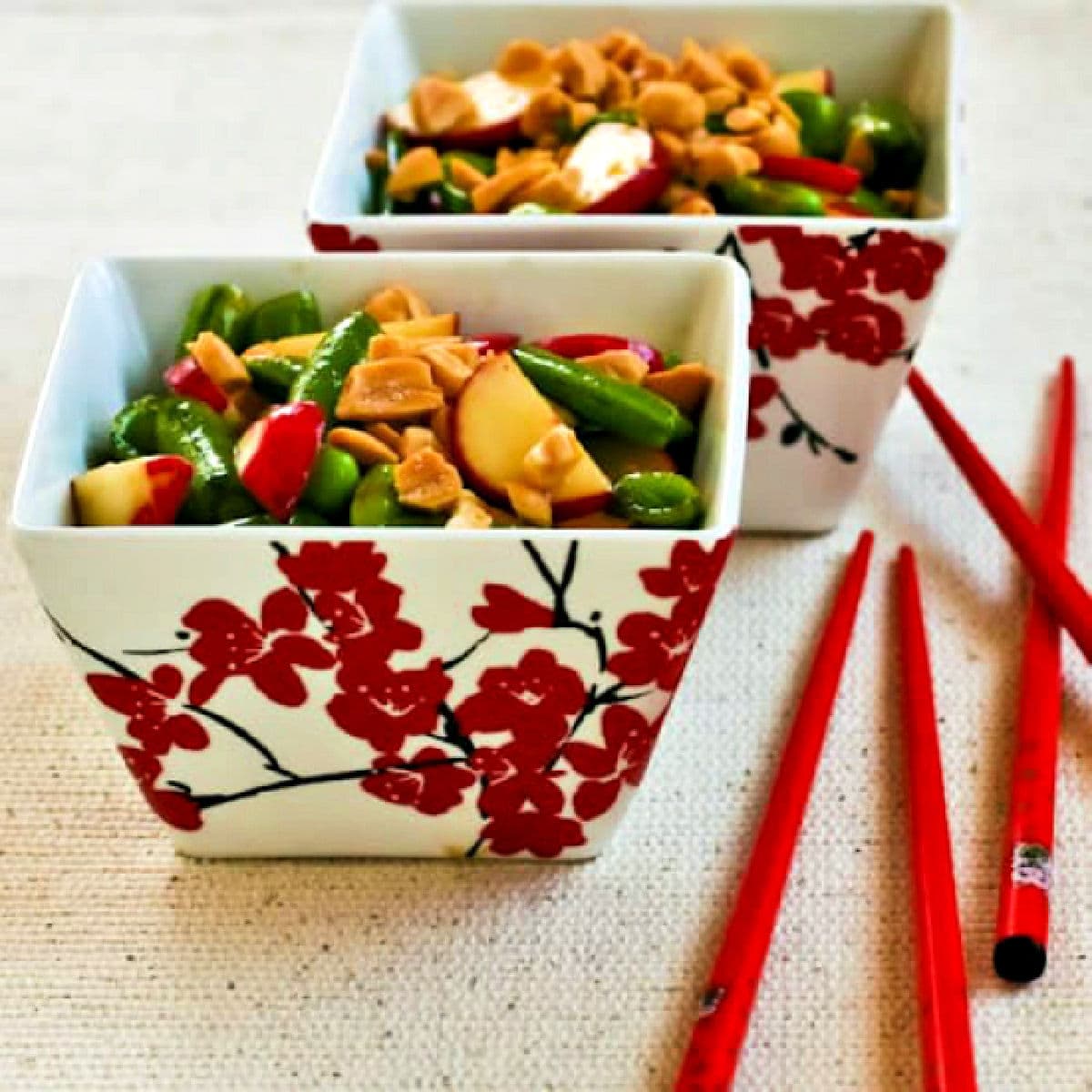 I like the crunch and flavor of sugar snap peas so much that I made them one of my Kalyn's Kitchen Picks, and for this week's Friday Favorites feature I'm reminding you about this tasty Sugar Snap Pea Salad that's a recipe I've been enjoying for a long time. In fact, when I first created this salad recipe it was something I ate for lunch several days in a row. When that happens, it's always a sign that the recipe is a winner!
And I love the Asian flavors and crunchy ingredients in this snap pea salad! I came up with this salad recipe when I had sugar snap peas and radishes in the fridge and was thinking of a fun way to use them. And I did love the edamame in this salad too, but edamame is definitely optional. See suggestions below for ways to adapt this recipe if you don't have every ingredient or want a version that's a bit lower in carbs!
What ingredients do you need for this recipe?
(This is only a list of ingredients; please scroll down for complete printable recipe. Or if you use the JUMP TO RECIPE link at the top of the page, it will take you directly to the complete recipe.)
What if you don't have edamame for the Snap Pea Salad?
I liked the shelled edamame in this salad, but if you don't want to buy that I think you could make an equally delicious salad just using slightly more radishes and sugar snap peas and leaving out the edamame!
What if you don't have Sugar-Free Apricot Preserves?
The sugar-free preserves added a bit of thickening and a pleasant fruity flavor to the dressing. If you don't have that, any type of sugar-free or regular preserves would work. (Even if you had to use jam or preserves with sugar, that amount would only add a few more carbs.)
Are Sugar Snap Peas low in carbs?
Sugar Snap Peas aren't super high in net carbs, despite the word "sugar" in the name; one cup has 11 grams of carbohydrates but 4.5 grams of fiber.
How can you make this Sugar Snap Pea Salad lower in carbs?
If you want to make a version of this tasty salad that's lower in carbs, swap out some of the sugar snap peas for more radishes or Edamame. (Radishes have only 2 net carbs per cup! Edamame is also a low-carb food, with only 2.9 net carbs per cup.)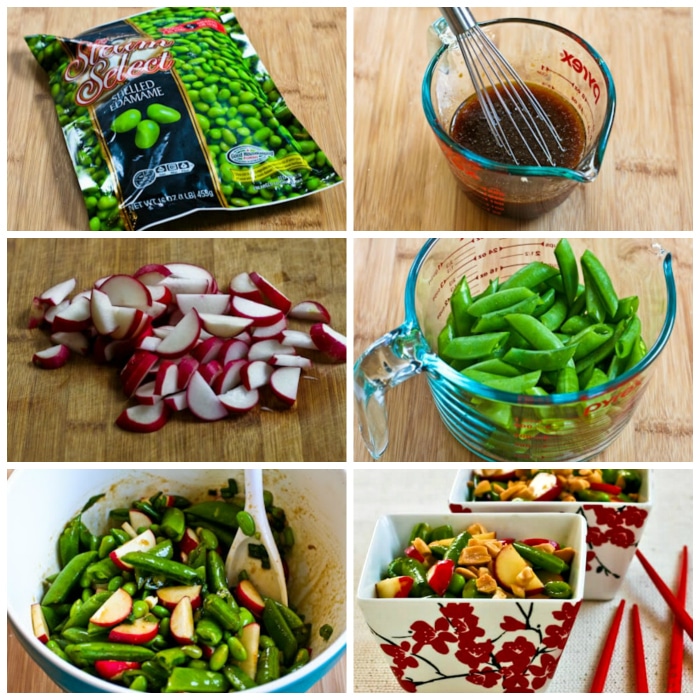 How to Make Sugar Snap Pea Salad:
(This is only a summary of the steps for the recipe; please scroll down for complete printable recipe. Or if you use the JUMP TO RECIPE link at the top of the page, it will take you directly to the complete recipe.)
When I first made this I couldn't find shelled edamame, but now that I've found them (yay!) I increased the amount of edamame in the recipe!
Let frozen edamame thaw overnight in the fridge if you can.
Whisk together all the dressing ingredients. (I used to heat the dressing a little to melt the jam, but lately I just whisk to combine it.)
I like the radishes cut into half-moon shapes so every piece has a border of red.
Cut the sugar snap peas on the diagonal, cutting each one into 2 pieces.
Stir salad ingredients together with just enough dressing so that all the salad is moistened. (You may not need all the dressing, but it's good on lots of things!)
The salad can be chilled for a few hours at this point. Sprinkle each serving with peanuts right before eating. (If you're going to refrigerate leftovers, keep the peanuts separate until you eat the salad.)
More Favorite Recipes with Sugar Snap Peas: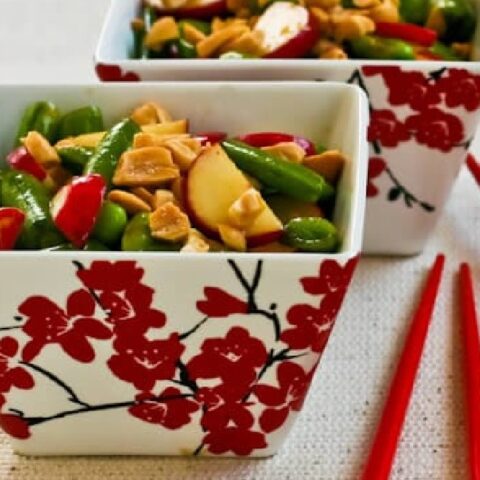 Yield: 6 servings
Sugar Snap Pea Salad
Prep Time 30 minutes
Total Time 30 minutes
I love this crunchy Sugar Snap Pea Salad that also has radishes, edamame, and a slightly-spicy Asian dressing. 
Ingredients
Ingredients
1 1/2 cups red radishes
3 cups sugar snap peas
1 cup cooked, shelled edamame (thawed if frozen)
2 T sliced green onions (scallions)
1/4 cup chopped peanuts
Dressing Ingredients
1/4 cup soy sauce (or gluten-free soy sauce)
1 1/2 T unseasoned rice vinegar
2 tsp. Golden Monkfruit Sweetener
1/2 tsp. Sriracha Sauce (or more to taste)
1 T sesame oil
2 T peanut oil
1/2 tsp. minced ginger (comes in a jar)
2 T sugar-free apricot jam
Instructions
Mix dressing ingredients in glass measuring cup or small glass bowl, whisking well. (I use sugar free or low sugar apricot jam.)
Trim radishes and cut in half-moon slices.
Trim Sugar Snap Peas and cut in half on the diagonal.
Measure one cup of shelled edamame.
Combine vegetables in bowl, pour over about 1/2 of dressing, and stir to mix until all vegetables are coated with dressing.
You can refrigerate the salad at this point for a few hours. You may want to stir in 1 T more dressing after the salad has been chilled.
You will probably not use all the dressing but see below for more ideas to use it.
To serve, put salad in serving bowl and sprinkle peanuts over.
Notes
I love using Sriracha Sauce (affiliate link) in this recipe but other types of hot sauce will work. I like Golden Monkfruit Sweetener (affiliate link) but use any sweetener you prefer.
There are lots of ways you could use the extra dressing from this salad. Some possibilities that came quickly to mind include using it as a marinade for chicken, pork chops, or fish, as a dressing on fresh spinach, or as a dressing for a cold rice salad.
Recipe created by Kalyn, with inspiration for the dressing from Vegetable Love by Barbara Kafka.
Nutrition Information:
Yield:
6
Serving Size:
1
Amount Per Serving:
Calories: 160
Total Fat: 11g
Saturated Fat: 1.7g
Trans Fat: 0g
Unsaturated Fat: 8.2g
Cholesterol: 0mg
Sodium: 637mg
Carbohydrates: 11.6g
Fiber: 4.1g
Sugar: 4.6g
Protein: 6.8g
Nutrition information is automatically calculated by the Recipe Plug-In I am using. I am not a nutritionist and cannot guarantee 100% accuracy, since many variables affect those calculations.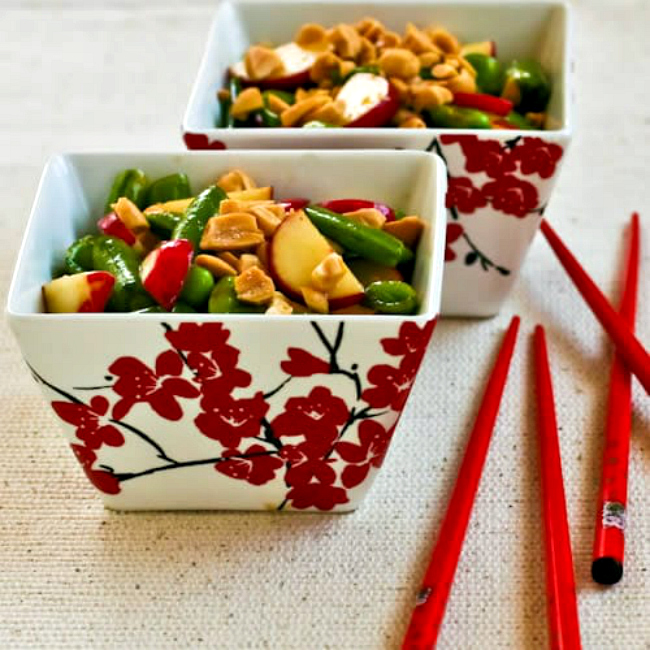 Low-Carb Diet / Low-Glycemic Diet / South Beach Diet Suggestions:
As long as you use an approved sweetener and sugar-free jam, this Snap Pea Salad would work for low-carb and Keto diets. (For strict Keto you might want to follow the suggestion to use more radishes and fewer sugar snap peas.) It also could be eaten for any phase of the original South Beach Diet.
Find More Recipes Like This One:
Use Salad Recipes to find more salads like this one. Use the Diet Type Index to find recipes suitable for a specific eating plan. You might also like to follow Kalyn's Kitchen on Pinterest, on Facebook, on Instagram, on TikTok, or on YouTube to see all the good recipes I'm sharing there.
Historical Notes for this Recipe:
This recipe was first posted in 2006. The photos were updated in 2011 and the recipe was last updated with more information in 2023.
We are a participant in the Amazon Services LLC Associates Program, an affiliate advertising program designed to provide a means for us to earn fees by linking to Amazon.com and affiliated sites. As an Amazon Associate, I earn from qualifying purchases.