How to Roast Green Chiles on a Grill
This post shows How to Roast Green Chiles on a Barbecue Grill and even if you can't find chiles from Hatch, New Mexico, roasted green chiles are pretty tasty! Check after the tips for recipe ideas using green chiles, yum!
PIN How to Roast Green Chiles on a Grill to try it later!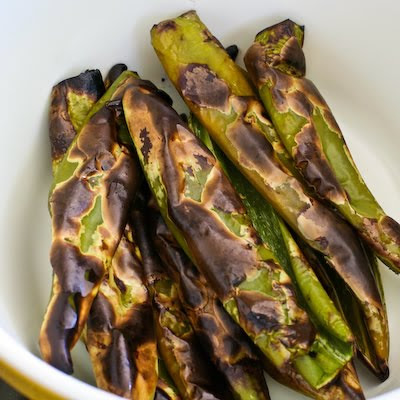 Recently I spotted some Hatch Green Chiles at Whole Foods and couldn't resist buying them, partly because my blogging friend Karina had been telling me about the annual chile roasting ritual in New Mexico and how it was spreading across the nation. I love roasted chiles, and since I have that new natural gas grill, I thought it would be fun to try roasting green chiles on a grill.
Before I get into the roasting instructions, I want to issue a warning. The Hatch green chiles I roasted are a relative of Anaheim chiles, a very mild variety. You can use these instructions for roasting hotter chile varieties, but for chiles that are very hot, wear latex or rubber globes when handling. Even with the mild Anaheim chiles, be careful not to rub your eyes or put your hands near your face while you're handling the chiles.
Everyone got that? Okay, now let's roast some chiles. And you can use Grilling to find more recipes like this one!
How to Roast Green Chiles on a Barbecue Grill:
The first photo shows the chiles from Hatch, New Mexico that I bought at Whole Foods. If you're growing your own Anaheim chiles, they might not get this big, but they're pretty easy to grow.
Start by preheating your gas or charcoal grill to high (you can only hold your hand there for about one second at that heat.)
Then begin prepping chiles by cutting off the stem end and cutting the chiles in half lengthwise. (Some chiles are fairly flat, and if the chile is flat cut so you have two flat pieces.)
You can roast the small ones whole, but when I tried roasting red bell peppers on the grill, I found it was easier to get all the skin charred if you cut the peppers.
Then use a small paring knife to cut out the seeds and membrane that's inside the chiles.
Chiles are roasted skin side down (I just turned the ones in these last two photos over so you could see how they looked when they started to blister.) The small photo is after 5 minutes.
The larger photo is after ten minutes. You want to leave the chiles on until nearly all the skin is blistered and browned.
It doesn't matter if they look burned, in fact the charred parts add a lot of flavor. Most of this batch of chiles took about 13 minutes to get done.
How to Peel Green Chiles After Roasting:
As the chiles get done, take them off the grill and put in a glass or plastic bowl.
When all chiles are done, cover the bowl with cling-wrap or a tight fitting lid and let chiles steam for at least 15 minutes.
Then use your fingers to gently peel off the skins from the roasted chiles. (Remember to be careful not to get hands near your face.) If you're lucky, some of the skins will come off all in one piece like the one in the third photo. (Peeled chile is on the right and skin on the left.)
The fourth photo shows the whole batch of roasted green chiles after I peeled them. You might want to rinse your hands a few times while you're peeling, but never rinse the chiles, because that washes off a lot of the flavor.
Roasted green chiles are good in many dishes, but if you don't have access to fresh green chiles, you can buy them in a can either whole or diced. In the U.S. this type of mild Anaheim chiles are usually just called "Green Chiles" when sold in a can. The canned ones usually have some or all of the seeds, so they're hotter than the ones you roast yourself. Canned Chiles labeled "Hatch Chiles" are from Hatch, New Mexico, and that variety of chiles has great flavor.
Printer Friendly Instructions for Roasting Chiles
(If you're lucky enough to have an abundance of peppers in your garden, roasted chiles can be frozen. I might freeze in ice cube trays, freeze the cubes, and then seal the frozen cubes in a bag using the FoodSaver Vacuum Sealer if you have one.)
Favorite Recipes Using Roasted Green Chiles:
Slow Cooker Green Chile Shredded Beef Cabbage Bowl
Green Chile and Chicken Mock Enchilada Casserole
Green Chile and Cheese Egg Muffins
Spicy Green Chile Mexican Casserole with Ground Beef, Black Beans, and Tomatoes
Chile Rellenos Bake
Vegetarian Green Chile and Pinto Bean Layered Mexican Casserole
Chicken Stuffed with Green Chiles and Cheese
Green Chile Turkey Taco Salad with Peppers and Avocado
Zucchini and Green Chile Breakfast Casserole
Pressure Cooker Refried Beans with Onion, Garlic, and Green Chiles
(You can enter "green chiles" into the search bar to see all the recipes with green chiles.)
Recipes from Other Bloggers Using Roasted Green Chiles:
New Mexico Green Chile Sauce ~ Barefeet in the Kitchen
Turkey and Green-Chile Chili ~ The Perfect Pantry
Hatch Green Chile Cornbread ~ The View from Great Island
New Mexico Green Chile Stew from Use Real Butter
Slow Cooker Hatch Green Chile Verde ~ FoodieCrush
Tomatillo Green Chile Chicken Soft Tacos ~ Cafe Johnsonia
Creamy Hatch Green Chile Dip ~ Taste and Tell
We are a participant in the Amazon Services LLC Associates Program, an affiliate advertising program designed to provide a means for us to earn fees by linking to Amazon.com and affiliated sites. As an Amazon Associate, I earn from qualifying purchases.