Low-Carb and Keto Asparagus Recipes
Here are my favorite Low-Carb and Keto Asparagus Recipes, plus even more asparagus ideas from some food blogging friends! There are 28 amazing asparagus recipes featured here to give you plenty of options!
PIN Low-Carb and Keto Asparagus Recipes to try some later!
To me there's nothing that's more of a sign of spring than asparagus going on sale in the stores! And even though asparagus is sold most of the year now, nothing tastes quite as good as that first asparagus you get in the spring. So I decided I should remind you about my favprote Low-Carb and Keto Asparagus Recipes!
I know not everyone loves asparagus (I have a few family members who are asparagus avoiders.) But for people like me who love fresh asparagus, I think it might be the perfect low-carb food! And this post has enough different ideas for cooking asparagus (or eating it raw) that you can enjoy it for months to come!
Want more low-carb recipes with Asparagus?
If you're an asparagus fan and like easy dinners you might also be interested in my collection of Low-Carb Sheet Pan Meals with Asparagus. And if you're looking for Easter recipes there's also a collection of Low-Carb and Keto Asparagus Recipes for Easter. And check the links at the end for more asparagus round-ups from my blogging friends.
How do you get the complete recipe?
Just click any recipe title to get the complete recipe on Kalyn's Kitchen. Some of these asparagus recipes are things I make over and over every year in the spring, hope you enjoy!
Favorite Dinner Recipes with Asparagus:
Chicken and Asparagus with Three Cheeses is an old favorite and this is so, so, so good!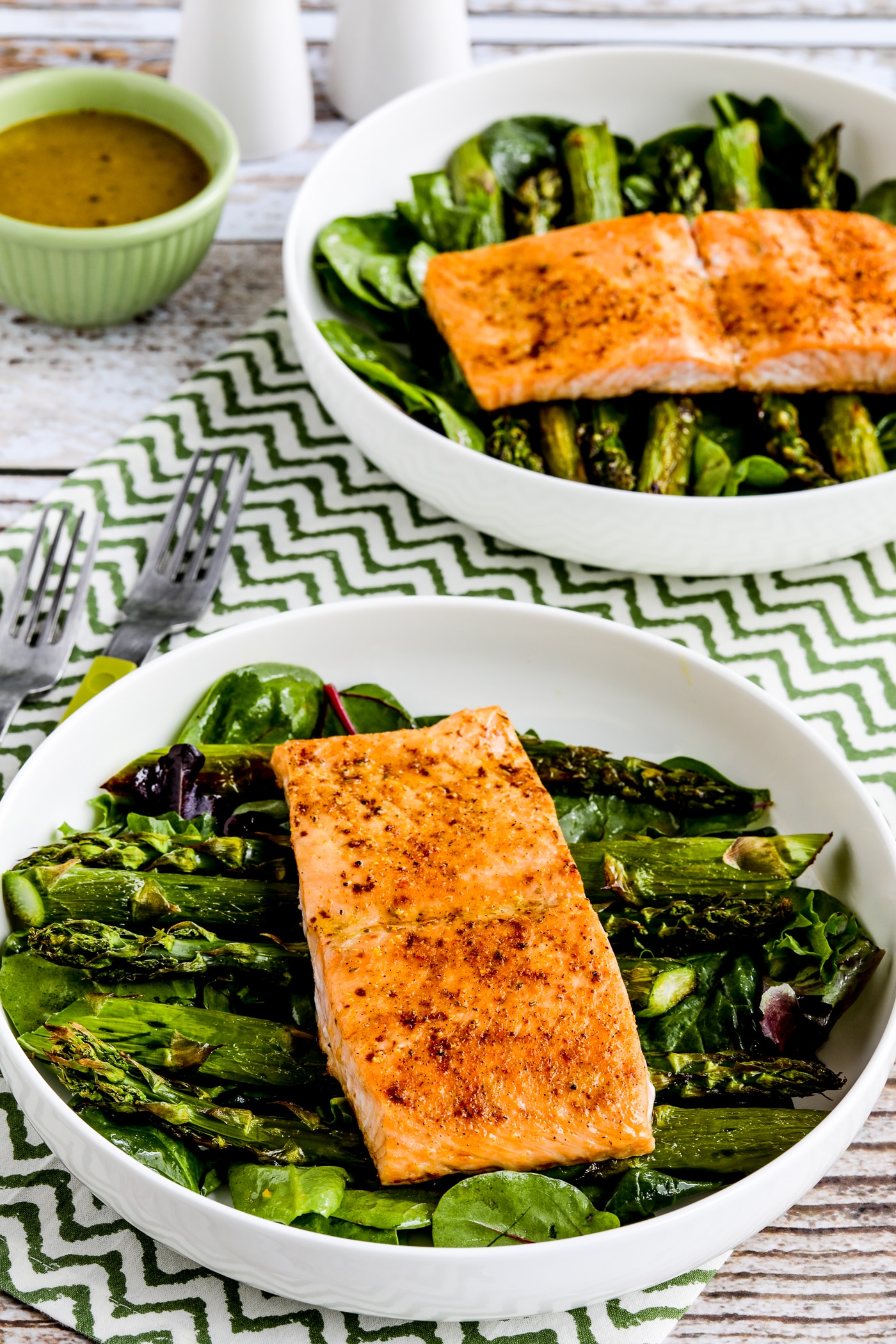 Salmon and Asparagus Salad is an absolute wow dinner idea for spring!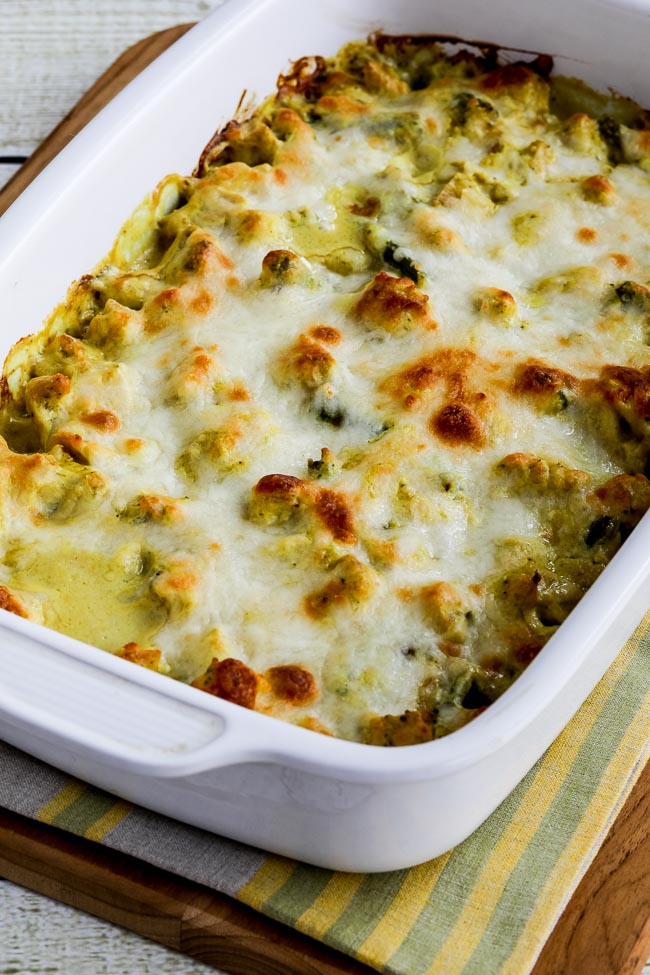 We swooned over this Chicken and Asparagus Bake with Creamy Curry Sauce! And this recipe has a new video; check it out!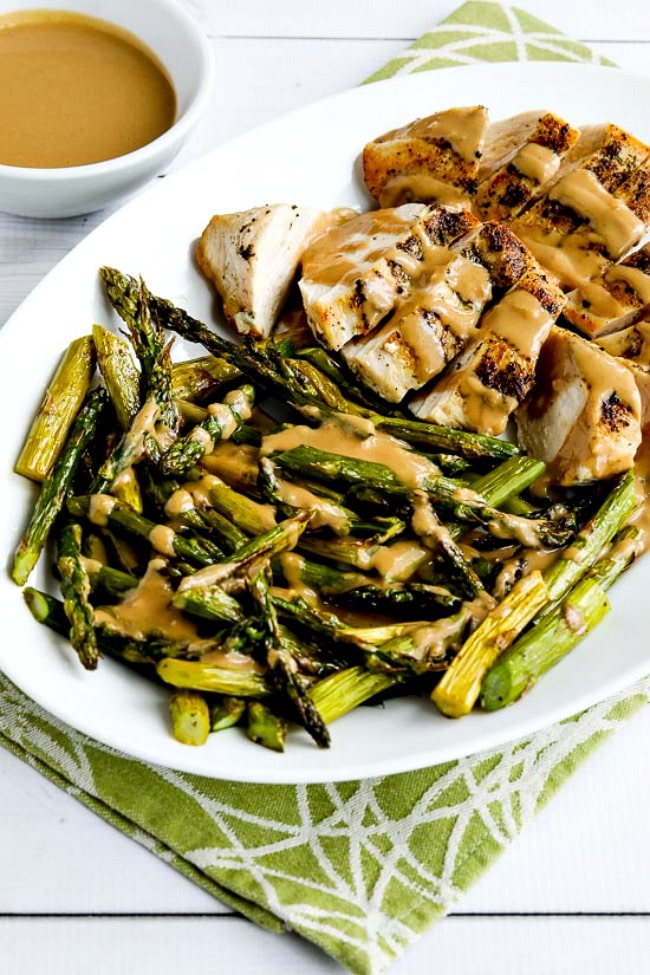 Chicken and Roasted Asparagus with Tahini Sauce is an amazing dinner idea; you can use creamy peanut butter if you don't want to buy tahini.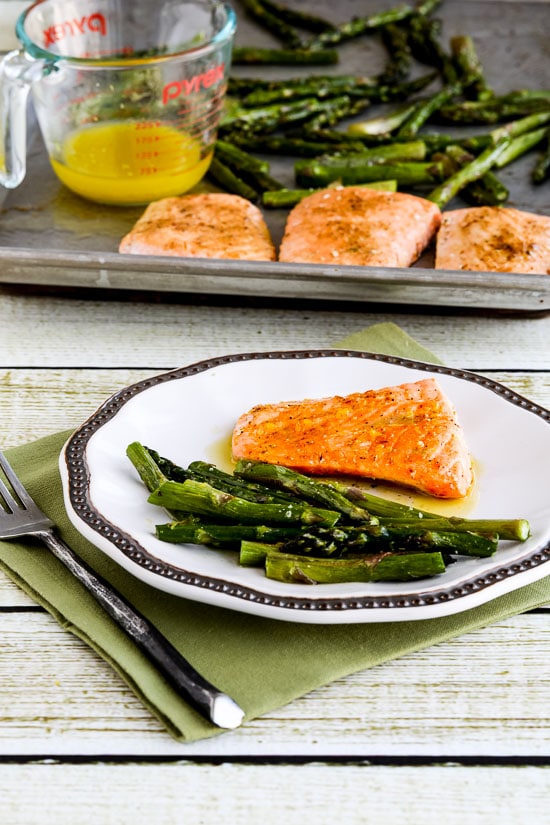 This Roasted Lemon Salmon and Asparagus Sheet Pan Meal is an easy and delicious low-carb dinner that's also Paleo if you're avoiding processed food!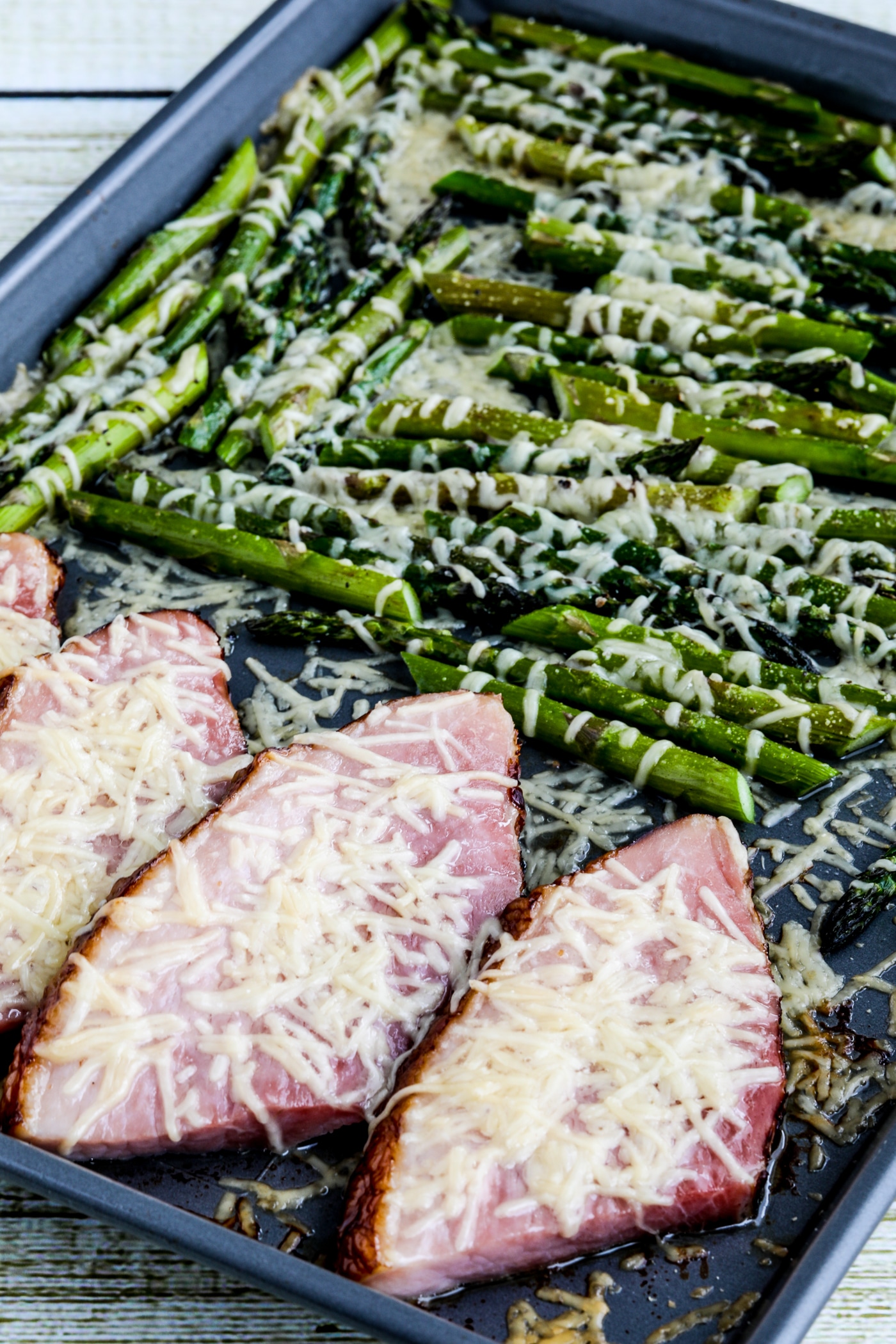 And this Easy Cheesy Baked Ham and Asparagus is a perfect use for leftover ham when you're lucky enough to have some.
Favorite Asparagus Side Dishes: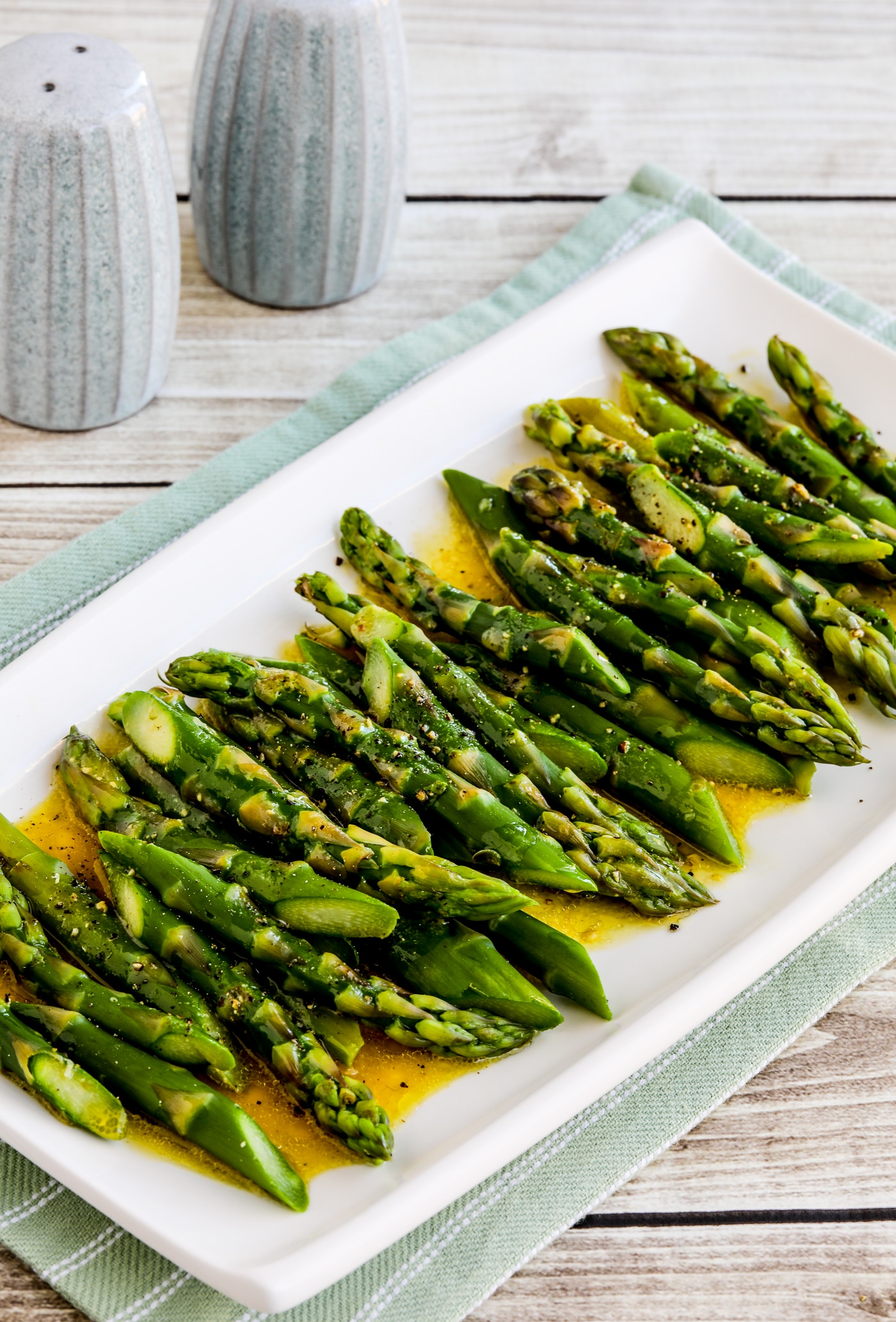 There's no question that this Barely Cooked Asparagus with Lemon Mustard Vinaigrette is one of my favorite ways to cook asparagus!

Air Fryer Asparagus with Lemon and Parmesan is so tasty and this is extra quick to make in the Air Fryer.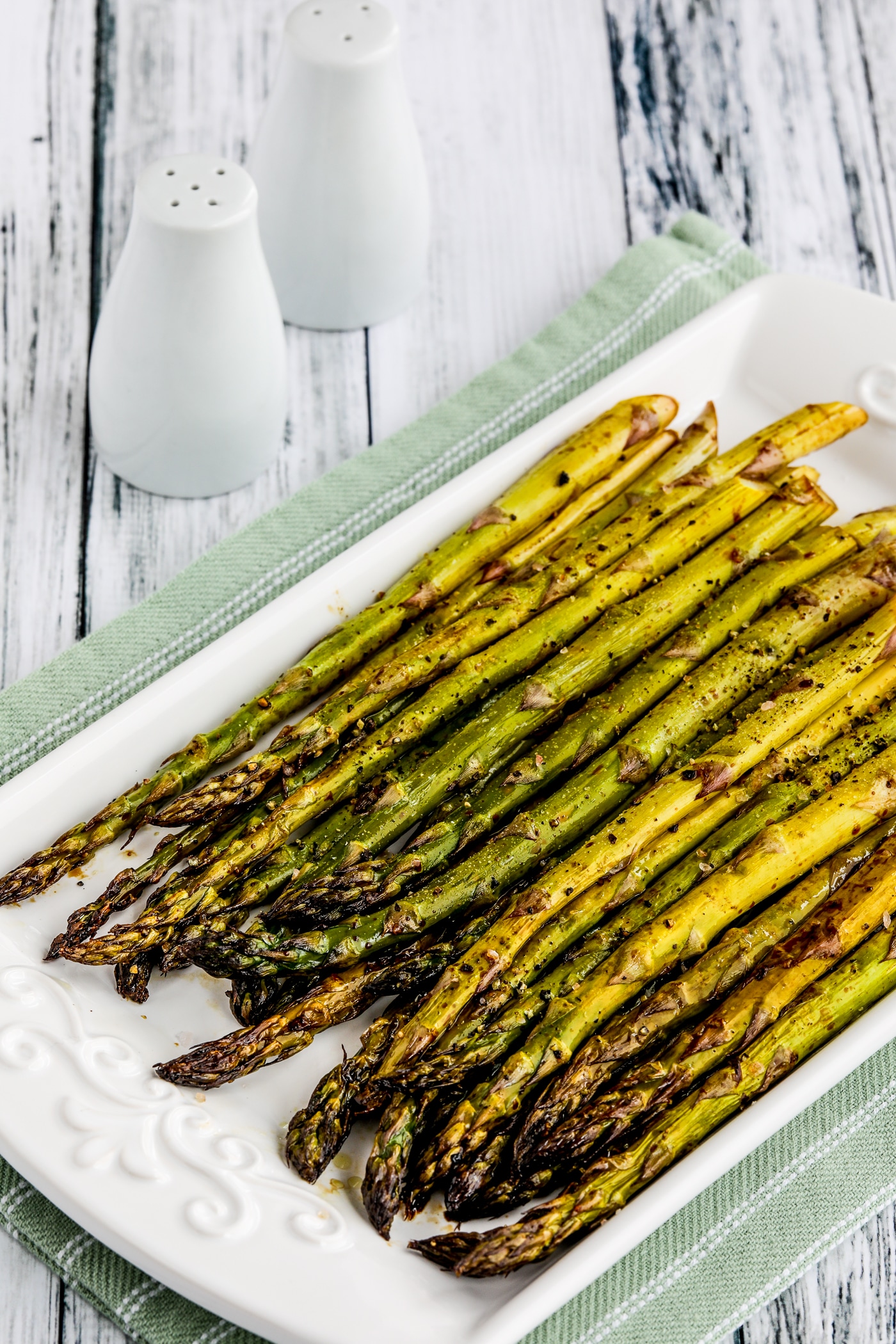 This Easy Roasted Asparagus might become your favorite way to cook asparagus as a side dish because it's very flexible on the cooking temperature so it's great to make when you're making a main dish in the oven.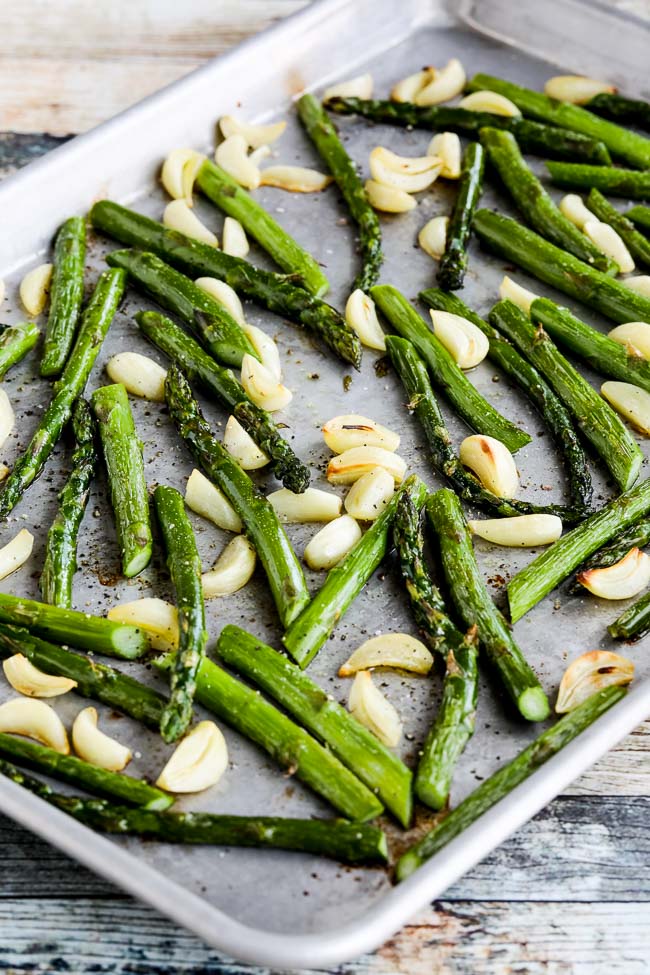 You don't need to fuss to make asparagus taste good, and this Roasted Asparagus with Garlic is truly amazing (and easy!)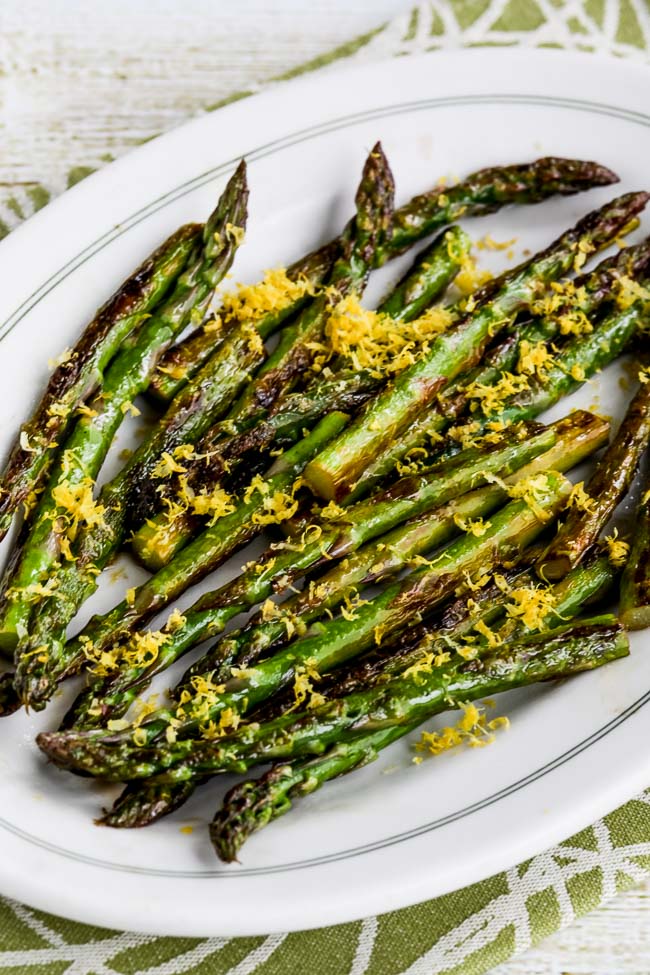 Pan-Fried Asparagus Tips with Lemon Juice and Lemon Zest are perfect to make for guests, and I love asparagus with lemon!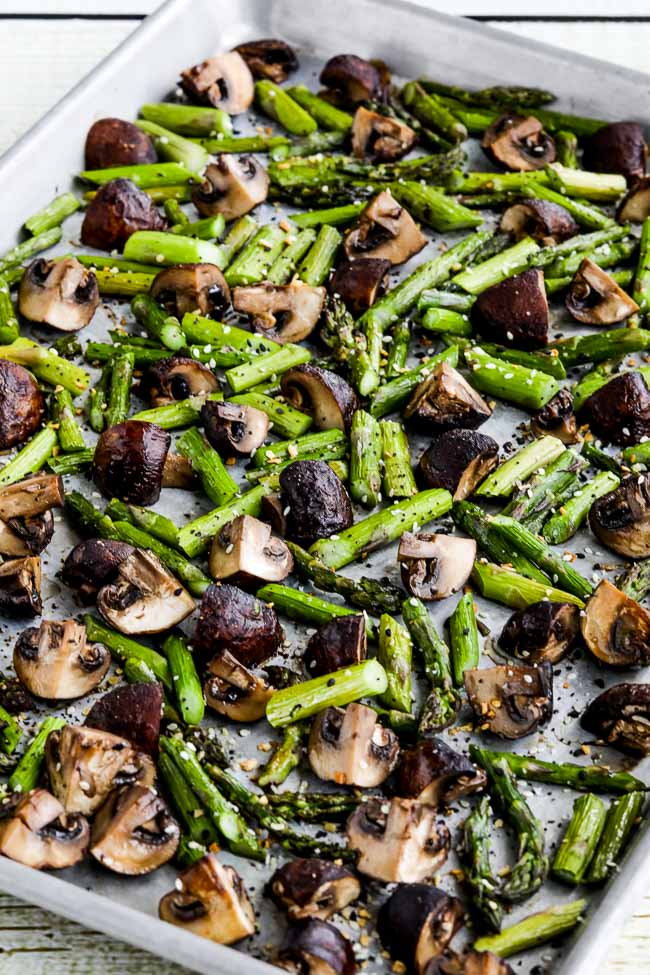 If you like Everything Bagel Seasoning you must try this Roasted Asparagus and Mushrooms with Everything Bagel Seasoning; this is absolutely a wow!
Roasted Asparagus and Peppers is delicious any time of year! Use another type of cheese if you're not a Gorgonzola fan.
Favorite Salads with Asparagus: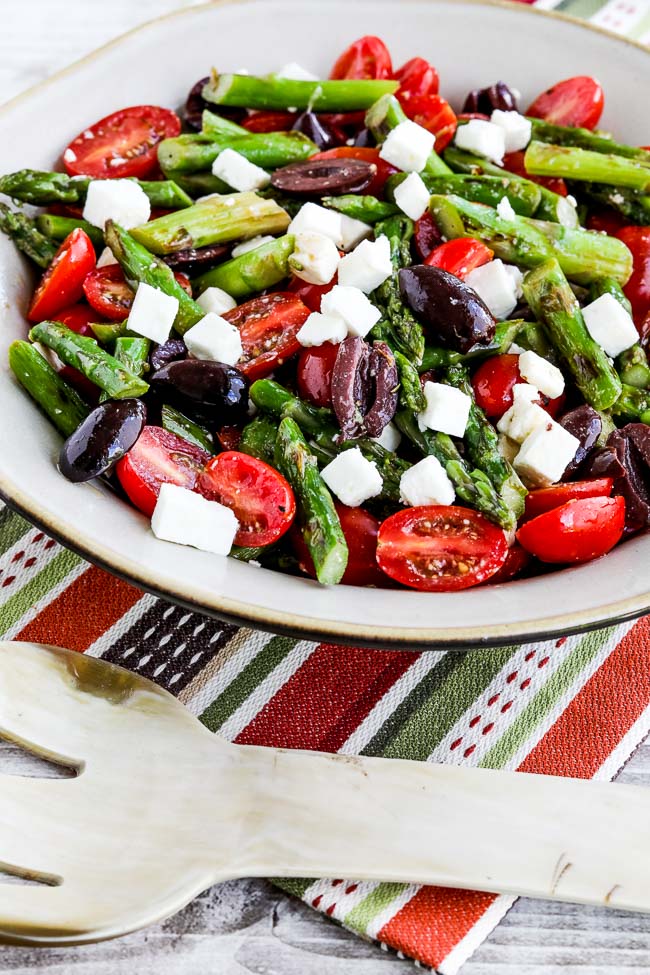 You can't go wrong with this Asparagus Salad with Cherry Tomatoes, Kalamata Olives, and Feta!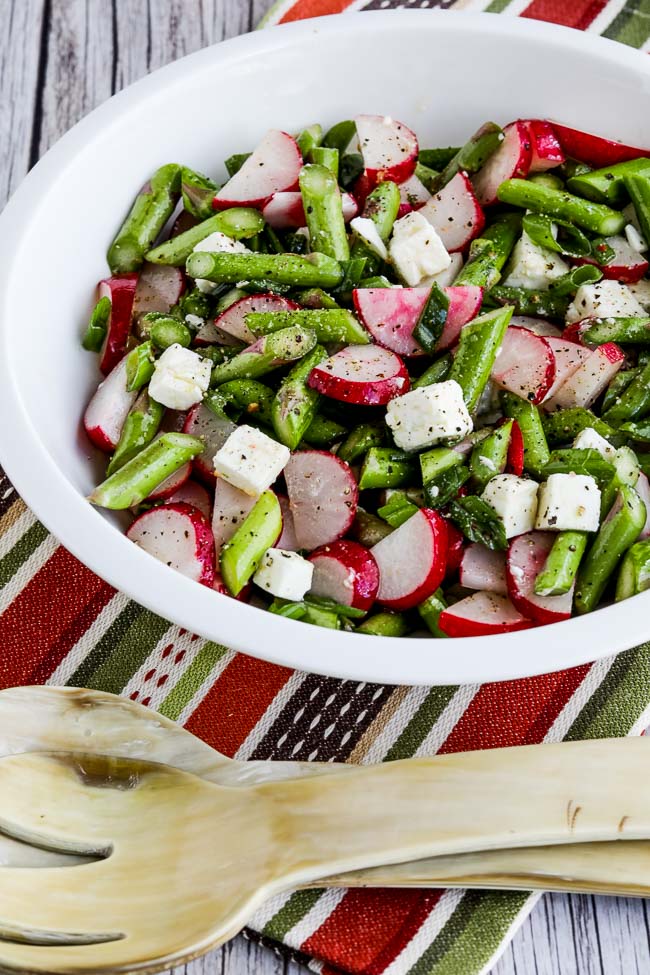 If you haven't tried raw asparagus, be open-minded about this Asparagus and Radish Salad with Feta because it's so delicious!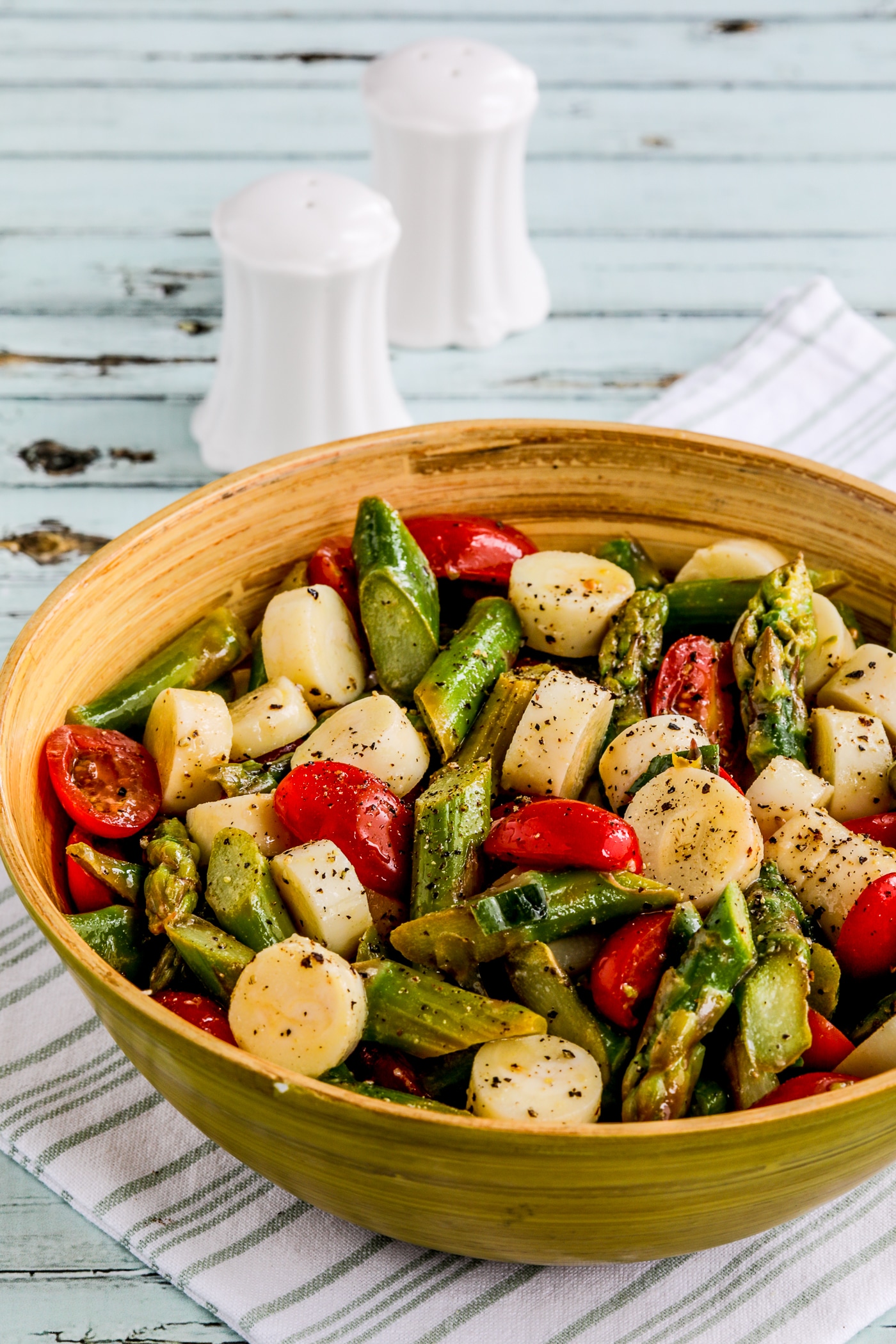 I love hearts of palm as much as I love asparagus, so it's no surprise I'd love this Asparagus and Tomato Salad with Hearts of Palm.
Favorite Breakfasts with Asparagus: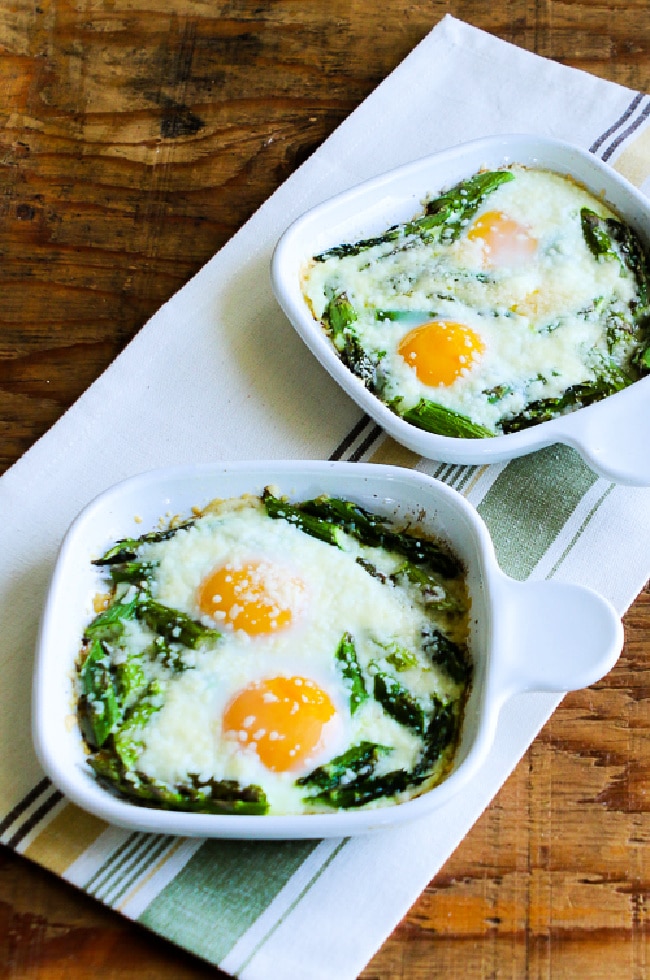 Baked Eggs and Asparagus with Parmesan are amazing and this has been super popular on the blog!
And if you like asparagus and creamy goat cheese, you'll love this Breakfast Casserole with Asparagus, Mushrooms, and Goat Cheese!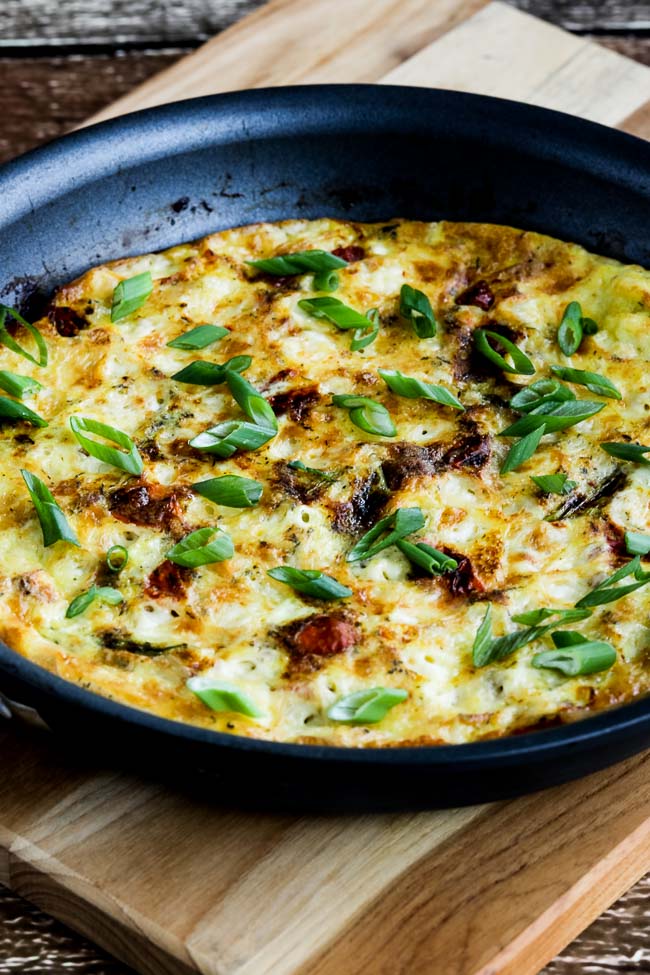 Asparagus and Tomato Frittata with Havarti and Dill is great for brunch or lunch.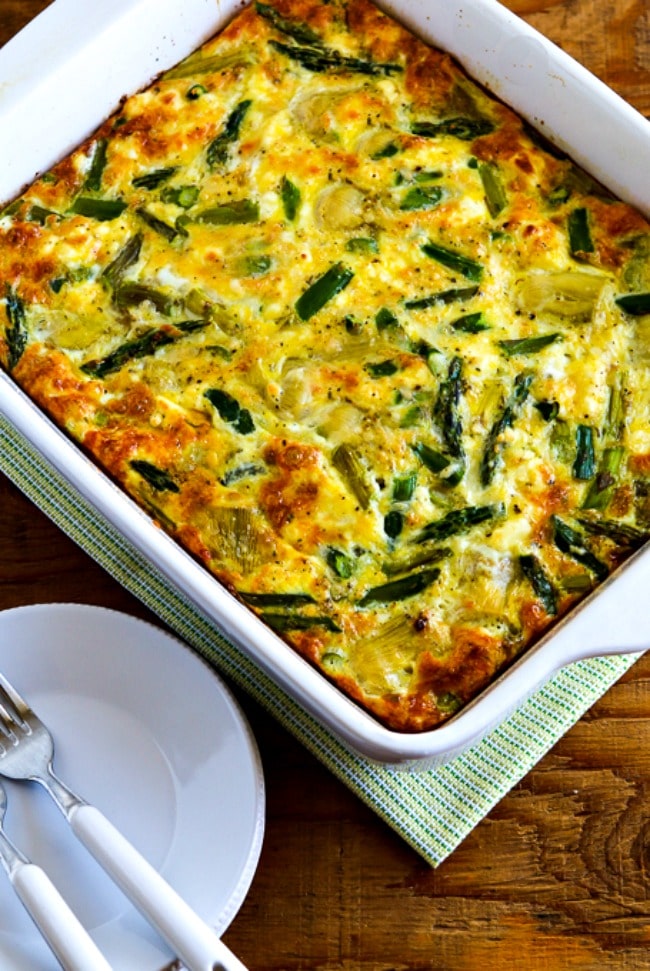 And this Breakfast Casserole with Asparagus and Artichoke Hearts is a perfect idea for Easter brunch!
More Keto Asparagus from Kalyn:
If You Can't Get Enough Asparagus:
What's your favorite way to cook asparagus? Tell us about it in the comments please!
We are a participant in the Amazon Services LLC Associates Program, an affiliate advertising program designed to provide a means for us to earn fees by linking to Amazon.com and affiliated sites. As an Amazon Associate, I earn from qualifying purchases.