20 Keto Salads for Summer Dinners
Here's an amazing collection of 20 Keto Salads for Summer Dinners, and salad is the perfect thing for dinner when the weather heats up! And all the low-carb salad recipes featured here are salads I've enjoyed over and over!
PIN the Keto Salads to try some later!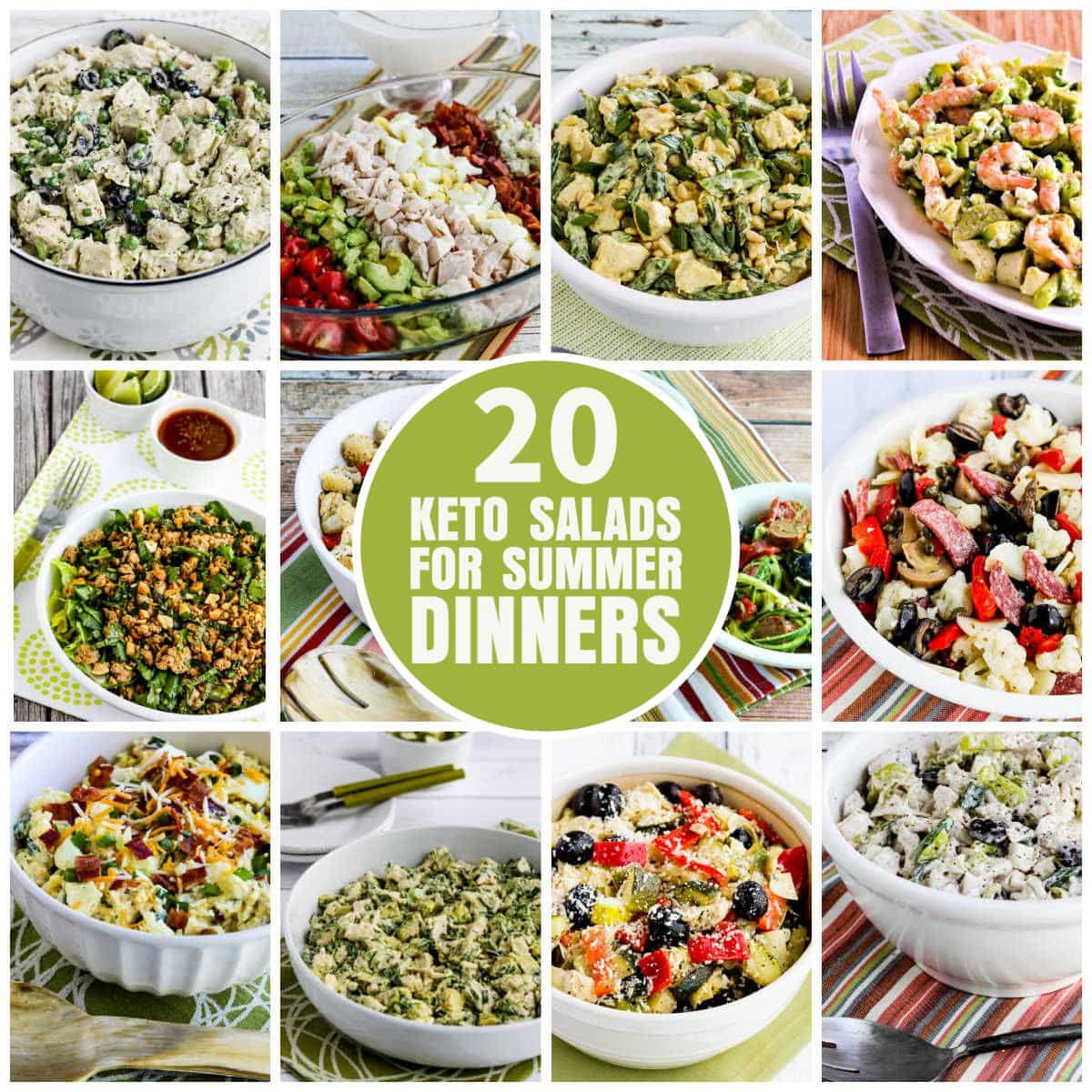 When the weather feels like summer you know it's salad season, and you only have to peek into the Salads Index on this site to see that I'm a huge fan of salads. So the hard thing about recommending 20 Keto Salads for Summer Dinners was narrowing it down to only 20 salads to include!
But after looking around a bit, I ended up with a great collection of different salads, and I hope there's a summer salad here you might like to try soon whenever you feel like having a delicious salad for dinner!
What kinds of Keto Salads are featured here?
For this collection I focused on Keto salads that I'd eat for the entire meal, although some of the vegetarian salads would also make a great side dish. I love chicken salads so there are quite a few salads that use chicken, but you'll also find salads here with shrimp, tuna, eggs, salami, bacon, ground turkey, Italian Sausage, and plenty of salads with different types of cheese!
If you try some of the Keto Salads, please consider leaving a Star Rating on the recipe post!
If you try any of these favorite salads please leave a star rating and let me know how you like them! Star ratings are found in the recipe card, underneath the small photo where it says PRINT; you can use the JUMP TO RECIPE link at the top of each recipe to get to that quickly. And you don't have to log in or leave a comment to rate the recipe, thanks!
How do you get the complete recipe?
Just click or tap any recipe title to see the complete recipe for that salad on Kalyn's Kitchen.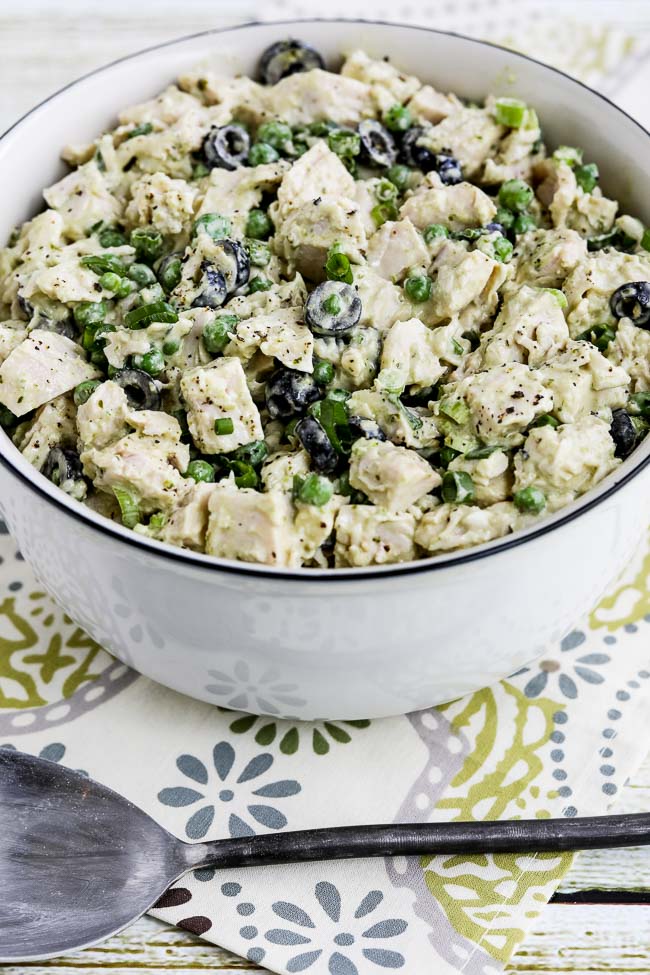 Last summer I served Chicken Pesto Salad quite a few times when I had friends over, and this was always a huge hit! And there isn't a huge amount of peas, so this salad is still really low in carbs.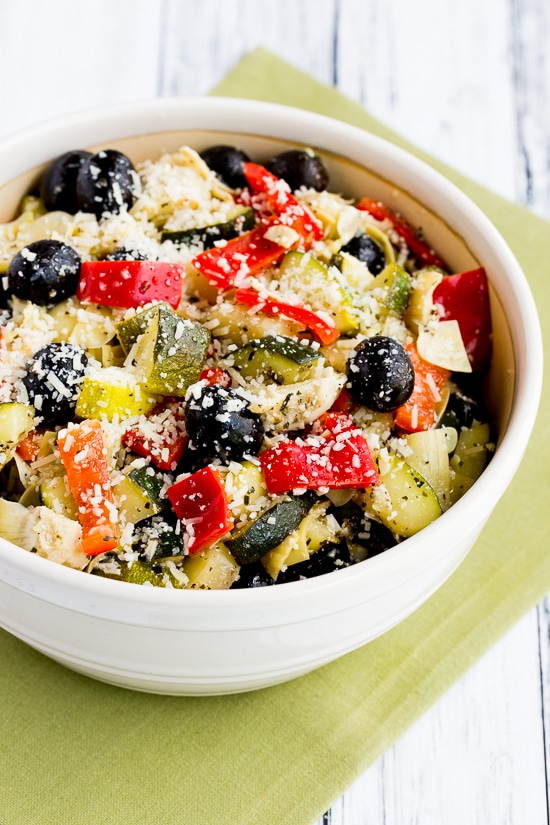 Zucchini is such a perfect low-carb food, and I make this Marinated Zucchini Salad every summer!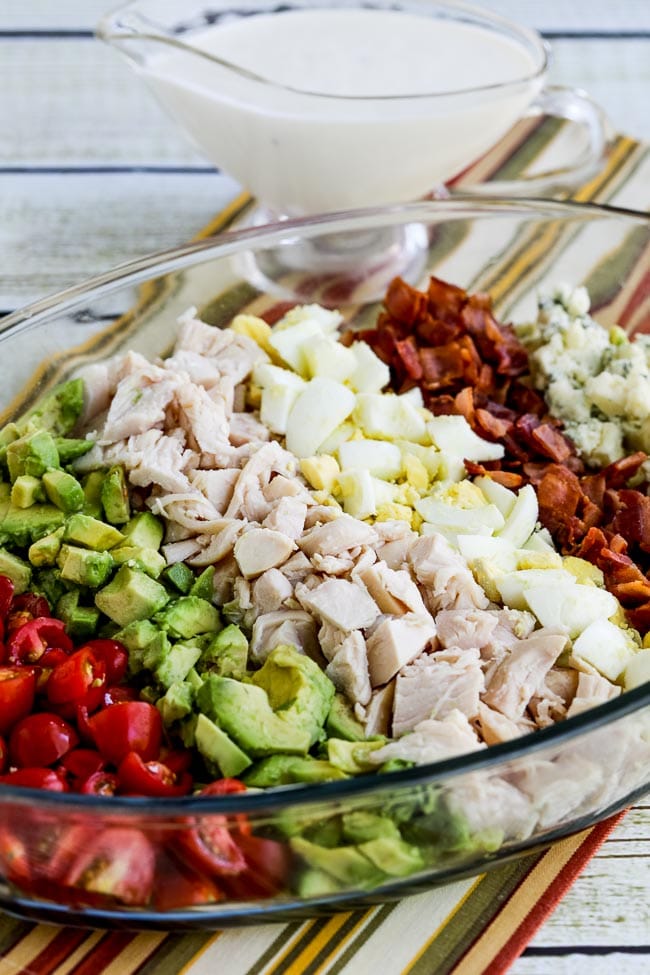 This Lettuce-Free Keto Cobb Salad is absolutely a winner. There aren't a lot of tomatoes in a serving, but you can use less tomatoes or skip them if you want even less carbs.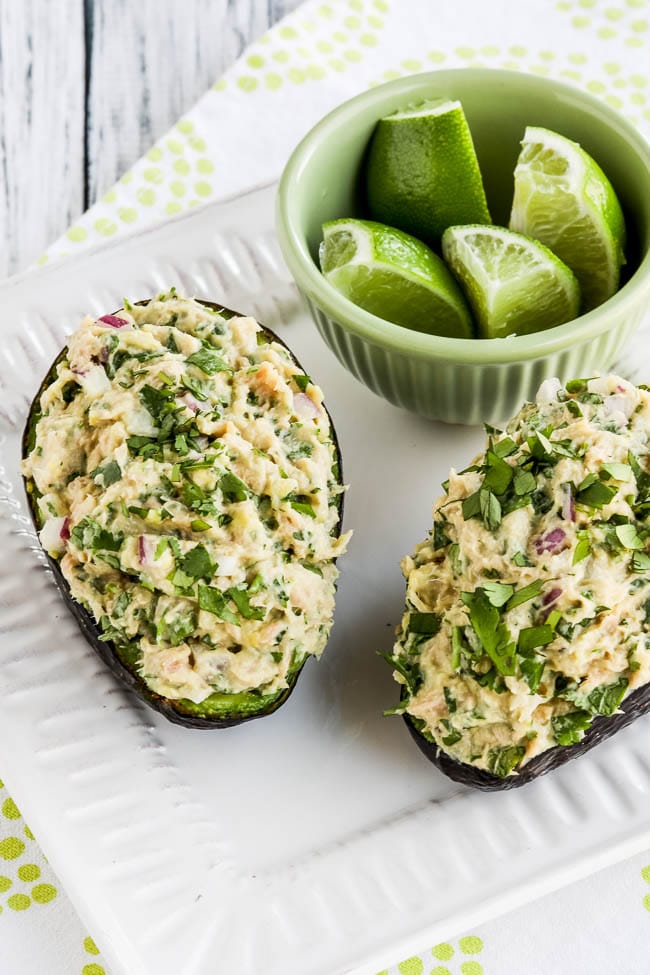 Anyone who loves avocado and tuna packed in olive oil like I do is going to SWOON over this Tuna Stuffed Avocado! And if you're not a cilantro fan just leave that out and this will still be delicious!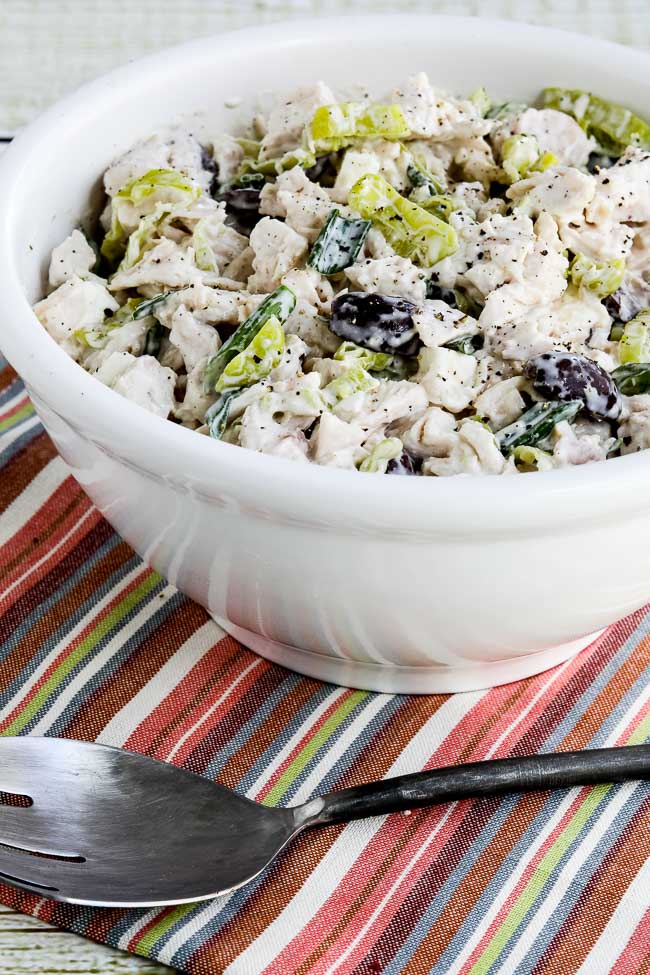 When we made this Greek Chicken Salad with Peperoncini, we couldn't stop talking about how good it was, and if you like spicy Peperoncini you'll love this salad!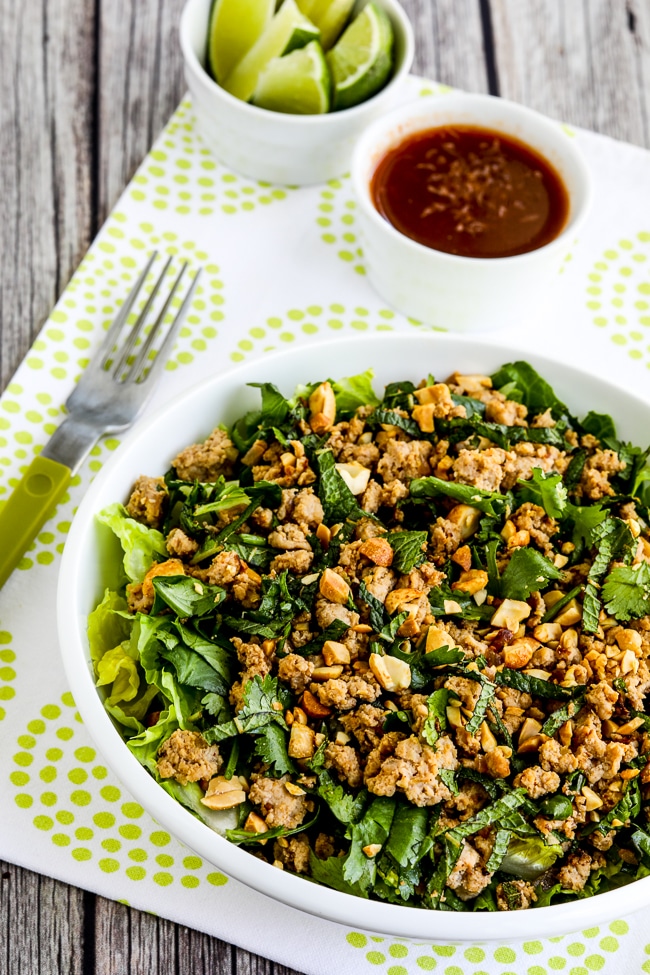 Thai-Inspired Turkey Larb Salad has amazing flavor from seasoned ground turkey, Mint, Cilantro, Sriracha Sauce, and Peanuts, and this delicious low-carb salad has those interesting Thai flavors that so many people love.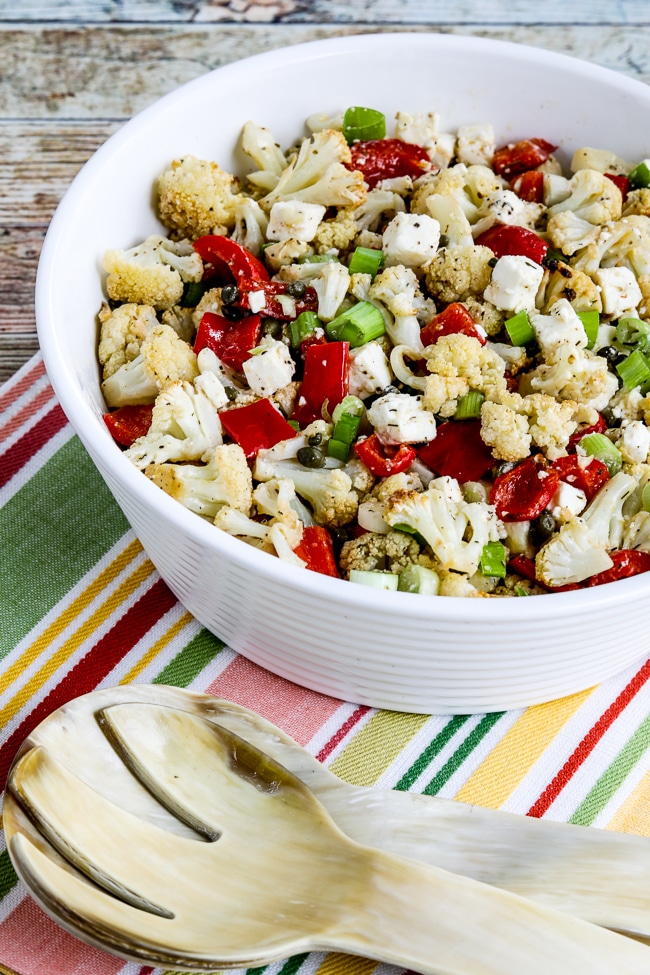 I love all the Greek flavors in this Roasted Cauliflower Salad with Feta, Capers, and Red Pepper and I've made this several times since I updated the photos recently! Seriously, this is so, so good!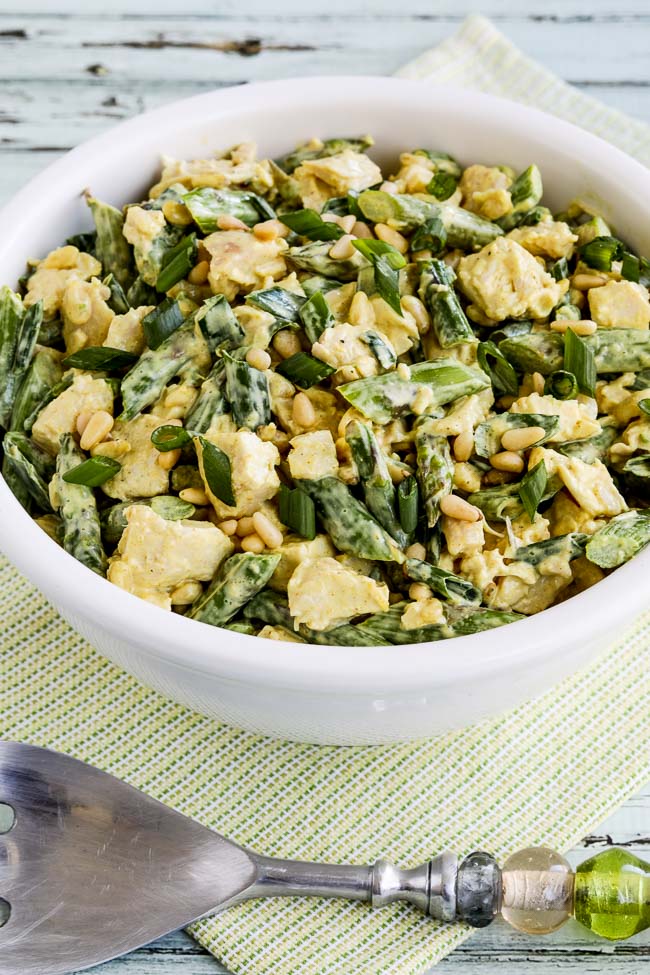 If you like curry flavors and asparagus you're probably going to love this Curried Chicken Salad and did I mention PINE NUTS! You can also make the salad with slivered almonds if that's what you have on hand!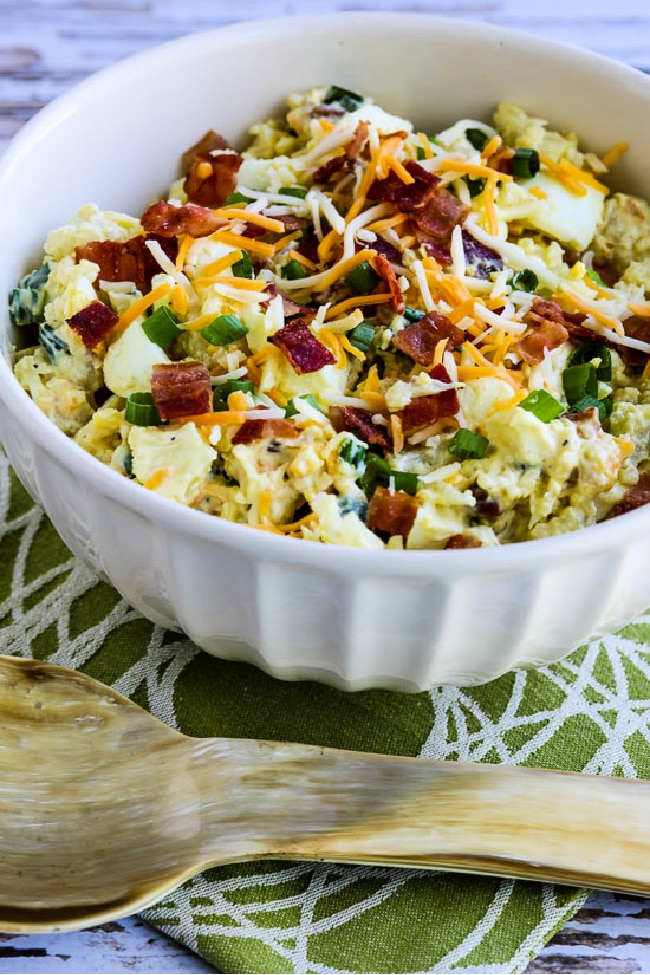 This Loaded Cauliflower Potato Salad has been a huge hit on the blog, and when I took this to a family party even the people who weren't low-carb eaters were surprised to discover they loved the salad.
For this Grilled Zucchini Greek Salad pieces of grilled zucchini replace the cucumbers that are traditional for Greek Salad, and this is a complete wow and if you're looking for ways to use zucchini you'll make this over and over!
Ten More Keto Salads to Enjoy!
We are a participant in the Amazon Services LLC Associates Program, an affiliate advertising program designed to provide a means for us to earn fees by linking to Amazon.com and affiliated sites. As an Amazon Associate, I earn from qualifying purchases.