Low-Carb and Keto Asparagus Recipes for Easter
If you're planning an Easter brunch, lunch, or dinner, here are my favorite Low-Carb and Keto Asparagus Recipes for Easter!
PIN Low-Carb and Keto Asparagus Recipes for Easter!
For everyone who celebrates Easter it's time to start planning your menu for a special brunch or dinner, even if it's just for the family this year. I love most of the foods that show up on spring menus like Leg of Lamb or Holiday Ham, but for me asparagus is the ingredient I look forward using every spring, and this round-up has my favorite Low-Carb and Keto Asparagus Recipes for Easter.
If you like asparagus I hope you'll find some tasty ideas here for cooking it even if you aren't making a special easter meal!
What kinds of Easter Recipes will you find here?
Of course many people have brunch on Easter, so there are ideas here for asparagus + eggs, which I think is always a good combination. There are a couple of casserole recipes with asparagus that could work for Easter Dinner. And this collection of favorites has the asparagus side dishes I make the most!
Want more tasty recipes using asparagus?
If you're a huge asparagus fan like I am, check Favorite Low-Carb and Keto Asparagus Recipes for more of my favorite ways to use asparagus! If March was cabbage month, then April definitely has to be asparagus month; you can use Asparagus Recipes to see all the recipes using asparagus on this site!
If you'd like to use asparagus for an appetizer, this Asparagus Wrapped in Ham would be popular on an Easter buffet, and you could wrap the asparagus spears the night before and keep them in Ziploc bags in the fridge until you were ready to cook them. (1 carb, 0 grams fiber)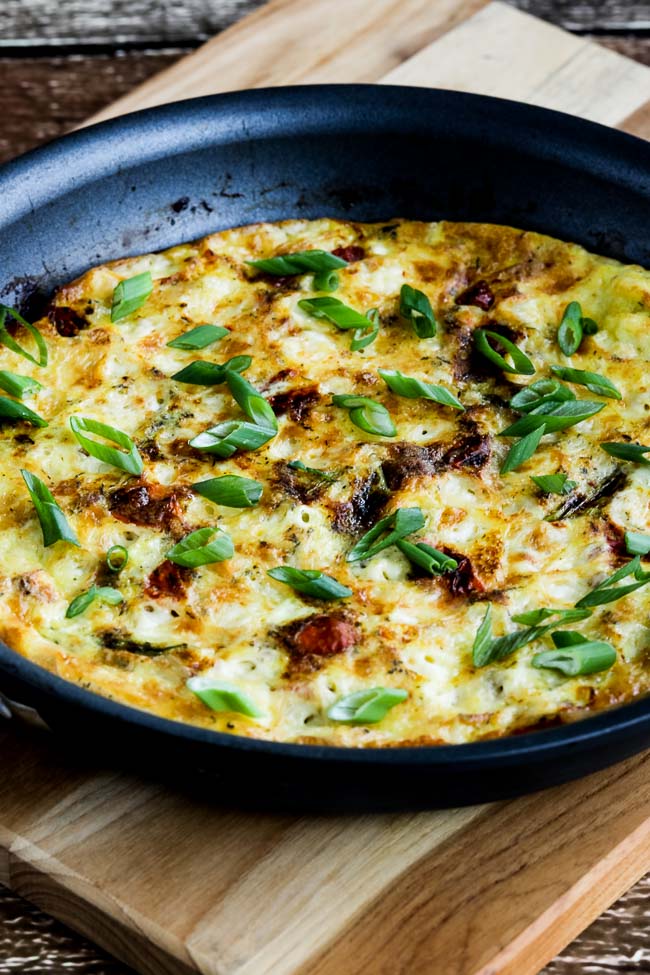 I love frittatas any time of day, and if you're having brunch on Easter this Asparagus and Tomato Frittata with Havarti and Dill would be a lovely main dish. You could make two of these at once if you're having a larger crowd. (4 carbs, 1 gram fiber)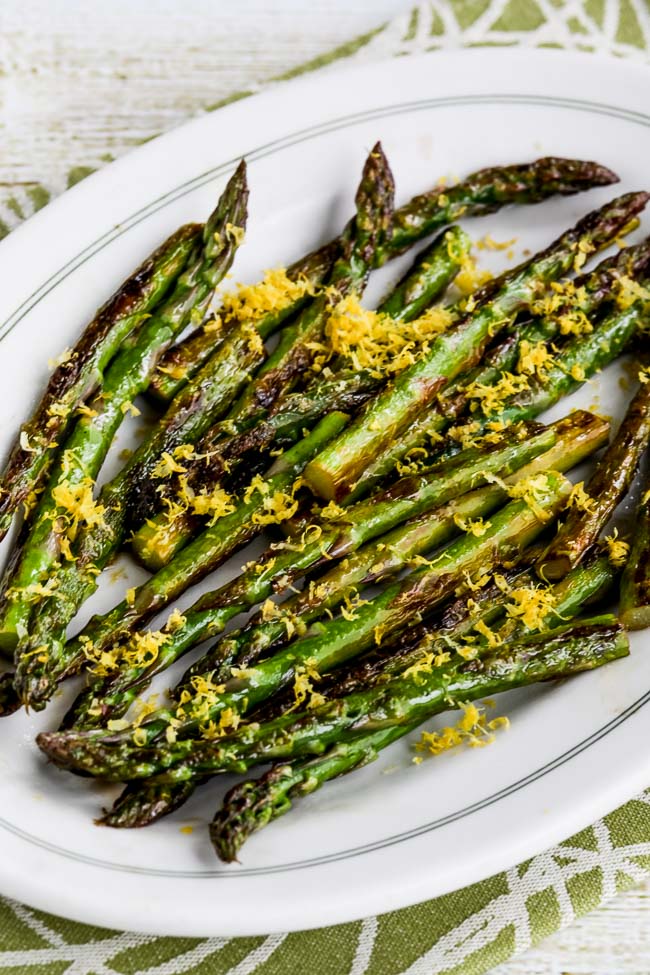 If you're cooking for a small group on Easter this recipe for Pan-Fried Asparagus Tips with Lemon Juice and Lemon Zest is one of my favorite ways to cook asparagus as a side dish. It cooks quickly at the last minute, and you can use the asparagus tips for this and use the stalks for one of the other recipes. (5.2 carbs, 2.4 grams fiber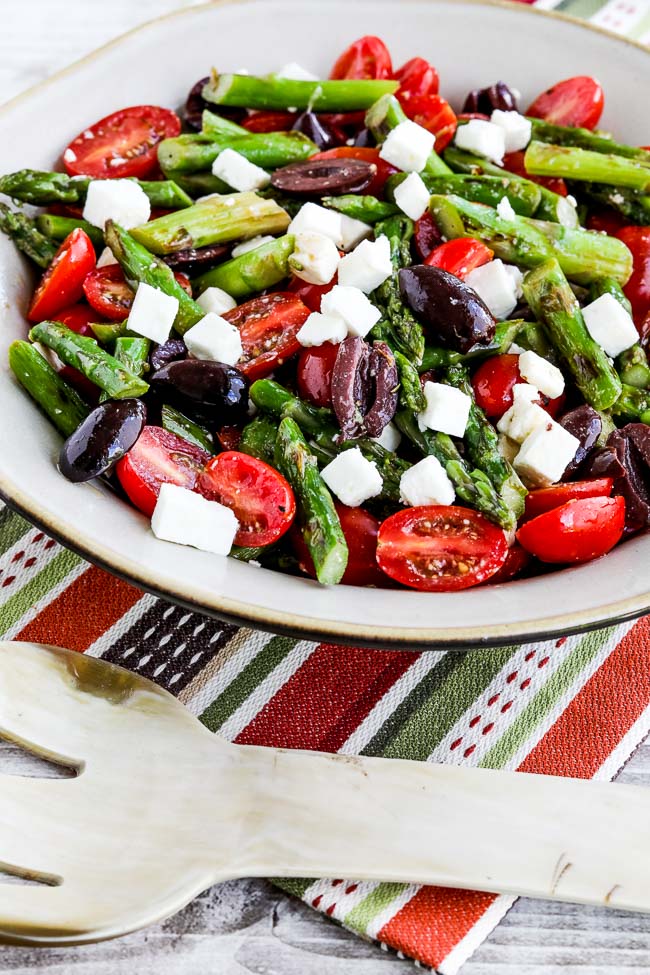 If the weather is warm where you live this Asparagus Salad with Cherry Tomatoes, Kalamata Olives, and Feta would make a great dish for an Easter lunch. (7 carbs. 3 grams fiber)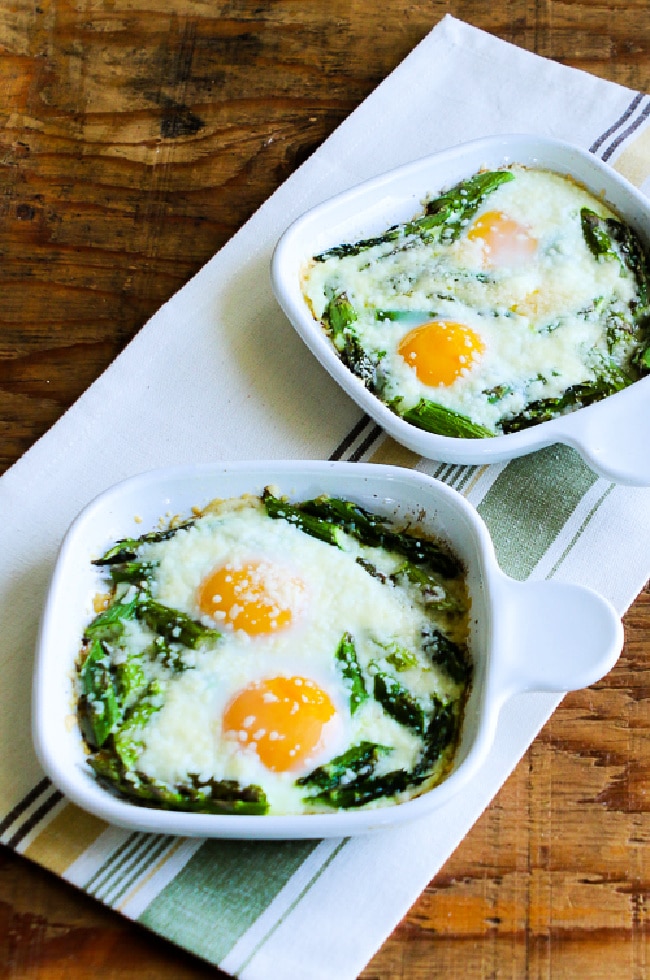 Baked Eggs with Asparagus and Parmesan is one of the most popular asparagus recipes on the site, and this would be perfect for a small crowd for Easter brunch! (4 carbs, 1 gram fiber)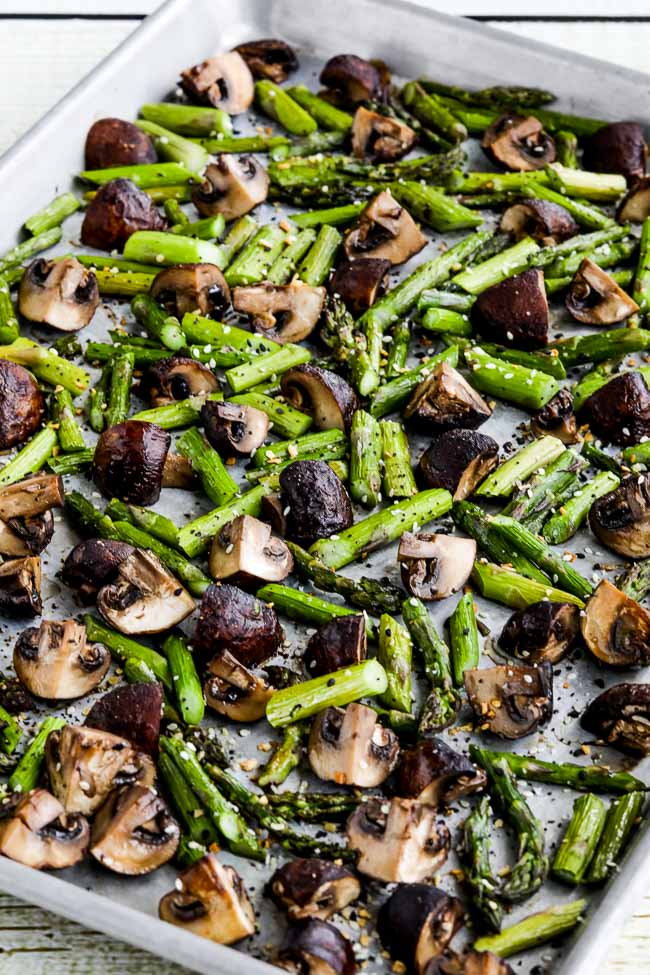 If you're making ham, roast beef, or leg of lamb for an Easter dinner, Roasted Asparagus and Mushrooms with Everything Bagel Seasoning would be a fun and tasty side dish! (7 carbs, 3 grams fiber)
I love the creamy cheesy curry sauce on this Chicken and Asparagus Bake with Creamy Curry Sauce. (7 carbs, 2 grams fiber)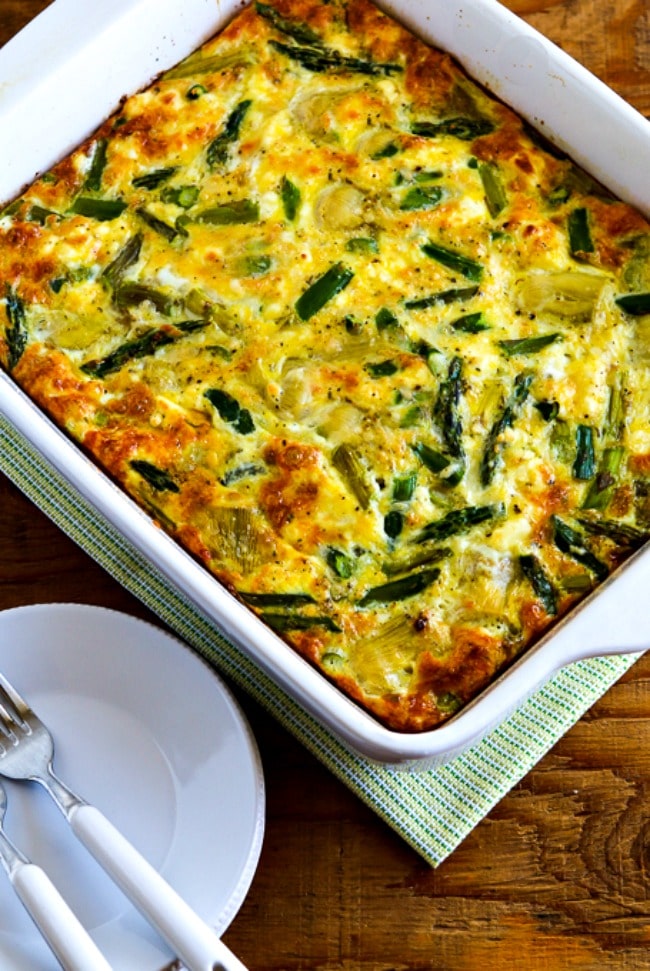 Anyone who likes these ingredients will like this Breakfast Casserole with Asparagus and Artichoke Hearts! (11 carbs, 5 grams fiber)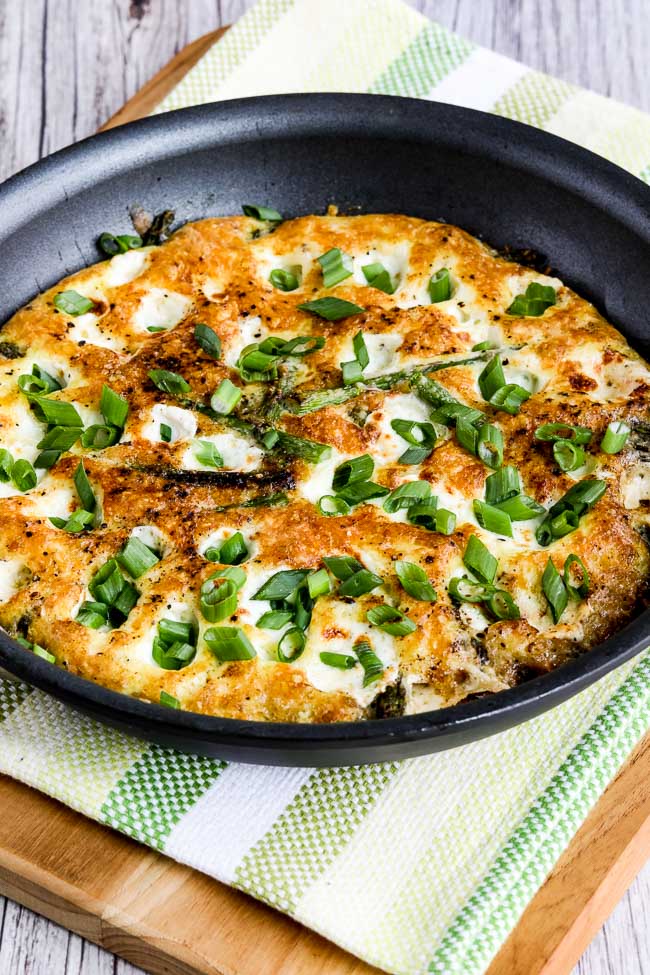 This Asparagus Frittata with Fresh Mozzarella is a perfect way to use asparagus for a brunch dish! (3 carbs, 1 gram fiber)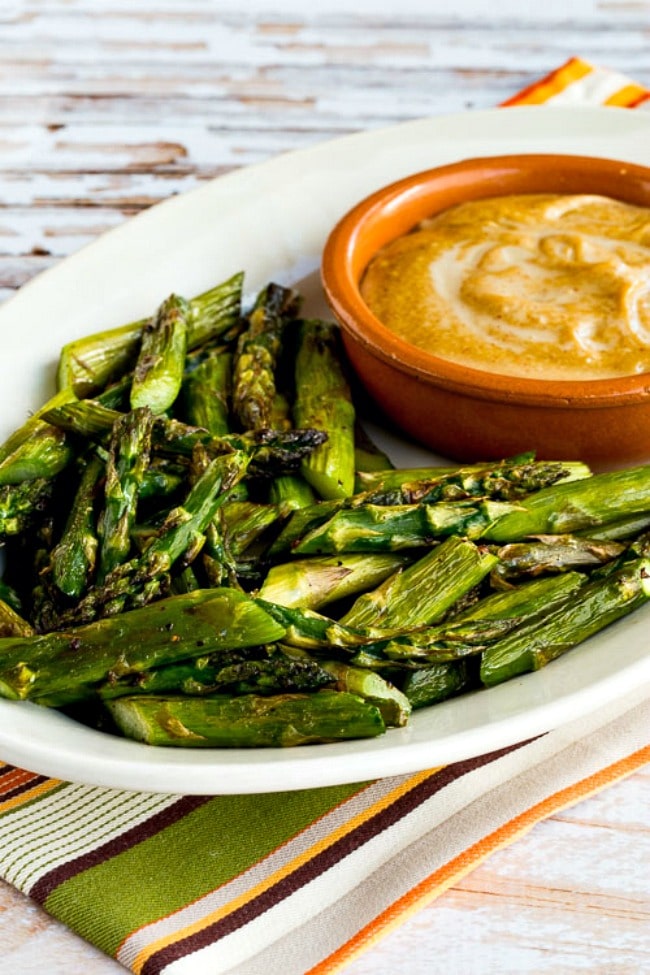 I love the sauce for this Asparagus with Tahini-Peanut Dipping Sauce! (11 carbs, 4 grams fiber)
Crustless Breakfast Tarts with Asparagus and Goat Cheese would be perfect for an Easter Brunch. You could make in advance and quickly reheat when it's time for brunch. (5.2 carbs, 1.8 grams fiber)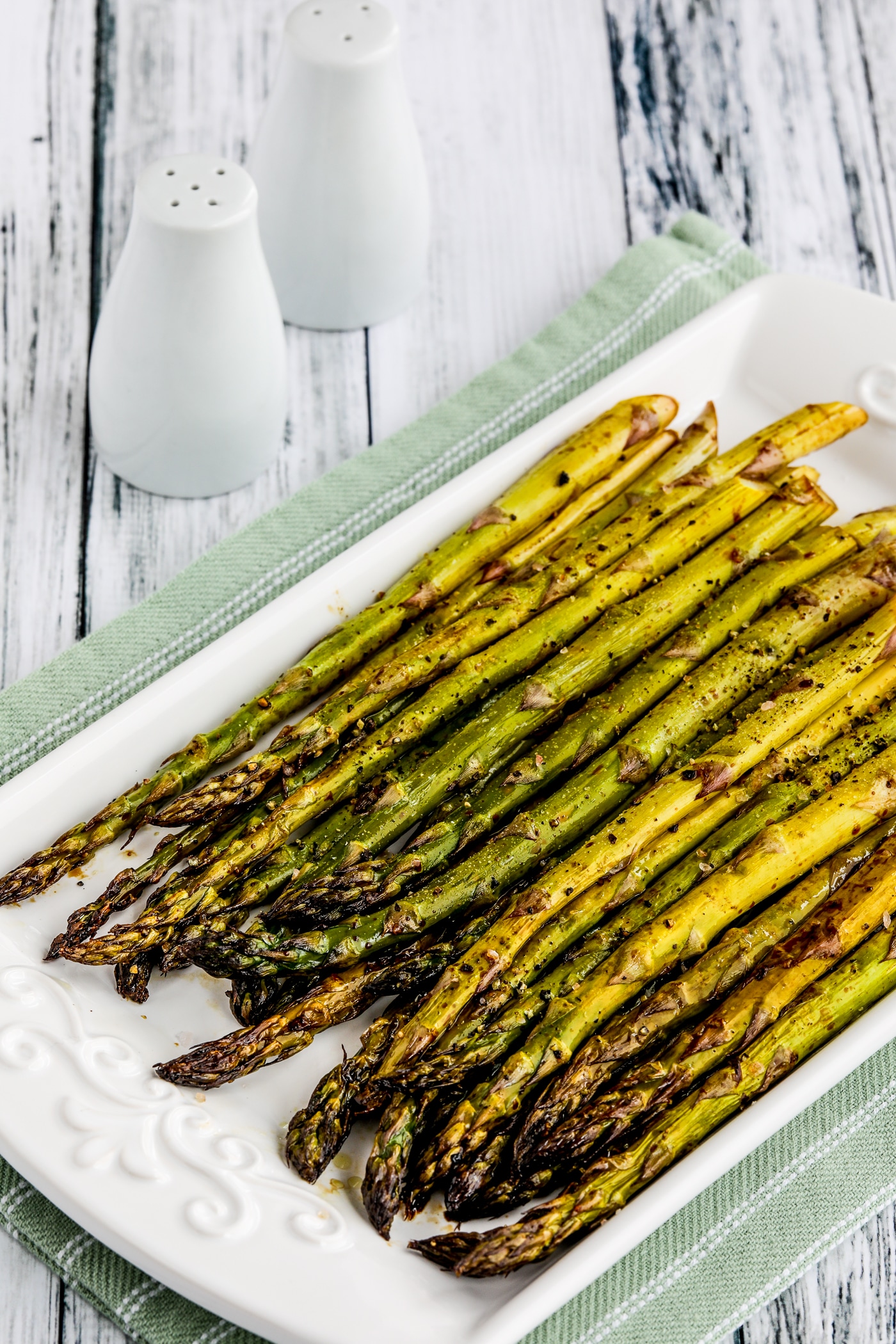 And finally, no matter what else you're cooking this Easy Roasted Asparagus is always a perfect side dish because it can be adapted to a wide variety of temperatures for cooking in the oven! (6 carbs, 2 grams fiber)
Let us know in the comments about what you're making for Easter!
We are a participant in the Amazon Services LLC Associates Program, an affiliate advertising program designed to provide a means for us to earn fees by linking to Amazon.com and affiliated sites. As an Amazon Associate, I earn from qualifying purchases.