Easy Roasted Asparagus
Easy Roasted Asparagus might become your favorite roasted asparagus recipe because it's flexible on the cooking temperature. Whenever you're cooking something else in the oven this will be a perfect side dish.
PIN Easy Roasted Asparagus to try it later!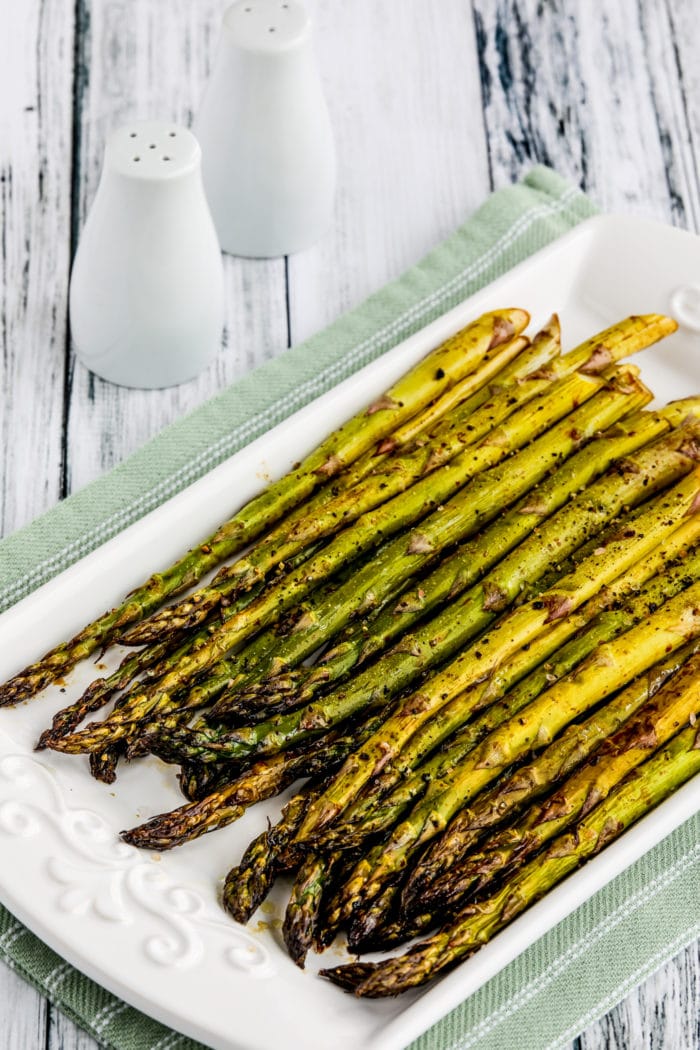 I've shared plenty of recipes for asparagus roasted at high heat on this site, like Roasted Asparagus and Mushrooms and Roasted Asparagus with Soy-Sesame Glaze. But today for Friday Favorites I'm reminding you about this Easy Roasted Asparagus that's one I make often because of the way it's flexible on the cooking temperature. And nothing beats simple roasted asparagus for a side dish when you don't want to go to much trouble!
I know not everyone is an asparagus fan, but roasted asparagus is something I look forward to every year, which is why there's such a collection of Asparagus Recipes on my site. And right now it's asparagus season when the price goes down a bit, so grab some asparagus and roast it!
What temperatures will work for this Easy Roasted Asparagus?
Any time you're making something else in the oven you should remember this recipe where the asparagus roasts at 350F/180C or 375F/190C making it perfect to cook it with something that needs one of those temperatures. Those are the temperature I use most for oven dinners, and who doesn't love making a dinner where the whole thing cooks in the oven at the same temperature? And you can definitely cook this asparagus at the 400F/200C temperature so many roasted vegetables use as well, if that's what works for you.
What ingredients do you need for this recipe?
(This is only a list of ingredients; please scroll down for complete printable recipe. Or if you use the JUMP TO RECIPE link at the top of the page, it will take you directly to the complete recipe.)
fresh asparagus
extra virginOlive Oil (affiliate link)
best quality Balsamic Vinegar (affiliate link)
salt and fresh ground black pepper to taste
Want more Roasted Asparagus?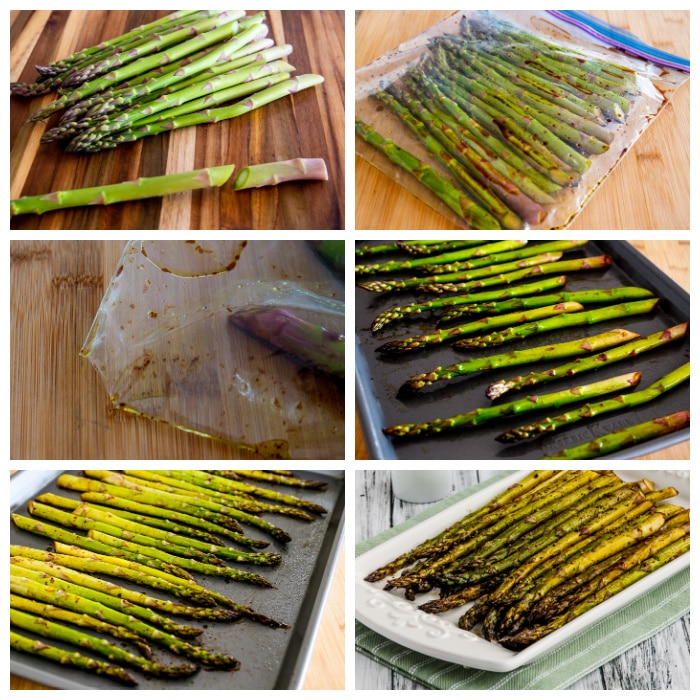 How to make Easy Roasted Asparagus:
(This is only a summary of the steps for the recipe; please scroll down for complete printable recipe. Or if you use the JUMP TO RECIPE link at the top of the page, it will take you directly to the complete recipe.)
Trim woody ends of the asparagus and cut the stem on the diagonal. I like long whole pieces, but you can cut into shorter bite-sized pieces if you prefer.
Put asparagus into a Ziploc bag (or dish) with a little olive oil and balsamic vinegar, and season with salt and fresh ground pepper.
You can marinate asparagus for a bit if you like, but it's not completely necessary.
When you're ready to cook, preheat oven to 350F/180C. (Or use 375F/190C or 400F/200C if you prefer. See those cooking times in recipe below)
To drain the asparagus, I cut off the tip of the bag and let the olive oil / vinegar mixture drain out.
Spread asparagus out on a cookie sheet, spacing it out well.
Roast asparagus until it's done to your liking, starting to check for doneness after about 20 minutes for 350F/180C temperature.
Serve Easy Roasted Asparagus hot.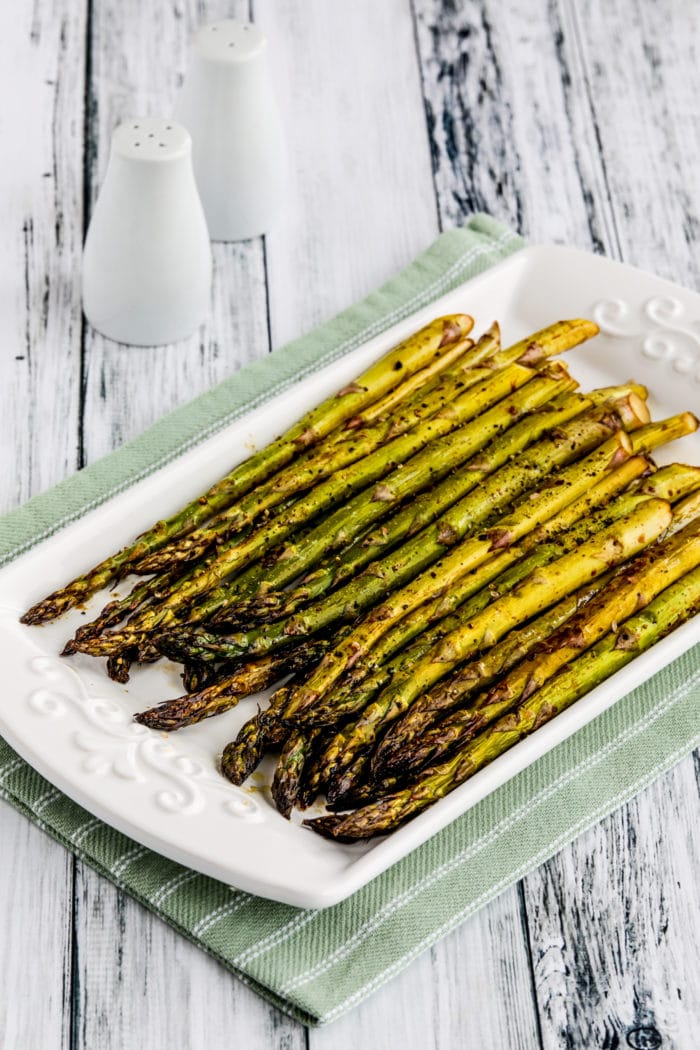 Make it a Low-Carb Meal:
This tasty asparagus can share the 350F/180C oven with Roasted Chicken Thighs with Onions, Mushrooms, and Rosemary, Roasted Tomatoes and Shrimp with Feta, or Stuffed Peppers with Beef, Sausage, and Cabbage. (If you bump the temperature up to 375F/190C you'll find a lot more options. Just enter that temperature in the search bar to find them.)
Find More Perfect Asparagus Recipes: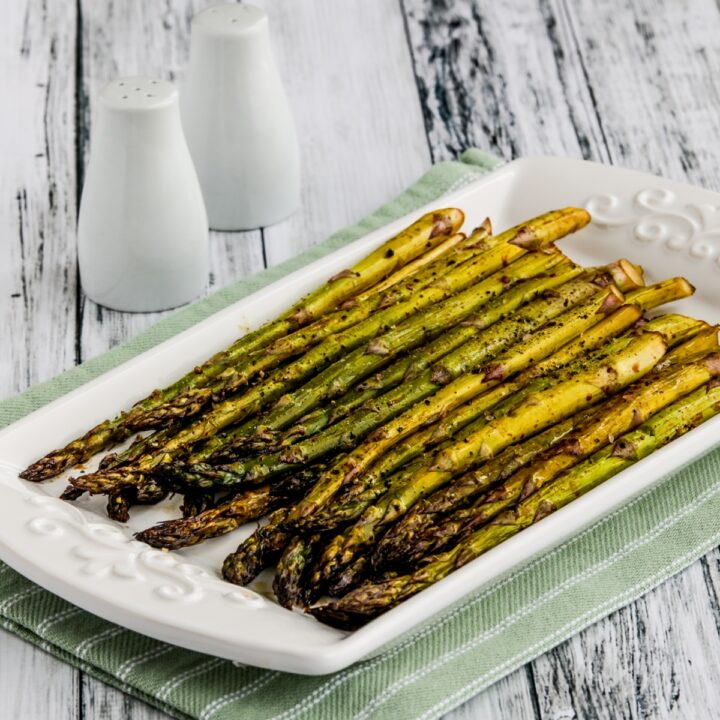 Yield: 4 servings
Easy Roasted Asparagus
Prep Time 10 minutes
Cook Time 20 minutes
Additional Time 10 minutes
Total Time 40 minutes
Easy Roasted Asparagus is the perfect side dish when you're making something else in the oven because it can be cooked at a variety of different temperatures!
Ingredients
1 pound asparagus, ends trimmed
2 T extra virgin olive oil
1 T best quality balsamic vinegar (more or less to taste)
salt and fresh ground black pepper to taste
Instructions
Oven should be preheated to 350F/180C. (See below for other cooking temperatures.)
Take one piece of asparagus and hold by both ends and snap. This will give you a guide as to how much woody stem of the asparagus needs to be cut off (usually about 2 inches).
Trim the rest of the asparagus pieces to that size. (You can cut it into shorter lengths if you prefer.)
Put asparagus in large Ziploc bag or plastic container with snap-tight lid, pour in olive oil, vinegar, and season with salt and pepper.
Manipulate bag or turn over container until asparagus is well coated with oil/vinegar mixture. (You can let it marinate for a while if that fits your schedule.)
If you marinated the asparagus in a Ziploc bag, just cut off a corner and let the oil and vinegar drain out.
When you're ready to cook, put the asparagus on a baking sheet, spacing it out as much as possible.
Cook until it's as done as you prefer. Start to check at about 20 minutes if you're using the 350F/180C temperature.
If you're cooking at 375F/190 C I would start to check at about 18 minutes. If you're cooking at 400F/200C, I would start to check at about 16 minutes.
Cooking time for asparagus is a personal preference. I prefer it still slightly crisp, but some people like it softer.
You might want to serve this with a few drops of that very expensive balsamic vinegar you've been saving drizzled over just before serving.
Notes
This recipe perfected by Kalyn when she only had one oven and wanted to cook asparagus with another dish that used this temperature!
Nutrition Information:
Yield:
4
Serving Size:
1
Amount Per Serving:
Calories: 90
Total Fat: 7g
Saturated Fat: 1g
Trans Fat: 0g
Unsaturated Fat: 6g
Cholesterol: 0mg
Sodium: 162mg
Carbohydrates: 6g
Fiber: 2g
Sugar: 2g
Protein: 3g
Nutrition information is automatically calculated by the Recipe Plug-In I am using. I am not a nutritionist and cannot guarantee 100% accuracy, since many variables affect those calculations.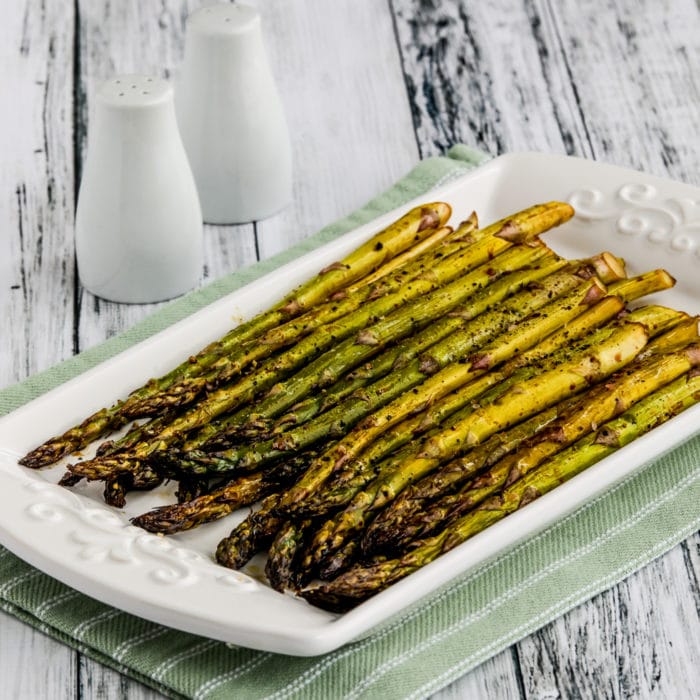 Low-Carb Diet / Low-Glycemic Diet / South Beach Diet Suggestions:
This is a perfect side dish for any low-carb or Keto eating plan, as well as for any phase of the original South Beach Diet.
Find More Recipes Like This One:
Use Side Dishes to find more recipes like this one. Use the Diet Type Index to find recipes suitable for a specific eating plan. You might also like to follow Kalyn's Kitchen on Pinterest, on Facebook, on Instagram, on TikTok, or on YouTube to see all the good recipes I'm sharing there.
Historical Notes for this Recipe:
This Roasted Asparagus recipe was first posted in 2006; it was last updated with more information in 2023.
We are a participant in the Amazon Services LLC Associates Program, an affiliate advertising program designed to provide a means for us to earn fees by linking to Amazon.com and affiliated sites. As an Amazon Associate, I earn from qualifying purchases.