My Favorite Recipes with Low-Carb Tortillas
Here are My Favorite Recipes with Low-Carb Tortillas and a recommendation for my favorite low-carb tortillas! These tortillas do have a few carbs, but they're loaded with fiber and low enough in net carbs to work for most carb-conscious eaters!
PIN the recipes with tortillas to try some later!
This post has 22 delicious options for Recipes with Low-Carb Tortillas, and I'm also giving a recommendation for the tortillas I use to make these dishes. These favorite low-carb tortillas are one of the carb-conscious products I've featured for Kalyn's Kitchen Picks, and the Mission Carb Balance Tortillas come in several varieties and are something I buy often; the whole wheat soft taco size (with 3 net carbs) and the soft taco size (with 4 net carbs) are the ones I use most.
Of course these tortillas are not gluten-free, but for people who are limiting carbs but want to enjoy a dish made with tortillas once in a while, these are the best tasting low-carb tortillas I've found. I prefer the whole wheat type, but they also have white flour varieties, although they're a tiny bit higher in carbs. It's the high fiber count that makes these tortillas low in net carbs, click the description under any of the Carb Balance Tortillas to see the ingredients.
Where can you buy Mission Carb Balance Tortillas?
There are so many stores that carry these low-carb tortillas, and I even find them now at Costco in a big package. But if your favorite store doesn't have them, you can get Mission Carb Balance Low-Carb Tortillas (affiliate link) at Amazon.com. Check them out and see which ones you like best. (And as always, this company has no idea that I'm writing about their product and I was not compensated to feature it here.)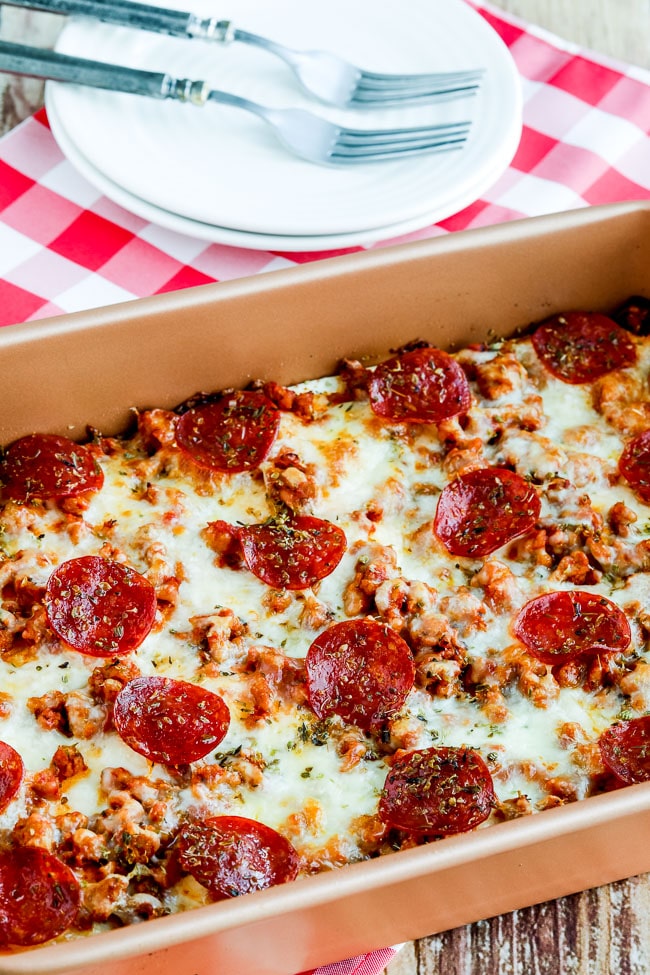 Sausage and Pepperoni Layered Pizza Bake has a low-carb version made with low-carb tortillas and a Keto version made with Folios Cheese Wraps!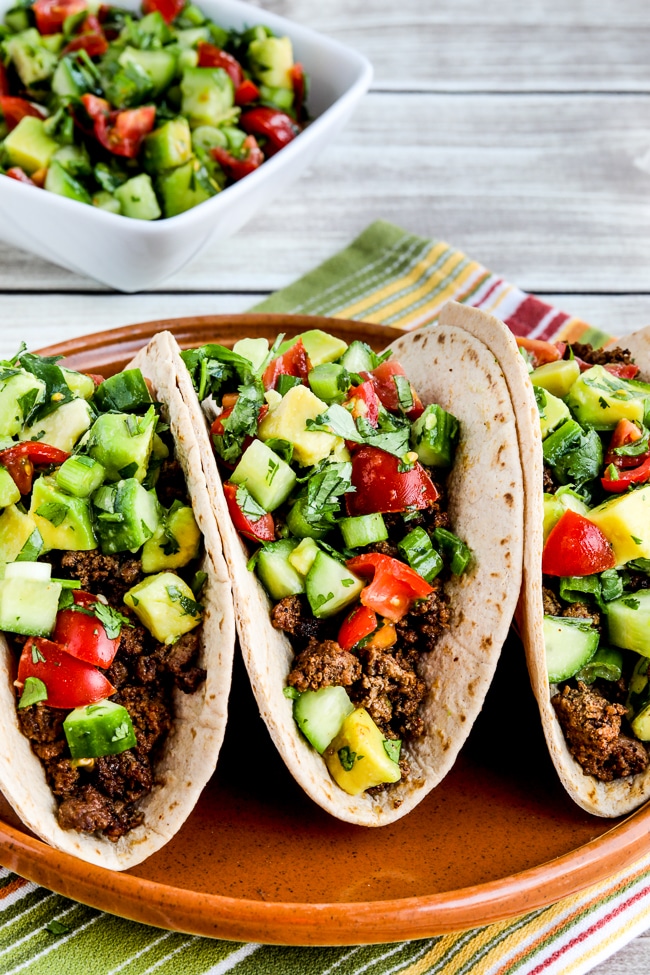 Ground Beef Tacos with Tomato-Avocado Salsa are a delicious kicked-up version of ground beef tacos that you'll make over and over!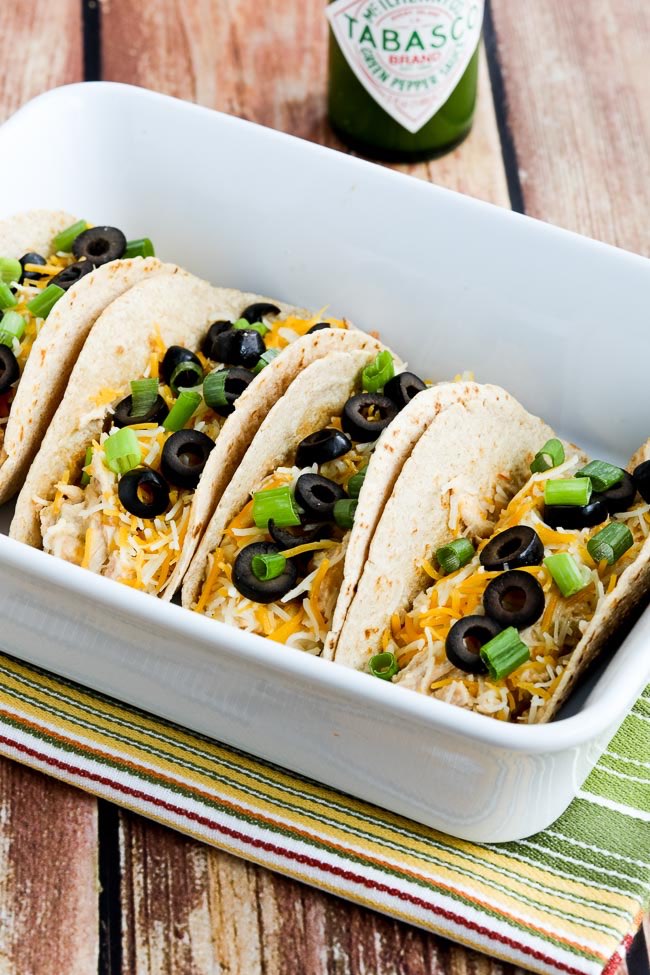 These Instant Pot Cheesy Chicken Tacos are a low-carb dinner the whole family will eat, and the chicken filling with sour cream, cheese, and salsa really makes these a special idea for tacos!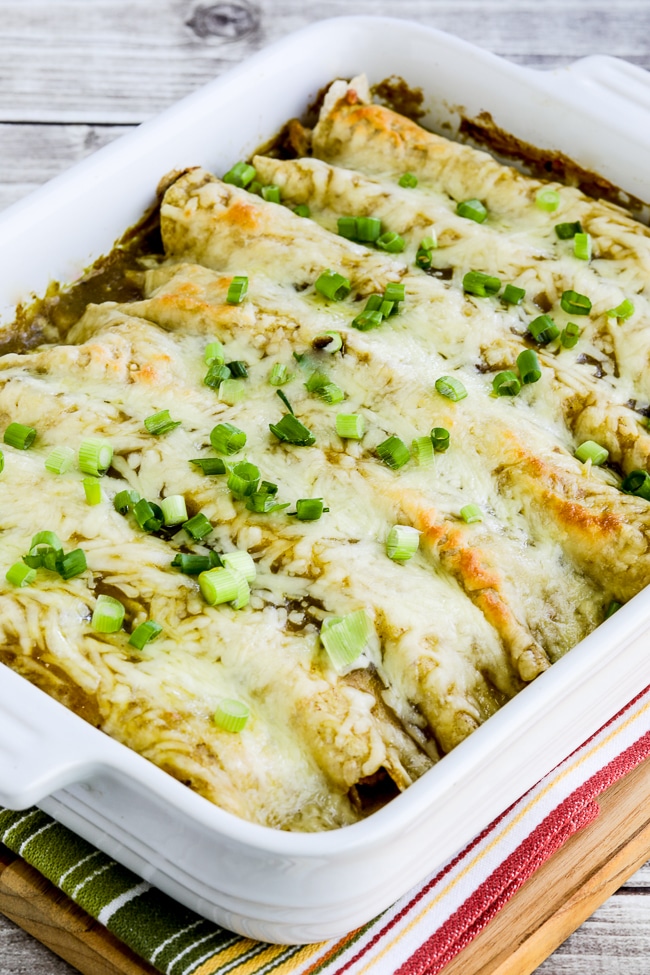 Instant Pot Green Chile Pork Enchiladas use slightly-spicy green chile pork made in the instant pot and then rolled into low-carb tortillas and covered with green enchilada sauce and cheese!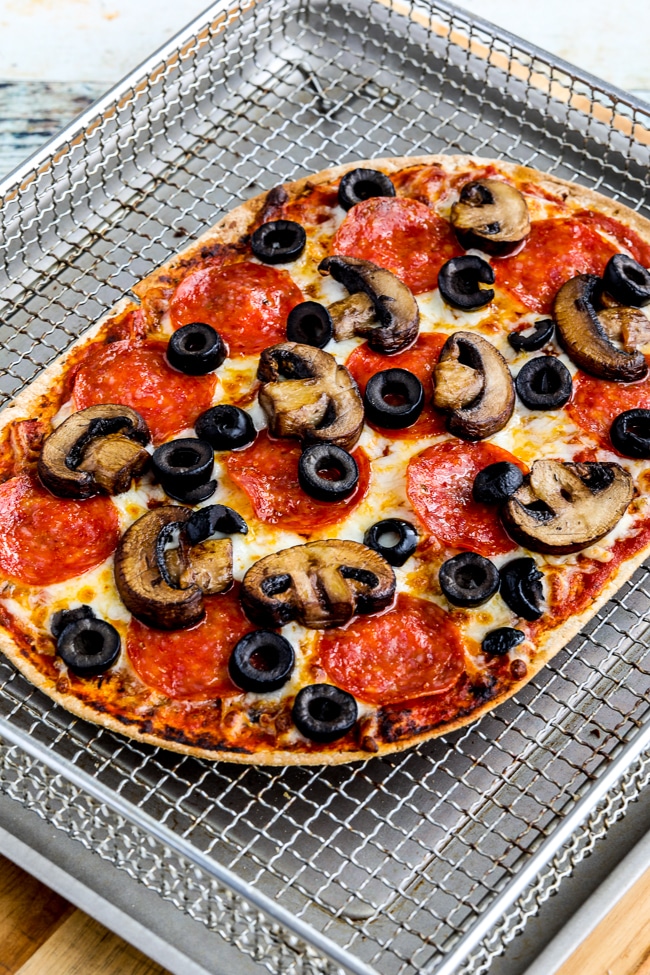 Low-carb tortillas were actually the crust option we liked best when we experimented with different crusts for this delicious Air Fryer Pizza!

Instant Pot Greek Chicken Tacos have lemony Greek Chicken with an amazing Greek Salsa with all the flavors people love in Greek Salad!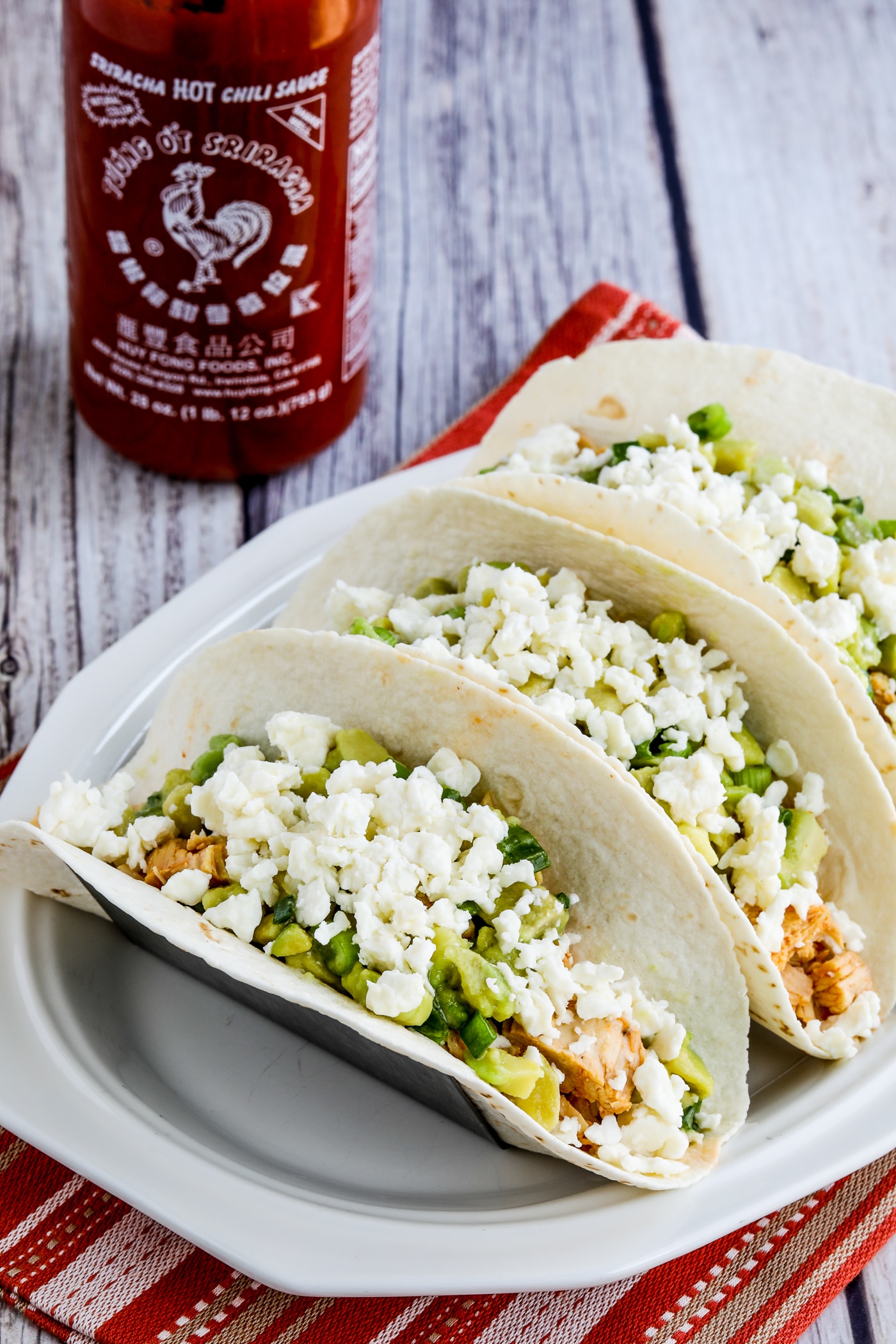 Instant Pot Sriracha Chicken Tacos have avocado salsa and creamy Queso Fresco cheese and these will be a hit with Sriracha Fans!
Anyone who likes Buffalo chicken, blue cheese, and cabbage will enjoy these Buffalo Chicken Tacos, and you can make the chicken in the Slow Cooker or the Instant Pot.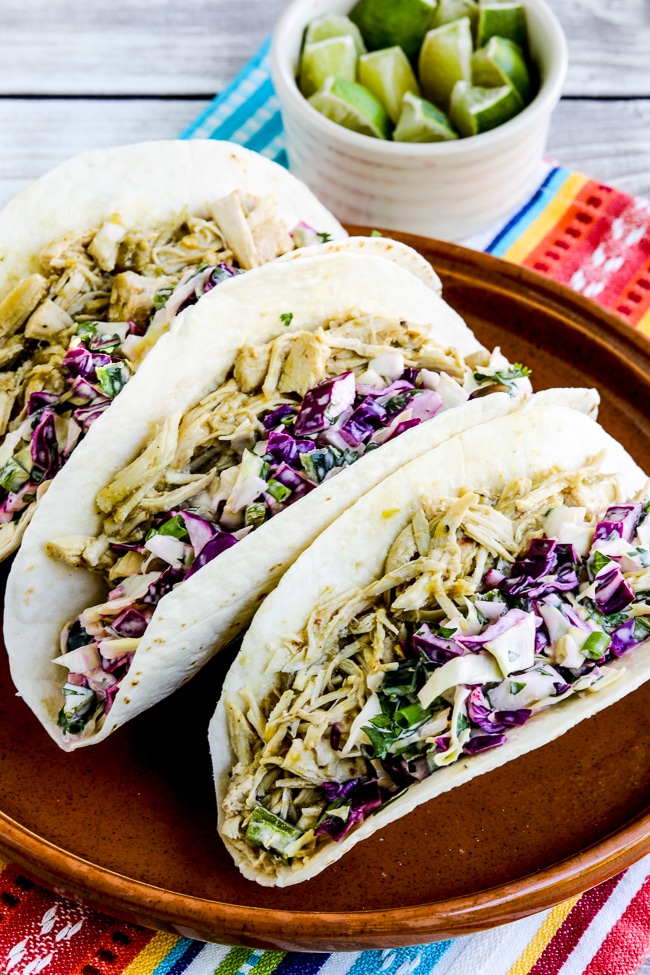 There's a double dose of green chiles in these Green Chile Chicken Tacos, and you can make the tasty green chile chicken in the slow cooker or the Instant Pot!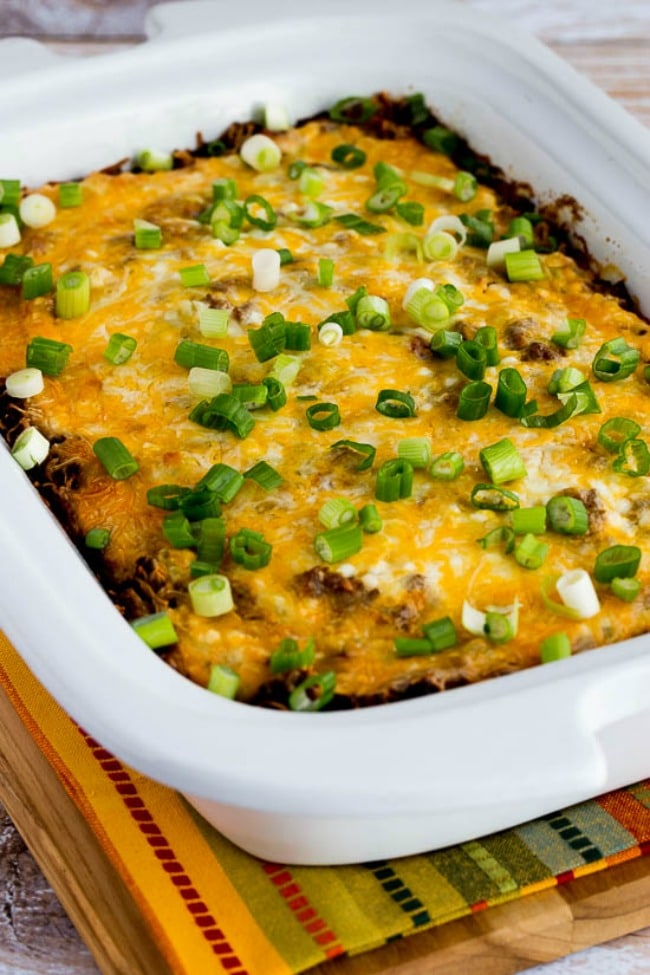 And there are directions to bake this Slow Cooker Mexican Lasagna Casserole in the oven if you don't have the Casserole Crock Slow Cooker, and this quickly became one of our favorite recipes with low-carb tortillas when we tested the recipe!
More Recipes Using Low-Carb Tortillas:
Slow Cooker Sour Cream Chicken Enchiladas
Easy Low-Carb Guacamole Tostadas
Ground Turkey Green Chile Tacos with Avocado Salsa
Sausage and Cheese Breakfast Quesadillas
Spicy Shredded Beef Street Tacos
Shredded Beef Tacos with Spicy Slaw and Avocado
Still Hungry for Tortilla Recipes?
Check out all the recipes with Tortillas on my blog!
About Kalyn's Kitchen Picks:
I purchased the Mission Carb Balance Tortillas myself and the company has no idea that I'm featuring their product here. All items featured for my Kalyn's Kitchen Picks features are things I would happily buy over and over, and I don't accept review products of any kind. Use Kalyn's Kitchen Picks to see more carb-conscious products I've purchased and loved!
We are a participant in the Amazon Services LLC Associates Program, an affiliate advertising program designed to provide a means for us to earn fees by linking to Amazon.com and affiliated sites. As an Amazon Associate, I earn from qualifying purchases.