Easy Low-Carb Guacamole Tostadas
Easy Low-Carb Guacamole Tostadas are one of my favorite things to make with low-carb tortillas, or use regular tortillas if you don't care about the carbs! Either way, this is easy and delicious.
PIN the Guacamole Tostadas recipe to try it later!
Cinco de Mayo is coming right up, and I've shared my Low-Carb Mexican Food Favorites, so I hope you're narrowing down your menu. And while I was in the Mexican food mood, I decided to update the photos for these Easy Low-Carb Guacamole Tostadas, something that's perfect for a quick lunch or dinner option.
I first tried guacamole and guacamole tostadas at a tiny little Mexican restaurant in downtown Salt Lake City. The restaurant is now long gone, but my fondness for the guacamole tostadas I first had at Tampico's remains to this day.
My version of this traditional Mexican specialty switches the usual corn tortillas for toasted low-carb flour tortillas, and these Easy Low-Carb Guacamole Tostadas are one of my favorite things to make with Cilantro Lover's Perfect Guacamole. But when you don't want to fuss that much, just make them with the Easy Guacamole mixture this recipe calls for. They will be delicious either way!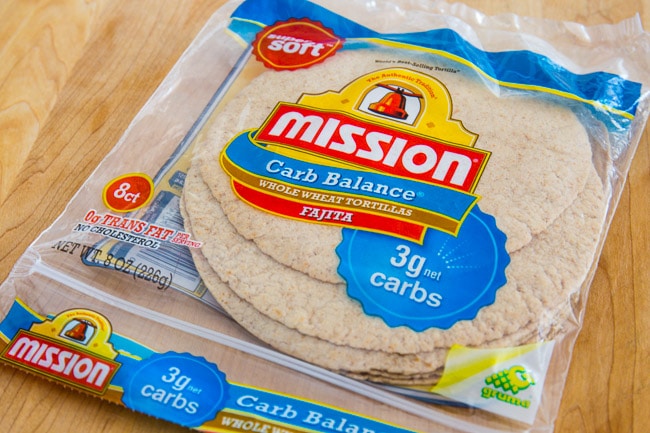 Which Low-Carb Tortillas Did I use?
I love these Mission Carb Balance Whole Wheat Tortillas (affiliate link) and I use the fajita size to make these tostadas, with only 3 net carbs in each tortilla! (This company doesn't know I'm alive and has never paid me to promote them, but I love their products.)
More Tostadas with Low-Carb Tortillas:
If you like the idea of tostadas using a toasted low-carb tortilla as the base, you might also enjoy my Seven Layer Dip Tostadas, an idea that was inspired by Seven Layer Dip that makes frequent appearances at Denny family parties! I've also enjoyed Low-Carb Guacamole Tostadas, and I made tostadas with Instant Pot Chicken Tinga too!
What ingredients do you need for this recipe?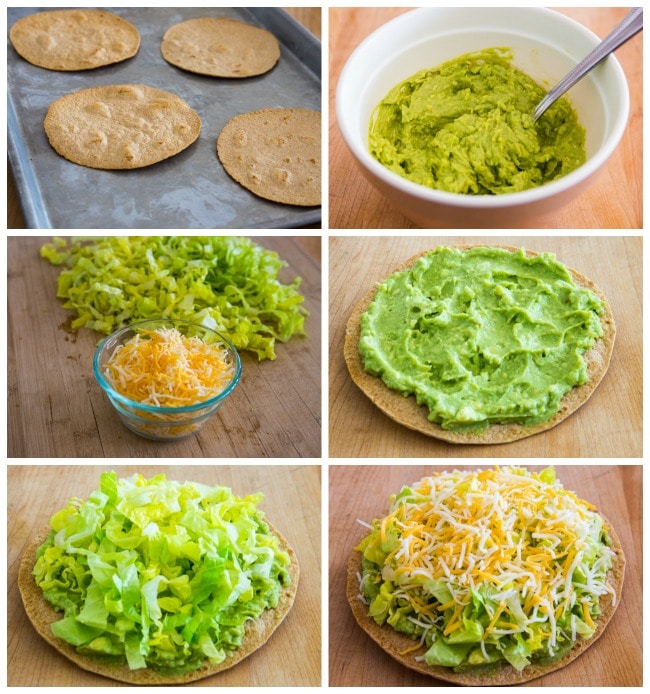 How to make Guacamole Tostadas:
Preheat the oven or toaster oven to 450F/230C. Brush the baking sheet with olive oil and then toast the tortillas for about five minutes to get them crisp and lightly-browned. Turn them several times and watch carefully. (I've had a few burned ones!)
To make the Easy Guacamole, first mix the lime juice into the avocado, working quickly so the avocado doesn't start to turn brown. Then mix in desired amount of Green Tabasco Sauce (affiliate link) or other hot sauce of your choice, salt, and your favorite chili powder (affiliate link).
If you want to make this even easier by using pre-made guacamole, no judgements from me!
You'll also need some shredded (thinly sliced) lettuce and grated cheese.
Spread a thin layer of the Easy Guacamole or Cilantro Lover's Perfect Guacamole on each toasted tortilla.
Top that with a small handful of the shredded lettuce.
Then sprinkle over a little bit of finely grated cheese and enjoy!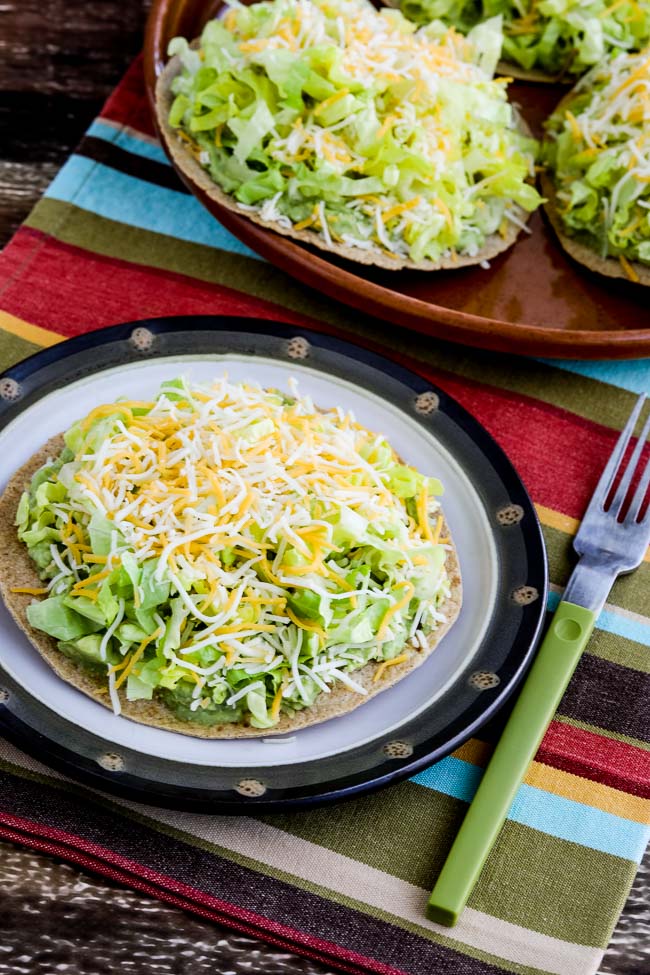 If you're a guacamole fan but don't want the carbs in corn chips, you might be surprised how satisfying these Low-Carb Guacamole Tostadas are for a quick meal!
More Mexican Food to Make with Low-Carb Tortillas:
Instant Pot (or Slow Cooker) Cheesy Low-Carb Chicken Tacos ~ Kalyn's Kitchen
Slow Cooker Chicken Enchiladas ~ Spend with Pennies
Low-Carb Egg Burritos for a Crowd ~ Kalyn's Kitchen
Make-Ahead Breakfast Enchiladas ~ Belly Full
Pressure Cooker or Slow Cooker Low-Carb Flank Steak Tacos ~ Kalyn's Kitchen
Chicken Tortilla Stack ~ Taste and Tell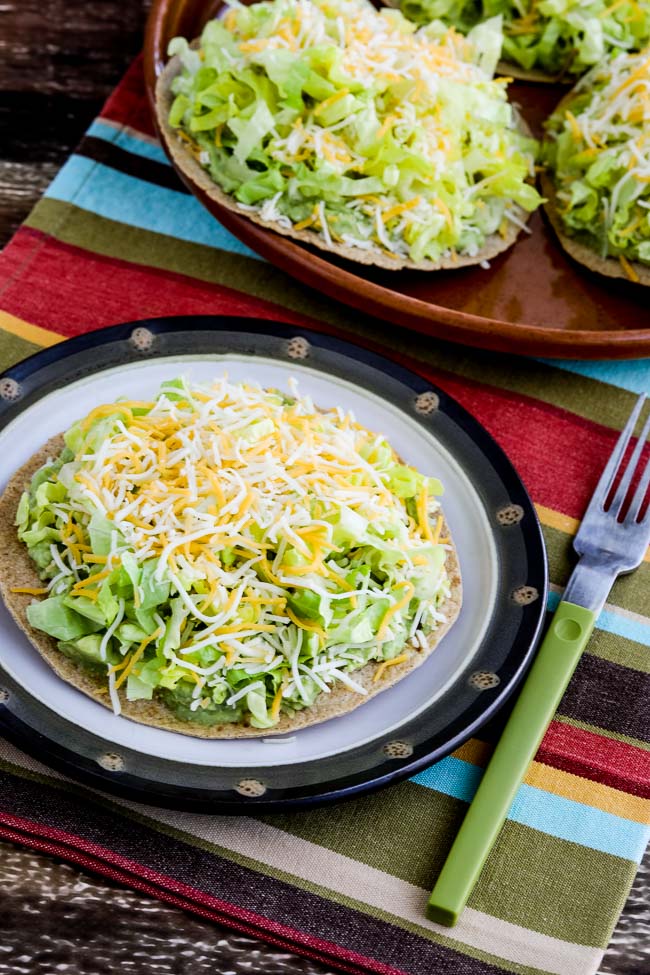 Yield: 4 servings
Easy Low-Carb Guacamole Tostadas
Prep Time 20 minutes
Total Time 20 minutes
These Easy Low-Carb Guacamole Tostadas made with low-carb tortillas are delicious for a quick lunch or light dinner!
Ingredients
Tostada Ingredients:
4 fajita-size Mission Carb Balance whole wheat tortillas, toasted (see notes)
2 tsp. olive oil, for brushing baking sheet
1 cup thinly sliced lettuce
1/2 cup finely grated cheese
Easy Guacamole Ingredients (or see notes for more options):
2 avocados
4 tsp. fresh-squeezed lime juice
1/2 tsp. Green Tabasco Sauce or other hot sauce (or more if you like it spicy)
1/2 tsp. salt (I used Veg-Sal)
pinch of chili powder
Instructions
Preheat oven or toaster oven to 450F/230C and brush a baking sheet with olive oil.
Lay the tortillas on the baking sheet and toast until they are firm and lightly browned, about 5 minutes. (Turn them a couple of times while they are toasting and watch carefully because they can go quickly from nicely brown to burned.) Let tortillas cool for a few minutes.
Cut the avocado in half, remove seed and discard, scrape out the avocado flesh into a small bowl, and quickly mix in the lime juice, mashing the avocado and stirring well so the lime is well-distributed (to keep the avocado from turning brown.)
Mix in Green Tabasco Sauce (affiliate link) (or other hot sauce), salt, and chili powder. (Don't use too much chili powder or it turns the guacamole brown!)
To assemble tostadas, spread a thin layer of Easy Guacamole over each toasted tortilla shell, then top with shredded lettuce and finely grated cheese.
You can add other ingredients if desired like sliced olives, sliced green onions, chopped tomatoes, or salsa, but this version with just guacamole, lettuce, and grated cheese is my favorite.
Nutrition Information:
Yield:
4
Serving Size:
1
Amount Per Serving:
Calories: 182
Total Fat: 15g
Saturated Fat: 3.7g
Unsaturated Fat: 10.3g
Cholesterol: 9.3mg
Sodium: 307mg
Carbohydrates: 9.6g
Fiber: 5.3g
Sugar: 0.8g
Protein: 4.3g
Nutrition information is automatically calculated by the Recipe Plug-In I am using. I am not a nutritionist and cannot guarantee 100% accuracy, since many variables affect those calculations.
Low-Carb Diet / Low-Glycemic Diet / South Beach Diet Suggestions:
Using low-carb tortillas as recommended would make these Low-Carb Guacamole Tostadas a good choice for phase 2 or 3 of the original South Beach Diet, and good for other low-carb or low-glycemic diets, although probably not for strict Keto plans. (Avocados are permitted for any phase of the South Beach Diet, but they're a limited food, due to the high fat content.)
Find More Recipes Like This One:
Use Easy to Cook Recipes to find more recipes like this one. Use the Diet Type Index to find more recipes suitable for a specific eating plan. You might also like to follow Kalyn's Kitchen on Pinterest, on Facebook, on Instagram, or on YouTube to see all the good recipes I'm sharing there.
We are a participant in the Amazon Services LLC Associates Program, an affiliate advertising program designed to provide a means for us to earn fees by linking to Amazon.com and affiliated sites. As an Amazon Associate, I earn from qualifying purchases.