Low-Carb and Keto Cauliflower Rice Recipes
Cauliflower rice is a staple for low-carb dinners, and here's a great collection of Low-Carb and Keto Cauliflower Rice Recipes! And this post has 24 amazing recipes with cauliflower rice that can be served for a tasty dinner, enjoy!
PIN Low-Carb and Keto Cauliflower Rice Recipes to try some later!
Today I'm updating this great collection of Low-Carb and Keto Cauliflower Rice Recipes! And some of these dinner recipes are good ideas for Weekend Food Prep as well. Cauliflower Rice is such a wonderful rice-like ingredient without adding carbs, and now that so many companies are selling fresh-chopped or frozen cauliflower rice, using cauliflower rice in recipes is easier than ever.
And there are so many interesting ways to use cauliflower rice in this this recipe collection. I've included lots of my own favorites of course, as well as fabulous recipes featuring cauliflower rice from blogging friends. And all the cauliflower rice recipes featured here here are dinner ideas. So grab some cauliflower or a bag of pre-chopped or frozen cauliflower rice and get cooking!
What if you want cauliflower rice for a side dish?
My most-used recipe for cauliflower rice is probably always going to be Easy Cauliflower Rice with Garlic and Green Onion. I make that often when I need a quick side dish for a low-carb meal, and this is the recipe I use when I want cauliflower rice as the base of a bowl meal too.
What kinds of cauliflower rice recipes will you find here?
In this collection you'll find cauliflower rice casseroles, skillet meals with cauliflower rice, fried rice dishes with cauliflower, baked dishes with cauliflower rice, bowl meals with cauliflower rice, stuffed peppers with cauliflower rice, and even some lettuce wraps or sushi ideas that include riced cauliflower in the filling!
Want even more options for recipes using cauliflower rice?
Check out Cauliflower Rice Casserole Recipes, Low-Carb and Keto Soups with Cauliflower Rice, Low-Carb and Keto Cauliflower Rice Salads, and My Favorite Low-Carb Recipes with Cauliflower Rice for lots more ideas for using cauliflower rice!
How do you get the complete recipe?
Just click any recipe title to see that recipe on the original blog. All photos are copyrighted to the blog who posted the recipe. Use Recipe Round-Ups to find more low-carb recipe collections on Kalyn's Kitchen.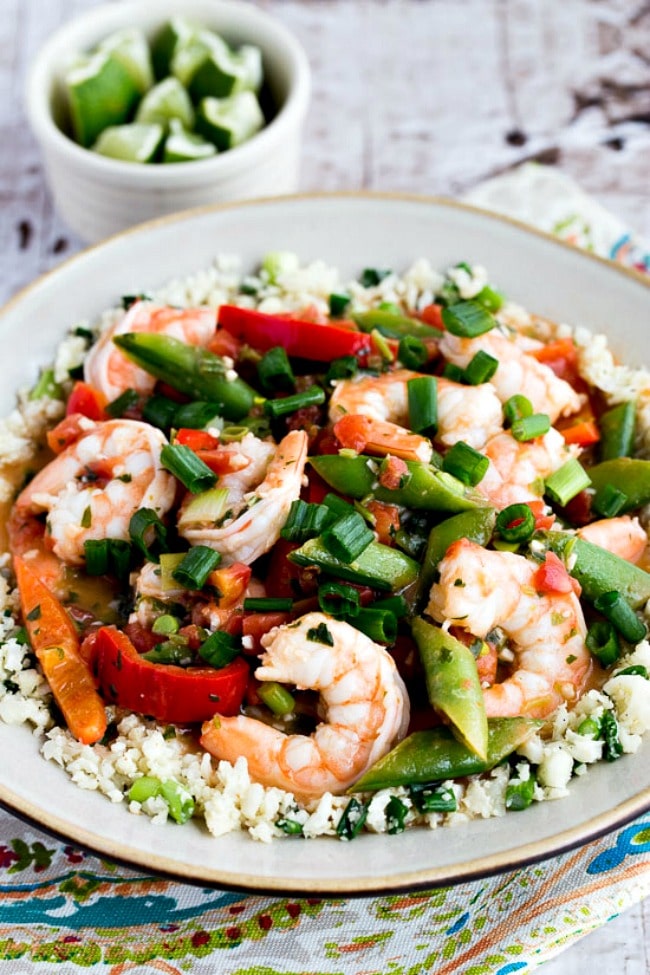 Shrimp fans will swoon over this Coconut Milk Shrimp over Cauliflower Rice! I love everything about this for a special dinner.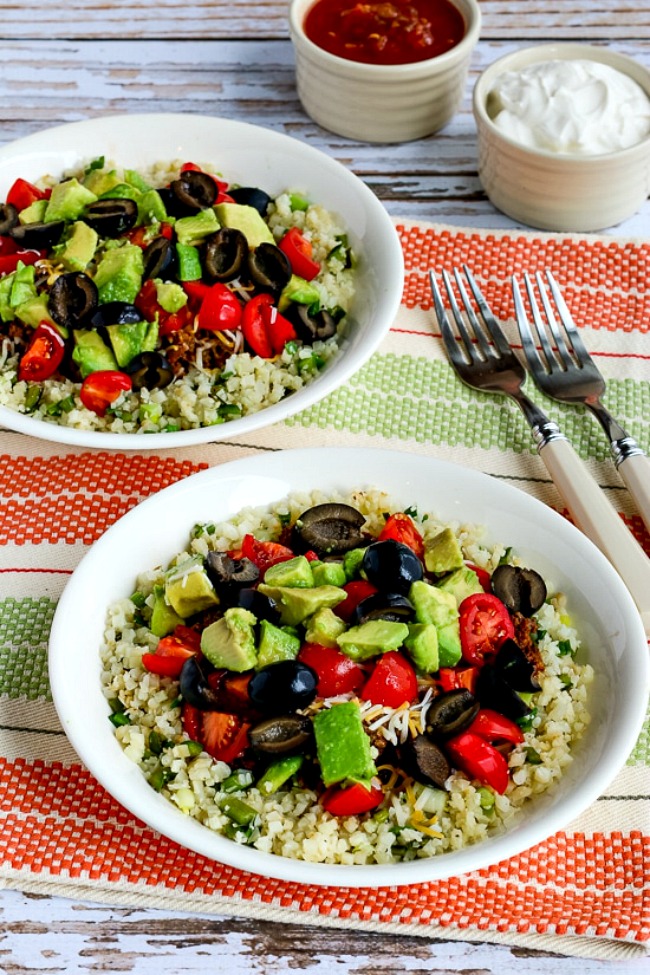 Ground Beef Cauliflower Rice Taco Bowls are a tasty easy dinner; use less of the tomato-avocado topping if you want even fewer carbs for this one!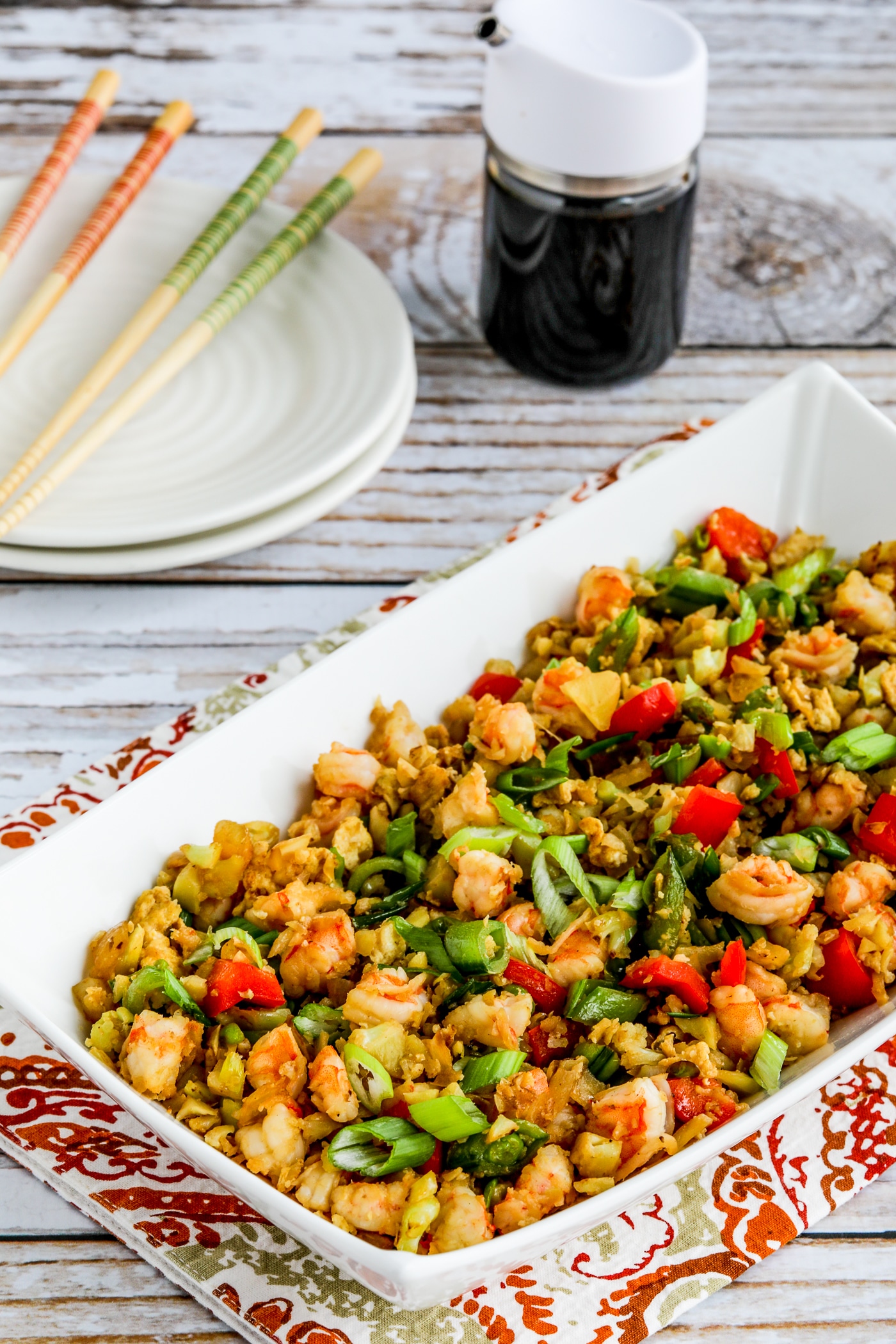 Fried rice fans will love this Cauliflower Fried Rice with Shrimp, and this recipe replaces the traditional peas and carrots with sugar snap peas and red bell pepper for a low-carb version of fried rice.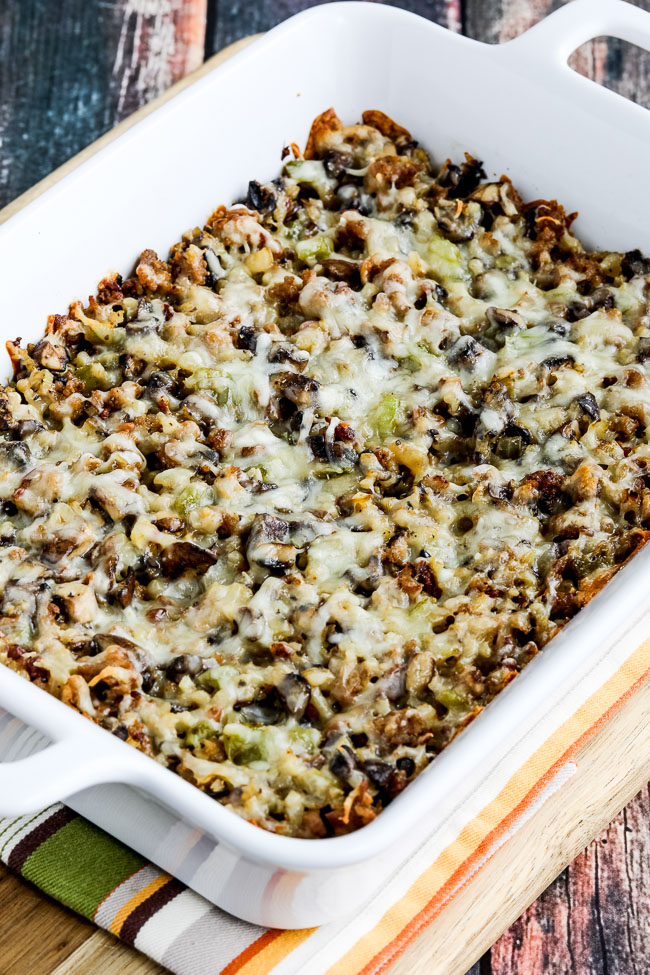 Cauliflower Rice Sausage Casserole has been a huge hit on the blog, and I have some friends who make this over and over!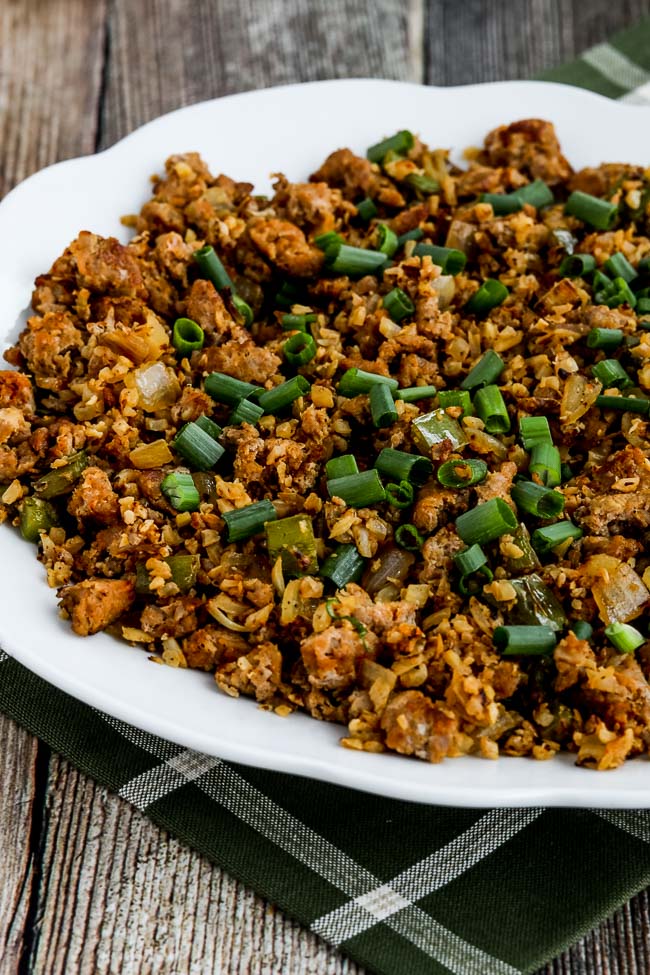 Low-Carb Spicy Cauliflower Dirty Rice will be a hit with everyone who likes dirty rice. Would you use the optional chicken livers that are traditional in this dish or leave them out? This will be tasty either way!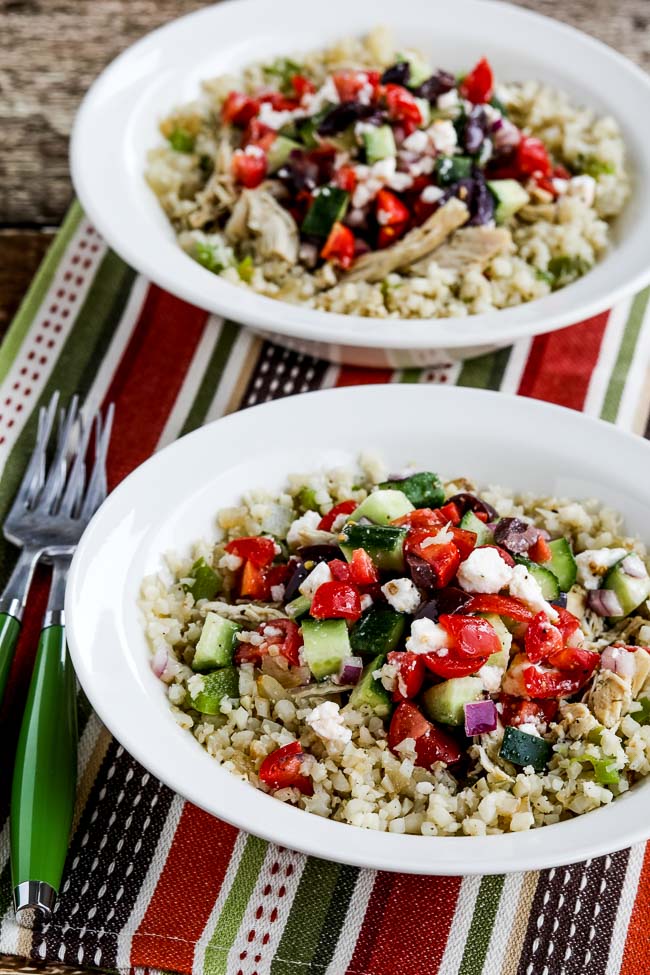 Instant Pot Cauliflower Rice Greek Chicken Bowls feature tasty Greek Chicken made in the Instant Pot that's served in a cauliflower rice bowl with greek salad toppings!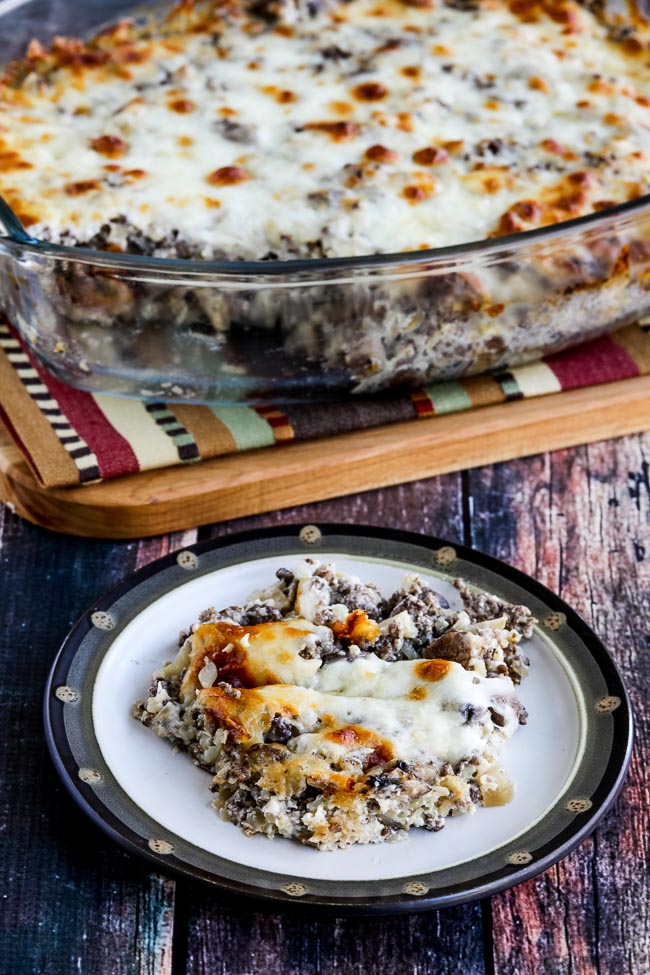 Ground Beef Stroganoff Casserole is an amazing low-carb dinner with those beef stroganoff flavors that so many people love!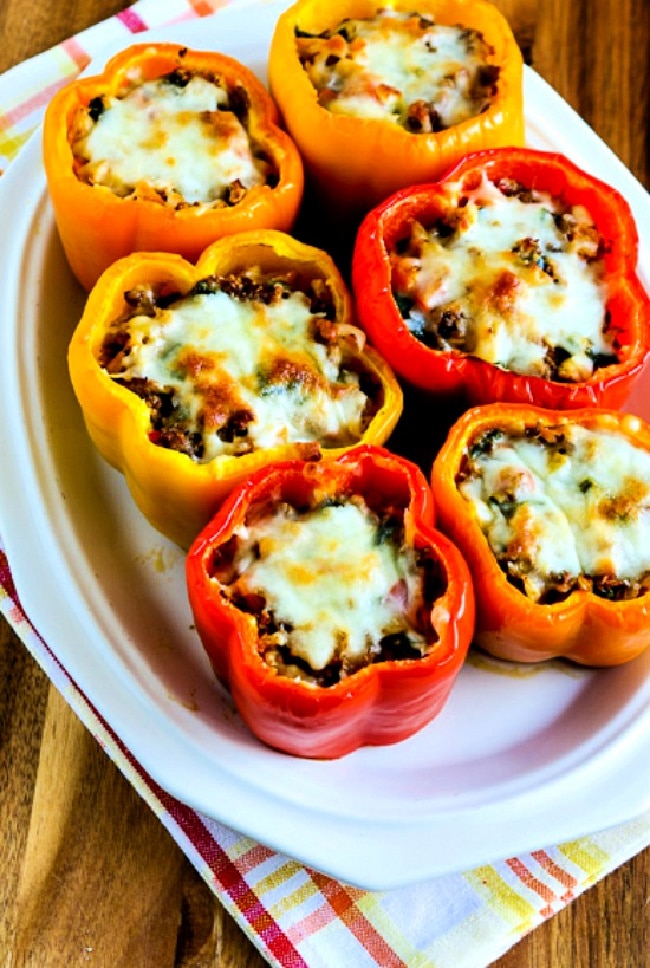 Cauliflower Rice Southwestern Stuffed Peppers have ground turkey, cauliflower rice, and chopped poblano pepper to create a low-carb stuffed pepper dinner that's loaded with flavor!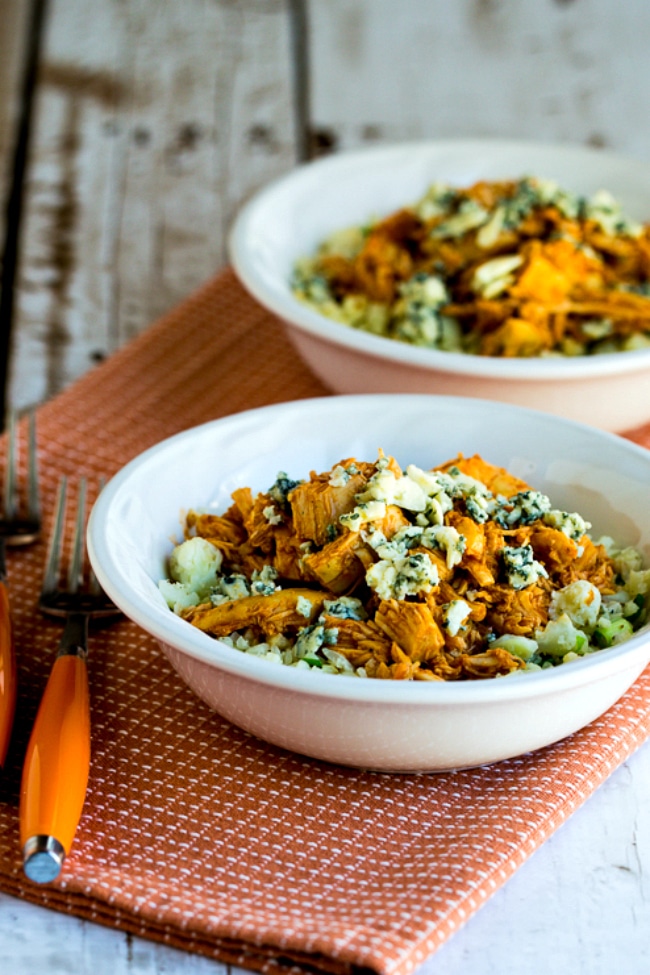 Buffalo Chicken Cauliflower Rice Bowls have spicy Buffalo Chicken that can be made in the slow cooker or the Instant Pot, and did you know that Frank's Red Hot Sauce has zero carbs?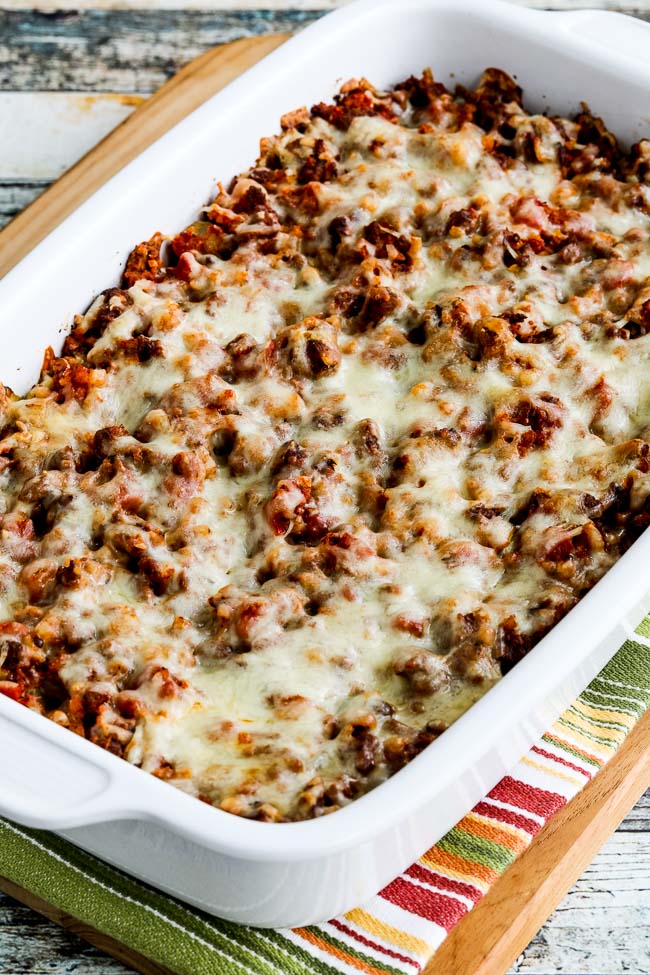 Low-Carb Deconstructed Stuffed Cabbage Casserole is a cauliflower rice version of a stuffed cabbage casserole that's been hugely popular on the blog, and this low-carb version is just as good!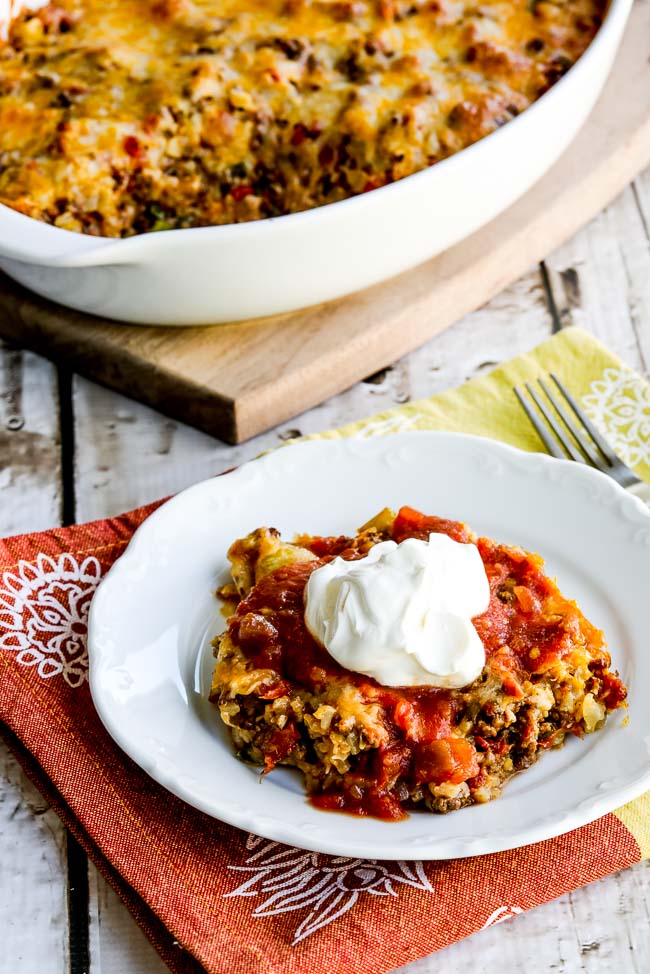 Cheesy Low-Carb Taco Casserole has been a big hit on the blog, and this is a recipe the whole family will like. And a few family members have reported that husbands who "don't like cauliflower" have been known to gobble this up!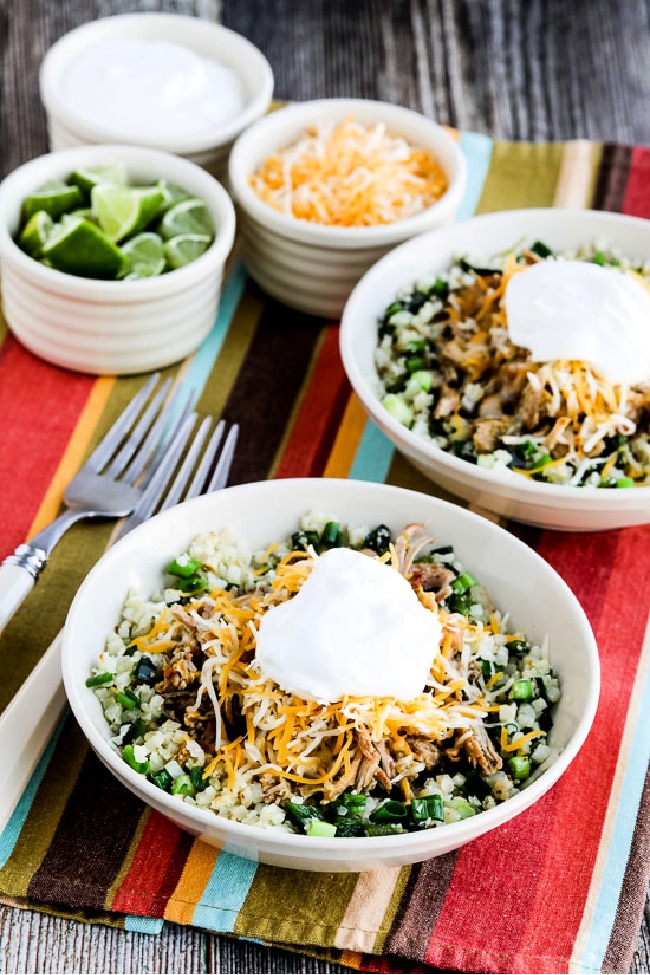 Green Chile Pork Taco Bowl can be made in the slow cooker or the Instant Pot, and the green chile pork is delicious server over Cauliflower Rice!
Great cauliflower rice dinners from other blogs:
Sushi Roll Cauliflower Rice Salad from All Day I Dream About Food
Low Carb Baked Chicken and Cauliflower Rice from I Breathe I'm Hungry
Easy Cauliflower Low-Carb Sushi from Ditch the Carbs
Keto Lettuce Wraps from Buns in my Oven
Cajun Shrimp and Cauliflower Rice Stir-Fry from Aggie's Kitchen
Low-Carb Stuffed Peppers with Sausage and Cauliflower Rice from Low-Carb with Jennifer
Keto and Paleo Salmon Poke Bowl from Keto Diet Blog
Bacon Cauliflower Fried Rice from Food Faith Fitness
Cauliflower Rice Skillet with Zucchini and Kielbasa from The Food Charlatan
Mexican Cauliflower Rice from All Day I Dream About Food
Chinese Sausage Fried Cauliflower Rice from Peace Love and Low Carb
Low-Carb Shrimp with Garlic Butter and Cauliflower Rice from Low-Carb with Jennifer
We are a participant in the Amazon Services LLC Associates Program, an affiliate advertising program designed to provide a means for us to earn fees by linking to Amazon.com and affiliated sites. As an Amazon Associate, I earn from qualifying purchases.