Low-Carb and Keto Soups with Cauliflower Rice
There are so many great soup variations in this collection of Low-Carb and Keto Soups with Cauliflower Rice! Check out all your options and make some soup for Weekend Food Prep!
PIN Low-Carb and Keto Soups with Cauliflower Rice to try some later!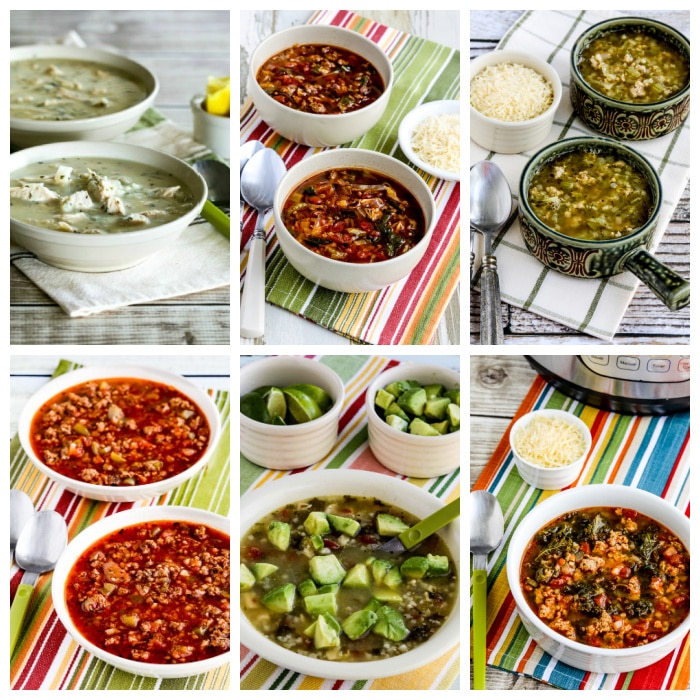 Food blogs are constantly evolving, and quite a few of these Low-Carb and Keto Soups with Cauliflower Rice are updated soups that I first made with rice in the early days of my blog. But trust me when I say the cauliflower rice versions are equally delicious!
And soup is one of the things I love to make most for Weekend Food Prep! I make soup on the weekend and happily eat it for dinner a few times during the week. And if you don't have a house full of teenage boys you might even have some soup to put in the freezer!
This year when I do round-up posts they're going to be on Wednesday, which I hope gives you more time to pick a recipe, add the ingredients to your shopping list, and then try the recipe on the weekend. And now that I've finished adding nutritional information to the site I'm going to give you that info in the round-ups too so it's easier for you to see if you want to try a recipe.
The photos in this post show you some cauliflower soups I have made and loved! But there are some very tasty soup options in the links from my blogging friends, so be sure to check those out as well.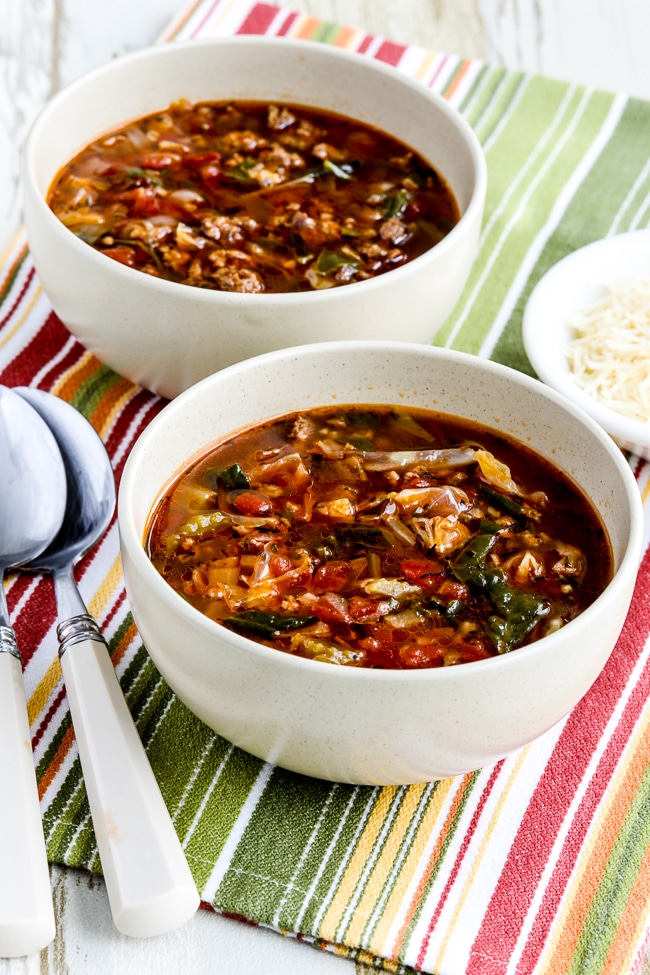 Slow Cooker Ground Beef Soup with Cabbage uses frozen cauliflower rice, and there's a link to a stovetop version if you prefer that method. (10 carbs, 3.3 grams fiber.)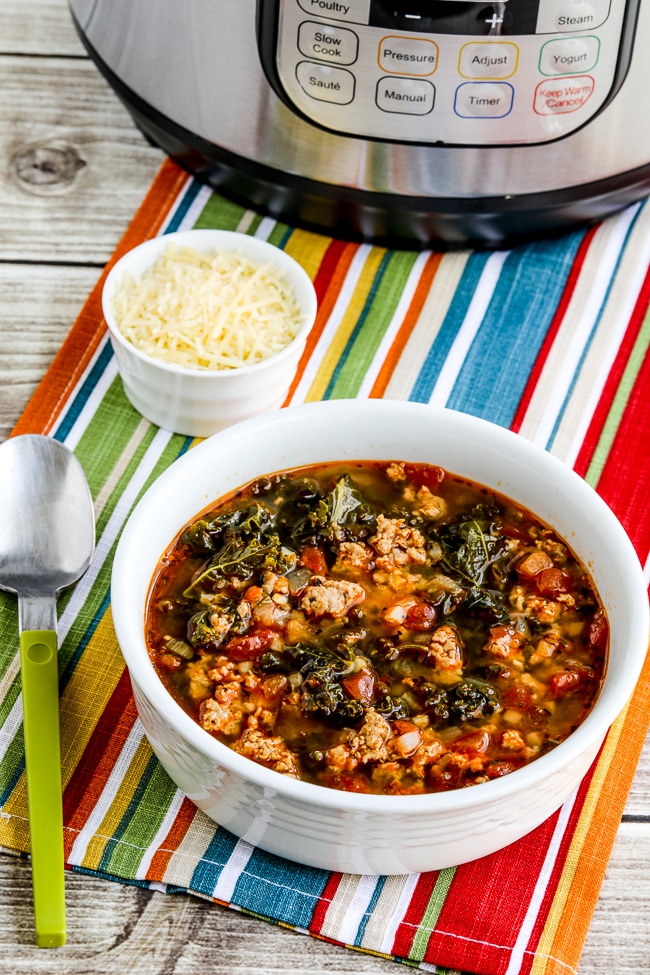 Instant Pot Sausage and Kale Soup uses two of my favorite soup ingredients, and the frozen cauliflower rice thickens the soup without needing to add any pasta! (10 carbs, 3 grams fiber)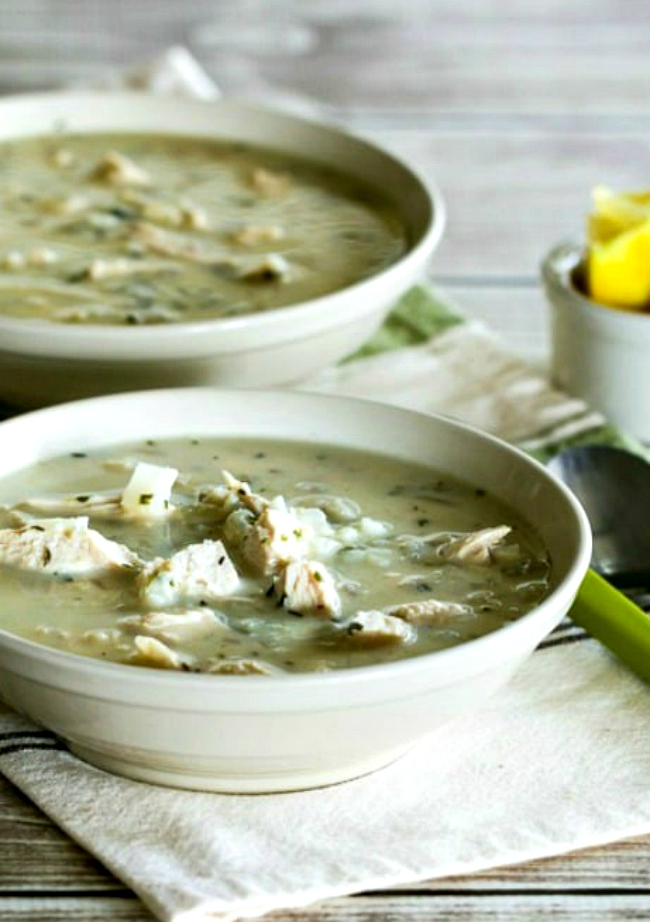 This Greek Egg-Lemon Chicken Soup with Cauliflower Rice is a cauliflower rice version of a classic soup you might have had in a Greek restaurant! (7.3 carbs, 1.2 grams fiber)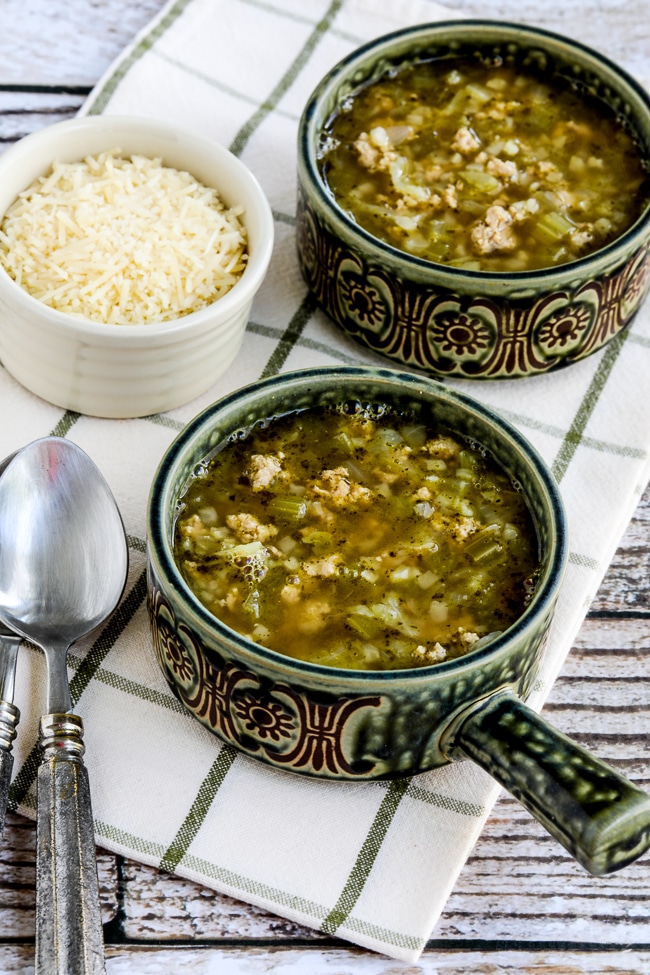 Instant Pot Turkey Rice Soup with Cabbage is an updated version of a favorite soup I used to make with wild rice, and this version with cauliflower rice is so delicious! (9 carbs, 2 grams fiber)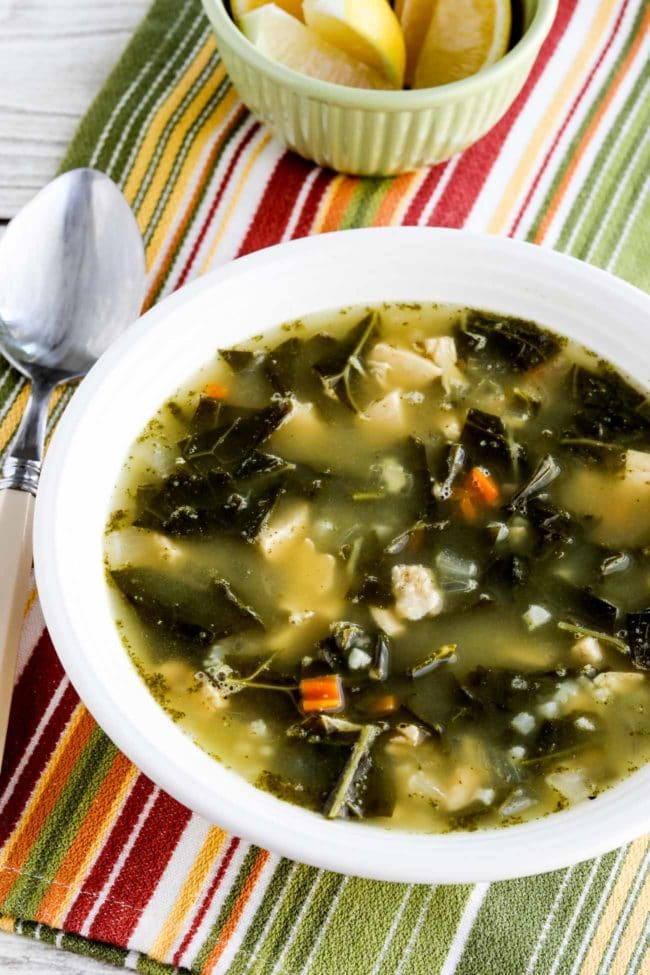 Chicken Soup with Collards and Lemon is an interesting soup that's loaded with flavor! You can use other greens if you're not sure about collards, but I think they're sweet and delicious compared to some other greens! (13 carbs, 6.5 grams fiber)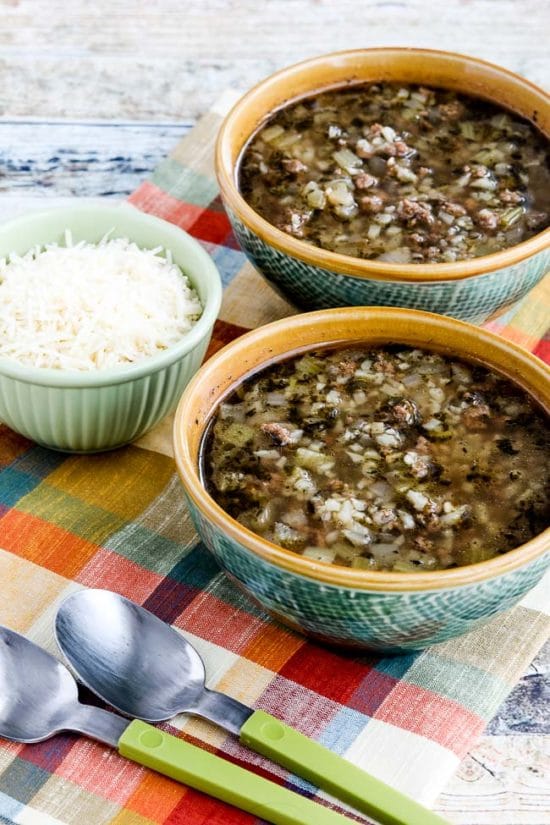 Instant Pot Low-Carb Ground Beef Cauliflower Soup was adapted from an earlier soup that had barley, and this cauliflower rice version is just as tasty! (11 carbs, 2 grams fiber)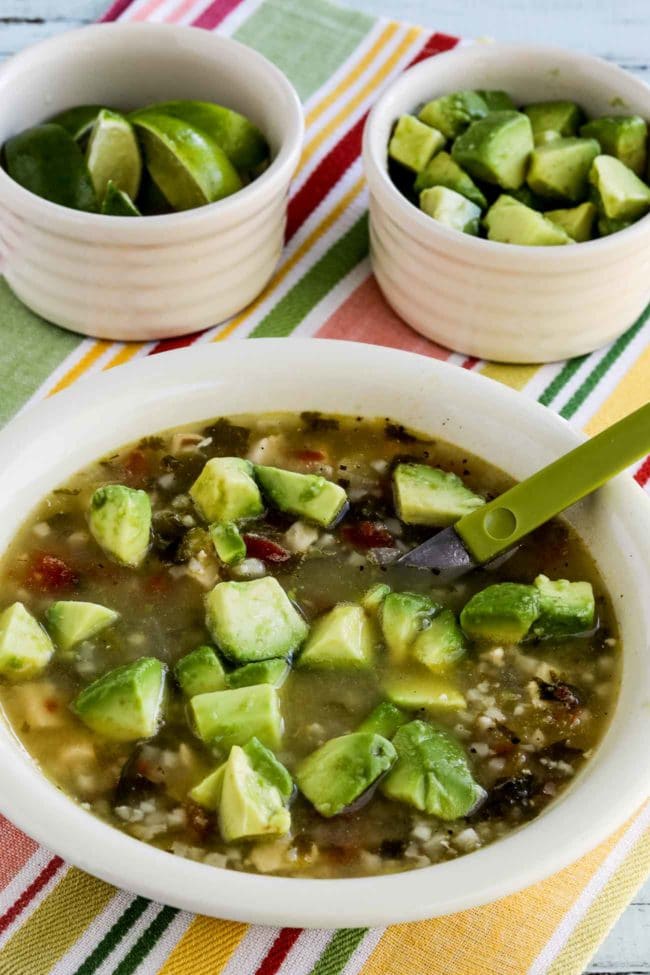 Instant Pot Low-Carb Chicken Tomatillo Soup was inspired by an earlier soup recipe that had a lot more carbs, and if you've never cooked with tomatillos, they are tangy and somewhat citrusy in flavor! (10.2 carbs, 6 grams fiber)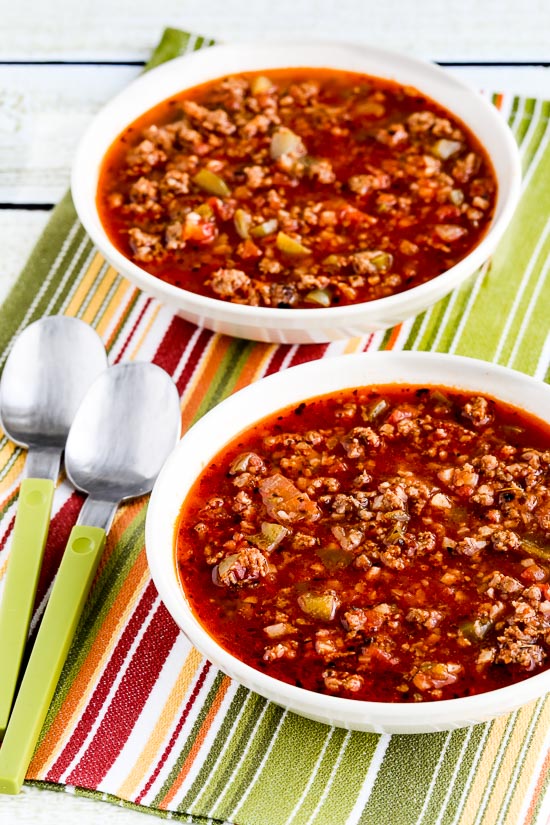 Low-Carb Stuffed Pepper Soup was one of my first soup experiments with cauliflower rice, when I decided to make a low-carb version of my popular Stuffed Pepper Soup that's made with rice! (9.7 carbs, 3 grams fiber)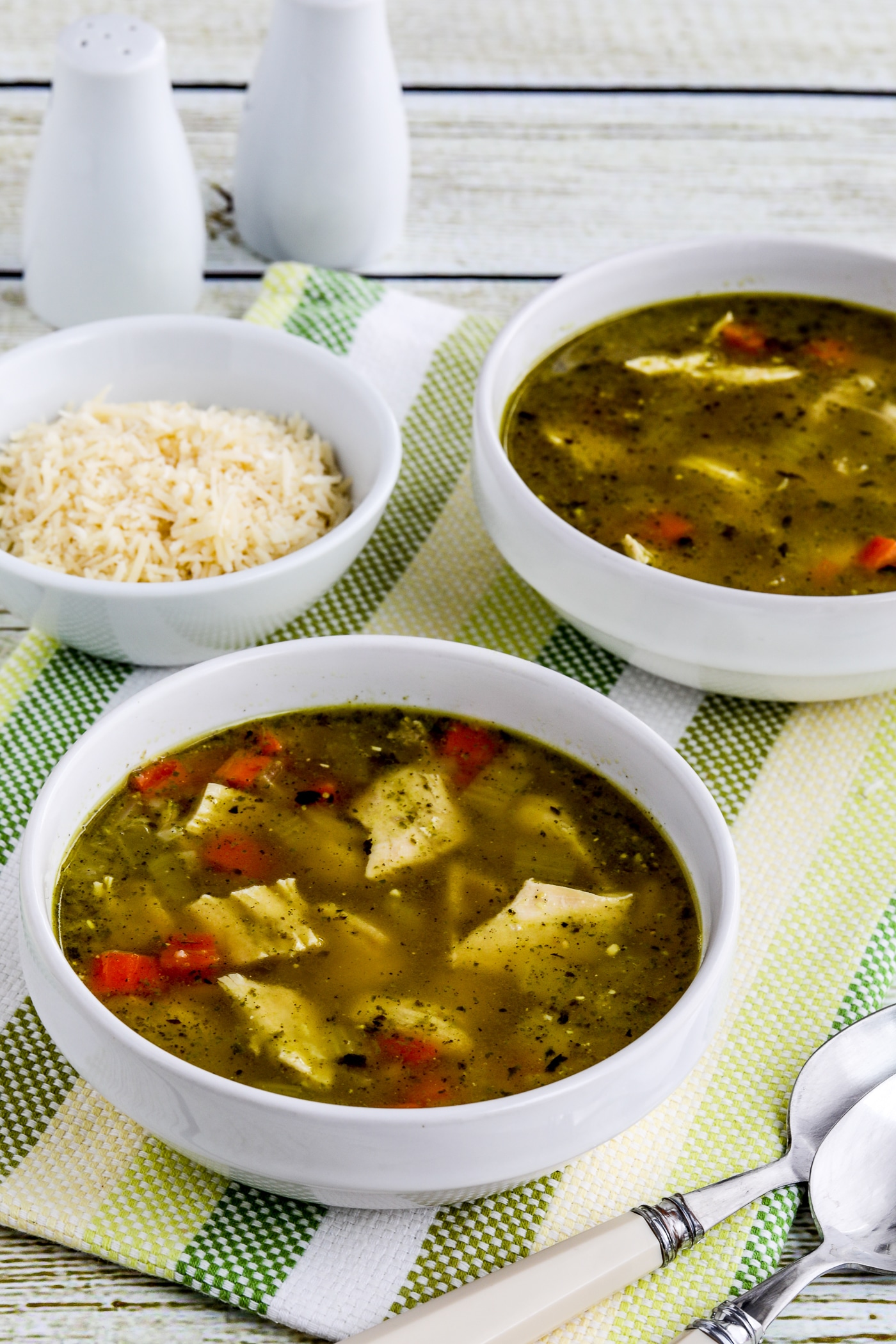 Chicken Pesto Soup was inspired by my super popular Easy Baked Pesto Chicken, and this soup is so tasty! (7 carbs, 2 grams fiber)
Instant Pot Pumpkin Soup has sausage, onion, green pepper, pumpkin, cauliflower rice, cream, and just the right spices! This has a few more carbs than some of the other soups here, but this soup is so good I had to include it. (13 carbs, 3 grams fiber)
Soups with Cauliflower Rice from Around the Web
What's your favorite Soup with Cauliflower Rice? Let us know in the comments!
We are a participant in the Amazon Services LLC Associates Program, an affiliate advertising program designed to provide a means for us to earn fees by linking to Amazon.com and affiliated sites. As an Amazon Associate, I earn from qualifying purchases.