25 Low-Carb and Keto Cauliflower Salads
Here are 25 amazing Low-Carb and Keto Cauliflower Salad Recipes, and cauliflower is a perfect salad ingredient for any time of year! And there are even some cauliflower salad recipes here that I'd make as a main dish.
PIN the cauliflower salad recipes to try some later!
Today I'm featuring this updated collection of 25 Low-Carb and Keto Cauliflower Salads! I think salads with cauliflower are perfect for any time of year, although there are some cauliflower salad recipes here that might seem like a summer salad as well as some that may seem like they're meant for fall or even winter.
And all the cauliflower salads featured here sound absolutely amazing! There are so many creative cauliflower salads here that all the cauliflower fans are going to enjoy!
What kinds of Cauliflower Salad Recipes are featured here?
Of course my yummy cauliflower mock potato salad is including in this collection. But I also found low-carb cauliflower salads with fun ingredients like shrimp, leeks, radishes, marinated mushrooms, olives, cheese, salami, red peppers, broccoli, bacon, cashews, Feta, and walnuts! I think there are enough amazing-sounding low-carb cauliflower salads here to keep the cauliflower fans happy for a while.
Want more tasty low-carb recipes using cauliflower?
Use Cauliflower Recipes to find lots and lots more tasty low-carb ideas using cauliflower.
How do you get the complete recipe?
Just click or tap any recipe title to see the complete recipe on the original site. All photos are copyrighted to the blog that posted the recipe. And happy salad season everyone!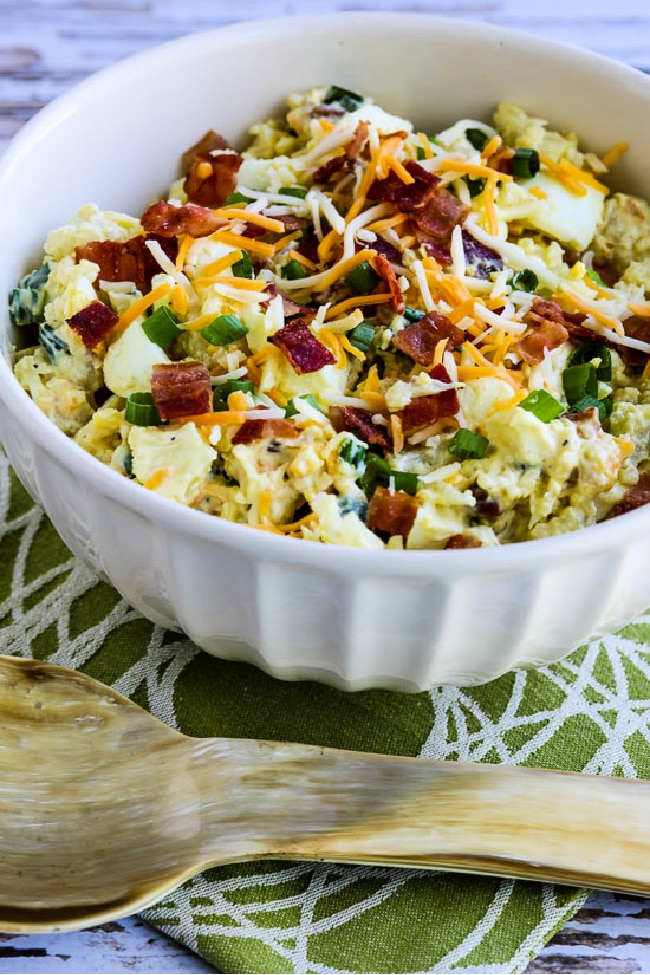 I've made this Loaded Cauliflower Mock Potato Salad over and over myself, and it's mega-popular! And this is even popular with some cauliflower avoiders in my extended family. Trust me, this is so good!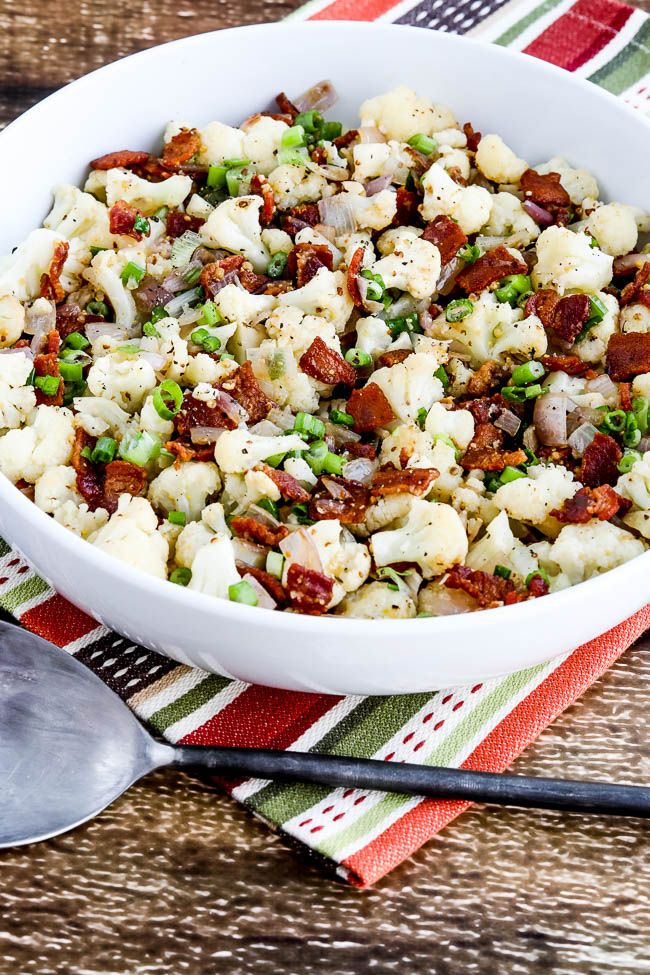 Low-Carb German Potato Salad from Kalyn's Kitchen is a cauliflower version of this classic salad, and this has bacon, shallots, and a mustardy dressing. This salad is delicious served warm or at room temperature.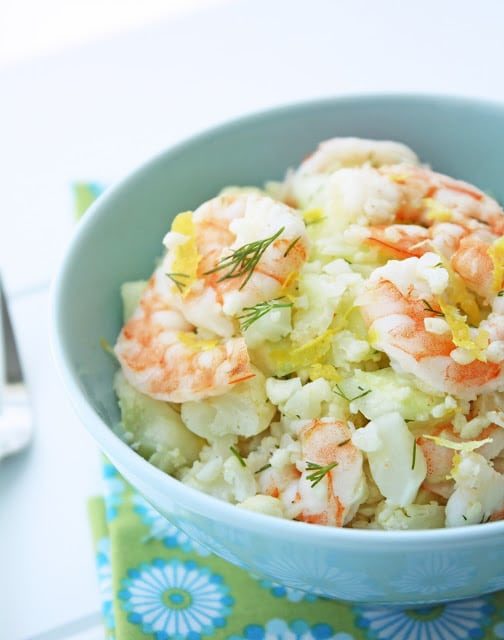 Shrimp and Cauliflower Salad from I Breathe I'm Hungry also has cucumbers and dill; this one definitely sounds like summer!
Marinated Cauliflower Antipasto Salad from Kalyn's Kitchen has so many good flavors. Don't skip marinating the cauliflower; that step adds extra flavor to this tasty salad!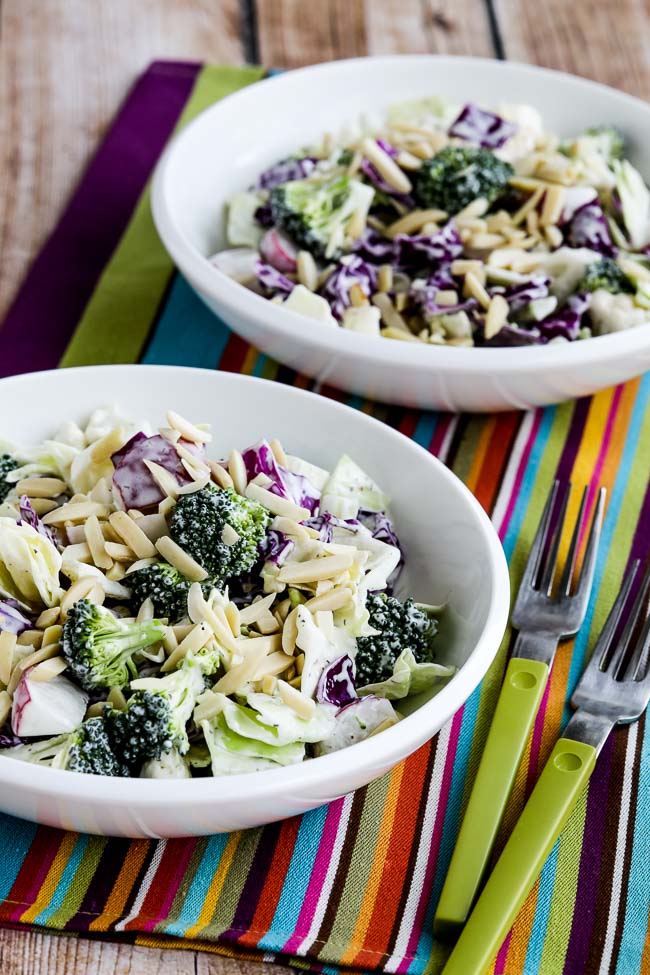 I'd never skip the cauliflower in this Keto Chopped Salad from Kalyn's Kitchen that I love to make for Weekend Food Prep and keep in the fridge!
I love all the flavors in this Grated Cauliflower Salad with Ginger Lime Dressing from Cookin' Canuck, and this tasty salad uses raw cauliflower.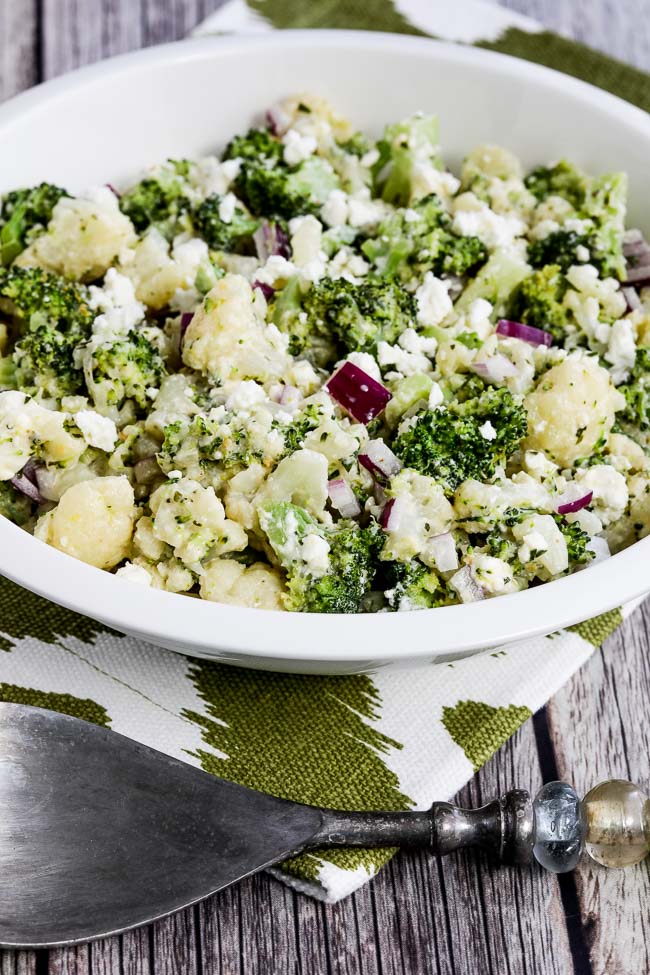 Broccoli and Cauliflower Salad with Feta from Kalyn's Kitchen is perfect to make in the summer when fresh tarragon is plentiful, or make the flavorful dressing without tarragon if you're not a fan and this will still be tasty.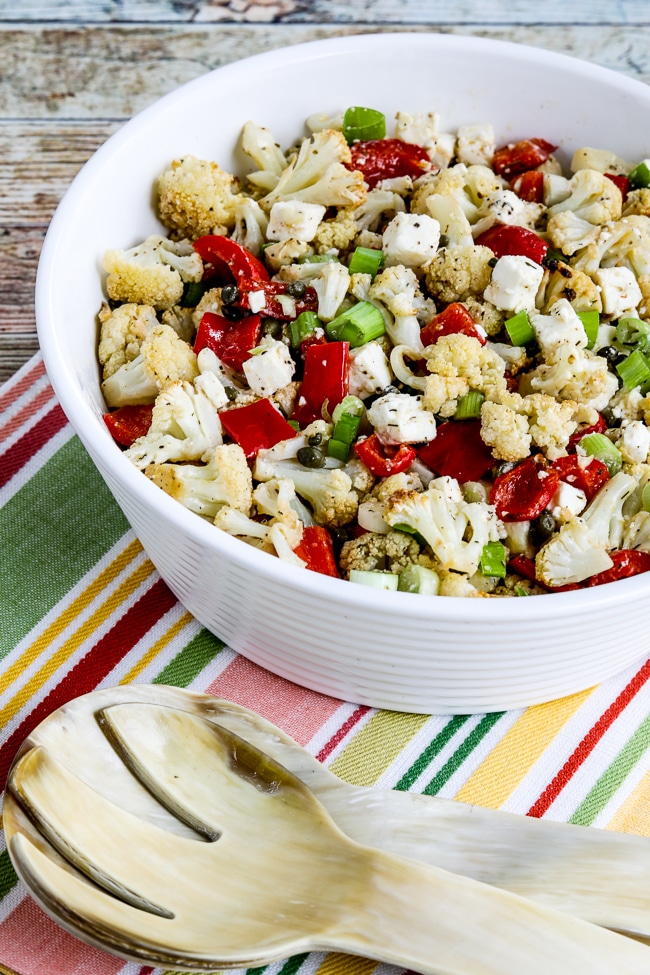 Roasted Cauliflower Salad with Feta, Capers, and Red Pepper from Kalyn's Kitchen has so many flavors I love and the trick of roasting the cauliflower makes this extra good!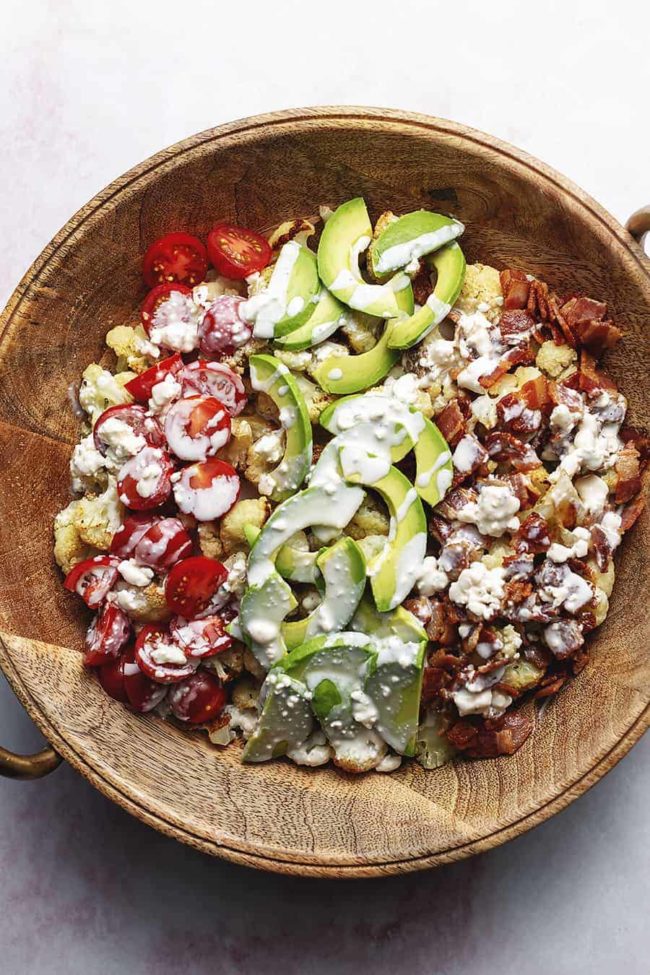 Roasted Cauliflower Cobb Salad from Low-Carb with Jennifer has all the flavors people love in Cobb Salads; doesn't that look good!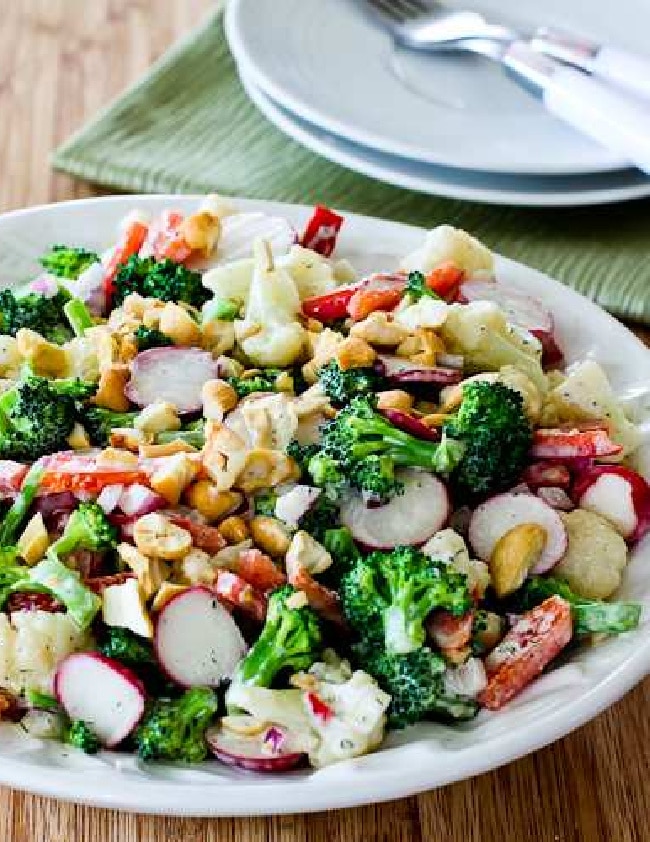 This Broccoli Caulilflower Radish Salad from Kalyn's Kitchen also has red peppers, red onion, and cashews and a creamy ranch-flavored dressing.
More Cauliflower Salad Recipes:
We are a participant in the Amazon Services LLC Associates Program, an affiliate advertising program designed to provide a means for us to earn fees by linking to Amazon.com and affiliated sites. As an Amazon Associate, I earn from qualifying purchases.