Green Beans with Tomatoes
I love these braised Green Beans with Tomatoes flavored with olives and capers, and this is a delicious way to use fresh green beans!
PIN the Green Beans with Tomatoes to try them later!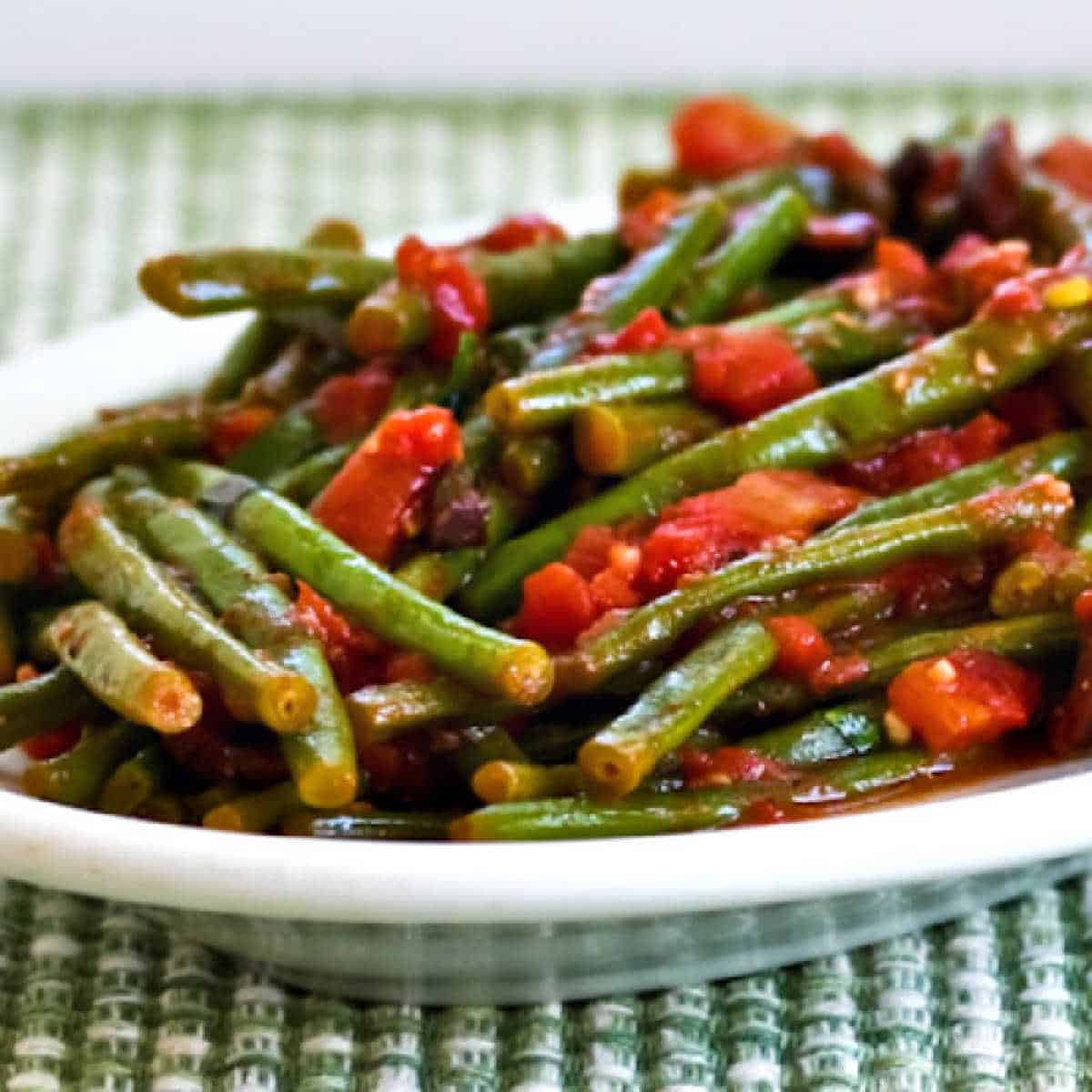 For years I used to love having a garden where I could grow a lot of my own vegetables so I know that keeping up with garden vegetables can be a challenge, and if you're not diligent vegetables quickly grow too big. Green beans are the plant I'd have the hardest time with; they come on so quickly that often when I picked them I'd find a bunch of over-sized green beans.
If you have garden where the beans sometimes get a little too big, this recipe for Green Beans with Tomatoes is a good method for making larger beans tender. The method used here of braising the green beans on low with canned tomatoes, Kalamata olives, and capers will tenderize the beans and also create amazing flavors.
I'm mentioning that as a public service announcement, since the pictures in these photos are those thin green beans from Costco! But whether you have fresh garden green beans or buy them at the store or farmers market, this is an amazing way to cook fresh green beans!
What ingredients do you need for this recipe?
fresh green beans
minced fresh garlic or Minced Garlic (affiliate link) from a jar
olive oil
canned petite diced tomatoes
Kalamata olives
Capers (affiliate link)
salt and fresh ground black pepper to taste
What if you're not a fan of Kalamata olives?
I know the slightly bitter flavor of Kalamata olives is appealing for many people, and I love them myself. But if those aren't a hit at your house, I would make this recipe with regular black olives.
What canned tomatoes did we use for Green Beans with Tomatoes?
We made this recipe with regular petite diced tomatoes, with no added seasonings. But if you wanted to use Italian seasoned diced canned tomatoes, or fire-roasted canned tomatoes, those would also be delicious.
Are you a fan of fresh green beans?
If you're growing green beans or are a fan of fresh green beans, you can use Green Beans to see all the recipes using them on this site.
How to make Green Beans with Tomatoes:
(Scroll down for complete recipe with nutritional information.)
Trim the end of one pound of fresh green beans. (I trim by standing up a handful of beans in my hand, then laying them down and cutting off the ends. Then repeat with the other end.)
Mince fresh garlic, measure Capers (affiliate link), and coarsely chop 8 Kalamata olives.
Heat olive oil in a heavy skillet, saute garlic, then add beans and toss to coat with hot oil.
Add canned tomatoes and juice, Kalamata olives, capers, and water and bring beans to a simmer. Cook on low until beans are tender.
Remove lid, increase heat a little and cook until the liquid is mostly evaporated.
Serve hot. You can sprinkle with some chopped fresh herbs if desired, but next time I wouldn't bother with that.
Make it a Low-Carb Meal:
These beans would be great with Very Greek Grilled Chicken, Air Fryer Marinated Chicken Breasts, Paprika Chicken, Grilled Chicken with Lemon and Capers, or Artichoke Chicken Bake for a low-carb meal.
More Recipes for Fresh Green Beans:
Roasted Green Beans with Mushroom, Balsamic, and Parmesan
Green Beans with Tahini and Lemon
Garlic Roasted Green Beans with Shallots and Almonds
Yield: 4 servings
Green Beans with Tomatoes
Prep Time 15 minutes
Cook Time 22 minutes
Total Time 37 minutes
I love these Green Beans that are braised with tomatoes, olives, and capers and if you don't have any garden beans this recipe is a good reason for buying green beans at the store!
Ingredients
1 lb. fresh green beans, ends trimmed
2 tsp. finely minced fresh garlic
1 T olive oil
one 14.5 oz. can petite diced tomatoes
8 Kalamata olives, coarsely chopped
2 T capers
salt and fresh ground black pepper to taste
Instructions
Trim or cut ends from greens beans. (I do this by standing up a handful of beans, letting them fall down to the cutting board so ends are lined up, then trimming across the end with a knife; repeat with the other end.)
Coarsely chop the Kalamata olives and mince the garlic.
Heat olive oil in a heavy skillet with a lid, using medium heat. Add the minced garlic and cook about 1 minute, just until the garlic is getting fragrant.
Add the beans and stir until beans are all coated with the hot oil.
Add the canned tomatoes with juice, chopped Kalamata olives, capers, and 2 T water.
Reduce heat to low, cover the pan, and simmer for about 20 minutes, or until beans are just starting to get tender. I checked them and stirred a few times. (If you have bigger beans, they will take a little longer to cook.)
When beans are barely tender, remove lid, raise heat to medium, and cook cook until any remaining liquid is evaporated, probably not longer than a minute or two.
Season beans with salt and fresh ground black pepper to taste, and serve hot.
Notes
Recipe from Vegetables Every Day by Jack Bishop, one of my most well-used cookbooks. (affiliate link)
Nutrition Information:
Yield:
4
Serving Size:
1
Amount Per Serving:
Calories: 99
Total Fat: 5g
Saturated Fat: 1g
Trans Fat: 0g
Unsaturated Fat: 4g
Cholesterol: 0mg
Sodium: 417mg
Carbohydrates: 13g
Fiber: 6g
Sugar: 7g
Protein: 3g
Nutrition information is automatically calculated by the Recipe Plug-In I am using. I am not a nutritionist and cannot guarantee 100% accuracy, since many variables affect those calculations.
Low-Carb Diet / Low-Glycemic Diet / South Beach Diet Suggestions:
These Green Beans with Tomatoes are a perfect side dish for any phase of the original South Beach Diet, or any type of low-carb eating plan, and the tasty beans are also vegan and gluten-free.
Find More Recipes Like This One:
Use Green Beans or Side Dishes to find more recipes like this one.Use the Diet Type Index to find recipes suitable for a specific eating plan. You might also like to follow Kalyn's Kitchen on Pinterest, on Facebook, on Instagram, on TikTok, or on YouTube to see all the good recipes I'm sharing there.
Historical Notes for this Recipe:
This recipe was first posted in 2010. It was last updated with more information in 2022.
We are a participant in the Amazon Services LLC Associates Program, an affiliate advertising program designed to provide a means for us to earn fees by linking to Amazon.com and affiliated sites. As an Amazon Associate, I earn from qualifying purchases.