Easy Broccoli Radish Salad
This Easy Broccoli Radish Salad is kicked up with lots of crumbled Gorgonzola cheese and this can be on the table in minutes! And this easy broccoli salad is a healthy low-carb and gluten-free salad any time of year!
PIN Easy Broccoli Radish Salad to try it later!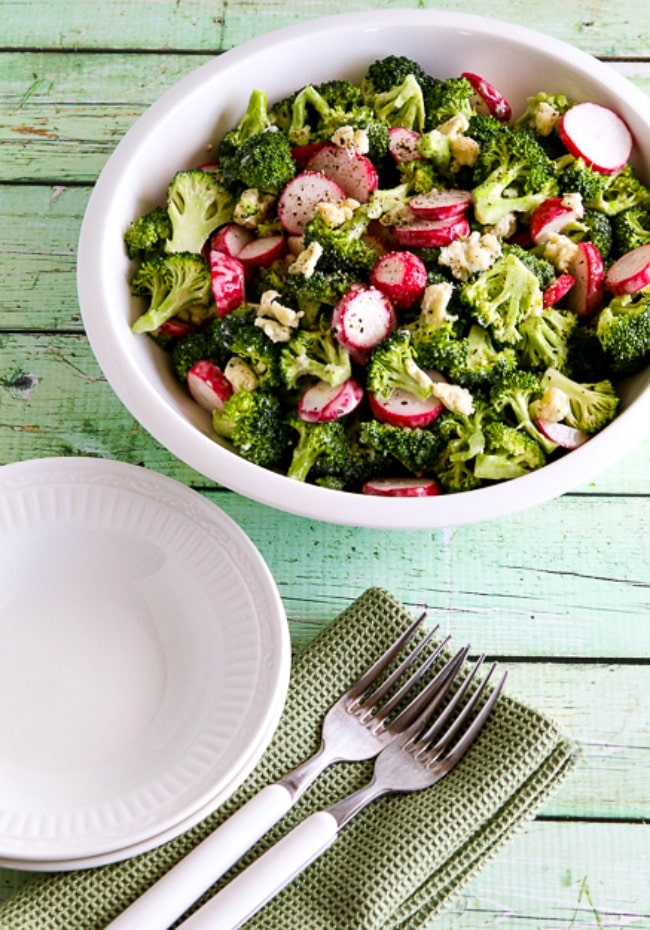 Who else starts craving salads this time of year? I'm tired of winter foods but things like garden tomato salads aren't really an option. That's when I start to think about recipes like this Easy Broccoli Radish Salad, yum! This is just is the kind of simple salad I'd make for myself for a quick lunch, but seriously I think the bright colors (and the use of creamy Gorgonzola cheese) make this something that would be a delicious salad option any time of year. Personally I would head right for this on a table of party foods!
And I hope nobody turns up their nose at a recipe that's this easy; personally I am all about simple recipes with strong flavors! And this easy broccoli salad is about as easy as it gets for a crunchy salad that still tastes like a treat. I've been making this for years and thought I'd update the recipe for newer readers who haven't seen it yet; hope you enjoy!
What ingredients do you need for this recipe?
broccoli
radishes
Blue Cheese salad dressing
crumbled Gorgonzola cheese
salt and fresh ground pepper to taste
What Dressing is good for this Broccoli Radish Salad?
Let's talk about healthier salad dressing. If you're eating Keto, go ahead and use any creamy full-fat blue cheese dressing your heart desires! But for people who are watching their fats, Blue cheese dressing is probably a food you're eating in limited amounts. I love blue cheese dressing, and for years I've been buying Litehouse Chunky Blue Cheese and mixing it half-and-half with buttermilk for an easy, less thick, and lighter blue cheese dressing that still tastes wonderful. That's the dressing I used for this easy broccoli and radish salad, but if you have a favorite dressing recipe, I'm sure homemade dressing will be even better.
What if you're not a fan of Gorgonzola cheese?
If you like blue cheese dressing but wouldn't enjoy chunks of gorgonzola cheese in a salad like this, I would use crumbled Feta instead.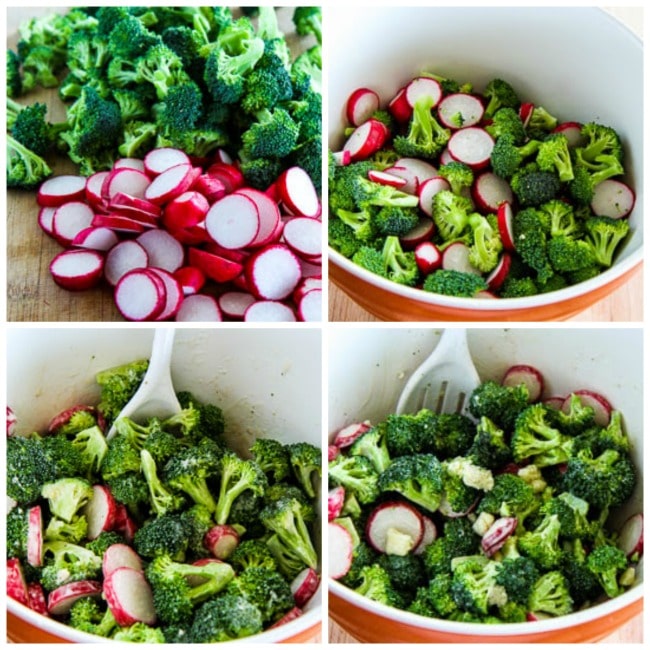 How to make Easy Broccoli Radish Salad:
(Scroll down for complete recipe with nutritional information.)
Cut up the broccoli into small bite-sized pieces.
Slice radishes into slices about 1/4 inch thick.
Mix dressing and buttermilk if you're making my lighter dressing option, or measure out desired amount of dressing.
Toss radishes and broccoli together into a bowl.
Toss the salad with desired amount of blue cheese dressing of your choice. (You don't need much dressing because the crumbled Gorgonzola adds a lot of flavor.)
Then add the crumbled Gorgonzola, season with salt and fresh-ground black pepper, and toss again. That's all!
More Salads with Gorgonzola:
Kale and Arugula Salad ~ Kalyn's Kitchen
Winter Salad with Pecans, Pears, and Gorgonzola ~ David Lebovitz
Tomato, Egg, and Olive Salad with Gorgonzola Vinaigrette ~ Kalyn's Kitchen
Romaine Salad with Creamy Gorgonzola and Parmesan Dressing ~ Noble Pig
Thanksgiving Green Bean Salad ~ Kalyn's Kitchen
Weekend Food Prep:
This recipe has been added to a category called Weekend Food Prep where you'll find recipes you can prep or cook on the weekend and eat during the week!
Yield: 6 servings
Easy Broccoli Radish Salad
Prep Time 15 minutes
Total Time 15 minutes
This Easy Broccoli Radish Salad has blue cheese dressing and crumbled Gorgonzola, and this is a healthy option for a low-carb crunchy salad any time of year.
Ingredients
6 cups broccoli, cut into bite sized pieces
2 cups radishes, sliced about 1/4 inch thick
1/4 cup Blue Cheese salad dressing, more or less to taste (see notes)
1/4 cup crumbled Gorgonzola cheese
salt, fresh ground pepper to taste
Instructions
Trim long broccoli stems and cut the broccoli into bite-sized pieces.
Wash radishes, trim off ends, and slice into 1/4 inch slices.
Mix blue cheese dressing with buttermilk if you're using my tip below, or measure out desired amount of Blue Cheese Dressing.
In large bowl combine broccoli and radishes. Toss with blue cheese dressing.
Add the crumbled Gorgonzola cheese, season with salt and fresh-ground black pepper, and toss again.
This will keep in the fridge for a day or so, although it's better the day it's made.
If you're only serving a few people, prep all the broccoli and radishes; then only put dressing on the amount you'll eat right away. You can add dressing to the leftovers for another salad later in the week!
Instructions for Making Lower-Fat Blue Cheese Dressing:
I buy Lighthouse Chunky Blue Cheese and mix it half-and-half with buttermilk for an easy and lighter version of blue cheese dressing. Try this with your favorite bottled blue cheese dressing if you prefer a thinner and lighter blue cheese.
Notes
Use 2 tablespoons blue cheese dressing and 2 tablespoons buttermilk if you're using my trick for a lighter dressing
This ultra-simple recipe for Broccoli and Radish Salad with Gorgonzola was created by Kalyn.
Nutrition Information:
Yield:
6
Serving Size:
1
Amount Per Serving:
Calories: 131
Total Fat: 8g
Saturated Fat: 2g
Trans Fat: 0g
Unsaturated Fat: 5g
Cholesterol: 7mg
Sodium: 306mg
Carbohydrates: 13g
Fiber: 6g
Sugar: 3g
Protein: 5g
Nutrition information is automatically calculated by the Recipe Plug-In I am using. I am not a nutritionist and cannot guarantee 100% accuracy, since many variables affect those calculations.
Low-Carb Diet / Low-Glycemic Diet / South Beach Diet Suggestions:
This easy broccoli salad would be great for low-carb diets, and for Keto you can use any type of creamy blue cheese dressing you'd like, yum! If you're making Easy Broccoli Radish Salad for the original South Beach Diet, both blue cheese dressing and Gorgonzola cheese would be limited foods, but if you use my tip for making more diet-friendly blue cheese dressing I'd consider this fine as an occasional treat for any phase of the diet.
Find More Recipes Like This One:
Use Salad Recipes to find more recipes like this one. Use the Diet Type Index to find more recipes suitable for a specific eating plan. You might also like to follow Kalyn's Kitchen on Pinterest, on Facebook, on Instagram, or on YouTube to see all the good recipes I'm sharing there.
Historical Notes for this Recipe:
This recipe was first posted in 2006! It was last updated with more information in 2022.
We are a participant in the Amazon Services LLC Associates Program, an affiliate advertising program designed to provide a means for us to earn fees by linking to Amazon.com and affiliated sites. As an Amazon Associate, I earn from qualifying purchases.