The Top Ten New Low-Carb and Keto Recipes of 2021
I love the year-end tradition of making a top ten list, so here are my picks for The Top Ten New Low-Carb and Keto Recipes of 2021! Did your favorite new Kalyn's Kitchen recipe make the list?
Pin The Top Ten New Low-Carb and Keto Recipes of 2021!
Food Blogging has changed so much from the days when I first started sharing recipes on the web. But one blogging tradition I hope will never go away is the idea of sharing a year-end round-up of the best recipes of the year! So today I'm sharing my picks for The Top Ten New Low-Carb and Keto Recipes of 2021 from Kalyn's Kitchen, and if you look at the lists from previous years at the end of this post, you can see that making year-end lists is something I've enjoyed doing for many years.
Some bloggers analyze their stats and pick out the new recipes that are most popular. But I prefer to feature my own favorites from the year; and I always have a hard time narrowing it down so there are a ten more honorable mention recipes after the top ten list as well! I know these last two years have been difficult ones for many people, and I hope that some of the recipes I've featured on this site have brought a little pleasure into your life during this time when most people are cooking more at home.
And Kalyn's Kitchen had a facelift in 2021, with lots of new features including Filtered Recipe Search to make it easier to find a recipe when you're staring into the fridge wondering what to make for dinner! If you haven't tried out the Filtered Recipe Search yet, this post has good instructions for how to use it.
I hope everyone is getting ready to welcome the new year by making lots of healthy and delicious food! Thanks for visiting here and trying my recipes; the kind feedback I get from readers is definitely one of the things that keeps food blogging fun!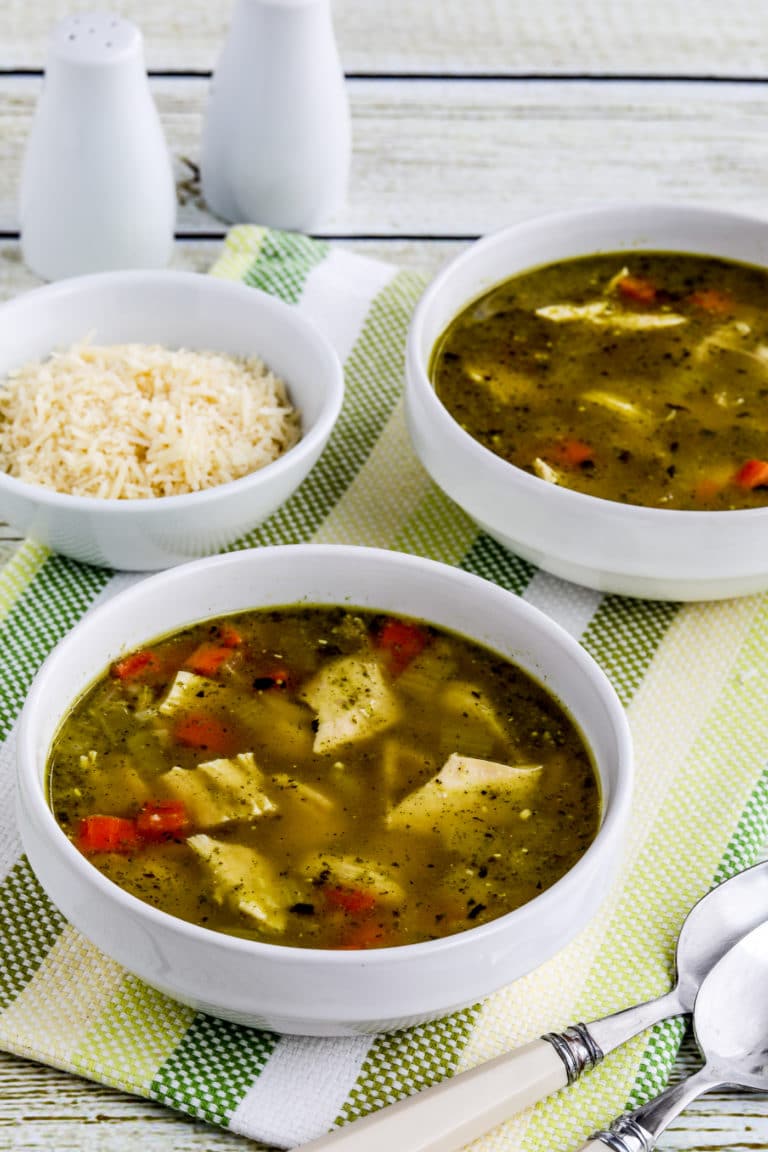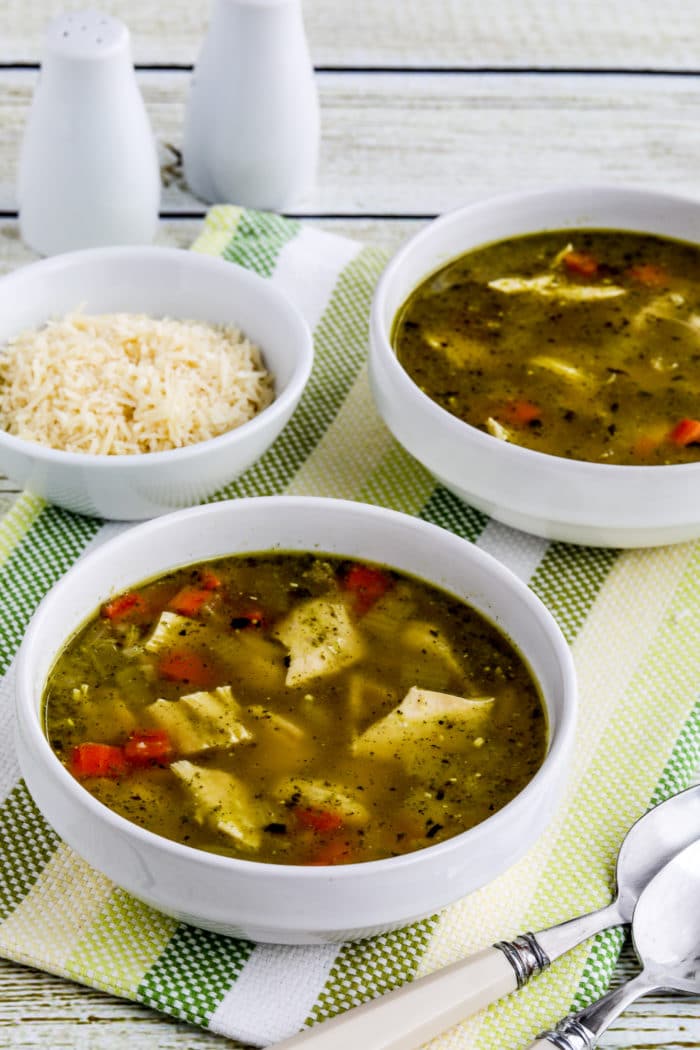 Chicken Pesto Soup has all the flavors that have made Easy Baked Pesto Chicken one of the all-time most popular recipes on my site. If you like those ingredients you'll probably enjoy this simple soup recipe with chicken, cauliflower rice, pesto, and of course cheese!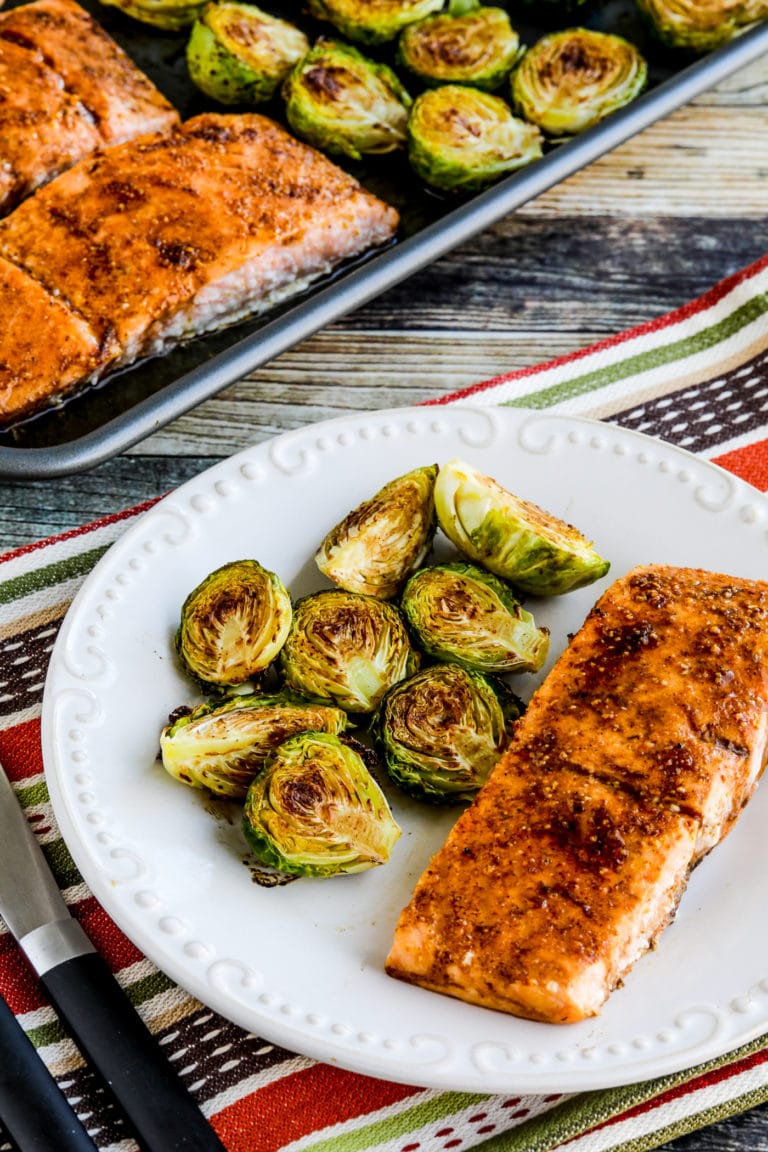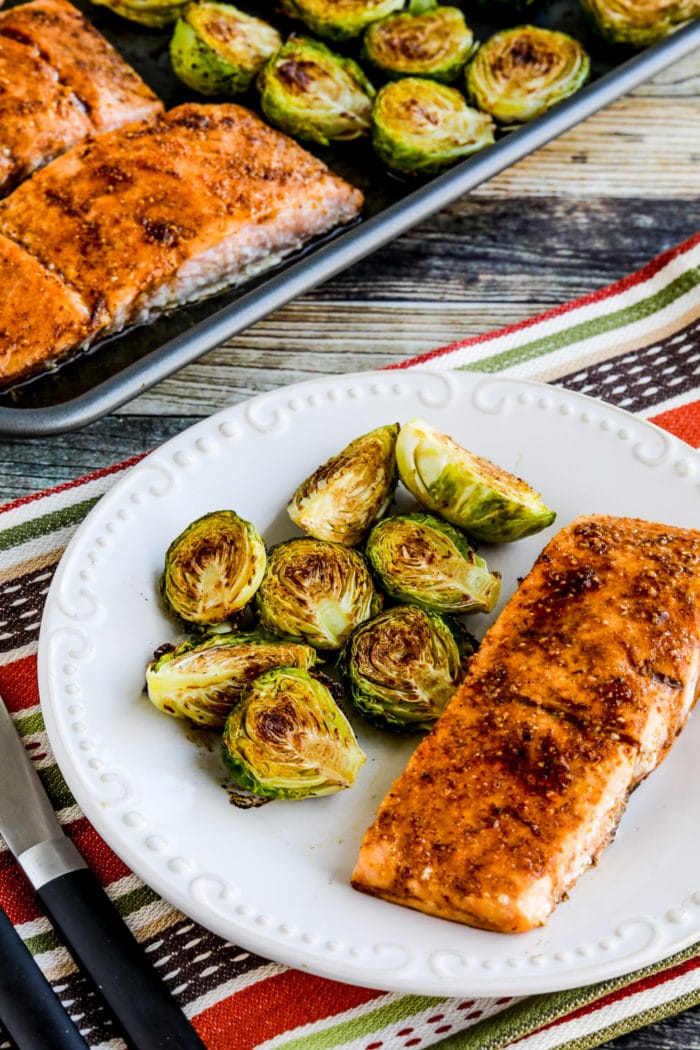 Sheet Pan Meals are here to stay, and this tasty Roasted Brussels Sprouts and Salmon Sheet Pan Meal has an interesting glaze with balsamic vinegar, soy sauce, and lime juice that really kicks up the flavors!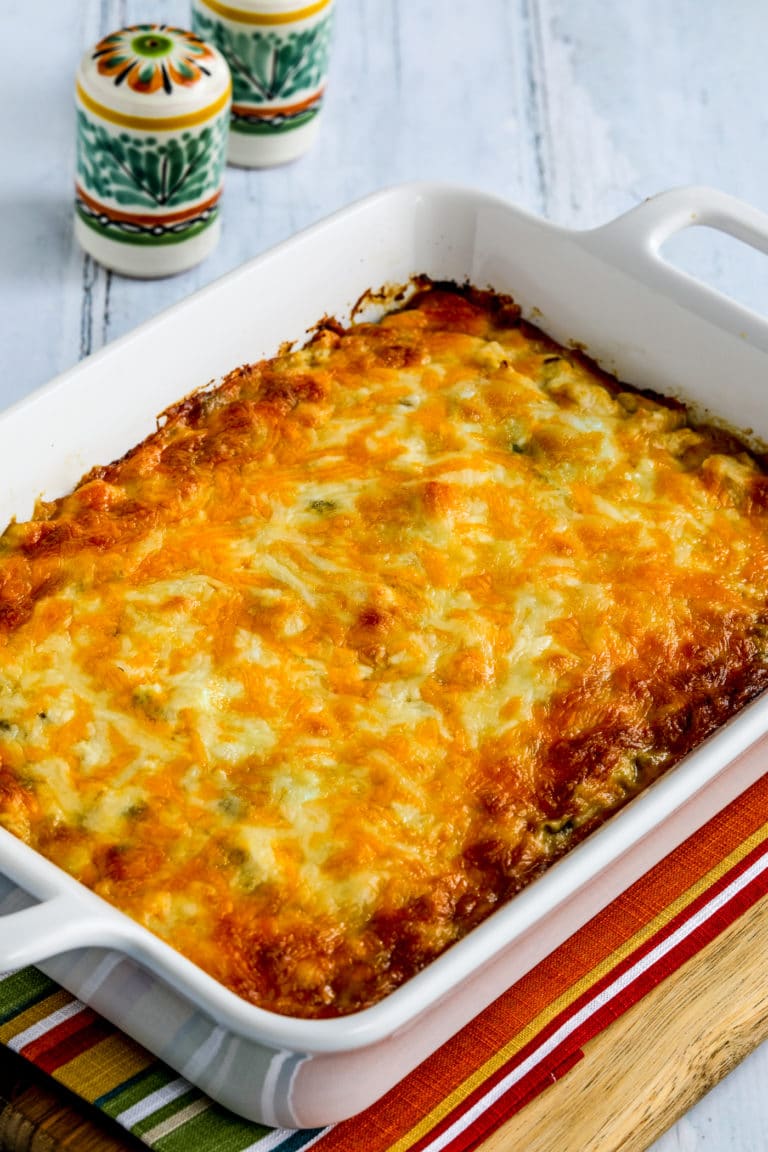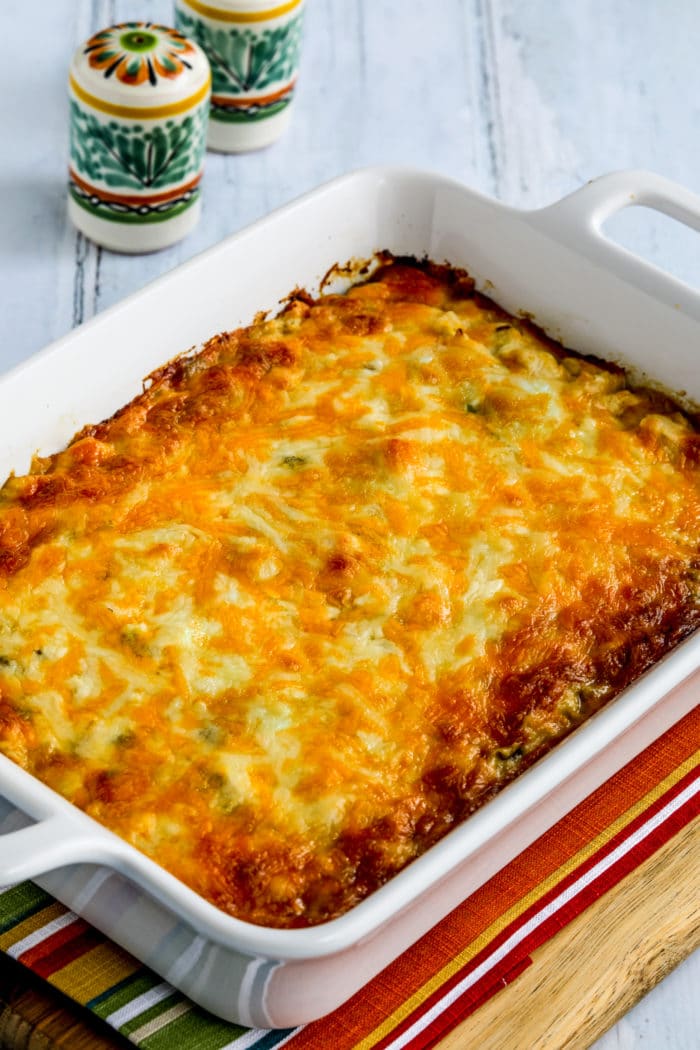 Layered Mexican Casserole with Chicken and Cauliflower Rice is a recipe that was adapted from a favorite layered casserole that had pinto beans, and this new low-carb version was definitely a hit!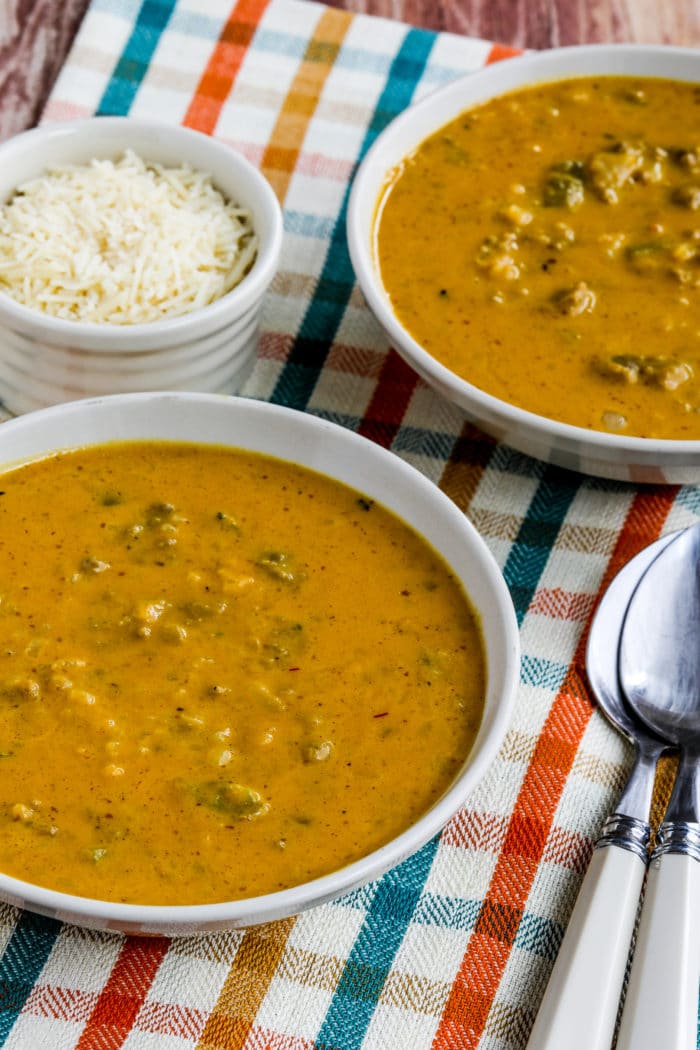 Kara and I spent some time perfecting this recipe for Instant Pot Pumpkin Soup so it would be flavorful and low in carbs, and we loved this version with sausage, onion, green pepper, pumpkin, cauliflower rice, cream, and just the right spices.
My sister Laurel brought a jicama salad to our family campout, and as soon as I tried it I knew Laurel's Jicama Salad had to make an appearance on Kalyn's Kitchen! If you like jicama for a crunchy low-carb veggie, you're going to love this combination.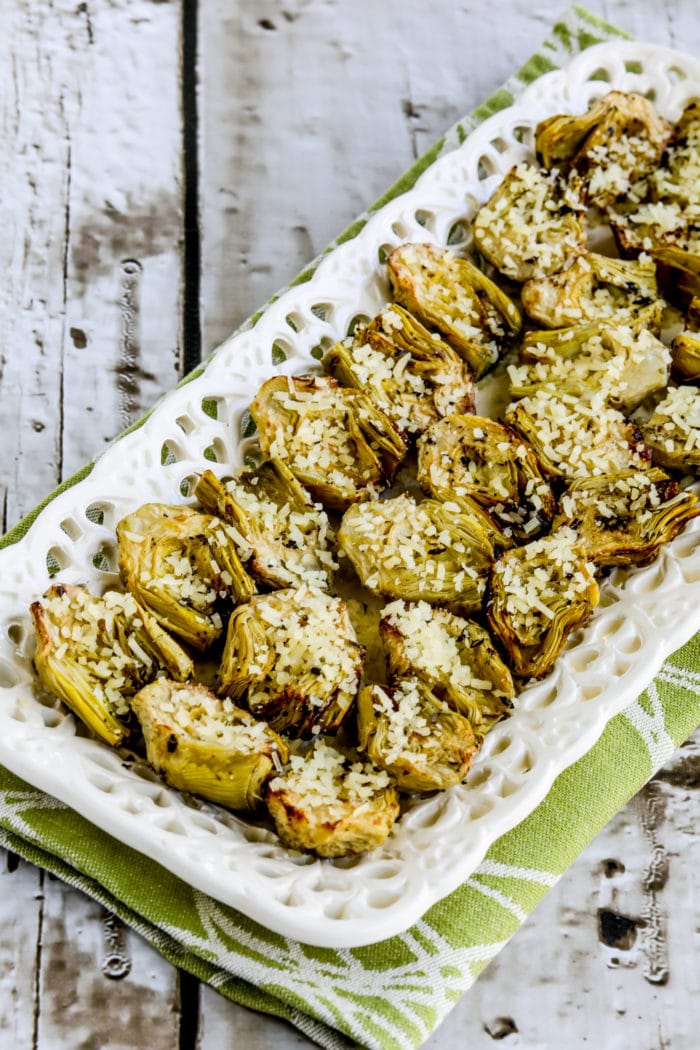 Air Fryer Artichoke Hearts were a wow appetizer or side dish recipe that I ended up making many times during the year!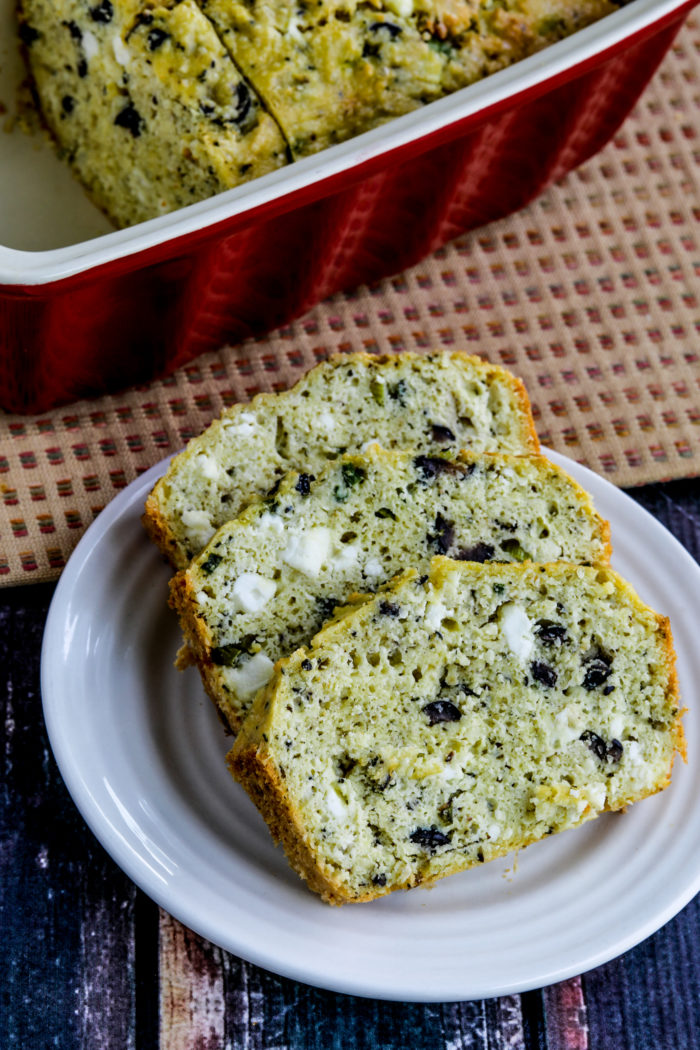 I loved this Olive Bread made with almond flour, hemp seeds, eggs, olives, and Feta Cheese, and this is something I enjoyed for breakfast and also as a toasted bread to dip into soup.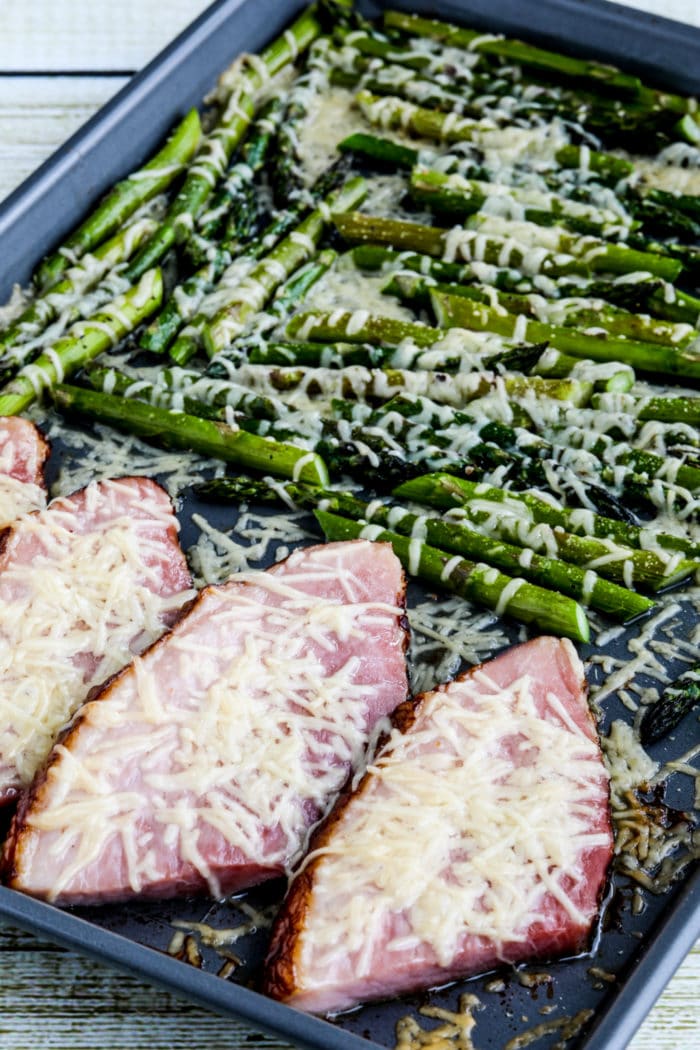 When I had some leftover ham I created a recipe for Easy Cheesy Baked Ham and Asparagus and this was another fun new idea for a sheet pan meal.
This Instant Pot Chicken Tinga is delicious and easy to make, and when my niece stopped by with her seven-year-old son we also discovered this is a pretty kid-friendly dish.
I'm always trying to make more low-carb desserts and I did manage a few good recipes in 2021. We loved these Almond Flour Brownies and they're already getting comments from people who have enjoyed the recipe.
Ten More New Low-Carb Recipes from 2021:
Best-of-the-Year Round-Ups Through the Years:
We are a participant in the Amazon Services LLC Associates Program, an affiliate advertising program designed to provide a means for us to earn fees by linking to Amazon.com and affiliated sites. As an Amazon Associate, I earn from qualifying purchases.