The Top Ten New Low-Carb and Keto Recipes of 2020 (Video)
Here are The Top Ten New Low-Carb and Keto Recipes of 2020 from Kalyn's Kitchen, and I love looking back at them for a year-end tradition!
PIN The Top Ten New Low-Carb and Keto Recipes!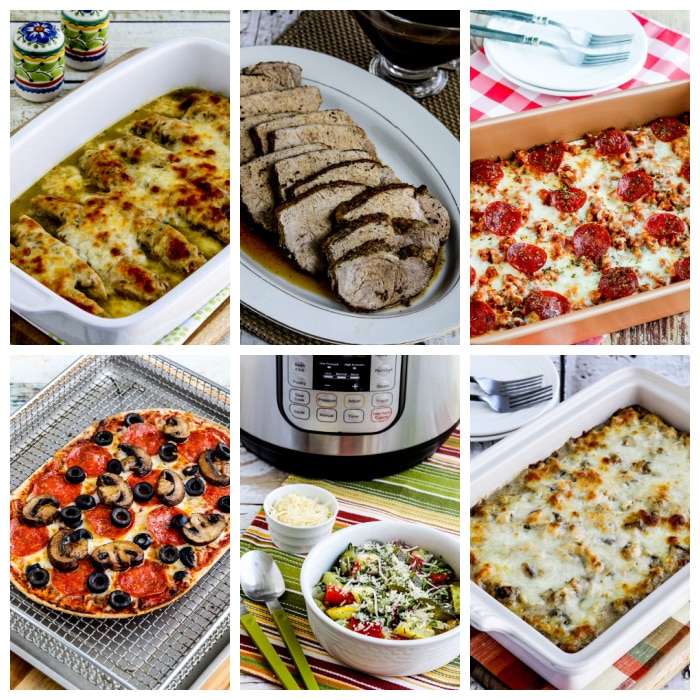 Years ago I started doing year-end round-ups like The Top Ten New Low-Carb and Keto Recipes of 2020 from Kalyn's Kitchen! This year I wondered whether this tradition seems old-fashioned in this age of high-tech, ultra competitive food blogging. But I decided I like the traditional blogging approach, and to me this seems like the perfect way to finish the year with good food memories!
Of course, 2020 was a year like no other, and that might be why there are a few more comfort food options than usual on this year's list! Just like my blog, the list has both recipes that are only moderately low in carbs as well as some solidly Keto options.
And I included the nutritional information in the round-up so you can see which ones you'd like to try! Whatever you're cooking this week let's celebrate the end of 2020 and look forward to a lot more trips, restaurant meals, and family parties in 2021!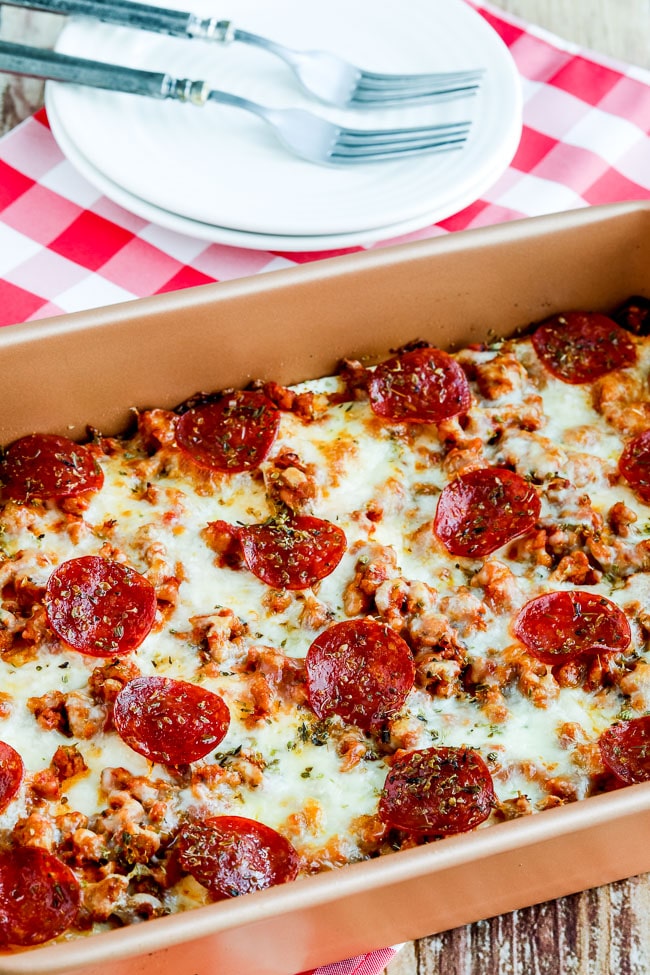 I started out 2020 with this Sausage and Pepperoni Layered Pizza Bake! This recipe has low-carb or Keto options, depending on what you use as the base of the layers. I expected that this would be a hit, and it was! (For the Keto version with Folios: 2.8 carb, .1 gram fiber; for the low-carb version with low-carb tortillas: 18.2 carbs, 13.1 grams fiber.)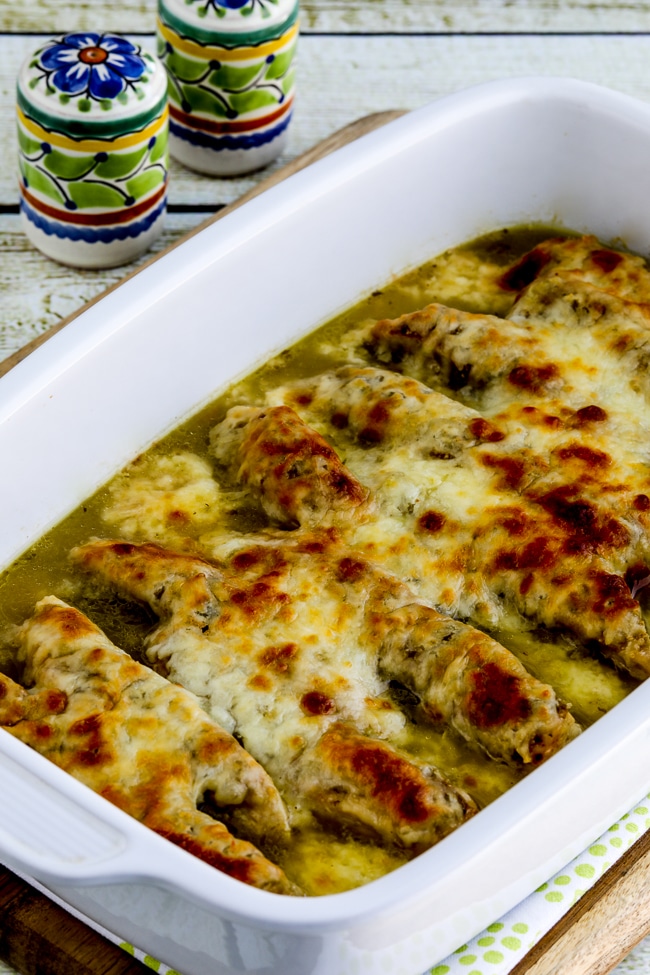 This absolutely easy and foolproof recipe for Salsa Verde Chicken Bake is a chicken bake recipe people went crazy over this year! (5 carbs; 1 gram fiber)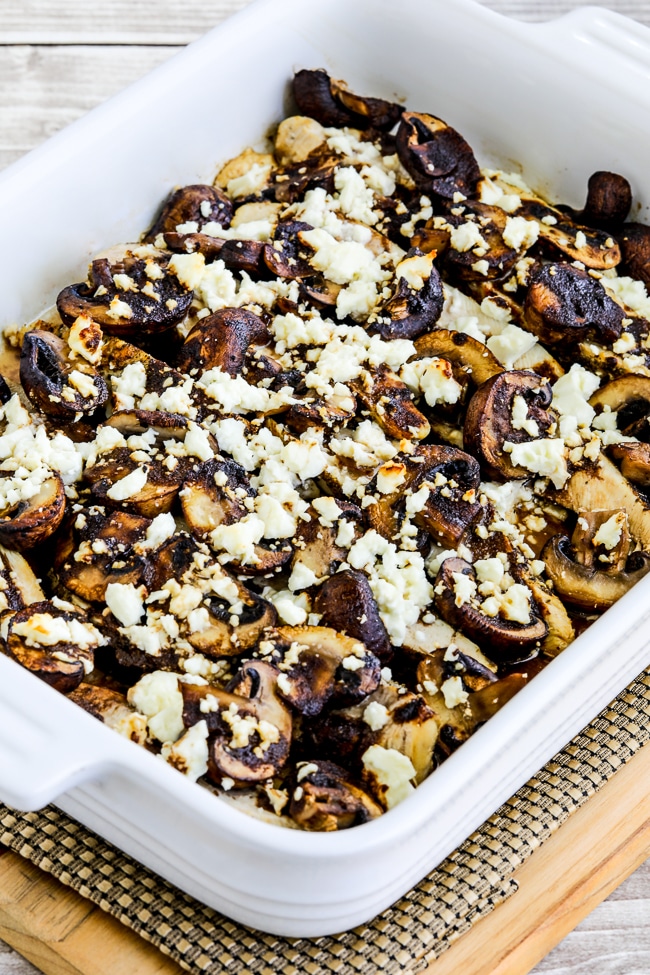 Balsamic Chicken and Mushrooms is a recipe that was inspired by a very old recipe I stumbled across back in the archives. I thought this new recipe was greatly improved by the addition of creamy melted Feta Cheese! (14 carbs; 3 grams fiber)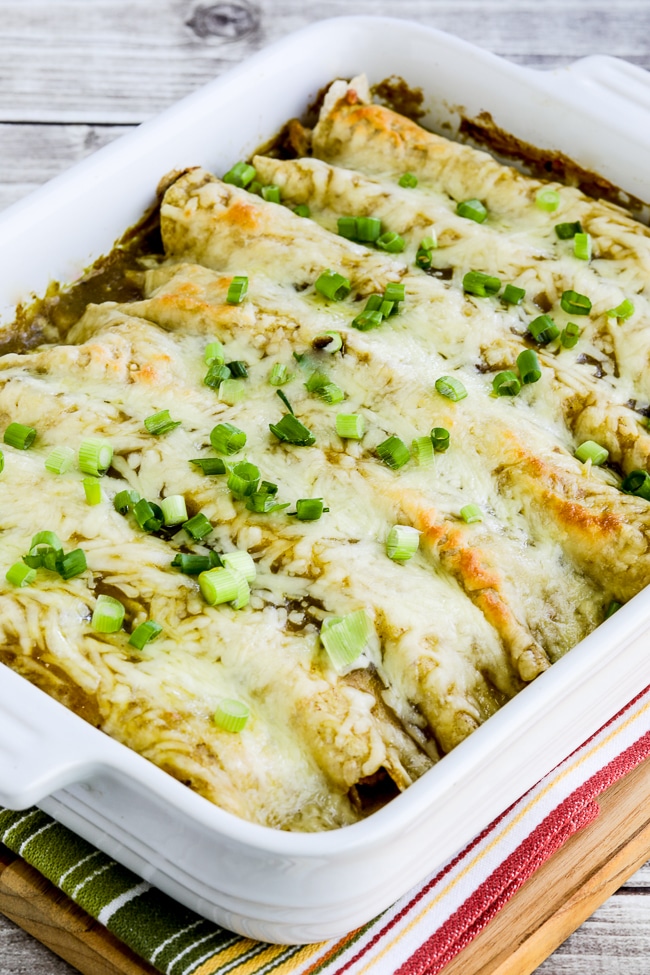 There were quite a few Instant Pot recipes this year, but this recipe for Instant Pot Green Chile Pork Enchiladas was the one that was pure comfort food. But it uses low-carb tortillas so it's not that terribly high in net carbs; what do you think? (22 carbs; 11.6 grams fiber.)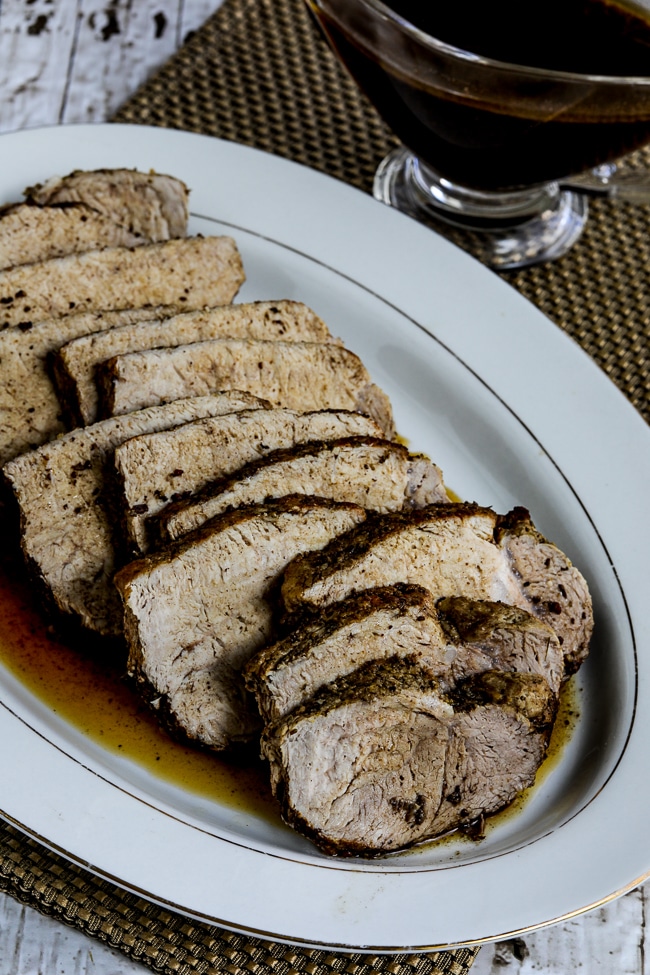 We totally swooned over this Instant Pot Balsamic Pork Roast, which was also super low in carbs! And I also updated my recipe for Slow Cooker Balsamic Pork Roast if you prefer using the slow cooker. (2 carbs; zero grams fiber)
This tasty Chicken Alfredo Mock Lasagna Casserole was another lasagna like dish where I use Folios Parmesan Cheese Wraps for the "noodle" layer, and this was tasty and using Rao's Alfredo Sauce (affiliate link) made it super easy to make! (8 carbs; 1.5 grams fiber)
When I used my garden zucchini to make Instant Pot Ratatouille I remarked that it was one of the best things I've made in the Instant Pot! This is a recipe to save and remember when you have fresh summer vegetables! (13 carbs; 3 grams fiber)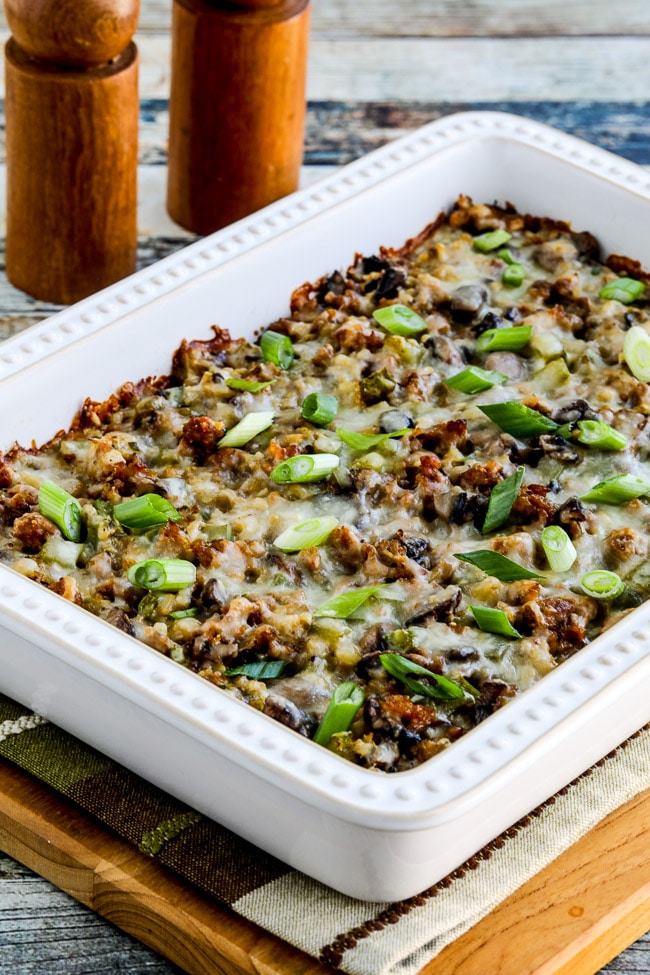 My friend Mary is probably responsible for this Cauliflower Rice Sausage Casserole making the list, because after she discovered how much she liked cauliflower rice she made this over and over and told me her family loved it so much she eventually started doubling the recipe! (8.5 carbs; 3.2 grams fiber)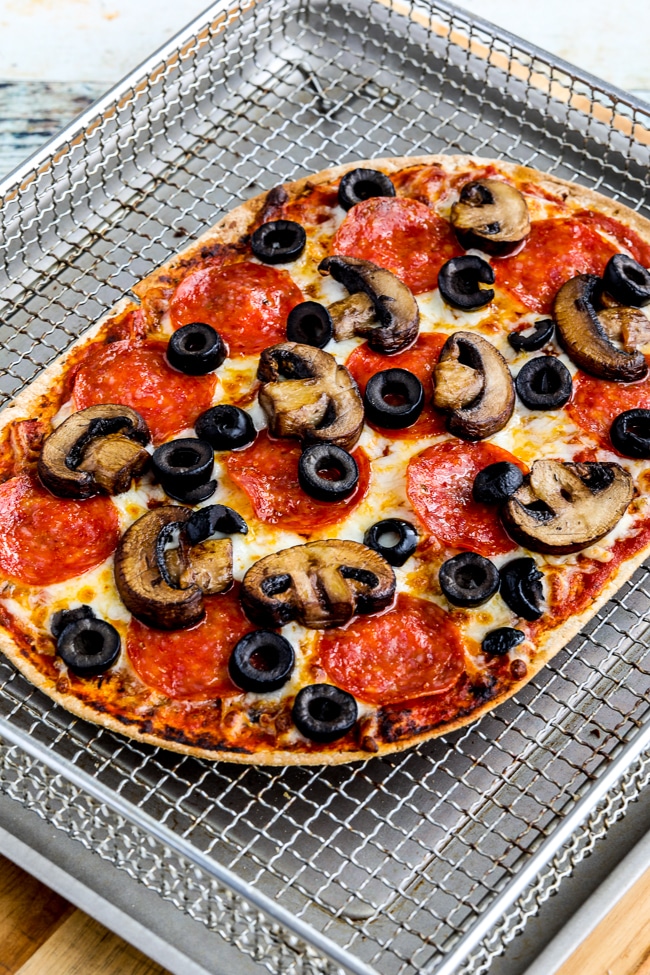 I had fun experimenting with my niece Kara to come up with three crust variations for Air Fryer Pizza and you can literally make this in minutes! (For the low-carb tortilla version we liked best, 27.5 carbs; 17.8 grams fiber.)
And one more for the Air Fryer fans! I was skeptical about cooking a big piece of meat in the Air Fryer, but I was so impressed with how easy and delicious this Air Fryer Pork Loin Roast turned out to be. (This came out to zero carbs, with zero grams of fiber!)
Best-of-the-Year Recipe Collections Through the Years:
The Top Ten New Low-Carb and Keto Recipes of 2019
The Top Ten New Low-Carb and Keto Recipes of 2018
The Top Ten New Low-Carb Recipes of 2017
The Top Ten Low-Carb Recipes of 2016
The Top Ten Best New Recipes of 2015
The Top Ten Best New Recipes of 2014
The Top Ten Slow Cooker Recipes or 2013
The Top Ten Recipes of 2012
The Top Ten Recipes of 2011
Top Ten Recipes of 2010
Top Ten Recipes of 2009
The Best Recipes of 2008
The Best Recipes of 2007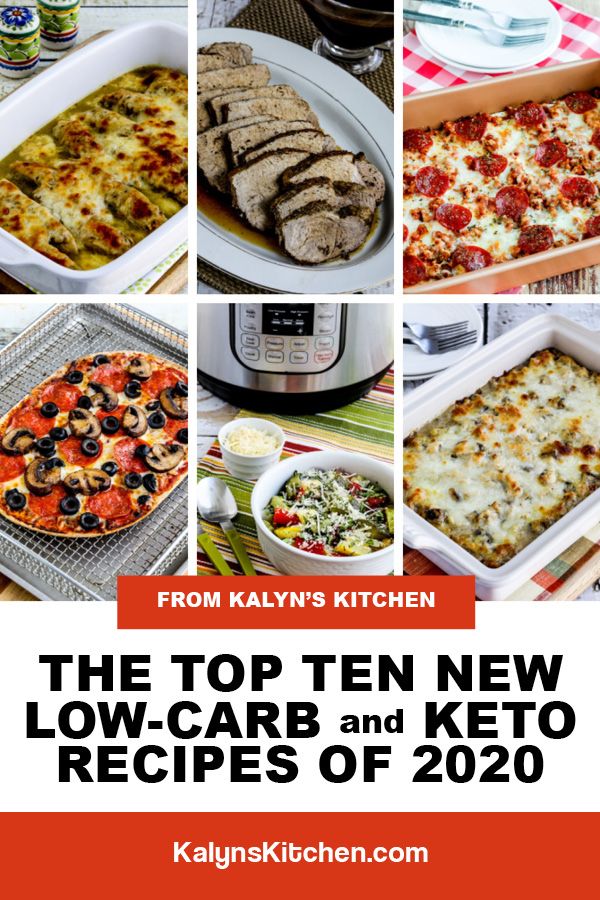 We are a participant in the Amazon Services LLC Associates Program, an affiliate advertising program designed to provide a means for us to earn fees by linking to Amazon.com and affiliated sites. As an Amazon Associate, I earn from qualifying purchases.