Tomato Cucumber Salad with Mint and Feta
This Tomato Cucumber Salad with Mint and Feta has a special preparation method that brings out the best of these summer ingredients.
PIN the salad to try it later!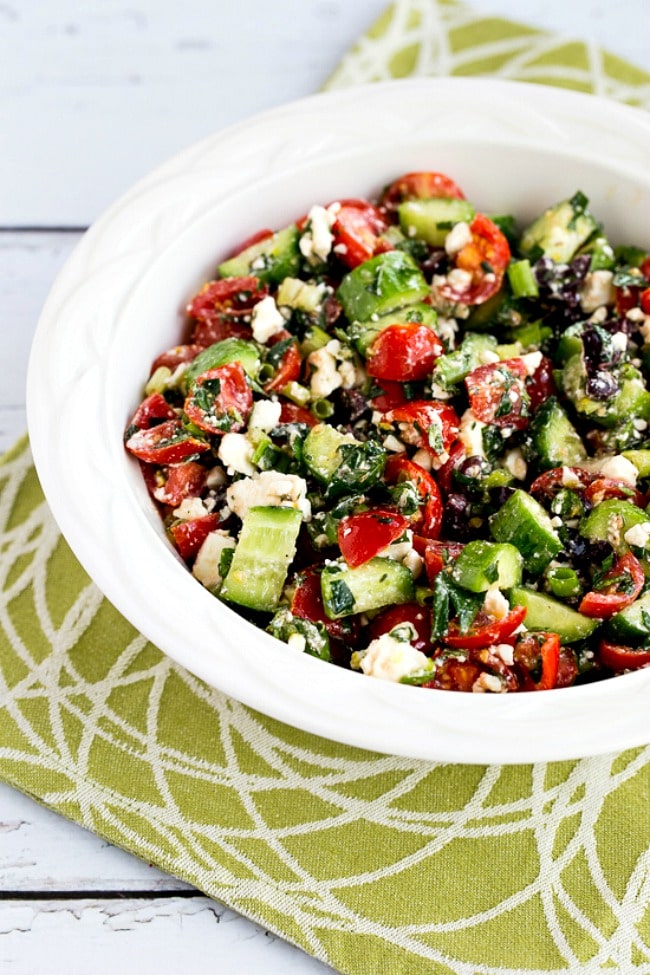 Salads that feature tomatoes and cucumbers are a classic combination found in cuisines all over the world, and I have lots of them in the Salads Index on this site. But for Friday Favorites today I'm reminding you about this special Tomato Cucumber Salad with Mint and Feta that I make every summer. This is not just an ordinary salad with tomatoes and cucumbers! It's the way the tomatoes and the Feta are marinated separately with lemon, mint, and thyme before the salad ingredients are combined that makes this salad so good and trust me, that extra hour of marinating time will make so much difference! And this salad is perfect to make with cherry tomatoes in early summer when you don't have fresh garden tomatoes yet, but are starting to crave tomatoes.
I remember the first time I made the salad I was skeptical about the extra marinating step. But the marinating time calms down the mint and infuses the other ingredients with lemony and herby flavors that make the finished salad really great. Of course, if you have fresh garden tomatoes and cucumbers, this salad is a must try! But even when it's early in the year and you're using cherry tomatoes and cucumbers from the grocery store, and have to buy the mint as well, this salad is definitely one to add to your summer menu.
What ingredients do you need for this recipe?
cherry tomatoes (or fresh garden tomatoes)
chopped mint
fresh thyme leaves
sea salt
fresh ground black pepper (use more or less to taste)
crumbled Feta
lemon
green onions
Kalamata olives
cucumber
extra-virgin olive oil
What if you don't like Kalamata olives?
Personally I'd never skip the Kalamata olives in this salad. But they are the one ingredient I would say is optional, and I know some people don't enjoy bitter flavors like that. You could also replace Kalamata olives with milder black olives if you prefer.
Can you make the salad with dried herbs?
I'd splurge on fresh mint at the store for this salad if you don't have fresh mint growing in your yard. But if you don't have fresh thyme, I think the salad would still be good with a smaller amount of dried thyme, preferably Ground Thyme (affiliate link).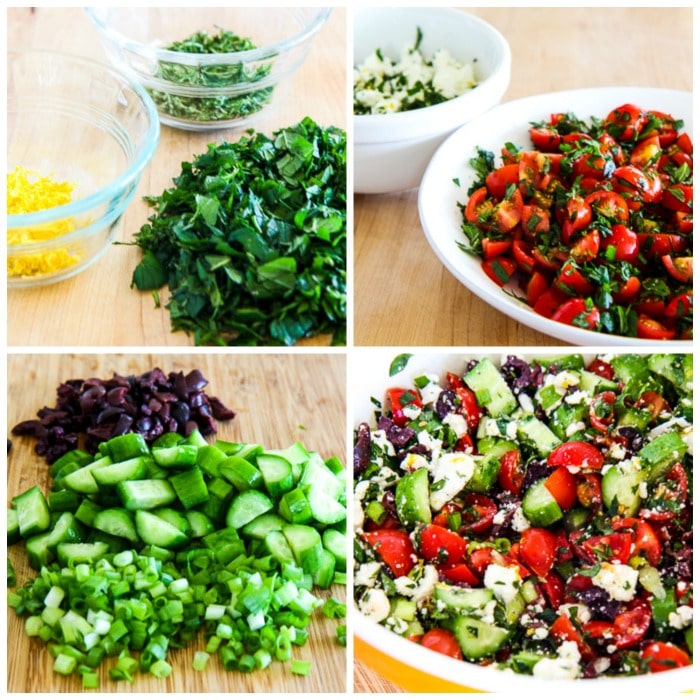 How to Make this salad:
(Scroll down for complete recipe with nutritional information.)
Zest the lemon, chop mint, and chop the fresh thyme.
Then combine chopped tomatoes, half the mint, half the thyme, salt, and pepper in one bowl.
Combine crumbled Feta, lemon zest, remaining mint, remaining thyme, and some black pepper in another bowl.
Let the tomato mixture and the Feta mixture hang out on the counter for about an hour, until the ingredients get very friendly with each other.
Then cut up the cucumbers into bite-sized pieces, slice green onions, and chop the olives.
Combine the tomato mixture, Feta mixture, cucumbers, green onions, and olives in a large bowl.
Whisk together olive oil and fresh lemon juice and mix desired amount with the salad ingredients.
Season the salad to taste with salt and fresh-ground black pepper and serve.
Be prepared to be wowed by this amazing salad!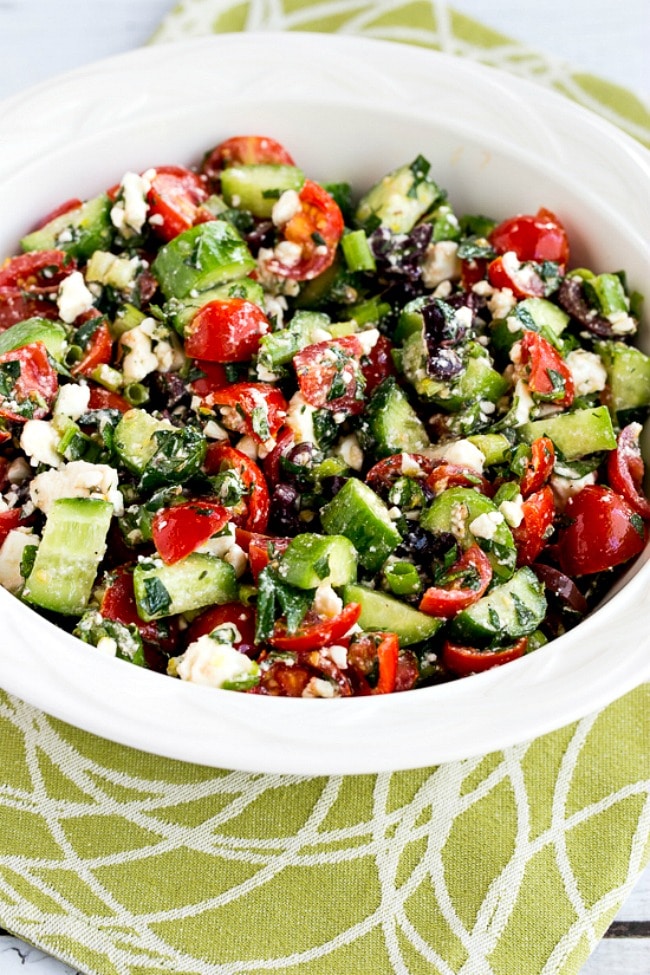 Make it a Meal:
I'd serve this salad with something like Grilled Fusion Chicken, Marinated Beef Kabobs, or Grilled Sausage and Peppers for a delicious low-carb summer meal.
More Salads with Tomatoes:
BLT Salad from Kalyn's Kitchen
Marinated Tomato Salad from David Lebovitz
Asparagus Salad with Cherry Tomatoes, Kalamata Olives, and Feta ~ Kalyn's Kitchen
Tomato, Onion, and Roasted Lemon Salad ~ The View from Great Island
American Greek Salad with Lettuce ~ Kalyn's Kitchen
Cucumber and Tomato Salad with Creamy Herb Dressing ~ A Farmgirl's Dabbles
Want More Summer Tomato Salads?
Check out Ten Favorite Summer Tomato Salads (plus Honorable Mentions) for more amazing salad ideas for summer tomatoes!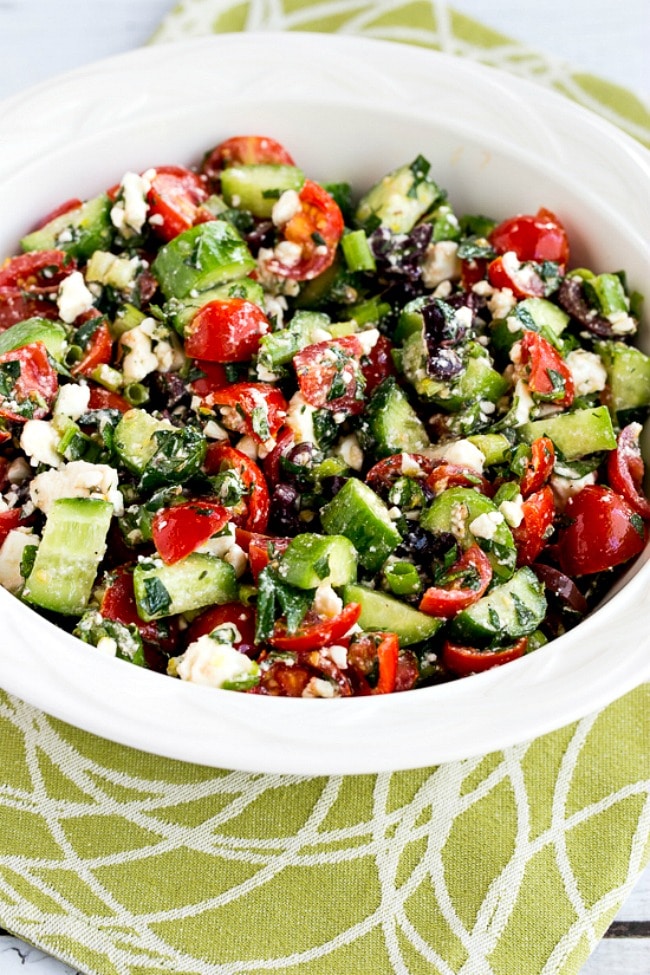 Yield: 6 servings
Tomato Cucumber Salad with Mint and Feta
Prep Time 25 minutes
Cook Time 1 hour
Total Time 1 hour 25 minutes
Marinating the tomatoes and Feta with lemon, mint, and thyme makes this Tomato Cucumber Salad really a wow!
Ingredients
1 1/2 cups quartered cherry tomatoes
1/4 cup chopped mint (or more)
2 tsp. fresh thyme leaves
1/2 tsp. sea salt, plus more for serving if desired
fresh ground black pepper (use more or less to taste)
1/2 cup crumbled Feta (or more)
1 tsp. lemon zest, or more (see notes)
1/4 cup sliced green onions (scallions)
1/2 cup pitted and chopped Kalamata olives
2 cup chopped cucumber
1 T fresh lemon juice
2 T extra-virgin olive oil
Instructions
Cut up tomatoes and place in medium-sized bowl. Add half the mint, half the thyme, the salt, and a bit of fresh-ground black pepper. Combine ingredients and let sit at room temperature for about one hour.
In a separate bowl, combine crumbled feta, lemon zest, remaining mint, remaining thyme, and a bit more fresh-ground pepper. Let sit at room temperature about one hour.
After the tomatoes and Feta have marinated separately for about 45 minutes, cut up cucumbers into bite-sized pieces. (I used fresh garden cucumbers which didn't need to be peeled. Store cucumbers may need some or all of the peel removed.)
Slice green onions and chop olives, then combine the tomato mixture, Feta mixture, cucumbers, green onions, and olives in large bowl. Let sit at room temperature for a few minutes.
When you're ready to serve the salad, whisk together the olive oil and fresh lemon juice and mix gently with salad ingredients. (You may not need all the dressing depending on how wet you prefer your salad.)
Season with sea salt and more fresh ground black pepper if desired and serve.
Nutrition Information:
Yield:
6
Serving Size:
1
Amount Per Serving:
Calories: 173
Total Fat: 12g
Saturated Fat: 3g
Trans Fat: 0g
Unsaturated Fat: 9g
Cholesterol: 11mg
Sodium: 455mg
Carbohydrates: 13g
Fiber: 2g
Sugar: 8g
Protein: 3g
Nutrition information is automatically calculated by the Recipe Plug-In I am using. I am not a nutritionist and cannot guarantee 100% accuracy, since many variables affect those calculations.
Low-Carb Diet / Low-Glycemic Diet / South Beach Diet Suggestions:
This Chopped Tomato and Cucumber Salad with Mint, Feta, Lemon, and Thyme is a good side salad for any low-glycemic or low-carb diet, including any phase of the South Beach Diet. Tomatoes do have some carbs, so if you're strictly limiting carbs you might want to use more cucumbers and less tomatoes.
Find More Recipes Like This One:
Use the Salad Recipes to find more recipes like this one.Use the Recipes by Diet Type photo index pages to find more recipes suitable for a specific eating plan. You might also like to Follow Kalyn's Kitchen on Pinterest to see all the good recipes I'm sharing there.
Historical Notes for this Recipe:
This recipe was first posted in 2007! I've made it many times since then, and the recipe was last updated in 2021.
We are a participant in the Amazon Services LLC Associates Program, an affiliate advertising program designed to provide a means for us to earn fees by linking to Amazon.com and affiliated sites. As an Amazon Associate, I earn from qualifying purchases.