Low-Carb and Keto Baked Fish Recipes
Fish and seafood cook quickly in the oven, and there are more than 20 delicious Low-Carb and Keto Baked Fish Recipes here to choose from.
PIN the Baked Fish Recipes to try some later!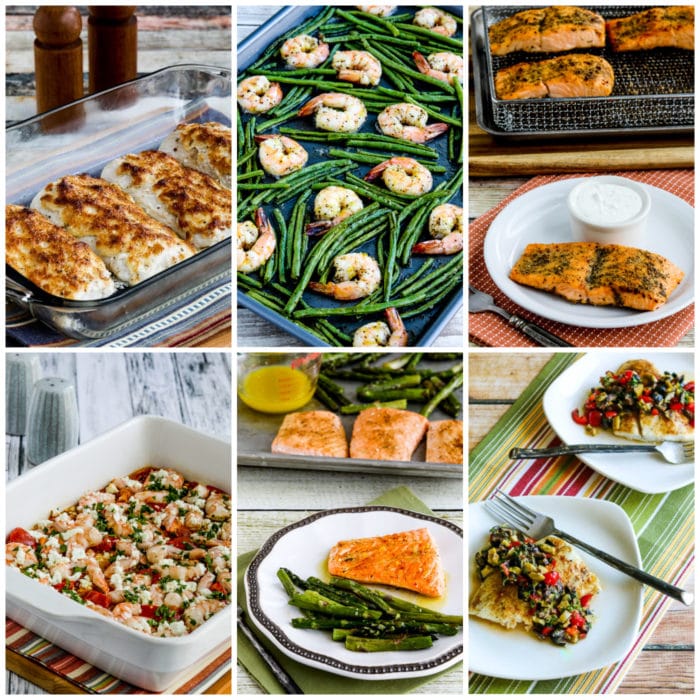 Today I'm giving you Low-Carb and Keto Baked Fish Recipes for my weekly round-up of low-carb recipes to try. Of course there are a lot of reasons baked or roasted fish is a great idea. For one thing, fish cooks quickly in the oven. And roasted or baked fish is the ultimate in easy dinner prep! But I am especially sharing this during the holidays because some people celebrate The Feast of the Seven Fishes, and you'll find some great ideas here for that.
When I started looking through Seafood Recipes for favorites, I found more than 20 different seafood dinners that can be cooked in the oven! And quite a few of these fish recipes are impressive enough that I've made them for guests. I'm including a couple of ideas using shrimp, and I also included some quick sheet pan meals with shrimp and salmon.
I'm also a fan of using a toaster oven when you want to bake or roast without heating up the kitchen, and that works well for some of these recipes if you're not cooking for too many people. Enjoy some low-carb fish dinners everyone, because you know we all should be eating more fish, right?
Use Touch to Tell When Your Fish is Done:
All my fish dinner recipes have a suggested cooking time. But the best way to tell when fish is done is by touch. When the fish feels firm (but not hard) to the touch when you press on it with your fingertip or a fork, you'll know it's done. If you use this system regularly you'll get better at judging the degree of doneness that appeals to you the most.
Side Dishes for Low-Carb and Keto Fish Recipes:
All these recipes are fish dinners, so I want to give you some side dish ideas and I'd love Easy Cheesy Baked Keto Cauliflower, Low-Carb Spicy Cilantro Peanut Slaw, or Lemony Green Beans as a side dish for any of these meals!
Want more Low-Carb Recipe Round-Ups?
You can use Recipe Round-Ups for more low-carb round-ups like this one! Use Seafood Recipes to see all the seafood dishes on my blog.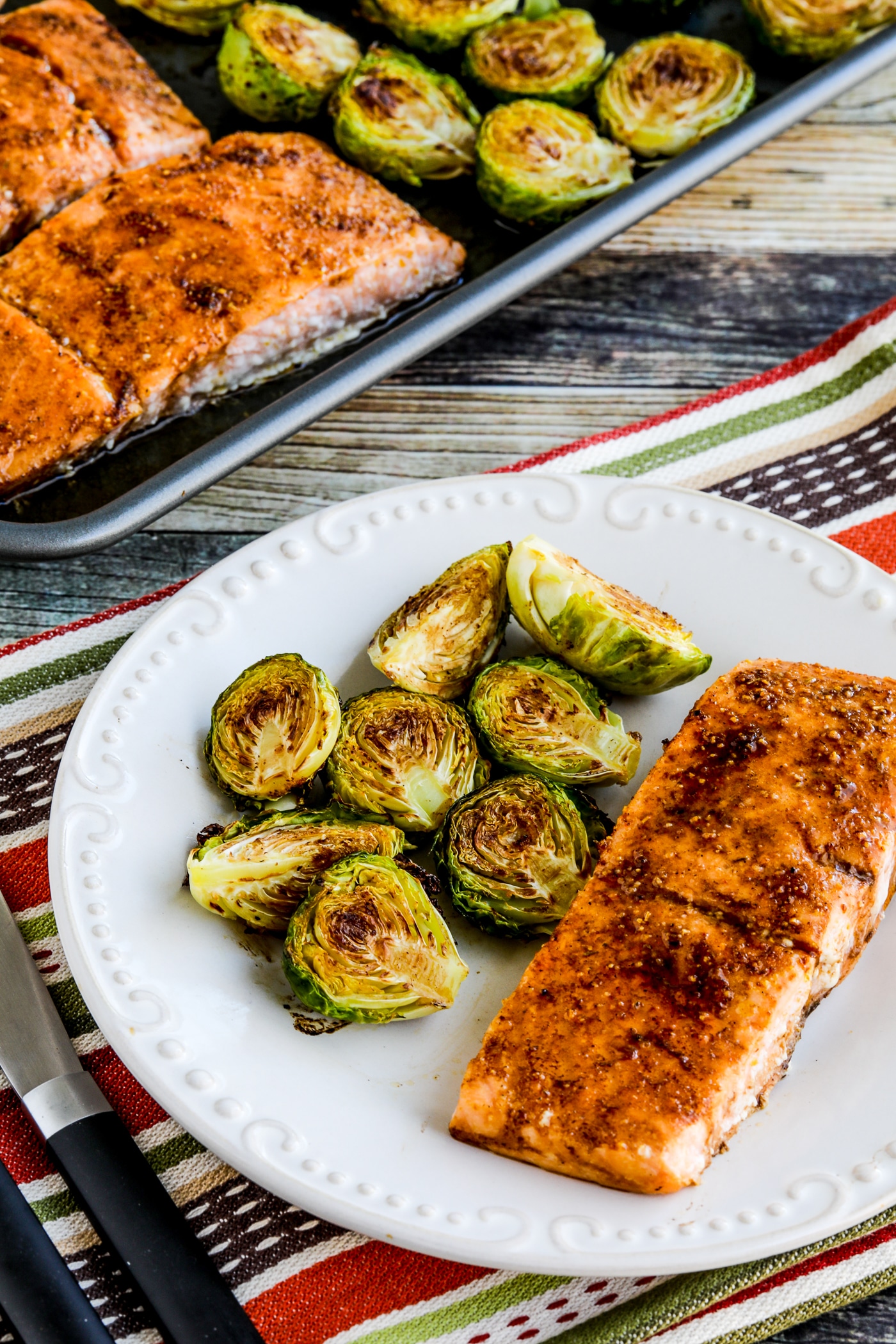 Roasted Brussels Sprouts and Salmon Sheet Pan Meal is a wow dinner for anyone who likes these ingredients, and there's an amazing soy-balsamic-lime glaze on the fish and veggies!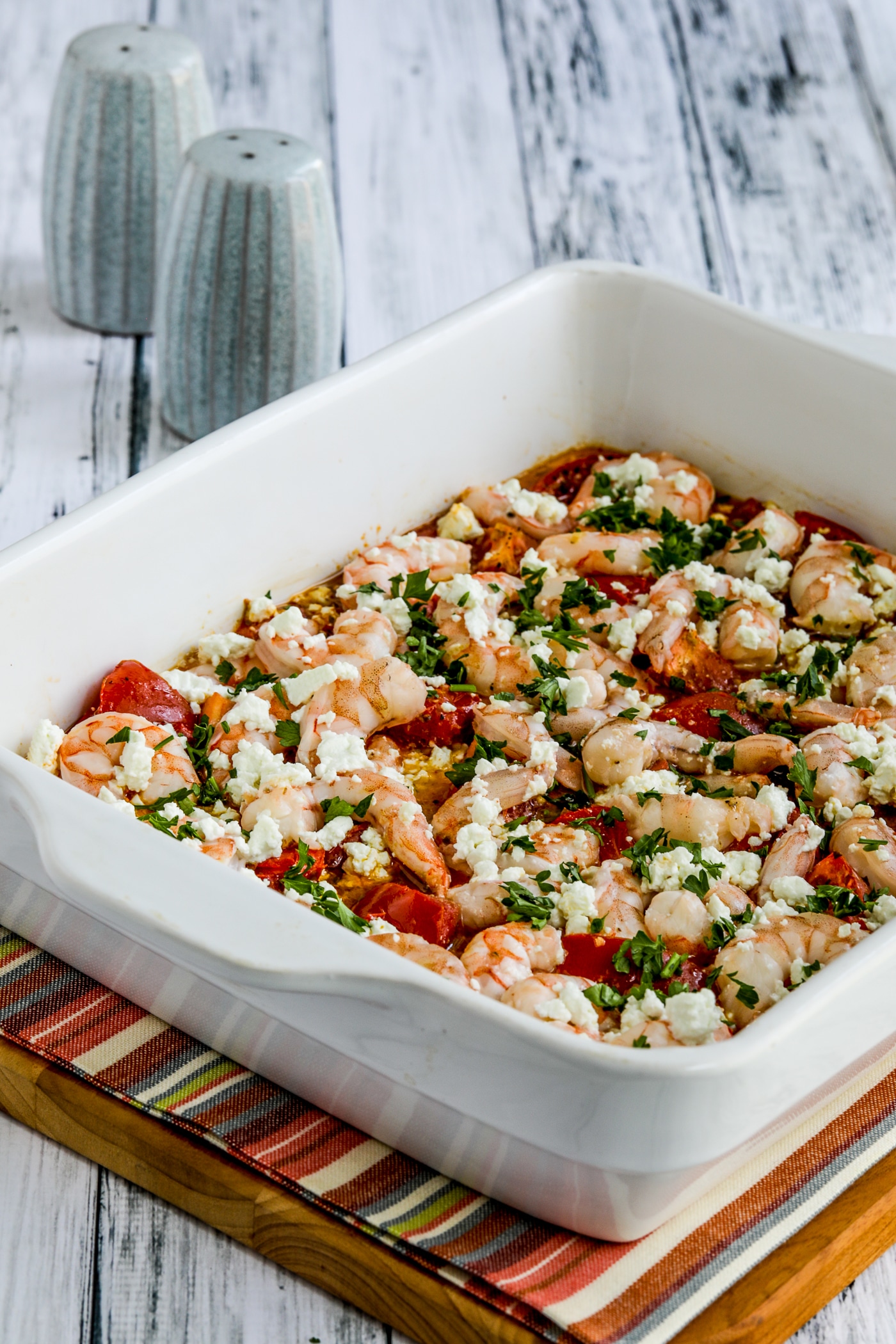 Roasted Tomatoes and Shrimp with Feta got updated with better photos, and this is absolutely a wow any time of year!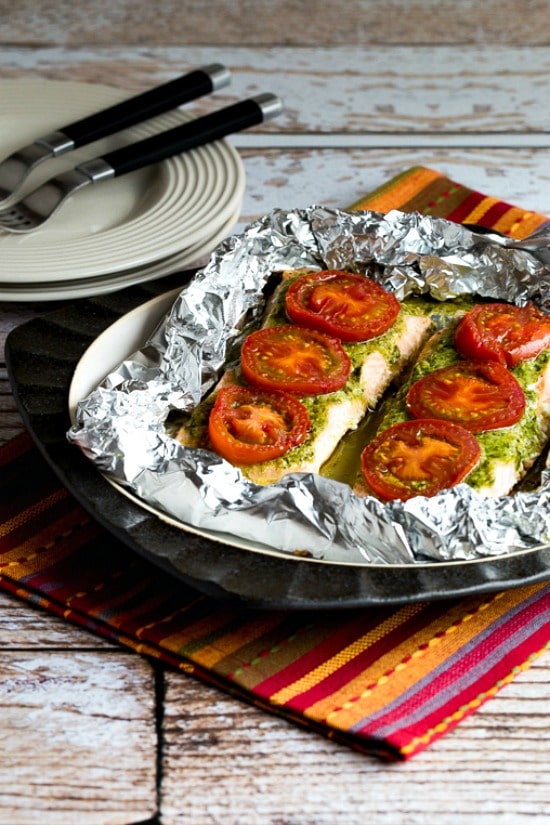 This Baked Salmon with Pesto and Tomatoes is always a wow, even when it's not fresh basil season and you're using pesto from a jar! If you prefer, for Keto you can cut the tomatoes even thinner to save a few more carbs!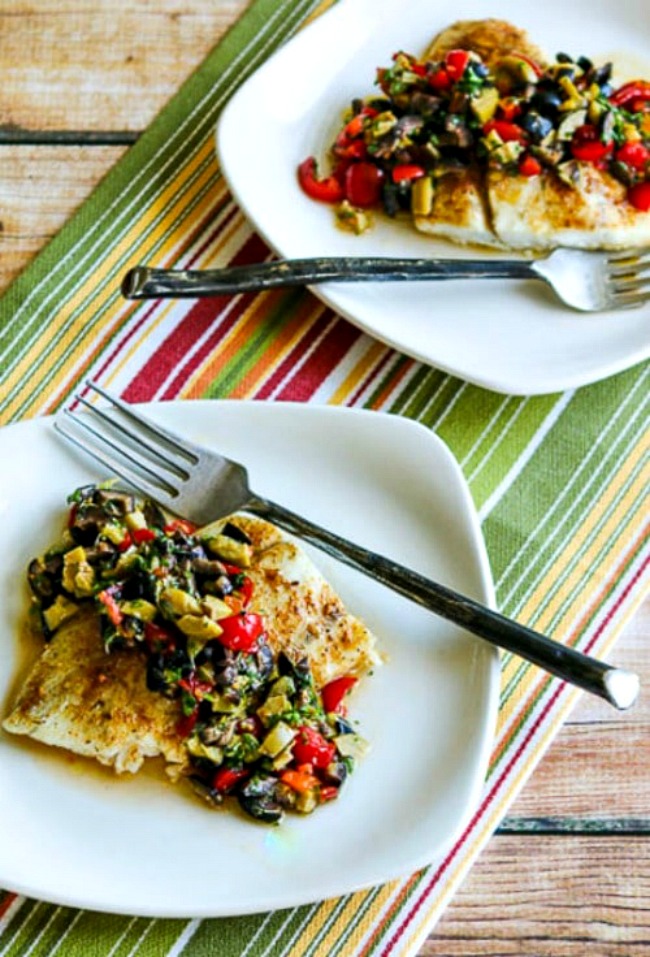 My niece Kara and I swooned over this Roasted Barramundi with Tomato and Olive Relish. In fact after made it, Kara even made it at home before I managed to get the recipe on the blog!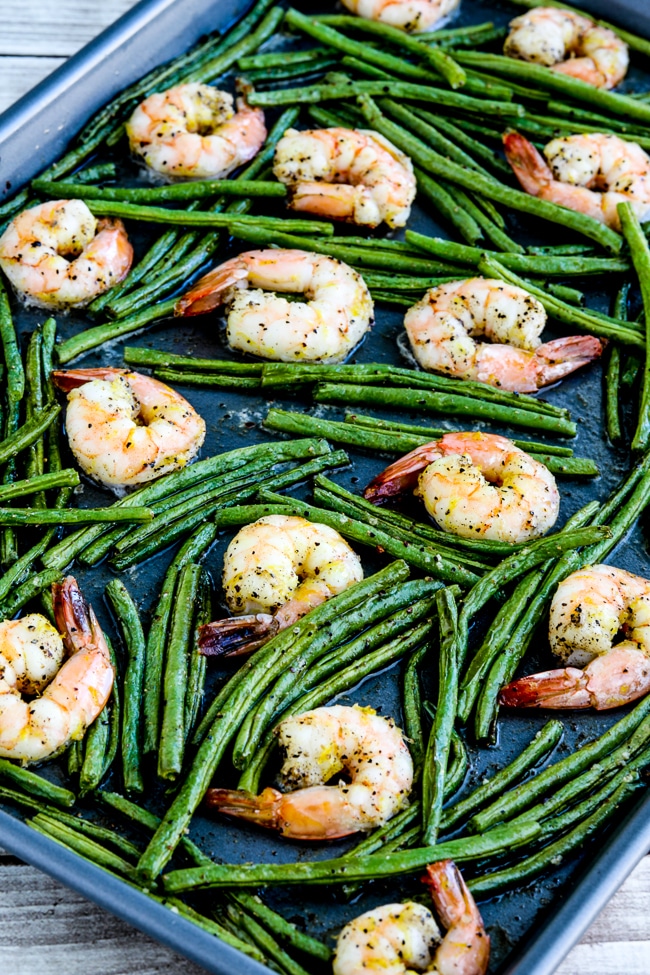 Spicy Green Beans And Shrimp Sheet Pan Meal is a long-time favorite that I used to make for my dad, and this is perfect for a special dinner.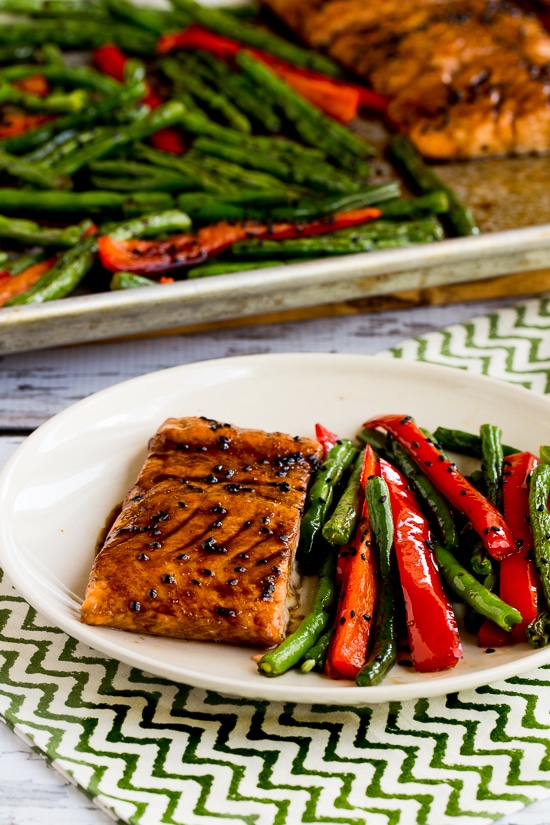 This Roasted Asian Salmon and Green Beans Sheet Pan Meal has been super-popular on the blog, so if you haven't made this yet, what are you waiting for?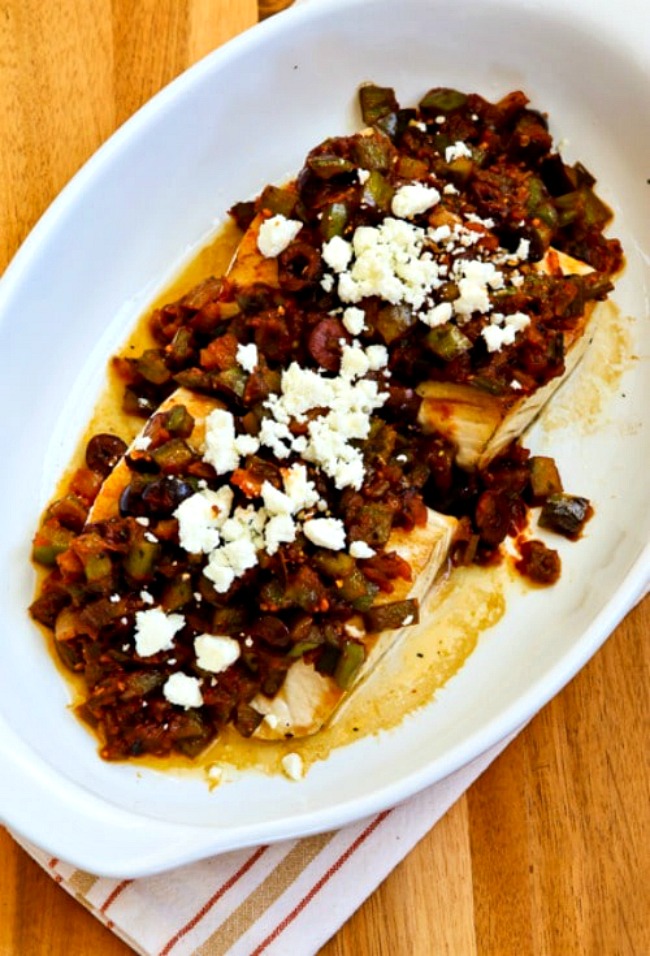 I love the frozen Mahi Mahi fillets from Costco, and they'd be perfect for this Mahi Mahi with Mediterranean Salsa and Feta.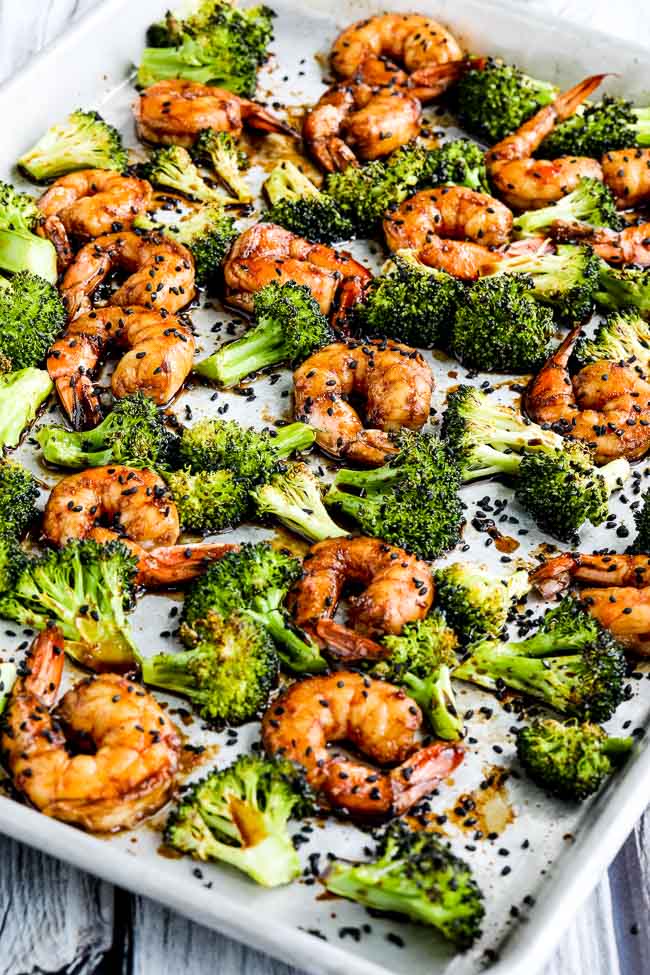 For those who like things a bit spicy, this Sriracha-Spiced Shrimp and Broccoli Sheet Pan Meal does take a bit longer to marinate the shrimp for a few minutes but this is still so easy and tasty!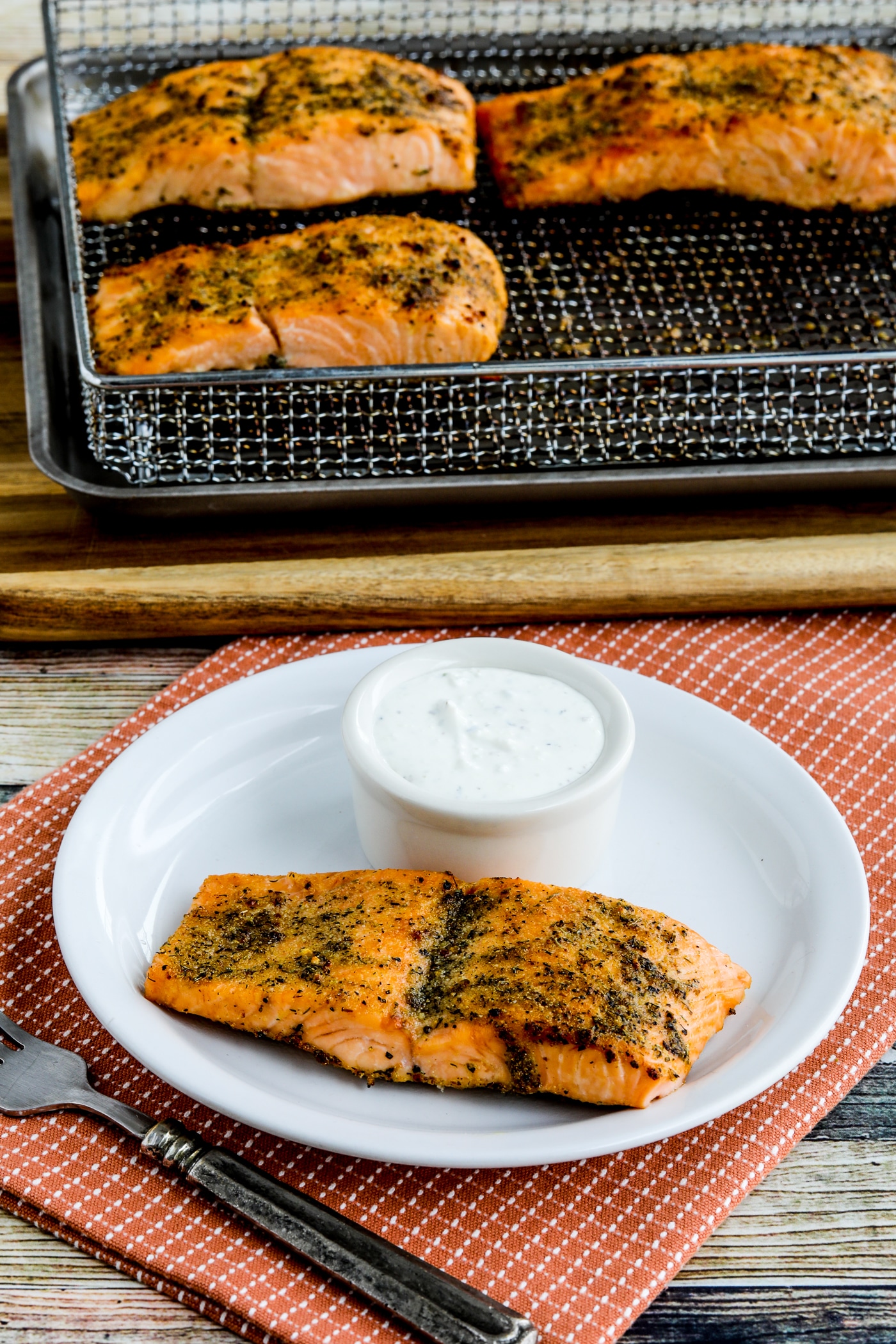 I loved using the Air Fryer for this Greek Salmon with Tzatziki Sauce, but it can also be made in the oven or in a grill-pan on the stove!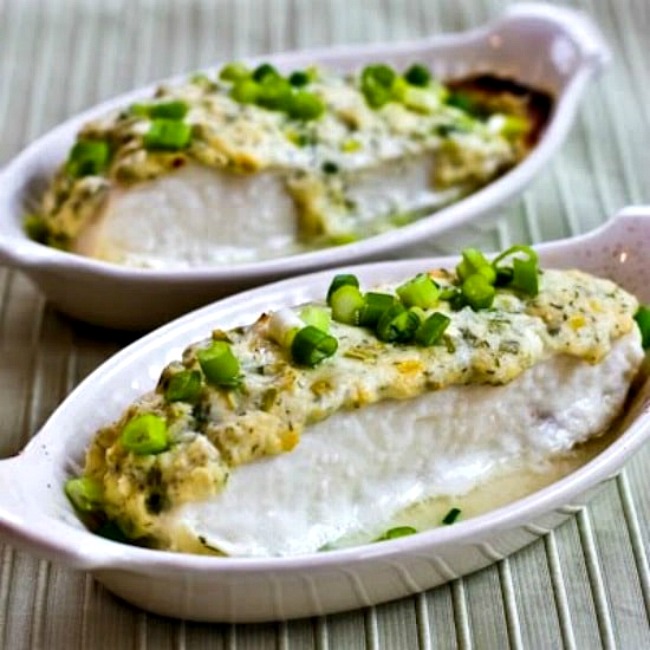 I'm pretty sure this Baked Halibut with Sour Cream, Parmesan, and Dill Topping will be a hit with anyone you make it for! Use any thick mild white fish fillets if halibut is too much of a stretch for the budget!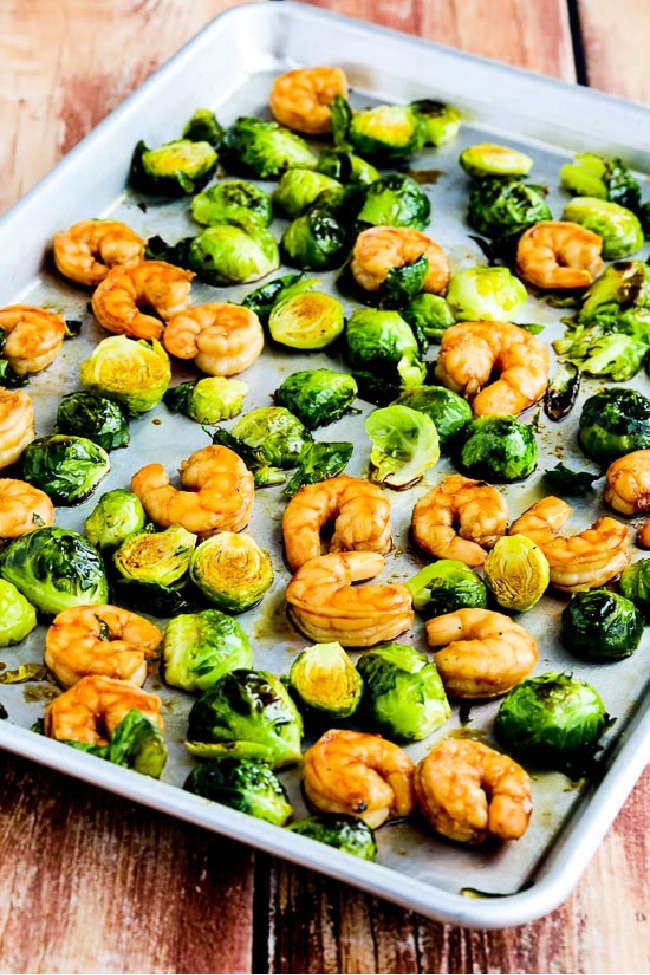 I'd enjoy this Roasted Asian Shrimp and Brussels Sprouts Sheet Pan Meal any time of year!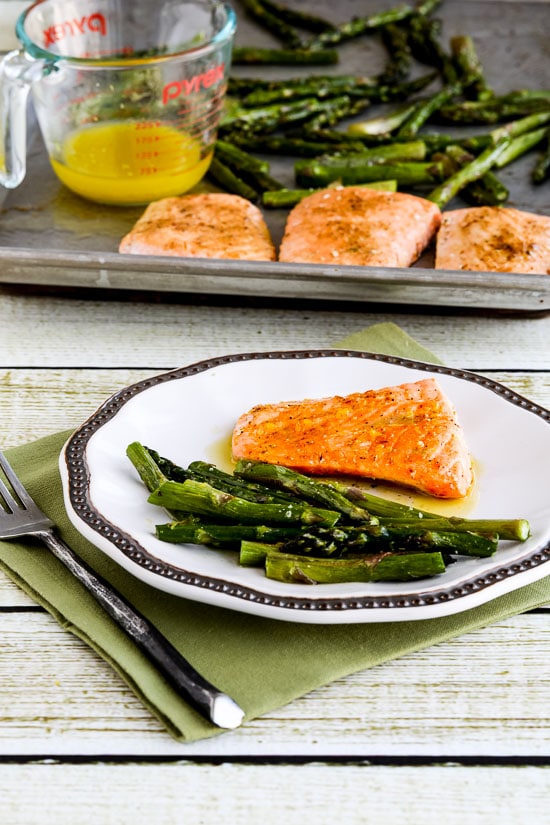 You can't go wrong with salmon and asparagus, right? And this Roasted Lemon Salmon and Asparagus Sheet Pan Meal is easy and delightfully lemony for my lemon-loving tastebuds!
And of course, Baked Mayo-Parmesan Fish is one of the recipes that got me thinking about how perfect baked and roasted fish recipes were, and this is absolutely a MUST TRY recipe, especially for people who might not like the flavor of plain fish all that much.
More Seafood Dinners to Make in the Oven:
Baked White Fish with Onions, Peppers, Olives, and Feta
Almond and Parmesan Baked Fish
Pecan-Crusted Dijon Salmon
Baked White Fish with Pine Nut, Parmesan, and Pesto Crust
Spicy Air Fryer Fish with Remoulade Sauce
Salmon and Asparagus Salad
Spicy Baked Shrimp with Garlic
Salmon Foil Packets with Tomatoes and Olives
More Ideas for Low-Carb Fish Recipes:
Low-Carb Shrimp Dinner Recipes ~ Kalyn's Kitchen
The BEST Low-Carb Fish and Seafood Recipes ~ Kalyn's Kitchen
110 BEST Keto Seafood Recipes ~ I Breathe I'm Hungry
We are a participant in the Amazon Services LLC Associates Program, an affiliate advertising program designed to provide a means for us to earn fees by linking to Amazon.com and affiliated sites. As an Amazon Associate, I earn from qualifying purchases.