Slow Cooker Sweet and Sour Beef
Slow Cooker Sweet and Sour Beef is an easy and delicious low-carb pot roast recipe with sweet and sour flavors. This will be a hit when you need some comfort food; serve with cauliflower mash or cauliflower rice to go with the sweet and sour sauce!
PIN Slow Cooker Sweet and Sour Beef to make it later.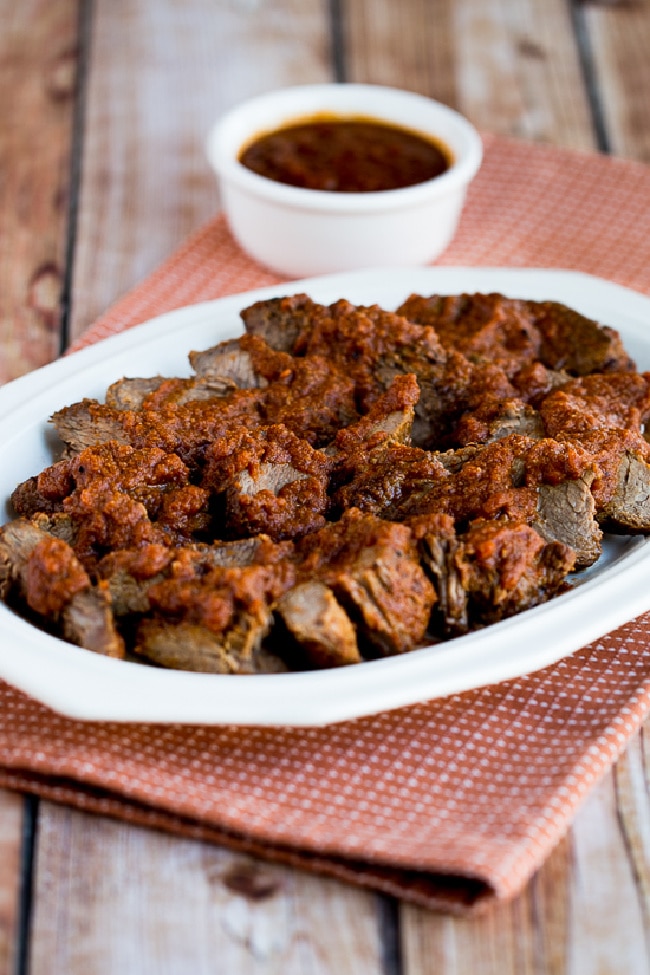 Yesterday we had the first snow of the year, so it's time to think about low-carb comfort food that helps keep you warm. This delicious Slow Cooker Sweet and Sour Beef is a recipe that fits that description for me, and I've made this often since I first posted the recipe.
And although I really, really, really hate winter weather, I do love cold weather food! And I also find that I'm staying home more during the winter and are more inclined to pull out the slow cooker and let something cook all day and make the house smell good.
What ingredients do you need?
(This is only a list of ingredients; please scroll down for complete printable recipe. Or if you use the JUMP TO RECIPE link at the top of the page, it will take you directly to the complete recipe.)
Want more Beef in the Slow Cooker?
If you're a slow cooker fan who's also watching carbs, you'll want to check out 20 Keto Slow Cooker Recipes with Beef to find more tasty recipes like this one.
Why is this Sweet and Sour Beef good for Weekend Food Prep?
Recipes you can make on the weekend and freeze for later or eat during the week are collected in a category I call Weekend Food Prep! And this is just the kind of recipe I'd love to make on the weekend, divide the leftovers out into containers with one or two servings, and stash them in the fridge or freezer so I have plenty of easy low-carb options when I need a quick dinner. This Sweet and Sour Beef freezes beautifully!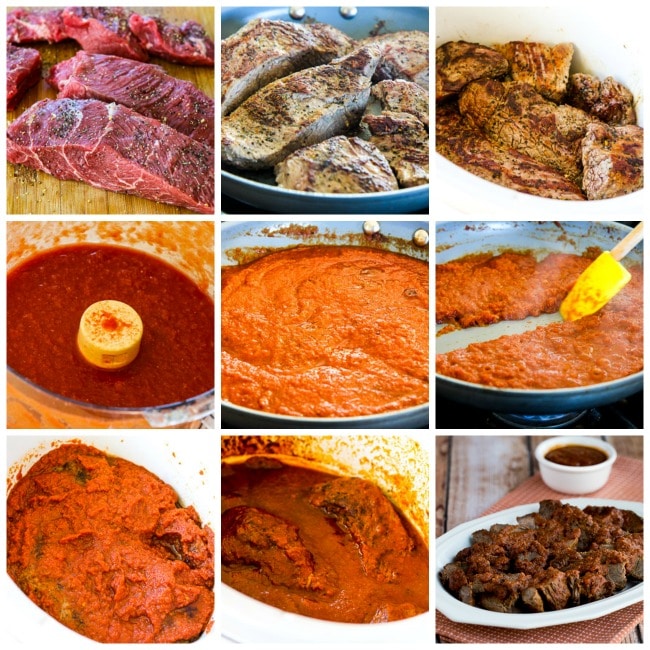 How to make Slow Cooker Sweet and Sour Beef:
(This is only a summary of the steps for the recipe; please scroll down for complete printable recipe. Or if you use the JUMP TO RECIPE link at the top of the page, it will take you directly to the complete recipe.)
Trim the chuck steak so most visible fat is removed; you'll probably have to cut it into pieces to do that. (I save the scraps to make beef stock.)
Rub the pieces of meat with steak seasoning; then brown on all sides. (For best flavor, don't skip this step of browning the meat.)
Put the browned meat into the slow cooker.
While the meat browns, puree the sauce ingredients, then cook it in a frying pan until it thickens.
It should be thick enough that you can scrape the bottom and the sauce stays together like you see in the photo.
Cover the meat with the sauce and cook on low for 7-8 hours (or a little longer won't hurt) or on high for 3-4 hours.
Serve hot, with extra sauce on the side.
I love this with a little sour cream on top.
More Slow Cooker Beef to Try:
Weekend Food Prep:
This recipe has been added to a new category called Weekend Food Prep to help you find recipes you can prep or cook on the weekend and eat during the week!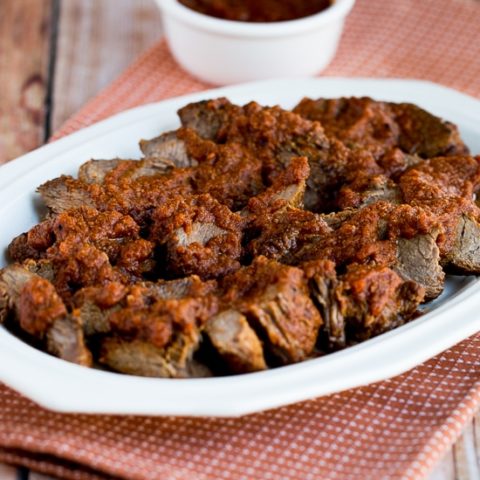 Yield: 8 servings
Slow Cooker Sweet and Sour Beef
Prep Time 20 minutes
Cook Time 8 hours
Total Time 8 hours 20 minutes
Slow Cooker Sweet and Sour Beef will always be a hit when you need some low-carb winter comfort food.
Ingredients
4 lb. boneless chuck roast, trimmed well
2 tsp. olive oil
steak rub, to season meat (see notes)
black pepper, to season meat
Sauce Ingredients:
1 T onion powder
1 T garlic powder
2 T ginger puree (see notes)
2 T Monkfruit Sweetener or sweetener of your choice
1/4 cup unseasoned rice vinegar
one 14 oz. can crushed tomatoes
2 T soy sauce
1 tsp. anchovy paste, optional
Instructions
Trim as much fat as you can from roast, and cut if necessary to fit into Crockpot. Rub meat well with steak seasoning and black pepper.
Heat olive oil in a large frying pan and brown roast well on both sides. This will take a few minutes; don't rush the browning step. Put browned roast into slow cooker.
Deglaze the pan while meat browns, combine onion powder, garlic powder, ginger puree, sweetener of your choice, rice vinegar, tomatoes, soy sauce, and anchovy paste (if using) in food processor. Process several minutes with steel blade until tomatoes are pureed and ingredients are well combined.
Put the pureed sauce into the frying pan where you browned the meat and simmer on low heat until the sauce thickens; you should be able to draw a spoon through it and have the sauce stay together.
Once it's thickened to that point, pour sauce mixture over the meat in the slow cooker.
Cook on low 7-8 hours (or more) or on high for 3-4 hours, or until meat is very tender. (If I'm home I usually turn it a couple of times, but it's not necessary.)
Remove meat from slow cooker and keep warm. Skim off any visible fat from sauce mixture if needed, or use a fat separator (affiliate link).
Slice the pieces of roast and serve hot, with sauce spooned over meat.
Notes
I used a Crock-Pot 3-1/2-Quart Slow Cooker (affiliate link) for this recipe. The recipe Can Freeze, so if you only have a bigger slow cooker I'd double it and stockpile some in the freezer for quick dinners later.
I used my homemade Montreal Steak Seasoning; use an approved seasoning for Paleo or Whole 30. Ginger Puree comes in a jar and in a jar and is also called ground ginger. I originally made this with granulated Stevia but now I'd prefer Monkfruit Sweetener (affiliate link). Don't use Seasoned Rice Vinegar which contains sugar.
If you remove fat with a fat separator as described, fat content will be lower than shown in nutritional information.
Some ideas for the sauce came from a recipe for Ginger Beef in 500 Low-Carb Recipes. You might want to read How to Make Pot Roast in the Crockpot before you make this recipe. 
Nutrition Information:
Yield:
8
Serving Size:
1
Amount Per Serving:
Calories: 725
Total Fat: 45g
Saturated Fat: 18g
Unsaturated Fat: 23.4g
Cholesterol: 242mg
Sodium: 631mg
Carbohydrates: 7.5g
Fiber: 1.6g
Sugar: 3.4g
Protein: 73g
Nutrition information is automatically calculated by the Recipe Plug-In I am using. I am not a nutritionist and cannot guarantee 100% accuracy, since many variables affect those calculations.
Low-Carb Diet / Low-Glycemic Diet / South Beach Diet Suggestions:
This recipe for Slow Cooker Sweet and Sour Beef would be great for low-carb and Keto diets, and also suitble for phase one for the original South Beach Diet.
Find More Recipes Like This One:
Use Slow Cooker Recipes to find more recipes like this one. Use the Diet Type Index to find recipes suitable for a specific eating plan. You might also like to follow Kalyn's Kitchen on Pinterest, on Facebook, on Instagram, on TikTok, or on YouTube to see all the good recipes I'm sharing there.
Historical Notes for this Recipe:
This recipe was posted in 2007, and I've made it many times since then! It was last updated with more information in 2023.
We are a participant in the Amazon Services LLC Associates Program, an affiliate advertising program designed to provide a means for us to earn fees by linking to Amazon.com and affiliated sites. As an Amazon Associate, I earn from qualifying purchases.